A website is a key to an actor's promotional strategy. Website visitors can view images, watch video clips, and read about the actor's story. Not only does a website show off actors' skills, but it also allows them to engage with their fanbase.
A compelling actor's website is much different than a regular website. Often, it is simpler and more artistic than other sites.
This article lists the best actor website templates. Each allows you to craft an outstanding website to build your acting career. Most are HTML templates, but some are also available as WordPress themes.
Wonderstruck One-Pager Website
Slider Revolution offers this multipurpose template. The general format makes it useful for many scenarios. One, of course, is for an actor website. Within minutes, you can edit all the elements, including the logo, images, colors, etc.
Photography Carousel Website
This website template is a horizontal scrolling site designed for photography portfolios. But you can repurpose it to display beautiful pictures of actors and actresses. You can showcase your projects as time passes with the image carousel. This built-for-speed template is compatible with WordPress plugins.
Photography Front Page Website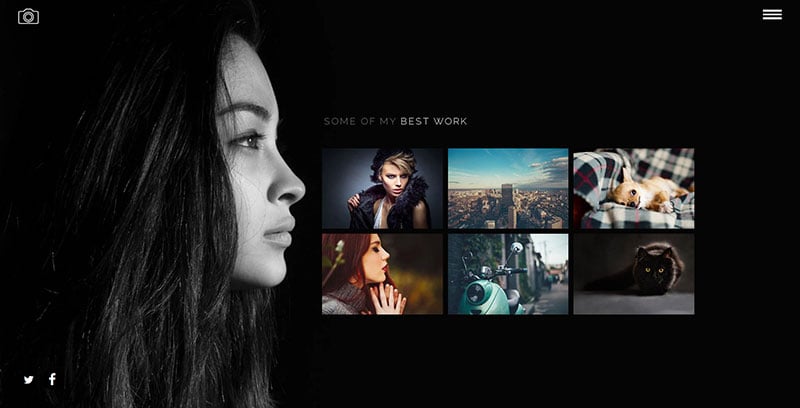 The last on our list of actor website templates is by Slider Revolution. Though initially for photography sites, actors can also benefit from its full-screen slider. This one-page template offers portfolio sections, contact sections, and about me sections. It also includes social media buttons and other features to get actors noticed.
Modern Portfolio Website
Here is the last personal portfolio website template on our list. It is perfect for actors to create their own site. Showcase stunning images and include personal information with this one-page template. And the scrolling and parallax effects add a little artistry to your page. The drag-and-drop website builder makes customizing this template to reflect your personality a breeze.
Personal Portfolio Templates
Reframe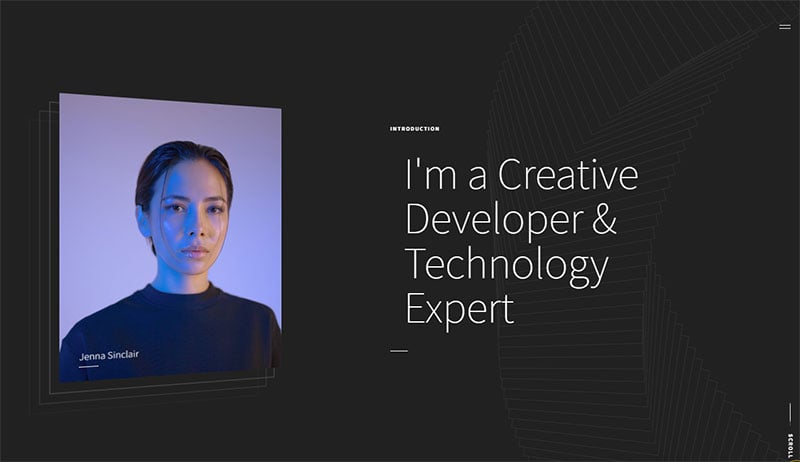 Let's start our list of actor website templates with Reframe. Reframe is a one-page personal website template designed for flexibility and performance.
Actors and others enjoy using this template to introduce themselves to the world. It offers amazing features to highlight what is most important to you.
Features:
six unique backgrounds
customizable image hover effect
WebGL optimized performance shader
smooth page scroll
responsive layout
ten color schemes
premium icons
Artiste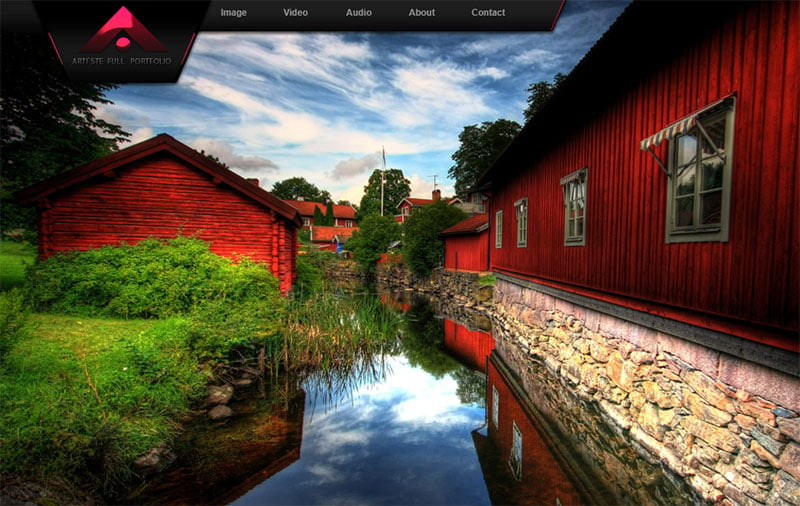 Artiste offers impressive features to present high-quality videos and images. This full-screen background video template includes a full-screen gallery and timeline portfolio. These features make it the perfect choice for an actor portfolio website.
Impressive features:
timeline portfolio
full-screen videos streamed
full-screen videos embedded
Vimeo and Youtube videos with slide function
full image gallery after all sides
custom full-screen gallery
custom full thumbnail gallery with zoom function
background switcher to fade or scroll
Simone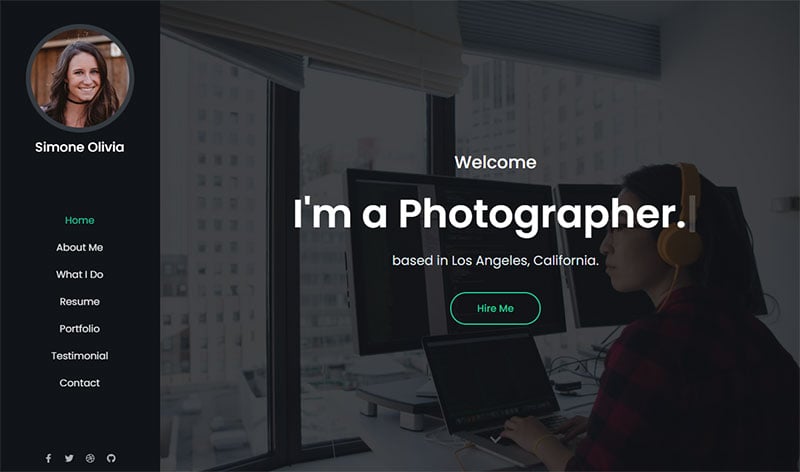 Simone is the perfect solution to create portfolio websites. This one-page HTML template with a stylish web design is precise, with its primary focus on a great user experience. This template will give your visitors a sense of genuine quality.
Simone uses only the best web technology and offers the best features. It has a light and dark mode, so you can choose the concept that fits your style. Other excellent features include parallax effects, Google Fonts, filterable portfolios, and more.
Kitzu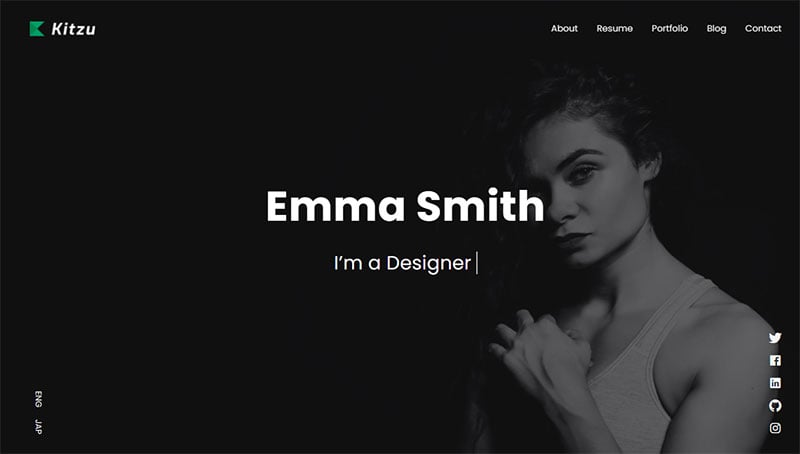 Kitzu's flexibility means you can make whatever type of website you need. Tweaking the template is simple due to clean and organized code. The template package includes a gallery, resume, and blog page. The layout responds well to retina screens, multiple browsers, and mobile devices.
Other features that help create a perfect actor website:
fast load time
video background variant
good user experience and interface
preloader
filterable portfolio gallery
image background variant
SEO and speed optimized
working Ajax Contact form
Eular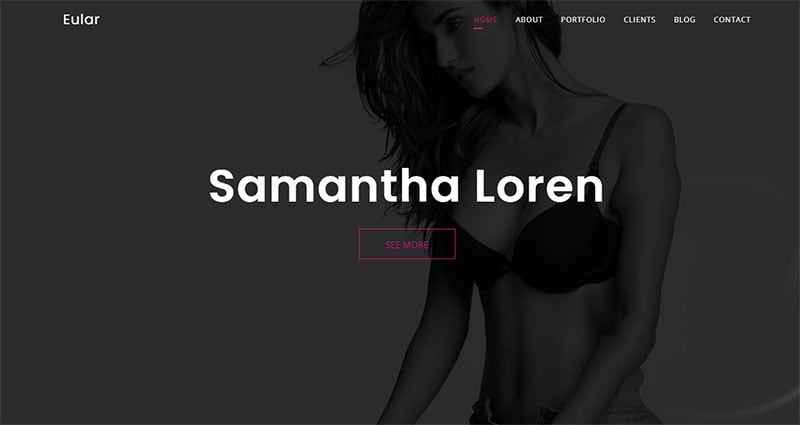 Eular specifically helps actors create their own websites. The impressive portfolios and personal information page allow actors to present a striking online presence.
Special features include:
fully responsive
mobile-friendly
cross-browser compatible
Bootstrap based
Google Fonts
Font Awesome
Working contact form with PHP
jQuery validation and AJAX
Void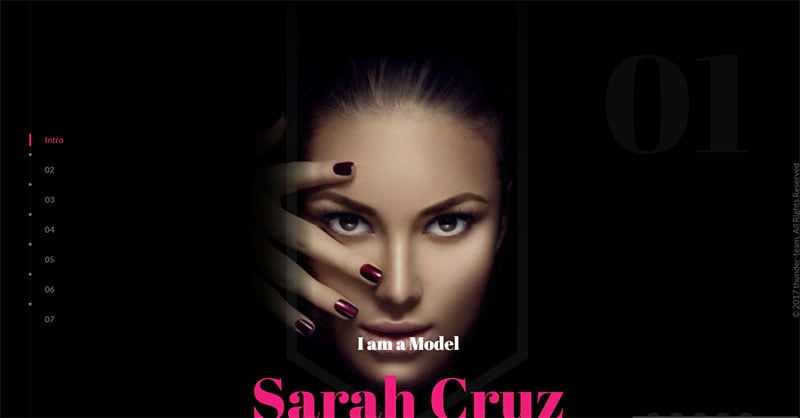 Void is a one-page personal portfolio template with five demos. One demo is specifically for actors, and the other demos cater to designers, photographers, architects, and musicians. Each demo has its own layout and navigation.
The best part of this template is the special effects. You can easily add parallax effects, and jQuery animations make unique templates. A separate blogging list is also included.
This responsive template with ION and Font Awesome icons works on any device. Plus, it provides detailed documentation on installing and editing the template.
Kreton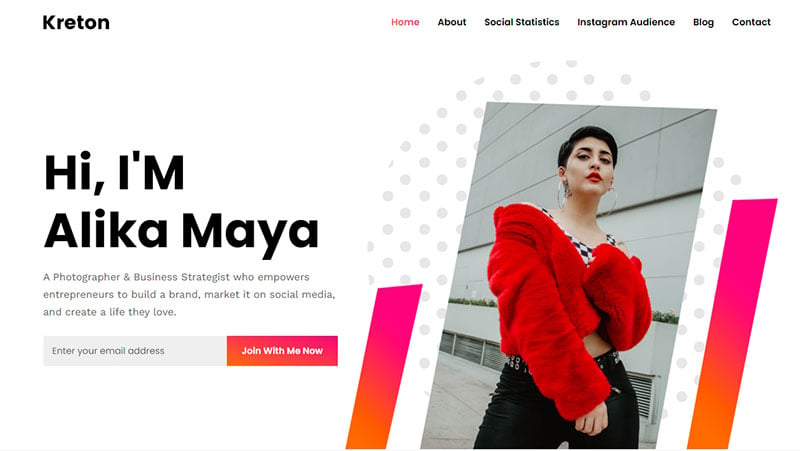 Continuing the list of actor website templates, we come to Kreton. Kreton is another personal portfolio template that helps actors create their dream websites. The best way to increase your online presence is a clean template of high quality like Kreton. And its professional features make you look good.
This fast and lightweight template will not bore viewers with torturous loading time. It also has smooth transition effects, customizable sliders, and more.
Maslin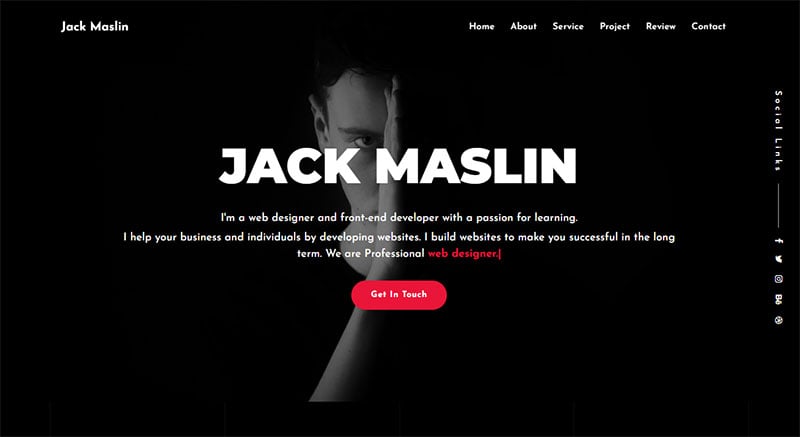 Showcase your talents, beauty, and creativity with the following template. Maslin is a mobile-friendly portfolio HTML template for a modern and straightforward actor website.
Although it is simple, its many original features inspire creativity. You can customize your site with ease with its clear documentation. It also is SEO-friendly to reach a larger audience.
Maslin features:
functional contact form
minimal appearance
filterable portfolio
dark and light mode
animated skill bars and stats
Actor Website Templates
Arty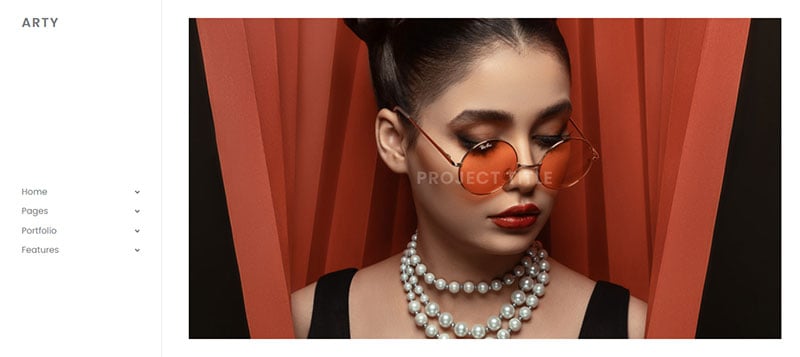 All creative professionals can use this multipurpose template. Arty is very innovative and easy to customize. Agency templates benefit movie studios, and actors can use several actor templates.
It is fully responsive on every device, making it more accessible to your audience. Arty offers multiple features to create a quality home page.
Arty includes:
unlimited portfolio layouts
scroll animations
various icons
countdown timer
Google Maps
over thirty predefined front pages
online shop
full-screen menu
Reviewz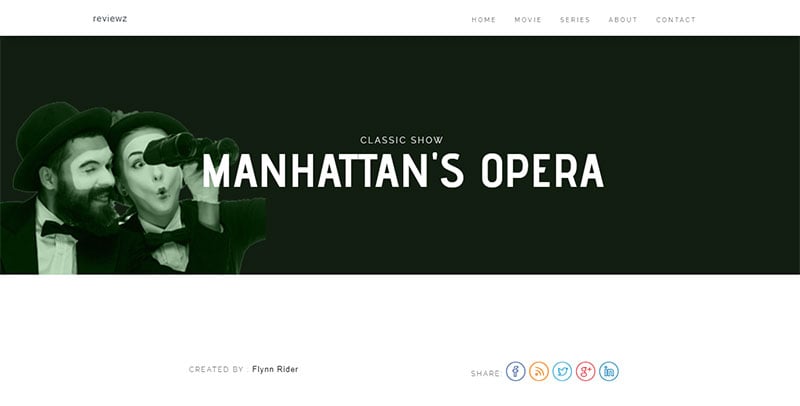 Next is Reviewz. While it's not exactly for an actor website, Reviewz Reviewz is for movie and series fanatics. Fans can create a website to review, commend, and criticize their favorite films. The blog format has a minimal design and modern features to create a professional website.
Characteristics:
fully responsive
fast
lightweight
powerful
different blog pages for movie and series
HearMe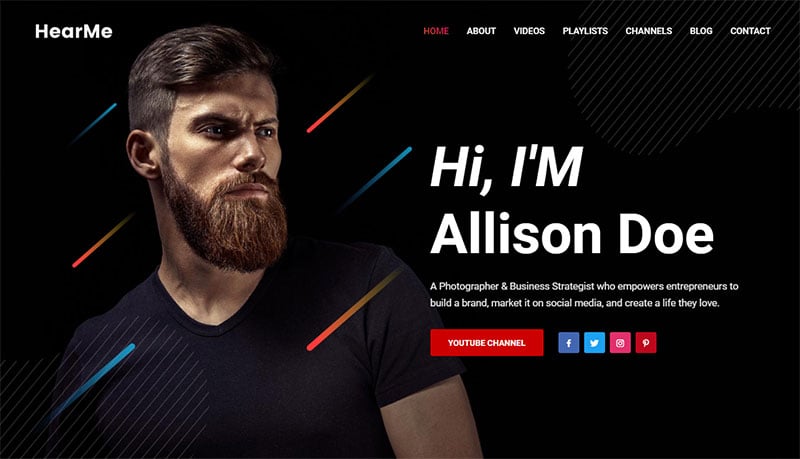 HearMe is a social media template suited to any online-based social media personnel, especially social media influencers. This fast-loading template is lightweight, has clean code, and offers the Dynamic Contact Form so you can send emails from your website. Expand and customize the template to your needs.
More features:
two demo variations
YouTube Live Streaming API
Font Awesome icons
retina-ready
fully responsive
smooth transition effects
SEO-friendly
W3 valid source code
Ones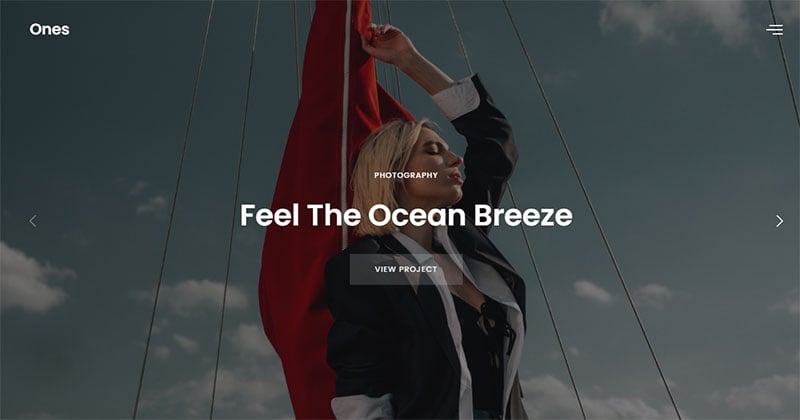 Ones is another impressive actor website template with multiple uses. But it really shines on portfolios and actor websites. Each demo is unique and responsive, giving you a jump start on your professional site.
Features that showcase media works:
fully responsive
retina ready
Bootstrap 4
parallax effects
scrolling animations
menu overlay
flexible portfolio
Google Maps integration
responsive sliders
Lightbox image, gallery, and video
Filmoja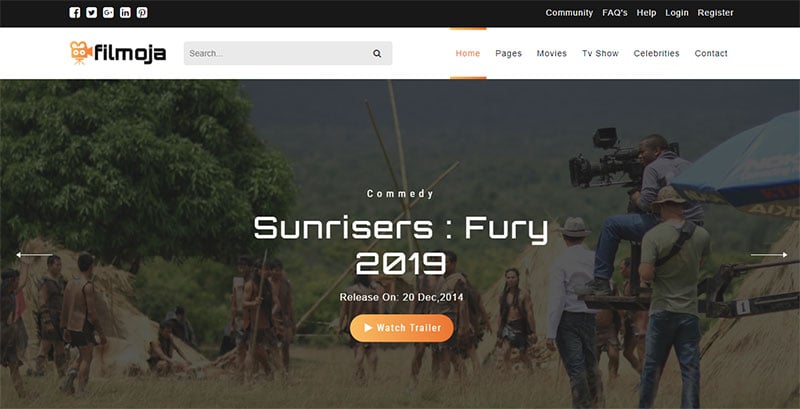 Use Filmoja to create your cinema, theater, or acting community website. This Bootstrap-based template boasts clean HTML, CSS, and jQuery code. It's easy to customize, responsive, and cross-browser compatible. Valuable features include Youtube video support and pricing tables.
Ftage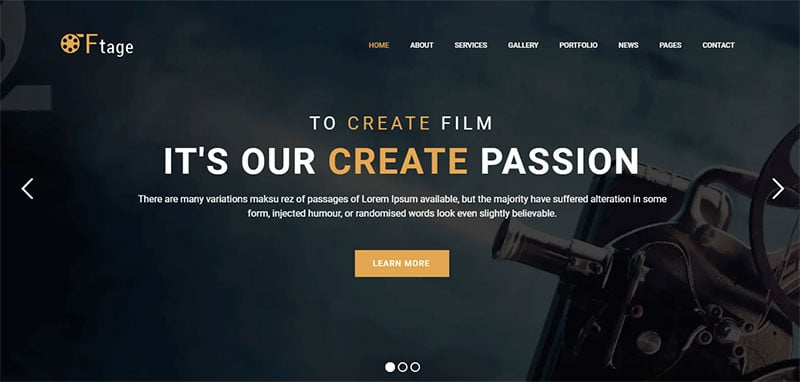 Ftage is an HTML template designed for creative film projects like movie production and film marketing. It is also available as a WordPress theme with several homepages in both light and dark modes. And one homepage is designed for an actor's portfolio.
The Slider Revolution plugin displays elegant content and creates amazing sliders. You can also create a project page, news page, and contact page.
FAQs about actor website templates
1. What are actor website templates and how can they benefit me as an actor?
Pre-made website designs specifically made for actors and entertainers are known as actor website templates. They offer a simple method for developing a credible online presence without the need for in-depth web design or coding expertise.
The majority of actor website templates come with tools that make it simple for actors to interact with professionals in the field and demonstrate their skills, such as contact forms, photo and video galleries, social media integration, and CV pages.
2. Are there any free actor website templates available online?
Yes, there are a number of free actor website templates online that offer the essential features and functionality needed to build a straightforward actor website. The customization and features of these templates might not be as extensive as those of premium templates, and they could not be as useful for showing an actor's qualifications and expertise.
3. What are the key features that I should look for when choosing an actor website template?
It's crucial to consider characteristics that will make you stand out from other performers when selecting an actor website template. A customizable homepage, a video or media gallery, simple contact forms, social network integration, and flexible design for mobile devices are a few essential things to take into account.
4. Do I need to have any technical skills to use an actor website template?
No, actor website templates don't demand advanced technological abilities or coding knowledge because they are made to be user-friendly. The majority of templates include simple drag-and-drop editors that make it easy to add information and change the appearance.
5. Can I customize the layout and design of my actor website template?
Yes, you may alter the majority of actor website templates to suit your own requirements and tastes. To construct a special and personalized website, you normally have a number of color schemes, font styles, and page layouts to choose from. You can also add your own content, photographs, and videos.
6. How important is mobile responsiveness for an actor website template?
Any actor website template must be mobile-friendly because more and more people are using their mobile devices to access the web. Your website will look amazing and be simple to use on any device if you utilize a mobile-responsive template, which can increase your online visibility and reach.
7. Can an actor website template help me with SEO and online visibility?
Yes, a lot of actor website templates have SEO features and tools built in that will help you gain more online presence and higher search engine rankings. Among other things, these tools might include sitemaps, meta descriptions, and keyword optimization.
8. Are there any specific actor website templates that are ideal for showcasing my portfolio and showreel?
Yes, there are a number of actor website themes created expressly to display portfolios and showreels. These templates frequently come with tools that make it simple to showcase your greatest work, like video galleries, editable portfolio pages, and simple media players.
9. How do I choose the right color scheme for my actor website template?
It's crucial to take into account your personal branding as well as the general tone and style of your website when selecting a color scheme for your actor website template.
You can choose from a variety of pre-set color schemes offered by many designs, or you can design your own unique color scheme to suit your personal preferences and style.
10. Are there any actor website templates that come with built-in contact forms and email marketing tools?
Yes, many actor website templates provide built-in email marketing tools and contact forms that can help you interact with other business owners and possible customers. These tools often include, among others, email newsletters, automated email sequences, and configurable contact forms.
If you liked this article about actor website templates, you should check out this article about startup website templates.
There are also similar articles discussing medical website templates, business website templates, website templates with video background, and website templates for artists.
And let's not forget about articles on modern website templates, creative website templates, interactive website templates, and website templates with slider.
The Best Actor Website Templates That You Can Download