Have you ever visited a website and felt like you were suddenly on a Hollywood movie set? You probably stumbled upon one of those polished actor websites. The kind that immerses you in the glamour of a movie premiere, complete with the dazzle of camera flashes.
But why should these websites matter to you? They're more than just digital showcases. They're a fusion of artistry, individuality, and branding. They narrate a tale, highlight skills, and forge a bond.
Here's a revelation: these websites aren't exclusive to the Hollywood elite. Whether you're a budding talent or a seasoned professional, a standout online presence can be transformative.
Awesome Actor Websites To Check Out
Wonderstruck One-Pager Website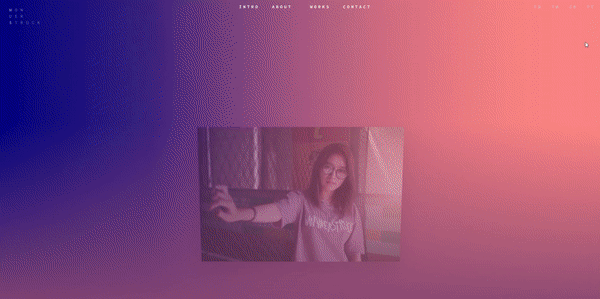 Slider Revolution presents a versatile template ideal for various applications, including actor websites.
Whether you're showcasing your filmography, integrating your actor headshots, or updating your actor biography, this template allows swift modifications to logos, images, colors, and more.
Within minutes, you can craft a site that resonates with your acting portfolio and theatre credits.
Photography Carousel Website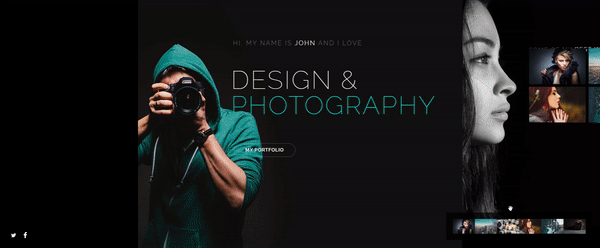 This horizontal-scrolling website template, initially crafted for photography portfolios, is seamlessly adaptable for actor websites, making it perfect for showcasing actor headshots, filmography shots, or theatre credits.
Highlight your acting journey, from early roles to latest projects, using the image carousel. Designed for optimal performance, this template also supports WordPress plugins, ensuring your actor portfolio remains dynamic and engaging.
Photography Front Page Website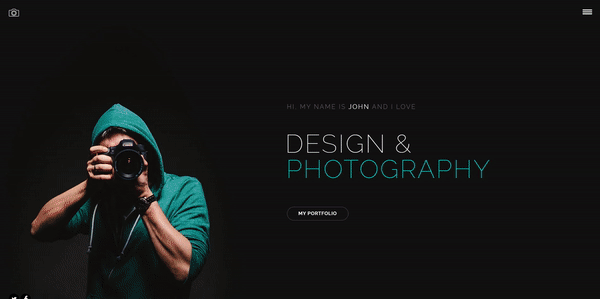 Rounding up our collection of actor website templates is Slider Revolution's offering. Initially designed for photography portfolios, its full-screen slider is equally impactful for showcasing actor headshots, filmography, and theatre credits.
This one-page layout incorporates sections for your actor biography, contact information, and performance reviews. Plus, with integrated social media buttons and other standout features, it's crafted to spotlight actors and their achievements.
Modern Portfolio Website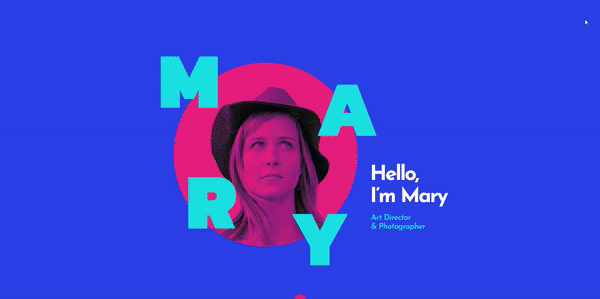 This gem is especially fitting for actor websites. It's an ideal canvas to display actor headshots, delve into your filmography, and share a touch of your actor biography.
The one-page layout, enhanced with scrolling and parallax effects, brings artistry to your actor's journey. Plus, with the drag-and-drop website builder, personalizing it to resonate with your acting experiences and theatre credits becomes effortlessly intuitive.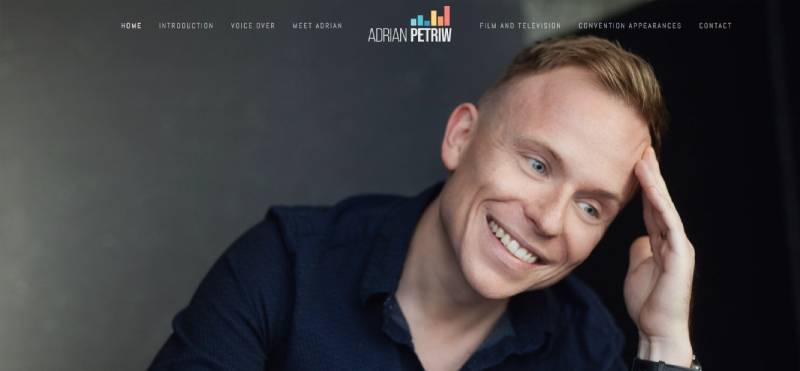 Adrian Petriw's website is a vibrant showcase of his versatility as an actor and voice artist. With over 20 years in the industry, Adrian has lent his voice to some of the most recognizable franchises in animation.
Dive into his voiceover section and discover his roles in fan-favorite shows like "The Hollow" and "LEGO Jurassic World." Beyond animation, Adrian's film and television credits span from the Farrelly Brother's comedies to SYFY's "Van Helsing" and CW's "Legends of Tomorrow."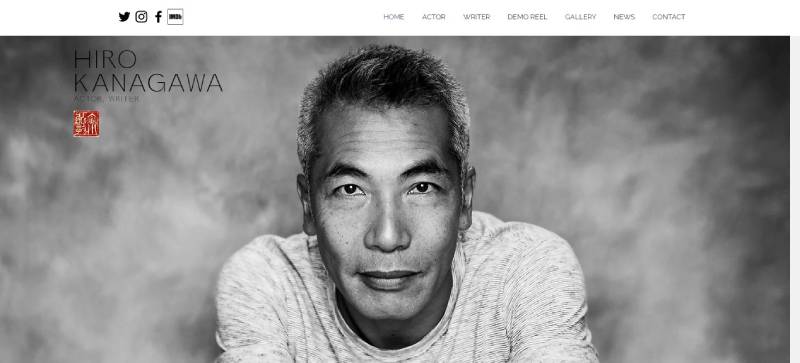 Meet Hiro Kanagawa, a well-regarded character actor with a diverse resume. His website is a blend of his acting and writing endeavors.
From his roles in hit series like "iZombie" and "Altered Carbon" to his award-winning plays, Hiro's site offers a comprehensive look into his journey. Dive into his actor biography, explore his roles in blockbuster features, indie films, and get a glimpse of his writing accolades.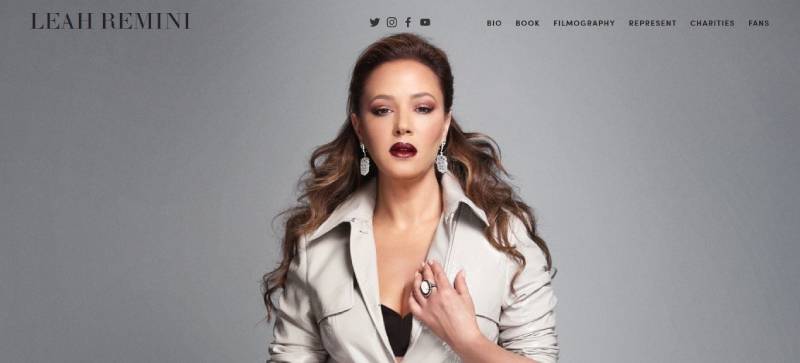 Leah Remini's website is a blend of her acting and producing endeavors. With a concise layout, it offers a glimpse into her filmography, her charitable endeavors, and her profile.
As an actress known for her outspoken nature and her dedication to various causes, her website is a testament to her journey in the entertainment industry and her commitment to making a difference.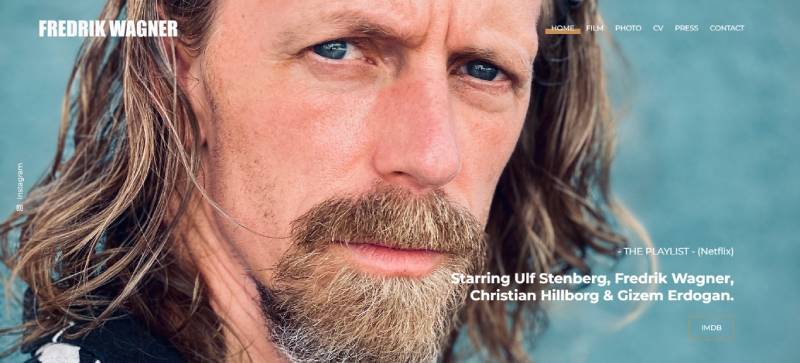 Frederik Wagner's website is a space that showcases his actor portfolio, highlighting his roles, achievements, and the essence of his craft.
A blend of visuals, testimonials, and a peek into his journey would make it a must-visit for fans and industry professionals alike.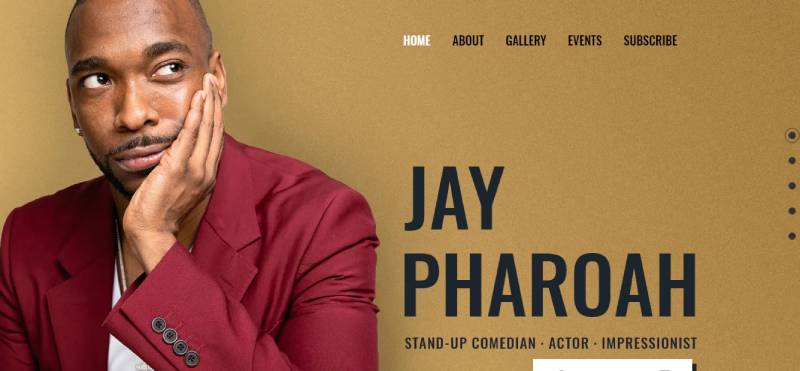 Welcome to Jay Pharoah's digital space, where comedy meets brilliance. Dive into his actor biography, a blend of humor, talent, and sheer dedication.
It's not just a website; it's a laughter-filled journey that showcases Jay's unique style and unforgettable performances. From stand-up gigs to iconic TV roles, it's a world where every laugh counts.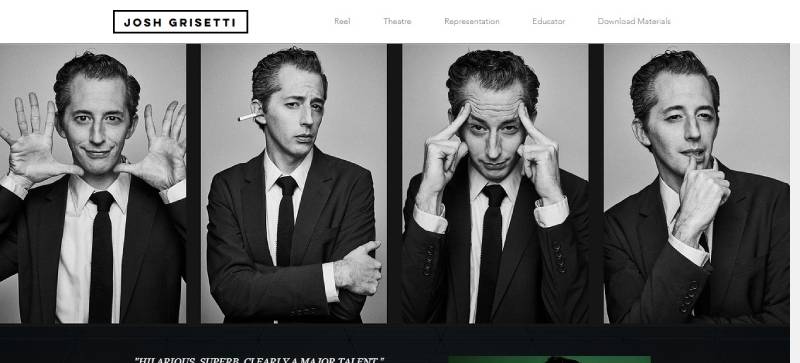 Discover the world of Josh Grisetti, where talent meets charisma. The site is a canvas painted with his achievements, roles, and the essence of his craft.
From his theatre credits to his memorable performances, it's a treasure trove for art enthusiasts. With accolades describing him as "hilarious" and "a major talent", it's evident that Josh's journey is nothing short of remarkable.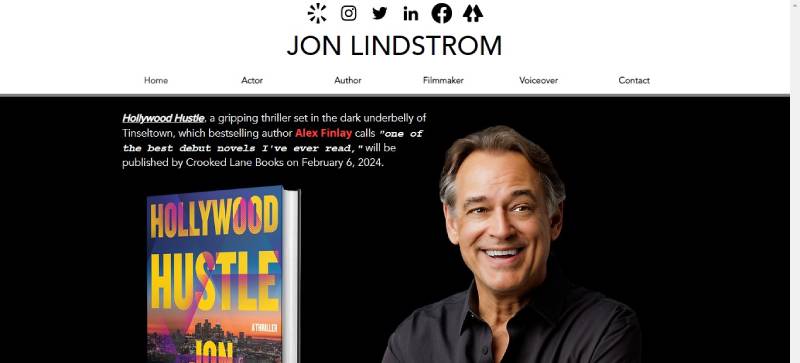 Venture into the realm of Jon Lindstrom, where talent, ardor, and tales intertwine. Within these confines, you'll encounter heartfelt actor endorsements, recognition, and a window into his voyage in the entertainment cosmos.
From his acclaimed roles on the small screen to his endeavors as a writer and director, it's a tale that captivates and uplifts. Immerse yourself and watch the epic of Jon Lindstrom unravel.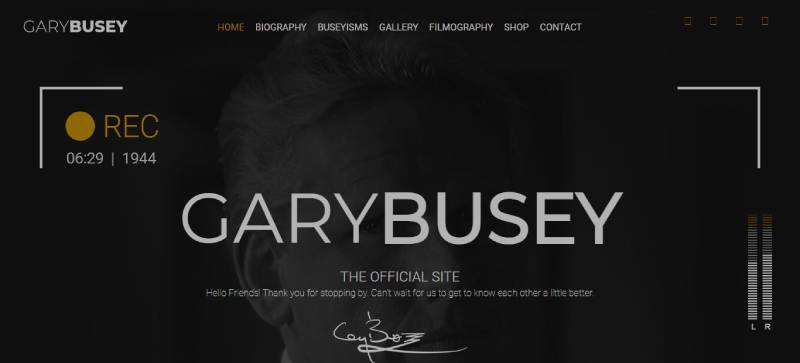 Enter the world of Gary Busey, marked by sheer talent and unmatched magnetism. This platform illuminates a path as erratic as it is captivating. With a legacy of over 150 films across forty years, it's a goldmine for film aficionados.
Tracing his roots back to Tulsa and journeying to his recent undertakings, it's a whirlwind of emotions, milestones, and pure genius.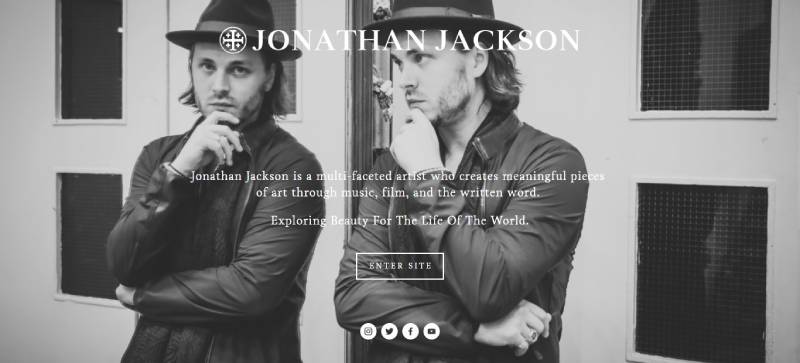 Step into the multifaceted world of Jonathan Jackson. An artist who weaves magic through music, film, and the written word. His website is a testament to his journey, exploring beauty for the life of the world.
With 5 EMMY Awards under his belt, Jonathan's site is a blend of his achievements, projects, and a deep dive into his artistic endeavors.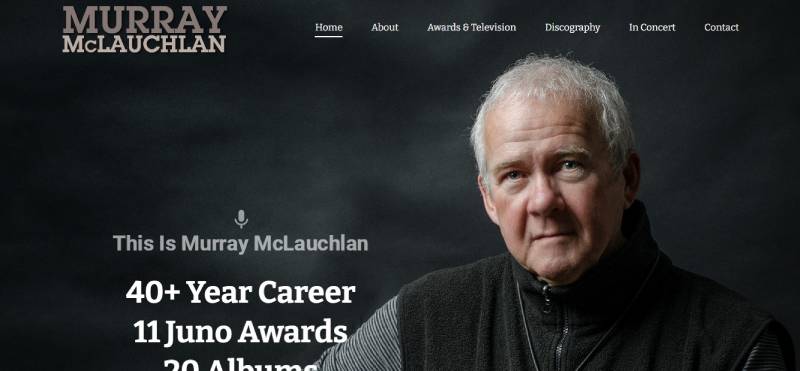 Immerse yourself in the realm of Murray McLauchlan, an artist boasting a plethora of rich experiences and accomplishments. His online portal harmoniously melds his accolades, musical collections, and glimpses of forthcoming gigs.
With a legacy of over twenty albums and tracks that have touched countless souls, Murray's platform chronicles his illustrious trek through the musical landscape. Embark and let the tunes from his "Hourglass" album, along with the tales woven into his songs, enchant you.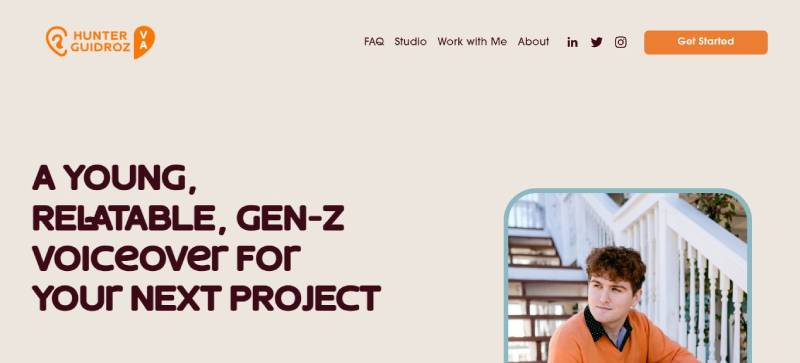 Meet Hunter Guidroz, a voice actor with a distinct Gen-Z vibe. Based in Houston, TX, Hunter's website showcases his versatility in voice acting, from video games to commercials.
With a 24-48 hour turnaround and a promise of multiple revisions, Hunter ensures quality and commitment in every project. When he's not behind the mic, you can find him indulging in video editing, photography, or late-night gaming. Dive into his world and discover the voice that resonates with both kids and adults.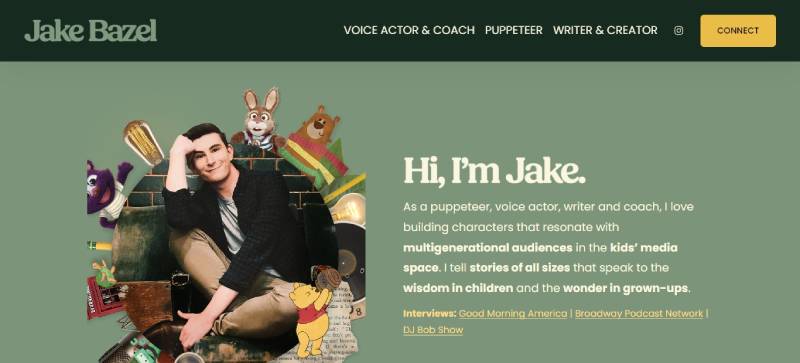 Step into Jake Bazel's creative realm. Hailing from New York, Jake is a multifaceted artist with expertise in puppeteering, voiceovers, and coaching within children's entertainment.
His digital portal echoes his dedication to crafting characters that strike a chord across generations. Jake artfully connects the pure-hearted curiosity of youth with the reminiscent warmth of adulthood. His footprints on platforms such as Good Morning America and the Broadway Podcast Network underscore his industry prominence.
Whether you're keen on tracing his voice acting milestones, plunging into his puppeteer ventures, or unraveling his written creativity, Jake's site is a treasure trove of insights.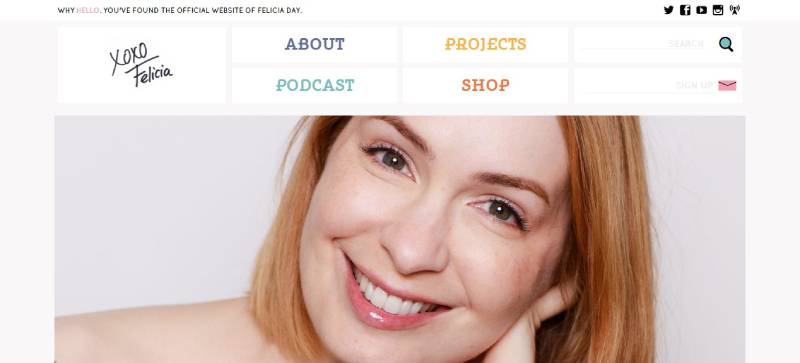 Embark on a journey into Felicia Day's diverse creative universe. As an actress, scribe, and innovator, Felicia's online sanctuary captures the essence of her multifarious talents.
From her notable series roles to her lauded "Embrace Your Weird" book, a New York Times Bestseller, her platform marries her ventures, fervor, and accomplishments.
Whether your interest lies in her podcast, her creative undertakings, or a deeper acquaintance, Felicia's digital space is your gateway.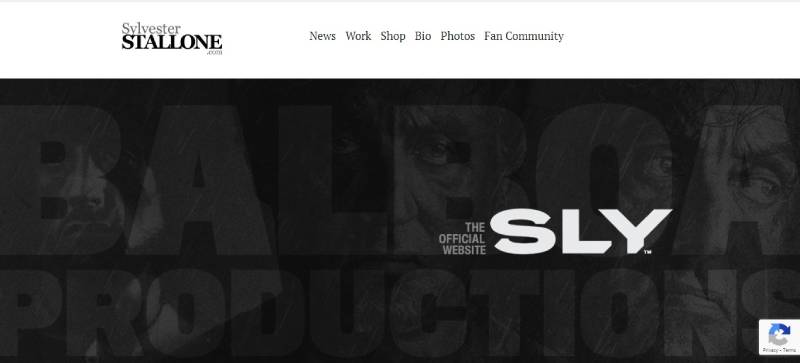 Venture into the captivating sphere of the renowned Sylvester Stallone. His digital portfolio offers a sneak peek into his illustrious journey that has spanned nearly half a century.
From the iconic Rocky, Rambo, to The Expendables series, Stallone's characters have left an indelible mark on global audiences. The site showcases his recent works, inclusive of a tantalizing preview of the upcoming Netflix documentary, "Sly", promising an up-close and personal view of this multifaceted actor, writer, director, and producer.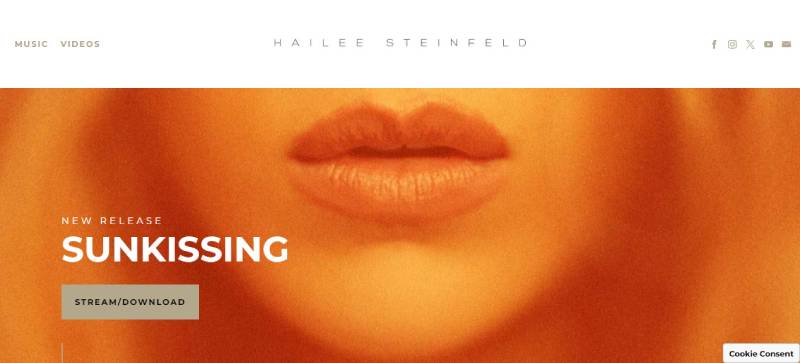 Dive into the world of Hailee Steinfeld, a multi-talented artist who's made her mark in both music and film. While her website is minimalistic, it's a testament to her brand's essence.
From her chart-topping hits to her roles in blockbuster movies, Hailee's journey is one of passion, dedication, and sheer talent. Whether you're a fan of her music or her acting, her website offers a glimpse into the world of this young superstar.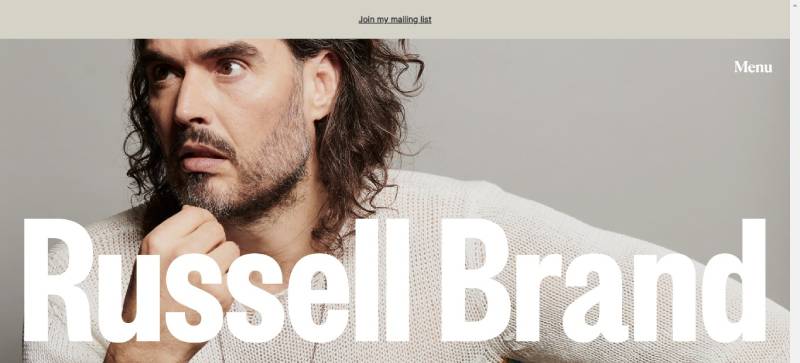 Rusell Brand's website showcases his actor portfolio, highlighting his roles, achievements, and the essence of his craft.
A blend of visuals, testimonials, and a peek into his journey would make it a must-visit for fans and industry professionals alike.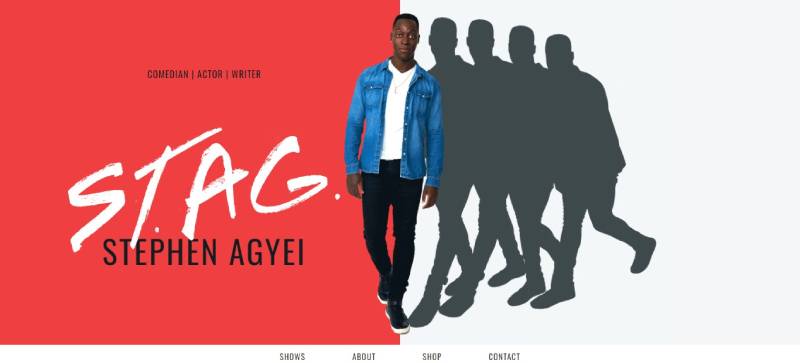 Stephen Agyei, a name that resonates with humor, talent, and charisma. Hailing from Denver, CO, Stephen's website is a blend of his journey as a Stand-Up Comedian, Actor, and writer.
Noted for his unique style described as "calculated fearlessness", Stephen has been featured on platforms like Just For Laughs Digital and Viceland's Flophouse. Dive into his world, explore his projects, and discover the man behind the mischievous smile.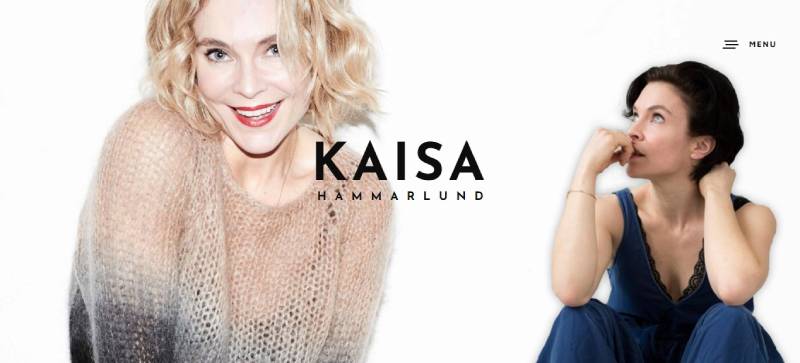 Introducing Kaisa Hammarlund, a versatile artist with roots in Sweden, Britain, and America. Her website paints a picture of her journey from Helsingborg, Sweden to the stages of London.
Trained at Malmo Musical Academy and Mountview Academy of Theatre Arts, Kaisa's talent spans across screen and stage. An avid horse rider with credits in show jumping and racing, her passions also include yoga, tennis, and even Flying Trapeze!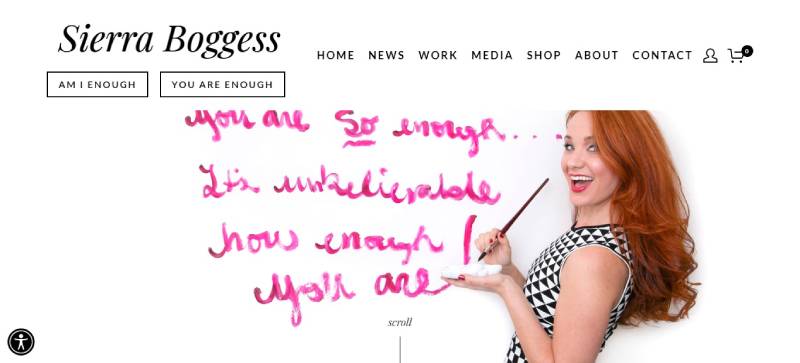 Welcome to the enchanting universe of Sierra Boggess, an Olivier nominated actress best known for her roles in Disney's "The Little Mermaid" and "The Phantom of the Opera".
Sierra's website is a blend of her work, media appearances, and her message of self-love with "I Am Enough". Whether you're a fan of her Broadway performances or her music, Sierra's website offers a glimpse into the world of this talented artist.
FAQ On Actor Website Design
Why do actors even need a website?
Well, in this digital age, having a personal website is like having a digital business card.
It's a platform where actors can showcase their portfolio, reel, and resume. Plus, it gives them a professional edge. Think of it as their own personal stage, available 24/7.
Aren't social media profiles enough?
Social media is great for updates and engagement, but a website? That's where you control the narrative.
It's ad-free, distraction-free, and tailored to present the actor in the best light. No algorithms, just pure talent on display.
What should be included on an actor's website?
The basics: a bio, headshots, a reel, and a contact form. But to really stand out? Add a blog, testimonials, and maybe even a calendar for upcoming shows or appearances. It's all about creating a comprehensive snapshot of their career.
How often should an actor update their website?
As often as they'd update their resume! After a new role, a fresh headshot, or any significant career move. Keeping things current ensures casting directors see the most up-to-date version of them.
Is it expensive to set up an actor website?
Not necessarily. There are plenty of platforms out there that offer affordable options. But remember, it's an investment in their career. Sometimes, spending a bit more for a custom design or professional photos can make all the difference.
Can't I just use a free website builder?
You can, but be cautious. Free often comes with limitations. Limited design options, ads, and perhaps not the most professional-looking URL. If serious about the craft, it's worth considering a small investment for a more polished look.
How can actors drive traffic to their website?
SEO is key. Optimize for keywords related to their niche in acting. Share the website link on social media, in email signatures, and on business cards. Engage with the audience through a blog or newsletter.
Do actor websites need a blog?
Not a must, but it's a plus! A blog can showcase an actor's thoughts on the industry, share behind-the-scenes stories, or even offer tips for aspiring actors. It adds depth and a personal touch.
How can an actor's website stand out from the rest?
Personality. Inject it into every page. Use unique design elements, authentic photos, and genuine writing.
Conclusion On Actor Websites
Actor websites. They're not just a trend, they're a movement. In a world where everyone's online, these platforms are the digital stages where talent shines. It's where the spotlight hits, and the audience gets a front-row seat to an actor's journey.
From their first audition tape to their latest blockbuster, these sites capture it all. They're more than just pixels and code. They're stories, emotions, and dreams wrapped up in a neat digital package.
If you liked this article about actor websites, you should check out this article about tattoo websites.
There are also similar articles discussing technology websites, startup websites, corporate websites, and florist websites.
And let's not forget about articles on barbershop websites, interactive websites, gym websites, and types of websites.
Spotlight on Design: 23 Stunning Actor Websites