The landing page is the first thing people see when they visit your website. This is where you show your future customers what your app does and why. Therefore, you need to inform and engage.
You can also do many other things, like convincing people to sign up, join, or register. The point is to do it right. A good app landing page can give you the conversion rate you want. So it is worth spending the time to make sure everything is perfect.
You can put a lot of things on your landing page. Find inspiration on the best template to present your app.
This article examines 42 of the best app landing page template examples that work for any app landing page project. And all are easy to work with and customize.
Spaceman App Website Template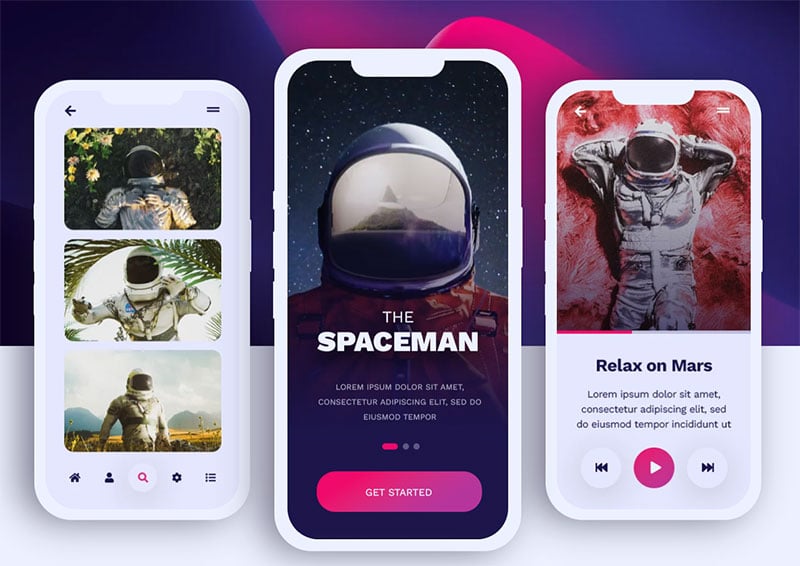 This template is ideal for showcasing your amazing app. It contains many eye-catching elements, such as a slider and a Meet the Team section. There are special buttons that link straight to the app store where people can download your app.
Startup Website Template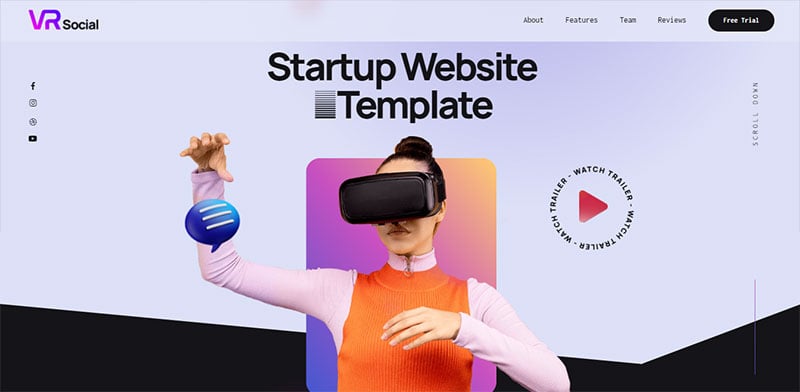 This website template is perfect for making a landing page for your startup company. You can present your company and product interactively. There are many engaging features you can add.
Landing Page Builder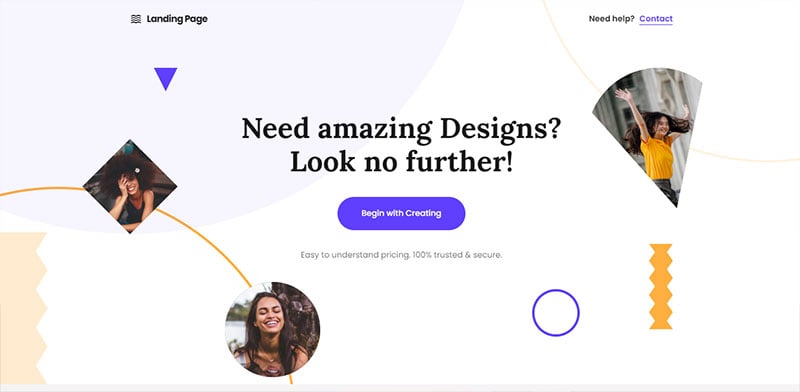 The Landing Page Builder has an excellent design. It helps you make a landing page for any product, including your new applications. This website template has transparent pricing, so you know what you will be paying.
Focus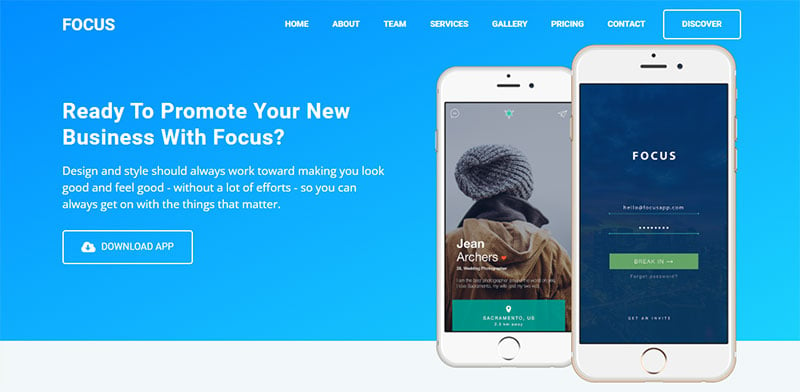 Focus helps create any app landing page you want. This multipurpose template comes in six variations. And all versions can display app reviews, calls to action, and contact forms. You can present the development team behind the app. And the app landing page template is easy to customize.
Colugo
This HTML landing page is fully customizable and has excellent RTL language support. Colugo includes three ready-made homepage layouts that differ in header designs. It is based on the Bootstrap grid layout, making it responsive.
Wava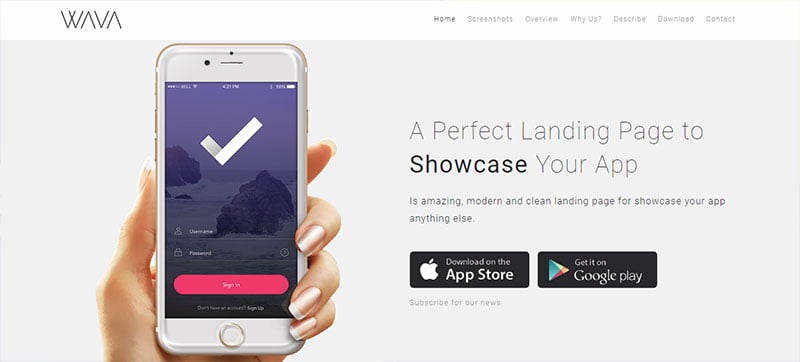 Wava showcases mobile app landing pages and has Android and iOS versions. Both use Twitter Bootstrap 3.2.0, HTML5, and CSS3.
Thanks to its logical organization, this template is easy to customize and work with. Wava is a fantastic tool for presenting your mobile app web services.
The template features include:
Android and iOS versions
Bootstrap 3
Clean design
HTML5 and CSS3 markup
Responsive
Contact Form
Layer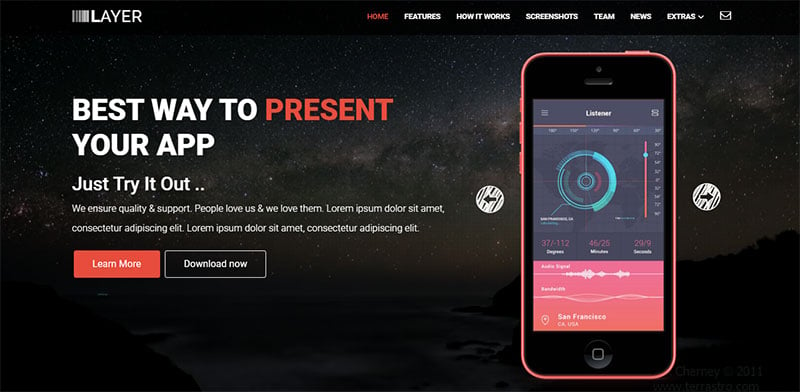 This robust and responsive app landing page template contains HTML5 coding. It also looks perfect on any device and screen size. Layer uses the Bootstrap framework, HTML5, and CSS3.
Below you find a list of Layer's features:
Ten color variations
Four Layout Styles
Bootstrap 3.3.5
Responsive
Google Fonts
HTML5 and CSS3
Parallax and video backgrounds
Cooper – Simple App Landing Page Template
This template has a clean design and is responsive.
Other key features are:
Creative design
Extensive documentation
Excellent support
Font-based icons
Google Fonts
Completely customizable
Retina-ready
Unique, modern style
Appyng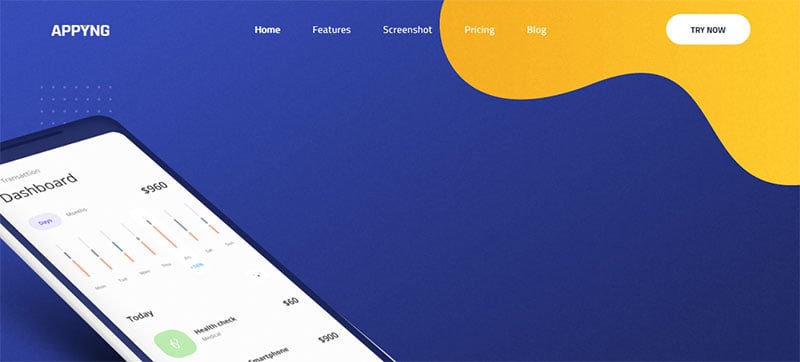 Appyng is a great choice if you want a modern app landing page. It has many interactive elements that attract the visitor's attention.
This HTML5 template features two distinct styles. Both attract new users and motivate them to come back. The mobile versions have a minimized content layout to work better on small screens.
Prista
Prista is a paid HTML template with everything you need to design an attractive marketing campaign. You can customize the layout any way you want for any application. Prista's customers range from small startups to medical professionals.
The design works best for a single-page website. Here you can show your users what to expect. You only need to change the template's text and images to make it your own.
Apperle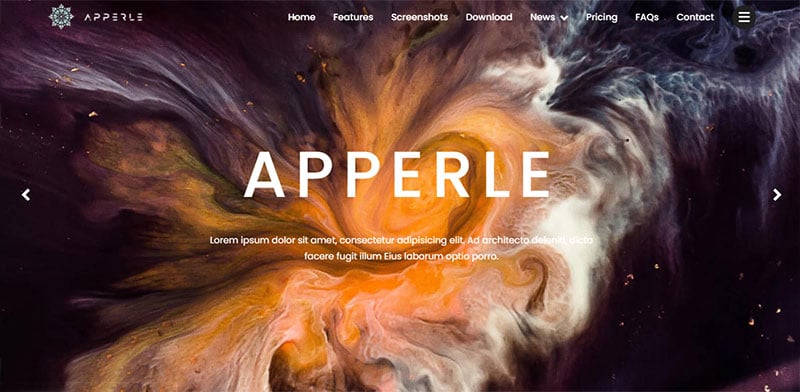 Apperle is a mobile app landing page template with a modern design. And you can change the colors according to your company's branding.
Below are some of Apperle's most important specifications:
14 designs
28 colors
Valid HTML5 and CSS3 code
Working Ajax PHP forms
Working PHP contact and subscription forms
App on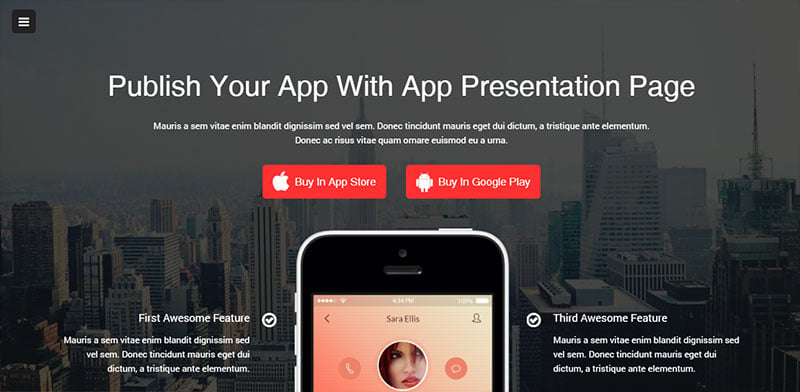 App on works on all major browsers thanks to its Bootstrap 3 framework. It gives you plenty of design options with 15 colors.
Other valuable features are:
Impressive design quality
Dark and light versions
High resolution
Video background options
AppsLand
AppsLand is an app landing page design with a clean user interface. This HTML template is straightforward, and the simple code is easy to learn.
Additionally, AppsLand features the following:
Ten color schemes
Six landing page layouts
Cross-browser and iOS compatible
Different icon fonts
FontAwesome and Themify icons
Ray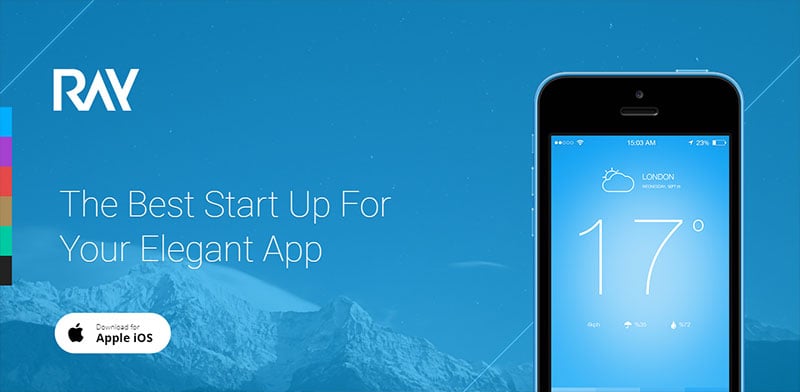 This app landing page template is simple and elegant. Additionally, you can add objects and background animations to your design. Ray is precise and works with any application.
Below is a list of Ray's most desirable characteristics:
Six different color schemes
Eight page types (four page styles and four background styles)
Fully responsive
Mockups for multiple platforms
Parallax effect
Shortcodes
Typed slogan
Startly
Bootstrap 4 makes Startly a responsive Saas app and software landing page template. You can choose from two headers, one with pricing tables and the other without. But even on the one without pricing tables, you have the option of adding them yourself.
The testimonials page will display positive comments from your satisfied customers.
SANDY
The SANDY template uses Bootstrap and HTML5, resulting in responsive app landing pages. Its primary purpose is making application websites, but it also showcases mobile games.
SANDY comes with various unique layout styles. You can include different sections and select your customization options.
Here is a summary of SANDY's most relevant features:
Four home page variations
Bootstrap
Awesome CSS3 animations
Pixel-perfect design
Responsive across devices
Outstanding clean design
Label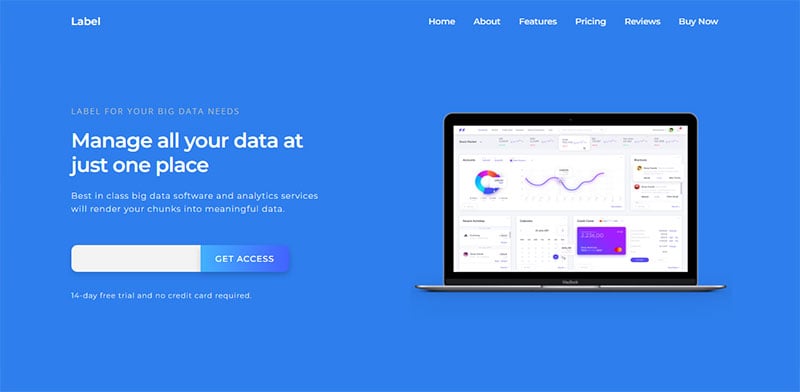 The modern design and the eye-catching color schemes make Label an exciting choice. Also, you can customize the eight demos any way you want. And the template's websites look perfect across devices and screen sizes.
Label contains all the sections you need to show off your software. You can add testimonials, signup forms, and calls to action. It even integrates with MailChimp so you can create an email list.
AppPraxis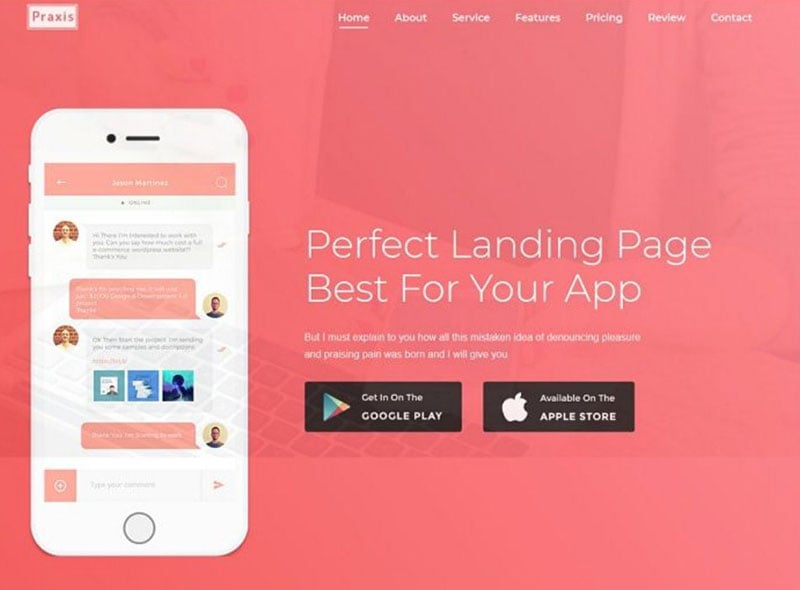 Praxis is suitable for making the perfect app landing page. It has various handy features:
Three templates
Easy color management
Font Awesome
Google Fonts
PSD files
Typography and shortcode list
W3 validated code
AppsWorld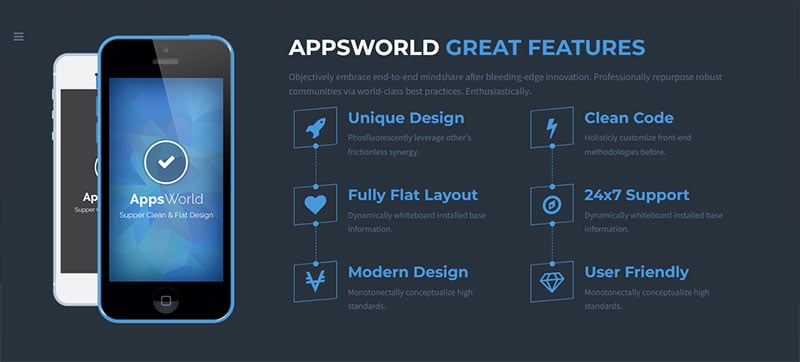 AppsWorld offers a classic yet straightforward page layout. The layout effectively showcases business and self-improvement applications. It also has a portfolio, Owl Carousel, and Google Maps sections.
RxApps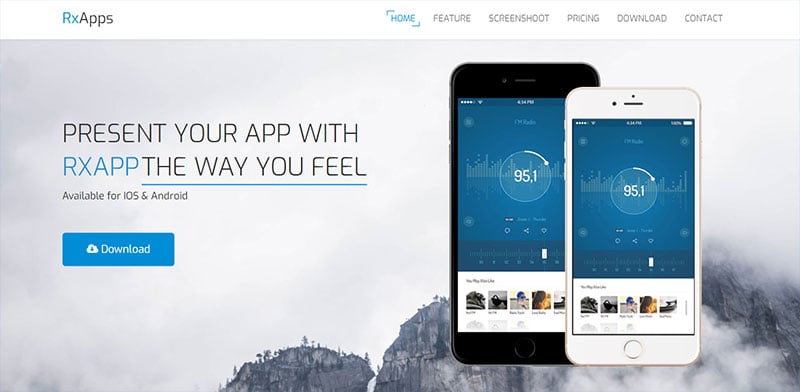 RxApps makes responsive app landing pages that spotlight your apps. It uses Bootstrap 3.3.7, CSS3, HTML5, jQuery, and JS.
Twelve layout styles, 32 templates, and 12 color schemes come with it. The RxApps' code is clean, well-organized, and easy to modify. The modular website building blocks are elegant and flexible to customize your design.
On top of that, RxApps has the following features:
12 colors
12 layout styles
32 templates
Four additional sections
Blog and post pages
Light and dark themes
SEO-optimized code
AppStorm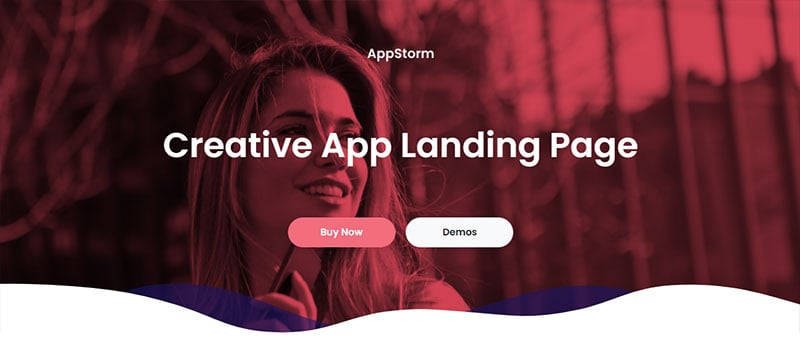 AppStorm lets you make the most beautiful and responsive app landing pages. You can use it for your startup company and create an appealing product presentation. And the template will increase your landing page and app store traffic.
AppStorm includes a range of relevant features to achieve your goals. All website elements are easy to customize, including those on the homepage. The parallax effects, wave animations, and responsive designs focus on mobile internet visitors.
Archer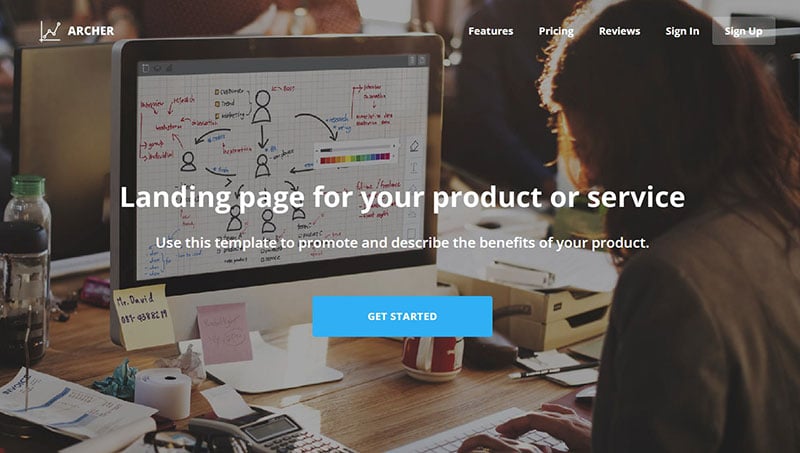 This robust template will help you make modern, engaging web designs that stand out from the crowd.
Some of Archer's attractive features include:
Bootstrap framework
Clean and well-commented code
Various extra page layouts
Video modal
Number counter
Working contact form
Mailchimp-ready subscription form
ZERO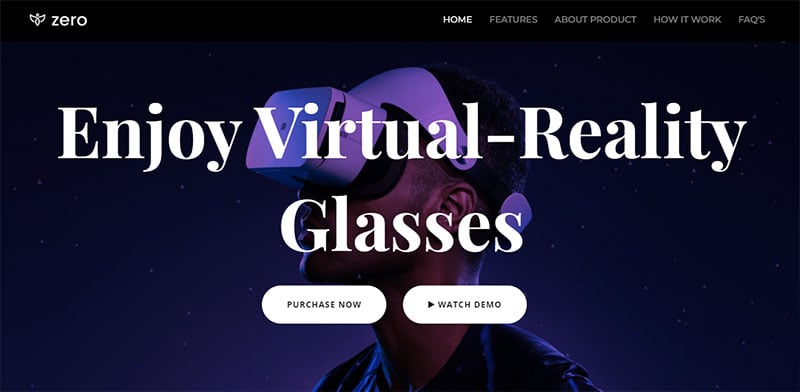 The next one on the list of app landing page templates is ZERO. Its design specifically showcases software and applications. Here are some of its principal features:
12 colors
Three primary banner styles (video, slider, or static image)
36 demos
One-click color selection
Clean and modern design
Layered PSD files
RTL ready
Scroll animations
W3C validated
Working Ajax PHP form
Working PHP contact form
Working PHP MailChimp subscription form
Mniam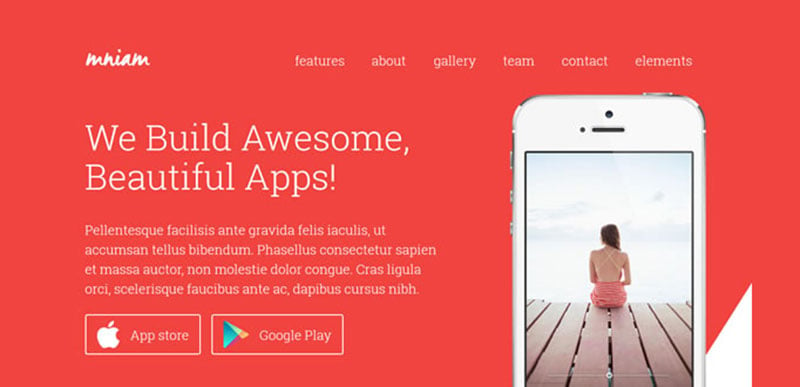 Mnaim is a high-quality landing page template that uses clean CSS3 and HTML5 code. Your websites will be lightweight, responsive, and easy to customize and navigate. Mnaim was developed around Bootstrap and LESS.
Other important features are:
Gallery section with full-screen mode and expandable description
Optimized for desktops, tablets, and mobiles
Touch-controlled sliders
Unlimited colors
Video section
Team and About sections
Rego
The Rego HTML template is for single-page websites to promote software and apps. The clean, modern design works on most mobile devices, including Android and iOS.
Additional features worth mentioning are:
Three color variations
Android and iOS versions
Bootstrap 3.2
Light and dark layouts
Responsive design
Retina-ready
GeekApp
This lightweight app landing page template is straightforward, and it offers many features to add excitement to your site. Valuable features include the countdown timer and featured slider.
It uses the best practices in web design and ensures pages with short loading times. Its responsiveness allows much flexibility. The modern design blends with any background, thanks to the latest version of Bootstrap.
Upland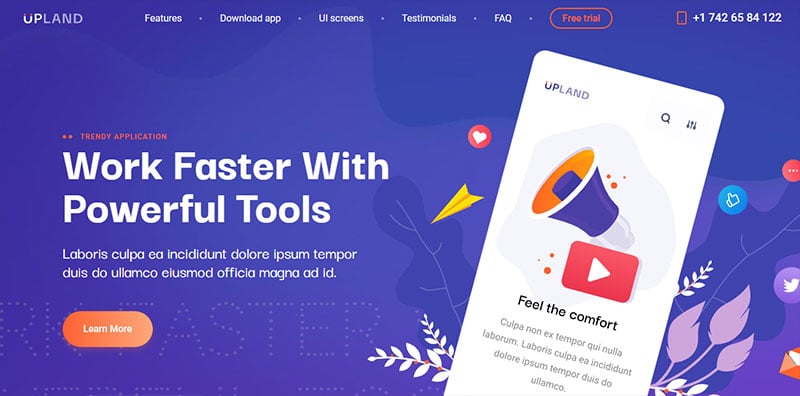 The Upland template is modern and uses the latest CSS3 and HTML5 codes. The excellent design is exceptional for showcasing a new app and its features. You can customize every detail fast and easily.
Hinata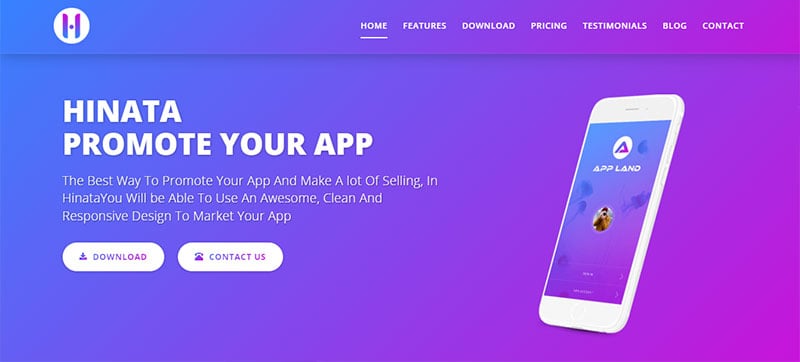 Hinata is a robust and responsive app landing page template with various applications. Its well-written code is easy to work with. In addition, Hinata makes outstanding business and personal app websites.
Below is a list of some of its characteristics:
Box gallery
HTML5
Clean and well-commented code
CSS3 animations
Cross-browser support
Fully responsive
Bootstrap 3.1 and jQuery
Mobile menu for handheld devices
Modern design
Social media icons
W3C validated code
Fibre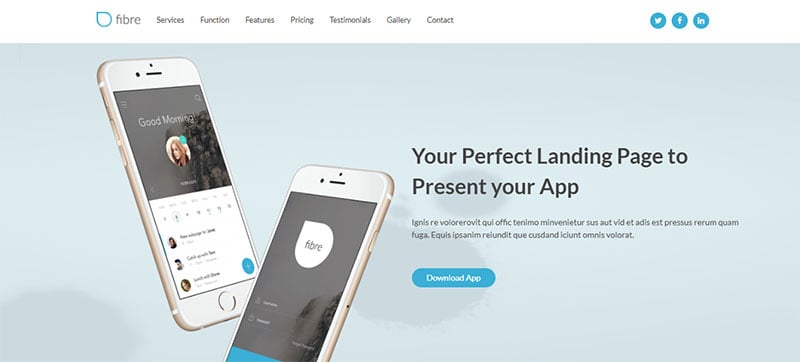 This mobile app landing page template will show off your app or marketing campaign. Twitter Bootstrap 3, CSS3, and HTML5, and the well-organized Fibre code is easy to work with.
Fibre's features include:
Twitter Bootstrap 3
Clean code and design
Frontend HTML pagebuilder included (value: $29)
HTML5 and CSS3
Revolution Slider included (value: $16)
W3C validated code
Opins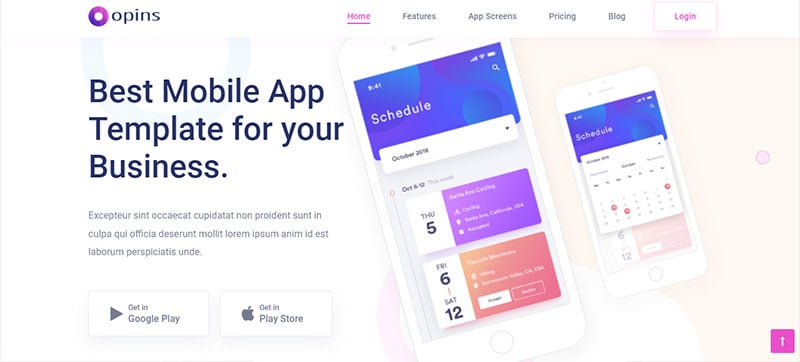 Opins' template builds creative app landing pages with a clean design focusing on your product. It provides two distinct homepage designs powered by Bootstrap 4. And the Opins' CTAs will increase your conversions.
Sware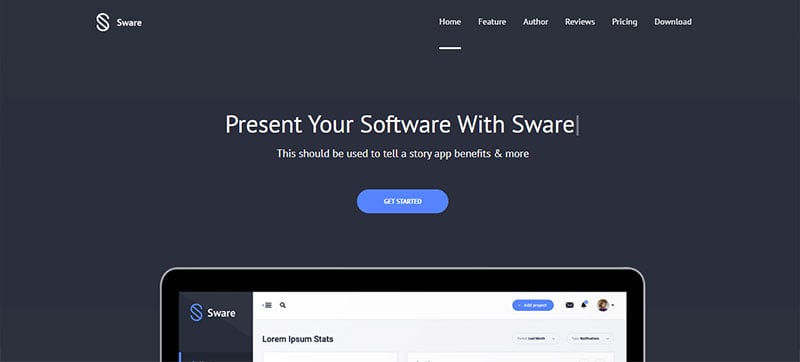 Sware is the perfect landing page template for your service-oriented software. It's meant to create responsive app landing pages that catch attention and increase conversions.
Here are just a few of Sware's features:
Bootstrap 1170px
Mobile-touch sliders
SaaS and software
Responsive
Unique design
Unlimited colors
Faster
As the name suggests, Faster works faster. This HTML template is excellent for mobile app landing pages. It includes nine home page styles, and the modern design makes a unique website.
Faster's code is clean and well organized. Along with 11 PSD files included with the template, that makes it easy to customize.
Pixa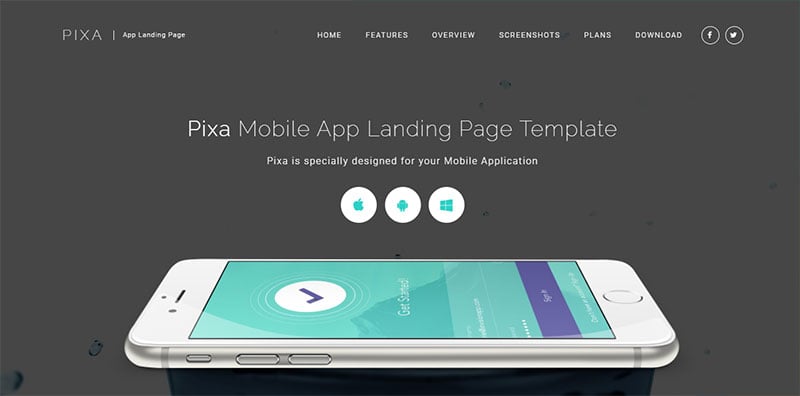 Pixa has a handy drag-and-drop page builder, so you do not need to know any code. You can move the sections around to see how your design looks. It offers more than 80 ready-made sections. Pixa makes responsive app landing pages, so they look perfect on any device.
Way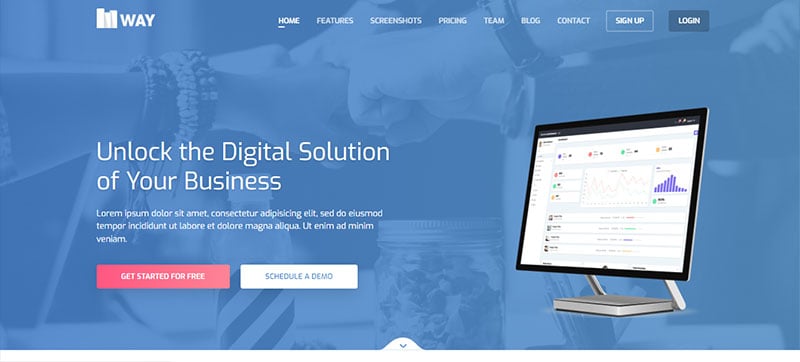 Way's template design is modern and suited for application and software landing pages. It is responsive, easy to modify, and adaptable to your needs. It works best for devices, apps, development, and software companies.
Some of Way's features are:
Nine landing page layouts
Clean and modern designs
Validated CSS3 and HTML5
Latest Bootstrap framework
SASS
Mailchimp API 3.0 newsletter form
Sooper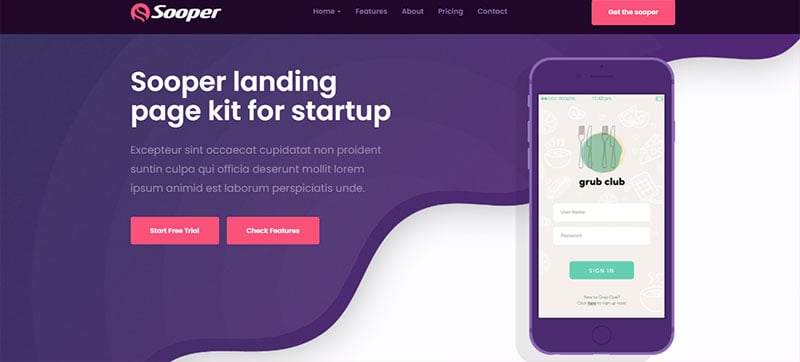 This multipurpose easy-to-customize template features four homepage layouts. It also makes beautiful web and mobile app landing pages. And you can choose from a dark and light-colored theme.
Enovo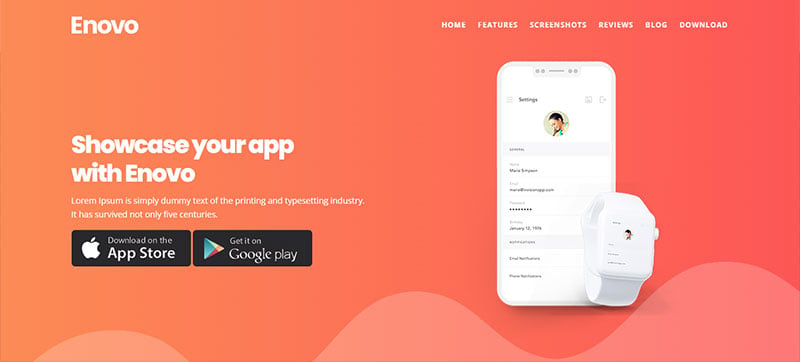 Enovo's design is both simple and engaging. You can choose from many modern fonts, bright colors, and eye-catching sliders.
Enovo's code is clean and well-written, which makes customizing straightforward. Mailchimp integration allows you to build a mailing list with your website.
VSApp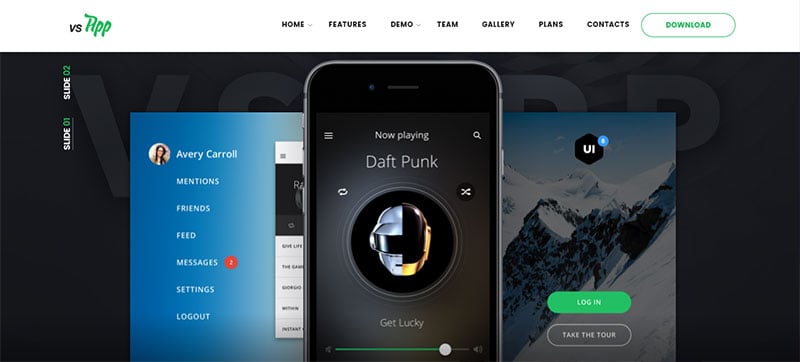 You will enjoy VSApp whether you have a small business or a startup. You need a professional landing page if you want people to find and use your app. And this template will do the job for you so that your product gets noticed.
This template focuses mainly on mobile users with an iPhone or iPad. Some of the template's features are:
Over 40 elements
Five HTML files
Browser LiveReload
Unlimited color customization
Gulp task compatible
BEM methodology
Jironis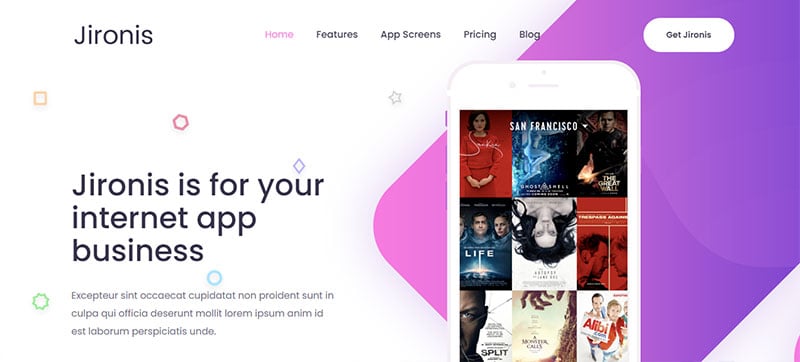 This app landing page template uses a seamless design. It also has lots of white space so you can highlight your app's features. Jironis includes two homepage designs and three inner page layouts. And it supports the Owl Carousel plugin.
APPYOU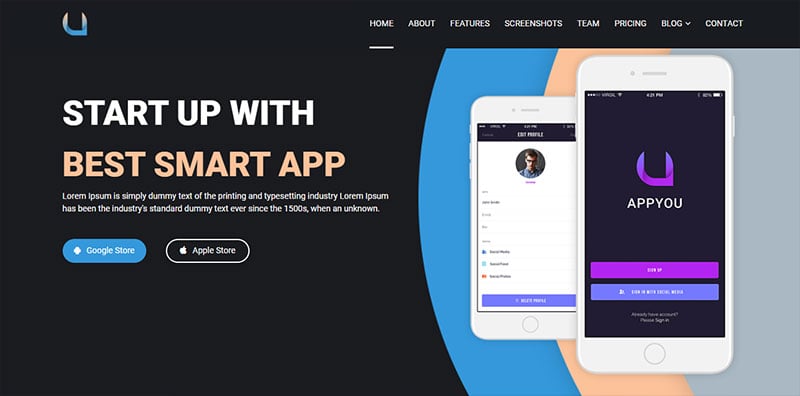 The APPYOU HTML template for app landing pages is modern, clean, and responsive. Bootstrap and HTML5 ensure full compatibility with desktops and mobile devices.
Its main features are:
Four homepages
Six HTML files
Easy-to-customize code
Responsive
Modern and clean design
W3C validated HTML code
Binmp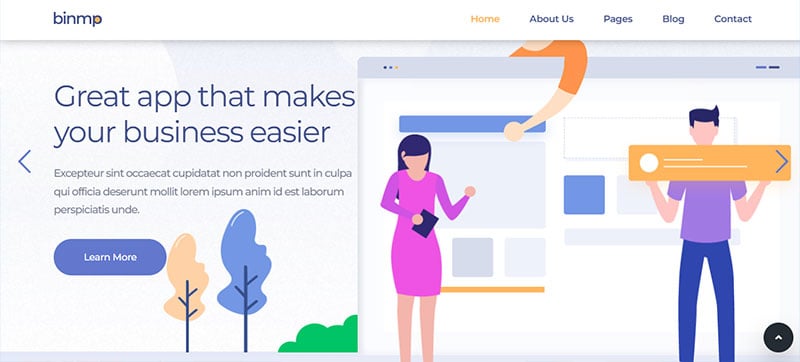 Binmp is perfect for building landing pages for mobile apps, SaaS, and startup websites. Three homepage designs and nine unique inner page design layouts allow you to choose which showcases your product best.
Binmp uses Bootstrap and is fully responsive.
SPOT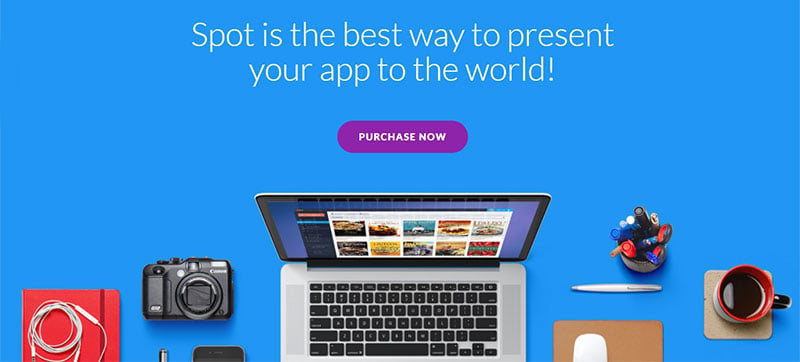 The SPOT HTML template for making landing pages for your app or startup uses HTML5 and CSS3. The responsive landing page template will look perfect on any screen size. The code contains clear product descriptions and samples of previous work.
Sofbox
The last on this list of app landing page templates is Sofbox. This HTML template is ideal for web apps and SaaS applications.
It is compatible with standard web browsers, phones, and other devices. Some core features are:
Blog options
Contact forms
Optimized across browsers
Fast performance
Google Maps
Hover effects
Powerful Bootstrap 3
Responsive layout
Retina-ready
Sticky menu
Unique colors and gradients
FAQs about app landing page templates
1. What is an app landing page template, and why do I need one?
A pre-designed web page that aids in promoting and marketing a mobile application is known as an app landing page template. It typically has a hero section, feature list, client testimonials, and call-to-action buttons, among other areas. You require one so that you can quickly and easily construct a landing page for your app that looks professional without having to start from zero.
2. How do I choose the right app landing page template for my product?
Consider your app's logo, target market, and essential features when selecting an app landing page template. Look for templates that complement your branding and messaging. Make sure the template matches the look and feel of your app by paying close attention to the layout, typography, and color palette.
3. Are there any free app landing page templates available, and where can I find them?
Yes, there are numerous free internet themes for app landing pages. On websites like ThemeForest, TemplateMonster, and BootstrapMade, you can find them. These templates can help you save time and money while providing a strong foundation for the design of your app landing page.
4. What are some essential elements that should be included in an app landing page template?
An app landing page template should have a strong headline, a succinct summary of the app's important features, pictures or videos showing the app in action, social proof like user reviews or ratings, and clear calls-to-action.
5. How can I customize my app landing page template to match my branding and messaging?
Utilize your brand's color scheme, font, and artwork to make your app landing page design unique. Additionally, you can alter the text to make sure that the messaging supports the distinctive value that your software offers.
The majority of app landing page themes may be changed using website builders like Squarespace, Wix, or WordPress.
6. Do I need any technical skills to use an app landing page template?
No technical knowledge is required to use an app landing page template. The majority of templates have drag-and-drop editors that make it simple to change the text and design without knowing how to code.
7. Can I use an app landing page template for multiple products, or should I create a unique page for each app?
Every app should have its own landing page, as this enables you to customize the messaging and appearance to meet the requirements of each product. You might be able to use a single template with some small adjustments if you have several apps with comparable functionality.
8. Are there any best practices I should follow when designing my app landing page using a template?
Yes, there are some best practices to adhere to when creating an app landing page using a template, such as maintaining a basic and clean design, using high-quality photographs and videos, making sure the language is crystal clear and succinct, and integrating social proof to win over potential users.
To ensure a seamless user experience, also check that the website is mobile-friendly and loads rapidly.
Conclusions on the best app landing page template options
Hopefully, you enjoyed this post on the best app landing page templates. Please share this page with your friends and colleagues if you like it.
Many template examples have similar features. Knowing which features you need to make the perfect landing page for your app will help you select the best one. Also, some unique features offered by a few of these templates will make an attention-grabbing website.
If you liked this article about app landing page templates, you should check out this article about band website templates.
There are also similar articles discussing coming soon website templates, video website templates, financial website templates, and architecture website templates.
And let's not forget about articles on gym website templates, travel website templates, pet website templates, and tattoo website templates.
Amazing App Landing Page Template Examples (42 Websites)