Because in an era where screens have become stages, your band website design is the ticket that invites your audience into your musical journey. It's the silent yet vibrant communicator of your band's story, style, and soul.
Now, let's dive into a universe where visuals harmonize with melodies, exploring band website design examples that not only amplify your online presence but also turn every visitor into a fan, every click into a concert.
Awesome Band Websites To Check Out
Music Band Website Template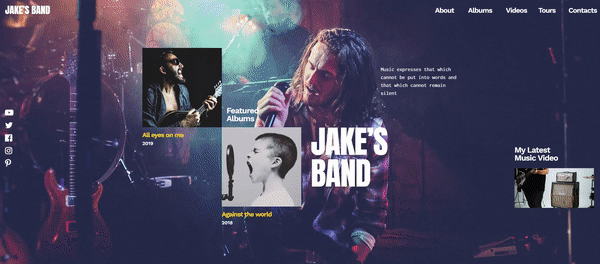 Introduce your band with The Music Band Website Template – an awesome website design tailored for artists to showcase your discography, latest tracks, music videos, tour dates, and band profiles. Experience stylish transitions and a layout that brings your musical journey and collaborations to life.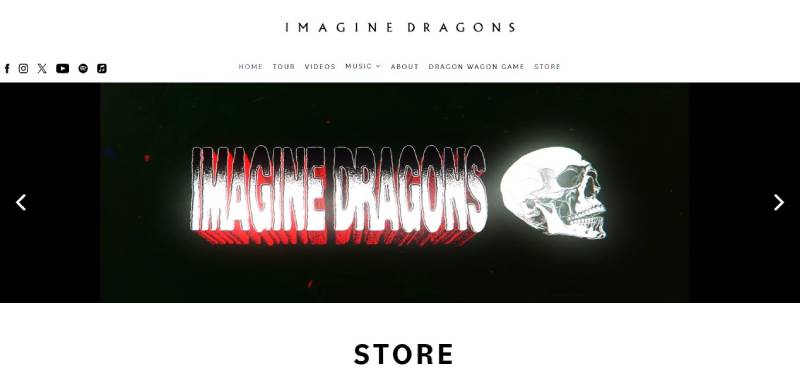 Dive into the world of Imagine Dragons. This space is a blend of their latest tracks, tour dates, and exclusive merchandise.
The site radiates their signature energy, with glimpses of their recent "Children of the Sky" and "Vegas Merch".
It's a hub for fans, offering a chance to stay updated and snag some cool gear. If you're looking to immerse yourself in their music, this is your gateway.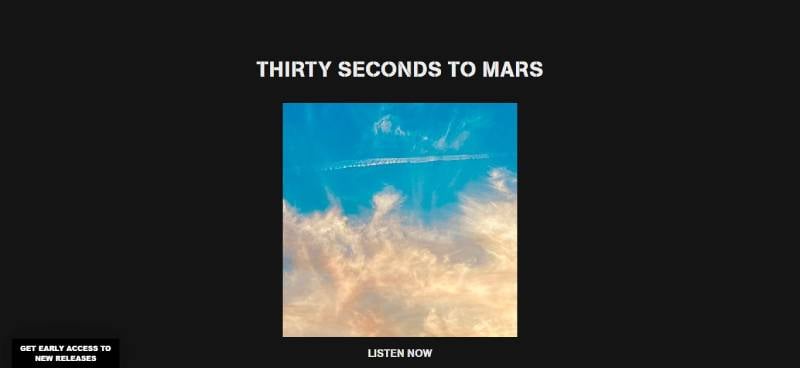 Embark on a cosmic journey with Thirty Seconds To Mars. The site is a vibrant mix of their latest tours, tracks, and exclusive merchandise.
With mentions of their upcoming shows at "ACL Fest Nights" and "Austin City Limits Music Festival", it's a haven for fans. Whether you're looking to relive their classics or explore their new hits, this is your portal.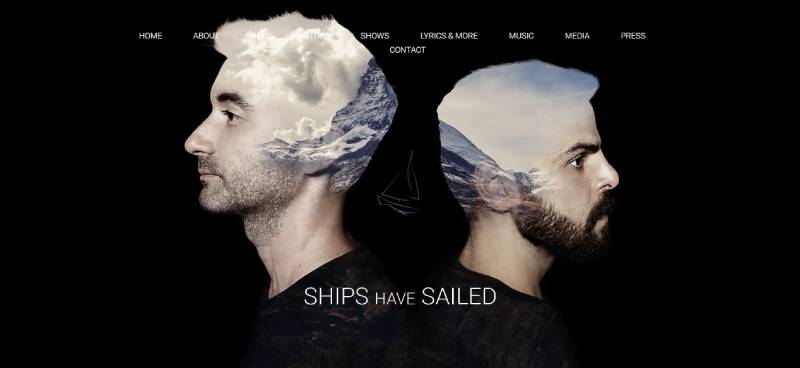 Embark on a musical voyage with Ships Have Sailed. Their website smoothly intertwines their recent hits, notably the evocative "Get Loud" and the live rendition "Live from Ojai".
This digital haven encapsulates their distinct indie alternative flair, allowing enthusiasts to remain in sync and delve into their varied musical collection. Plunge deep to feel the rhythm of their harmonies.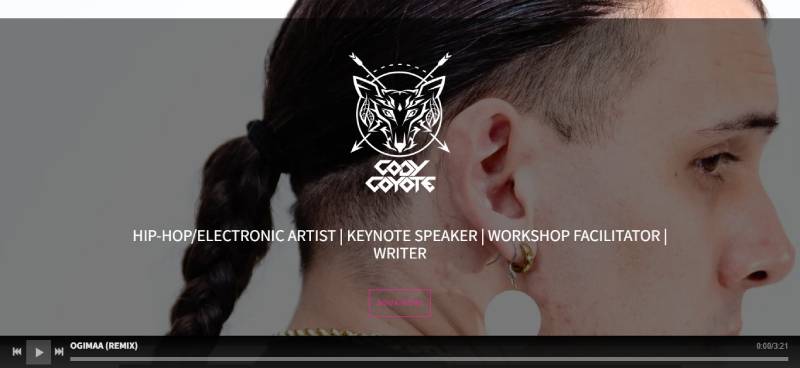 Step into the world of Cody Coyote, an Ottawa-based hip-hop artist with Ojibwe/Irish roots. His music is a powerful fusion, echoing his rich ancestry from Matachewan First Nation.
Beyond just music, Cody is also a keynote speaker, workshop facilitator, and writer. His tracks, like "SNAG", showcase his unique style. Dive into his journey, from performing at the "Music On Ice" to representing Switzerland at the New European Songbook.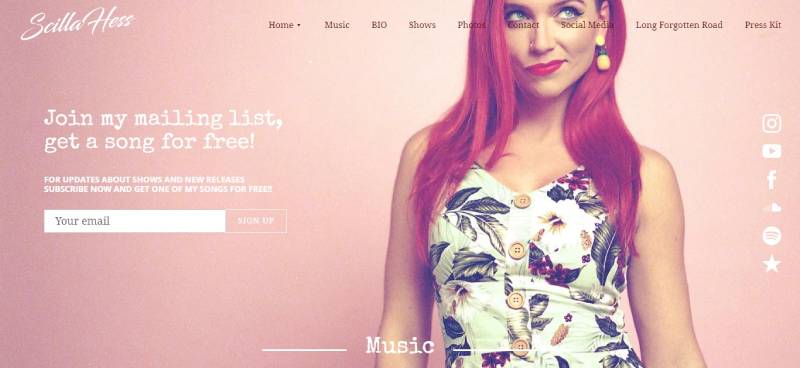 Meet Scilla Hess, a pop and jazz singer-songwriter with a touch of retro jazz, soul, and blues. Dive into her latest singles and get ready for her upcoming album, set to redefine the pop and jazz genres.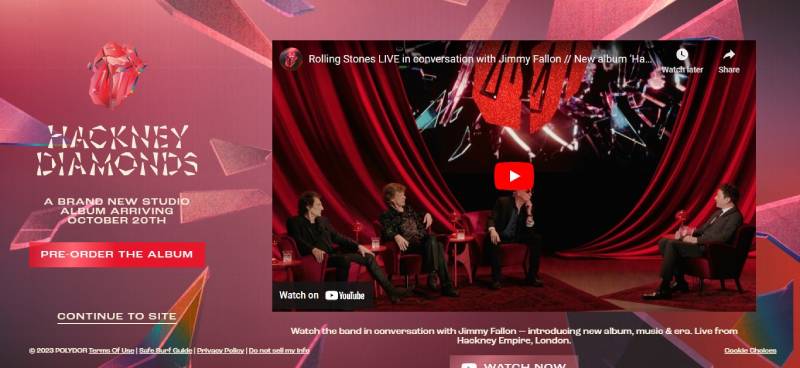 Step into the world of the Rolling Stones, often hailed as the pinnacle of rock'n'roll. With a history that stretches across eras, their tunes have echoed in the hearts of many.
From their extensive audio-visual archive to their collaborations with icons like Lady Gaga & Stevie Wonder, the Stones continue to redefine rock music.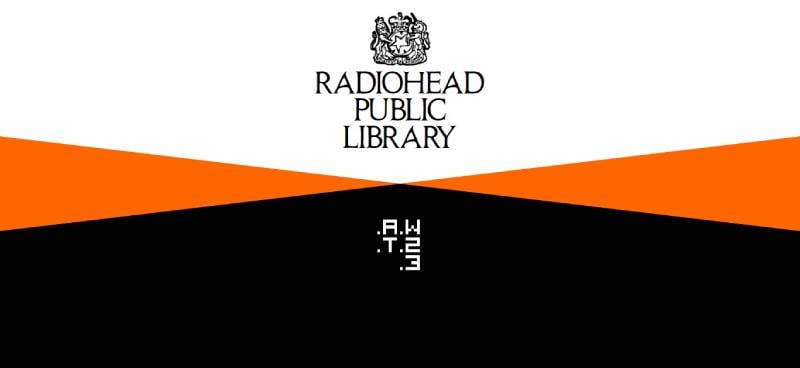 Dive into the RADIOHEAD PUBLIC LIBRARY, a unique digital space that encapsulates the essence of this iconic band.
The design is minimalistic, yet it speaks volumes. It's not just a band website; it's an experience. The site's simplicity is its strength, drawing fans into a world of music and memories. If you're looking for a design that's both nostalgic and forward-thinking, this is it.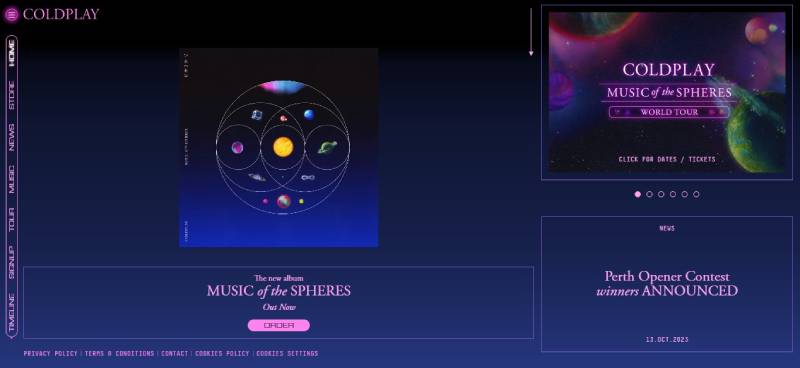 Coldplay's website is a visual and auditory journey. With the announcement of their new album "MUSIC of the SPHERES", the site is vibrant and alive.
It's a hub for all things Coldplay, from tour dates to their latest merchandise. The design is interactive, with a mix of bold graphics and subtle animations. It's a testament to how band website design can enhance the fan experience.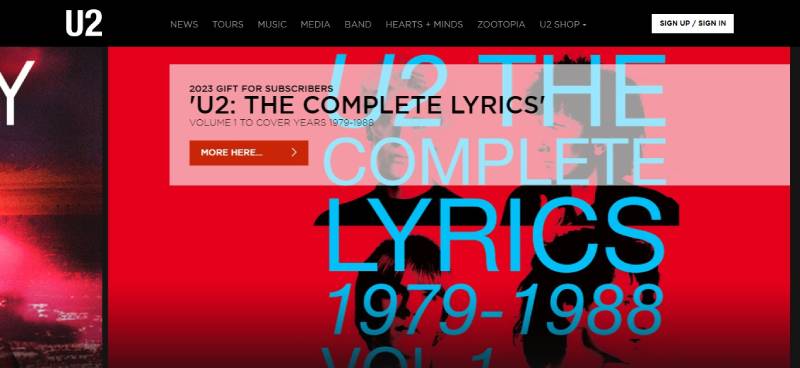 Venture into U2's universe, where each instant captures attention. Their platform seamlessly integrates news, upcoming tours, and fan engagements.
With continuous updates on their recent performances and happenings, it remains a lively hub for their followers. The layout is polished, emphasizing visuals and font styles. It exemplifies the art of preserving a band's heritage in today's digital realm.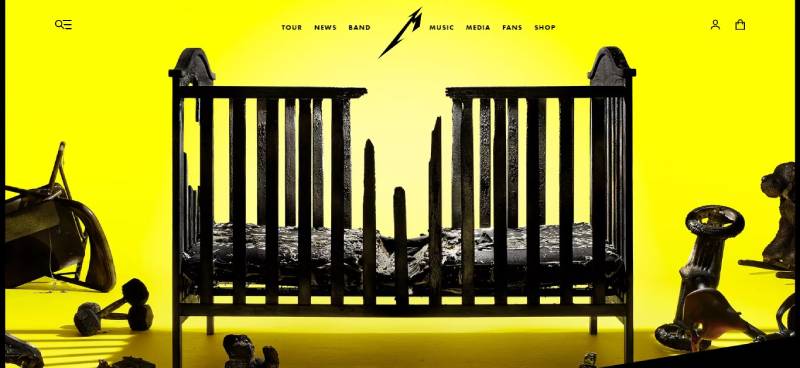 Metallica's digital domain stands as a bastion of heavy metal. Overflowing with updates, concert schedules, and an array of collectibles, it's a treasure trove for enthusiasts. The design exudes confidence and audacity, mirroring the band's persona.
Highlighting their recent "72 SEASONS" album, it serves as a central spot for the Metallica community. It showcases the blueprint for crafting a band website that marries functionality with raw authenticity.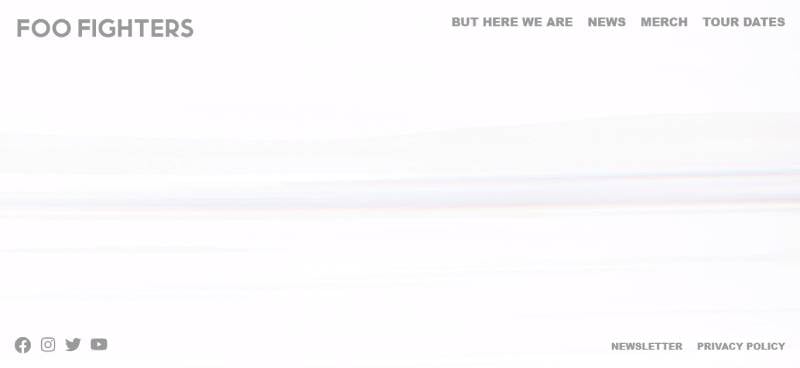 Foo Fighters embrace a straightforward approach. Their digital space, marked by the striking phrase "BUT HERE WE ARE", speaks volumes about their musical odyssey.
The design is minimalist, zeroing in on the essentials. It's a haven for fans to access recent updates, concert schedules, and collectibles. Its unadorned elegance is what draws Foo Fighters aficionados.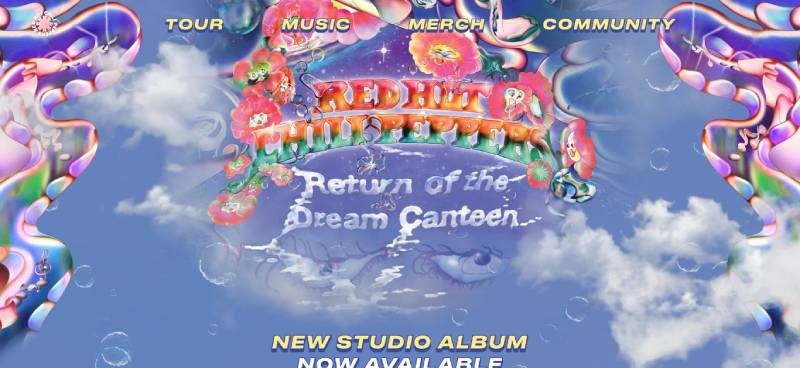 Red Hot Chili Peppers ignite passion with their online presence. The layout is a fusion of vivid hues and lively graphics, echoing the band's dynamic essence. It transcends a mere website; it's a digital adventure.
The compelling "CHECK IT OUT" beckons fans instantly. Its user-friendly design ensures effortless browsing, epitomizing the blend of flair and functionality in band website aesthetics.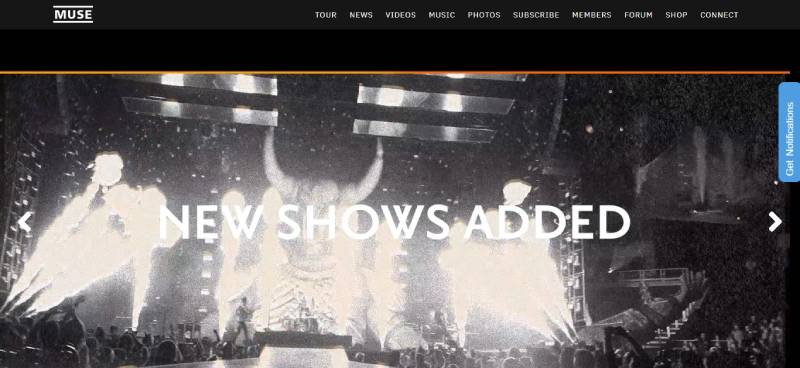 Muse transports you to an interstellar realm of melodies with their portal. The ambiance is captivating, centering around their "SIMULATION THEORY FILM".
It merges striking visuals with sound, offering fans a sensory delight. Bursting with offerings, from fresh releases to exclusive gear, the site underscores the essence of smooth navigation in band website crafting.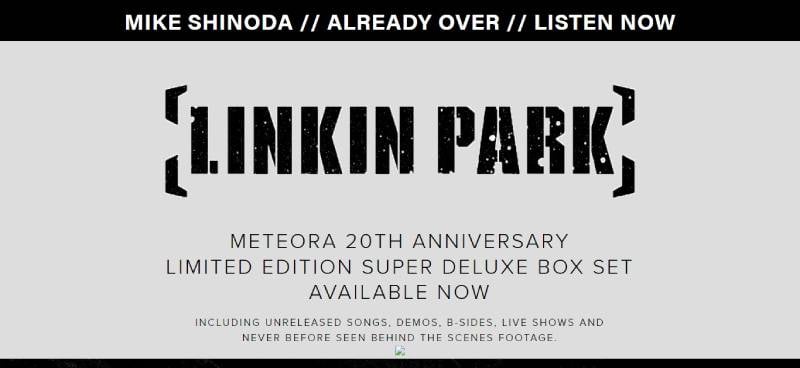 Linkin Park marks two decades of "Meteora" with a site that marries nostalgia with modernity. The aesthetic is refined, spotlighting their exclusive super deluxe box collection.
It's the epicenter for all Linkin Park treasures, from rare tracks to intimate glimpses. Its intuitive design accentuates the significance of user-centricity in band website architecture.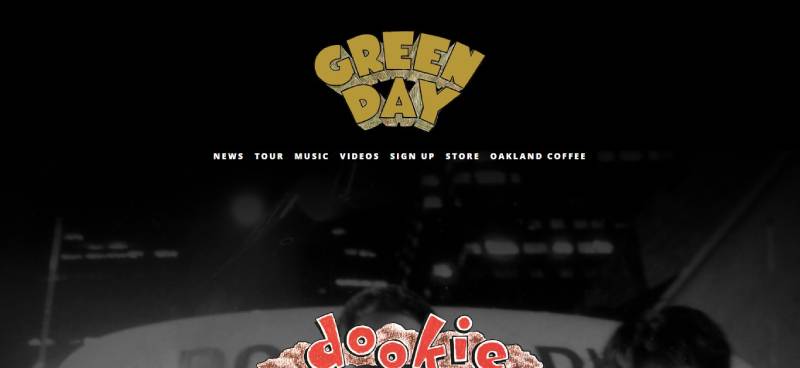 Green Day infuses vitality into their digital domain. The layout is crisp, underscoring their recent announcements, gigs, and tunes.
It mirrors the band's zest and punk ethos. With intuitive navigation and evident prompts like "OUT NOW", it exemplifies how band website artistry can uplift user engagement while resonating with the band's soul.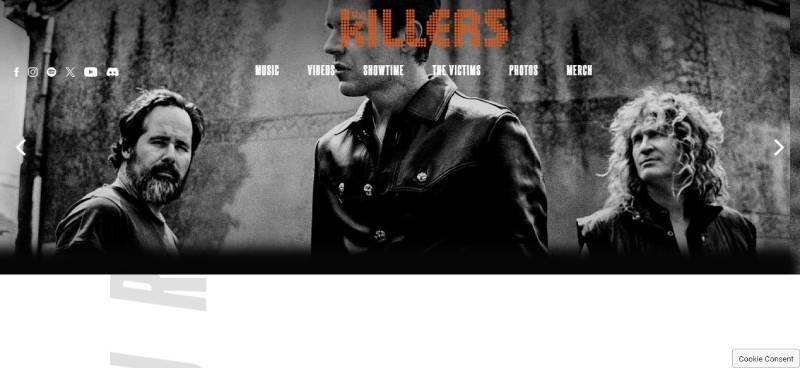 The Killers have crafted a website that's as dynamic as their music. With bold visuals and a clear focus on their latest releases like "your side of town" and "boy", fans are always in the loop.
The site also showcases their upcoming tour dates, ensuring fans never miss a beat. The design is sleek, with easy navigation to their music, videos, and merch. It's a hub for all things Killers, reflecting their iconic status in the music world.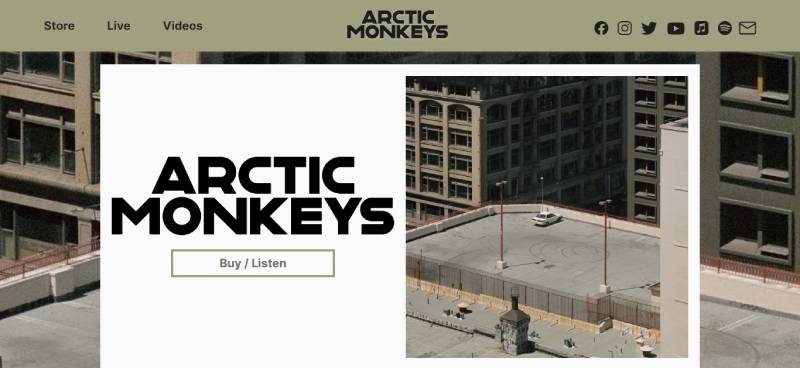 Arctic Monkeys present a website as chilled and captivating as their tracks. The layout is understated but leaves a mark, highlighting their recent album "The Car".
With concert schedules in the spotlight, enthusiasts can swiftly map out their next gig. The portal boasts an assortment of merchandise, from shirts to trinkets, addressing the desires of every follower. It's a virtual realm that resonates with the band's distinct flair and rhythm.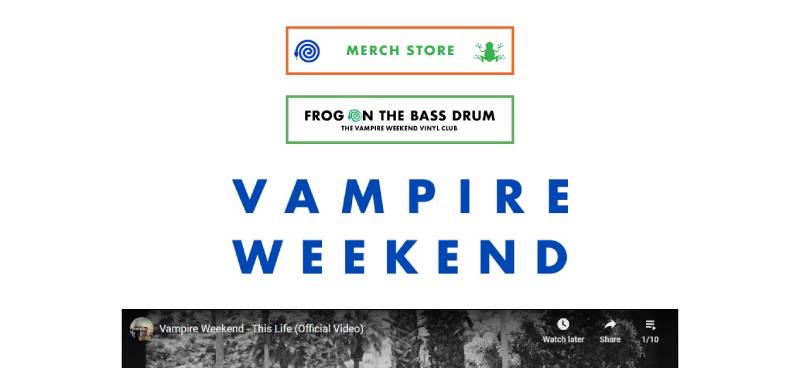 Vampire Weekend's site, though pared-down, eloquently conveys the band's essence. It provides a window into their universe, emphasizing their musical creations and philosophy.
The platform is a blend of grace and utility, enabling fans to effortlessly tune into their beloved songs and catch the freshest updates. Its sleek and user-friendly design mirrors the band's contemporary and polished resonance.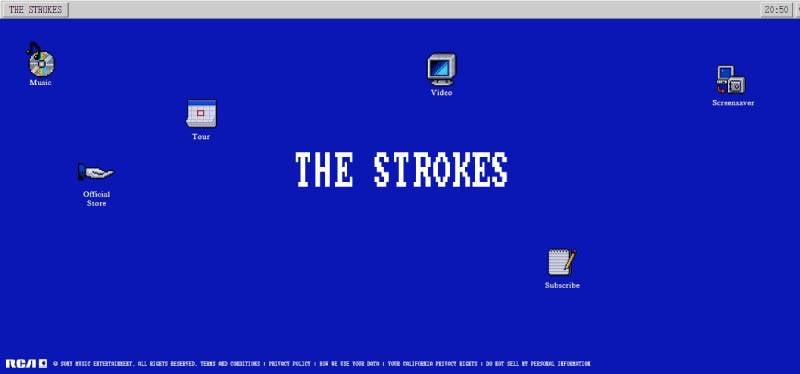 The Strokes' online presence is as sharp and memorable as their melodies. The design is no-nonsense, centering around their tunes, upcoming gigs, and branded store.
It's a virtual hub that encapsulates the spirit of The Strokes, serving as a comprehensive resource for aficionados. Be it records or tapes, the site has something for every audiophile. It stands as a tribute to the band's enduring influence in the world of music.
Arcade Fire invites fans into their world with a website that's both immersive and interactive. The design is vibrant, with a focus on their latest releases and live tour dates.
Fans can easily navigate through the site, accessing their music, videos, and official store. The site also uses cookies to enhance the user experience, ensuring a seamless journey for fans. It's a digital space that truly captures the band's spirit and creativity.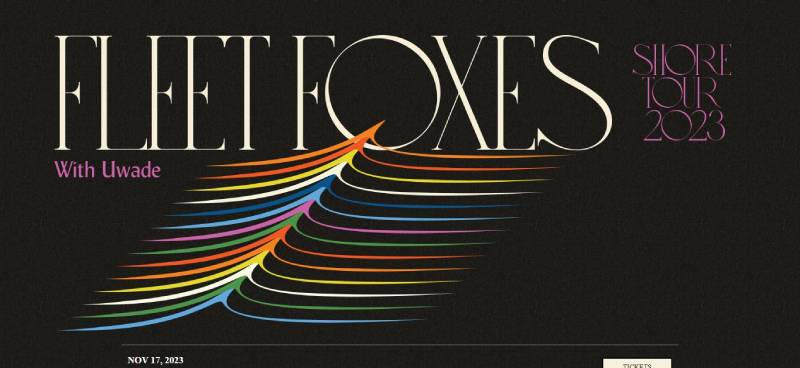 Fleet Foxes invites fans on a musical journey with their website. Highlighting their "Shore Tour 2023", the site is a hub for all their latest concerts and events. From Mexico City to Australia, the band's global presence is evident.
The design is clean and user-friendly, ensuring fans can easily book tickets and stay updated. It's a digital space that truly captures the essence of Fleet Foxes.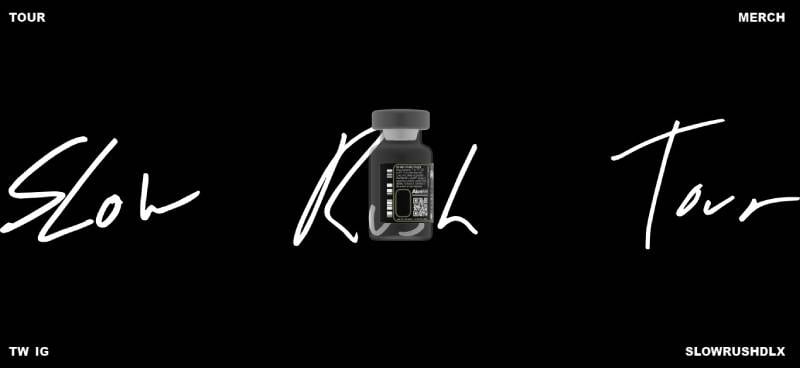 Tame Impala offers a minimalist yet impactful website. The focus is on their "Slow Rush Tour", with dates and venues clearly displayed.
Fans can easily navigate to get the latest updates and music releases. The design is sleek and modern, reflecting the band's contemporary sound. It's a space that resonates with fans, offering an immersive digital experience.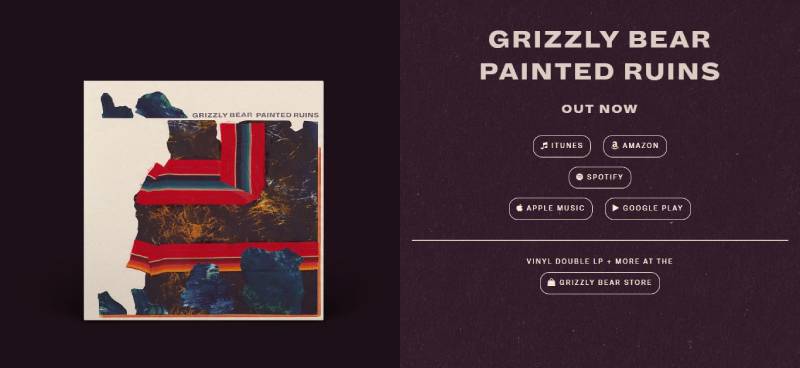 Grizzly Bear greets enthusiasts, spotlighting their "Painted Ruins" album. The website serves as a nexus for their tunes, offering avenues to listen or buy across different mediums.
Enthusiasts have the option to subscribe to their updates via a newsletter. With its clear and uncomplicated layout, the site promises ease of browsing and discovery. It's a virtual realm that genuinely mirrors the band's indie-rock essence.
FAQ on Band Website Design
How Vital is a Band Website in Today's Digital Age?
Oh, it's like asking if a guitar is vital for a rockstar! A band website acts as your digital home, a place where fans can dive into your world, explore your music, and connect directly.
What Should Be the Core Focus When Designing a Band Website?
Listen, the core, the essence, it's all about your music and the experience you provide. Your website should scream you from every corner. It's a space that should be soaked in your musical journey, your style, and your uniqueness.
Think of it as a digital album cover that unfolds into a universe of your creation. It's not just a design; it's a visual symphony that should play harmoniously with your tunes.
How Can I Make My Band Website Visually Appealing?
Ah, the art of visual melody! Your website should be a visual representation of your music. Use dynamic images, maybe from gigs or behind-the-scenes shots, and let them tell a story. Play with colors that represent your genre and personality.
Is it Crucial to Have an E-commerce Section on the Band Website?
Absolutely, my friend! Think of it as your online merch table. An e-commerce section isn't just a shop; it's a place where fans can own a piece of your art, be it in the form of tees, mugs, or vinyl.
It's a direct way to support you, and let's be honest, who doesn't love band swag? It's not just commerce; it's a trade of love, support, and art between you and your fans.
How Do I Ensure My Website Resonates with My Musical Style?
Your website should be an extension of your music, a digital echo of your sound. It's like when you strum those strings, every note should reverberate through the design, colors, and content of your site.
Your genre, your lyrical style, and your band's persona should be felt in every interaction on the site. It's not just a webpage; it's a digital stage where your music plays 24/7.
How to Keep Fans Engaged Through the Website?
Engagement, ah! It's like keeping the crowd hyped at a concert. Regular updates, exclusive content, and a sneak peek into your musical journey keep the fans coming back.
Imagine your website as a backstage pass where fans get to see not just the artist, but the person behind the art. It's not just about updates; it's about sharing moments, stories, and experiences that are raw, real, and resonant.
How Much Should I Invest in My Band Website Design?
Investment, tricky yet crucial! It's not about pouring endless funds but investing wisely in creating a space that is truly you. Your website is like your digital album – it needs to be produced well to showcase your art in its truest form.
It's not just money; it's an investment in your digital identity, ensuring that every click brings your fans closer to your musical world.
How to Make My Website Accessible to All Fans?
Inclusivity in the digital realm, love it! Your website should be like a gig that's accessible to all. It's not just about design; it's about ensuring every fan, regardless of their abilities, can navigate, interact, and enjoy your digital space.
Should I Include a Blog Section on My Band Website?
A blog, oh yes! It's like your personal magazine where you get to share your thoughts, stories, and experiences directly with your fans. It's not just a section; it's a direct channel where your voice, unfiltered and raw, reaches your audience.
It's not just about sharing; it's about creating a space where your words weave a narrative that adds depth to your musical journey.
How Often Should I Update My Band Website?
Keep it fresh, keep it alive! Your website should evolve just like your music does. It's not just a set-it-and-forget-it deal; it's a living entity that grows with your journey. Imagine it as a live album that gets a new track added regularly.
It's not just about being current; it's about being real and letting your fans grow with you, experiencing every new note, every new story alongside you.
Conclusion on Band Websites
Band website design isn't just about flashy graphics or cool animations, it's way deeper than that.
So, when designing for a band, it's all about capturing that essence. The raw energy. The passion. The late-night jam sessions and the roaring applause from the crowd.
If you enjoyed reading this article about band websites, you should check out this article about websites with carousels.
There are also similar articles discussing plugins better than the Divi slider, plugins better than the Elementor slider, testimonial carousels, and LayerSlider alternatives.
And let's not forget about articles on the best WordPress sliders, WooCommerce slider plugins, carousel sliders, and full-page sliders.
Striking a Chord Online: Top 30 Inspirational Band Websites