Instagram and other social networks show how popular barbershops are at the moment. Of course, everybody needs the services of a barber every so often.
That fact makes this market so attractive for software developers and website designers.
Most barbershops have a website and many owners are familiar with website design. That makes this market a challenge.
This is a specific business with specific needs. So barbershop owners will not be satisfied with just any website design.
They often know what they want and what it should cost.
There is a lot of variety when it comes to barbershops. Some associate with spas or thermal springs.
Others are more traditional, with big leather chairs. Whatever the case, there is a suitable theme available.
All examples are SEO-friendly.
So, have a look at this collection of stylish barbershop website template examples. Pick the best one and adapt it as needed.
Add text, logos, and photos. That is all that it takes to make a new barbershop website.
BarberShop Website Template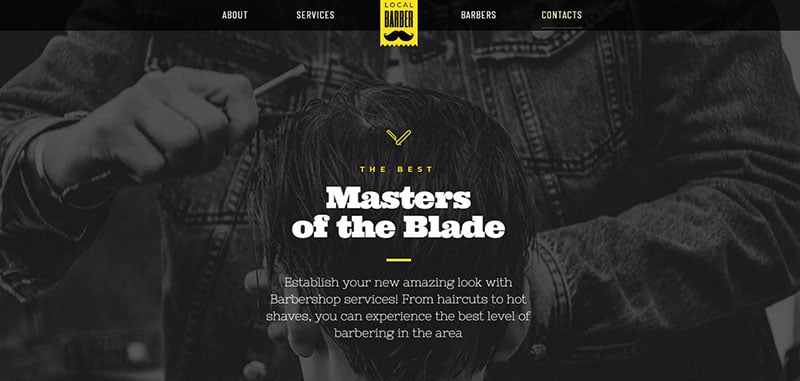 The first on the list of barbershop website templates also includes sliders and Hero.
Barberia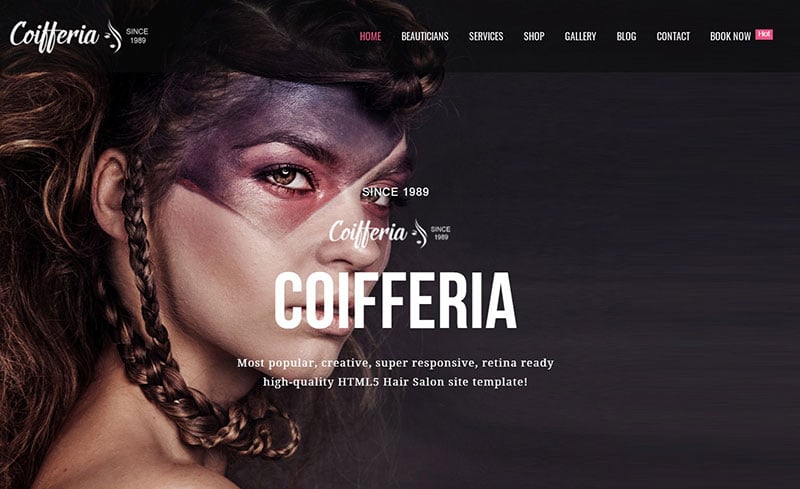 This HTML theme for beauty salons, barbershops, or hair salons has a creative design. It includes a mega menu style, an excellent form plugin, sliders, and a customizable color scheme.
Barberia contains 37 HTML files. It uses a 1170px grid, which makes it easy to turn the template into a modern and elegant website.
The theme comes with several eye-catching color schemes. The custom.css file allows users to make their own personal color combinations.
Some of Barberia's main features are:
Custom menus
Custom page templates
HTML5 and CSS3 technology
Professional sliders
Shortcode elements
Pangke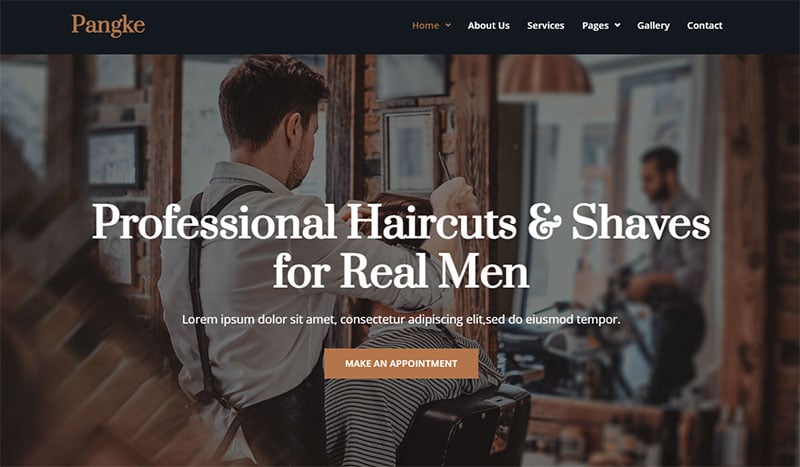 Pangke is a template with great looks. The layout is well done, the color combinations are smooth, and it builds fast websites.
It makes great websites and helps barbershops to improve their online presence. It includes the following website elements:
Home 1
Home 2
About us
Contact
Gallery
Our barbers
Pricing
Services
Sponsors
Testimonials
Cutting Edge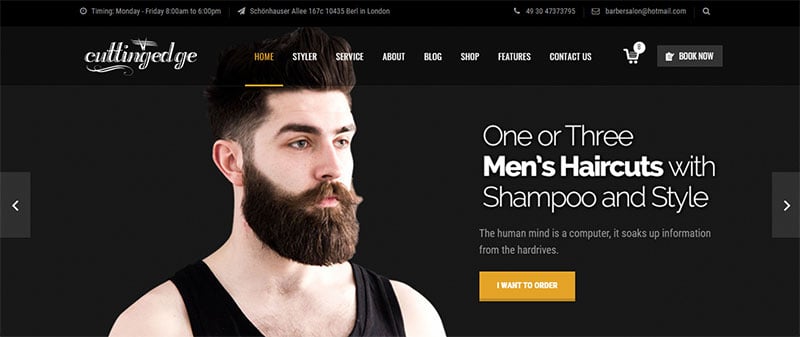 Cutting Edge is perfect for creative barbershops and other hairdressers. The template includes more than 20 HTML files and different custom color combinations.
Cutting Edge has a modern look and is easy to work with, thanks to the 1140px grid.
Besides the custom color scheme, it comes with a color.css file that helps users to pick the color they want. Other important features are:
Custom menus
Custom page designs
HTML5 and CSS3 technology
Shortcode elements
Supported professional sliders
Quiff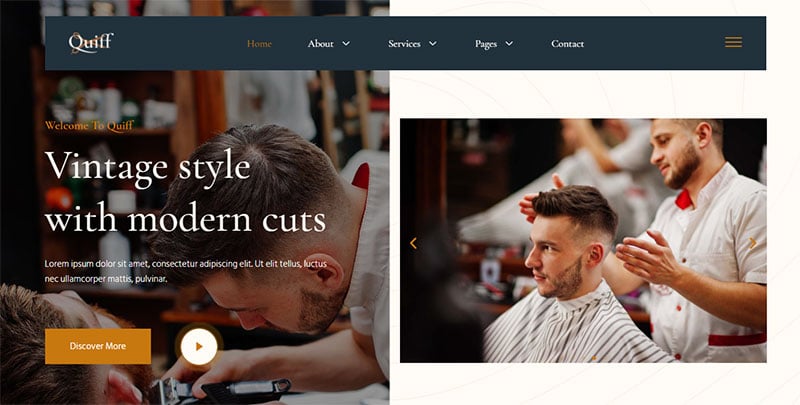 Quiff – Barbershop & Hairdresser Elementor Template Kit is a new and unique website theme for barbershops. It is a good match for many barbershops, hipster stylers, and other beauty businesses.
The responsive design makes sure that the website is easy to use on any kind of device. It looks modern and sharp and customization is straightforward.
Anyone can work with it as it does not take a deep knowledge of coding.
Quiff includes 14 carefully crafted pages and more than 15 awesome templates. Making a professional website for a barbershop is only a couple of clicks away.
Venus
Venus is a template with a simple but modern design. It is suitable for a one-page barber's website.
This example works with Adobe Muse CC 2014.3.2.11.
It includes three different versions. One for tablets, one for mobile devices, and one for desktops.
It supports different icons, web fonts, and parallax scrolling.
Bardo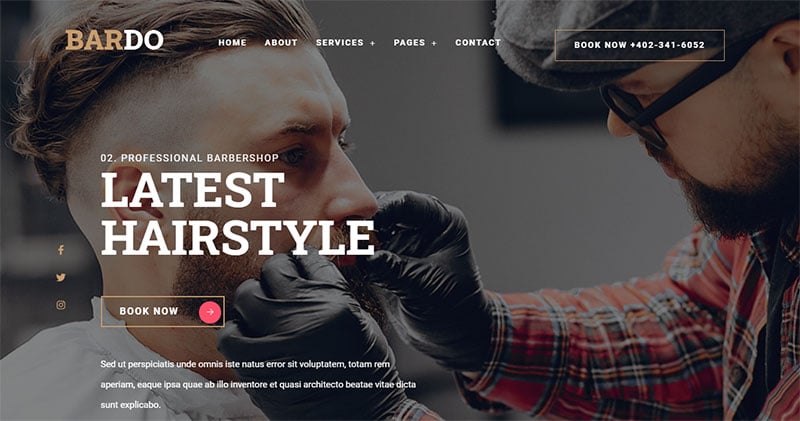 Bardo is an Elementor kit for making business websites. Its design works best for beauty salons, barbers, pubs, and motorcycle clubs.
The design is beautiful and sure to attract visitors. It includes the following website elements:
Homepage
About us
Contact
FAQ
Gallery
Our Team
Pricing
Services
Single Service
Testimonials
Chief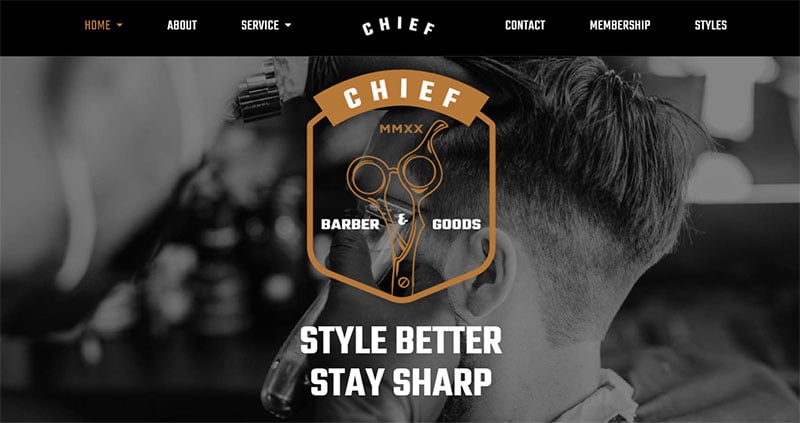 Chief helps barbershops to showcase their work and improve their online presence. It has a clean and modern design.
It contains more than ten well-made pages that look awesome. Making a website with these templates is easy and will take only a couple of clicks. If you want to run a successful barbershop, this is one of the templates you should start with.
The kit offers templates for the following website sections:
Homepage
About Us
Coming Soon
Contact
Membership and Pricing
Popup
Service
Style
Barbershop Pro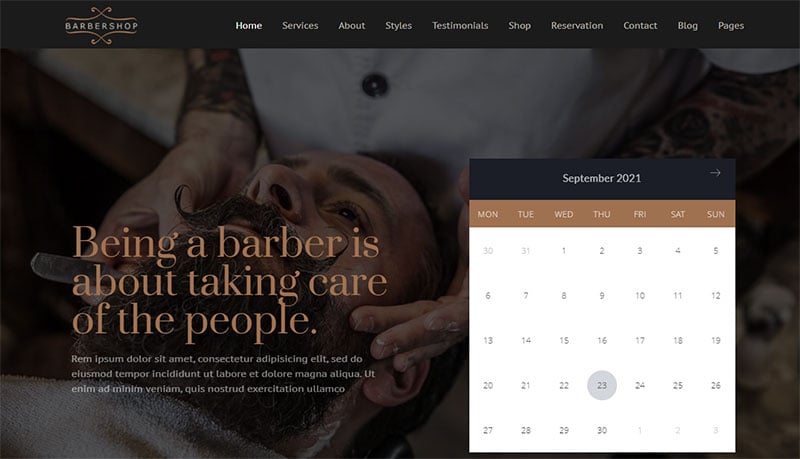 This is a creative template for a barbershop, beauty, or hair salon. Barbershop offers a lean but elegant design.
The templates are suitable for making multiple pages.
There is, of course, a landing page. Also a template for making an interactive calendar for making appointments.
The simple design has a retro theme and engages the visitor to browse the entire site. It has a special appeal for hairdressers that want to display their work in a portfolio, blog, or website.
Murdock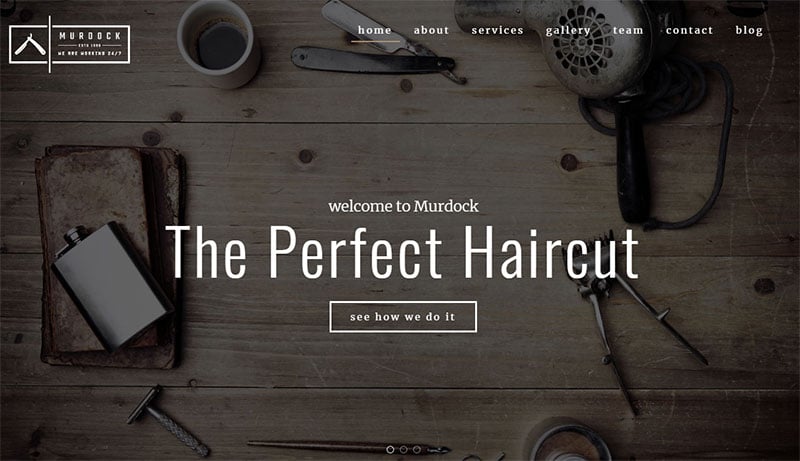 The next on the list of barbershop website templates is Murdock.
Written in HTML, it caters to the website needs of barbers, hair salons, and related businesses. It helps them to show off their work, skill, and talent.
The theme is responsive. It is also created around the Advanced Bootstrap framework using CSS3 and HTML5.
It will thus look great on any device, from desktop computers to handheld devices. The included sliders are responsive as well.
BarberShop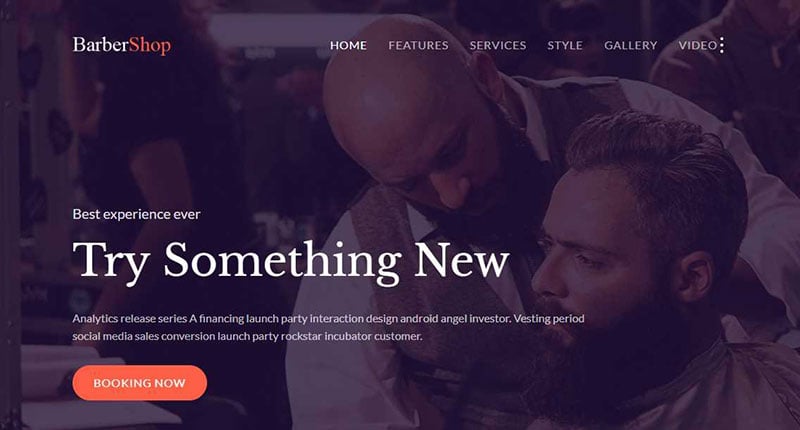 The Barbershop WordPress website builder is small, simple, yet eye-catching. This is a great option for making sites for barbershops and hair salons.
It aims at sharing a brand with the rest of the world and showing others what the shop or salon has to offer.
BarberShop uses Essential Grid. This makes for easy customization and aids in displaying products and services in a gallery format.
Maccho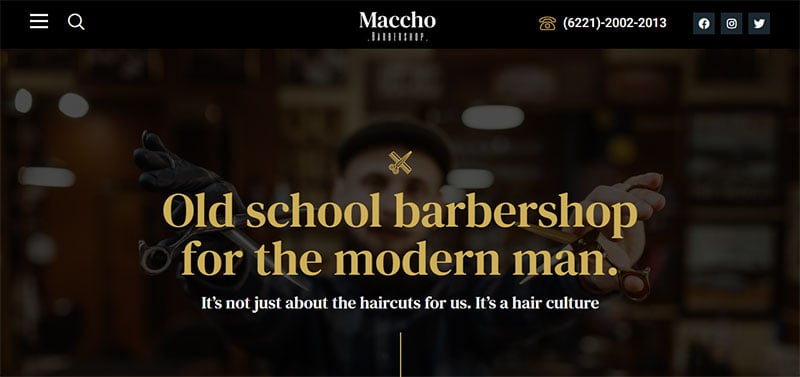 Maccho is a template kit for barbershops and related businesses. It contains more than twelve pre-built pages.
The designs and layout are stunning and stylish. Making a website for a hairdresser was never this easy and fast.
This set of Elementor templates works with a drag-and-drop builder. That makes designing very simple and does not require coding.
The layout elements that it includes are:
Fully responsive and mobile-friendly
12+ pre-built templates
Built with the Elementor Hello Theme
Created with Elementor Pro
Easy customization
Modern and Professional design
MenzSaloon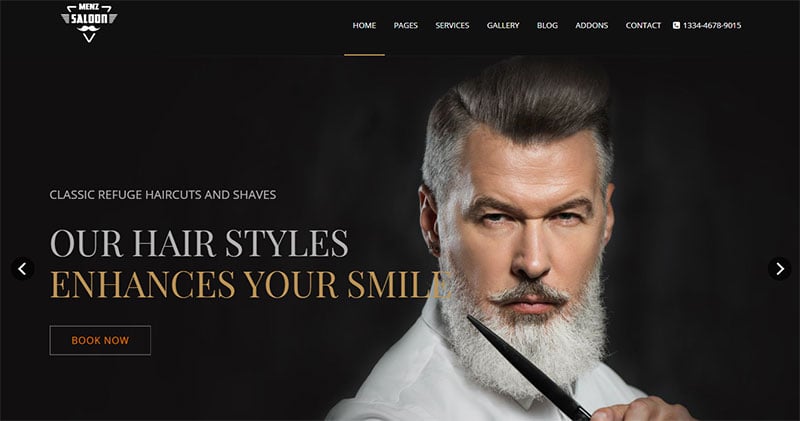 MenzSaloon is a barbershop website template with a clean and crisp design.
A website for a shop or salon expands its audience to almost the entire world. Anyone can learn what the shop has to offer to its clients.
There are two themes in MenzSaloon, a light one and a dark one.
It includes several attractive galleries based on Essential Grid. This allows owners to show products and services in a professional manner.
Rubick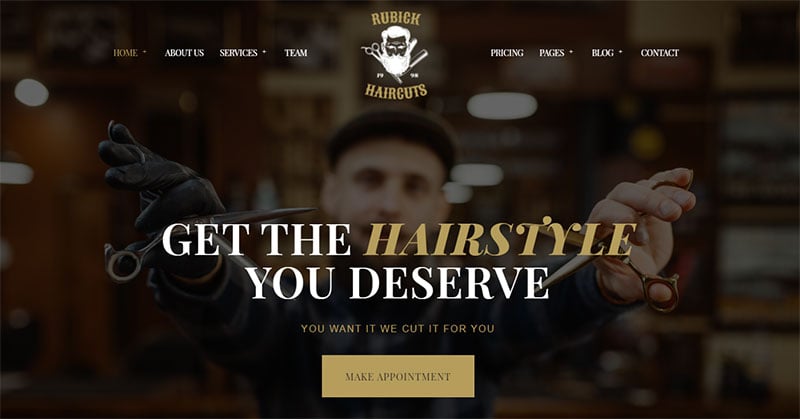 The next website template is Rubick. This is an Elementor kit especially for barbershops and similar salons.
It makes responsive WordPress sites for hairdressers, spas, and nail and beauty salons. It has everything for businesses like that.
There are more than 17 well-made templates, which allow the user to make a website in only a few clicks.
The Shave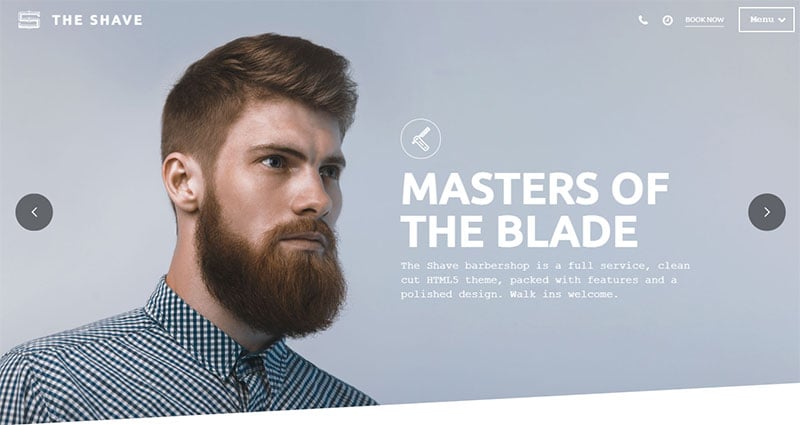 This is a very creative website template that supports parallax scrolling. The flexibility allows users to adapt the templates to their liking and needs.
Working with The Shave is very easy. The comprehensive documentation and well-organized files contribute to that.
It especially aims at barbershops and similar salons. But it is easy to adapt for other businesses, such as agencies and freelancers.
There are very few images included in the theme itself. However, there are links to the original providers in the documentation.
Hairbrosh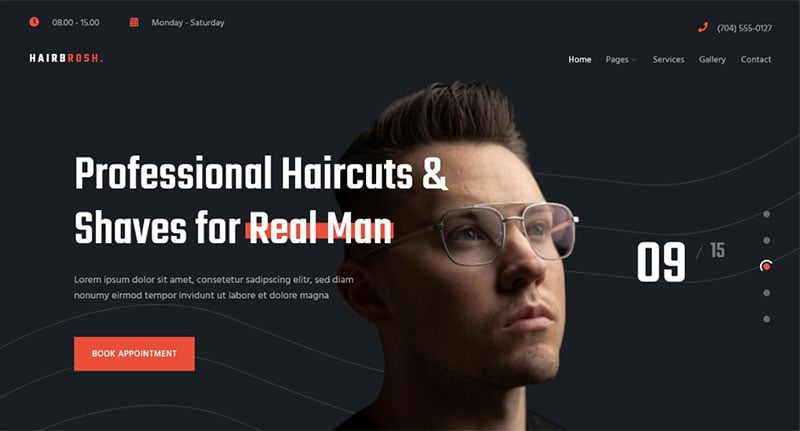 The last example on this list of barbershop website templates is Hairbrosh.
Hairbrosh is completely based on Adobe XD files (.xd). Adobe XD is therefore needed to use this template.
The files themselves are easy to use. Open them in Adobe XD and change colors, images, text, and other elements.
Hairbrosh includes the following features:
Based on a twelve-column Bootstrap Grid
Easy customization
Easy to find artboards, components, folders, and layers
Easy to use
Free Google Fonts
Ten pages
Well-organized layers
FAQs about barbershop website templates
1. What are the key features of a good barbershop website template?
The aesthetics of the sector should be reflected in a decent barbershop website template's clean, contemporary style. It should contain menus that are simple to use, calls to action that is obvious, and ways to highlight the services and costs provided.
To increase credibility and trust, the template should also include a place for user reviews and comments. To improve its online presence, it should also be responsive and search engine optimized.
2. How do I customize a barbershop website template to fit my business needs?
The majority of barbershop website templates are editable, so you can alter the colors, fonts, photos, and text to better reflect your brand.
Additionally, you can change the layout, add or remove pages, and incorporate third-party tools like platforms for social media, online shopping, and appointment scheduling. Some website builders make customization simpler by providing drag-and-drop editors and pre-built modules.
3. Can I integrate my appointment scheduling system into a barbershop website template?
Yes, you can integrate your appointment scheduling system or booking software with the majority of barbershop website themes. For consumers to conveniently schedule and manage appointments online, this feature is crucial.
Acuity Scheduling and Calendly are two well-known appointment scheduling programs that certain website builders include built-in scheduling capabilities that can be combined.
4. What is the average cost of a barbershop website template?
A barbershop website template's price varies according to the supplier and the features it offers. While premium templates can cost anywhere from $20 to $100 or more, some website builders offer free templates with only the most basic features.
Some vendors offer subscription packages that give customers access to numerous templates, hosting, and extra tools.
5. Are there any free barbershop website templates available?
Yes, free barbershop website templates are offered by a number of vendors, including Wix, Weebly, and WordPress. Even though these templates have fewer features and customization options, they can still create a website for your barbershop that looks polished.
6. Can a barbershop website template be optimized for search engines?
Yes, by employing best practices like using pertinent keywords, optimizing meta tags and descriptions, having a website that loads quickly on mobile devices, and creating high-quality backlinks, a barbershop website template can be made search engine friendly.
You can optimize your website for search engines by using built-in SEO tools provided by several website builders.
7. Are there any responsive barbershop website templates that are mobile-friendly?
Yes, the majority of barbershop website templates are mobile-friendly and responsive, meaning they can adjust to various screen sizes and gadgets.
Because so many people now use their mobile devices to browse the internet and schedule appointments, this is crucial. Additionally, having a mobile-friendly website enhances user experience and raises your search engine ranking.
8. How do I choose the right color scheme for my barbershop website template?
Consider your business identity and the feelings you want to arouse when selecting a color palette for your barbershop website design.
Black and white, for instance, exude sophistication and elegance, whereas vibrant hues like red or yellow can evoke a feeling of enthusiasm and vigor.
Utilize color schemes that go well with your logo and other elements of your branding, and make sure the color scheme is applied consistently throughout your website.
9. Can I showcase my barbershop services and prices on a website template?
Yes, the majority of barbershop website templates let you clearly and neatly display the services and costs you offer.
A specific page or area that offers your services, their descriptions, and costs can be used to do this. You can also incorporate pictures and videos to promote your business and win over new clients.
10. Are there any pre-designed barbershop website templates that I can use for my website without any modifications?
Yes, pre-made barbershop website templates are offered by a number of vendors, including Shopify, SquareSpace, and TemplateMonster. These templates were created especially for barbershops, and they include pre-built pages, layouts, and content that you can use straight away.
It is nevertheless advised to alter the template to fit your own requirements and brand. Additionally, make sure the template works with the website builder platform and any other tools you intend to use.
Ending thoughts on the best barbershop website template examples
This article listed a list of the 16 best barbershop website template examples.
The barber business is great and can be extremely profitable. A tool to achieve success is having an effective website.
The website templates on this list are unique and match the style of a barbershop. All examples come with demo content and are ready for building and testing.
If you liked this article about barbershop website templates, you should check out this article about animated website templates.
There are also similar articles discussing professional website templates, real estate website templates, florist website templates, and music website templates.
And let's not forget about articles on coffee shop website templates, restaurant website templates, one page website templates, and technology website templates.
The Best Barbershop Website Template Examples You Can Find