Ever walked past a barbershop and thought, "Man, that place looks cool!"? Now, imagine that same feeling, but online. Yep, we're diving deep into the world of barbershop websites.
You see, in today's digital age, even the most traditional businesses, like barbershops, need a killer online presence. Why? Because everyone's online, searching, browsing, and booking.
By the end of this article, you'll:
Understand the essentials of a top-notch barbershop website.
Get the scoop on design trends that customers love.
Discover how to turn website visitors into loyal clients.
Barbershop Websites To Check Out
Barber Shop Website Template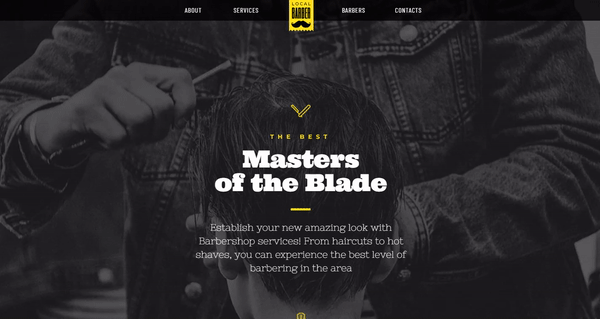 A stunning single-page website that boasts a distinctive aesthetic, seamlessly integrated into your WordPress environment. You can use this template by getting a subscription to Slider Revolution.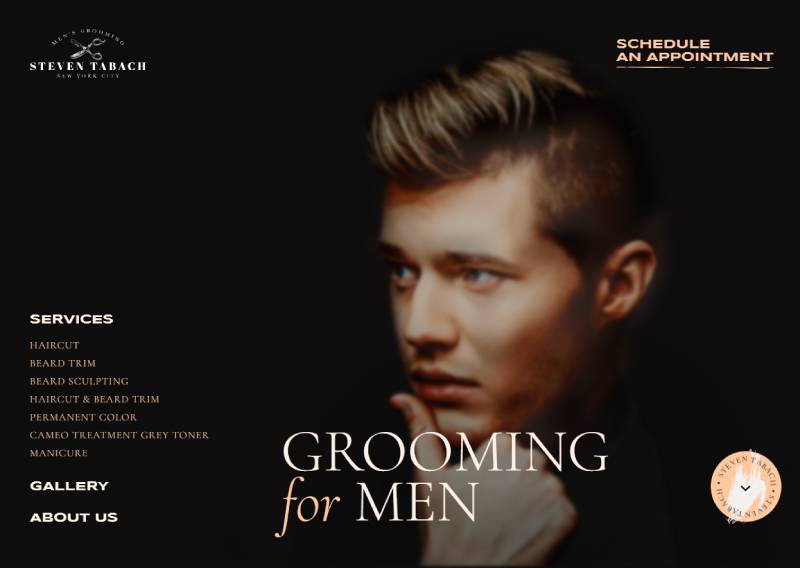 You're not just getting a haircut, man, you're stepping into a lifestyle. Steven Tabach is all about that high-end grooming game. Seriously, think of a VIP club, but for your beard and your mop. Top-tier stylists, state-of-the-art tech, and a spot where a classic shave meets the modern man. Yeah, it's that posh. If you dig essential oils and a vibe that's more Fifth Avenue than Main Street, this is your digital hangout.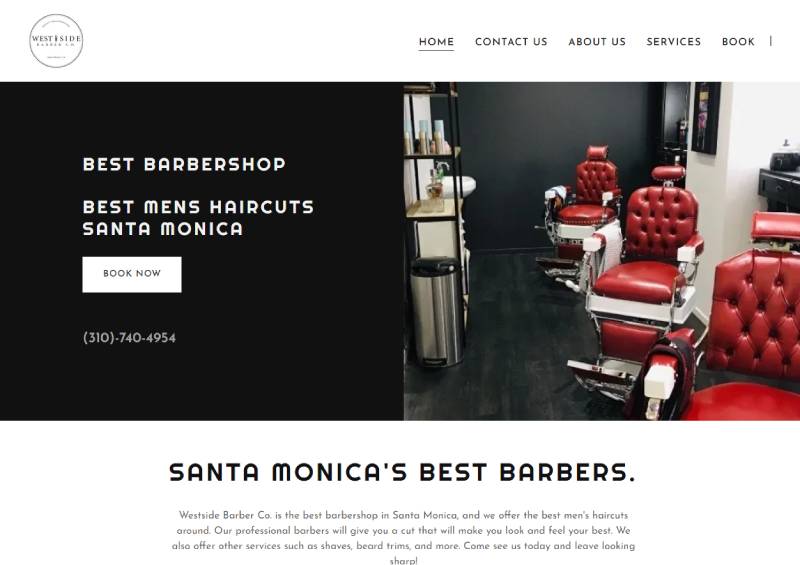 Chill, sit back and get your fade on. Westside Barber Co. is your digital doorstep to what feels like your neighborhood barber, but online. Flip-flops or formal shoes, doesn't matter; you're getting that same down-to-earth service. More than haircuts, think of it as a men's grooming sanctuary where camaraderie takes center stage. Community vibes in the digital world? Heck yeah.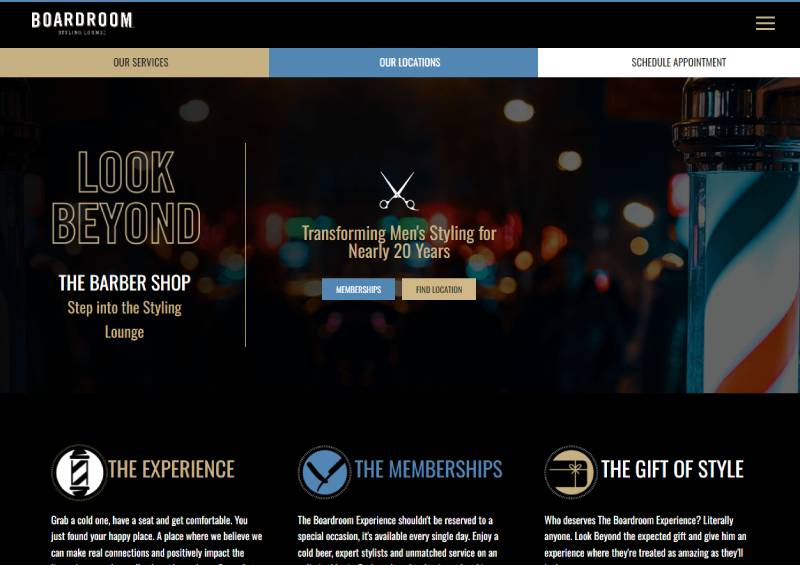 Imagine a cigar lounge but for haircuts and grooming. Boardroom Styling Lounge ain't your typical cut-and-shave place. Think leather chairs, mahogany, and a vibe that screams sophisticated chill. If you're all about making power moves, their website has the insider info on grooming to match your ambition. Rise above, but first, take care of that mane.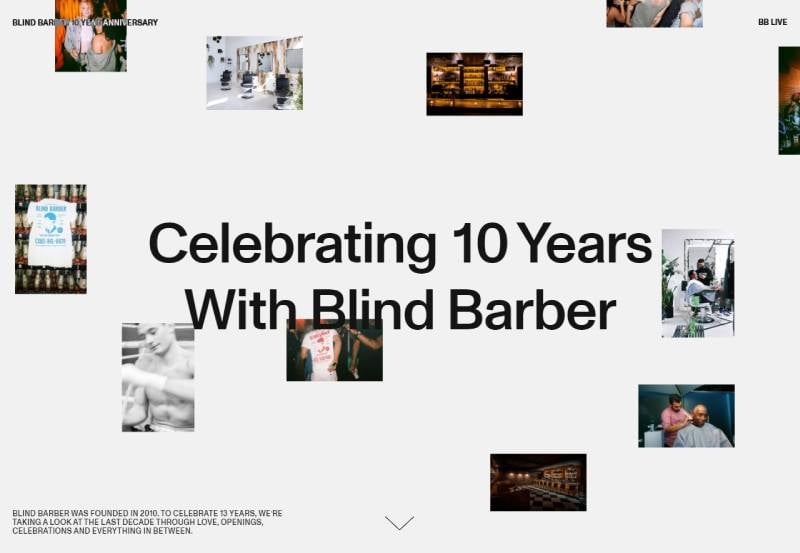 Ten years in the game! Blind Barber has evolved from a single chair to a grooming empire, and their website is a virtual party celebrating that journey. Tune in for iconic styles, bang-on grooming tips, and a whole section on epic collabs with lifestyle brands. Feel the legacy, be a part of their story. Their online space is basically a red carpet for your beard and hair.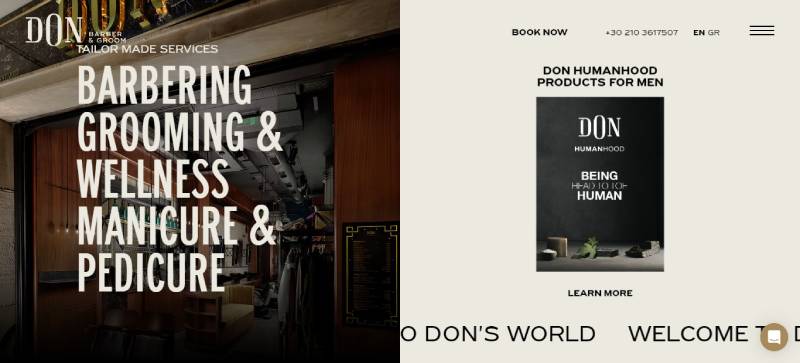 It's like that secret club for the modern dapper gentleman. Don Barber & Groom mixes the traditional barber expertise with today's trends. The website's a hub where grooming tips get swapped like secret handshakes. Don brings class back to the grooming scene, no joke. Check it out for the ultimate finesse in men's grooming services.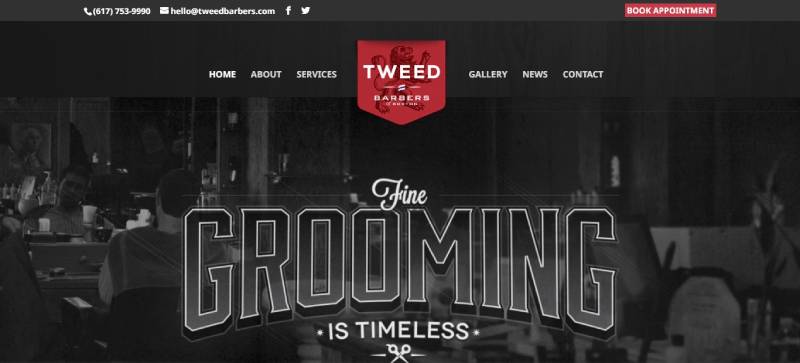 Tweed's the word. Think British elegance meets Boston grit. Tweed Barbers' website rolls out the red carpet for those who want to look the part without losing their edge. You get everything from tips on maintaining that killer beard to style guides that'll make you feel like a royal. It's a one-stop digital station for bespoke grooming.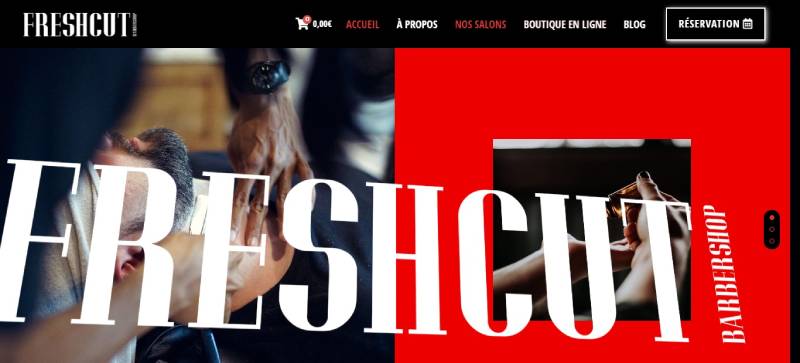 FreshCut. The name says it all. It's like your local hangout but for hair. Their site is a playground of all things hip and trendy in the world of men's grooming. Seriously, they've got a 'look book' that's straight fire. Perfect for the young at heart or anyone looking for a killer fade without the fuss.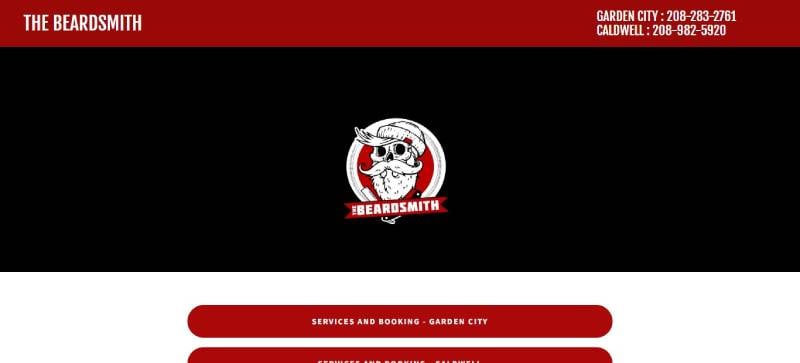 Let's talk about beards, shall we? The Beardsmith website is a haven for beard enthusiasts. Beard oils, grooming kits, and all things whisker-related, they got you. If your beard is your pride, this is your online sanctuary. The vibe? Think of a cozy log cabin but make it chic. Get your beard game on point.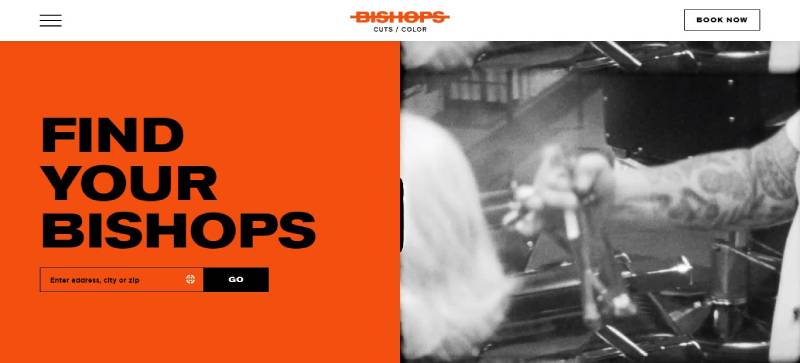 Edgy, funky, and definitely not your grandpa's barbershop. The Bishops website is a vibrant digital space where alternative styles aren't just welcomed, they're celebrated. From neon hues to intricate designs, if you're up for a grooming experience that's far from vanilla, this is your go-to. High-end services with a side of rad? Yes, please.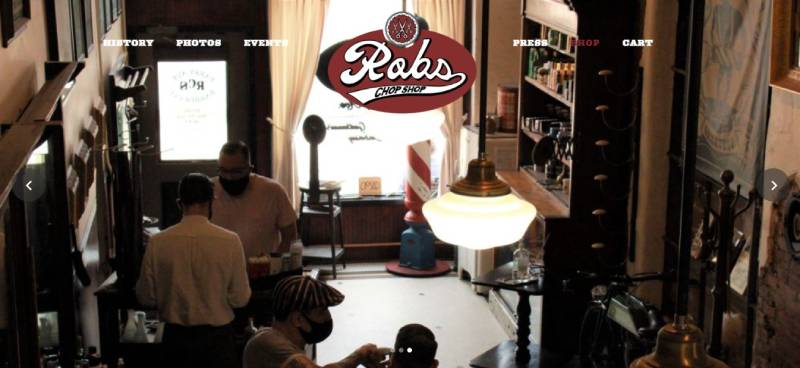 Meet Rob's Chop Shop—the rock 'n roll of barber websites. You're not just getting a snip; you're getting a full-blown experience that's borderline ritualistic. The atmosphere's pumped up with nostalgia, from greaser styles to punk vibes. And the website? It's a hall of fame for the most iconic haircuts. Get on board if you wanna rock your locks.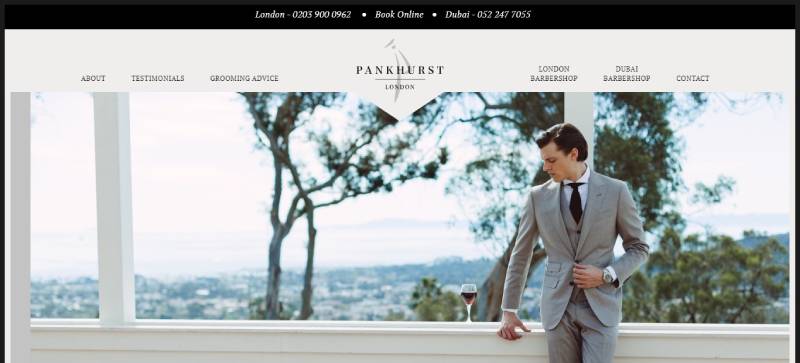 Ah, Pankhurst. Their site is like a gentleman's magazine dedicated to hair and grooming, but digital. Think British refinement with a dash of modern flair. Discover everything from how to perfectly style a pompadour to guides on sophisticated beard care. It's like walking through a London fog, but with way better hair.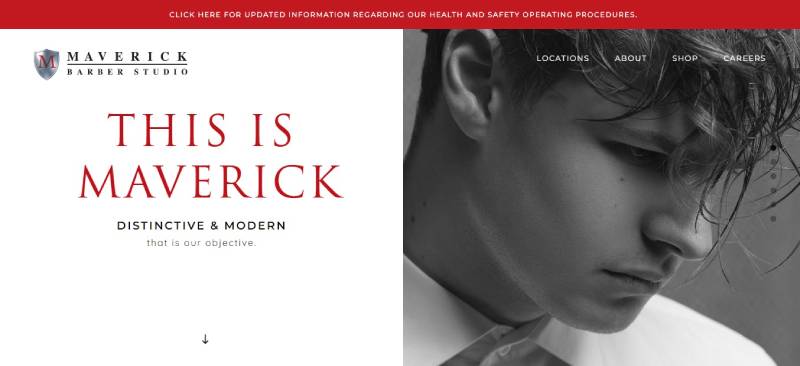 Fasten your seatbelt, 'cause Maverick Studio is all about that adrenaline-pumping grooming. Picture a luxury sports car, but for your face and hair. Their site's a turbocharged experience that balances modernity with age-old expertise. From virtual style consultations to grooming packages that'll make you feel like you're in the VIP lane, it's sleekness to the max.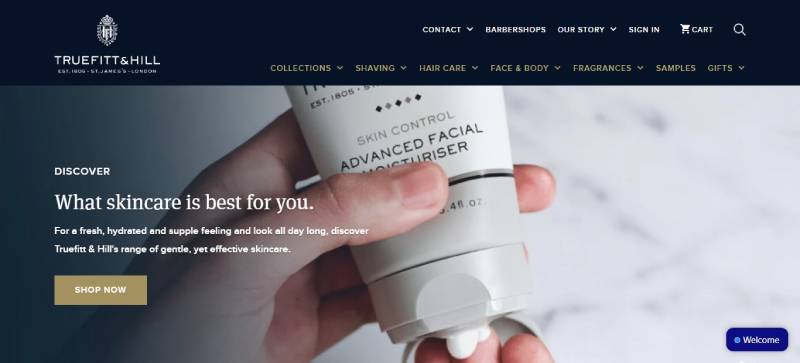 When we say royal, we mean it. Truefitt & Hill's site feels like stepping into a grooming palace. With history dating back to, like, forever, this is where old-world luxury meets modern tech. Best part? They got a personalized grooming plan, cause you're the king here. It's not just grooming; it's an heirloom.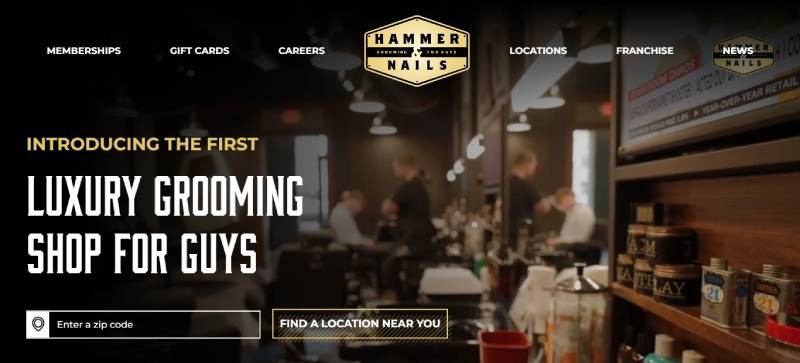 The no-nonsense man's paradise. Hammer & Nails' website is a rugged, straight-to-the-point space, like a workshop but for hair and beards. Here, grooming isn't fussy; it's about utility and results. Whether you want to look sharp for the boardroom or rugged for the outdoors, they've got the blueprint. No frills, just skills.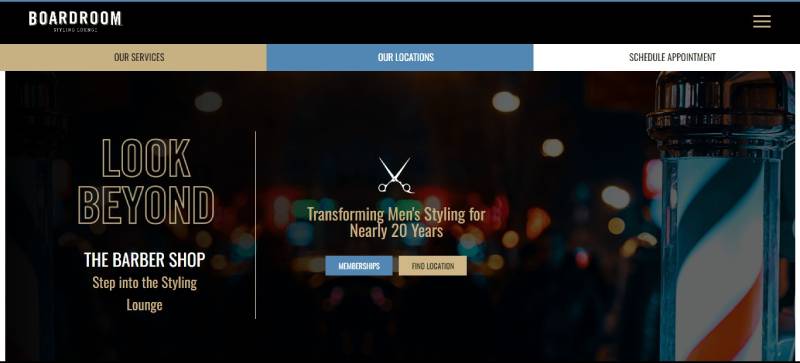 You might be thinking, "Another boardroom?" Nah, this one's got its own twist. Boardroom Salon's site takes that corporate sleekness and adds a touch of something homely. It's a hybrid of an executive suite and your living room. You get top-notch services but with that at-home coziness. Business in the front, comfort all around.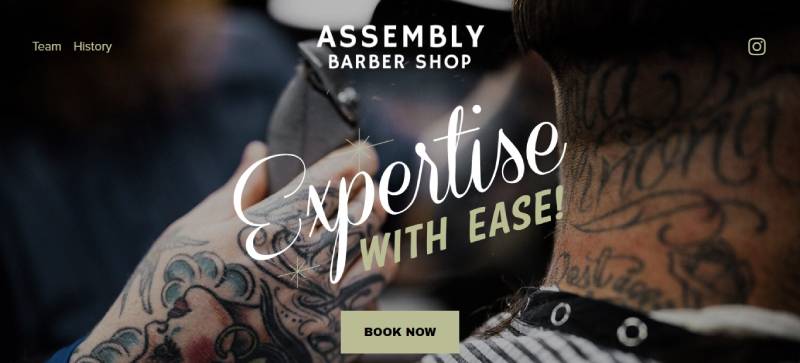 Assembly is the place for community and unity. If you're into local vibes, their site brings that neighborhood feel right to your screen. Plus, it's full of grassroots grooming knowledge and community events. You're not just a customer here; you're part of the Assembly family. Local feel, global styles.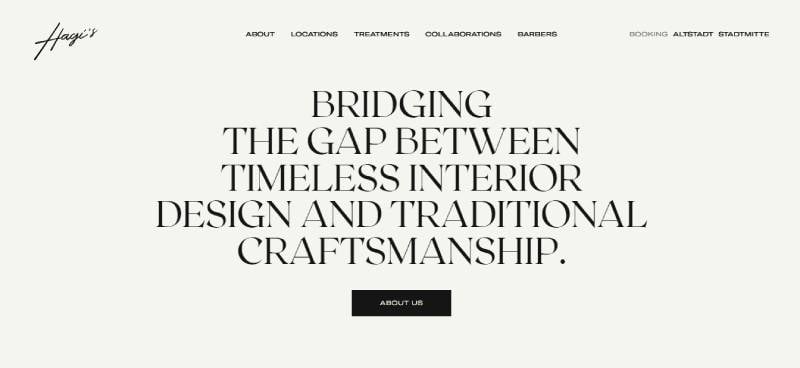 Ever been to a cozy, quirky café and thought, "I wish they cut hair?" Hagi's Barber Shop's website makes that dream a reality. Here, it's all about personalized touches, from tailored cuts to custom shave oils. Plus, they have this blog where you can sip on some grooming wisdom. It's like your favorite indie spot, but for hair.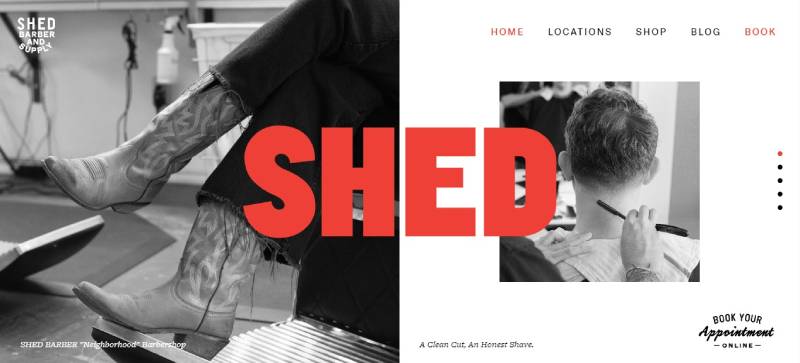 We're talking industrial chic. Shed Barber's site mirrors a modern loft, where concrete and steel meet shears and straight razors. Minimalistic in design but rich in content, it's a haven for the modern man seeking utilitarian style. You don't just get a haircut here; you get a whole aesthetic. Less is more, and Shed proves it.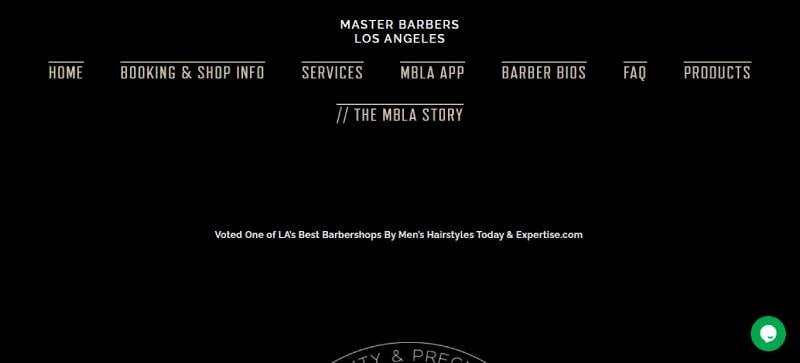 Ah, the City of Angels, where even the barbershops are star-studded. Master Barbers' site is like a Hollywood premiere but for grooming. Red-carpet fades and Oscar-worthy beard trims. All about the glitz and glam of LA's grooming scene. Whether you're a celeb or just want to feel like one, this is your backstage pass to the big leagues of hair.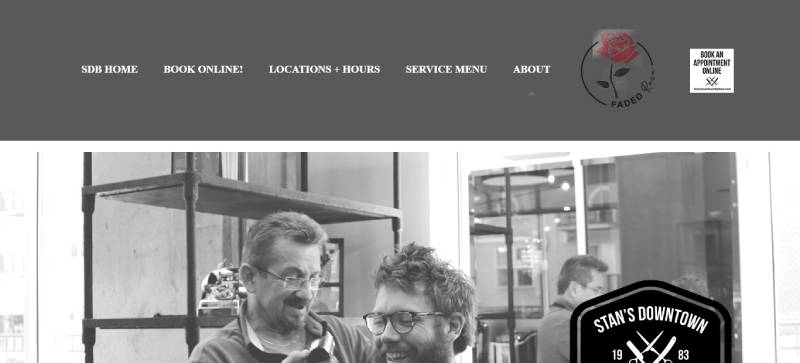 Stan's is for the everyday Joe who wants to look like a million bucks without the fuss. The website feels like a visit to your buddy Stan's downtown loft where, oh by the way, he's also a grooming guru. From lunch-break trims to weekend pampering, Stan's got you. It's your home away from home, minus the chores.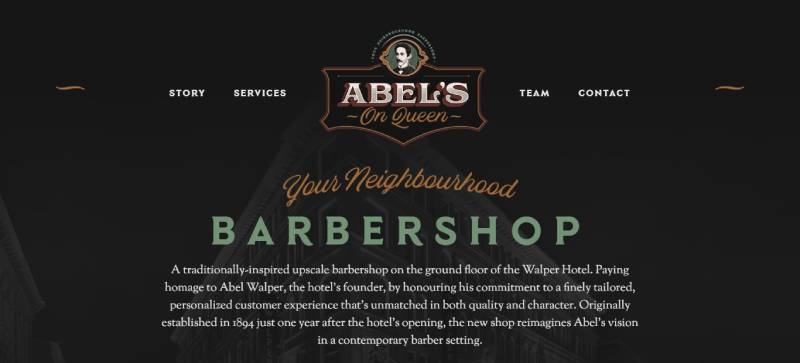 A modern-day castle for your beard and hair, that's Abels on Queen. Think urban royalty with a knack for finesse. Their site has a unique blend of city grit and regal style. From beard crowning to knightly haircuts, Abels on Queen turns everyday grooming into a royal decree. Rule your look like never before.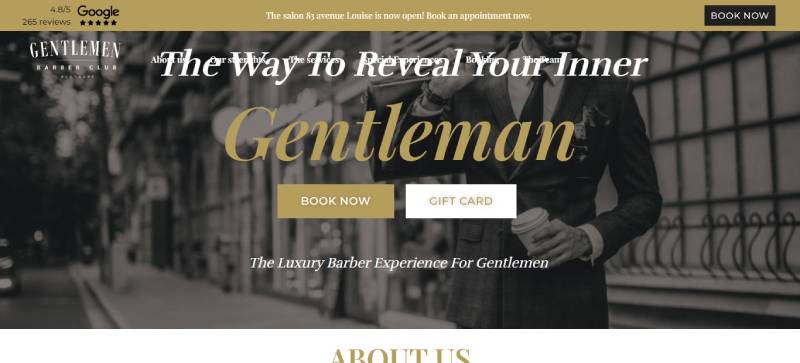 Step into a virtual members-only club tailored for refined grooming aficionados. Gentlemen Barberclubs' site is where the elite meet to keep their styles neat. It's not just a service; it's a lifestyle. From beard consultations to personal grooming packages, it's the VIP treatment from the get-go.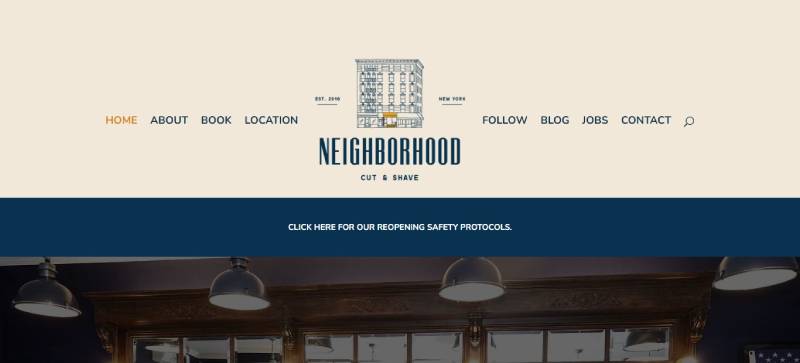 Sometimes you just need that good ol' reliable cut, you know? Neighborhood Cut & Shave makes you feel like you're stepping into your local barbershop. The website is all about community vibes and classic looks, no gimmicks. For the guys who say, "Just give me the usual," this place is your digital neighborhood joint.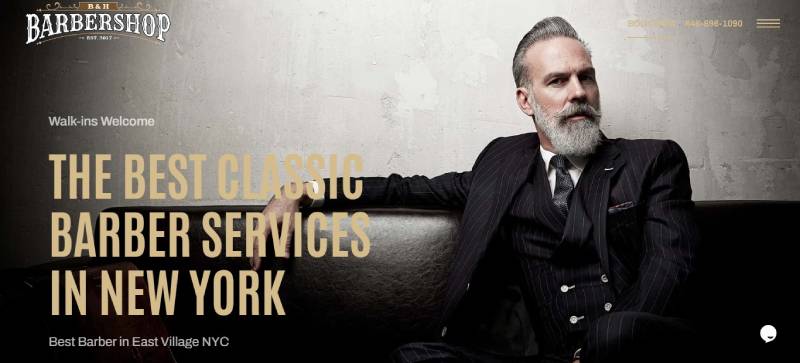 Ever wondered what Mad Men would be like if it were a barbershop? Meet B&H Barber Shop. The site has that mid-century elegance but modern-day savvy. Perfect for the man who wants to look sharp but timeless. Their arsenal of grooming tips is like an archive of masculine sophistication.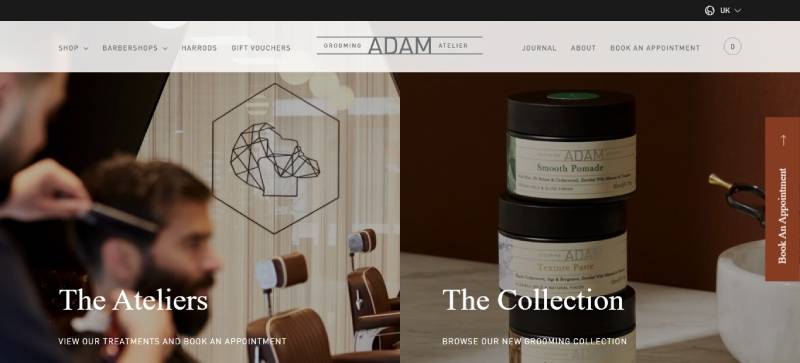 Picture a trendy fashion studio but focused solely on grooming. That's Adam Grooming Atelier. The site is modern, sleek, and high on aesthetics. It's basically a showcase, not just for haircuts and shaves, but for a lifestyle that embraces contemporary sophistication. You're not just a client; you're part of the Atelier.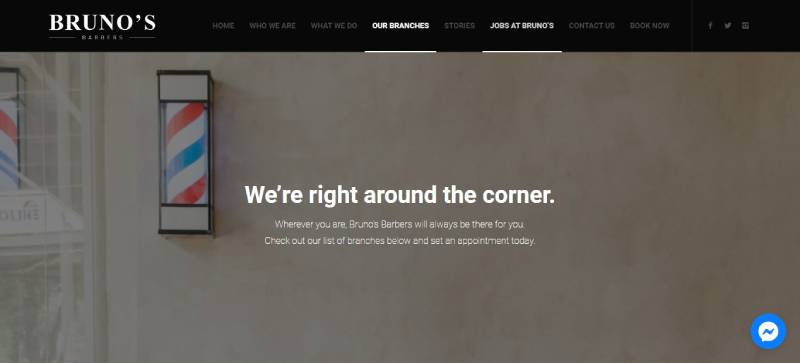 Bruno's is all about making you feel like family. The site is the epitome of casual cool, like that cousin everyone loves at family reunions. What's on offer? Well, a variety of services that cover everything from quick trims to complete makeovers.
Think of a cozy, retro lounge. Now, transform it into a barbershop. That's Melbourne Barber Shop for ya. Their website feels like a vinyl record spinning in the background while you get a cut. It's old-school but never outdated. You can practically smell the aftershave and hear the small talk about sports and politics. For those seeking a vintage vibe in a modern world, this site's your jam.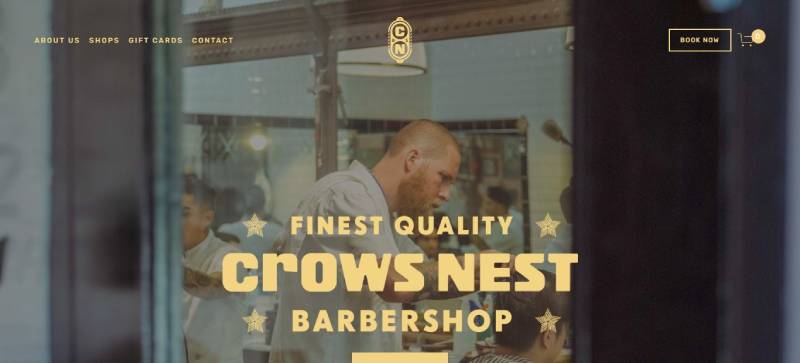 Want to know what edgy looks like? Head over to Crowsnest. Their site's as cool as their name suggests. It's like a pirate ship where all the crew are expert barbers. Skull and crossbones meet straight razors and slick styles. Navigate the sea of grooming advice and hairstyles as rad as a treasure chest full of gold.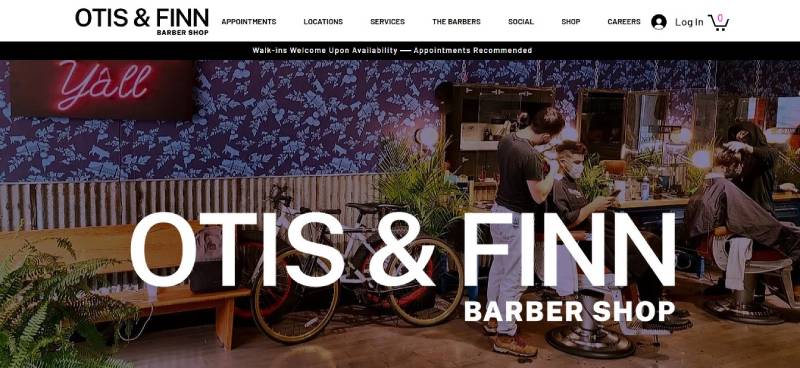 Otis & Finn is where your cool uncle would go to get a haircut, no doubt. Their website is kind of like a laid-back bar where you don't need to scream to have a conversation. Yeah, it's hip, but in a "we were hip before it was cool" way. Craft beer recommendations one click away from organic beard oil tips—what's not to love?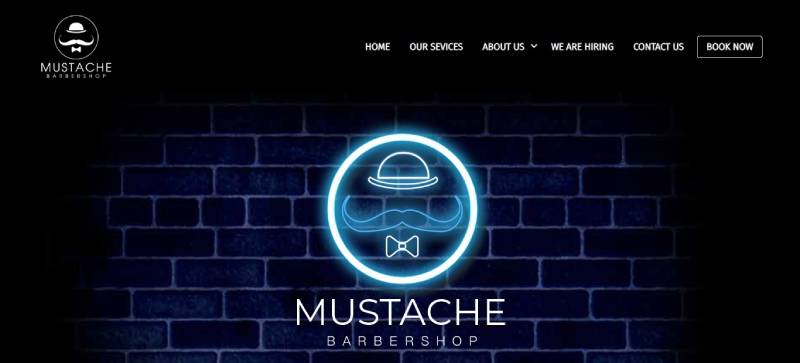 If Salvador Dali and Freddie Mercury had a barbershop baby, it'd be Mustache Barbershop. It's quirky, it's fabulous, and the website is all about pushing the boundaries of what grooming can be. Dive into a wonderland of off-the-wall styles, grooming hacks, and even a mustache hall of fame. Cause why not?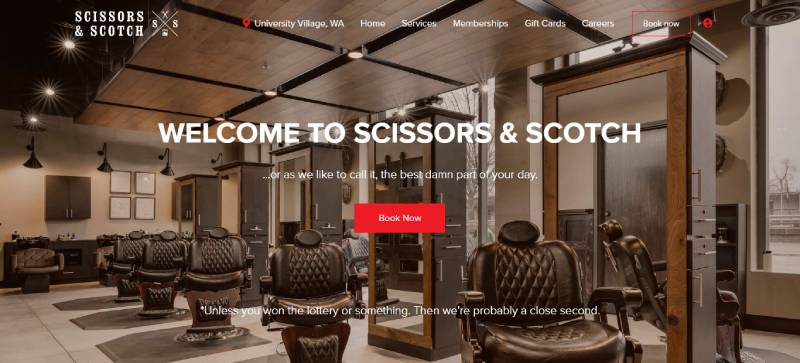 Imagine a barbershop and a speakeasy had a beautiful child. That's Scissors Scotch for ya. The website feels like you've just been handed the secret password to an underground club, only instead of bootleg booze, it's stocked with top-of-the-line grooming products. Learn to mix the perfect cocktail while waiting for the perfect haircut—it's the whole shebang.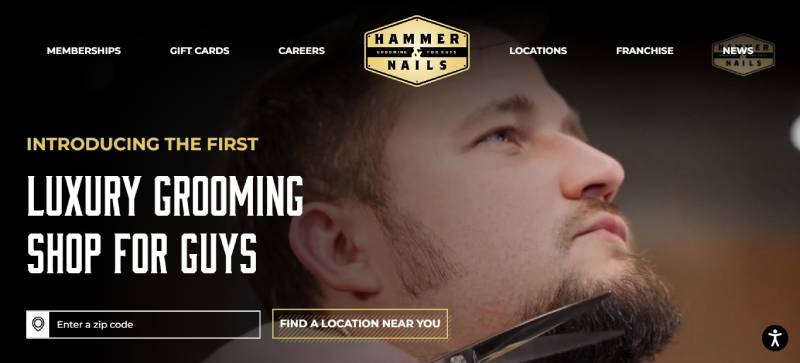 Hammer & Nails is back, this time with a Grooming tag that doubles down on what they're good at. You thought their main site was no-nonsense? This one's like a toolbox, only for your face and hair. It's an in-depth resource guide to everything rugged and masculine. Here, grooming is less about vanity and more about craft.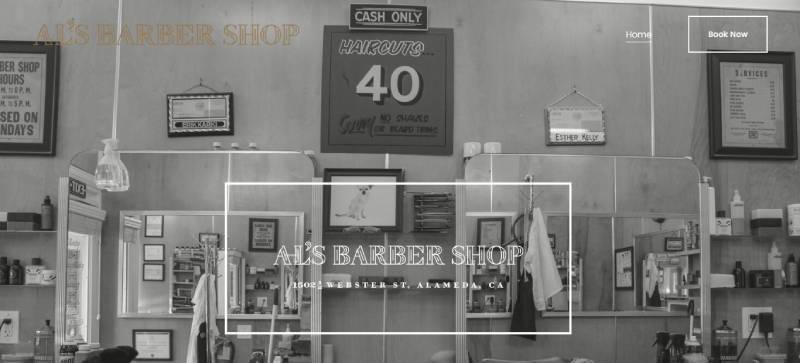 Al's is that classic, no-gimmick barbershop where every cut feels like a hearty handshake. The website is like a virtual storefront, a bit worn but endlessly charming, kinda like Al himself probably. You won't find the latest trends here, but you will find years of expertise and that comforting feeling of tradition. In Al's world, if it ain't broke, don't fix it.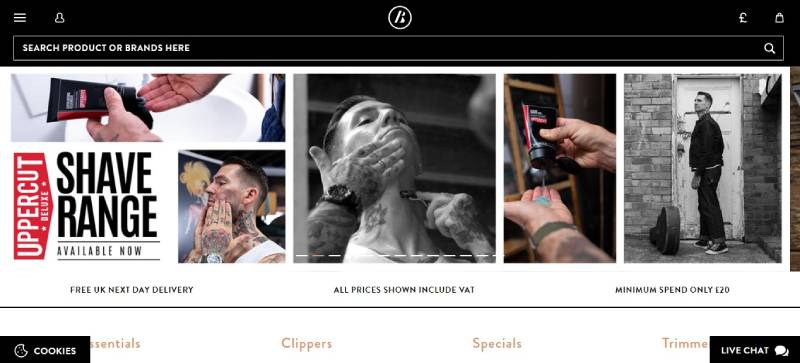 Barber Blades is what happens when you take grooming as seriously as a samurai takes swordsmanship. Their website feels like an armory, but for grooming tools. The place is packed with top-notch gear and expert guides to help you master the art of self-grooming. If your bathroom sink feels like a dojo, this site is your sensei.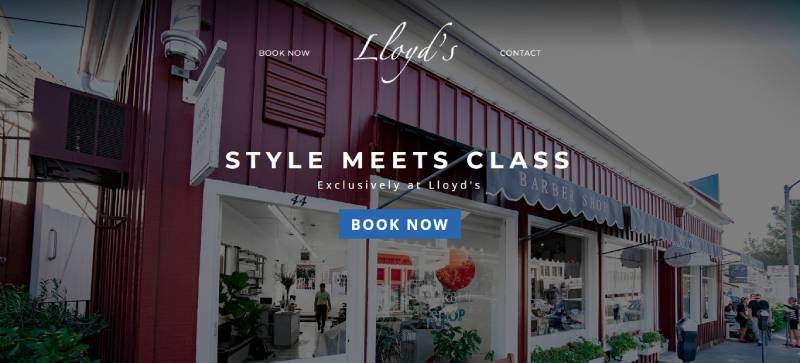 Lloyd's Barbershop makes you feel like you've stepped into a '50s diner, only instead of milkshakes, they're serving up impeccable styles. Their website plays around with classic Americana but keeps it fresh and trendy. If you're looking for that timeless look with a contemporary twist, this online hub is your go-to.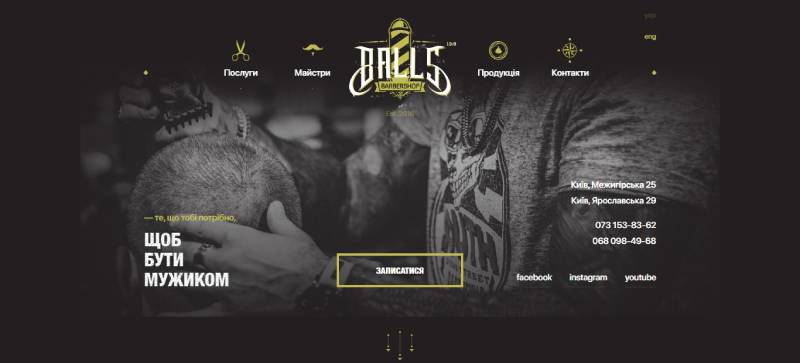 Yup, you read that right. Balls Barbershop is as bold as its name, and its website doesn't shy away from that boldness. It's the rebel of the barbershop world, where edgy styles and unapologetic grooming advice reign supreme. Here, it's about breaking the mold and embracing your unique flair, one audacious haircut at a time.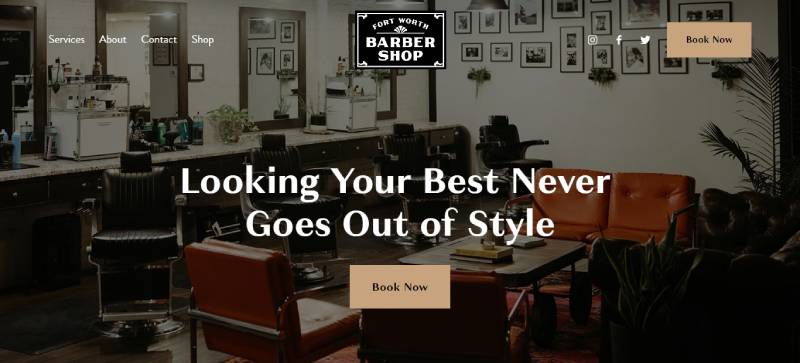 Welcome to the Wild West of grooming! Forth Worth Barber Shop's website is the perfect blend of rustic and refined. Think of it as a modern saloon where the gunslingers are barbers and the duels are fought over the sharpest razors. From cowboy chic to city slick, the site has a range of styles for the rugged gentleman.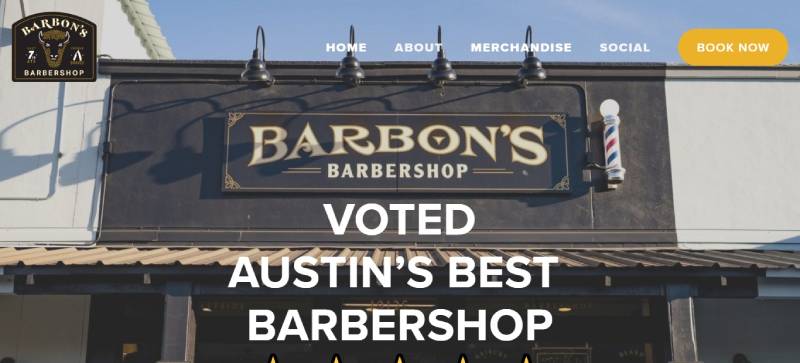 If a barbershop and a jazz lounge had a love child, it'd be Barbon's. Sophisticated yet understated, their website feels like the velvet seat of a dimly lit club. It's more than a place to get a cut; it's an experience. Get ready for some toe-tapping, smooth jazz and grooming vibes that hit all the right notes.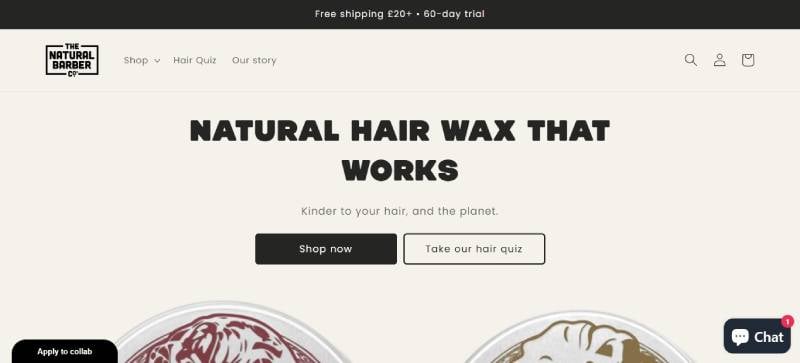 Green is the new black, and Natural Barber's website proves it. This is your eco-friendly grooming sanctuary, where sustainability and style go hand in hand. The products? All-natural. The grooming advice? Organic as it gets. It's a fresh take on looking good while doing good.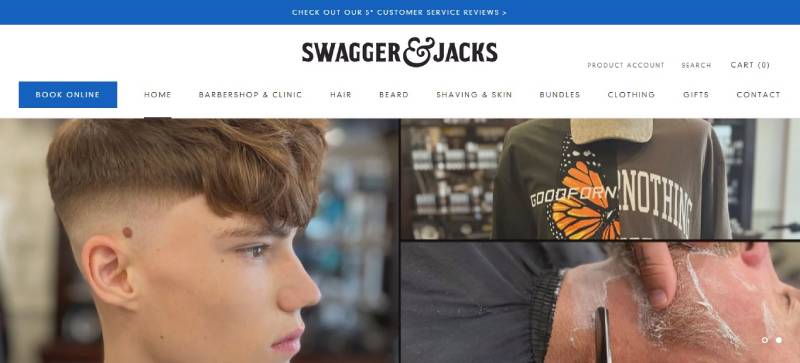 No, it's not déjà vu. Swagger & Jacks is back, and it's as swanky as ever. Think of this as the premium lounge of their online space. Exclusivity is the name of the game. It's an online haven for those looking for customized services and personalized grooming experiences, because one size never fits all.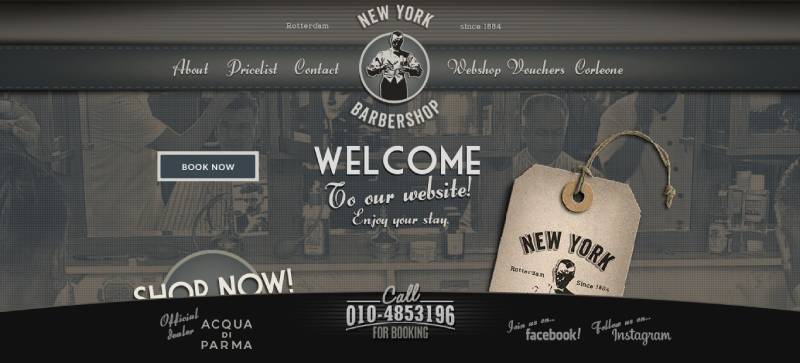 Big Apple, big style. New York Barbershop's site is like taking a subway ride through all the city's diverse grooming trends. From Wall Street slick-backs to Brooklyn beards, it's a melting pot of styles as diverse as NYC itself. The site screams urban cool and is a must-visit if you're looking to conquer the concrete jungle.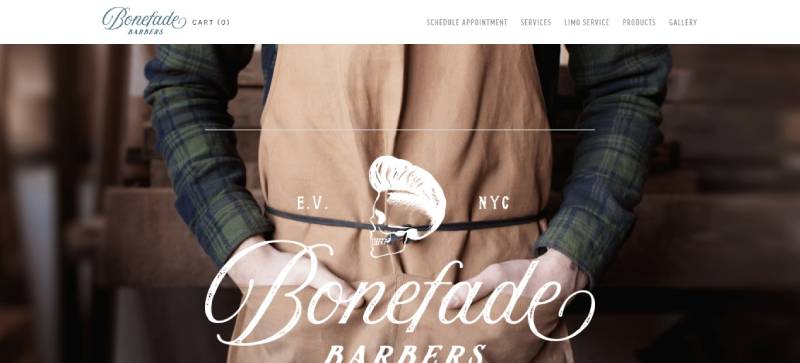 Gritty, edgy, and a little bit punk rock. That's Bonefade Barbers for you. The site is a canvas of bold styles and even bolder choices. Think of it as the mosh pit of barbershops, where every haircut is a rebellious act. Let's put it this way: if your style screams louder than a guitar riff, this is your stage.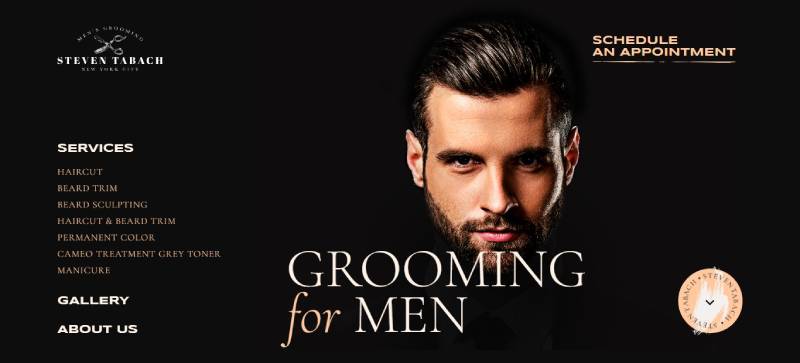 The epitome of urban sophistication, Steven Tabach's NYC website is the grooming equivalent of a Fifth Avenue boutique. It's sleek, high-end, and makes you feel like you're part of the city's elite. From precision cuts to luxe grooming treatments, this is where you go when you want to say, "I've arrived."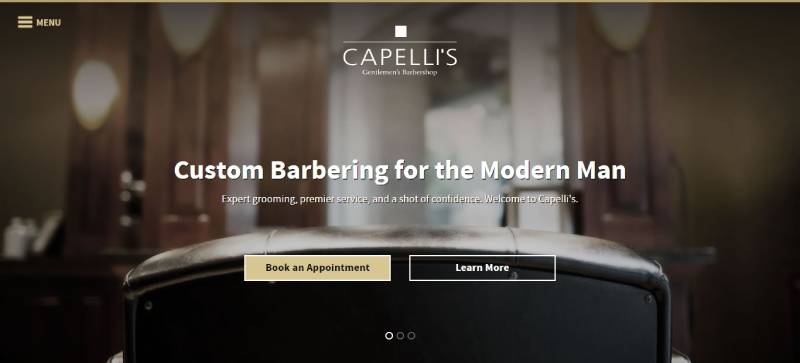 Enter the realm of ultimate masculinity. Cappeli's website is like a 19th-century gentlemen's club adapted for the 21st century. Leather chairs, mahogany desks, and the scent of aged whiskey fill the virtual space. This is for the man who appreciates the classics but isn't stuck in the past.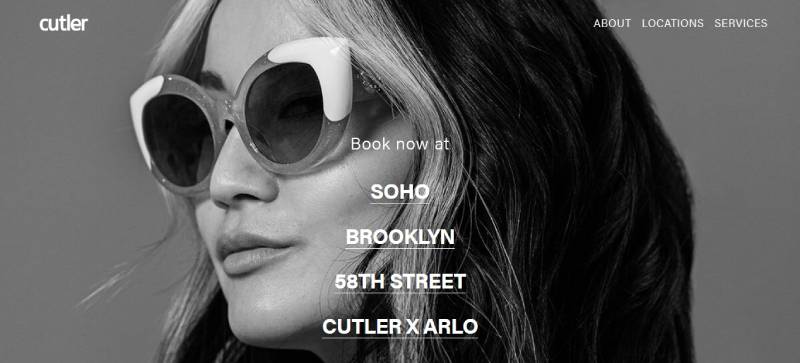 Ever wonder what high fashion would look like in a barbershop? Cutler Salon's website gives you a taste. It's sleek, minimalist, and feels like you're scrolling through a Vogue photoshoot. If you're a fashion-forward dude looking for cutting-edge (pun intended) styles, this online portal is your runway.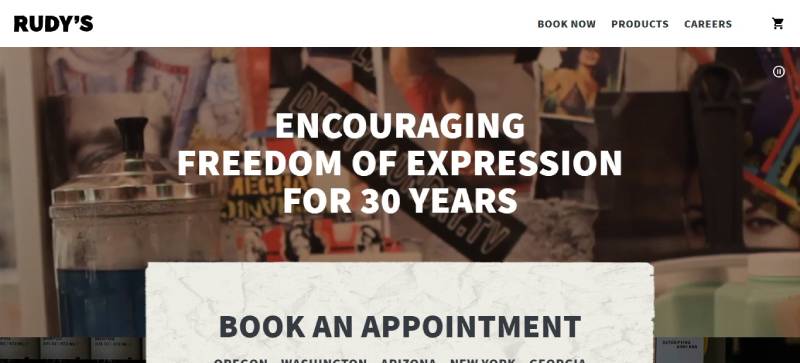 Laid-back, chill, and effortlessly cool—that's Rudy's Barbershop for you. It's the friendliest punk rock venue you've ever been to, only it's a barbershop. Their website is a blend of DIY aesthetics and down-to-earth grooming advice. It's the perfect place for those who believe that style should be easygoing and accessible to all.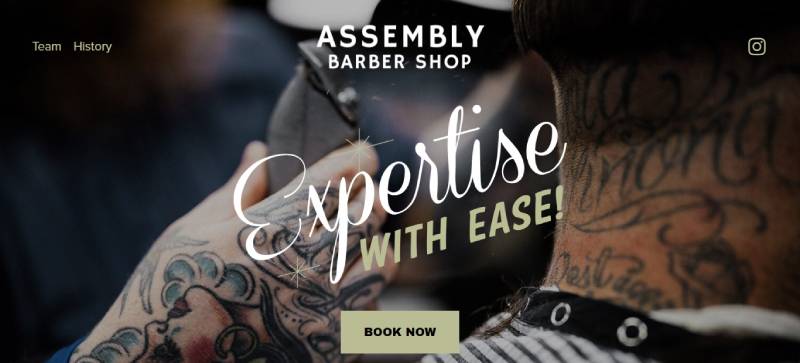 Less a barbershop, more an art gallery—Assembly Barber Shop takes grooming to the aesthetic level. Their website is like a modern art exhibit, where every haircut is a masterpiece and every product is a sculpted gem. The vibe? Think upscale without the uptight. It's where you go to get a little culture with your cut.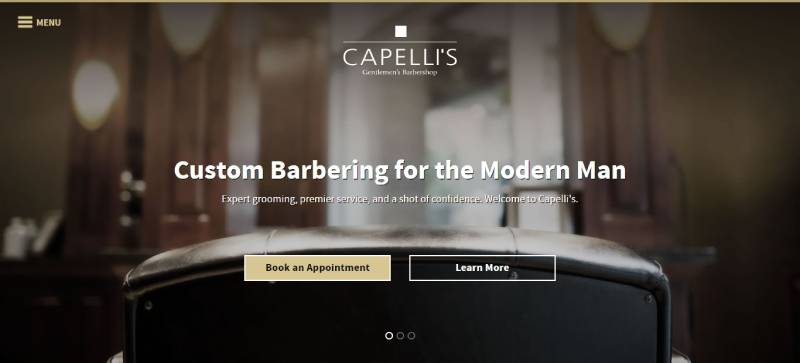 If barbershops had Ivy Leagues, Capellis would be one. The website is regal, scholarly, and screams old money. Think mahogany shelves stacked with leather-bound books of grooming wisdom. It's a nod to tradition, but with enough modern flair to keep things interesting. Perfect for anyone who enjoys a little sophistication with their shave.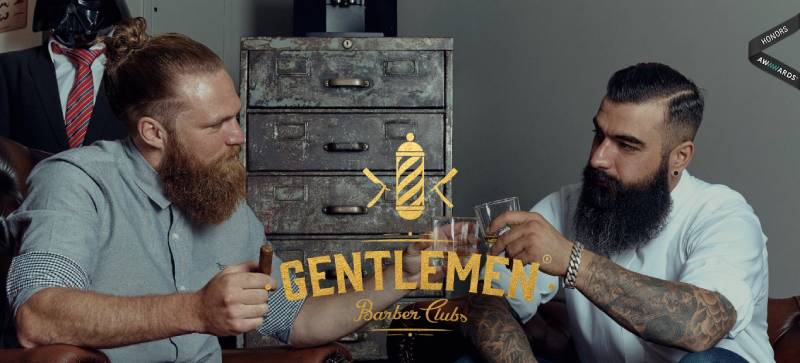 Consider Gentlemen Barber Clubs as your grooming country club, online. It's posh, it's plush, and their website makes you feel like you should be enjoying a gin and tonic while scrolling. There's a member's-only air to the whole affair, but fear not; the virtual doors are open to all aspiring gents.
FAQ On Barbershop Websites
How important is it for a barbershop to have a website?
Man, in this digital age? Crucial! People love to check things out online before they commit. Your potential customers will likely want to see your services, prices, and maybe even book online. Without a site, you're invisible to those online searchers, and buddy, that's a lot of them. Don't miss out on that digital traffic.
What should be the main features of a barbershop website?
Alright, so a kick-ass barbershop site should showcase:
Services offered (from basic cuts to beard trims)
Pricing
Online booking (a game-changer!)
Barber profiles (let 'em get to know you)
Gallery of past work (show off a bit, yeah?) Think of your website as your online storefront. Make it welcoming, informative, and user-friendly.
How often should I update my website's content?
Hey, the world moves fast! So, refreshing your content every couple of months is good practice. Especially if you're introducing new services, updating prices, or showcasing recent cuts and styles. Keep it fresh, keep it relevant. Google loves updated content, and so do your customers.
Is it necessary to have an online booking system?
You bet it is! Offering online booking lets clients schedule appointments when they want. No more phone tag. It's convenient, efficient, and most importantly, clients have come to expect it. Plus, if you pick the right software, it can send reminders to reduce no-shows. Talk about a win-win!
Should I include customer reviews on my barbershop website?
Absolutely, dude! Think about the last time you bought something online. Did you check the reviews? Yep. Most of us do. Having positive testimonials builds trust. If a potential client sees that others had a great experience, they're more likely to book with you. Just keep it genuine, alright?
Can I add a blog to my barbershop website?
A blog? Heck yeah! It's a fantastic way to share tips, trends, and showcase your expertise in the world of barbering. Plus, consistently updating with quality content can boost your website's SEO. Show 'em you know your stuff, from fades to pompadours.
How do I ensure my website is mobile-friendly?
So here's the deal – most folks browse on their phones these days. So, when designing or updating your site, ensure it's responsive. That means it should look good and function well on both desktop and mobile. Many website builders have this built-in, but always double-check. You don't want a potential client bouncing because they can't navigate on their phone, right?
What about incorporating social media into my website?
Connecting your social platforms is a no-brainer. Many clients might discover you on Instagram or Facebook first. Social media integration is key in the interconnected world of today.
Do I need a professional to design my barbershop website?
I mean, while DIY website builders are nifty, getting a pro can make a difference. They can bring that polished, cohesive look and ensure everything runs smoothly. But hey, if you're tech-savvy and have a clear vision, you could give the DIY route a shot. Just remember, your site represents your business. Make it count.
How do I optimize my website for local searches?
Alright, this one's a biggie. Local SEO is everything for a barbershop. You want folks in your area finding you, right? So, ensure your address and contact details are consistent everywhere. Claim your Google My Business listing. Encourage clients to leave Google reviews. Use local keywords in your content. And hey, linking with other local businesses doesn't hurt either. Local is where the magic happens!
Conclusion On Barbershop Websites
The digital realm is no longer just for techies and online stores. Even our beloved barbershops have found their space in the vast world of the internet. And let's be real, barbershop websites aren't just about flashy designs or cool animations.
They're about capturing that unique vibe, the essence of the shop, and translating it online.
They're about making it super easy for folks to find you, know your services, and book an appointment without a hitch.
And most importantly, they're about building a connection, even before the customer steps foot in the shop.
So, if you're a barber or someone just curious about the blend of tradition and tech, remember this: A barbershop's website is its digital storefront.
If you liked this article about barbershop websites, you should check out this article about tattoo websites.
There are also similar articles discussing technology websites, startup websites, corporate websites, and actor websites.
And let's not forget about articles on florist websites, interactive websites, gym websites, and types of websites.
Sleek Barbershop Websites To Inspire Your Online Look