A solid online presence helps cafes to establish their place in the market. It also enables them to attract new customers.
Finding the right coffee shop website template isn't always easy. They are a little different from restaurant templates.
The design must be creative and eye-catching. It needs to convince visitors to travel and try the menu.
Unlike a restaurant website, a coffee shop website needs fewer functionalities.
The best cafe themes share some key elements. They have a clean layout, so visitors can navigate through the content with ease.
Such a layout ensures that they can find all the information they need. A good coffee shop website template also uses attractive and professional-looking images.
Responsive design makes the site accessible from all devices and improves user experience.
Customization options are also important. Thus, users can create a unique page that will make the brand stand out.
Here is a list of some great demos. Take time to review the style and functionality of each coffee shop website template.
Then choose your preferred design and customize it to your brand.
Coffee Joint Website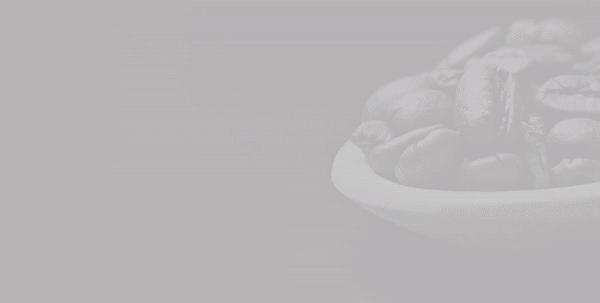 The Coffee Joint Website theme is ideal for a coffee shop or a bar.
The Slider Revolution hero creates an eye-catching introduction. Highlight any type of product or just whet the appetite of the coffee lovers visiting your page.
Coffee Shop Split Screen Slider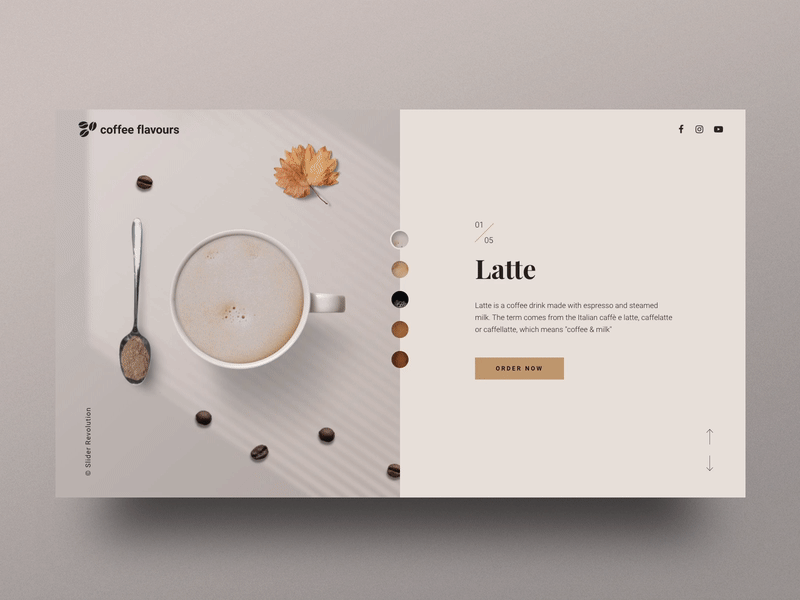 Enhance the visual appeal of your coffee shop with this captivating slider, featuring animated elements and a clean layout.
Designed to grab attention, this eye-catching slider is perfect for showcasing your products and creating a lasting impression.
With its effortless customizability, this versatile cafe template can beautifully showcase any type of product you offer.
Bar / Restaurant Website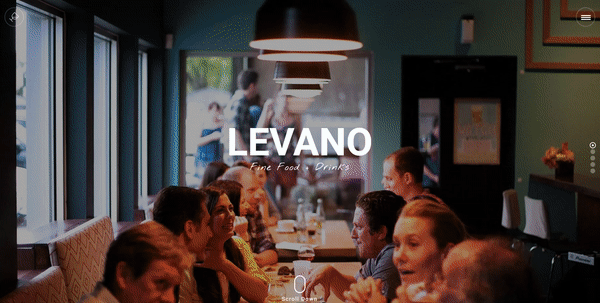 This is a Slider Revolution template for bars and restaurants. It could also suit a coffee shop website.
The design uses captivating animation effects. It creates an attractive and elegant look that will make any page stand out.
Le Chef Restaurant Website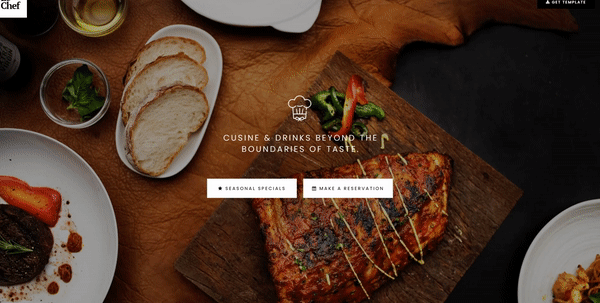 Check out this one-page Slider Revolution website template. Use it to showcase your best products and services.
The homepage allows restaurant or cafe owners to display an online menu. Here they can highlight their gluten-free and vegetarian meals.
Nescafew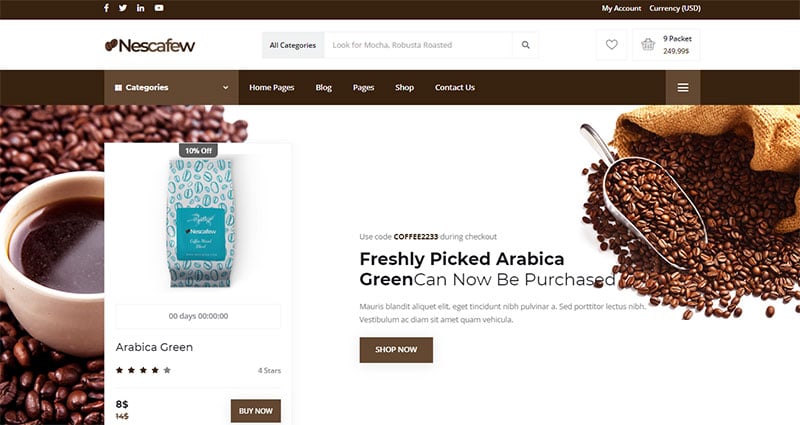 This coffee shop website template is a flexible Bootstrap 4 based HTML theme. It's ideal for a coffee shop, cafe bar, coffee brand, coffee brewery, and similar sites.
The responsive layout offers 3 unique homepages and over 23 inner pages. Customize the design with Google Fonts to match your brand.
Adding blog posts to their website can help brands to engage with the target audience. Nescafew provides 3 blog styles.
Choose from 4 shop styles and 8 different product card layouts to customize online marketing. The theme is cross-browser compatible.
Cafena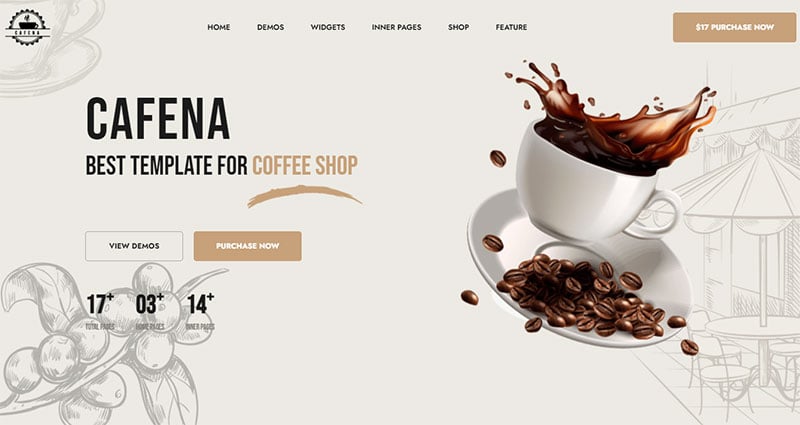 Cafena is an HTML5 template. It's ideal for a cafe, a coffee house, cafe bar, coffee store, and more.
It's compatible with the Bootstrap 5.x framework, so the layout is responsive.
The theme provides 3+ homepages and over 17 total pages. They all have a clean, modern design and are easy to customize.
Cafena is retina-ready and touch-friendly. Customers can locate your shop fast thanks to the Google Maps integration.
Other features include a fixed menu, image background, and typography options. It includes HTML,CSS, and JS files.
Cafenod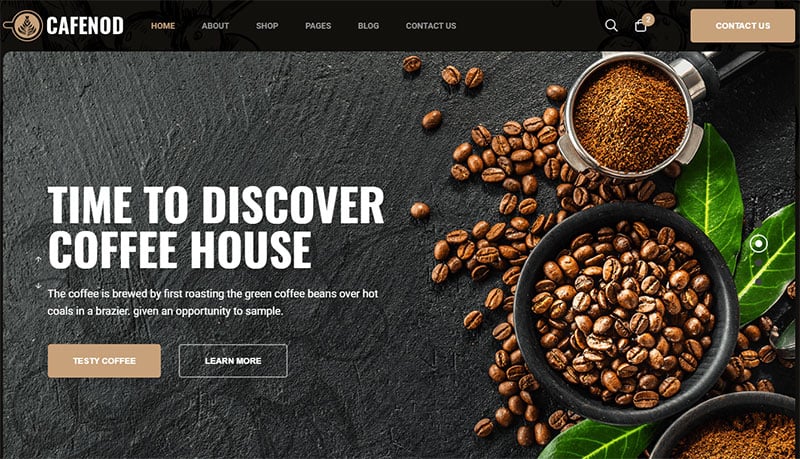 This is a Bootstrap 4 HTML coffee shop website template. It is ideal for a coffee shop, cafe bars, coffee house, coffee store, coffee blog, and similar sites.
The responsive design makes the site accessible from any device. Cafenod provides 3+ homepages, over 19 total pages, and more than 19 valid HTML5 files.
The layouts offer unlimited customization options and are retina-ready.
Siena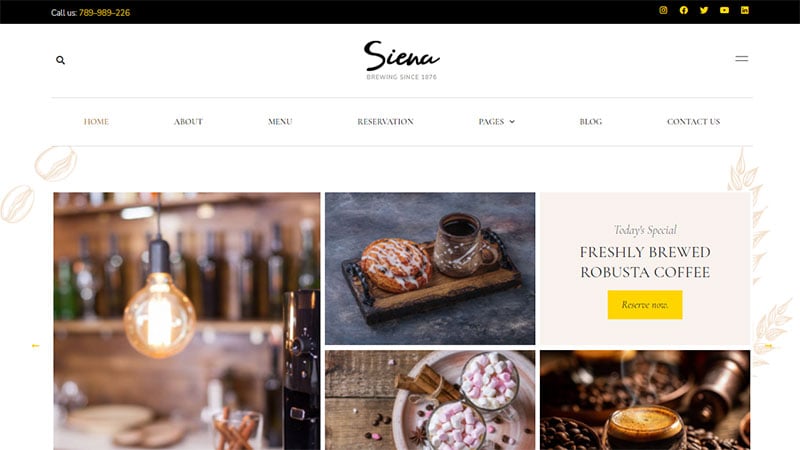 Siena is an Elementor template. It's a great choice for a cafe, coffee shop, coffee store, or coffee house.
It offers an engaging hero animation that will captivate the target audience.
Setting up a professional-looking website with Siena is easy. It provides 14 page and section templates such as Home, About Us, Our Team, Reservation, Menu, and more.
The Contact page template makes navigation easy. It can help businesses to convert visitors into customers.
Add a blog to keep your site up to date. Siena works with the Elementor page builder plugin.
Craft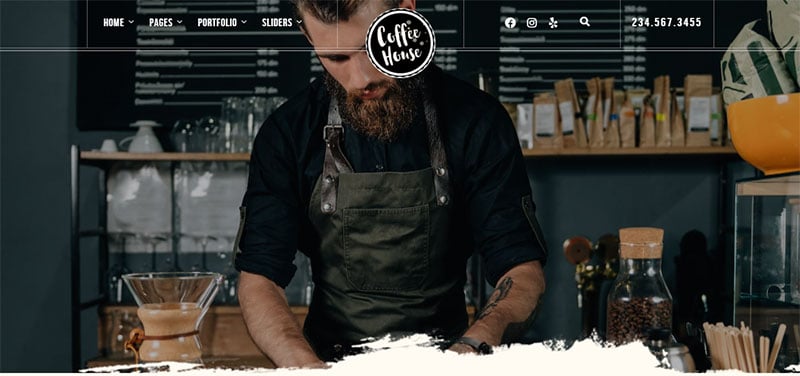 Craft is a responsive, HTML coffee shop website template. It's also suitable for restaurant websites.
There are 9 home demos and over 70 HTML pages. The theme offers a clean and modern design that is attractive and user-friendly.
It includes HTML, CSS, and JS files.
The theme provides 12 eye-catching sliders. Customize them and highlight promotions, banners, or featured content.
Craft is accessible from different browsers.
Koffe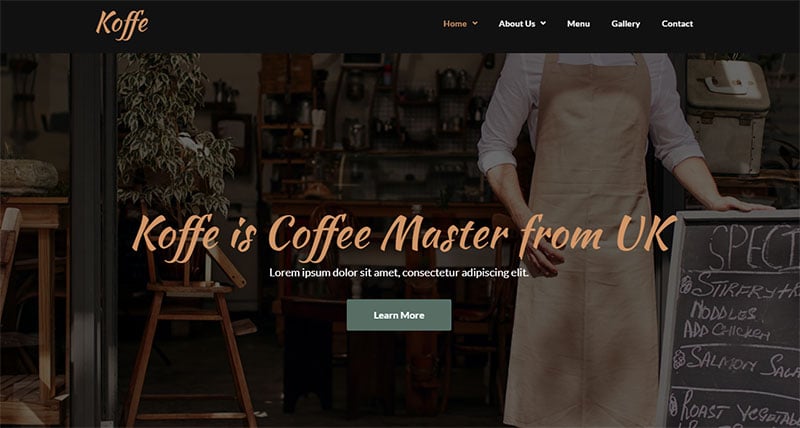 Koffe is another responsive coffee shop template kit that is easy to set up.
It comes with 10 page and section templates that are ideal for a cafe, a coffee shop, or a coffee bar. They include 4 homepage layouts, About Us, Our Menu, Our Team, and more.
Use the Our Gallery page to showcase unique products and services. High-quality pictures build brand credibility and attract new clients.
The demo uses the Elementor page builder.
Lecker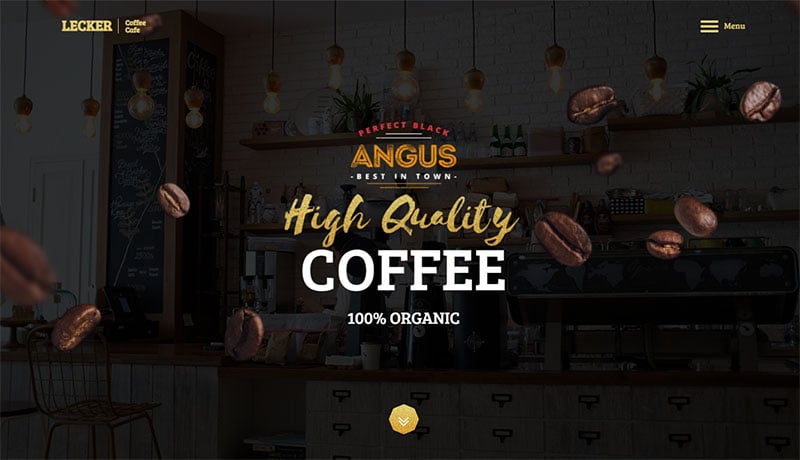 This attractive theme is ideal for coffee shops, restaurants, fast food, and similar businesses.
It provides 10 demos which include both one-page and multi-page designs. These will attract customers in the catering sector.
Cafe owners can highlight their daily specials and unique services.
There are 5 different title styles and a unique coffee animation effect. The theme also comes with parallax sections, Google Fonts, and full-screen backgrounds.
The layouts are responsive and retina-ready.
Koffee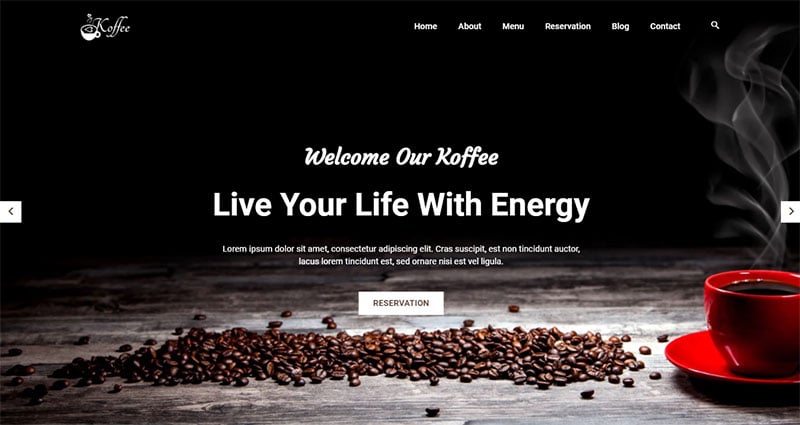 This HTML template is ideal for a coffee shop website, cafe, coffee house, and coffee bar websites. The responsive layout looks great on any device and is cross-browser compatible.
It includes valid HTML5, PHP, CSS,and JS files. The design is modern and clean.
It's based on Bootstrap v3. Users can customize the look with Google Fonts.
Beans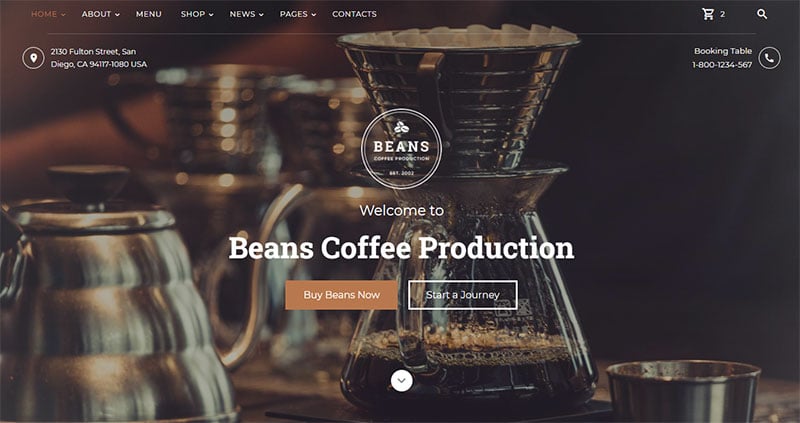 Beans is a multipage coffee shop website HTML template that offers many features.
It's suitable for a coffee market, coffee shop, coffee house, or restaurant. It also offers a barista theme.
There are over 40 web pages, so brands can display any type of content. Businesses can add personalized information.
Categorize your products in a catalog and add a blog for up-to-date posts. Set up an online store and market your unique products online.
Visual design elements include CSS3 animations, headers, footers, and UI. Customize the Google Fonts and add Google Maps.
The theme is SEO-friendly and optimized for high speed.
Beans is a demo that's functional and modern. Even beginners can set it up without any problems.
Dement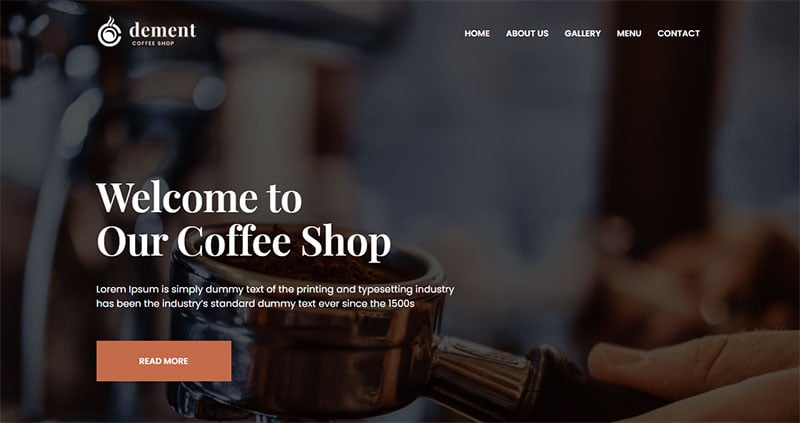 Businesses looking for design ideas for their coffee shop website can try Dement.
This template kit uses the Elementor page builder plugin. It provides flexible layouts that will display on mobile devices.
No coding is necessary to set up any of the 22 designs. These include the homepage, a header and footer, About page, Shop page, and Contact.
This WordPress theme doesn't require WooCommerce or Elementor Pro.
Lambert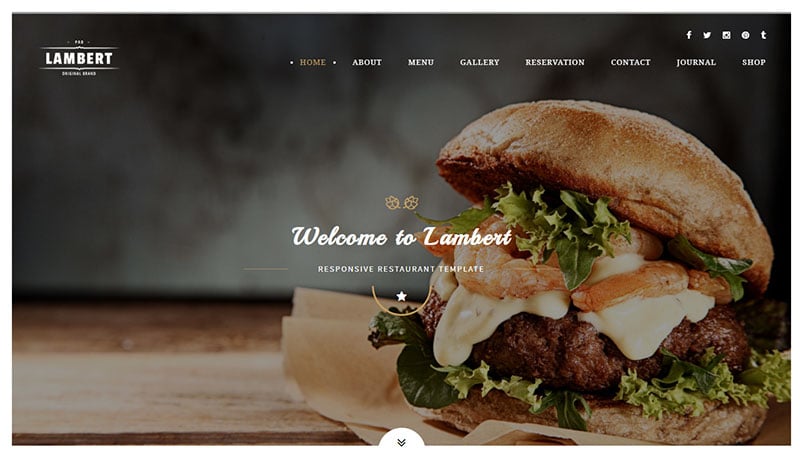 Any coffee shop website will look great using the Lambert theme. The homepage comes in 6 different designs, including a slider, carousel, video, or static image.
The parallax effect and full-screen backgrounds create an eye-catching platform. It's retina-ready, so the user experience is great.
Users can add a working Ajax PHP contact form and Ajax MailChimp form to their site.
Lambert is responsive and adapted for any screen size. It's also cross-browser compatible.
CafeZone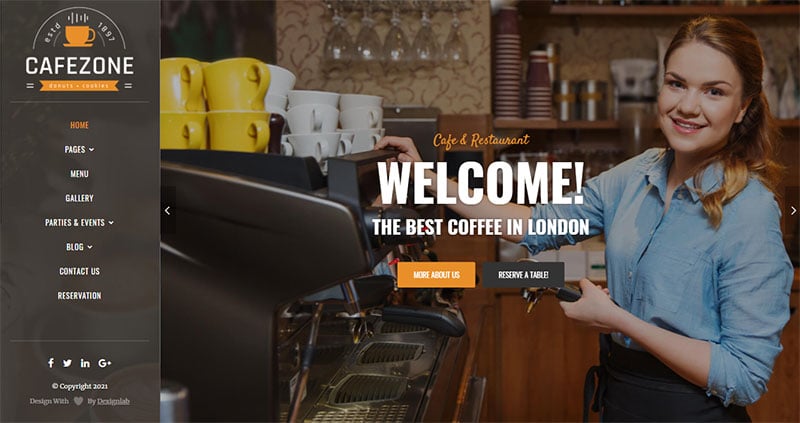 CafeZone is a perfect choice for coffee shops, cafes, and restaurants. It's an HTML template that features 4 beautiful homepage layouts.
It also comes with stylish inner pages. Use these to display restaurant menus, images, company introduction, and more.
The image background and the side navigation bar on the homepage are very attractive and capture visitors' attention. There's also a Reservation page for booking a table straight from the website.
The designs are highly responsive and fully customizable. CafeZone is built with the latest Bootstrap, CSS3, and HTML5.
Coffee Shop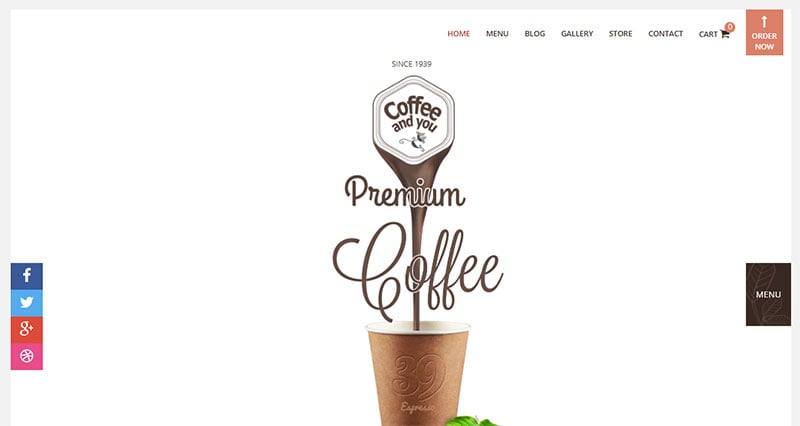 This coffee shop website template is perfect for cafe, bistro, and restaurant websites. Customize the stylish designand adapt it to your unique brand.
The theme provides a homepage, a blog, a menu, a store page, and 5 gallery layouts. The online reservation form makes it easy for visitors to book their events.
Visitors can access the site from any device thanks to the responsive design. Other features include working PHP scripts, Scss, Gulp-node app files, and detailed documentation.
FAQs about coffee shop website templates
1. What are the features that a good coffee shop website template should have?
An excellent coffee shop website template should offer options for presenting high-quality photographs of coffee and baked items, as well as simple navigation, a responsive design for mobile devices, a prominent menu, and an online ordering system. Customer reviews and a section for promoting sales and events should also be included.
2. Can I customize the colors and fonts of a coffee shop website template to match my brand's identity?
Yes, you may change the colors, fonts, and other visual components on the majority of coffee shop website templates. This enables you to customize the template to your brand's aesthetic and give your coffee shop's website a distinctive appearance.
3. Are there any coffee shop website templates that are specifically designed for mobile devices?
Yes, a lot of website templates for coffee shops are mobile-responsive, which means they change depending on the size of the device being used to view them. This is crucial since more and more people are using their mobile devices to browse the internet.
4. What is the cost of a typical coffee shop website template?
Depending on the platform and the particular template, the price of a common coffee shop website template can change significantly. While some platforms provide free templates, others charge between $10 and $100 or more per template.
5. How do I know if a coffee shop website template is SEO-friendly?
If a coffee shop website template has elements like clear code, optimized pictures, and appropriate header tag usage, it can be SEO-friendly. You may need to invest in further SEO efforts, too, as SEO is a complicated process that encompasses factors other than just the design of the website.
6. Can I integrate my online ordering system with a coffee shop website template?
The ability to connect an online ordering system is offered by many coffee shop website themes, either through a built-in feature or by using a third-party plugin or service. This may be a fantastic strategy to boost sales while giving your clients convenience.
7. What are some popular platforms for purchasing coffee shop website templates?
ThemeForest, TemplateMonster, and Squarespace are just a few of the well-known sites where you may buy designs for coffee shop websites. You can choose a platform that suits your goals and budget by looking at the variety of templates it offers at various price points.
8. Are there any free coffee shop website templates available, and if so, are they of good quality?
Of course there are free coffee shop website themes, but they might range greatly in quality. Before choosing any free templates for your website, it's crucial to carefully examine them to make sure they satisfy your requirements and are of high quality.
9. How do I add high-quality images of my coffee and baked goods to a website template?
High-quality photographs may typically be added to a coffee shop website template by uploading them to the template's media library and then included them in the necessary website sections. To guarantee that the photos appear excellent and don't affect how quickly your website loads, it's critical to ensure that they are high-resolution and appropriately optimized for web use.
10. Do coffee shop website templates come with built-in features for social media integration?
Many website templates for coffee shops have social media integration features already included, such as buttons for posting content to various social media sites or widgets that show your most recent social media updates. This may be a fantastic strategy to grow your social media following and interact with customers online.
If you liked this article about coffee shop website templates, you should check out this article about animated website templates.
There are also similar articles discussing professional website templates, real estate website templates, florist website templates, and music website templates.
And let's not forget about articles on barbershop website templates, restaurant website templates, one page website templates, and technology website templates.
Great Coffee Shop Website Template Examples for Your Business