A popular quote says: "Good buildings come from good people, and all problems are solved by good design." Those who have owned a construction company for many years, or those starting out, build many beautiful things.
One problem they may face, though, is building a website. Nowadays, having a website is practical for expanding a company.
A website can help to promote and manage the business. Yet many do not have the coding skills to construct a webpage or the money to hire a website developer.
As the quote says "all problems are solved by good design". Instead of building a website from scratch, there is the option to use a website template.
Construction website templates are website layouts designed with construction businesses in mind. They deliver a professional website that allows users to present their expertise and services.
This article lists several construction website templates that offer great design features. Here are construction website templates worth checking out:
Construction template by Slider Revolution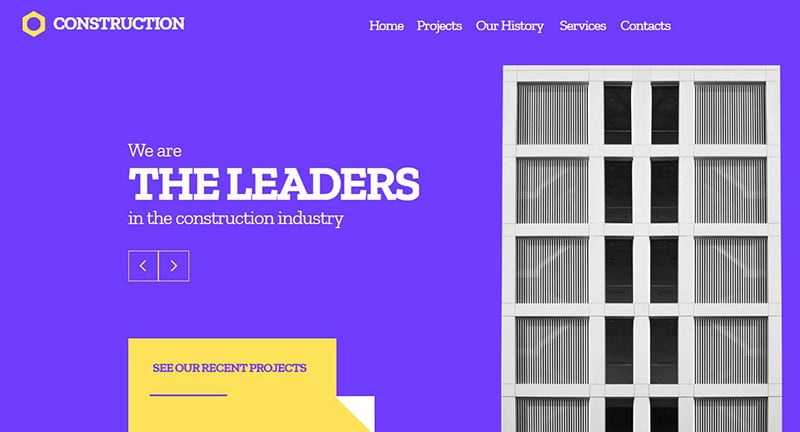 Slider Revolution offers many pre-made templates to create beautiful websites fast. This website template is ideal for construction and building companies.
It includes design elements that make it stand out from the crowd and boost business. This one-page construction website template is clean, organized, and responsive.
True to its name, it includes engaging sliders, animations, and parallax effects. The template is flexible, with a drag and drop editor.
This allows users with little to no coding knowledge to modify it with ease.
Konstra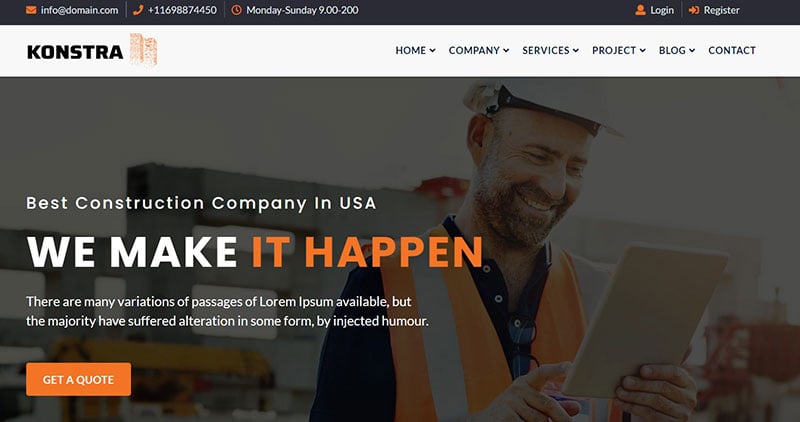 This template suits those looking for a simple but appealing construction website. It is an HTML template with many elements that create a professional website design.
Architects, engineers, construction companies, and more can use this template. It offers a clean, simple, and organized appearance that appeals to many visitors.
Cornike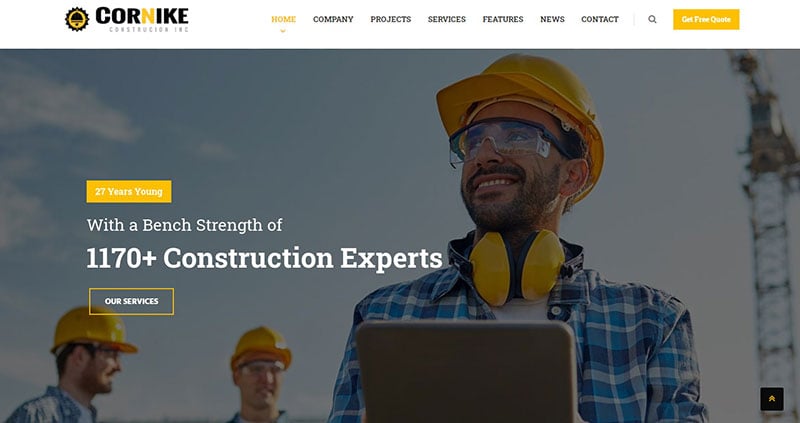 Small businesses and agencies will appreciate Cornike's website template.
The template comes with a construction theme and a logistics theme. It is a versatile and customizable website template.
Koncrete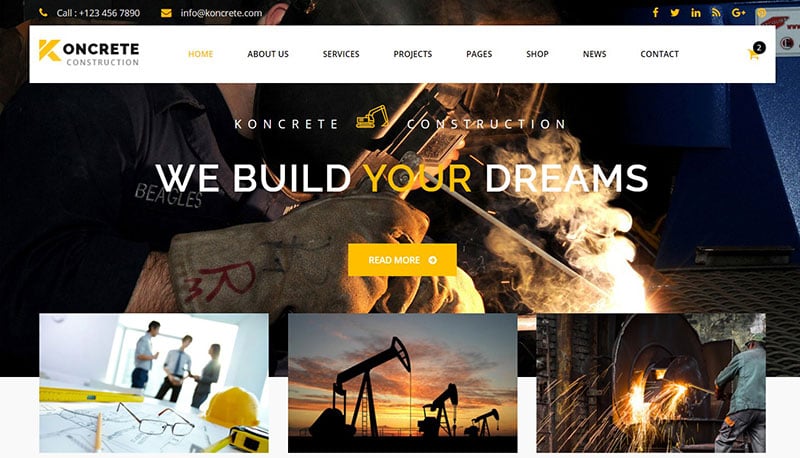 Koncrete is a customizable website template that suits all construction companies. It offers different layout options for the homepage.
It includes many inner pages to add about pages, product pages, and more. It also features sliders to showcase images or testimonials.
This construction website template is responsive and compatible with every browser.
Constructo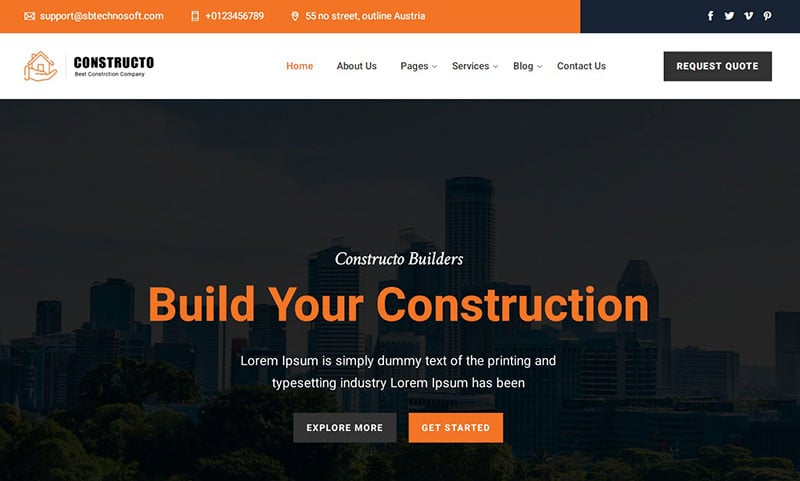 This is an HTML template. It provides an excellent design for construction companies, remodeling services, tradesmen, and more.
It is a simple and responsive website template. It has few elements so it is best used for promotional purposes.
Blue Collar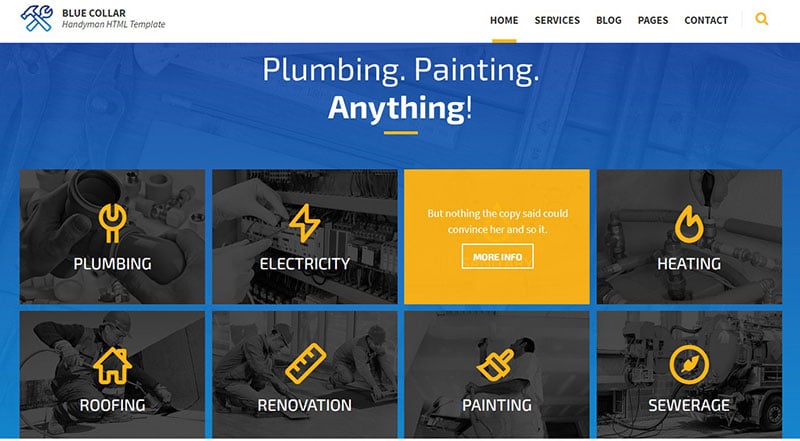 The Blue Collar template works best for small companies or individual construction workers. It is a responsive HTML template.
It is a simple website template that provides practical features for construction companies. For example, it allows users to display different services and booking schedules.
PixelBuilders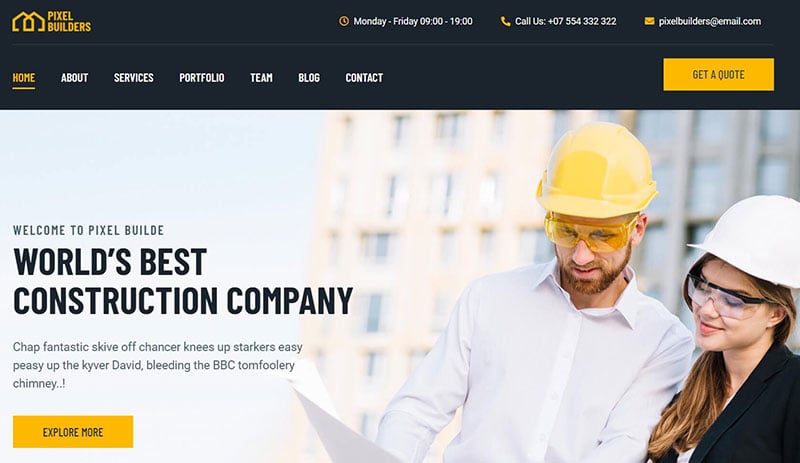 PixelBuilders is another HTML template that is useful for business and corporate companies. It is a multifunctional website template that includes several features.
Many types of companies can use it to build a website. It offers three landing pages and multiple inner pages that are easy to modify.
The template is mobile responsive and compatible with many browsers.
Construction Multipurpose Website Template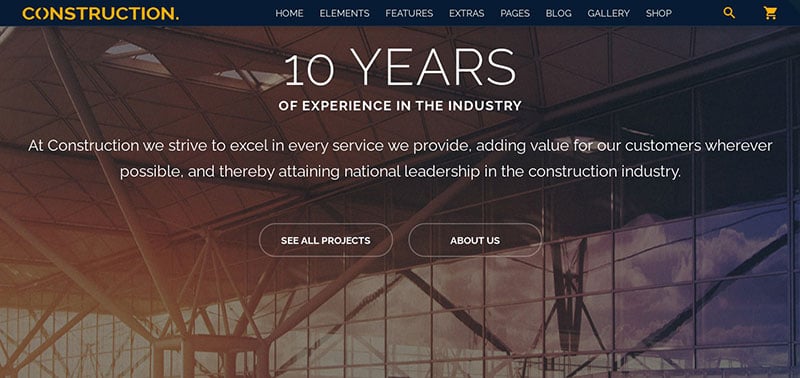 This is a multipurpose template that would work well for a construction website. It is useful for both small landing pages and full-scale websites.
The coding ensures great performance on any device. It offers many editing tools to modify and customize the website.
The template includes different design layouts, animation effects, and parallax scrolling. It also includes various gallery types, inner pages, and contact forms.
Construct Press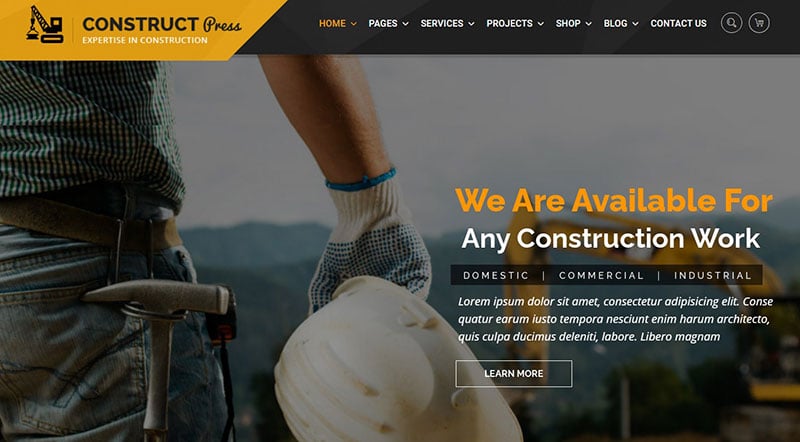 Construct Press is another responsive website template built for construction companies or tradesmen. It is a flexible template so users can personalize it according to their needs.
It includes functional features such as contact forms to expand the business.
Consto
Here is another solid construction website template built with Bootstrap. It delivers a beautiful website design ideal for any type of construction field.
It includes special features such as sliders that make it attractive to visitors.
Build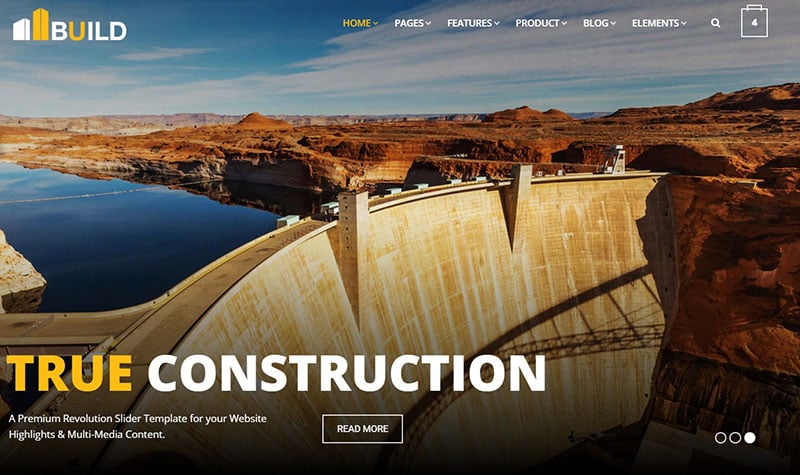 Build is a creative construction website template. It offers many customization options and is compatible with Revolution Slider.
It includes five homepage layouts, ten header styles, and two footer styles. It offers blog options, portfolio options, and unlimited color themes.
Castro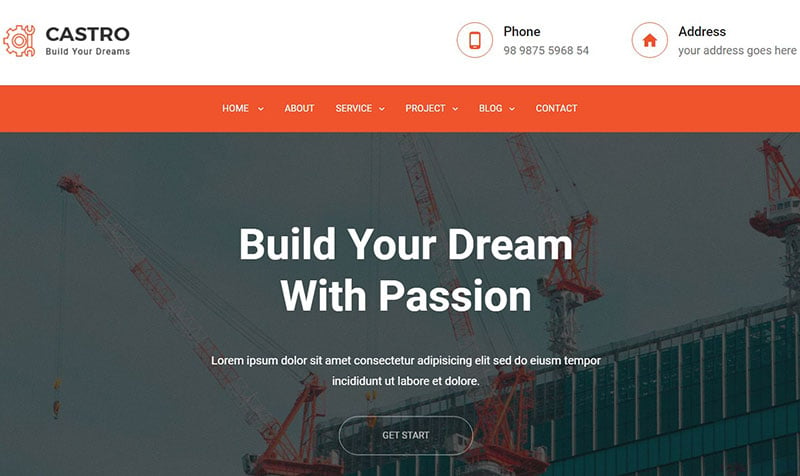 Castro is a website template built with speed optimization for a fast-loading website. It is also SEO friendly so the website can rank high on browsers.
It is well suited for builders, real estate, construction material companies, and more. It comes with three homepages, four blog layouts, and three service pages.
It is responsive to mobile devices and cross-browser compatible.
Constructioner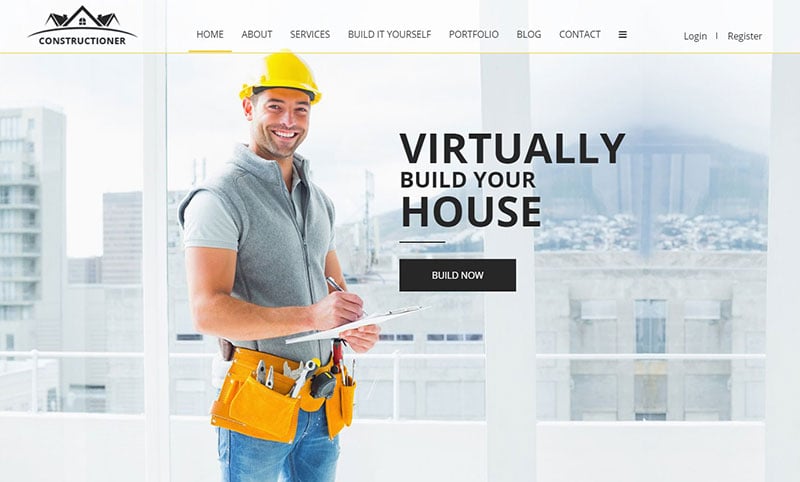 Constructioner is another website template with a design for construction companies. It is also available as a WordPress theme.
It provides a clean and modern layout that leaves a lasting impression on visitors. The coding is based on Bootstrap and it includes HTML, CSS, and JS files.
It is mobile responsive, cross-browser compatible, and customizable.
Construct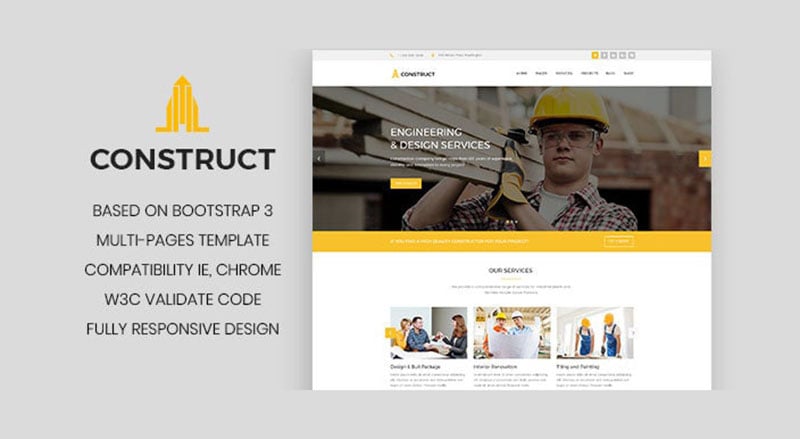 Construct is an HTML template designed for construction and building websites. Users can customize it to their needs.
They have a choice between two home pages, three headers, and nine elements. It supports a slideshow or video background and different style portfolios.
Shapen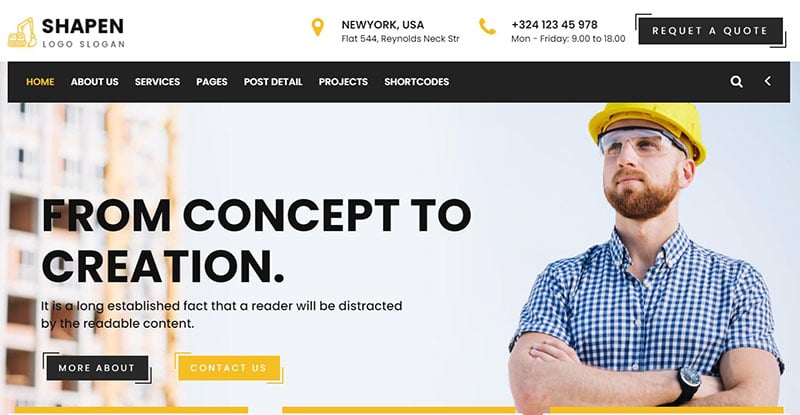 The Shapen construction template makes it simple for users to build a website. Users can add design elements with a few clicks.
It provides shortcodes, extensive documentation, and good customer support. Features include a working contact form, Revolution Slider plugin, parallax backgrounds, and more.
Buildr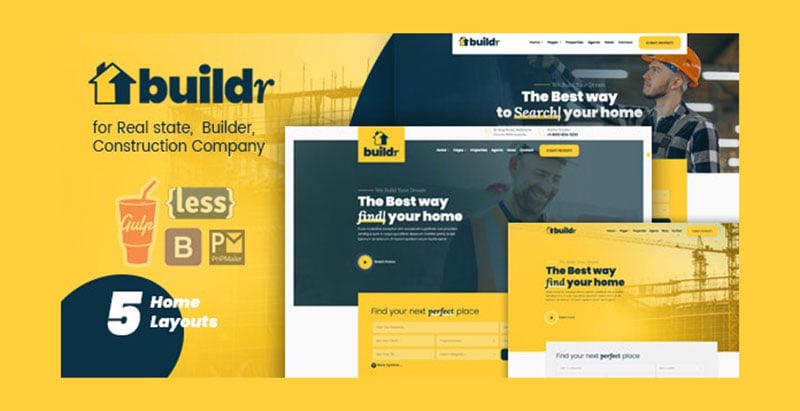 Buildr is a multipurpose website template. It works well for real estate or construction companies.
Built with updated programming technology, it is a reliable website template.
It includes five homepages, nine inner pages, and unlimited color variations. It supports parallax scrolling and animated effects.
It is responsive to any device and compatible with any browser. It also includes LESS and Gulp files.
Constrk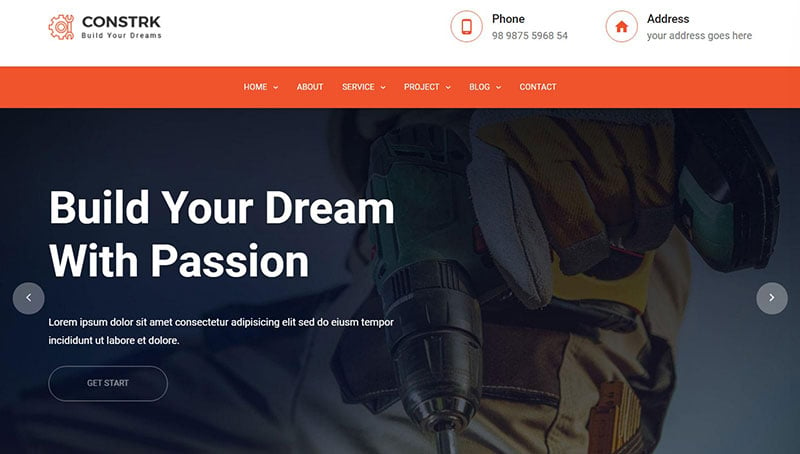 Constrk is a template designed to promote construction businesses and companies. It offers two homepages, several project pages, service pages, and blog pages.
It is customizable, mobile responsive, and built for SEO. It comes with clean code optimized for loading speed and strives to be user-friendly.
Constro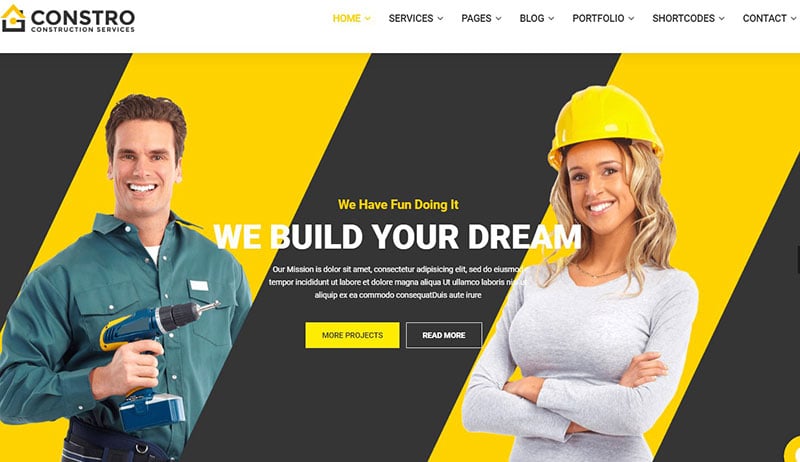 Constro is a multipurpose website template. This template suits construction companies, individual tradesmen, engineers, craftsmen, and more.
It provides quality and flexible code that allows users to customize the website template to suit any need. It offers shortcodes, premade pages, sliders, blog options, and much more.
All these features create an appealing and attractive website.
Primo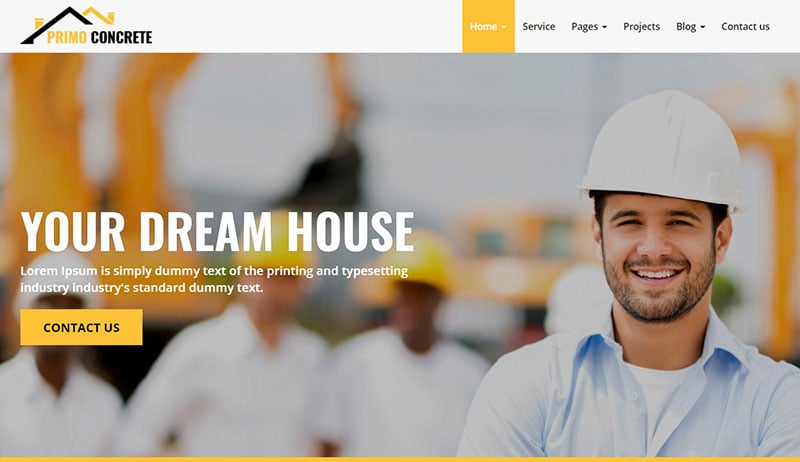 Based on Bootstrap, Primo is a template with modern coding. It is an ideal website template for construction businesses.
This template integrates with many platforms to extend functionality. It comes with two homepage layouts, Revolution Slider, Owl Carousel, and more.
It has drag responsive editing tools that allow users to customize it hassle-free.
Handshake Builders & Construction Company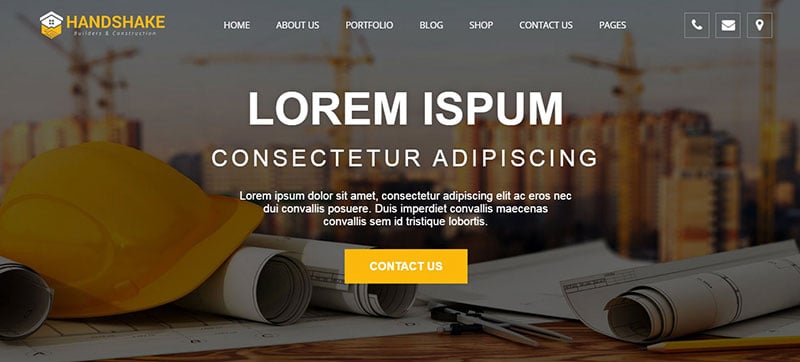 This is another professional construction website template. It is a clean template with a flat and modern design.
It is mobile responsive, cross-browser compatible, and based on Bootstrap. Other features include fifteen color styles, animations, sticky headers, sliders, and more.
Lightwire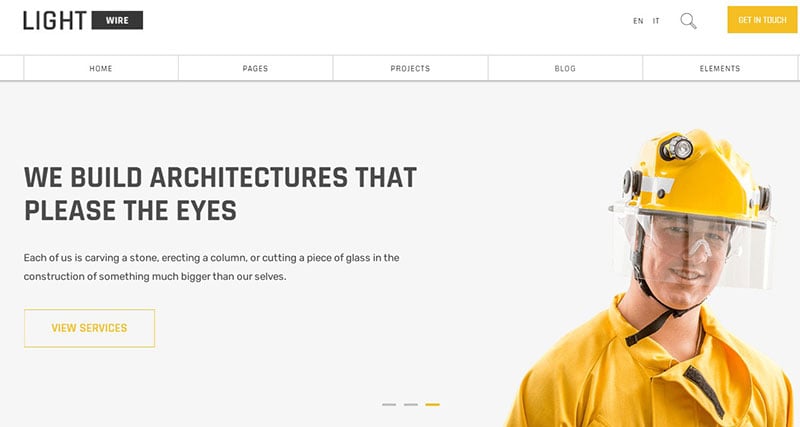 Lightwire includes a solid framework to build an advanced construction website. It is another website template built with HTML but it is also available as a WordPress theme.
It has a large set of customization options and includes modern components. It offers more than one hundred pages, thirteen headers, and seventy-five advanced components.
Renovate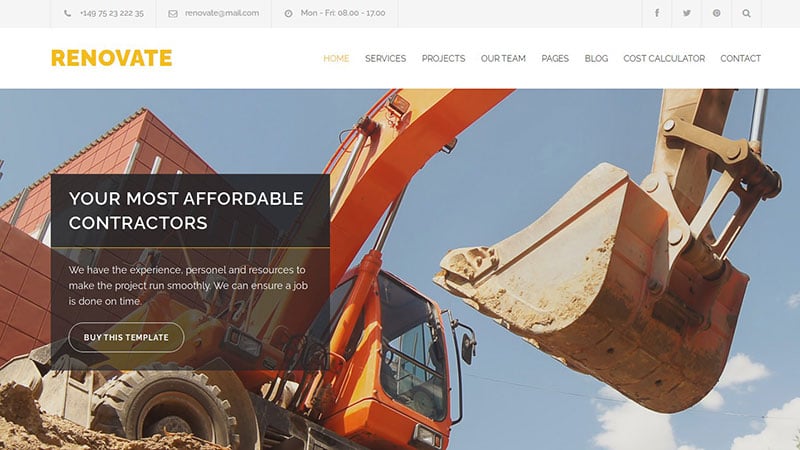 Renovate is a sturdy and versatile website template. It strives to promote and expand any business related to the construction industry.
It is a reliable template admired for its quality in design and coding. It comes bundled with Slider Revolution plugin, Premium Images, and Premium Font.
It offers nineteen pages, sticky headers, sliders, contact forms, and more. Another feature is the built-in Cost Calculator that calculates construction estimates.
Ending thoughts on construction website templates
Building a website does not need to be difficult or expensive. By using construction website templates it's possible to create a professional website.
Templates allow businesses to promote their expertise, showcase their skill, and increase awareness. They come packed with features to suit various construction services and create an attractive website.
Promote your business with one of the construction website templates above.
If you enjoyed reading this article about construction website templates, you should read these as well:
Need Construction Website Templates? Here Are the Best