There are a wide variety of business websites. Many of them are designed to promote consulting businesses.
Consulting is a broad term that can apply to numerous types of businesses, but consulting websites have many elements in common. A consulting website template is thus very useful for anyone that wants to make a consulting business website.
A website template is a kind of pattern to create a model for a website. The website builder can customize the website's different elements so that its look matches the business brand.
Below is a list of HTML and WordPress website templates and themes. They all are designed specifically for creating websites for consulting firms. All are easy to use and customize. All that's needed is to choose the best one and start using it today.
Peak Agency Website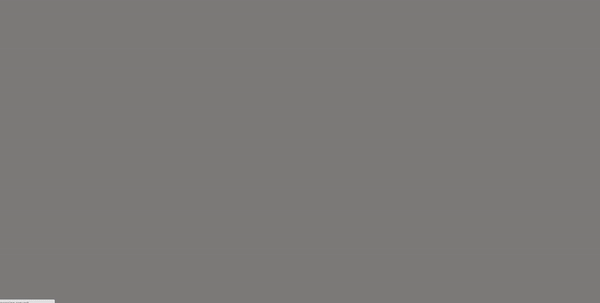 This theme by Slider Revolution was mainly developed for consulting companies. Some examples of target customers are business consultants, investment advisors, marketing consultants, and tax experts.
Peak Agency makes for a graphically stunning and SEO-friendly website. The template is responsive and ensures that the website always looks as it should.
This theme is easy to customize, allowing users the chance to make the website exactly as they want it. This is an excellent choice to create a website that improves the consulting firm's online presence.
Visapress
As the name indicates, Visapress is a template for consulting businesses that help people with their visas. Many immigration consulting service professionals will find this template exactly what they need.
The underlying framework is Bootstrap 4. It makes responsive websites but uses mobile devices as the starting point. In the end, the website looks good on any device and any browser, including Internet Explorer 11 and higher, Chrome, Safari, and Firefox.
Visapress ensures that the users can find the website using search engines. To achieve that, Visapress is compatible with various SEO-enhancing plugins. The W3C standards validate the HTML code of this template. This allows the incorporation of interactive elements.
RedBiz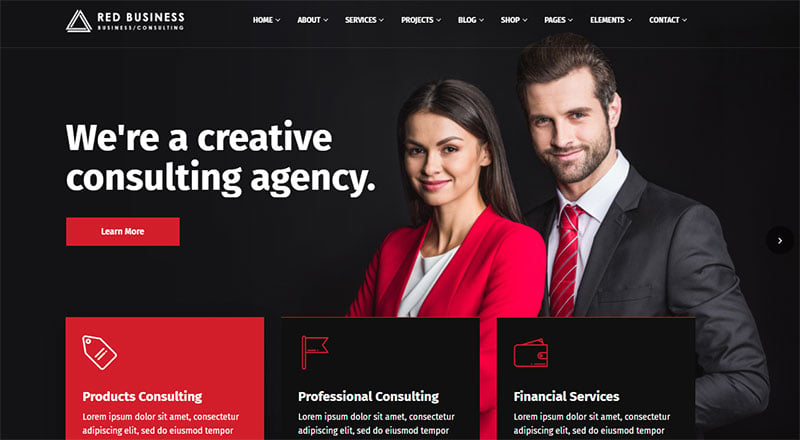 The design of RedBiz appeals to business consultants, investment advisors, and tax experts. It helps startups, small freelance businesses, and large corporations in the financing sectors. RedBiz offers a professional way of bringing a company's services to the attention of a large audience.
Consult Vita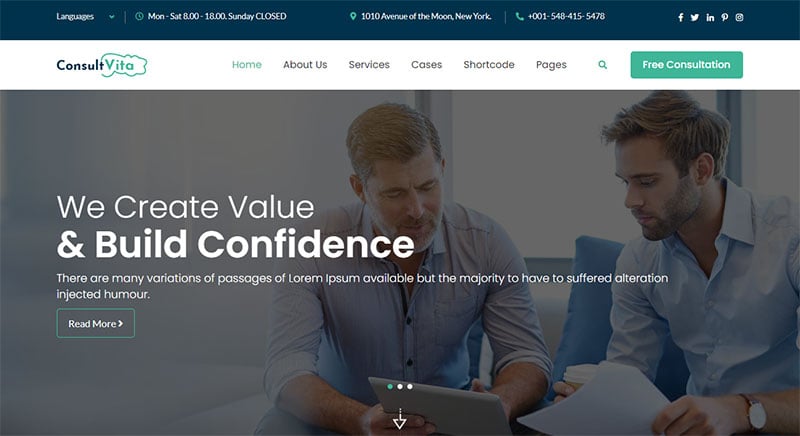 This consulting website template is responsive and very customizable. It is extremely popular among professionals in management and consulting.
The Consult Vita template has Bootstrap 4, CSS3, HTML5, and jQuery at its core. The design and layout are outstanding and look equally stunning on a mobile phone or tablet.
The design of this website template is optimized for consulting and similar businesses. SEO optimization is very beneficial for making the website easy to find. Other strong points are the simple mobile navigation and commented code.
Enry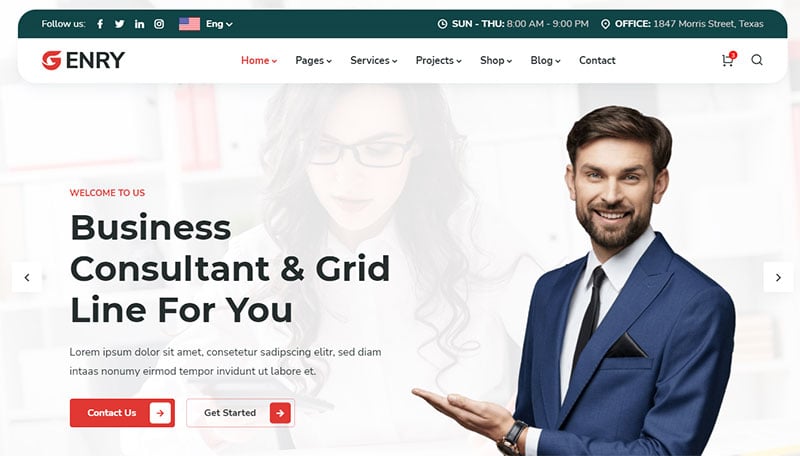 Enry is a professional website template for any kind of consulting business.
The core of this template is HTML5, Bootstrap 5.0.1, and Sass. It also contains the RTL feature, enabling the website to use non-Latin script languages, like Hebrew and Arabic.
An interesting element of Enry is the working contact form. Other benefits are the well-commented code and its customizability. All these features make this template easier to work with and provide extra flexibility.
ConsultPro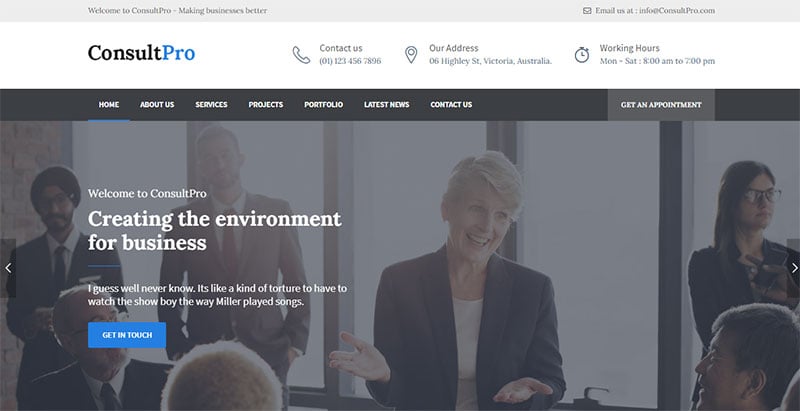 ConsultPro is a responsive HTML template with a fresh and modern look. It is very useful for accountants, consultants, financial advisors, and tax support companies. The web design improves the corporate business' online presence.
This business WordPress theme has several practical features. Worth mentioning are the blog, portfolio, personal profile, and testimonials features. This responsive example has many customization tools and is easy to work with.
Consulterz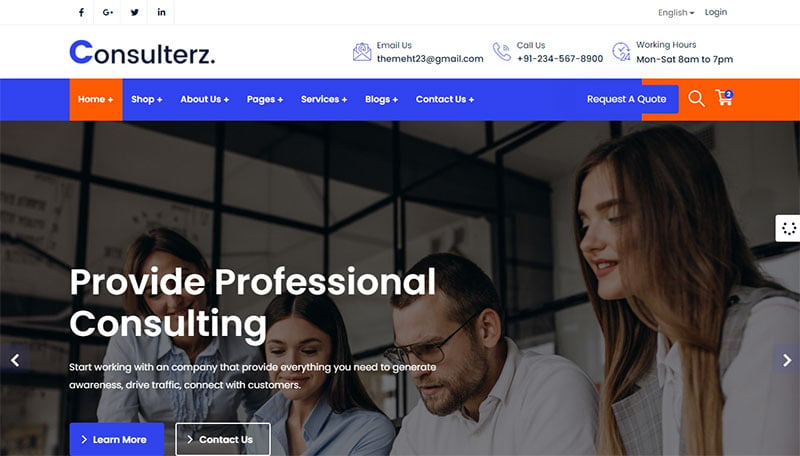 Consulterz is a consulting website template. It offers a specific application in consulting and financial services.
The product is user-friendly, making it a perfect pick for either advanced developers or people with little experience. Consulterz offers extensive assistance for the latter group. They can use one of the five demos that it includes.
There are also 40+ inner page layouts to choose from. It even offers a webshop page for providing products and services online.
Aivons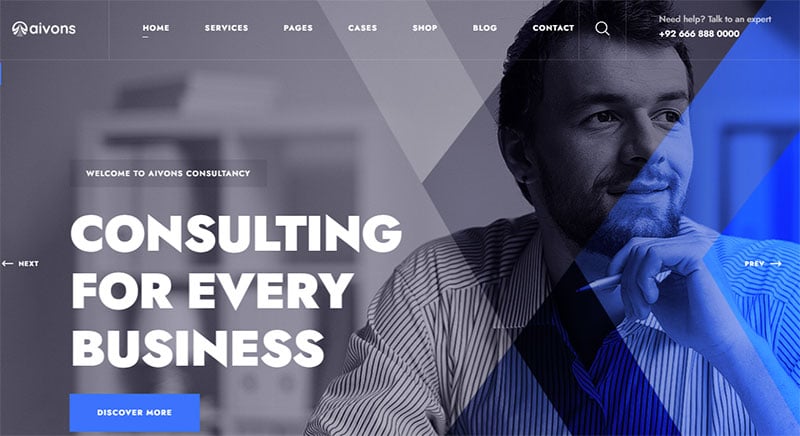 Aivons is an HTML template for the consulting and financial service sectors. It is especially suited for consulting firms and financial and business advisors of any kind.
Aivons includes the following features:
Four landing pages
14 inner pages
Box version
Dark theme
New color schemes
One-page demo
Owl Carousel slider
RTL layouts
Valid HTML5 and CSS3
Barnet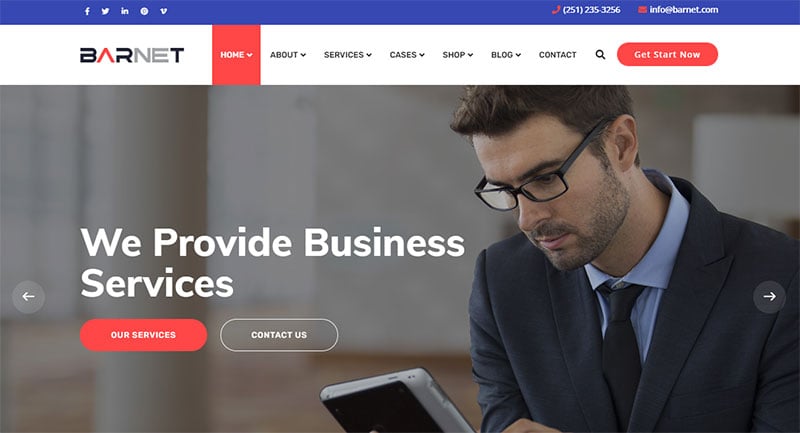 The next on the list of business consulting WordPress theme examples is Barnet. It is very easy to use and produces responsive websites. It is based on PHP and AJAX and is suitable for any kind of consulting application.
It offers a working contact form and meets all W3 standards. Additional features are the Revolution Slider and Unlimited sidebars, making the user experience as simple and pleasurable as possible.
Consultplus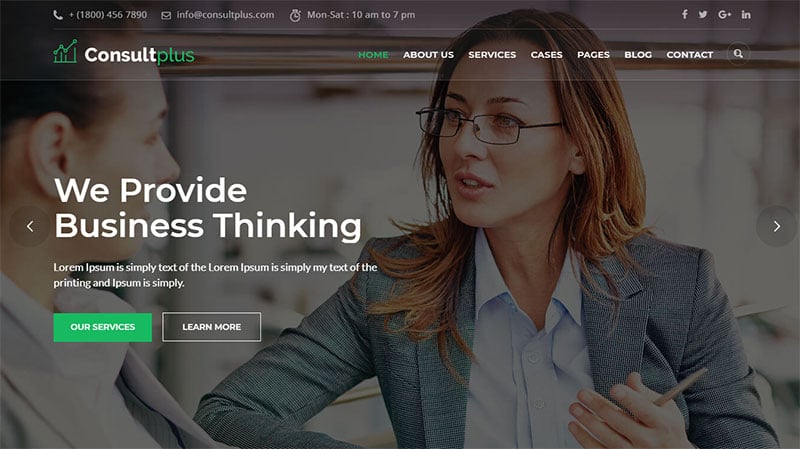 Consultplus offers an HTML template suitable for finance or consulting businesses. It meets the needs of either a startup or a well-established company. The businesses that benefit most from this theme are consulting firms, insurance companies, corporate businesses, loan or tax services, and investment firms.
It has a unique and eye-catching design that makes the website stand out from the rest. The website templates are 100% responsive and work on all commonly-used tablets and mobile phones.
Among the features that Consultplus offers are:
Appointments
Blogs
Galleries
Teams
Testimonials
Consultplus helps in increasing a consulting business' online presence.
Dynamic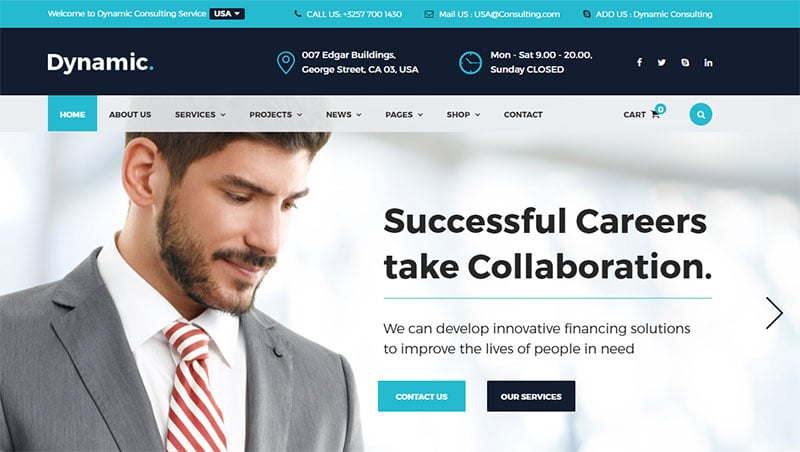 Dynamic is a website template that is both functional and elegant for business consulting firms. The designs and animations work flawlessly and look perfect on any kind of device and display size.
The developers tested their templates on different devices to make sure that they were responsive. They are retina-ready, so they look amazing on high-resolution displays.
There are four basic color schemes for Dynamic. The user can apply them to sections, pages, or the entire website. And the Parallax scrolling effects add an extra dimension to the site to make it look even better.
Nutrivix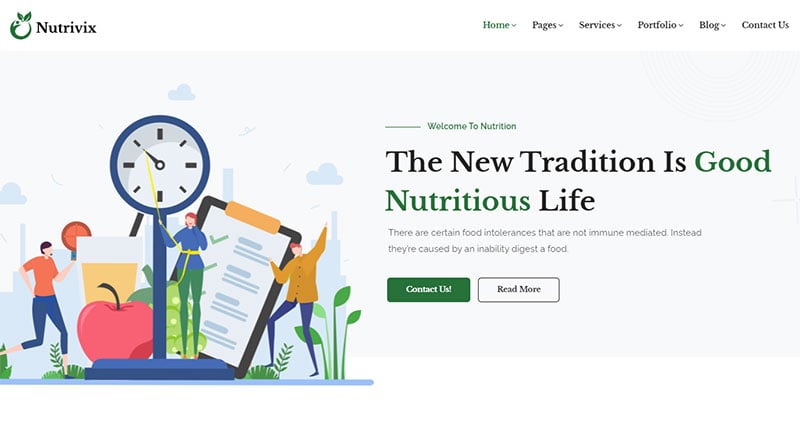 Nutrivix is a consulting website template in HTML. It works best for nutrition and diet consulting businesses. It is also suitable for:
Dietitians
Health coaches
Clinical nutritionists
Public health managers
Nutritional consultants, and many more
Qwilo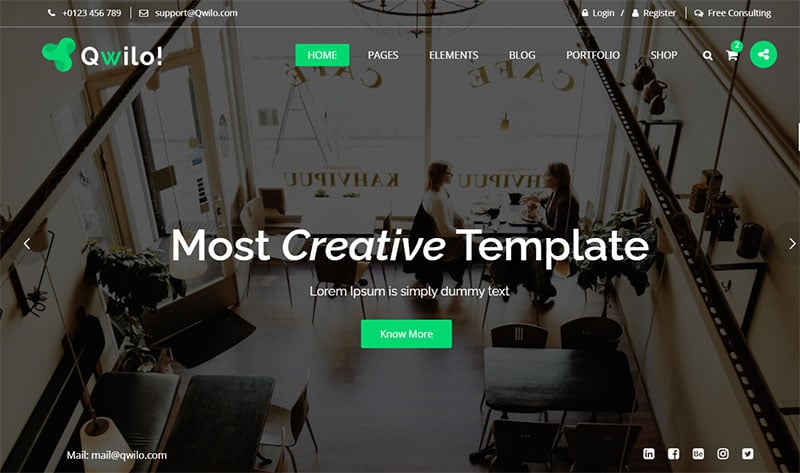 Qwilo is an HTML5 template that has beautiful and creative layouts. It is perfect for any kind of consulting website. The simple yet elegant design is very appealing.
Recently Qwilo was upgraded, and the designers added eleven more demo pages, which brought the total up to more than 230. The designers also made sure that the template will continue to be responsive across multiple browsers. There is a contact form that is easy to use.
Nexgen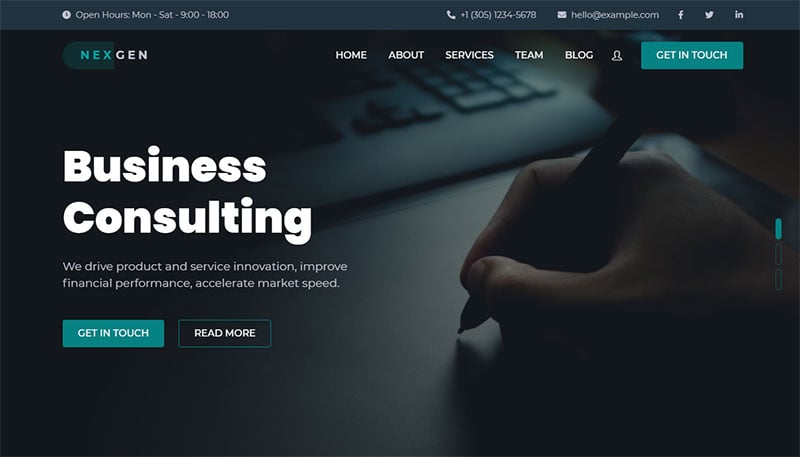 The list of consulting website templates continues with Nexgen. This is a responsive HTML template built on the Bootstrap framework. Its design focuses on the needs of finance, business, logistics, transport, and corporate consultants.
Nexgen's most important features are:
Fully responsive
GDPR cookie notice
Ten demos for multi-page websites
Ten single-page demos
18 essential inner pages
Ten template sections
More than 40 essential website elements
More than 180 beautiful line icons
1,600 icons
Reobiz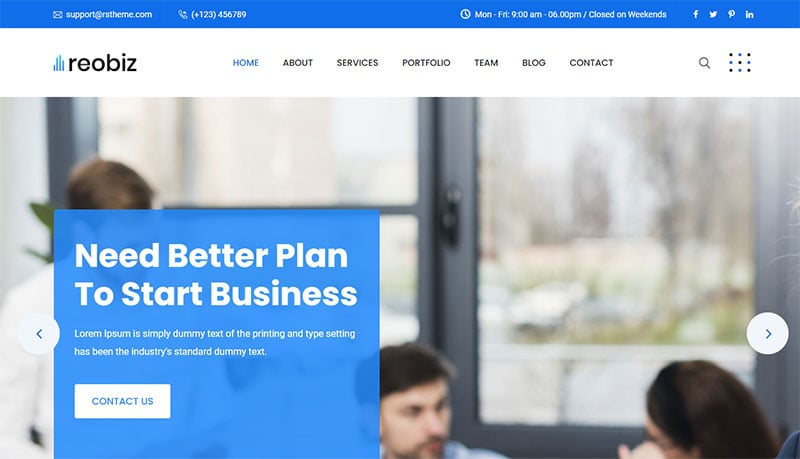 Reobiz is one of the best consulting website templates available. It boasts a wide selection of features and functions. The underlying code is validated by the W3C standards.
The Reobiz package contains 13 one-page and 15 multi-page demos that users can choose from. The various inner pages unite to provide a beautiful consulting firm website with a great user experience. There are a total of more than 44 HTML pages.
An attractive feature is testimonial pages. They are well-made and convincing. It is a feature that instills trust in the company's expertise and trustworthiness.
Conbiz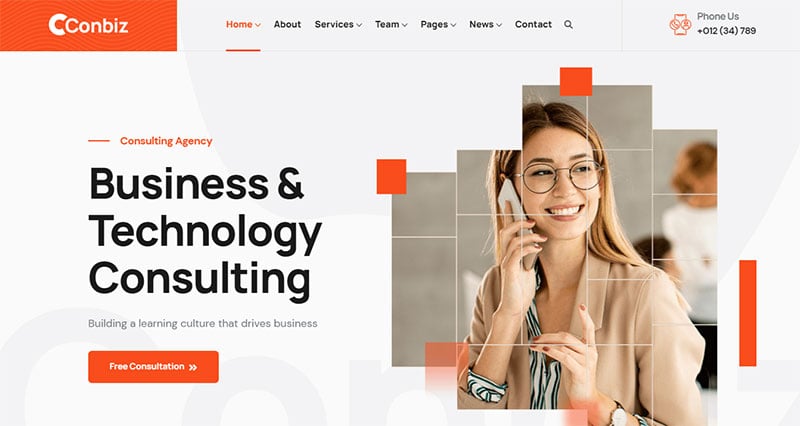 Conbiz is another business consulting HTML template with a clean and modern look. It is easy to work with and fully customizable.
It is perfect for:
Businesses
Consulting services
Corporations
Finance industries
Accountants
Agencies
Financial advisors
Insurance brokers
Lawyers
Startup companies
Zuberia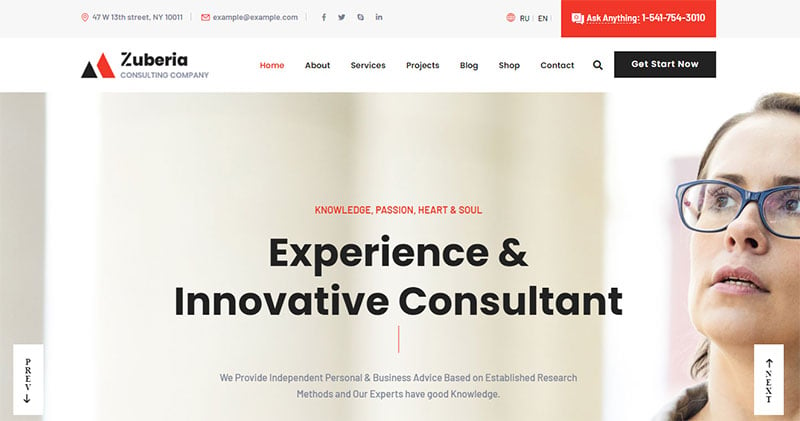 Zuberia is a website template that was specifically built for startups and other consulting firms. Its design is very attractive and responsive across various devices. The whole package is available at a reasonable price.
It contains everything that a consulting website needs:
Blog
Portfolio
Contact form
Personal profile page
Zuberia uses the Bootstrap framework. It includes Slider Revolution and more than twenty validated HTML files.
Corzo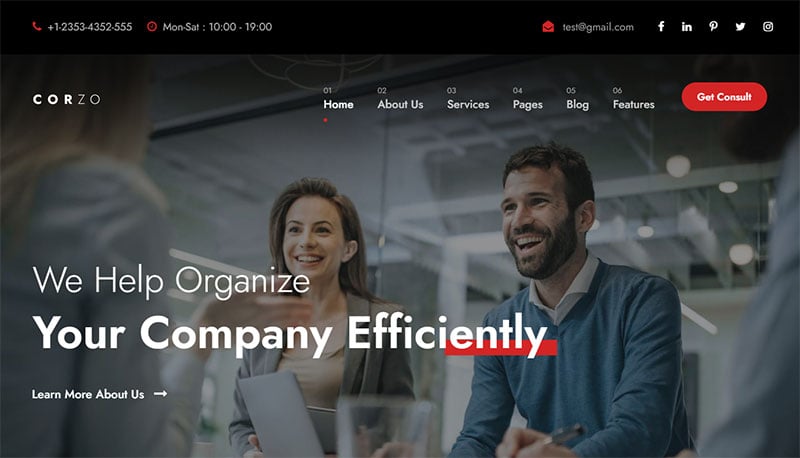 The last one on this impressive list of consulting website template examples is Corzo. The developers of Corzo have carefully crafted each demo resulting in a modern and clean design throughout the template pages. The features of the different demos combine to make one awesome consulting website.
Some of Corzo's main features are:
Three beautiful home page demos
A total of more than 200 HTML pages
Advanced framework
Clean and simple design
Different Google Maps styles
Numerous portfolio layouts
Separate HTML files for each demo
Various shortcodes
Ending thoughts on consulting website template examples
Now that the Internet world is growing up, making a website is not as hard as it used to be. Anyone with a consulting agency can do it.
Sure, a website is not the only thing that you can do for your consulting business. You have to make a business plan, use certain apps for consultants, set up internal processes, and lots, lots more. Still, the website is one of the first things you have to set up and you must do it properly.
All the templates in this list offer specific features. It is good to carefully review them and pick the one that offers the desired features. Industry-specific features can make the website more successful.
Still, there is something for anyone, whether it is general consulting or a specific niche. A consulting website can showcase vision, reflect a company's goals, and speak to the audience.
This list guides the reader through the best purchased and free consulting website template examples. There is no need to look any further. After choosing one, download it and build a professional business consulting website.
If you enjoyed reading this article on the consultant website template, you should check out this one with illustrator portfolio websites.
We also wrote about a few related subjects like non-profit website templates, church website templates, best WordPress sliders, WordPress logo slider plugins, slide menu examples, the most innovative and creative websites, video portfolio websites, the best graphic design portfolio examples, cool website header examples, one-page website examples and photography portfolio examples.
The Best Consulting Website Template Examples You Can Find