Every dentist needs a fully functioning website. Yet, aesthetics are also important. Healthcare professionals need an outstanding design for their websites. How clean a layout reflects on the practitioner's accuracy. At least, this is how patients feel.
A dental clinic website must convey trustworthiness and reliability. It must present concise information about the treatments. It's also helpful to include a resume for every practitioner that works in the clinic.
Design and maintenance are also important. A medical clinic's personnel that doesn't care for its website might also not care for their patients.
But managing a high-class website is not necessarily a difficult task. By choosing a comprehensive dentistry website template, half the work is already done.
Fully responsive templates packed with all the necessary functions exist for this purpose. They include slides, customer testimonial sections, call-to-action buttons, embedded videos, and much more.
This article features a list of excellent website templates for medical professionals.
Medicare Medical Services Website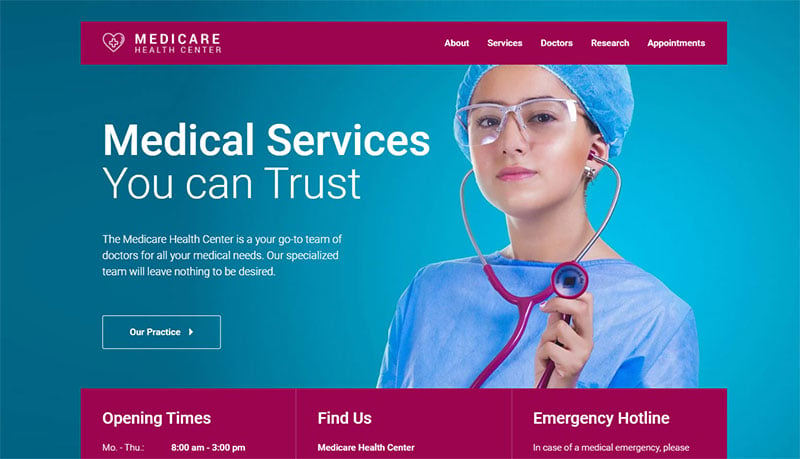 This template offers an elegant and responsive design. It's perfect for dental clinics and other medical services. Its lightweight platform is fast-loading.
With Medicare Medical Services, healthcare professionals can present their services stylishly.
Carenow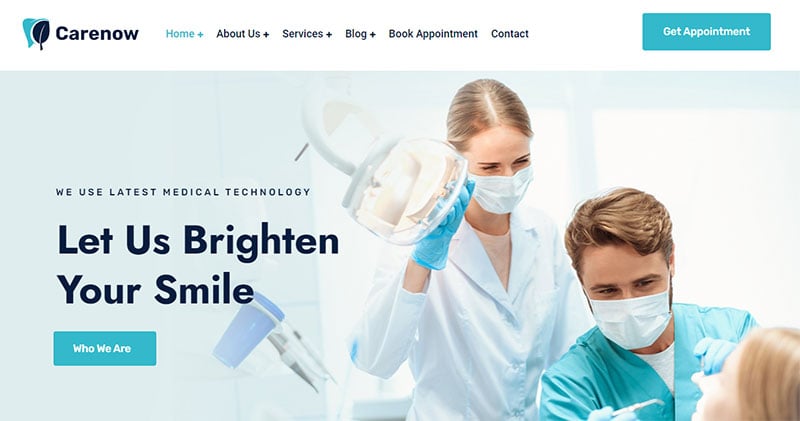 Carenow is a reliable HTML template. Web developers can create a beautiful design with retina-ready technology and full responsiveness.
Carenow offers an innovative website template, providing solutions for both dental clinics and individual practitioners.
Since it was built as a framework, Carenow is fully customizable. Web developers can edit the HTML tag and change the colors, sizes, items, and distances. Thanks to this, it's possible to give the website a personal touch.
Dentalux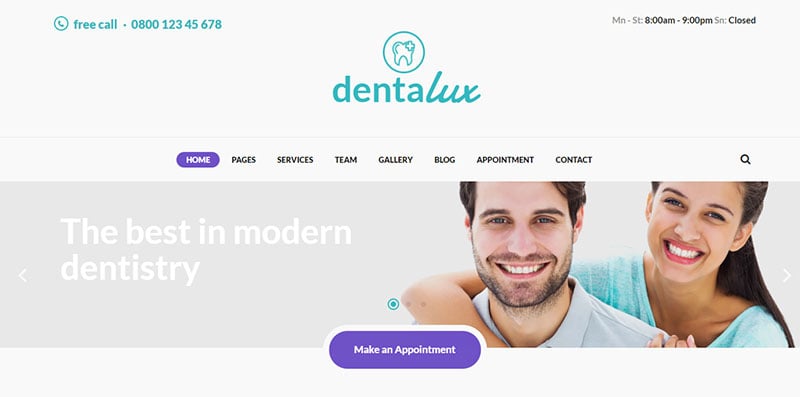 This dentistry website template comes with HTML documentation that is a great help in setting up your website. Its minimal design is complemented with calming colors and the perfect layout to inspire patients' confidence.
The Dentalux HTML template can be used for all types of medically-related websites. This includes research facilities, pharmacies, dental care, dental clinics, and hospitals.
Dentallox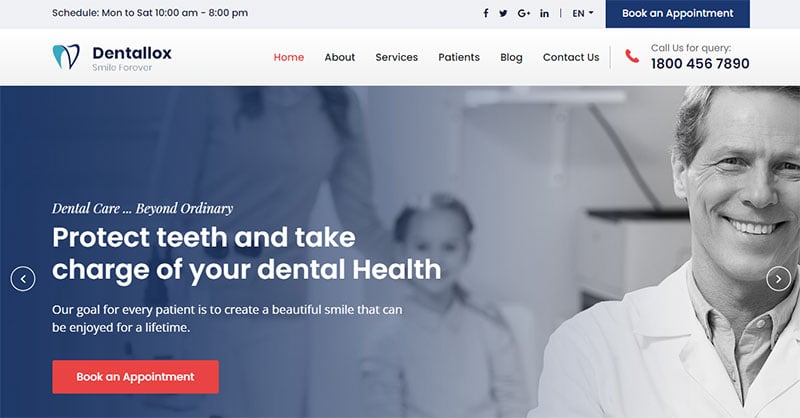 This dentist website template provides a modern yet elegant design. It comes with the necessary features to run a dental clinic or health center website.
It includes tools like a PHP AJAX contact form, advanced typography, parallax effects, footer widgets, unlimited slide bars, and more.
With over 30 HTML pages and pre-built layouts, Dentallox is perfect for any healthcare business.
Dentario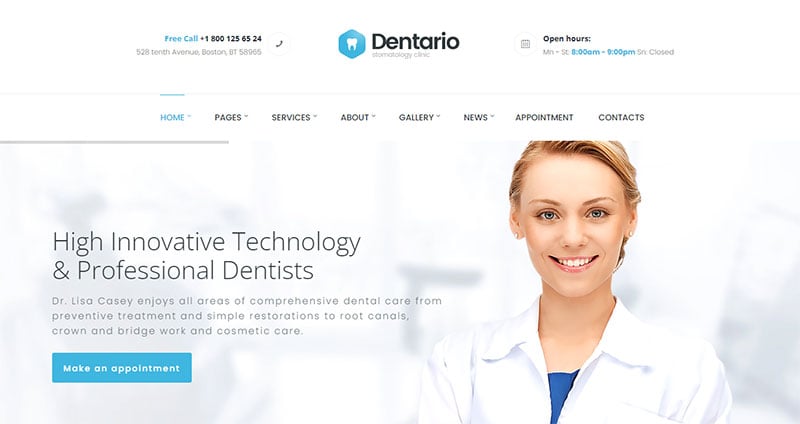 This fully responsive template comes with several ready-made pages. It is cross-browser compatible and lightweight. Dentario is optimized for SEO and highly responsive.
Dental offices and health clinics will benefit greatly from this option.
Medent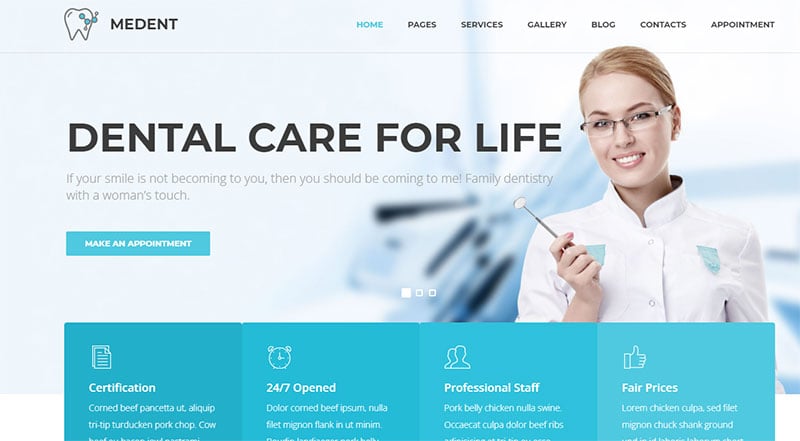 Medent includes features like parallax, animations, and premade sections. Web developers can use the gallery, blog, and "our team" templates to create a unique site.
It's powered by Bootstrap and integrated into Visual Page Builder for easy setup. Medent is a powerful web-building tool that is also available in a WordPress version.
Dentada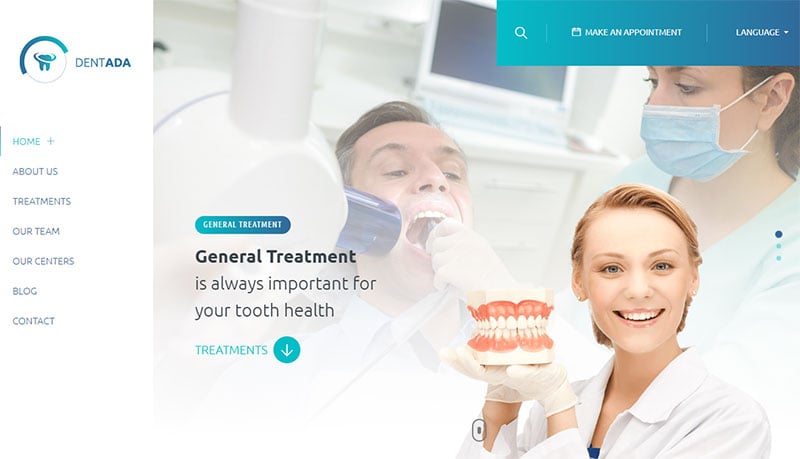 Dentada is a true dentistry website template. Although it was specifically built for dental clinics, it can be used for other healthcare services.
Its responsive design is easy to customize and works across different browsers and screens. It comes with 24 HTML pages and 12 premade layouts. Thanks to Dentada's animation effects, users can create stunning websites. Its vertical and horizontal headings are also one-of-a-kind.
It has free icons and fonts that make any brand stand out. Finally, it includes detailed documentation that provides an extra layer of security.
Dental Clinic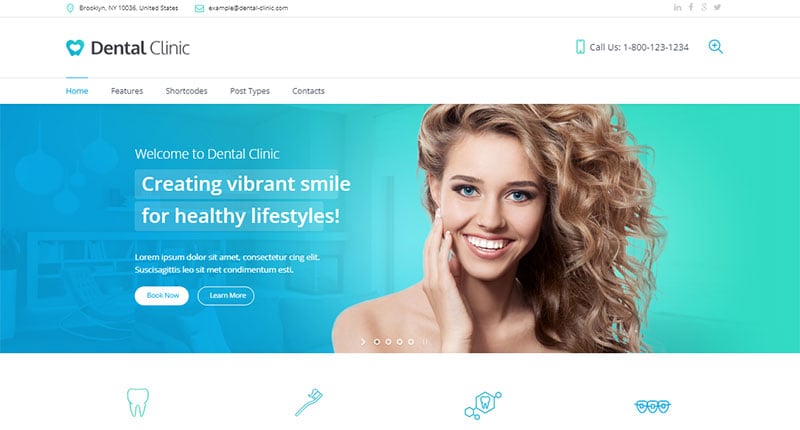 With Dental Clinic, dentists can create interactive websites. This website template boasts a mega menu for a better user experience. Its intuitive shortcodes make customization and managing easier.
This is the ideal option for individual dentists or a dental care clinic.
Dentzone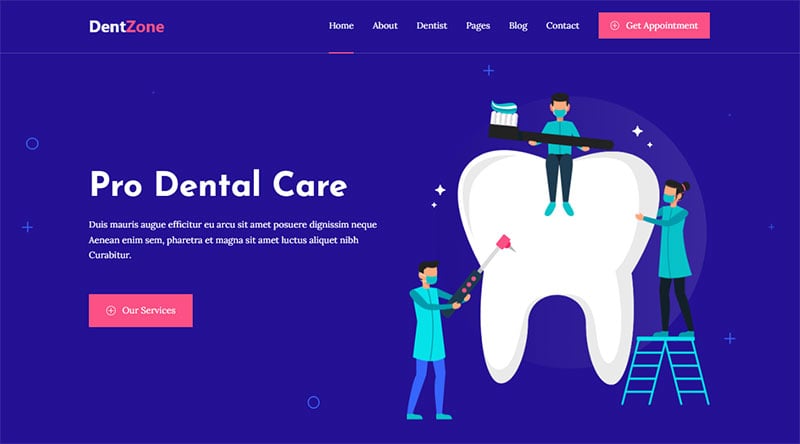 With Dentzone, designers don't need coding knowledge. The template includes detailed documentation to build and optimize a website.
All healthcare professionals can use this HTML template based on Bootstrap 4.
Predent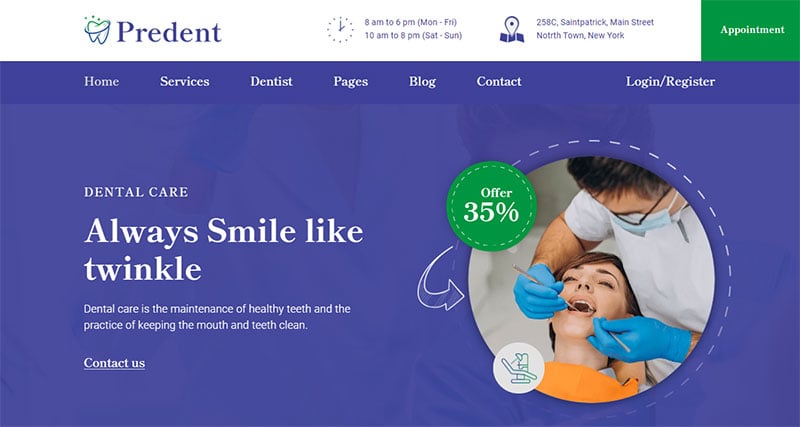 Designers will find premade pages for every section of the website with Predent. They can choose from dentist, blog, service, about, and contact pages.
With more than 15 HTML pages, Predent is an all-in-one solution for a dental clinic website. Its clean design and high responsiveness are based on Bootstrap 5. Thanks to its HTML and CSS3, dentists can run their own website hassle-free.
Dental Care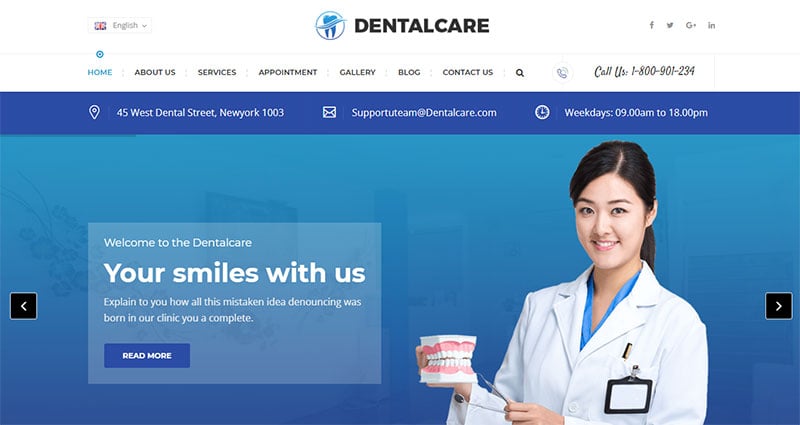 Dental Care was developed on Bootstrap and is the perfect dentist website template. It's packed with great blog pages to develop one's brand through content creation.
Thanks to its 20+ HTML pages, this template offers a responsive solution. It looks great on both desktops and mobile devices. Even better, dental clinics can display their services beautifully with Slider Revolution.
Denterio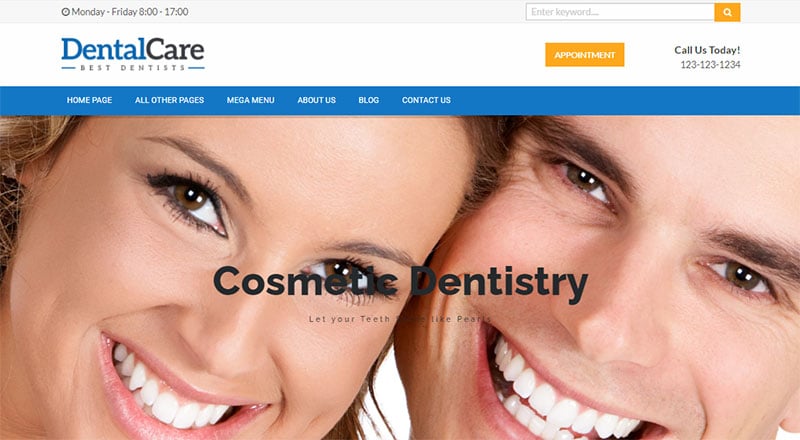 Those who are looking for a fast and responsive website template will love Denterio. Its creators achieved this speed by eliminating unused code. Denterio's code was carefully written to enable the highest optimization.
The developers spent time researching many dental clinic websites. They took notes of all the elements they had in common, their strengths and weaknesses.
Thus, they created Denterio, one of the most reliable dentist website templates.
Denton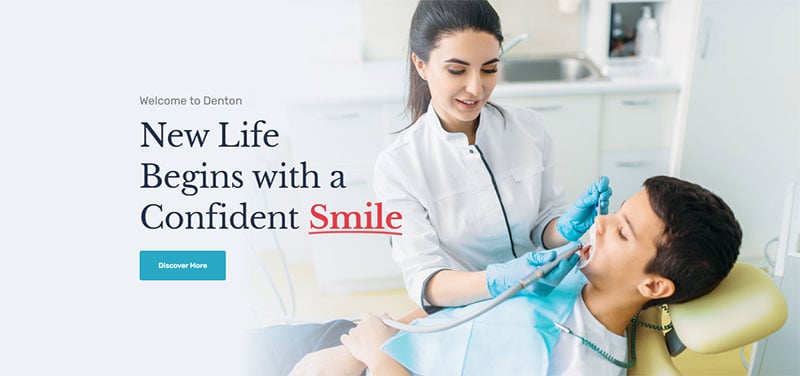 This is an Elementor-based template kit. Supported by one of the most popular page builders, Denton is easy to customize.
The kit includes basic pages for a dental clinic business: two home pages, dentist and dentist profiles, an about page, FAQ, footer, and service post.
All in all, users can choose from 12 available premade pages. All features are easy to implement with Elementor.
Dentist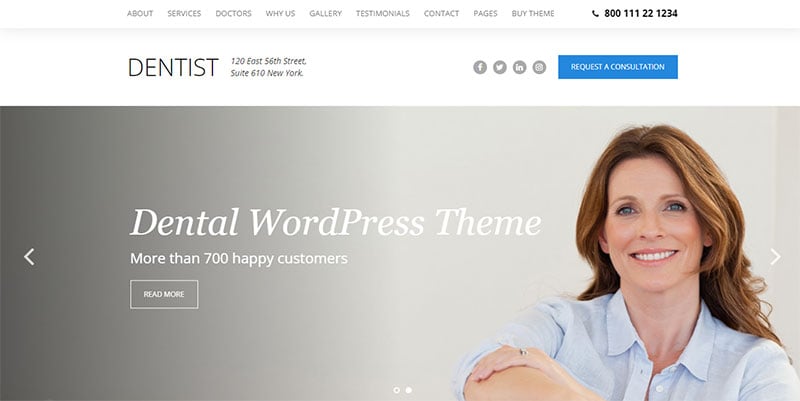 Web developers can use Dentist to implement advanced features quickly. Its one-page layout keeps all the information in the same place. Thus, visitors can quickly find what they are looking for.
Dentist is not only responsive but also WordPress compatible. Its clean design and smooth animations give the site an elegant feel.
The home page can include a map, customers' reviews, and a contact form. Web designers can display beautiful pictures to catch the visitor's eye.
Dental Dentist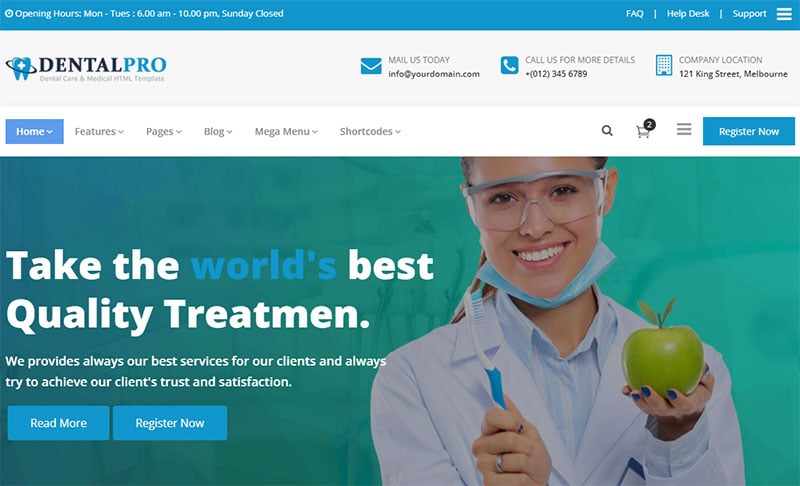 With the Dental Dentist template, designers can customize everything, including the contact form and index page. Dental Dentist allows for full optimization.
This website template stands out because of its functionality. Developers can use plenty of widgets to add different tools and improve the user's experience.
It has many pages with a variety of boxes to display the clinic's information. Thanks to its clean interface, Dental Dentist is reliable, attractive, and functional.
Santic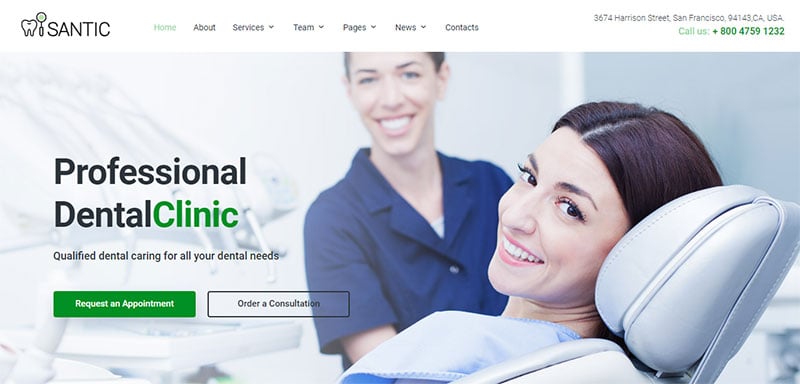 Santic's soft colors fit very well with a dental clinic website. Its smooth animation effects and attractive header give the site an elegant feel.
The home page can have different sections. These include testimonials, about us, statistics, service descriptions, contact buttons, and call to action buttons.
Its animated menu bar and header invite users to book a consultation.
Medcity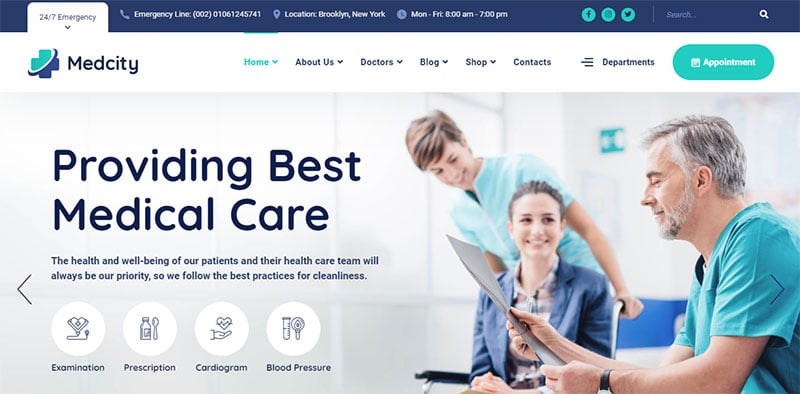 Medcity is based on extensive research. This template was created specifically for healthcare websites and guarantees an outstanding platform for medical professionals.
Its creators researched the healthcare industry to develop the ultimate dentistry website template. They understood the common features used across medical, pharmacy, healthcare, and dentist websites.
Thus, they built Medcity. This template has all the sections a healthcare website needs to succeed. With over 25 pre-built pages, developers can create a stunning website.
Grin
Modern style and responsiveness make Grin the perfect HTML template. It can support any niche in the healthcare industry, including plastic surgery, dental care, laboratories, private practices, and clinics. Its customer-based design attracts potential patients.
Based on Sass and Bootstrap 5, Grin offers the perfect scenario to develop a dental clinic website.
Hosco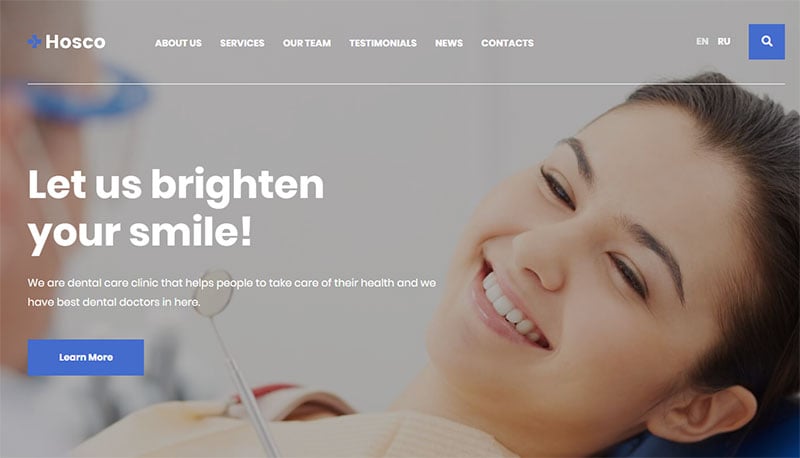 Hosco is a fully customizable option for any dental clinic. It's based on Vue JS and adapts to different niches.
Thanks to its UI kit, Hosco allows for full customization. Doctors and dentists can present their services with a modern design. Also, they have plenty of space to put their information.
DentBox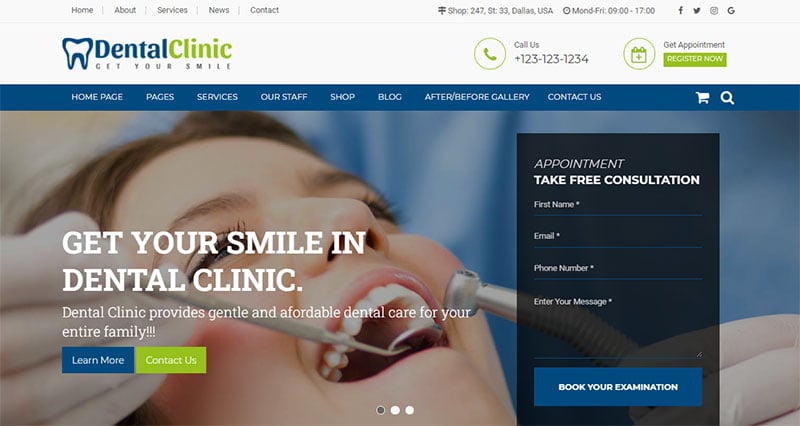 Medical websites have specific features. Doctors usually want to display before-and-after pictures, contact forms, booking systems, and professional information. DentBox includes all the tools required to make this possible.
On a DentBox-based website, visitors can read testimonials, choose their practitioner, and book appointments.
DentBox has over 24 HTML templates and many pre-built pages. This is one of the best dentist website templates out there.
It includes ready-made items like 404, about, home, staff, blog, cart, and single doctor pages.
Findoctor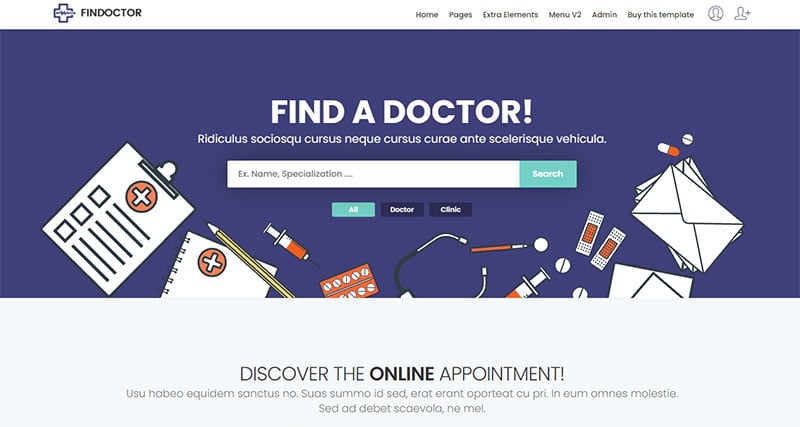 This HTML 5 template brings an innovative approach to dentist website templates. Visitors can find not only dentists but any kind of healthcare professional with this website template.
Potential patients can look for doctors by specialty, location, or treatment. They can see testimonials, reviews, and availability.
This is the only template on this list that focuses on creating a directory rather than a medical services website.
FAQs about dentistry website templates
1. What are the essential features to look for in a dentistry website template?
It's crucial to seek characteristics that are particular to your sector when selecting a dentistry website design. These features might include contact forms, a FAQ section, galleries showcasing patients' before-and-after photos, and appointment scheduling that can be customized. In order to boost its online visibility, the template should also contain a simple content management system, a responsive design, and SEO optimization.
2. Are there any customizable options available in dentistry website templates?
Yes, you may change the look and functionality of the majority of dentistry website templates to suit your demands. To match your brand identity, you can add or delete parts, alter the font and color scheme, and incorporate unique photos and graphics. Many templates also offer different layout options, allowing you to try out various styles before choosing the best one.
3. How important is mobile responsiveness for a dentistry website template?
Any website must be mobile-responsive, and dental websites are no exception. A mobile-responsive design guarantees that your website appears and performs properly on any device, which is important given that more people than ever before use the internet on their mobile devices. A adaptable template will adjust to various screen sizes, enhancing user experience and assisting in optimizing search engine results for your website.
4. What type of content should be included in a dentistry website template?
The material on a dentistry website template should enlighten and educate visitors about dental health and services. This could include a FAQ section, before-and-after photo galleries, a blog section with dental health advice, and patient testimonials. A section detailing your dental practice's staff members' credentials as well as any honors or certificates they may have won might also be included.
5. Can a dentistry website template be integrated with social media platforms?
Yes, the majority of dental website templates allow for social media integration with sites like Facebook, Twitter, and Instagram. You may improve your online presence and interact with your patients in real-time by linking your website with social media. To encourage patients to share your information with their followers on social media, you might also put social media sharing buttons on your website.
6. Is it necessary to have a booking or appointment system in a dentistry website template?
The efficiency of your dental business can be increased by having a booking or appointment system in your website template, even though it is not necessarily necessary. Patients can arrange appointments online at their convenience, which lessens the pressure on your front desk employees and gives them more time for other activities.
7. Are there any SEO features included in dentistry website templates?
SEO tools that are already built into many dentistry website templates make it simpler to optimize your website for search engines. Schema markup for nearby companies, meta descriptions, title tags, and header tags are a few examples of these characteristics. You may watch website traffic and examine user behavior with some templates' Google Analytics integration.
8. How often do dentistry website templates receive updates and maintenance?
The particular template you select and the supplier from whom you purchase it will determine how often updates and maintenance are performed. However, the majority of trustworthy template suppliers offer frequent updates and maintenance to guarantee that your website is safe and compliant with the most recent web standards.
Additionally, you must frequently check for updates and carry out maintenance procedures like backups, security checks, and plugin updates.
9. Can a dentistry website template be translated into multiple languages?
Yes, the majority of website templates for dentists can be translated into multiple languages using either the plugins provided by third parties or the built-in translation tools.
You can reach a wider audience and serve patients who speak different languages by translating your website into multiple languages. However, it's crucial to guarantee that the translation is accurate and appropriate for the target culture.
10. What is the cost range of dentistry website templates, and what factors affect the price?
Depending on features, design, and level of customization, the price of dentistry website templates can vary significantly. While more sophisticated templates can cost upwards of $1,000, simpler templates can be purchased for as little as $50.
The price may also go up if you add other services like personalized branding, SEO improvement, and social media integration. When selecting a dentistry website template, keep in mind that some providers might also charge ongoing fees for hosting, maintenance, and support.
Ending thoughts on the best dentistry website template options
This list features some of the best dentistry website template options available. When creating a website, choosing a theme designed with one's particular niche in mind is better.
These templates were created based on industry research. Hence, they feature the key tools to make the best suitable website.
Every website template from this list offers a direct path to building a site fast and easily. Developers can use inner pages, pre-built sections, sliders, animation effects, and mega menus.
They can change the color schemes, create a blog, and optimize various features. By analyzing every one of these options, readers can find the latest design and responsiveness trends and the best template for their website.
If you liked this article about dentistry website templates, you should check out this article about personal website templates.
There are also similar articles discussing consulting website templates, non profit website templates, church website templates, and photography website templates.
And let's not forget about articles on construction website templates, minimalist website templates, corporate website templates, and portfolio website templates.
Great Looking Dentistry Website Template Examples for You