Nowadays, every business needs a strong online presence. This also applies to flower shops that want to widen their client base and reach new markets.
With an online flower store, merchants can offer more products to a larger audience. They can offer tailored services, deliveries, and special arrangements.
With the right approach, they can reach customers in new areas within the city, region, or even the country.
Every successful flower shop needs a reliable website to offer its products. This is where a florist website template may come in handy.
There are plenty of templates with several page layouts and customization options. With these, shop owners can put together an outstanding online store to sell flowers and more.
Every business needs to send a message and the perfect way to do this is through its website.
A florist's website must have the perfect balance between design, functionality, and safety. It must look beautiful, professional, and trustworthy.
Any of the templates below can help owners build the perfect site for their online flower store.
Event Florist Template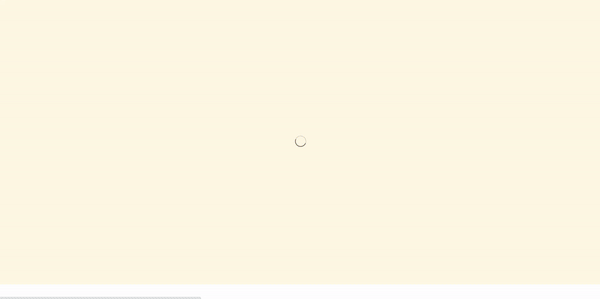 This template brings an elegant design with stunning animation effects. Shop owners will find it easy to install and customize.
Thanks to its one-click installation feature, websites can be ready in no time.
Fiorello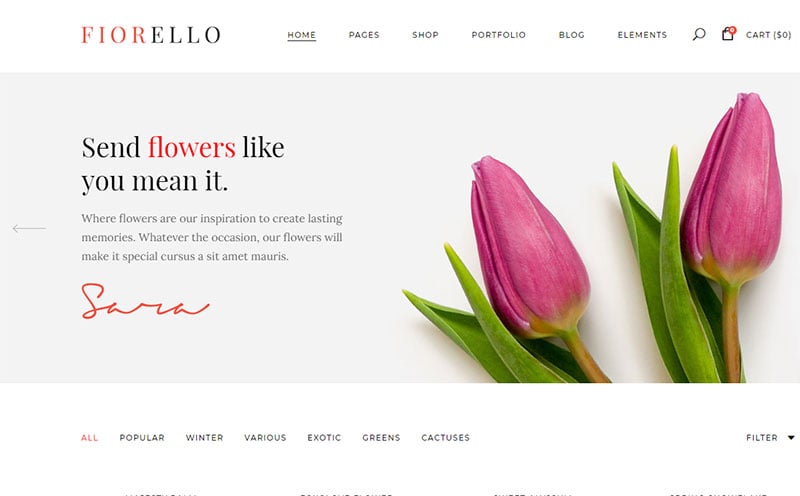 Fiorello is a WordPress theme that adapts well to any flower business. Product images look great thanks to this theme's clean design.
It includes a variety of page options, a portfolio, and a blog section. Being compatible with WooCommerce, Fiorello enables users to create powerful online stores.
Other features include:
shop lists
user accounts
category filters
a shopping cart
product descriptions
users' reviews
Flowtrist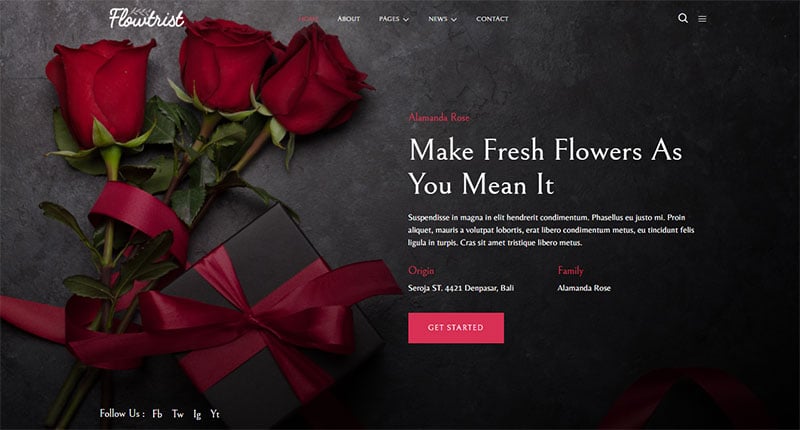 With Flowtrist, web designers can build a fully functioning online store. It's not necessary to have coding knowledge.
This template is great for florists, wedding organizers, gardening websites, and others. It includes 15+ templates, retina-ready technology, and is responsive.
Liebe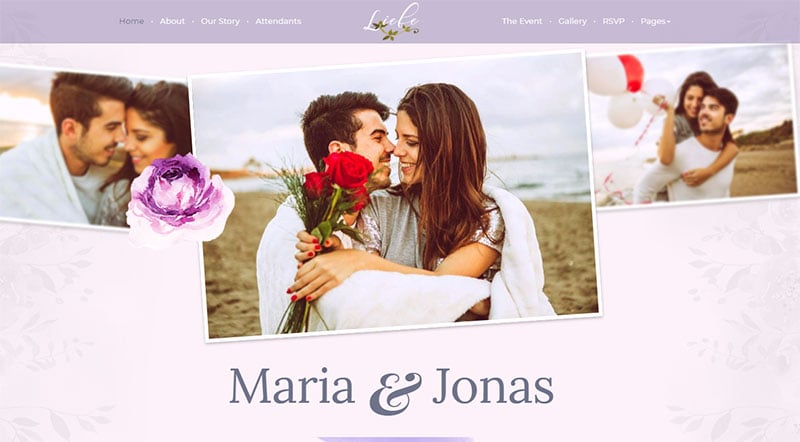 Built on Bootstrap Framework, Liebe has powerful customization opportunities. It includes three color skins with the possibility to create your own.
It has a stylish design with animation effects that give the site a modern look. Built for wedding-related websites, Liebe is a one-page HTML template.
Thanks to its unique style and customization options, it's one of the best florist website templates.
Phuler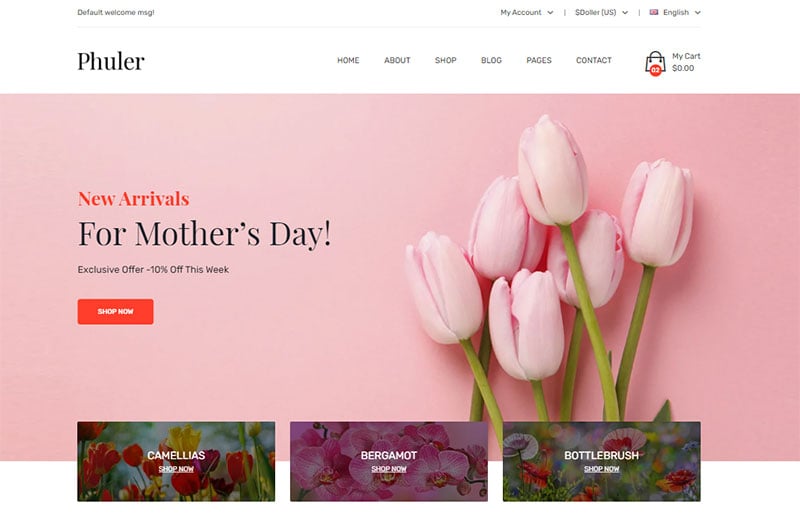 Phuler is the ideal option for those who want a responsive website. This is a multipurpose template with plenty of options.
Thanks to its modern and attractive design, it works well for all types of flower shops.
It has two home versions available. It has over 22 HTML pages, more than 10 blog pages, and plenty of eCommerce features.
Owners can include a shop grid and list style in their online shop.
With its many features, Phuler presents a comprehensive WooCommerce solution. Some of these features include:
cross-browser optimization
an owl-carousel slider
WPML
Dynamic Contact Form
W3C Validate Markup
Lovely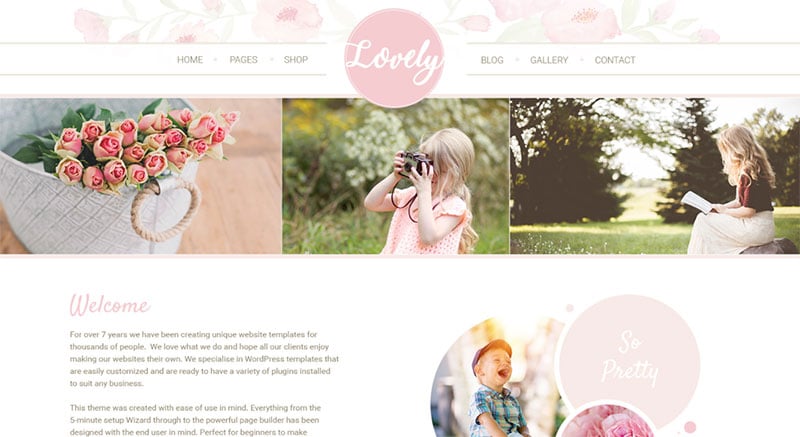 Its delicate design fits well with personal blogs and business sites. Use it to create a flower shop website for children and baby products, wellness centers, and interior design projects.
This florist website template features pink as the main color. It offers banner flags buttons, circle pictures, and a long-page layout.
Web designers can display large pictures on the shop and blog pages. This serves to highlight the beauty of the products.
Monty Florist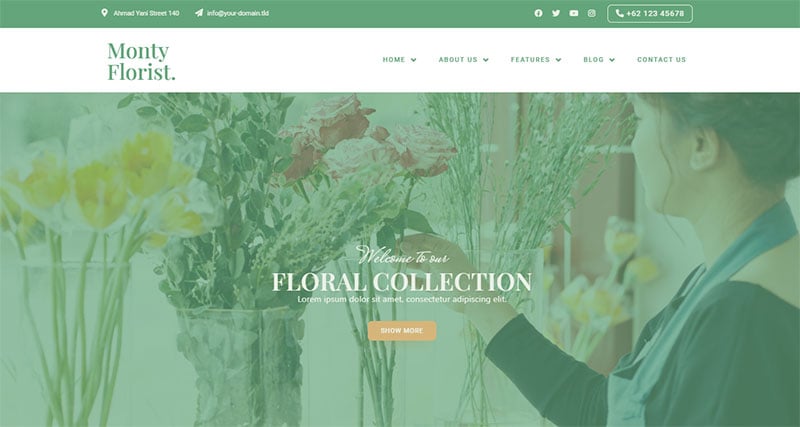 This is one of the most flexible flower shop templates. Monty Florist adapts to any device thanks to its mobile-ready features.
With an attractive design, this web template makes a stunning online flower store. Monty Florist is powered by Elementor, which makes it easy to customize. There are people looking for Elementor alternatives, but so far, the plugin is still the best in the game.
Floril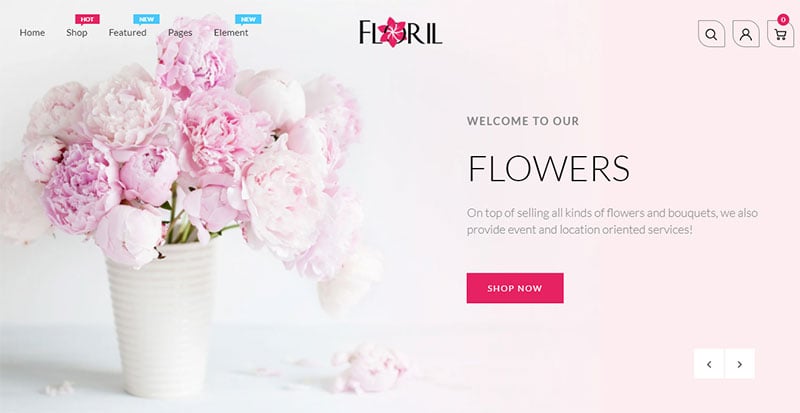 Floril's neat design helps to create an elegant flower website. With its nice colors and elements, Floril is the perfect theme to create a boutique or a decoration store.
With Floril, site set up is easy and fast. Web designers can create an impressive portfolio to promote products.
With the theme's blog section, owners can boost brand awareness and work on search engine optimization.
Thanks to Floril, the website is easy to manage. Its Shopify integration makes it highly functional and easy to customize.
There are drag-and-drop options available for web designers with no coding skills.
FloSun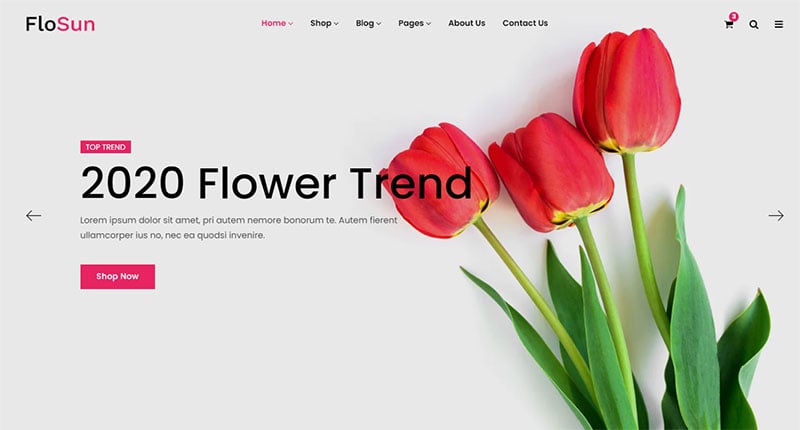 FloSun is a multipurpose website template based on HTML. Many choose this option for its stunning design and responsiveness.
It's one of the flower shop templates powered by Bootstrap5. It also provides a wide range of eCommerce options.
It includes three home pages with over 32 HTML pages, more than 8 blog pages, and a shop grid.
Web designers can create a functioning site using many tools. These include:
list styles
Dynamic Contact Form
W3C Validate Markup
latest blog section
Free Font
My Account
It's also cross-browser compatible allowing a better user experience.
Spring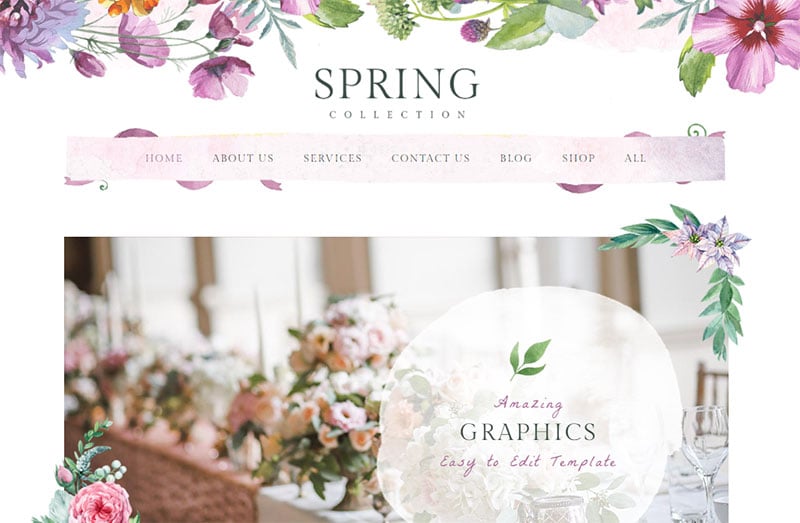 Spring template is excellent for a florist business. It offers over 100 premade layouts that are compatible with Elementor.
Its watercolor floral design is the ideal framework to set up a florist website.
The pages are decorated with green, purple, and pink, giving the site a fresh look. Thanks to the Elementor page builder, the pages are easy to customize.
Web designers can edit the photos and fonts according to the brand's needs. Spring is the ideal option for florists, feminine products, bloggers, jewelry, and women's fashion businesses.
The Green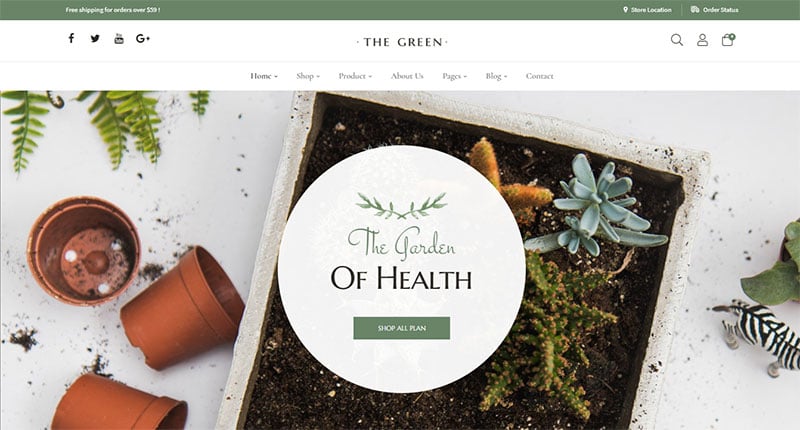 Those who want to start a flower website fast will find The Green quite appealing. The set-up process is straightforward thanks to its pre-built site demos.
The Green is a stunning yet minimalistic florist website template. It offers both front and internal page layouts for further customization.
It's perfect for beginners due to its quick building process. Yet, the outcome is a professional online flower store.
Fiama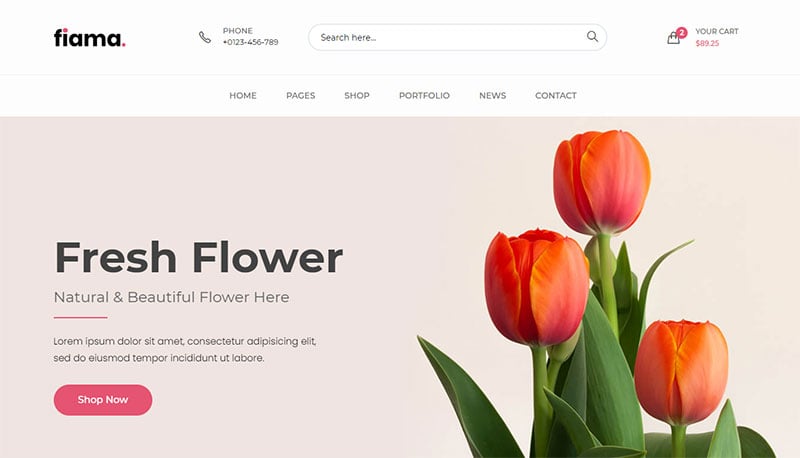 Fiama is a responsive HTML template designed for the flower business.
Thanks to its flexibility, web designers can create websites for specific niches. These include flower arrangements and decorations, gardens, wedding flowers, and bouquets.
Based on Bootstrap 5, this theme offers wide customization options.
It has perfect cross-device optimization. Clients will see a stunning site on all major browsers, tablets, and smartphones.
Flowers Boutique and Florist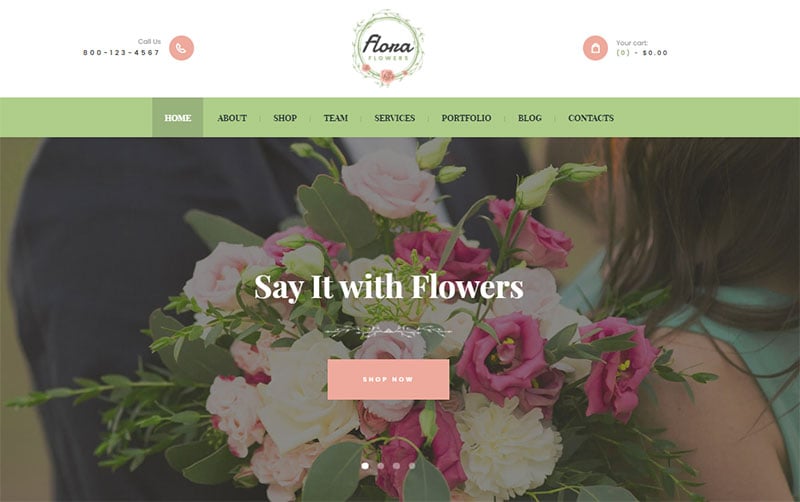 This is one of the simplest florist website templates. Yet, it includes everything a flower shop needs to succeed.
Flowers Boutique and Florist comes with three demos and a blog section. This is important because it helps boost the brand.
Shop owners can create regular content with information on their products. Or they can use this space to tell their brand's story.
Blog entries can be an important part of a search engine optimization strategy.
With this template, web designers can change the headers and color arrangements. They can also use animation effects to make the site more eye-catching.
ByHands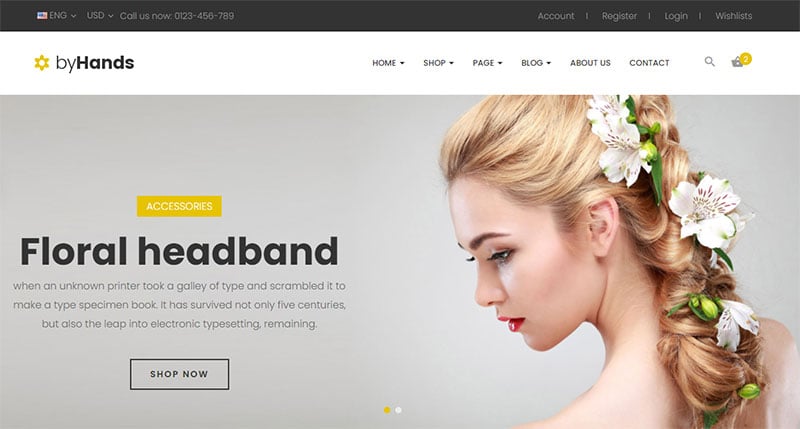 ByHands is a WordPress theme designed for flower shops. It's mobile-friendly and responsive.
It comes with 3 ready-made home pages and a variety of features. It provides a clean interface, integrated icons, Google Web Fonts integration, Twitter Bootstrap 3, and a Mega Menu.
Being a WooCommerce theme, ByHands helps to create a functioning online shop.
Pastel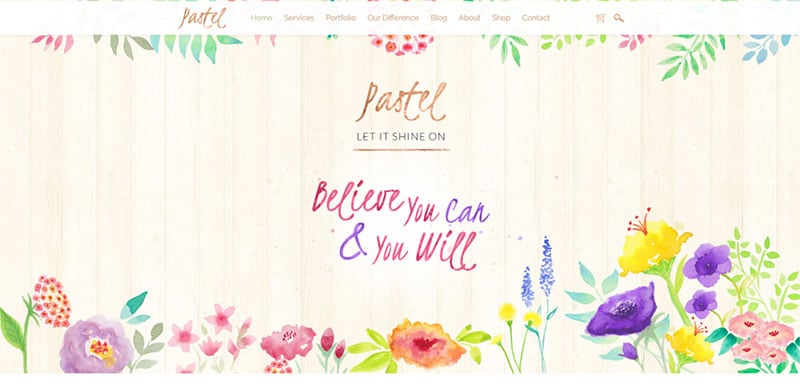 Pastel is a template decorated with plants and flowers. With wood and paper textures, Pastel will bring a fresh and elegant feel to any flower website.
It works well with different niches. For instance, children's products, online portfolios, clothing stores, photography, and homemade items.
Pastel has a distinctive retro touch with hexagonal elements and copper tones.
FAQs about florist website templates
1. What are florist website templates?
Website designs that are already built expressly for florists and flower shops are known as florist website templates.
These templates can be bought and easily modified to meet the particular requirements and branding of a florist's business. They frequently have features like photo galleries, online ordering, and details on services and prices.
2. How do I choose the right florist website template for my business?
In order to select the ideal florist website template for your company, take into account your unique requirements, branding, and target market.
For your business, look for designs that offer features and functionality like an image gallery or online ordering. Additionally, you should ensure that the template's layout and design match your brand and personal preferences.
3. Can I customize a florist website template to match my brand's color scheme?
You can alter colors, fonts, and other design aspects on the majority of florist website templates, thus the answer is yes. This enables you to customize the template to match the specific color scheme and design of your business.
4. Are florist website templates mobile responsive?
The majority of website templates for florists do, in fact, adapt and optimize their layout to accommodate various screen sizes and devices. Having a mobile-responsive website is crucial for reaching and engaging with clients as more and more people explore the internet on mobile devices.
5. Do florist website templates come with e-commerce functionality?
E-commerce functionality is a common feature of florist website templates, enabling users to order and make purchases right from the website. A shopping cart, safe payment processing, and order tracking are a few examples of such features.
6. Can I add my own images and content to a florist website template?
Yes, you can completely customize florist website templates with your own images, content, and branding. By doing this, you may design a distinctive, personalized website that properly represents your company.
7. What kind of support is available for florist website templates?
Depending on the vendor, the level of assistance offered for floral website designs can change. While some templates may offer only basic technical support, others might provide more comprehensive customization and setup help. Before buying a template, make sure to check out the support options.
8. How much does a typical florist website template cost?
Depending on the features and functionality offered, as well as the degree of customization possible, the price of a florist website template can vary significantly.
Free templates can be found as well as premium options that cost several hundred dollars. When selecting a template, make sure to carefully consider your needs and spending limit.
9. Do florist website templates come with search engine optimization (SEO) features?
Many website templates for florists include built-in SEO features like meta tags and descriptions that help your website be more search engine-friendly. The degree of SEO support can, however, differ, therefore it's crucial to investigate the precise features offered by each design.
10. What are the best florist website templates for small businesses?
Some of the most functional, adaptable, and reasonably priced florist website templates are available for small businesses. Look for templates that have e-commerce capabilities, are optimized for mobile, and have simple customization possibilities. Squarespace, Wix, and WordPress are a few well-known service providers.
Final thoughts on choosing a florist website template
This list features a variety of website templates to build an online flower store.
Anyone can start a website with these templates. There is no need to have coding skills or programming knowledge.
Each adapts to a variety of niches and has different customization levels. Some of them can be edited with an intuitive page builder like Elementor.
They also offer distinctive designs. This will help to bring personality and style to any online flower store.
With a florist website template from this list, shop owners can create a reliable and beautiful website.
If you liked this article about florist website template, you should check out this article about animated website templates.
There are also similar articles discussing professional website templates, real estate website templates, music website templates, and barbershop website templates.
And let's not forget about articles on coffee shop website templates, restaurant website templates, one page website templates, and technology website templates.
Great Looking Florist Website Template Options for Your Site