Have you ever been drawn to a florist's display, tempted to immerse yourself in the vibrant hues and scents? Picture that sensation, but in the digital realm. That's the allure of premier floral websites.
In earlier times, I'd wander local floral bazaars, navigating the labyrinth of tulips and roses. However, the digital revolution has transported those captivating lanes directly to our devices. And believe me, it's more than just attractive snapshots of daisies.
Why is this significant? If you've ever attempted to dispatch a floral arrangement for a memorable event or simply wished to indulge in some fresh blossoms, you're familiar with the routine.
Cool Florist Websites To Check Out
Event Florist Template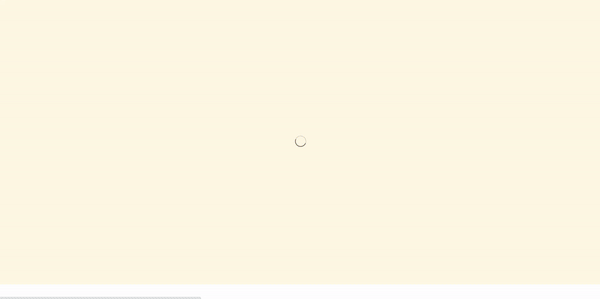 This template brings an elegant design with stunning animation effects. Shop owners will find it easy to install and customize.
Thanks to its one-click installation feature, websites can be ready in no time.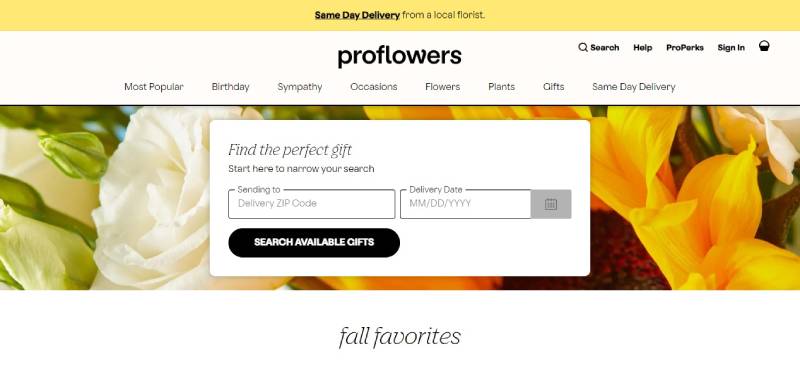 Pro Flowers is your premier online destination for flowers suitable for any event. Be it a birthday, anniversary, or a simple gesture of appreciation, they're your ideal pick. Explore their extensive range of fresh flowers to find the right bouquet that conveys your emotions.
With their effortless online ordering system, delighting your loved ones is just a click away. Their unwavering attention to detail ensures pristine petals every time, positioning them as a foremost choice for online flower deliveries.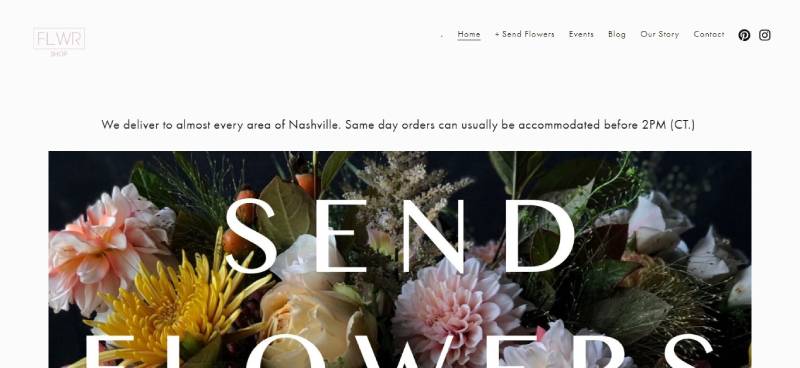 This online blossom boutique boasts an exclusive range of arrangements, merging the unique with the timeless.
From heartfelt bouquets to show-stopping centerpieces, FLWR caters to every preference. Their unwavering commitment to design excellence shines through each creation, setting them apart in the digital floral marketplace.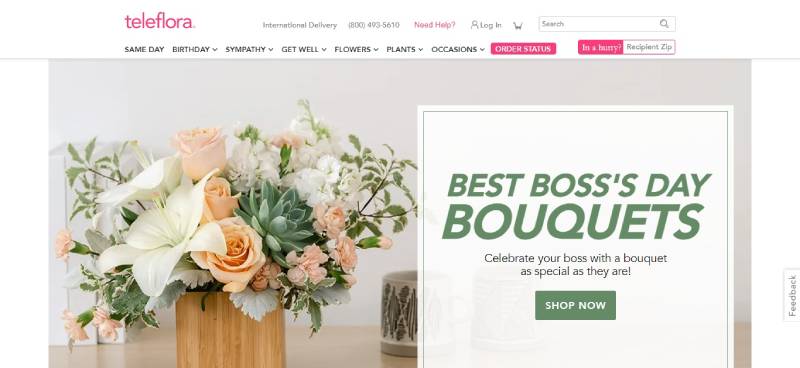 Teleflora brings a fresh approach to flower delivery sites. With a network of local florists, they ensure that every bouquet is handcrafted with care and delivered fresh. From classic roses to exotic lilies, their range of flowers caters to all tastes and occasions.
Their platform also offers floral design portfolios, giving you a glimpse into the creativity and expertise of their partnered florists. For those who value quality and uniqueness, Teleflora is the place to go.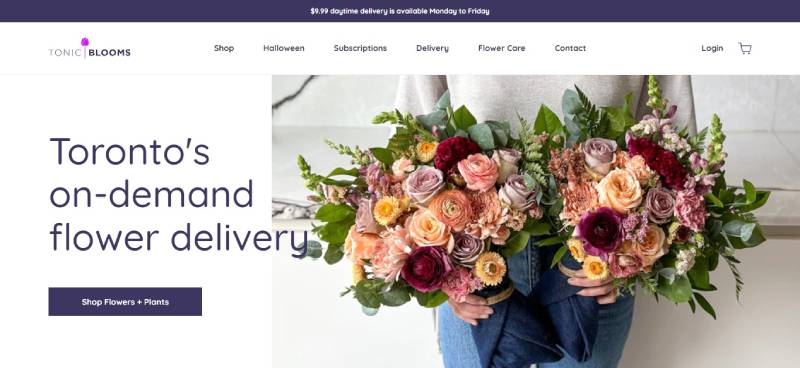 Tonic Blooms is redefining the floral e-commerce experience in Toronto. They're on a mission to make sending flowers an absolute joy.
With their on-demand delivery, you can get fresh blooms delivered in just two hours! Their virtual flower markets showcase a range of designer's choice arrangements, ensuring that each bouquet is a delightful surprise.
Whether it's a special occasion or just because, Tonic Blooms makes it easy to brighten someone's day.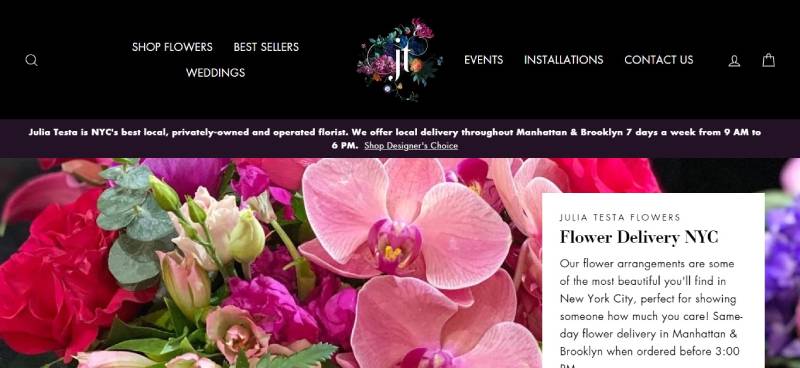 Julia Testa, based in NYC, is more than just a florist website; it's a testament to the art of floral design. Serving both Manhattan and Brooklyn, they offer some of the most exquisite arrangements in the city.
Their creations are perfect for showcasing your sentiments, be it love, gratitude, or sympathy. With same-day delivery options, you can ensure your fresh flower arrangements reach their destination in pristine condition.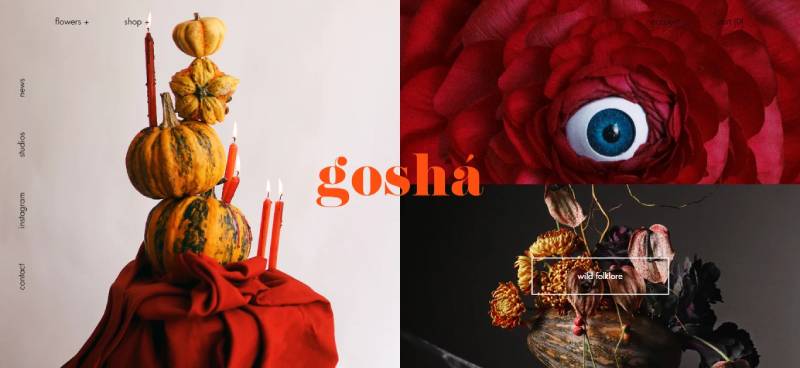 Goshá is more than just a flower shop; it's a tale of floral design deeply inspired by poetry and art. With a sophisticated touch, this online flower shop sees flowers as temporary art pieces, capturing the essence of beauty in every arrangement.
Whether you're looking for bespoke bouquets or something everlasting, Goshá has a unique flair that speaks to the well-traveled and self-expressive souls.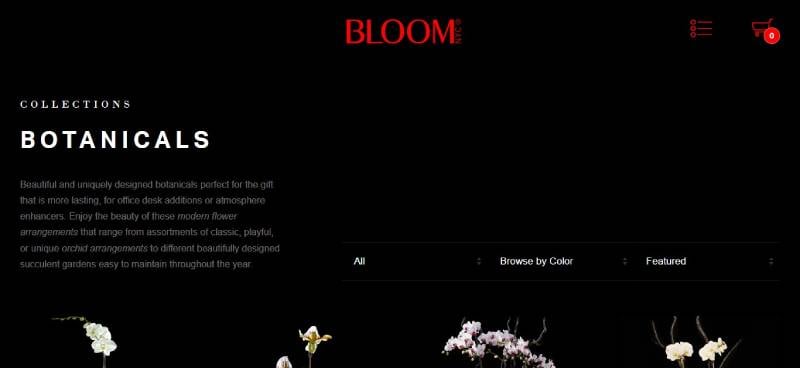 Dive into the world of Bloom, NYC's luxury florist that specializes in creating unique floral arrangements. From fresh flower arrangements for special events to wedding floral designs, Bloom ensures every petal is placed with perfection.
Their collection ranges from the romantic 'La Vie En Rose' to the bold 'Haute Collection'. If you're in NYC, this is your go-to spot for online bouquet ordering with a touch of luxury.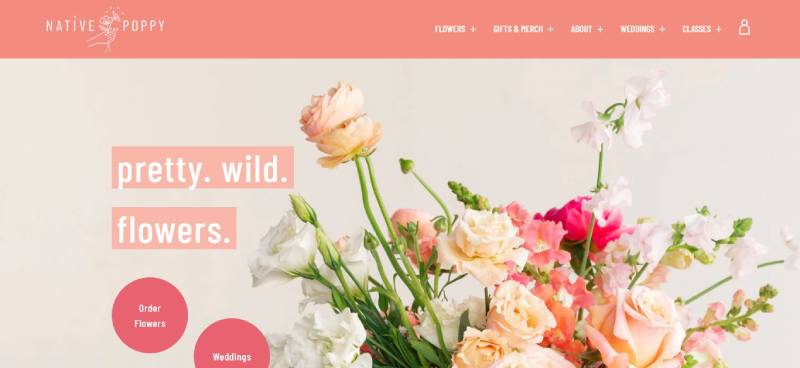 Native Poppy shines as San Diego's local treasure, presenting a fusion of wild and elegant blooms.
This online flower boutique embodies the spirit of expressing affection through blossoms. From weddings to simple gestures of kindness, Native Poppy crafts the perfect arrangement for every moment.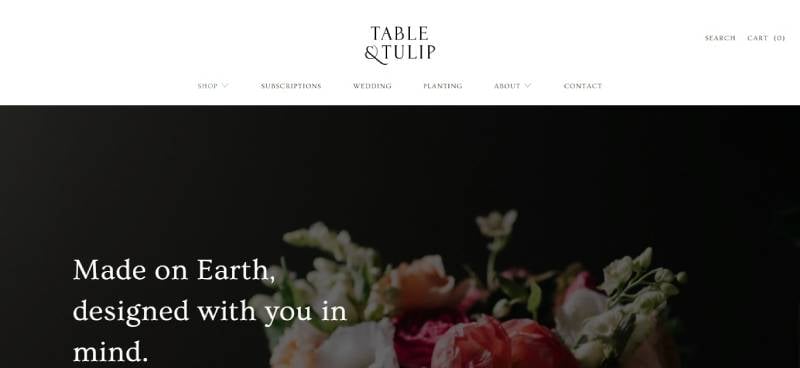 Table and Tulip is where art meets nature. This Boston-based floral and event design studio is all about creating experiences. From fresh flower arrangements to garden designs, they've got a touch of magic in everything they do.
Their signature collection boasts of arrangements that are not just pretty but also wild. Whether you're planning a wedding or just want to surprise someone, Table and Tulip has got you covered.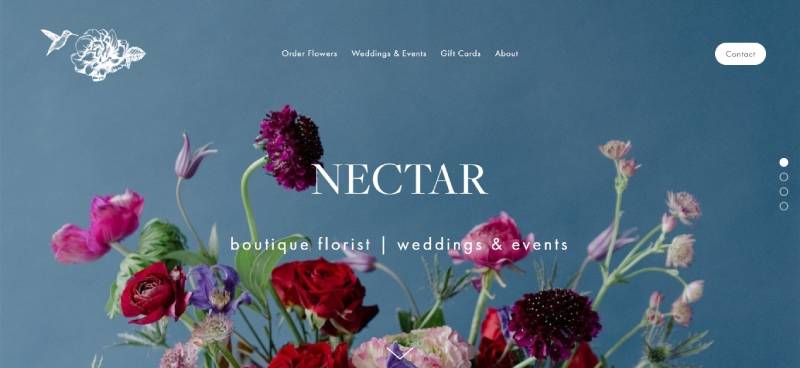 Nestled between Plaza Midwood and Chantilly, Nectar Floral Designs is Charlotte's boutique florist that brings poetry to every petal.
Their arrangements are more than just flowers; they're a feeling, a memory, a moment. From wedding floral designs to flower delivery options, Nectar ensures every bouquet is as unique as the person receiving it. Dive into their world and let the flowers do the talking.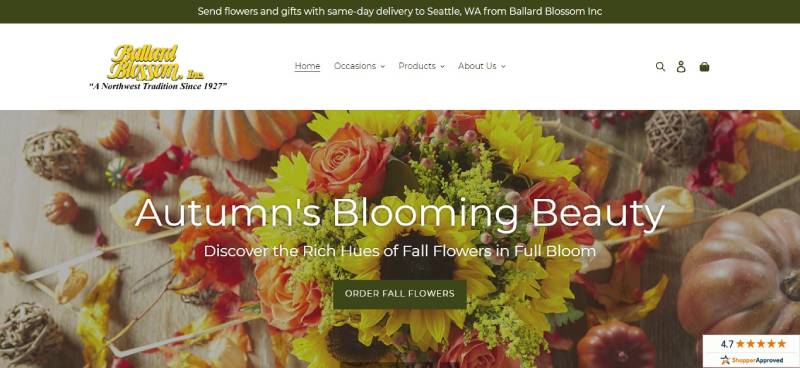 Ballard Blossom is your go-to spot for web-based flower store experiences. Their website showcases a plethora of fresh flower arrangements, making it a hub for those looking to buy flowers online.
Their diverse range of offerings ensures that you can find the perfect bouquet for any occasion.
Whether you're looking for seasonal blooms or want to dive deep into their floral design portfolios, Ballard Blossom has got you covered. Their user-friendly interface also offers flower care tips, ensuring your blooms stay fresh for longer.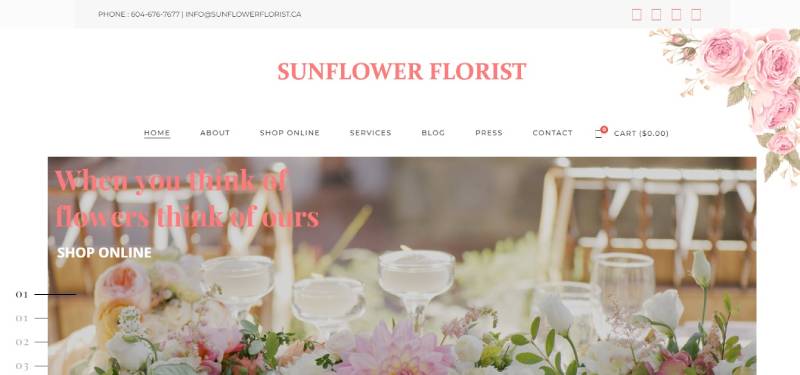 Sunflower Florist brings the charm of online bouquet ordering right to your fingertips.
Their site is a haven for those who appreciate fresh flower arrangements. With an emphasis on wedding floral designs, they cater to those special moments that deserve nothing but the best.
Their platform also offers insights into flower arrangement tutorials, ensuring that you not only receive beautiful blooms but also the knowledge to keep them looking their best.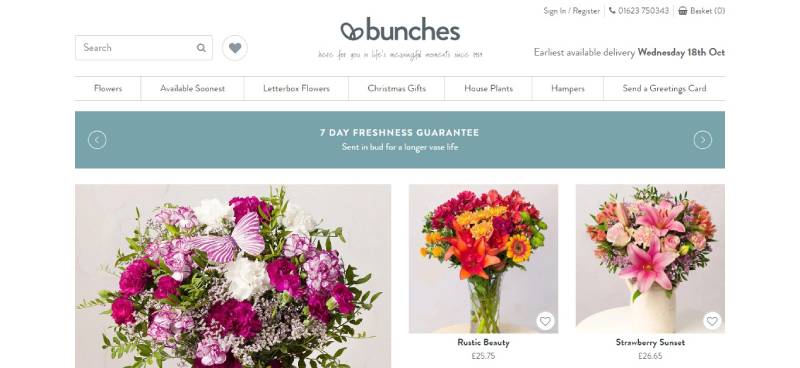 Dive into the world of online flower shops with Bunches. Their platform is a treasure trove of fresh flower arrangements, catering to a variety of occasions.
Whether you're looking for floral gifts and add-ons or seeking same-day flower delivery options, Bunches has got you covered. Their site also offers a plethora of flower care tips, ensuring your blooms remain vibrant for days on end.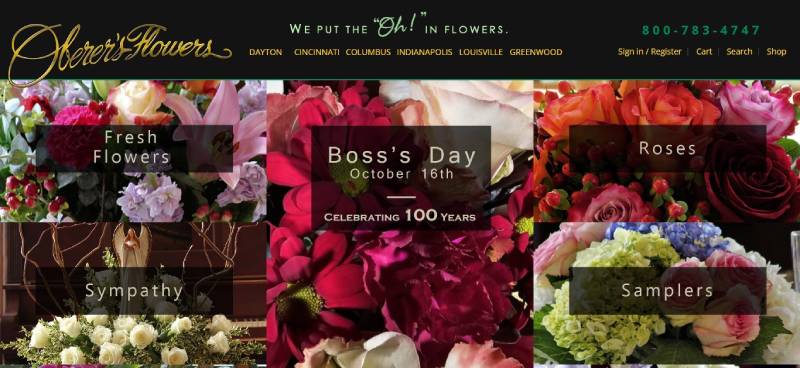 Oberer's Flowers stands out as a prime floral e-commerce platform. Their site is a testament to their dedication to providing top-notch flower delivery sites services.
From fresh flowers to unique floral design classes, they offer a range of options for flower enthusiasts. Their extensive network, spanning multiple locations, ensures that your blooms reach you fresh and on time.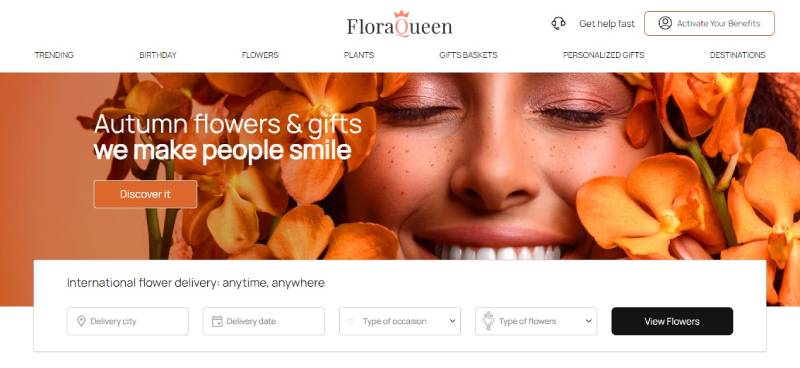 FloraQueen is the epitome of virtual flower markets. Their international flower delivery services ensure that no matter where you are, you can send and receive the freshest of blooms.
Their platform is not just about flowers; they offer a range of personalized gifts, ensuring that you find the perfect present for every occasion. Their commitment to quality and punctuality makes them a favorite among those looking to buy flowers online.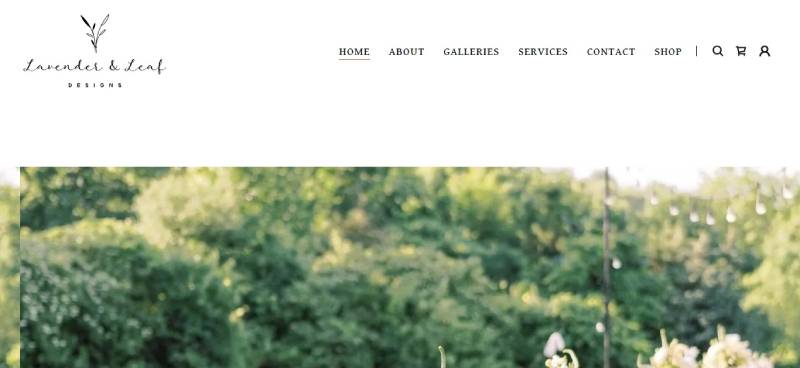 Lavender & Leaf Designs is a boutique floral design studio nestled in the scenic Hudson Valley, NY. Specializing in refined, garden-style designs, they bring a touch of elegance to weddings and intimate celebrations throughout the Hudson Valley and Catskill regions.
Their creations are a blend of wild and romantic, perfect for those who appreciate a touch of nature in their arrangements. Dive into their world and discover the beauty of seasonal blooms selection and artful designs.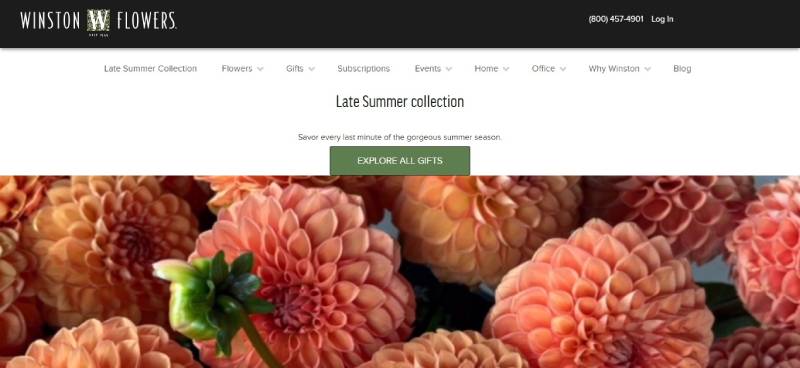 Winston Flowers isn't merely a floral website; it's a tradition. Boasting over 75 years of expertise, they've become connoisseurs of floral craftsmanship. From premier floral designs and distinct home accents to orchestrating memorable events, Winston Flowers delivers.
Their dedication to superior quality shines in every arrangement, making them the go-to for those in Boston and New York City. Explore their collections and immerse yourself in the allure of freshly crafted floral displays.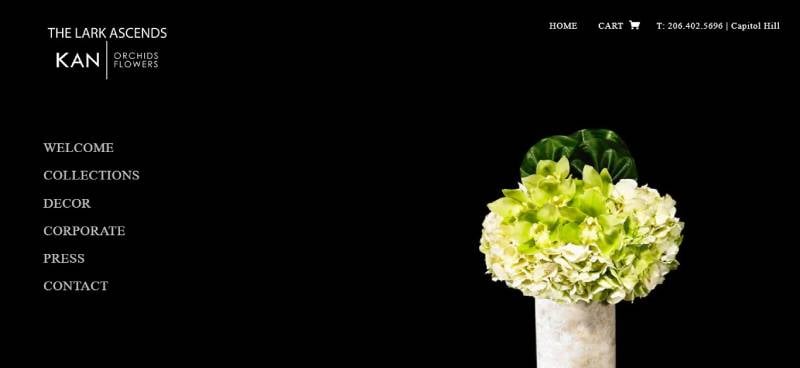 KAN Orchid Flowers, located in Capitol Hill, Seattle, is a haven for flower enthusiasts. While the website offers limited information, the location suggests a boutique experience for those in the area.
Whether you're looking for online flower shops or a local experience, KAN Orchid Flowers might be worth a visit to explore their floral e-commerce offerings and unique designs.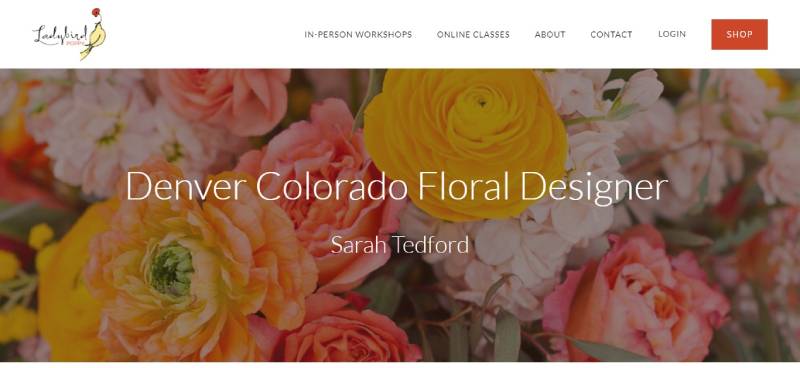 Ladybird Poppy, based in Denver, Colorado, is the brainchild of Sarah Tedford. With 24 years of floral craft experience, Sarah transforms fresh flowers into stunning creations.
The website offers a range of services, from online bouquet ordering to in-person workshops and online video classes.
Whether you're looking for everyday bouquets or special occasion arrangements, Ladybird Poppy promises creativity and uniqueness in every design.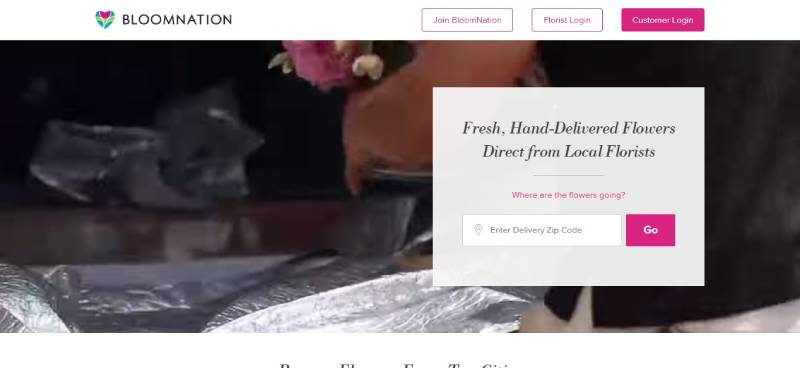 Bloom Nation, a virtual flower market, offers a platform for local florists to showcase their unique floral designs.
By connecting customers directly with these local artisans, they ensure that each bouquet is handcrafted with love and care.
Their platform is a testament to the power of the internet-based florist community, bringing the beauty of local floral designs to a broader audience.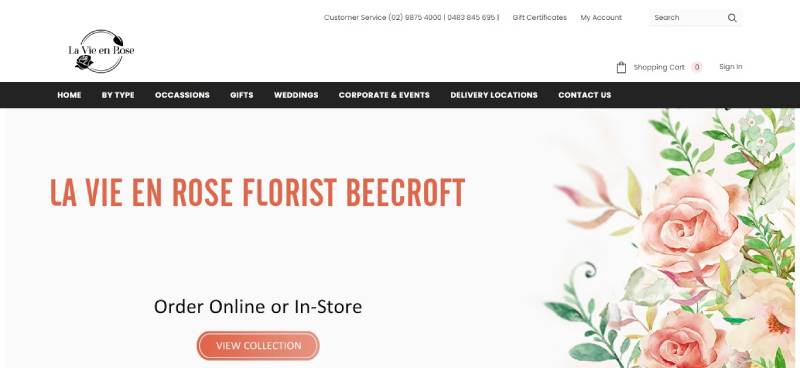 La Vie en Rose Florist brings a touch of elegance and romance to every floral arrangement. Specializing in fresh flower arrangements and wedding floral designs, their creations are a blend of classic and contemporary styles.
Their website offers a glimpse into their world of flowers, where every bloom tells a story. Whether you're looking to buy flowers online for a special occasion or just because, La Vie en Rose ensures a touch of sophistication.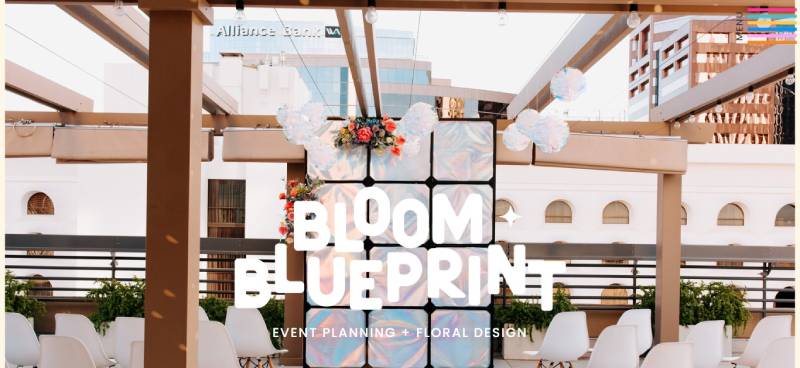 Bloom & Blueprint is not just about flowers; it's about creating memorable experiences. Based in sunny Arizona, they offer floral e-commerce services, event planning, and design.
Their team focuses on crafting beautiful blooms and out-of-this-world decor. With a blend of artistry (BLOOM) and logistics (BLUEPRINT), they ensure every event is a masterpiece.
Their story, rooted in friendship and passion, showcases their commitment to quality, creativity, and transparency.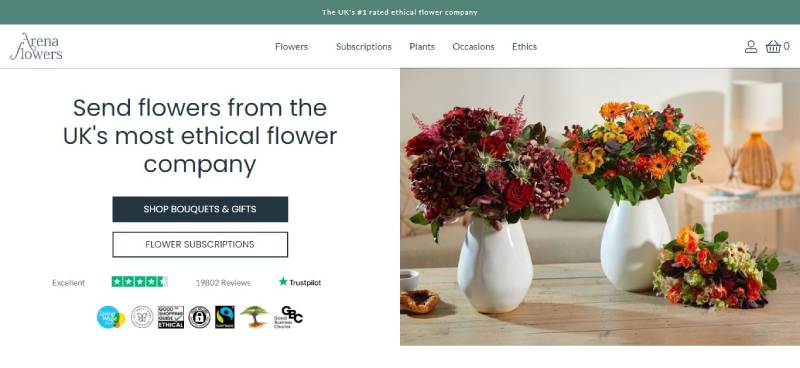 Arena Flowers, an ethical flower company, is a beacon for floral e-commerce. They offer a vast selection of bouquets, plants, and gifts, all delivered with a touch of luxury.
Their commitment to ethics is evident in their sustainable practices, from planting trees to pioneering closed-loop waste systems.
With a perfect score on the Ethical Company Index, Arena Flowers is redefining the standards for online flower shops.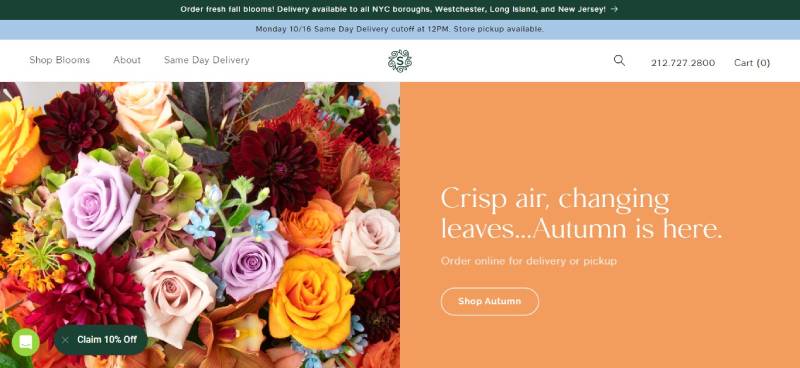 Step into the realm of opulence with Scotts Flowers NYC. As an elite, family-run flower boutique, they've graced New York's core with panache and grace for years.
From rich autumnal palettes to top-selling arrangements, their dedication to finesse and quality is unmistakable.
Championing both ethics and sustainability, they've established themselves as a forerunner in the city's online floral sphere. Their meticulously handcrafted bouquets epitomize sophisticated elegance and unparalleled style.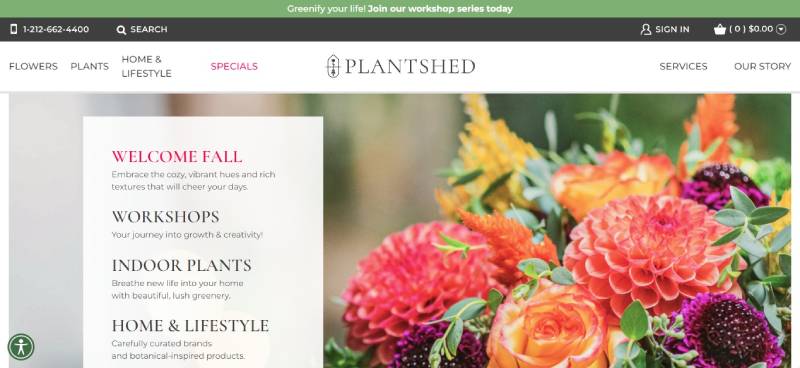 Plantshed is not just about flowers; it's a haven for plant enthusiasts. Dive into a world where floral e-commerce meets passion for greenery.
From vibrant bouquets to exotic plants, they've got it all. And if you're looking for flower care tips, their blog is a treasure trove of information. Whether you're a newbie or a seasoned plant parent, Plantshed is your go-to web-based flower store.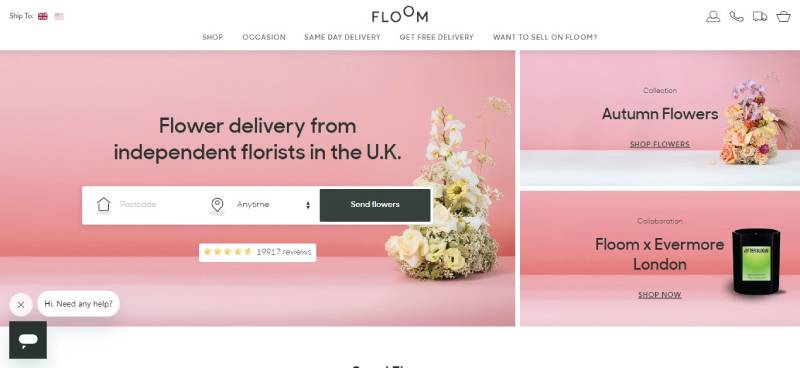 Floom is the epitome of online flower shops. With a vast collection of fresh blooms, they ensure that every bouquet tells a story.
Their floral design portfolios showcase the artistry and passion behind each arrangement. If you're looking to buy flowers online, Floom offers a seamless experience, ensuring that each flower speaks the language of love and care.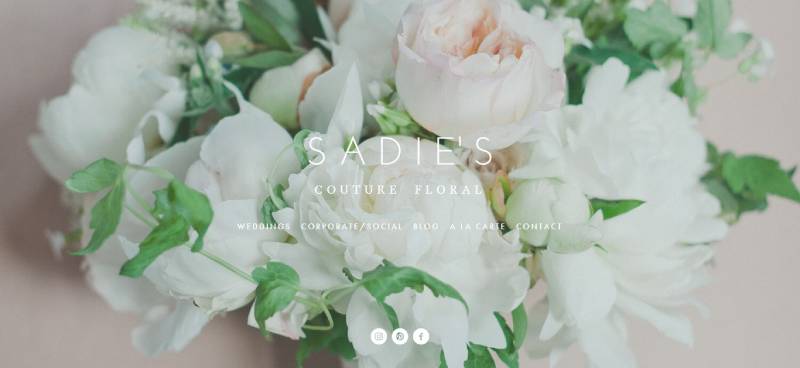 Sadie's Couture Floral is all about elegance and sophistication. Specializing in weddings and events in Minneapolis, MN, they bring dreams to life with their exquisite floral designs.
From seasonal blooms selection to intricate arrangements, they ensure every event is memorable. Their online bouquet ordering system makes it easy for clients to choose and customize their floral needs.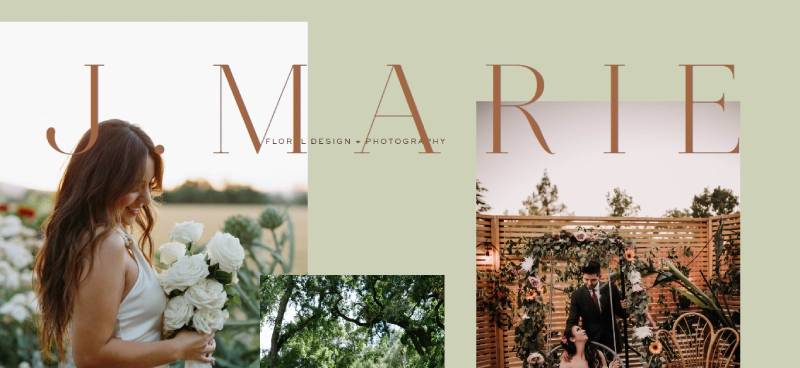 Jordan Marie combines floral design with photography, creating a symphony of art and nature. Her passion for flowers is evident in every creation, from vibrant bouquets to subtle arrangements.
Whether you're a fan of roses, dahlias, or sunflowers, Jordan Marie has something for every flower enthusiast. Dive into her world and experience the magic of floral e-commerce.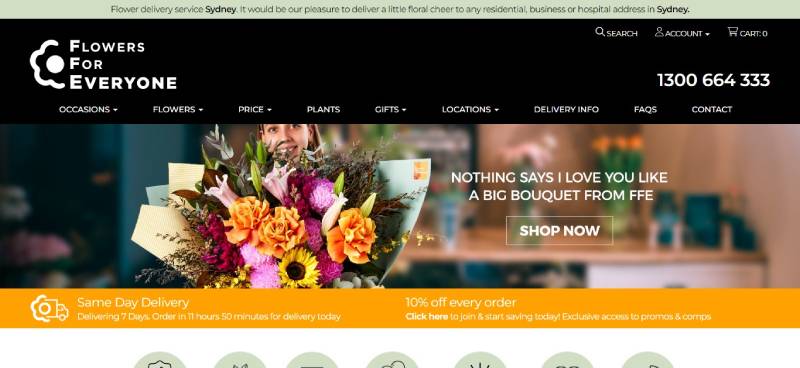 Flowers For Everyone is Sydney's trusted florist, delivering smiles for over 20 years. They guarantee freshness in every bouquet, ensuring that your online flower shopping experience is unparalleled.
From fresh flower arrangements to delightful hampers, they cater to every occasion. And with their same-day flower delivery option, sending love and warmth to your loved ones has never been easier.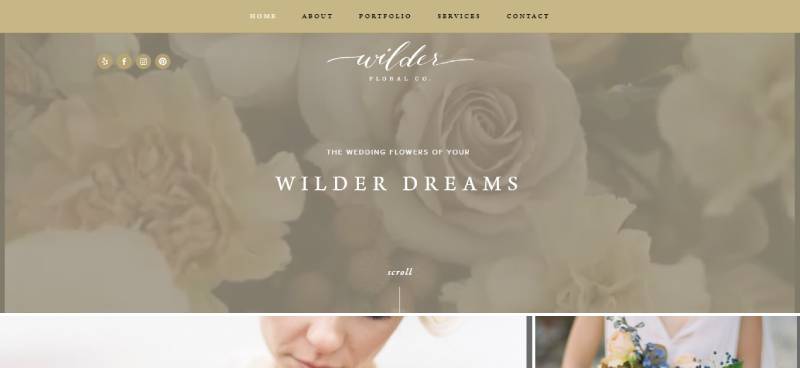 Wilder Floral Co. celebrates the beauty of nature's craft. Their digital flower showcase offers a handpicked assortment of fresh florals, becoming a favorite for nature enthusiasts.
Their rotating seasonal selection underscores their dedication to pristine quality and freshness. Whether you're seeking online flowers for a memorable event or simply to enhance your surroundings, Wilder Floral Co. is your ideal destination.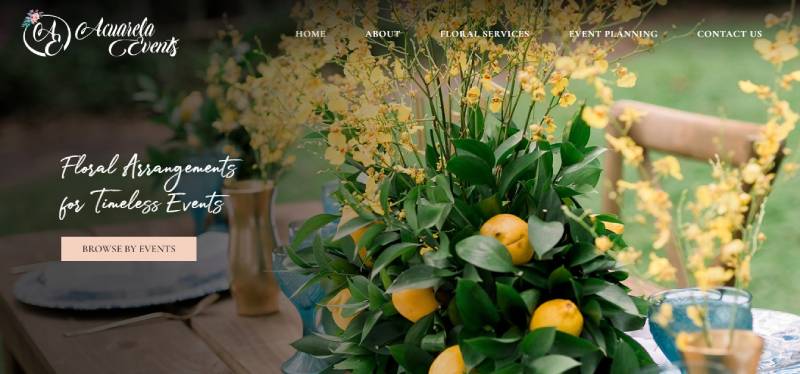 Acuarela Events brings a splash of color to every occasion. With a focus on floral e-commerce, they offer a seamless experience for those looking to order beautiful arrangements online.
Their flower care tips section is a treasure trove of information for enthusiasts. If you're planning a wedding, their wedding floral designs are sure to inspire and captivate.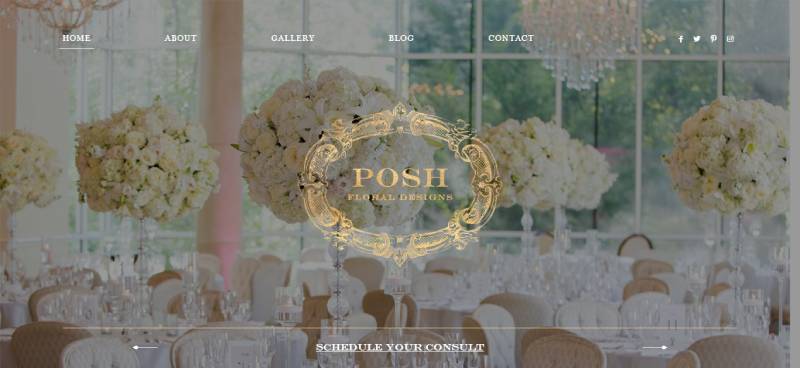 Posh Floral Designs is where elegance meets creativity. Their online bouquet ordering system is user-friendly, ensuring that you get the perfect arrangement for your needs.
They pride themselves on their web-based flower store, which showcases a variety of designs fit for every occasion. Their floral gifts and add-ons section is especially noteworthy, offering a range of products to complement their stunning bouquets.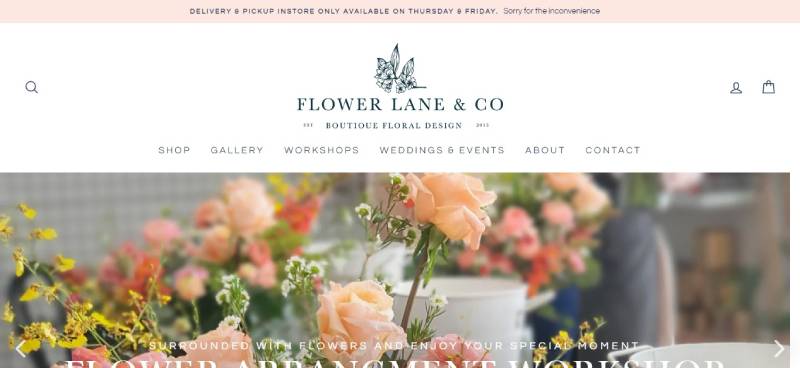 Flower Lane & Co is more than just a floral e-commerce site; it's a journey through the world of flowers. Their online flower shops section is filled with a plethora of options for every occasion.
They also offer flower arrangement tutorials, ensuring that their customers can create their own masterpieces at home. Their commitment to fresh flower arrangements is evident in every bouquet they craft.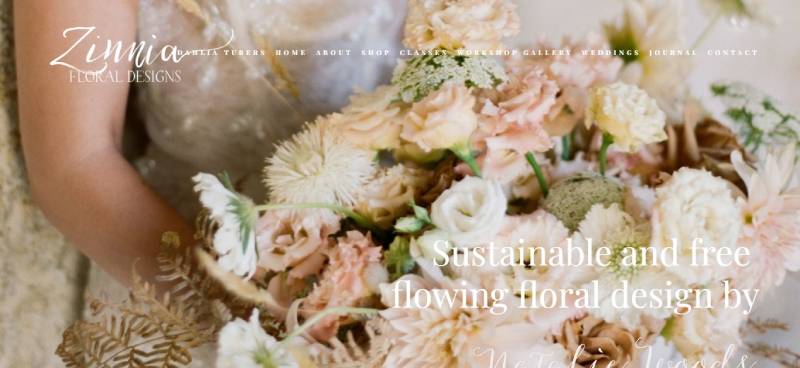 Zinnia Floral Designs offers a touch of whimsy with their naturally inspired creations. Specializing in unique and whimsical garden style weddings, they bring a personal touch to every event. Their floral design portfolios showcase their expertise and creativity.
With a strong focus on sustainability, they ensure that their designs have minimal impact on the environment. Whether you're looking for online bouquet ordering or want to attend one of their workshops, Zinnia Floral Designs has something for every flower enthusiast.
FAQ on Florist Website Design
What's the first step in designing florist websites?
Starting with a clear vision is essential. Understand the brand, the target audience, and the unique selling points of the florist.
This will guide the design process, ensuring the website resonates with potential customers and stands out in the crowded online floral market.
How important is mobile optimization?
Super important! A significant chunk of users will access florist websites via mobile devices. Ensuring the site is responsive and user-friendly on all screen sizes is crucial.
Nobody wants to pinch and zoom to pick their roses.
Should the design focus more on visuals or functionality?
It's a delicate balance. While stunning visuals showcase the beauty of the blooms, functionality ensures a smooth user experience. Prioritize both.
High-quality images paired with intuitive navigation make for a winning combo in the world of floral web design.
How can I make the online flower selection process user-friendly?
Incorporate filters and categories. Let users sort by flower type, occasion, price, or color. A search bar is also handy. The goal?
Make it as easy as possible for someone to find the perfect bouquet or arrangement.
What about integrating social media?
Absolutely! Social media platforms are where florists can showcase their work, gather reviews, and engage with customers. Embedding Instagram feeds or adding share buttons can boost visibility and drive traffic. It's all about creating a cohesive online presence.
How do I ensure the website loads quickly?
Optimize those images! While high-quality photos are essential, they shouldn't slow down the site. Use proper formats, compress where needed, and consider lazy loading.
A fast-loading site improves user experience and can even boost search engine rankings.
Any tips for showcasing customer testimonials?
Place them strategically. Maybe on the homepage or near the checkout. Use a slider or a dedicated section. Real reviews build trust.
And in the world of online shopping, especially for something as personal as flowers, trust is everything.
How can I make the checkout process smooth?
Minimize the steps. Offer guest checkout options. Integrate multiple payment methods. And always, always ensure the process is secure.
A seamless checkout can be the difference between a completed sale and an abandoned cart.
What about SEO for florist websites?
Can't stress this enough. SEO is vital. Use relevant keywords, optimize meta descriptions, and ensure the site structure is search-engine friendly. Remember, it's not just about looking good; it's about being found.
Conclusion on These Florist Websites
Designing florist websites isn't just about slapping some pretty flower pictures on a page and calling it a day. It's an art, a dance between aesthetics and functionality. Imagine walking into a digital garden, where every petal, every leaf, is meticulously placed to guide your journey.
User Experience: It's like the scent trail of a fragrant bloom, leading you effortlessly from one section to the next.
Visual Appeal: Think of it as the vibrant colors of a bouquet, catching your eye and making you stop for a closer look.
Functionality: The sturdy stem that holds everything together, ensuring you can pick your flowers, customize them, and check out without a hitch.
In the vast digital landscape, a well-crafted florist website stands tall, like a sunflower in a sea of grass.
If you liked this article about florist websites, you should check out this article about tattoo websites.
There are also similar articles discussing technology websites, startup websites, corporate websites, and actor websites.
And let's not forget about articles on barbershop websites, interactive websites, gym websites, and types of websites.
Florist Websites That Perfectly Capture Nature's Beauty