A brilliant portfolio for a video game designer or artist is essential to entice more visitors and clients. This will improve the site's traffic, and create more revenue through websites. Competition is increasing in the game studios or the world of video game design. New designers are under scrutiny to become additional team members.
If you are looking for ways to apply for video game artist jobs, the online art portfolio is the solution. It has a significant impact on how the clients will view your project proposals. The portfolio highlights the user's skills and capabilities and how they handle their projects.
In the portfolio, remember to include important aspects of your personality and passion as an artist, rather than focusing only on the project or art. Your game design portfolio will act as a business card within the gaming industry.
Your game designer portfolio website will also allow you to earn clients, employers, and receive admissions to tutors.
As a designer, it is essential to know the features needed in a game design portfolio website to reach a specific market or audience.
The Core Features of Professional Game Design Portfolio:
Contact Page
Resume
Game download link or store link
Flexible portfolio design and layout that will adapt to different screen sizes, browsers, and devices.
Reviews or Feedback
Finished game demo video
Current work progress snapshots
Achievements and skills
Example of team project (at least one)
Full documentation of the step-by-step procedure of creating the game design.
Foolproof navigation
When trying to win new projects, deals, or clients, professional designers are using unique portfolio designs that make them exceptional. The following are new and interesting game designer portfolio website examples to act as inspiration.
The Game Designer Portfolio Website Examples
Chau Ho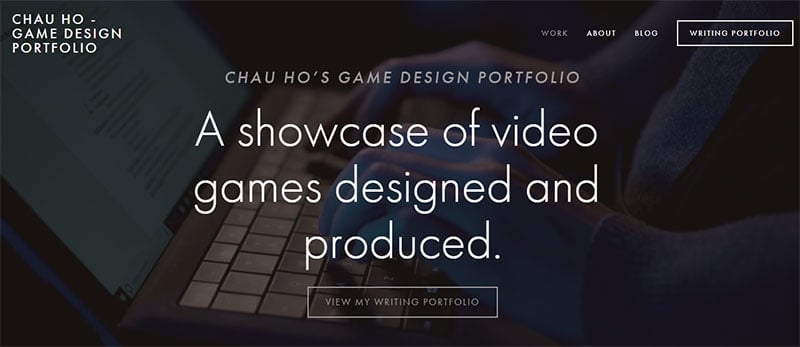 Chau Ho's portfolio introduces the videos presenting the Production Projects. They published it in the VGDA and college. It also contains the Video Games that started during the Game Jams.
Apart from projects for clients,she also presents her own work.
Michael Levall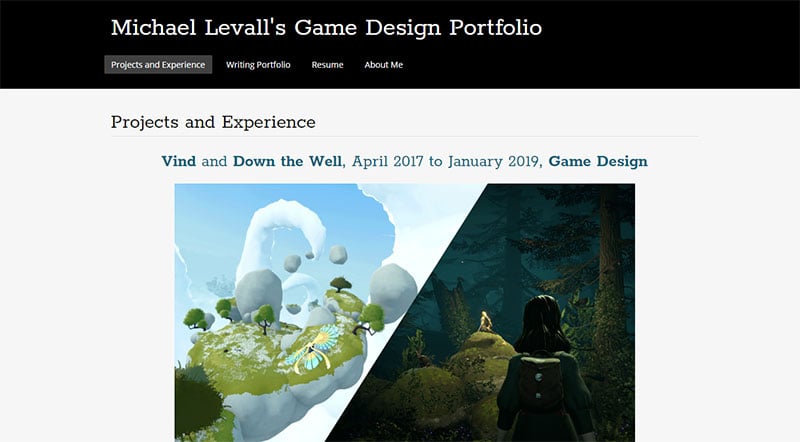 Michael Levall included his Projects Page, About Me Page, and Resume.
Instead of focusing only on his skills, he also includes qualities that will give him the upper hand among his peers.
Dean Tate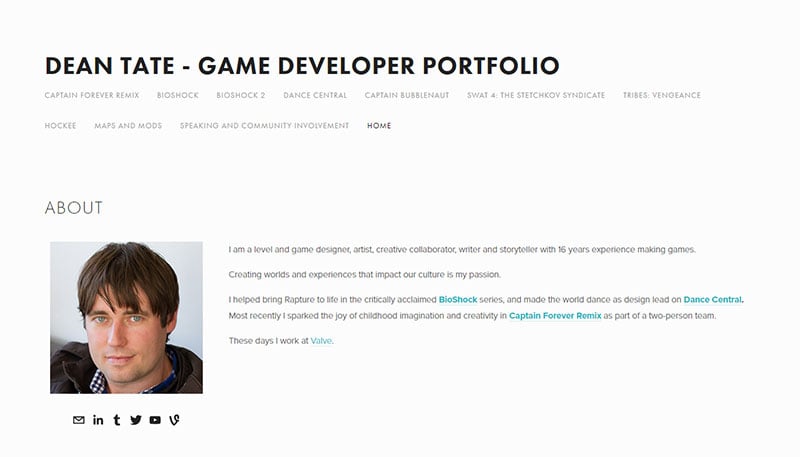 Representing himself as a level and game designer, his landing page displays a complete overview of his case studies and important projects. When the potential clients visit the top menu features pages, all of his curated projects with detailed descriptions are visible.
Rather than using flashy designs and colorful layouts, Dean opted for a simple site structure, clear typography, and white background.
Molly Jameson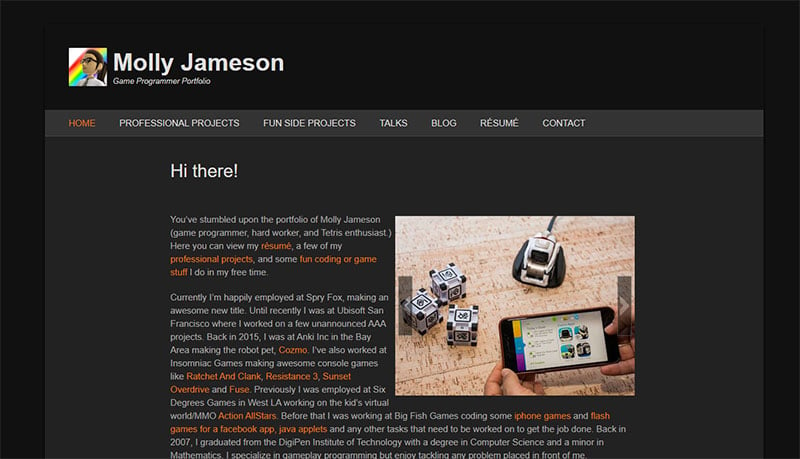 Recruiters will find Molly Jameson's game designer portfolio website fascinating and enticing. Jameson's portfolio mentions her qualities and preferences, including her passion for Tetris, her work ethics, and her skills as a game programmer.
The readers and other potential clients can discover the companies she is working with now, as well as those from her past.
Her resume page shows her roles in different companies, and a brief description regarding the studios where she previously worked.
This portfolio website also allows clients to navigate through the pages from the top menu bar of her portfolio site. It has all the details about the contact, resume, fun side projects, and her professional projects.
Mathias Takacs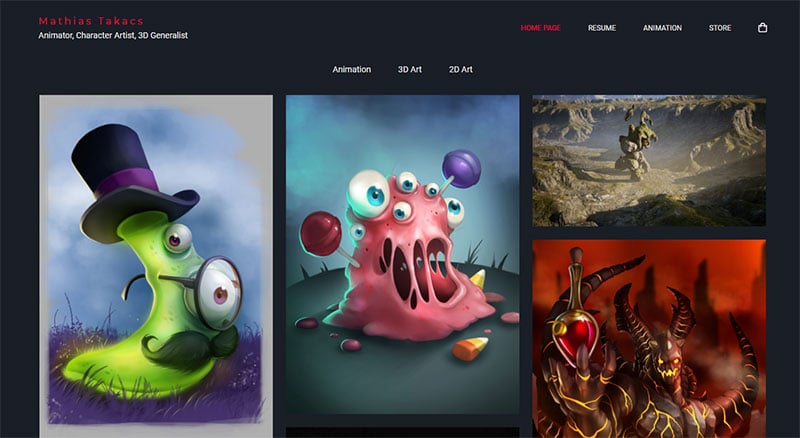 Visitors can fully grasp Mathias' game designer skills, abilities, and experiences.
At the top of each page, there is a menu bar with two different goals. First, to enable the visitors to switch from one portfolio section to another. Second, to present his artistic skill sets, includingcharacter rigging and animation, 2D concepts, and 3D modeling.
Hugo Peters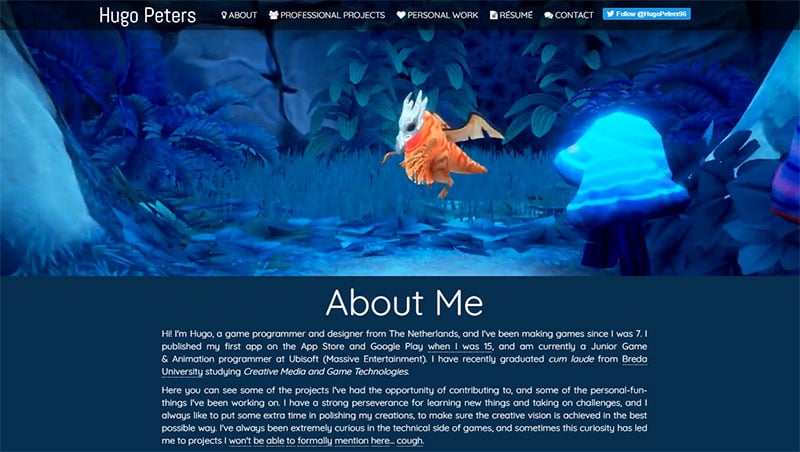 Hugo's portfolio shows his previously accomplished projects and how he made them happen. He has a showreel section, in his "About Me" section highlighting his game developer experience and personal story.a
Here visitors will also find the professional projects and other case studies. Recruiters can find his contact details at the bottom of the page.
Nicolas Kraj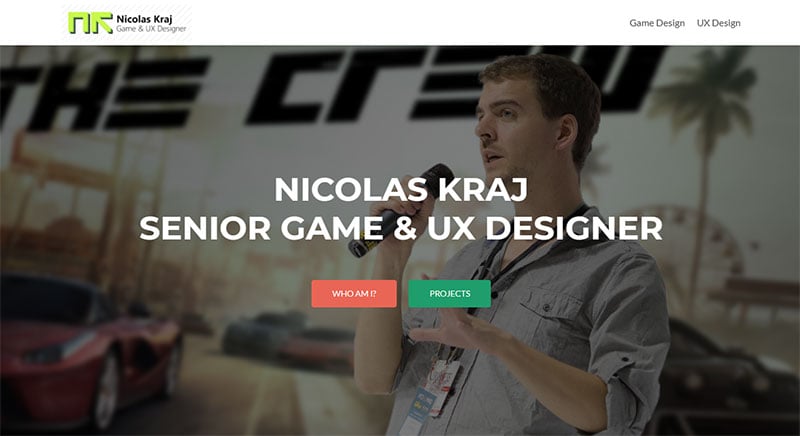 Nicolas Kraj is a game and UX designer based in Romania. He became one of the leaders of the successful game design teams for Ubisoft company. Nicolas Kraj is the great designer of AAA games from conception, which are then released on 7 various platforms.
Kraj is a versatile designer, working in different fields for various projects and teams. Some of his experiences include game designer, UX expert, producer, lead, and live-game expert. His game designer portfolio website reveals more about his projects, experiences and game designer skills.
Jay van Hutten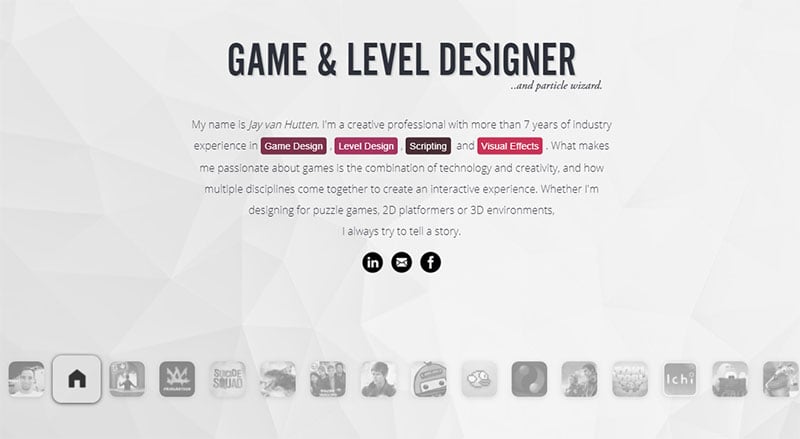 This is indeed an enticing game designer portfolio website example.
Use the side arrows to scroll the website left or right horizontally to navigate throughout the website. Click on the square icons at the bottom of the page to see Jay van Hutten's different projects.
Having a unique game designer portfolio website will engage more visitors and potential clients.
Morgan Mulhall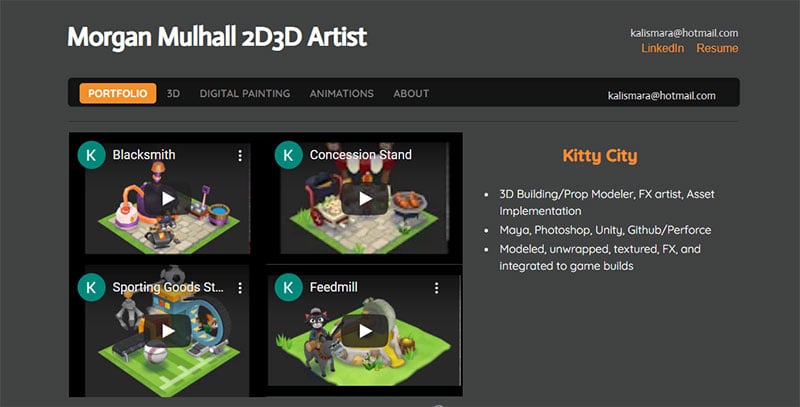 Morgan has a diverse body of work, presenting her varied tasks and skills in her online portfolio. Morgan Mulhall showcased multiple types of projects, in a single artistic portfolio.
Her portfolio e features modeling, animation, and 2D sprite work.
Mingfei Yang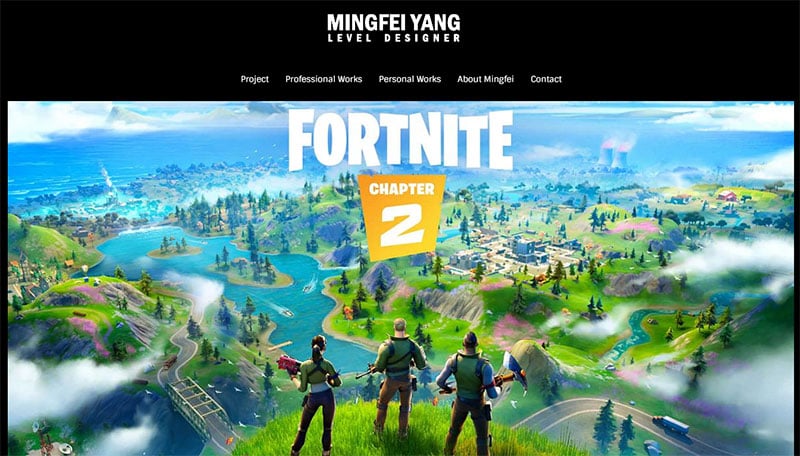 Yang has a neutral or plain black background focus on the game design artworks portfolio, which are edgy and surreal. His designs reflect the architecture style, visual expression, and interactivity,resulting in an excellent emotional experience.
David Shaver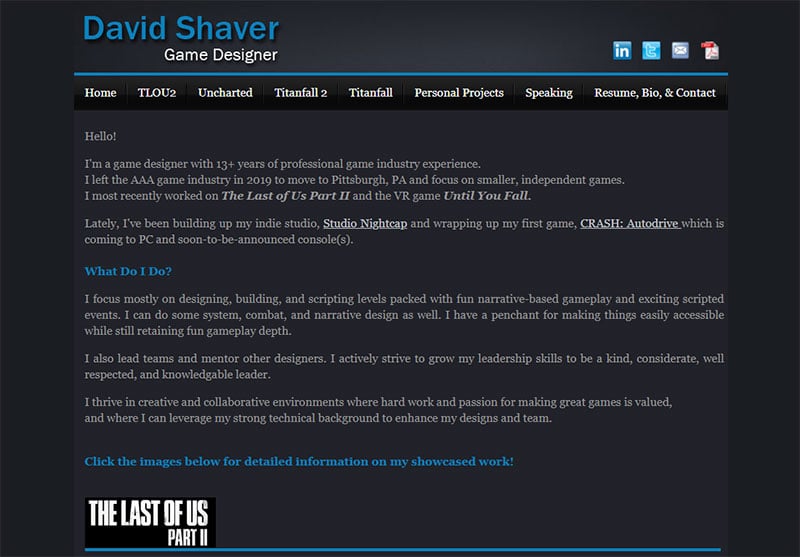 The main focus of David Shaver's portfolio website is building, designing, and scripting levels, with exciting scripted events and fun narrative-based gameplay. Some of his skills are narrative, combat, and system design.
Although David focuses on the accessibility of his portfolio website, he also makes it fun and exciting.
He is also a team player and a mentor guiding other designers.
The portfolio also contains David Shaner's professional and personal projects, including his speech at the Level Design Workshop.
Josh Caratelli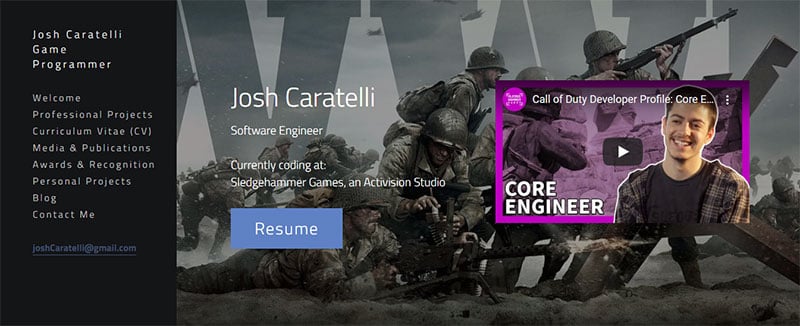 Josh's game designer portfolio website has a compelling video narrating his game designer story.
On the portfolio's left side, recruiters or potential clients can view his LinkedIn profile, contact details, blog, personal projects, awards, C.V., and other professional projects.
This portfolio website is a one-pager, with all the essential features that recruiters or clients look for. If users click on the left sidebar's links, the page will redirect them to the link's website or page.
Nathalie Jankie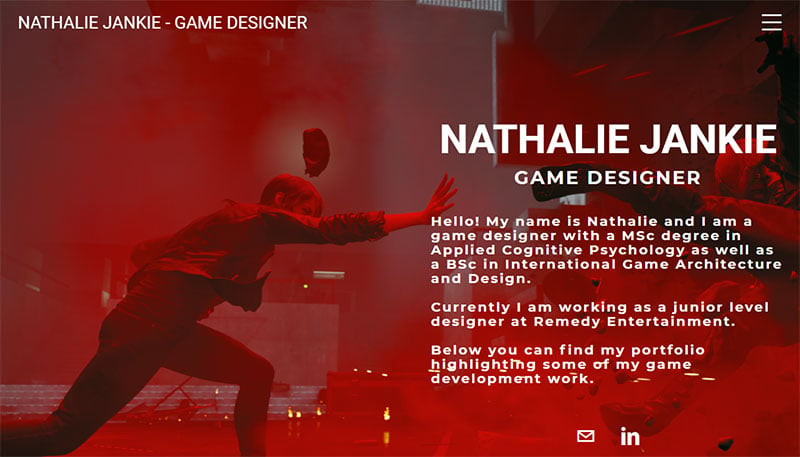 The stylish portfolio website is one of the best features of Nathalie Jankie's web design.
She uses a black background with a white text section to ensure that the main messages stand out.
She included three sections in her website. The landing page has a clear overview of her skills and experience as a designer.
She has dedicated project pages with a detailed explanation of her solutions. Her case studies will convince potential clients of her talents and abilities.
FAQs about game designer portfolio websites
1. What should I include in my game designer portfolio website?
Your best and most pertinent game design work, such as gameplay demos, trailers, and design documentation, should be showcased on your website for game designers. Your résumé and any relevant degrees or certificates should also be included. Consider incorporating a brief bio as well as a personal statement that describes your distinct approach to game design.
2. How important is the visual design of my portfolio website for a game designer?
Making a good first impression on potential clients depends heavily on your portfolio website's visual design. You have a special chance as a game creator to demonstrate your design prowess through the organization and aesthetics of your website. Ensure that your website is visually appealing, simple to use, and consistent with your branding and personal taste.
3. Should I include a downloadable game demo on my portfolio website?
A downloadable game demo can be a formidable tool for showcasing your expertise in game design to potential clients or jobs. A demo enables people to play your game first-hand and can help them better grasp your game's concept and technological capabilities.
4. How can I make my portfolio website stand out from others?
Showcase your distinctive style and approach to game design on your portfolio website to make it stand out. Think about including interactive components on your website, such as animations or mini-games. Use a distinctive color scheme and typography that showcase your sense of style. Additionally, always consider the user experience, making sure your website is simple to use and appealing to the eye.
5. Should I include game design documentation or concept art on my portfolio website?
A deeper knowledge of your design process and creativity can be gained by potential employers or clients by including game design documents or concept art. Think about submitting a few samples of your design documentation or concept art for your best work. Be careful not to overburden your website with text or photos, though.
6. How many game projects should I include in my portfolio website?
On your portfolio website, it is best to highlight your greatest and most pertinent game design work. Choosing only your top three to five projects can prevent you from overwhelming prospective employers or clients. Include a brief summary of each project that highlights your involvement and contributions.
7. Should I showcase my coding skills on my game designer portfolio website?
It can be beneficial to highlight your strong coding abilities on your portfolio website. But watch out for being overly technical and make sure your coding samples are pertinent to game design. Think about incorporating brief demonstrations of your code in operation or instances of how you've utilized code to address design issues.
8. What kind of content should I create to show my game design skills on my portfolio website?
Create gameplay demos, trailers, or even small games that showcase your design ethos and technical prowess to display your game design abilities on your portfolio website. To demonstrate your creative process to potential employers or customers, you can also add design documents or concept drawings.
9. Should I include my educational background on my game designer portfolio website?
Your educational background might help prospective employers or clients learn more about your formal education and credentials by including it on your portfolio website. Include any academic credentials or professional certifications that are pertinent to game design. If you have a degree in a field unrelated to this one, think about leaving it out or very briefly stating it.
10. How can I make my portfolio website easily navigable for potential employers or clients?
Prioritize user experience by making clear navigation menus and logically organizing your information to make your portfolio website simple to use. Make your text easier to browse by using headings and subheadings to divide it up. Additionally, make sure your website loads quickly and is optimized for mobile devices.
Ending thoughts on Game Designer Portfolio Websites
As a videogame designer, it is essential to have an excellent portfolio. The competition is fierce in this field and challenging for potential employers and clients to view all the proposals individually.
The landing page and other elements of a game designer portfolio website displays all the designer's skills.
When creating a portfolio, consider the visual presentation, links to games, lots of graphics, and other elements that will attract potential clients.
Becoming a successful designer requires time, effort, and determination to reach your goals,as well as a brilliant portfolio.
If you enjoyed reading this article on game designer portfolio website, you should check out this one about photography portfolio examples.
We also wrote about a few related subjects like one page website examples, cool website header examples, the most innovative and creative websites and the best graphic design portfolio examples.
Game Designer Portfolio Website Examples (Best Of)