Are you looking for an illustrator portfolio website to use as inspiration for your own?
We've got plenty of them in this article.
In the past, illustrations were usually found only in children's books. Now, however, people take in information in very different ways. In recent years, illustrations have become more and more important in web design.
Illustrations are especially important in the field of branding. Brands need new and exciting ways to bring their products or services to the attention of the audience. Therefore, these are golden days for illustrators and visual artists.
Starting an illustrator's business begins with presenting a professional illustrator portfolio website. Its purpose is to showcase designs and illustrations to potential clients.
This article gives inspiration on how to present a portfolio online. A list of professional illustrator portfolio websites will be the guide.
Awesome illustrator portfolio website examples
LA Johnson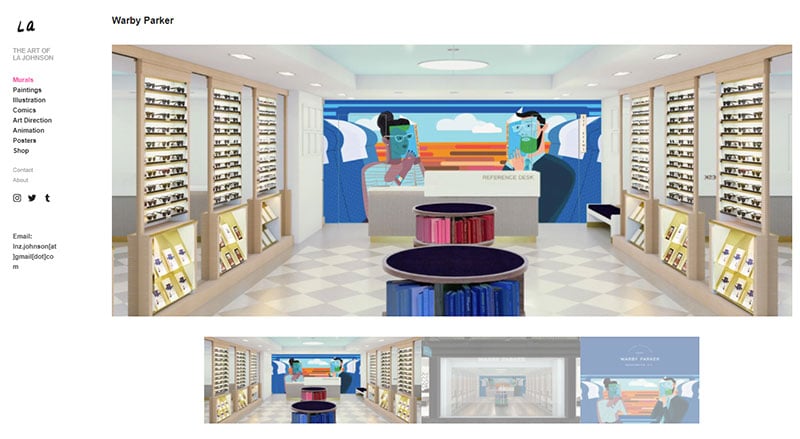 LA Johnson is an art director, illustrator, and visual journalist from Washington D.C. Her passion is making illustrations of people and nature. The website shows some of her characteristic work in different areas. The examples include realistic and abstract work for animations, posters, and comics.
Jurgis Jonaitis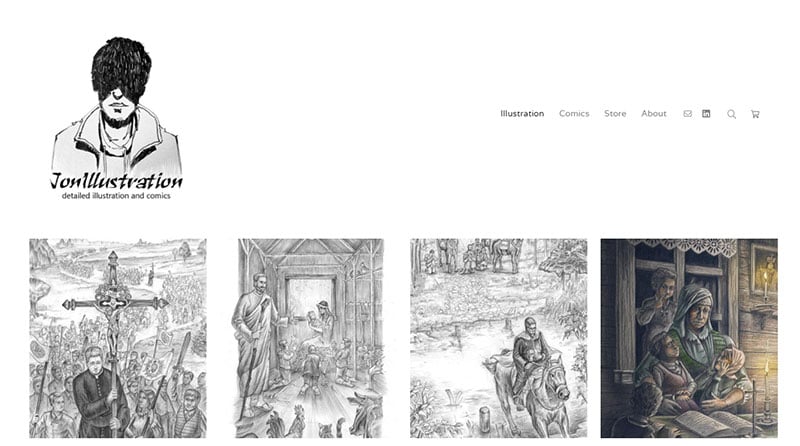 Jurgis Jonaitis is a Lithuanian visual artist, who works a lot in black and white, but occasionally uses color. The works by Jurgis are recognizable and often display dramatic scenes.
The main influences of his work are Giedrius Jonaitis, Nicolas Delort, Kim Jung Gi, Mateusz Urbanowicz. From the work, it is clear that he draws inspiration from the past too. Old masters include Delacroix, Giotto, Michelangelo, Rembrandt.
Tania Qué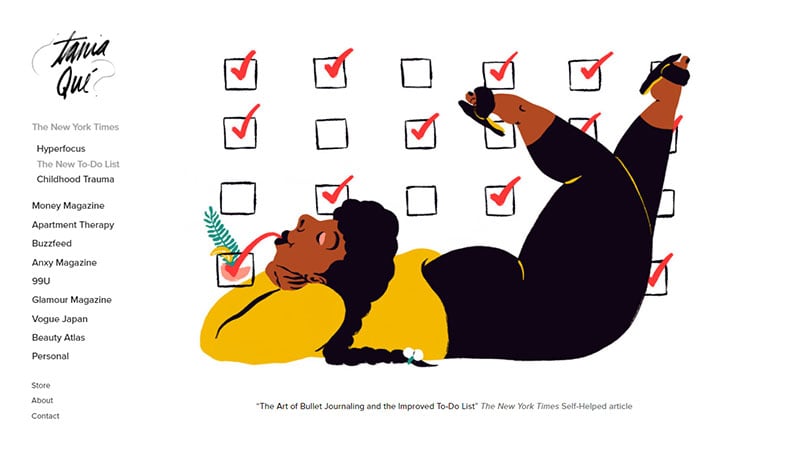 Tania Que's portfolio has a very simple format. It lists the projects she worked on the left. The rest of the page is reserved for showing off the works she has produced. This works very well in her case. Big images show what Tania's artistic qualities are. At the same time, it shows the impressive list of clients that have purchased and published her work.
Lydia Hill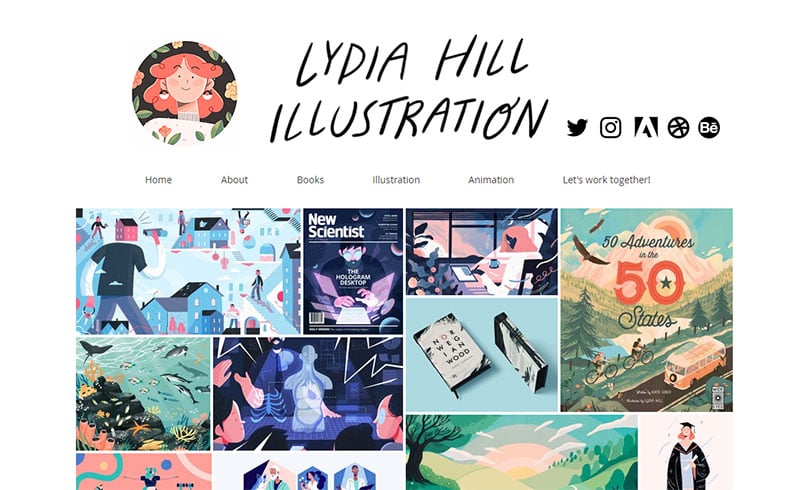 Lydia Hill has participated in a large variety of projects. The landing page shows thumbnails for each project. This makes the site easy to navigate and gives a quick overview. The header displays Lydia's name and a logo, which makes it immediately clear who she is and what she does. The animation of the title brings a spark of life to the site.
Isabelle Feliu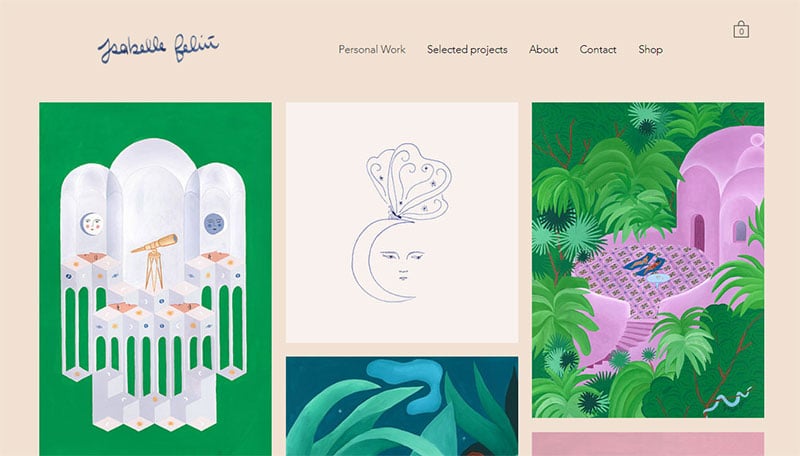 From Canada, but now living in Norway, Isabelle Feliu creates watercolors and gouache. Her art often uses scenes that remind of desert oases.
The portfolio is arranged on one scrollable page. Some of the work receives special attention, like the commissions she received from Marie Claire and Wrap magazine. These are gathered on separate project pages. These have short descriptions as well, which give explanations and context to the pieces.
Risa Rodil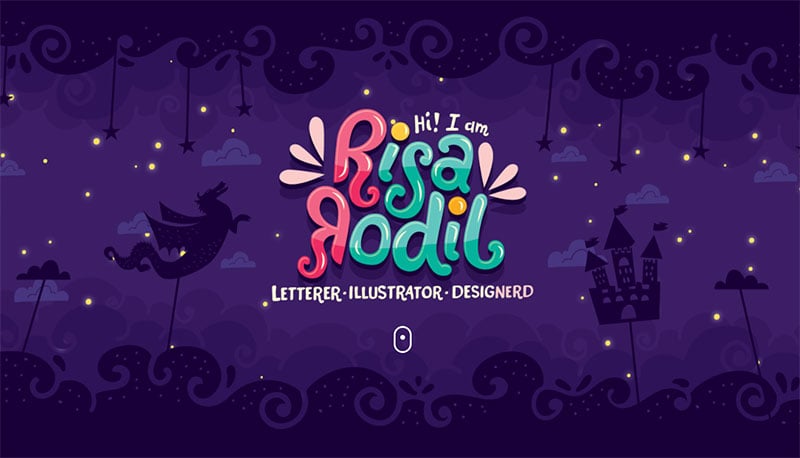 Risa Rodil has worked for some of the largest companies, like Disney and Harper Collins. She is an illustrator but she has a background in design too. Her portfolio website opens with a starlit sky. At the bottom are links to different types of work. A biography completes this extensive portfolio. It beautifully showcases Risa's talent and achievements, with many parts of the website animated.
Jungho Lee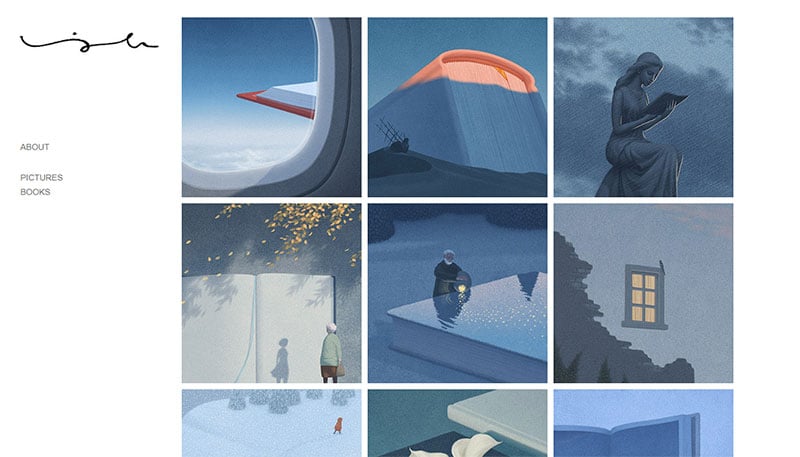 The illustrator Jungho has very carefully chosen the images for his online portfolio. It is almost like the images are telling their own story. And that is what makes it so beautiful. The images are shown on a traditional grid and they speak for themselves. Going through the website gives a great idea of what Jungho's style is and what kind of work he produces.
Justin Maller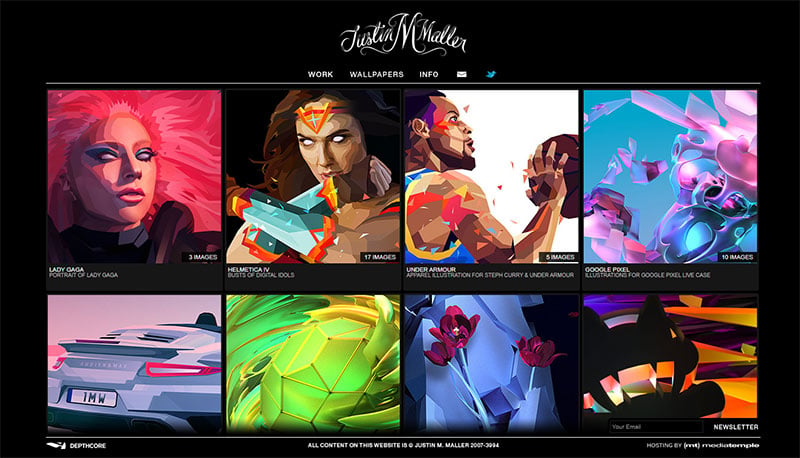 The Australian freelance illustrator Justin Maller now lives in Brooklyn, New York. He is one of the leaders of the Depthcore Collective, which is an international modern art collective.
What draws the attention when visiting his portfolio website, besides the beautiful artwork, is how easy the site is to navigate. Maller uses this website to show his artistic qualities. He also allows the visitor to download some high-resolution samples of his work. They look great as desktop wallpaper.
Amy Rodriguez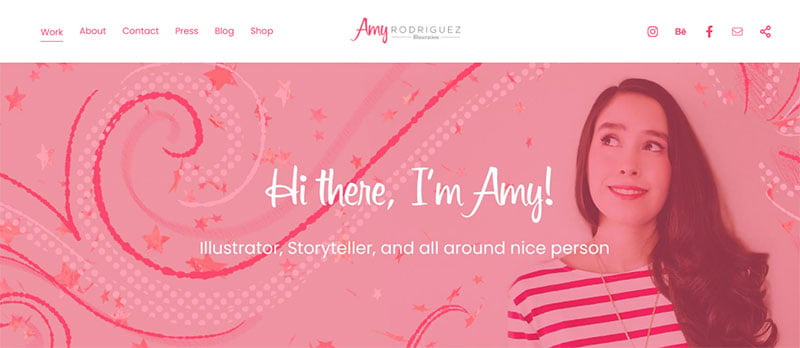 Amy Rodriguez from Los Angeles is mainly known as an illustrator for children's books and a digital artist. Her portfolio shows her bold and vibrant style and the gorgeous textures of her illustrations. The images on the website radiate joy and a love for the Catholic faith.
Patrycja Podkościelny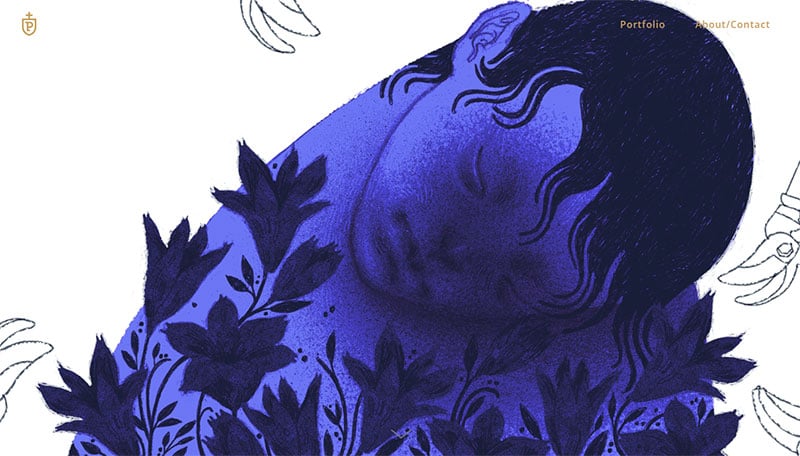 The landing page of Patrycja Podkościelny portfolio website engages the visitor right from the start. A page-filling illustration gives an immediate idea of her art. Going deeper into the page, the viewer can see images ordered by project, and clicking them leads to more full-size pictures. Going through the website is a journey of discoveries as each page has a different presentation.
Miranda Sofroniou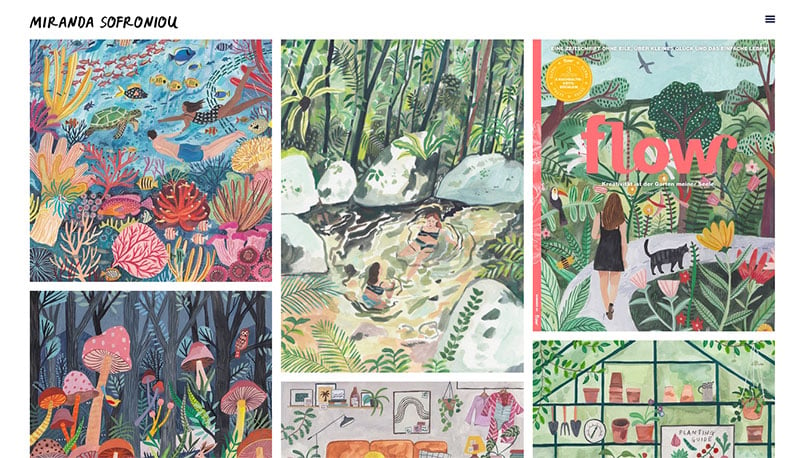 Miranda Sofroniou's whimsy is clear when the first image appears on the screen. She draws inspiration from travels around the world.
The illustration portfolio shows mountainsides, trips through desert dunes on camelback, and more. The homepage has a wide selection of these illustrations, which are arranged as thumbnails. Clicking on one of the project pages gives a more detailed idea of her work. Included are editorial illustrations, book covers, and jigsaw puzzles.
Kelsey Dake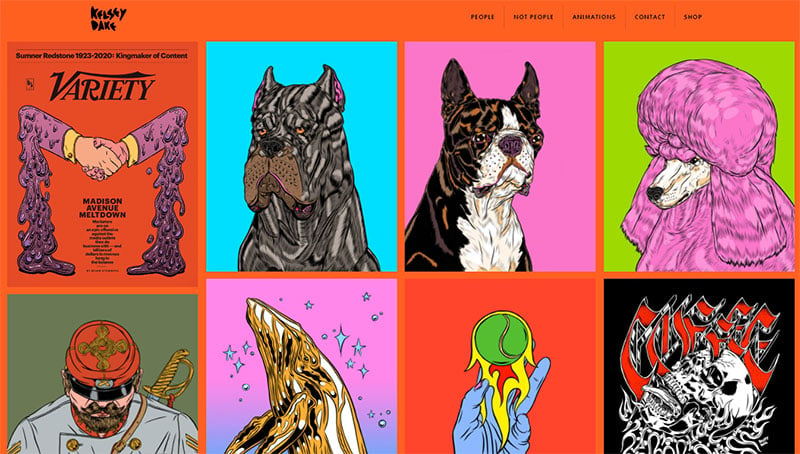 What catches the attention immediately when looking at Kelsey Dake's art is the strange color scheme and design. The strategy of the website is to show off a large number of brightly colored images as animated GIFs. The website is very effective in showing the abilities and style of Kelsey.
Anna Kovecses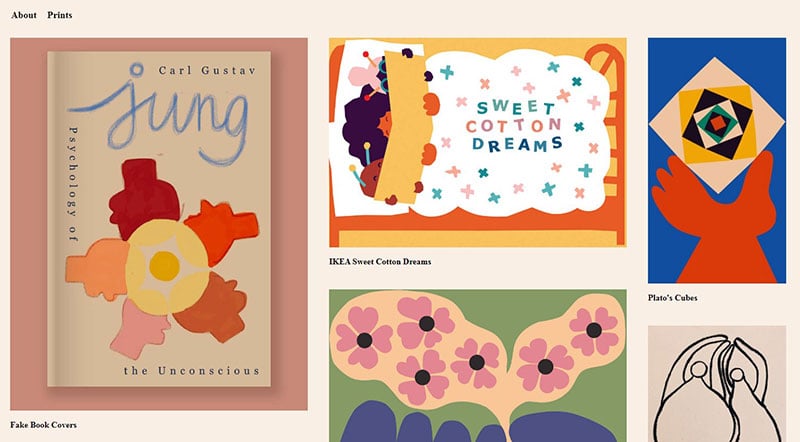 The Hungarian Anna Kovacses is highly praised by illustration agency Handsome Frank. The illustrations she shows on her portfolio show a child-like innocence. Instead of using a customary white background, Anna opts for light pastel colors. The pastel colors match her artwork and it gives it a special kind of softness. The overall site is cohesive and warm.
Malika Fauvre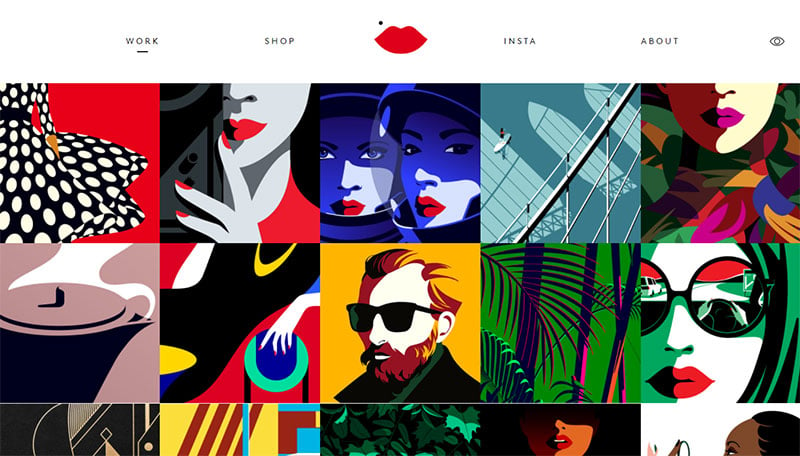 Malika Favre is London-based, but originally French. Her work has been characterized as "Pop Art meets Op Art" and is minimalistic. Her portfolio is like her art, direct and minimalistic. The artwork is presented as a large collage. Some animated images make the site even more appealing.
Linn Warme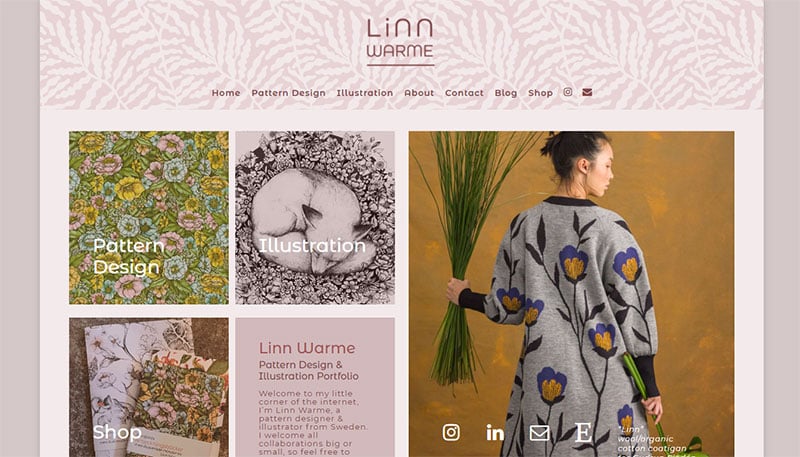 Linn Warme's portfolio website is light and bright. The work is categorized and structured and used in such a way that it guides the visitor through her work. A large website that has a lot to explore.
Gosia Mosz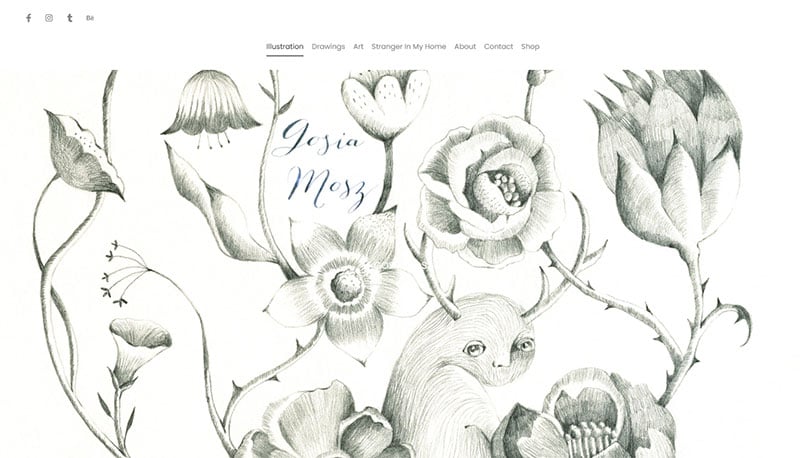 Gosia Mosz, also known as Mayo Nmg, works from the United Kingdom. She is a famous children's book illustrator and her work is known worldwide. Her figurative yet whimsical illustrations are about one-of-a-kind characters. One of the series that is shown on her website is "Stranger in My Home". It has special designs for children's rooms.
Timo Kuilder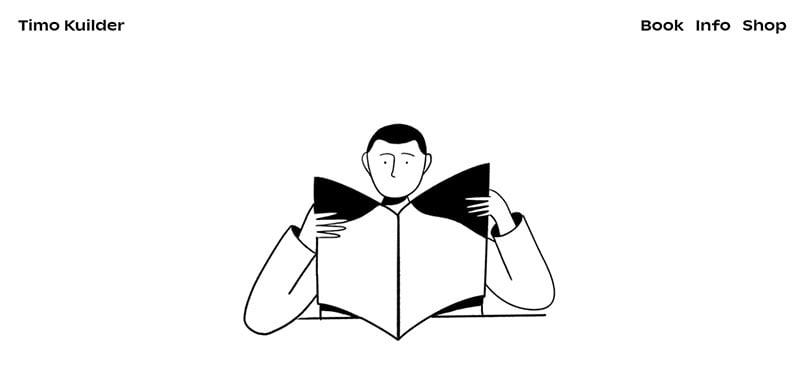 This online portfolio by Timo Kuilder shows a different way of engaging visitors. It contains a lot of white spaces and animated illustrations. This combination of elements gives a very clean look and invites exploring every corner.
Nate Kitch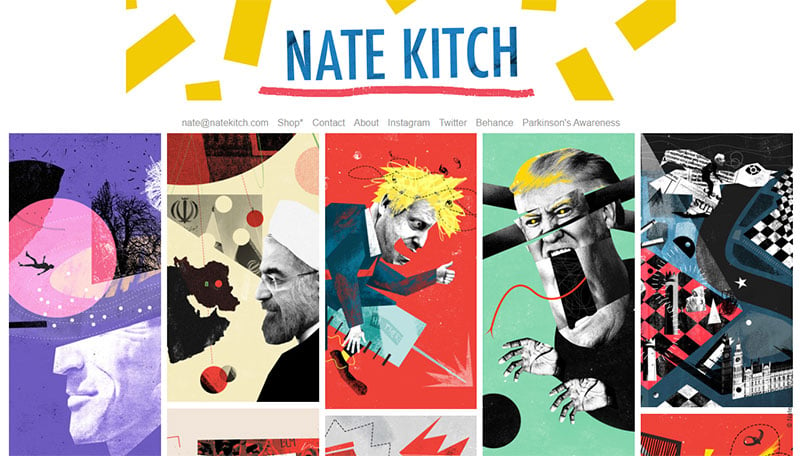 Nate Kitch works with different techniques in making collages, textures, patterns, and photos. This artist has had the privilege of working for The Guardian, New Scientist, Tate Gallery, and Wired. The works on his site are shown in vertical rectangles, which is surprisingly effective. The visitor can click the images and zoom in to view the works in high detail.
Brian Cronin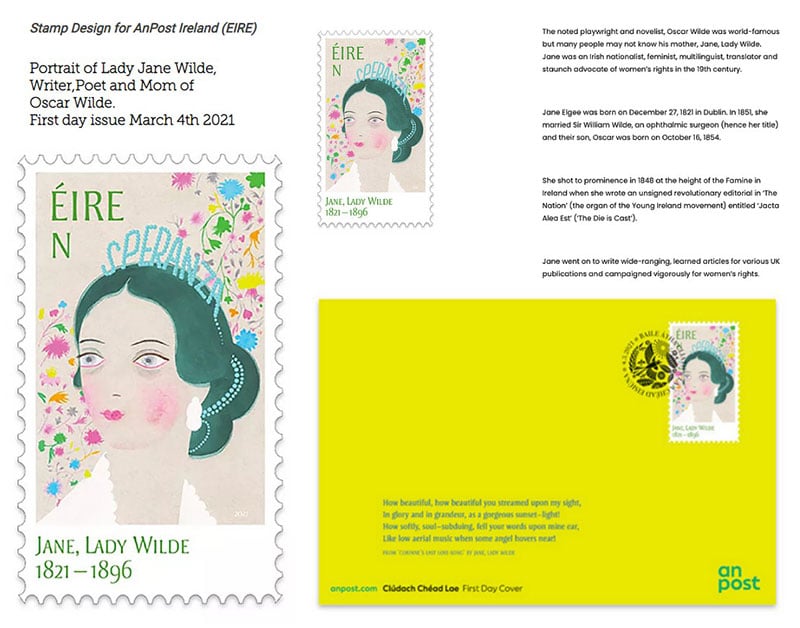 This illustrator for New York has a variety of famous clients, like The New Yorke, The Wall Street Journal, and Time. The illustration portfolio has a section for special projects, a press page, and testimonials. The is also an online shop where visitors can buy Brian's art. The webshop allows the user to see details of each work, which is a great plus for an online art store.
Jennifer Xiao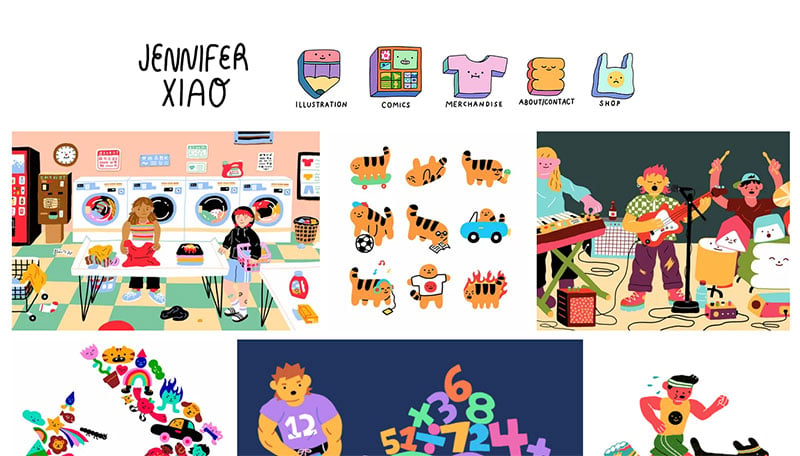 Jennifer Xiao's portfolio is fun to look at. The design of the website matches her art. The animated opening menu has buttons she designed, which guide the visitor to the right section. Although the menu sets the tone, the rest of the site is more traditional. Its primary purpose is to display Jennifer's work.
Lizzy Stewart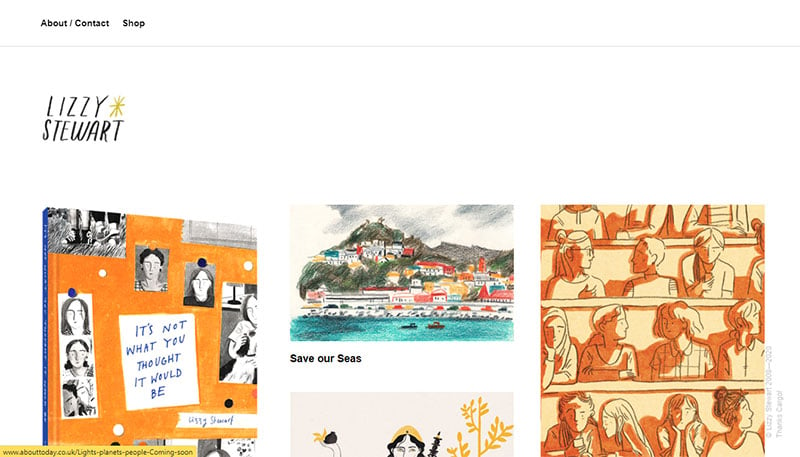 The portfolio of Lizzy Stewart's work gives a complete idea of what she is capable of and what her style is. It shows some simple sketches, photos, and framed prints. There is enough on display to entertain the visitor.
With so many styles and art mediums to show, a site can easily become cluttered. Lizzy has therefore gone with a simple template to prevent that.
Damien Weighill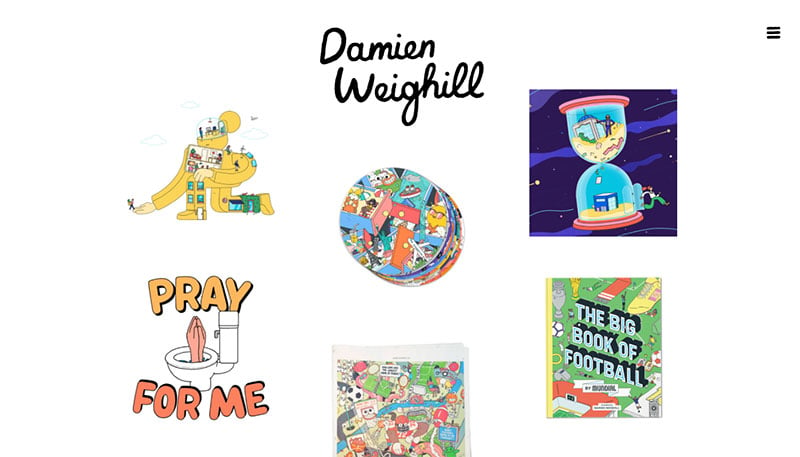 The simple design of Damien Weighill's illustration portfolio draws attention to the art. The landing page shows some of his most recognizable work. The hamburger menu on the right shows the way to more information.
Naomi Wilkinson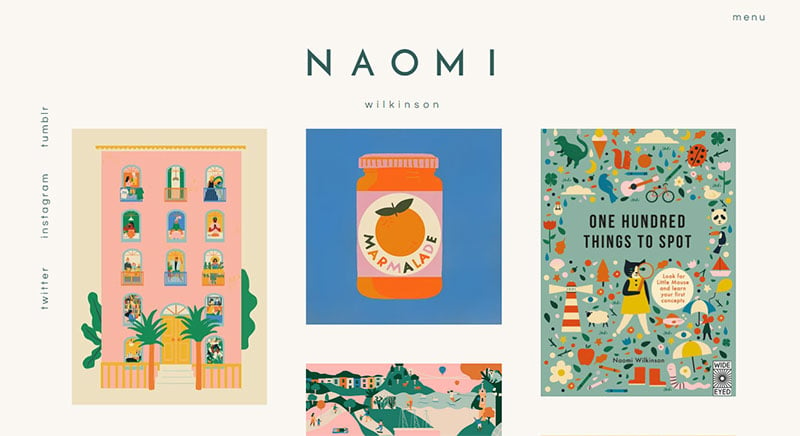 Naomi Wilkinson's website shows her art's characteristic and nostalgic style. Her work is very neatly organized and includes GIFs, greeting cards, and patterns. The website contains a lot of white space, which helps the viewer to focus on the illustrations. Each illustration links to a project page with more images and a brief description.
FAQs about illustrator portfolio websites
1. What should I include in my Illustrator portfolio website?
Your Illustrator portfolio website should feature your greatest work and serve as a showcase for your abilities. Include a range of endeavors that demonstrate your artistic breadth and versatility. Include a brief bio, links to your social media profiles, and your contact information. You might also think about including endorsements from pleased customers.
2. How do I choose the right website platform for my Illustrator portfolio?
Website platforms like WordPress, Squarespace, Wix, and others are widely available. When selecting the best platform for your Illustrator portfolio website, take into account elements like usability, customization possibilities, and cost. Find a platform that enables you to present your work in a polished and appealing manner.
3. What are some tips for creating a visually appealing and engaging Illustrator portfolio website?
Keep your design uncluttered and uncluttered, concentrating on your work. Make use of crisp pictures and a unified color scheme. To make your portfolio more interesting, think about incorporating interactive components like animations or hover effects. Ensure that your website is simple to use and responsive to a variety of devices.
4. Should I include my resume or CV on my Illustrator portfolio website?
Yes, including your resume or CV on the website for your Illustrator portfolio can give prospective clients or employers crucial details about your education and experience. Keep it brief and emphasize your pertinent abilities and accomplishments.
5. What is the best way to showcase my skills and expertise in my Illustrator portfolio website?
By project or media, with a brief explanation of each item, you might want to arrange your work. To demonstrate your creative process, use high-quality photographs and think about including progress shots or sketches. Make sure your portfolio demonstrates your artistic breadth and adaptability.
6. How many samples of my work should I include in my Illustrator portfolio website?
Aim to highlight your greatest work without overwhelming visitors on your Illustrator portfolio website. There is no specific number of samples to offer. Include a range of projects that highlight your abilities and adaptability, and think about getting rid of lesser or older work over time to maintain your portfolio current.
7. How do I optimize my Illustrator portfolio website for search engines?
In the copy and alt tags of your website, use pertinent keywords. Make sure your website loads quickly and is compatible with mobile devices. To raise the search engine rating of your website, think about starting a blog or constantly updating new content.
8. What are some common mistakes to avoid when creating an Illustrator portfolio website?
Avoid employing complex or perplexing layouts, low-quality photographs, or failing to routinely update your portfolio. Make sure your website is simple to use and presents your work in a polished and visually appealing manner.
9. How can I use social media to promote my Illustrator portfolio website?
Post your work on social media sites like Twitter, LinkedIn, and Instagram. By responding to comments and sharing the work of other artists, you may engage with your audience and gain more visibility by using relevant hashtags.
10. Is it necessary to have a blog or writing samples on my Illustrator portfolio website?
Although a blog or writing samples aren't required for your Illustrator portfolio website, they can be useful in showcasing your subject-matter knowledge and proficiency. Think about introducing a blog area to discuss your opinions on market trends or producing lessons to assist others in honing their talents.
Ending thoughts on these illustrator portfolio websites
This is a great time for illustrators. Illustration with a variety of purposes is in high demand. A good illustrator portfolio website helps you bring your work to the attention of potential clients. The examples above present some inspiration for making one.
These examples give inspiration for a new website, updating an existing one, or get ideas for making illustrations. Hopefully, they help many illustrators to polish their work.
If you enjoyed reading this article on illustrator portfolio website, you should check out this one about the best graphic design portfolio examples.
We also wrote about a few related subjects like video portfolio websites, one page website examples, cool website header examples, the most innovative and creative websites and photography portfolio examples.
The Best Illustrator Portfolio Website Examples