The online world is a perfect platform for presenting data. The challenge is to present it in the right way.
Most users respond best to an interactive presentation. However, creating interactive content is a big challenge.
The content has to be engaging and technically it should work well too.
Here you will find a list of beautiful and practical interactive website templates. They grab visitors' attention and increase hits on your website.
The templates that made it to this list are all customizable. You can personalize them and add creative elements to suit your preferences.
Most of these interactive website templates have an easy drag-and-drop page builder. This tool makes editing very straightforward.
Those that don't have a builder are customizable via the WordPress Customizer or the control panel.
Anyone can use these templates. Change the colors, fonts, and other elements to create a design that you like.
Coffee Joint Website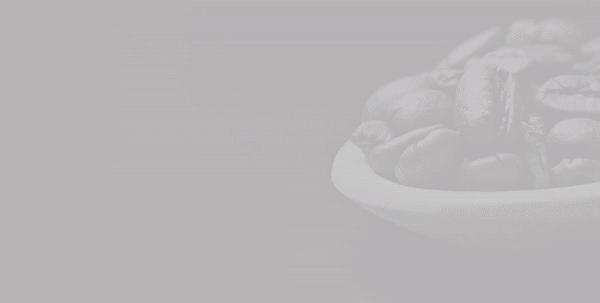 Barber Shop Website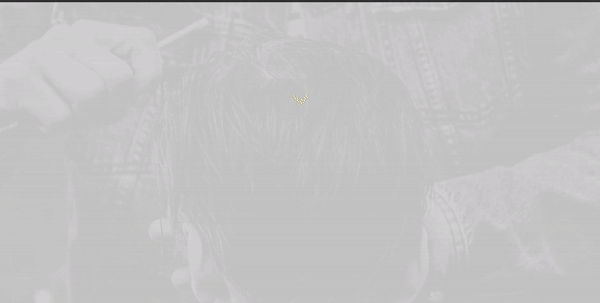 Music Band Website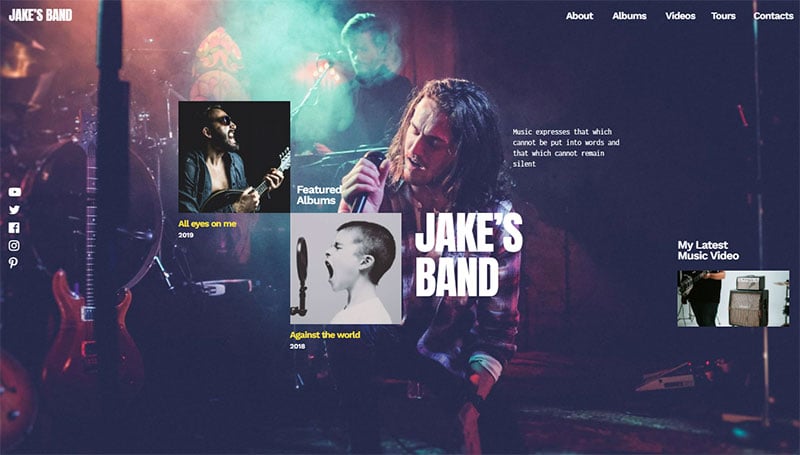 Smart Living One-Pager V2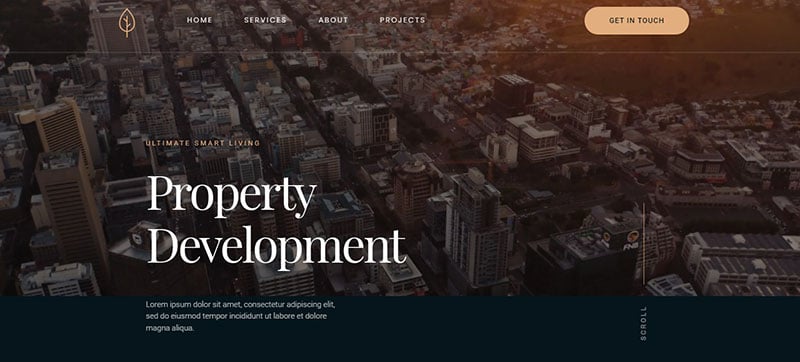 Zen Technology Website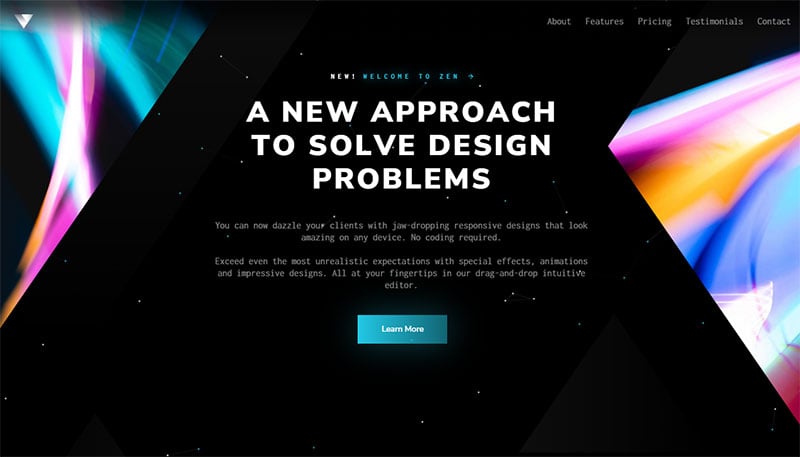 Peak Agency Website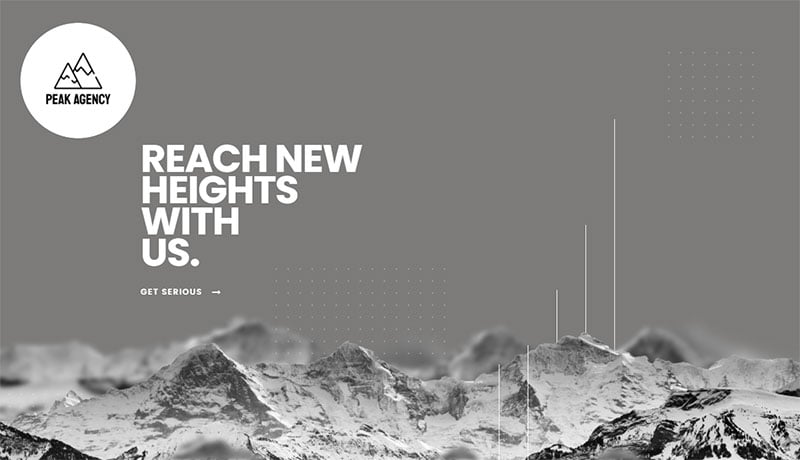 Angled Business Website
Minimal Portfolio Website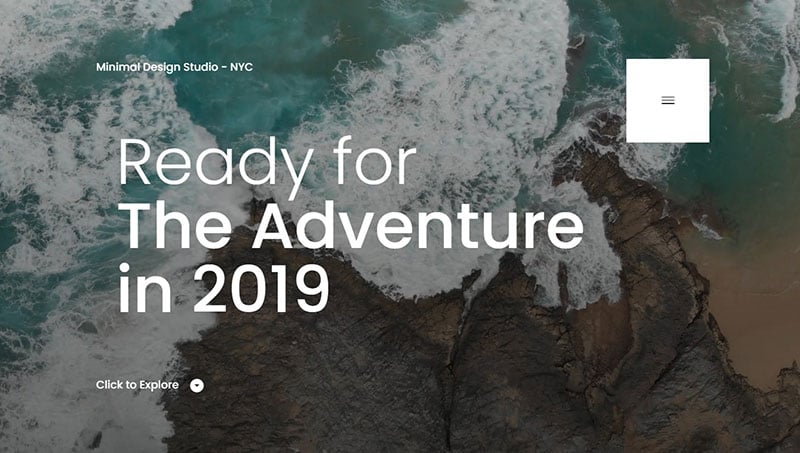 Stark Agency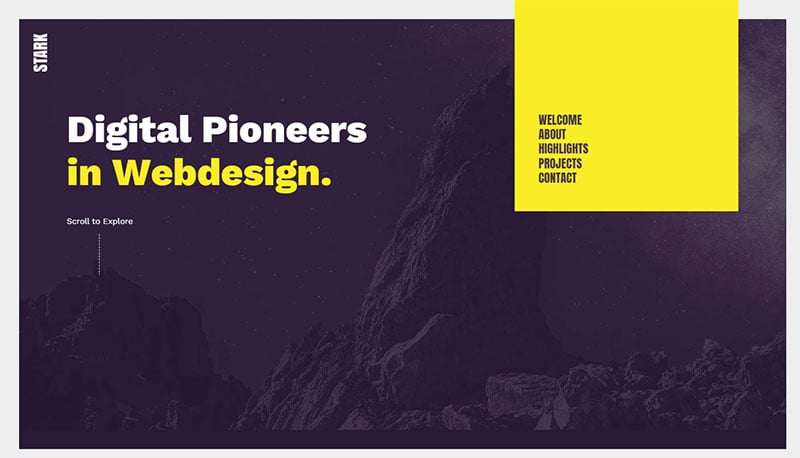 Wellfolio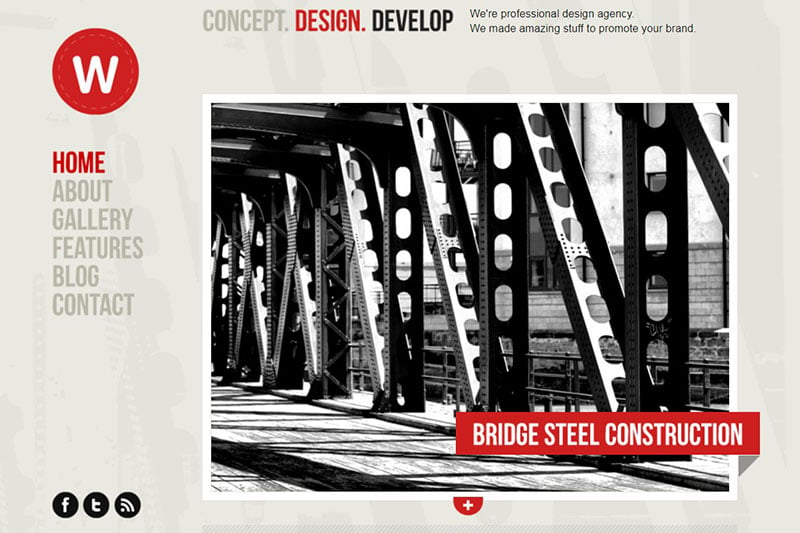 This responsive HTML template will show off your work in a beautiful portfolio or project layout. The simple design and well-chosen interactive elements make it easy to explore and work with.
Some of its main features include:
Adaptable CSS styling
Attractive contact form
Custom JQuery animation
High level of customization
Neat interactive website elements
PrettyPhoto gallery
Support for video and flash galleries
Three ready-made skins
W3C valid XHTML
Stack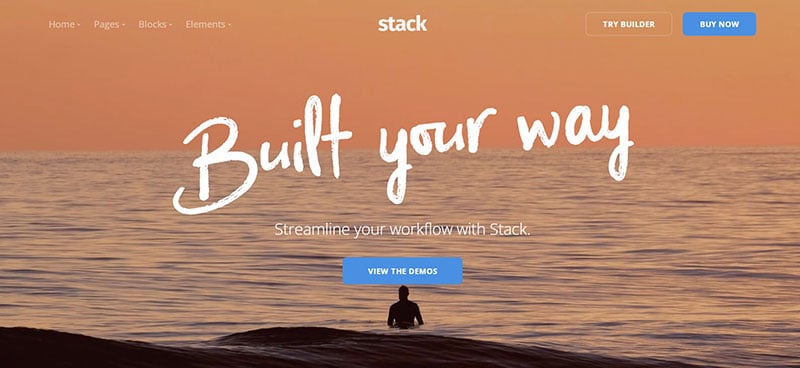 Stack is a clean WordPress theme that creates professional websites. Software startups will be especially enthusiastic about the results it provides.
Stack adds plenty of white space between the elements. This gives a clean, fresh look and ensures that the elements are always displayed in an optimal way.
With over 32 homepage variations, there is plenty to choose from. There are landing pages and multi-page variations included in this template package.
Stack comes with Variant Page, the in-house produced page builder. You can use it to select and modify one of the more than 280 blocks that are the basis for building websites.
The premium icon pack allows you to create a website with a professional appearance.
Porto Admin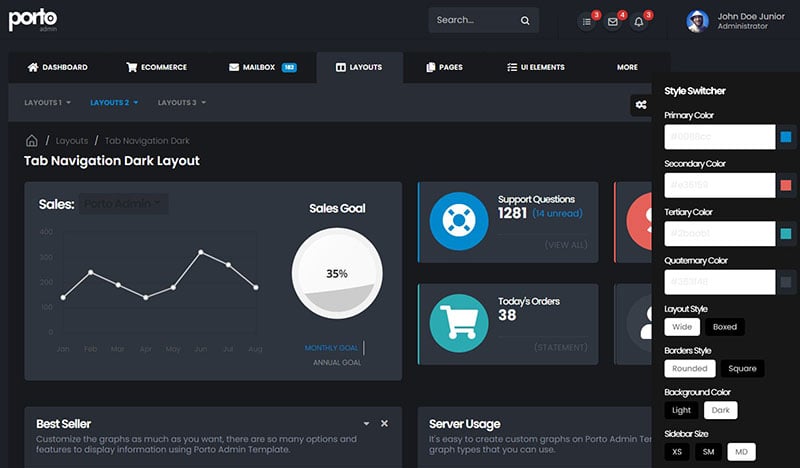 Continuing this list of interactive website templates is Porto Admin.
This simple, lightweight template serves many purposes. It is ideal for any kind of basic but professional business website.
Porto Admin displays a creative and elegant design in every part of its template. It uses Bootstrap 3, so the result is fully responsive and works in most modern browsers.
This awesome template has many satisfied customers. They often praise its ease of use and customization.
Some other popular features of Porto Admin include:
Over 60 template pages
Support for Google Fonts
Interactive charts
Compatibility across browsers
Spotlight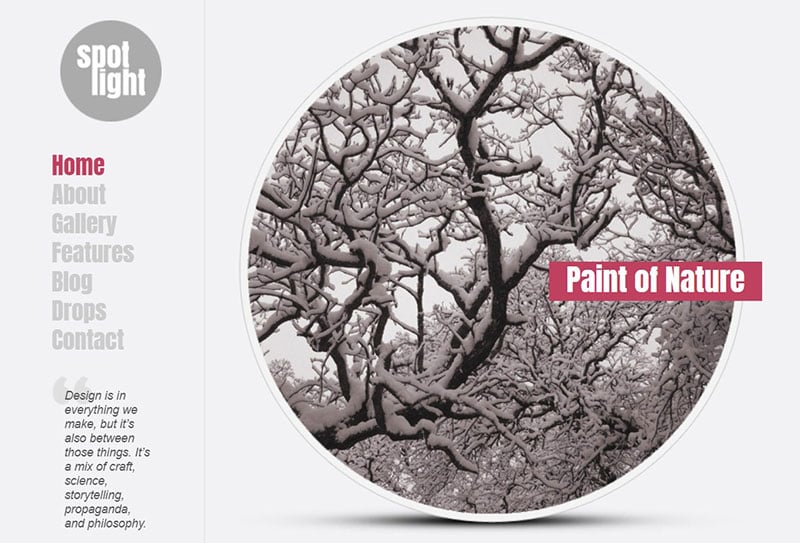 This template is one of a kind and features a clean and simple design. Its purpose is to display portfolios and other kinds of projects.
Agencies, businesses, freelancers, and others will enjoy what it has to offer. Some of the features and technical details are:
Cross-browser compatible
Flexible CSS styling
PrettyPhoto gallery
Special portfolio styles
Support for video and flash galleries
Unlimited menu levels
W3C validated XHTML
Places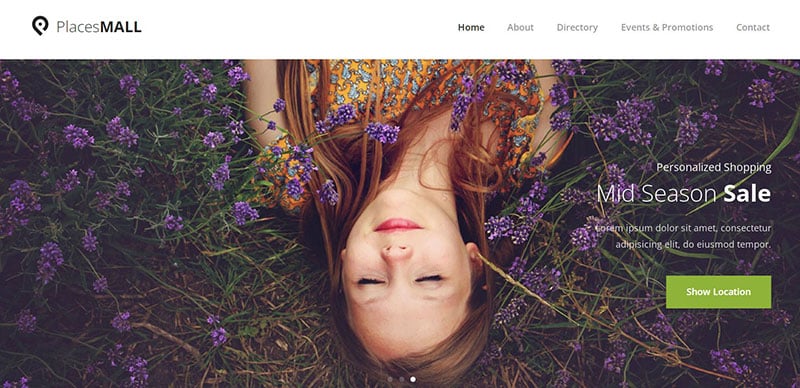 Places is a responsive HTML template with custom interactive map support. That is a unique feature on ThemeForest.
Additionally, Places offer Mapplic, a popular plugin with a value of $18.
This plugin makes interactive maps from image and vector files. You can add clickable elements, popups, and searchable lists.
It uses the most current CSS3 and HTML5 technologies. As a result, Places is responsive and has a modern and attractive design.
At this moment, Places has one demo site for a shopping center, called PlacesMall. Demos for different purposes will be available soon.
Canvas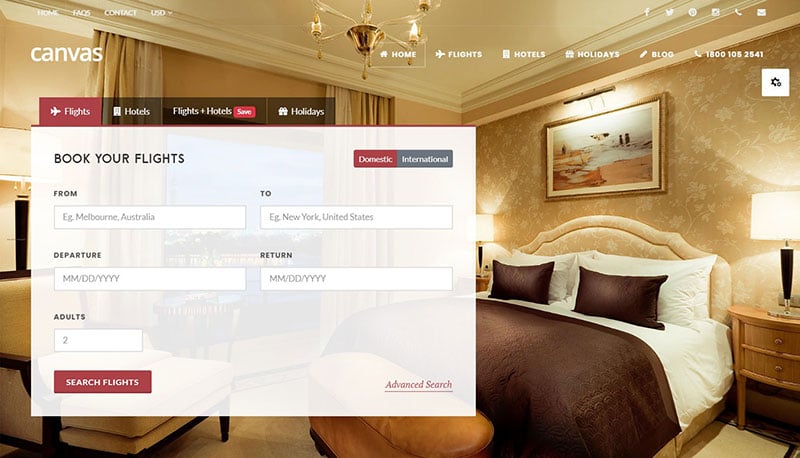 Canvas is the next example on this list of interactive website templates. It is a multi-purpose website template that offers multi-page and single-page options.
It gives a very high value for money.
The underlying code is clean and well-written. It makes for a powerful website with a user-friendly interface.
You can choose from different paid add-ons, such as the Slider Revolution and Visual Revolution Slider plugins. It has a wide variety of website elements that you can choose from and many navigation options.
Progressive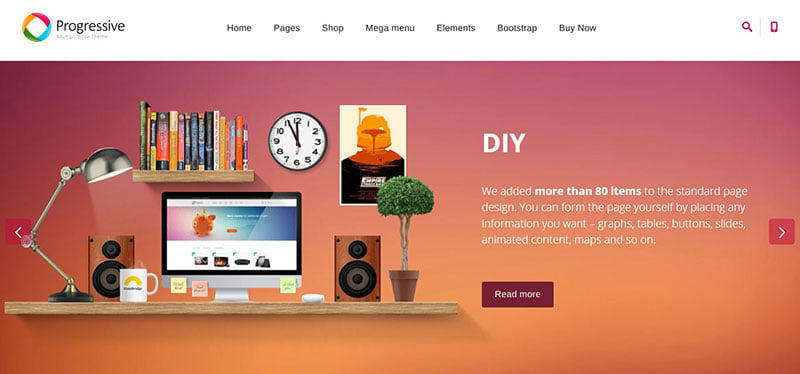 This template uses the latest HTML5 and CSS3 technologies. It also features intuitive and clean code.
The technology that supports Progressive results in a simple and functional template.
Progressive includes over 200 interactive elements. Customization is therefore fast and easy.
Additionally, Progressive includes free Revolution Slider and Twitter Bootstrap.
The Mega Menu option allows you to insert regular links, submenus, pictures, and text. All features of this template receive regular updates.
That's because the developers want to keep it up-to-date and use the most advanced technology.
Infinitus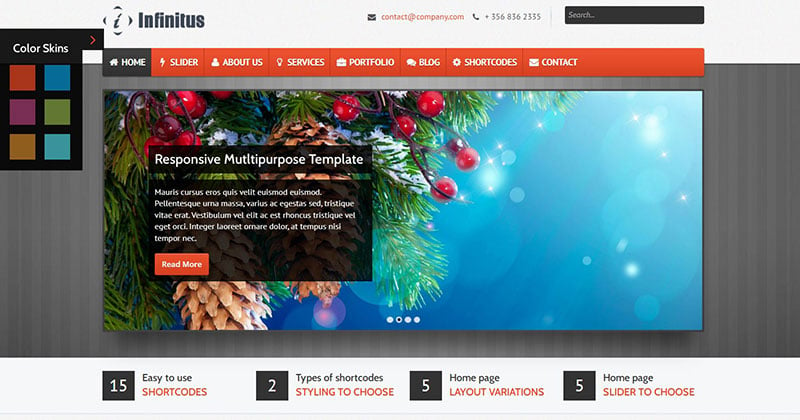 Infinitus is a WordPress theme for corporate and business websites. It is also very flexible, so anyone that wants to make a personal website can use it too.
Other features include:
Five homepage layouts
Five homepage sliders
48 validated HTML pages
15 Shortcodes
Responsive design
Three blog styles
Three portfolio styles
Two color styles (blue or green)
Responsive Knowledge Base & FAQ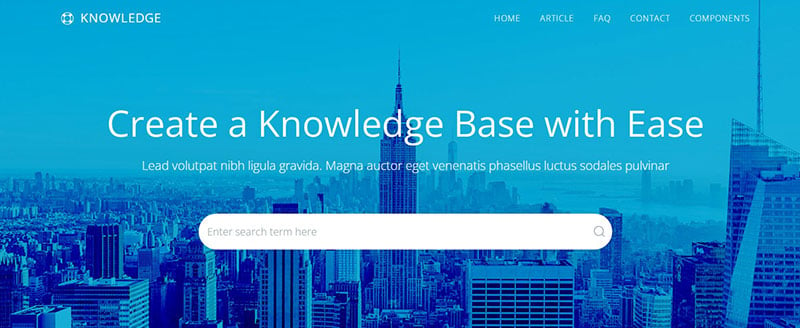 This responsive HTML template creates interactive FAQ and knowledge base websites. It provides all the flexibility needed to share your data with others on your own website.
Making a specialty page is easier than ever with Responsive. Some of its characteristics include:
Accordion FAQ Page
Article Scrollspy
Live Search
Social Icons
Black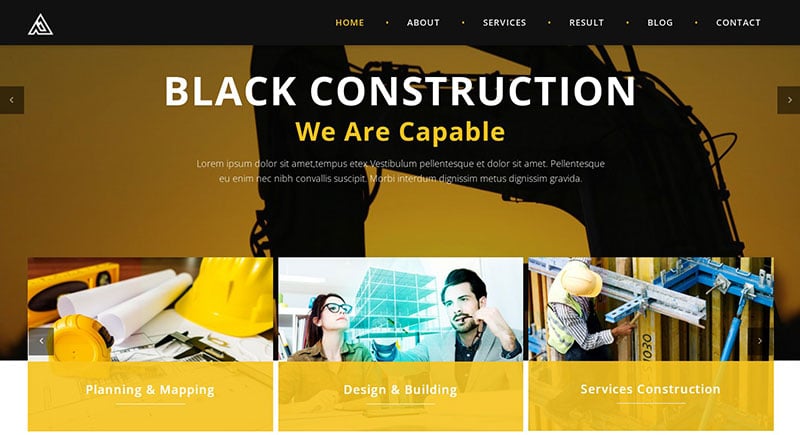 This creative HTML5 template is excellent for making websites for corporations, architects, and so on.
Black offers some important components:
Awesome animations
Cool styles and transitions
Fully editable animations
Interactive websites
Professional support
Smooth opening site
Unlimited scrolling animations
Unlimited updates
Well documented
Gatwick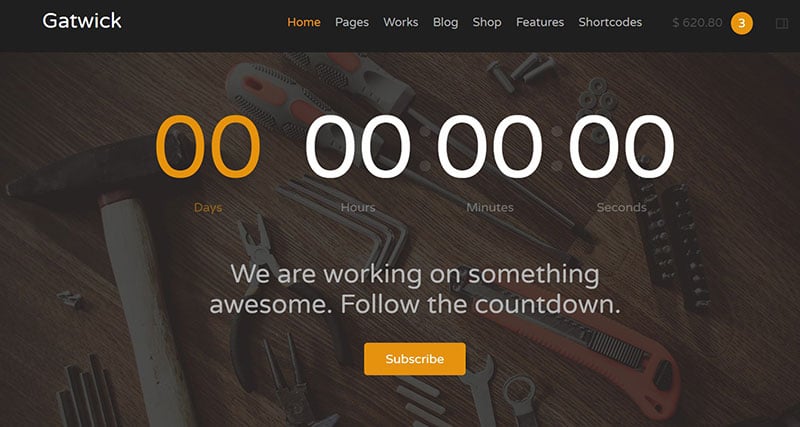 Gatwick includes different layouts, styles, and scripts and guarantees a highly responsive design.
Customization of this multi-purpose template is very easy. This is thanks to the Stylus development styles that it includes.
A special feature is the 'Coming Soon' page that announces the launch of your new website.
It offers a variety of blog template layouts to choose from. The web design makes starting a blog or website very attractive.
Buildstate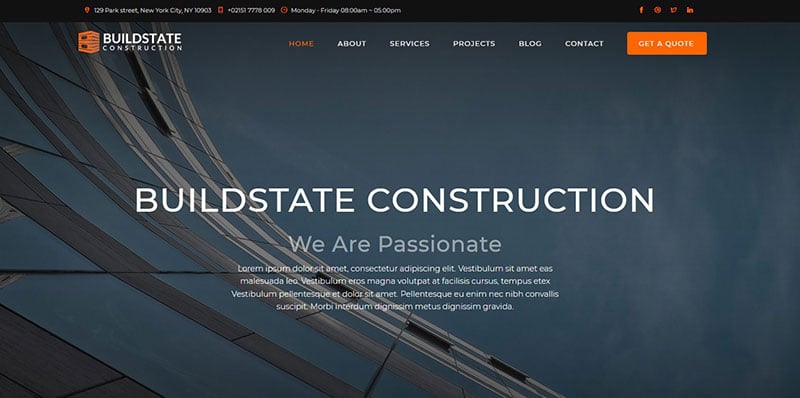 Buildstate has a responsive layout for making an interactive construction or architecture website. Below is a list of some of its most interesting characteristics:
More than 23 HTML templates
Three slider options
Modern styles and transitions
Editable animations
Interactive website
Popup gallery image and forms
Smooth opening site
Unlimited possibilities animations
Unlimited scrolling animations
XeOne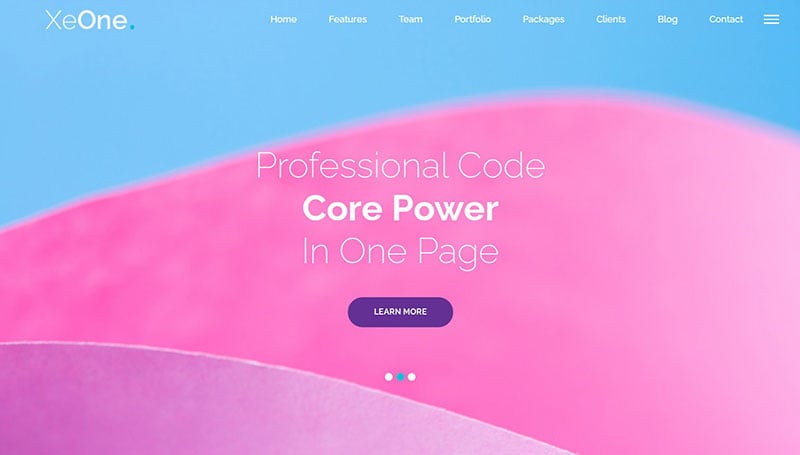 XeOne's features and characteristics make it easy to build a site and increase your online presence. One feature that will attract attention from visitors is the Parallax effect.
XeOne is easy to use and customize. Anyone can do it and with it, anyone is able to make a unique website.
It is very flexible, which makes it useful for any type of project. It is fully adaptable with its twenty demos and many ready-made sections.
In addition, XeOne is responsive, provides Retina screens, and uses clean, simple code. Users will also enjoy the enthusiastic and dedicated support.
ProKit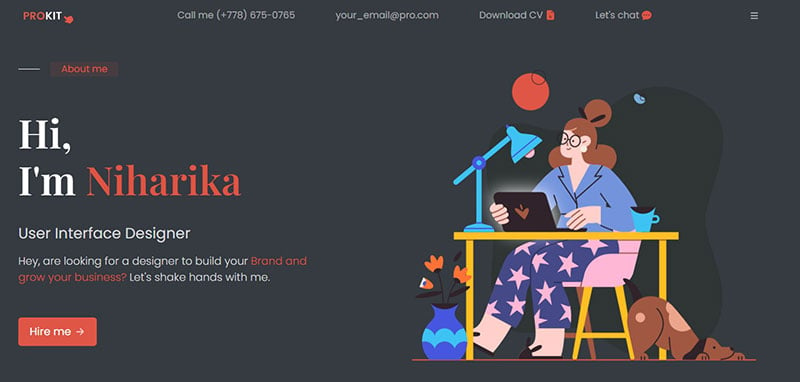 Prokit is a creative portfolio page template with an outstanding design. It features stunning animations and other interactive design elements.
It uses the Bootstrap 5 framework for responsiveness. It also utilizes the Torus Kit and 11ty static site generators.
This feature-rich template also offers two color themes, a light and a dark one. Either theme will look awesome on any device.
Here is a brief summary of ProKit's most important characteristics:
Eleventy/11ty source files
Fast loading speed
Interactive effects
Light and Dark themes
Responsive
Stunning animations and loops
Artha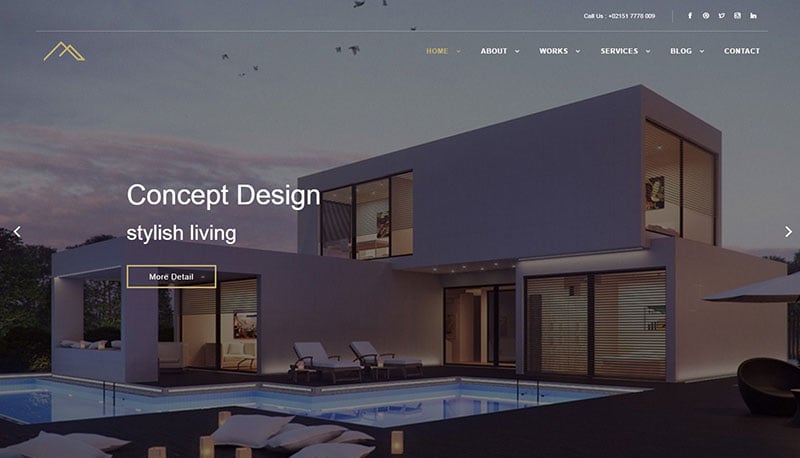 Next on the list of interactive website templates is Artha. The template is easy to customize and provides a unique design that will make your website stand out.
Artha is feature-rich. Here are some highlights:
Over 42 HTML templates
Modern styles and transitions
All animations are fully editable
Interactive website
Intro websites
Popup image gallery
Smooth opening site animations
Unlimited animation possibilities
Unlimited scrolling animations
Well documented
Smiley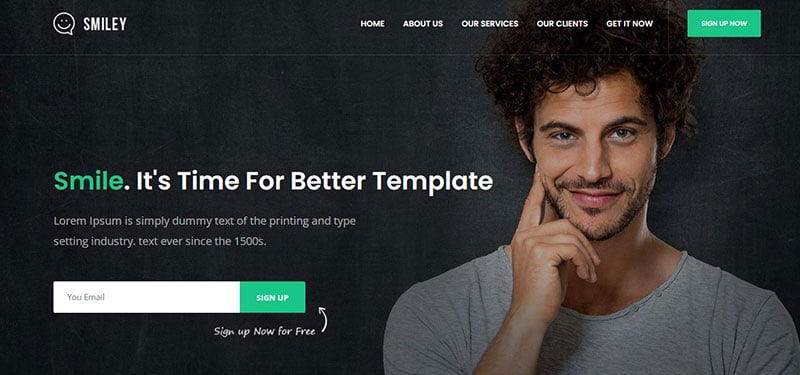 Smiley is an interactive website template for small businesses and startup companies. It has smooth animations and a feature set that helps to make a successful business website.
There are various banner designs and a Mailchimp subscription form. Below is a detailed list of Smiley's characteristics:
W3C validated HTML files
14 banner variants
Banner sliders
Background videos
Fullscreen parallax effect
Twitter Bootstrap 3.3.5 framework
Compatible with Chrome, Opera, Safari, Mozzila, and Internet Explorer
Fully responsive
One page scroll navigation
Popup lead generation form
Xenon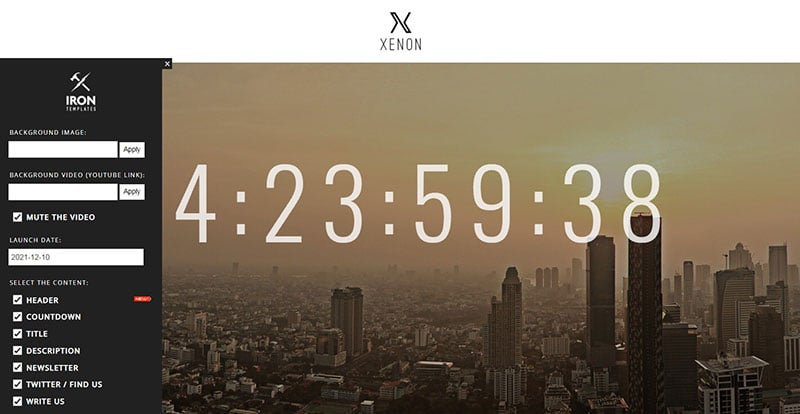 This next option has a modern and interactive web design. A special feature is its support for background YouTube videos.
Another interesting element is the countdown clock. With this, users can show when their new website or product is launching.
A great marketing feature is the signup form for newsletters or other free offers. Other things that make Xenon an interesting choice are:
Easy customization
Fullscreen photos or videos
Responsive design
jQuery animations
Studio99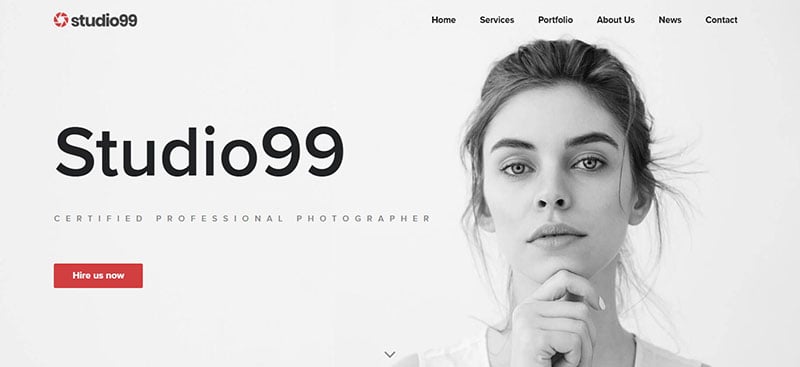 This portfolio or business website template has a responsive and professional design. It looks perfect on almost any device, including tablets and mobile phones.
There are various awesome JQuery animations included. Some other highlights of Studio99 are:
Ajax popup portfolio details
Bootstrap
Two color schemes
Enhanced JQuery effects
Portfolio filtering
Responsive
Revolution Slider
W3C validated XHTML
Venera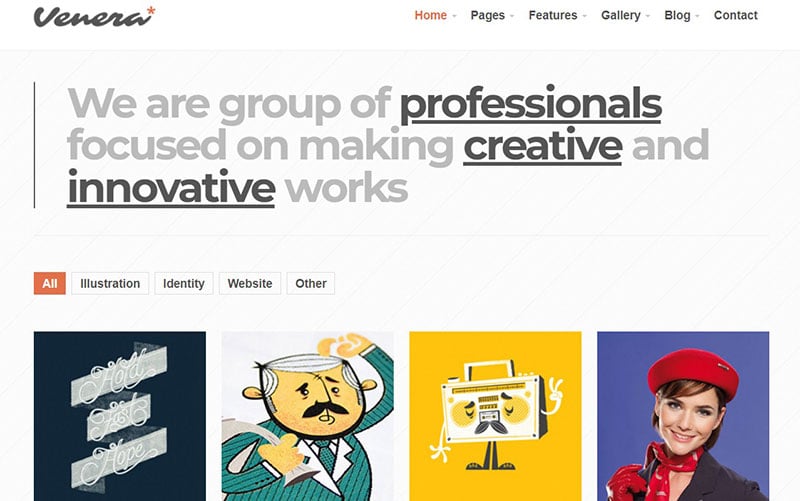 Showcase your portfolio with this responsive website template. The minimal design works well on any kind of device, even on small mobile phone screens.
It provides JQuery effects that make your website even more attractive. Some of Venera's other important features include:
More than 25 HTML templates
Boxed and full-width view
Enhanced JQuery effects
PHP widgets
Portfolio filtering
Responsive
Unlimited level menu
Concreate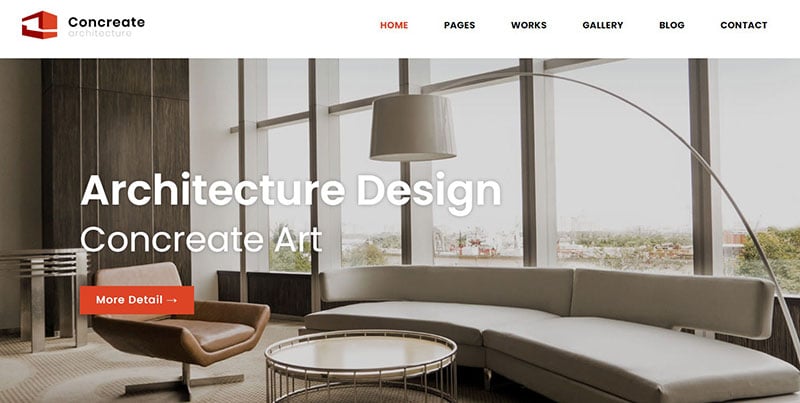 The design of Concreate is minimalist but elegant. This interactive website template is most suited for unique architecture websites.
Concreate has a long list of important characteristics. Here are some of them:
Two About page layouts
Two color schemes
Two Detail page layout options
Two Gallery page layouts
Two Home pages
Two Preloader options
Over 28 HTML files
Four Header Menu options
Interactive website elements
Intro website
Login and Sign Up forms
Search form
Unlimited animation possibilities
MJ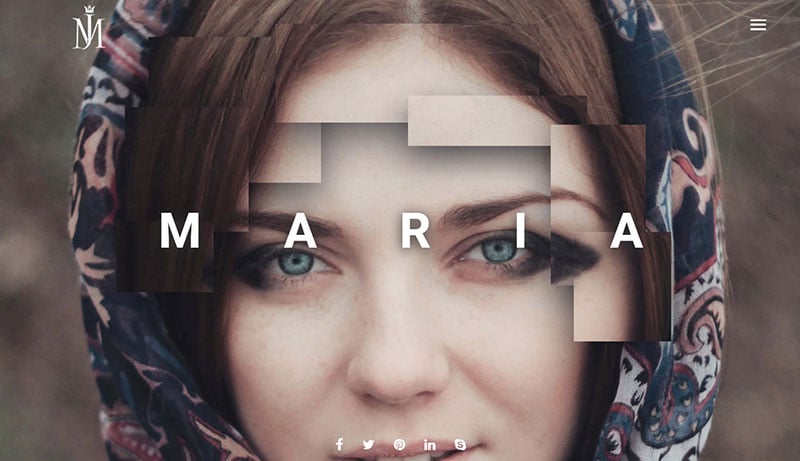 MJ is a great choice if you are looking for a creative website template. Some keywords to describe MJ are minimal, modern, and unique.
It is completely responsive thanks to the Bootstrap 3.2 framework. It has a range of home page and inner page designs for single and multi-page sites.
It is perfect for showing off your company or a portfolio.
Working with MJ is very easy and intuitive. What's more, it has extensive documentation to guide you through the process.
Some important highlights are:
Bootstrap
Clean design
CSS3 animations
Full Responsiveness
Validated HTML5
Excellent Documentation
Fizcon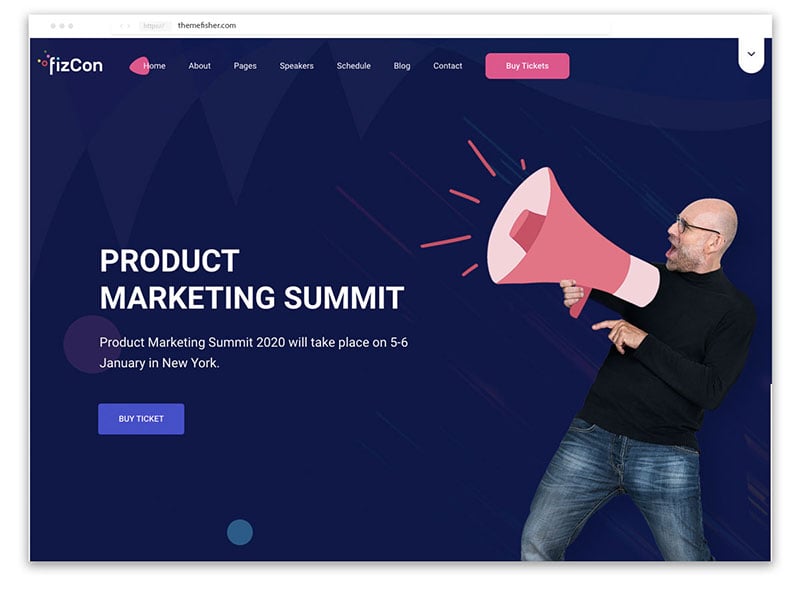 Fizcon is a website template for seminars, conferences, forums, and similar events. It offers four homepages and twelve inner pages.
Based on Bootstrap, it offers some stunning parallax scrolling effects. Fizcon also includes transition effects and amazing color schemes.
This template will look amazing on any device and ensures a great user experience. More important, it is SEO and speed optimized so that your website will rank highest in search engines.
Larsia Gold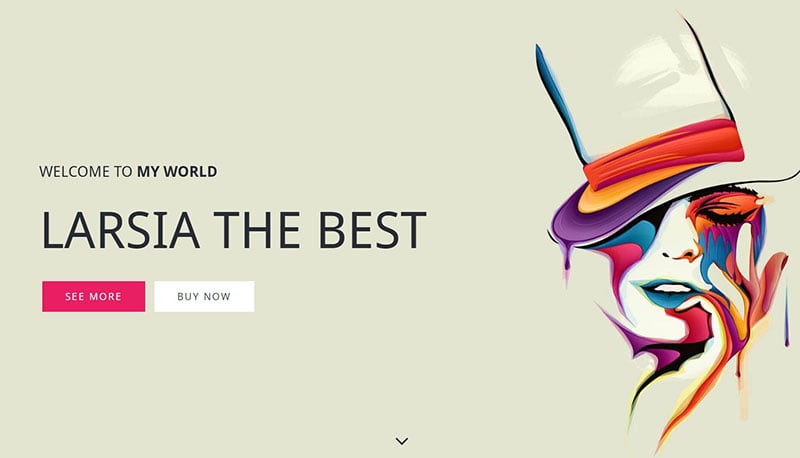 Larsia Gold is a one-page theme for personal websites.
The HTML5 template helps you to present yourself to the world. It also includes a resume page for easy customization.
It uses the latest web techniques, like HTML5, CSS3, jQuery, and Bootstrap 3. That ensures fast loading times and full responsiveness.
The design is modern and attractive and always looks good. A brief summary of Larsia Gold:
Bootstrap 3
Completely responsive
Ten different heading styles
jQuery and CSS3 animations
Isotope portfolio filtering
Full-screen portfolio
Clients and testimonial section
Dynamic contact form with PHP and AJAX
Clinkers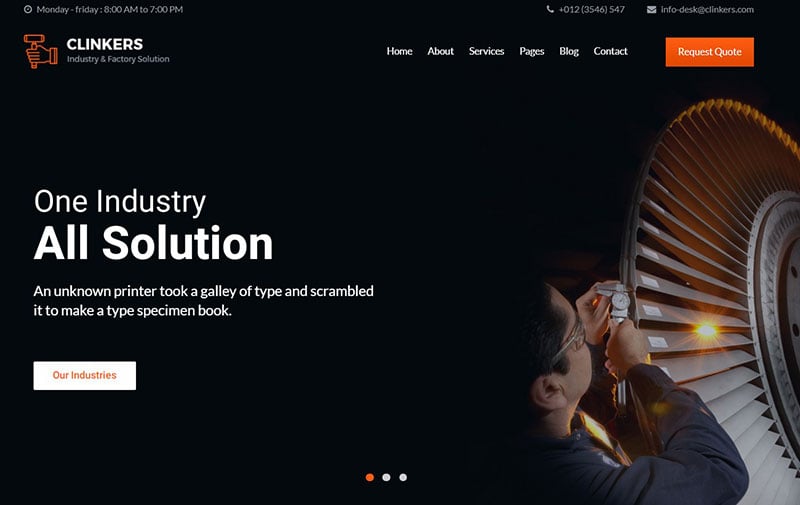 Clinkers is the ideal solution for making professional business websites of any type. These could include building, construction, or engineering websites.
This theme offers two views, boxed and full-screen. It is responsive and is especially suited for mobile screens.
On top of that, Clinkers is Retina Ready and works with all popular browsers.
There are many other useful features and it uses clean and simple code. A PHP contact form makes it suitable for various marketing purposes.
White Space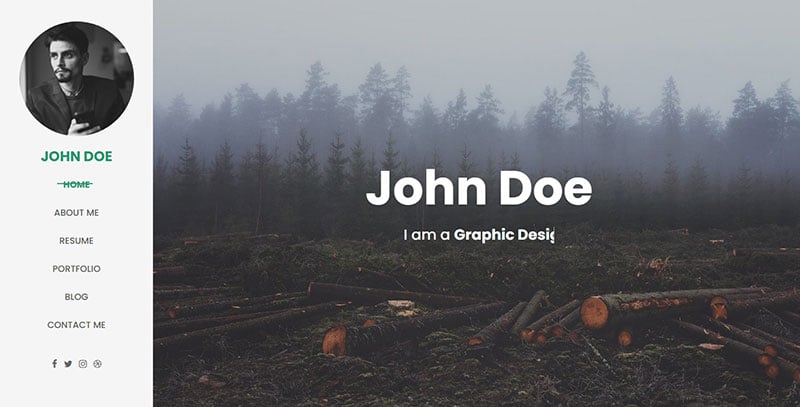 You could use this template to create personal, portfolio, or freelance websites. These are only a few examples of its possible applications.
Some of the technical features of this HTML template are:
Complete responsiveness
Clean code
Font Awesome
Google Fonts
Minimal and clean design
W3C validated HTML5 and CSS3
Working forms
Weber
This interactive website template uses a modern and practical page builder named Supra. It makes Weber a perfect choice for building multi-purpose websites.
Weber is based on Bootstrap 4 which makes it responsive.
You have endless design options with over 400 sections available. There are 31 demos to make creating a website even faster.
Some of Weber's additional characteristics are:
Animations
Parallax effects
Mega menu
Carousels
Simple code editor
Form builder
Various marketing services
Eight preloaders
SEO optimized
Beardz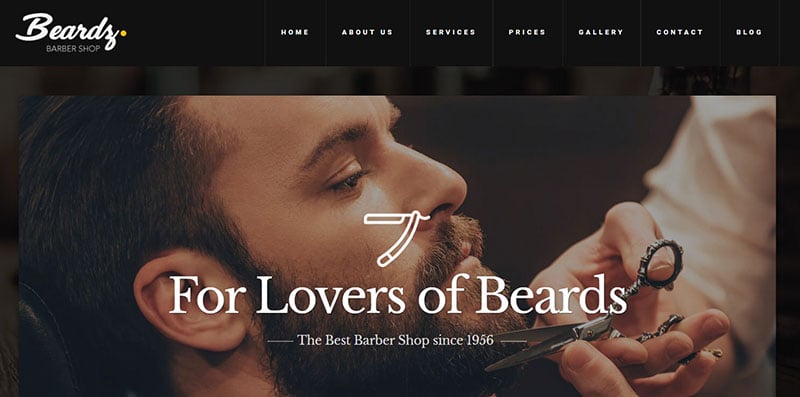 The final entry on this list of interactive website templates is Beardz. Its design suits websites for barbers and hair salons.
It mixes a beautiful layout with interesting interactive navigation features. Beardz is very easy to work with thanks to the well-organized code.
It uses Bootstrap, is responsive, and is retina-ready. It has smooth animations and a working contact form.
Conclusion on the best interactive website templates
This list of interactive website templates should prove to be of great use to you. It contains the best HTML templates of this year.
They all make use of the latest coding trends. Their features will help you to build a website that is unique and holds the attention of visitors.
Your site will not only look beautiful, but it will also work perfectly. Review this list and pick the interactive website template that meets your needs.
If you enjoyed reading this article with interactive website templates, you should check out this one with professional website templates.
We also wrote about a few related subjects like creative website templates, how to add a beautiful video background to your website, animated website templates, consulting website templates, personal website templates, music website templates, florist website templates, non-profit website templates, church website templates, and the best WordPress sliders.
---
The Best Interactive Website Templates (30+ Examples)