Any service industry business must have an impressive online presence to optimize revenue. That is especially true for companies providing medical services directly to their clients.
A specially designed medical website boosts a clinic's online presence. Thus, medical businesses need to customize their website to their field's needs. There are several eye-catching medical website templates to create such a website. These template designs and other features target businesses in the medical field.
This article provides over 25 of the best medical website templates for WordPress to help you design the perfect medical website. And it will describe key features that each medical website template offers. All of them were designed specifically for the medical field and make an easy-to-use professional website. These tools are ready to help you attract more clients.
Medicare Medical Services Website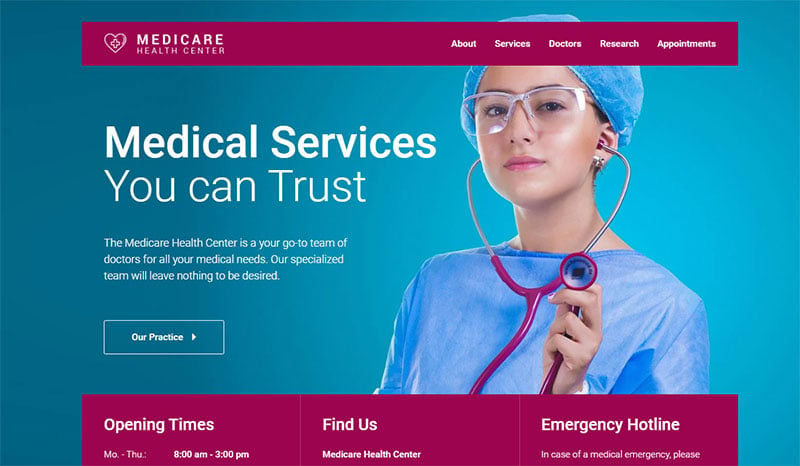 Delmont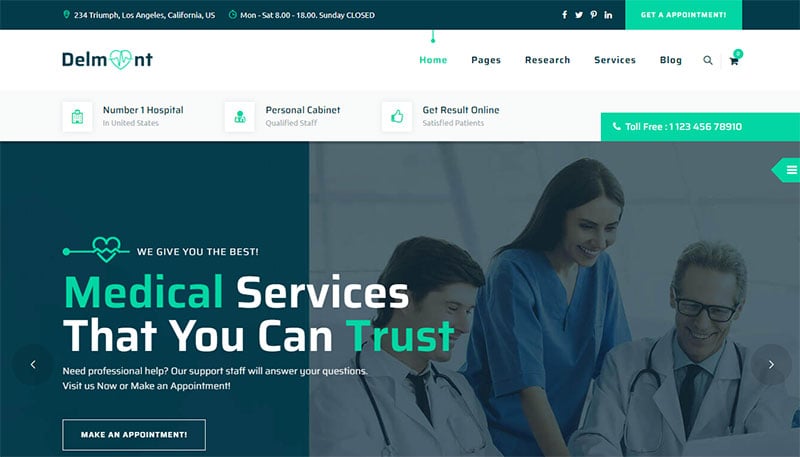 The first example is an HTML template for various medical applications. Hospitals, doctors, psychiatrists, and chiropractors will find Delmont is the perfect solution.
The Delmont medical website template offers event, testimonial, and team pages. The main page's attractive design leaves a professional impression immediately. You can choose from three different layouts with a pleasant color scheme.
Flexibility, robustness, and a simple design make Delmont the ideal template for medical websites. And the developers also provide superb customer support. This professional website will significantly improve your online presence.
MedicalGuide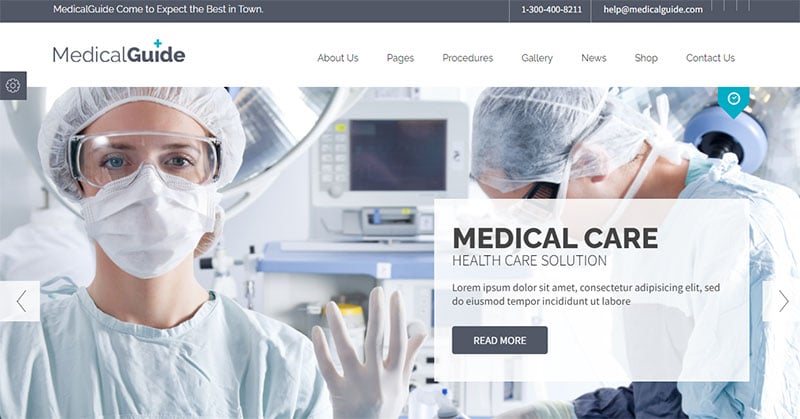 This fully responsive medical template uses Bootstrap, making it easier to customize. The retina-ready graphics and documentation folder will help you design a beautiful website.
Below is a summary of MedicalGuide's most prominent features:
Completely retina-ready
More than 2,500 font icons
Three sliders
Two headers
Three home pages
Eight color variations
Clean and attractive design
Google Web Fonts
W3C validated
Seeva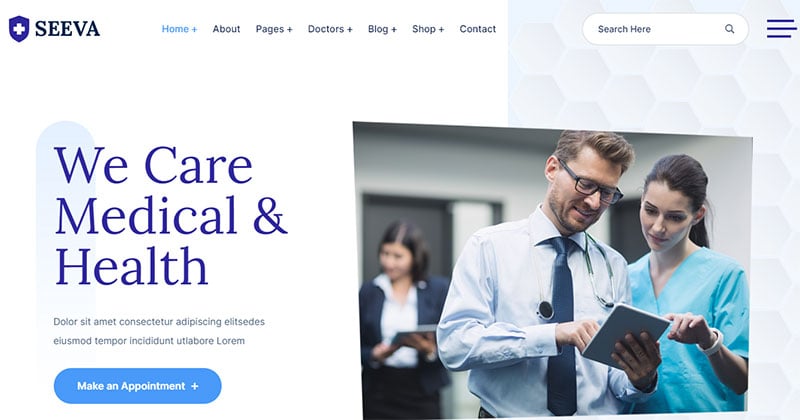 Seeva is one of the best medical website templates. This HTML template for healthcare, hospital, medical, dental, and pharmacy websites has all the necessary blocks and layouts.
It has more than five homepage layouts from which to choose. You can use them as they are or customize them with your own designs. And creating a new layout with Seeva is stress-free.
The Seeva template offers a wide range of powerful features:
Bootstrap 4
Clean and modern design
Fully responsive
Pixel perfect
SCSS included
Unique effects and functionalities
W3C validated HTML5 and CSS3 code
MedicalPress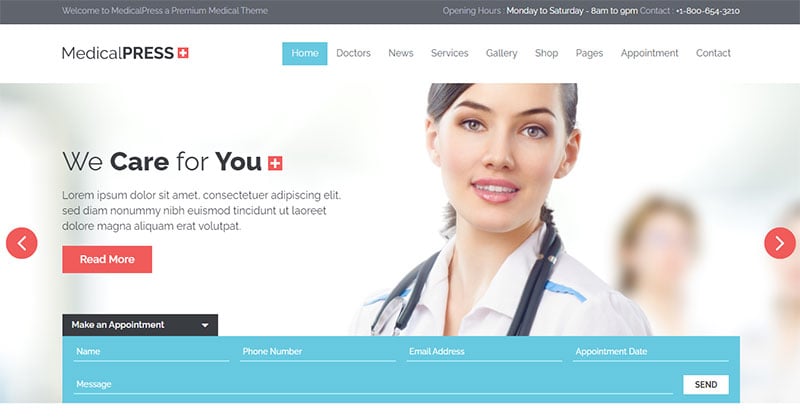 MedicalPress is ideal for making a professional medical website. The multipurpose template design has a medical doctor detail page and a service page to describe your clinic's services in depth.
This medical website template uses Twitter Bootstrap for a responsive website. High-resolution images will make your website look even more professional.
The well-equipped MedicalPress contact page supports Google Maps to display your location. And theAjax contact form lets visitors make appointments right on the website.
Health Medical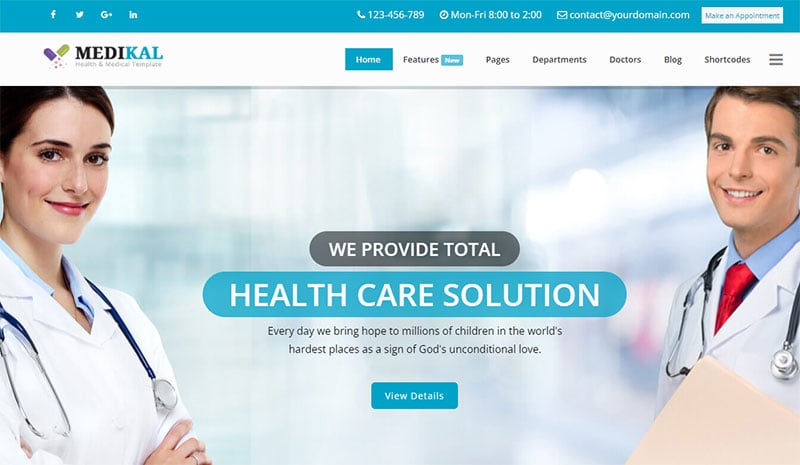 The following top medical website template is Health Medical. This WordPress theme is perfect for:
Doctors
Clinics
Dentists
Healthcare professionals
Pharmacies
Hospitals
Fitness centers and gyms
Surgeons
It is responsive and supports all popular browsers. People can get to know your business through your Health Medical website on any device or browser.
Some of Health Medical's features are:
Fourteen home page variations
Over 380 HTML files
Eight index multi-page demos
Bootstrap
Easy customization
Index single page demos
One-page and multi-page demos
RTL page demos
MediCenter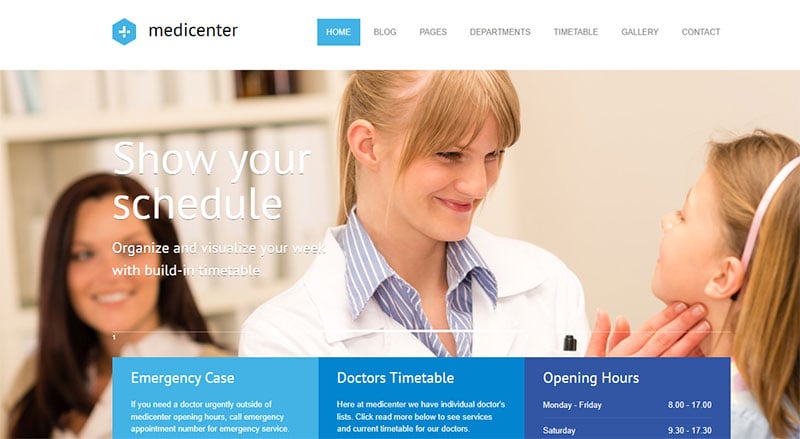 MediCenter is a medical website WordPress theme. Clinics, hospitals, and similar medical organizations will particularly enjoy it. It also serves spa, pharmacy, gym, veterinarian, and ophthalmologist websites.
These websites work perfectly on all browsers. It comes with several homepage layouts and more than 20 page templates. The more than 50 icons and appointment forms add even more functionality to your site. That and many other features make a beautiful site to attract more clients.
Vicodin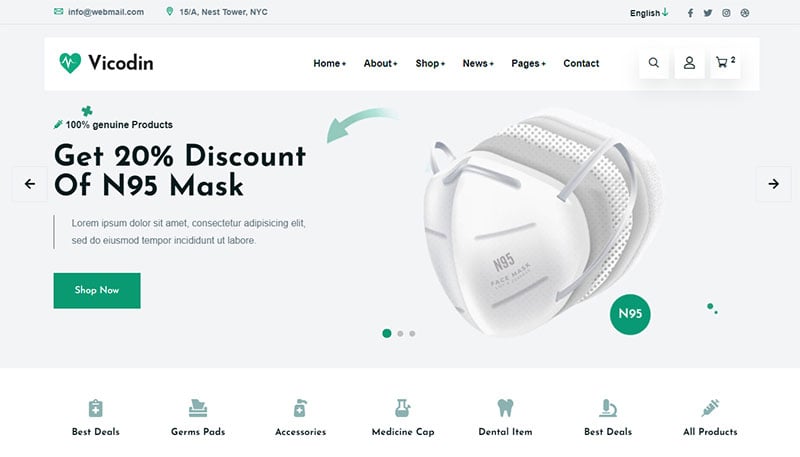 If you want to make a medical website with eCommerce capability, Vicodin is the right choice for you. This HTML template uses the Bootstrap 5 framework for easy customization. So you have the freedom to modify any section of the template just the way you want.
Vicodin supports all modern browsers and works well on any device and screen.
You can choose between three different home page layouts and several internal pages designed for a medical clinic or similar business.
Other indispensable features are:
Three home page layouts
Over 30 inner pages
Three header variations
Bootstrap 5.0.2
Color options
Font icon options
Font options
Free updates
Customizable background images
Modern design
Video background option
Venom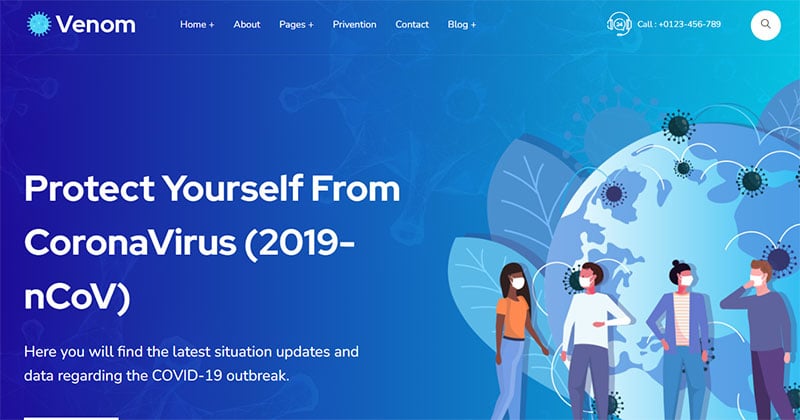 Venom is a medical website template that targets the medical world's current needs. Its primary purpose is creating awareness for COVID-19 and Coronavirus and how to protect yourself.
With Venom, you can easily create a website or landing page as a public service. Some of this website template's features are:
Two home page styles
CSS3 animations
Flat icon
Free Google Fonts
Full responsiveness
CSS3, HTML5, and jQuery
Fresh design
WC3 validated code
Working Ajax contact form
Care Giver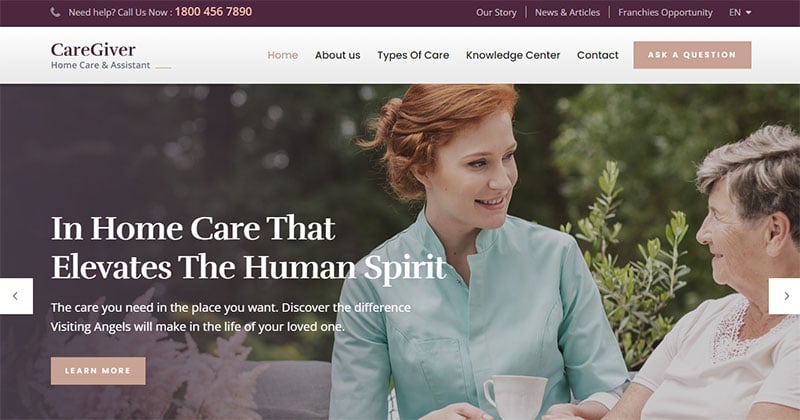 Care Giver offers a stylish but simple template that works well for senior centers, assisted living facilities, and similar health services.
You get five demos with Care Giver, all with amazing features. All templates provide an appealing design and retina-ready display options, making this theme even more attractive.
Some key features are:
More than 16 page demos
More than 16 valid HTML pages
Multiple blog layouts
Responsive layout
Slider Revolution
Maxi Health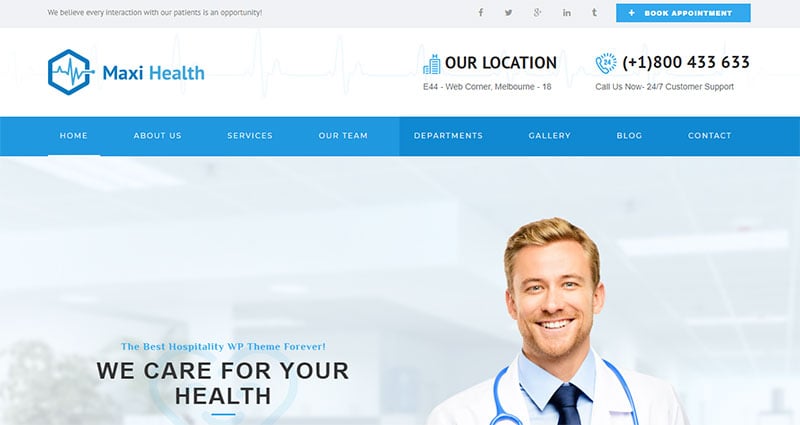 Maxi Health is an incredible fully-responsive medical website theme built around the Bootstrap framework and beautiful CSS3 animation effects. Its optimized code is easy to use and customize.
Here is a summary of Maxi Health's key features:
Impressive CSS3 effects and animations
Bootstrap
Font Awesome icons
Full responsiveness
Google Maps integration
Optimized code
Retina ready
Simple to use and customize
Medical Health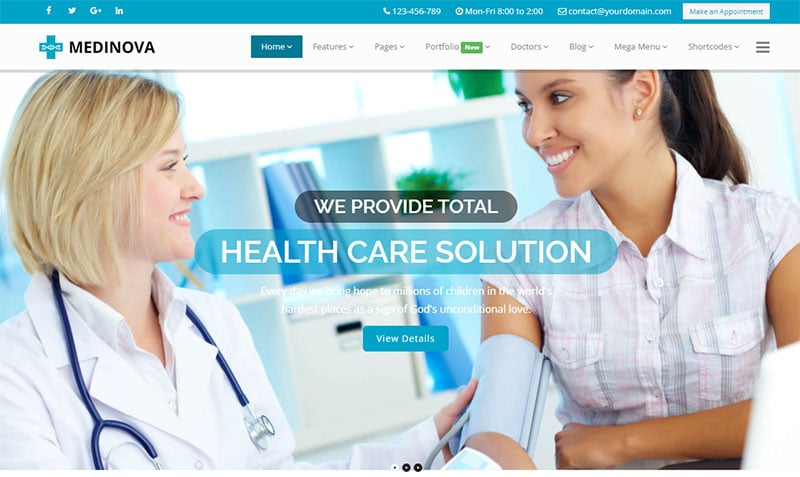 This WordPress theme's name explains its purpose; it specializes in health and medical field websites. And doctors, dentists, clinics, and hospitals will appreciate Medical Health's field-specific design. The predefined elements make building a medical website easy and effective.
The Bootstrap framework forms the core of this responsive medical template, makingit pleasant to use. Medical Health is compatible with any browser, building an even betteronline presence.
Mebid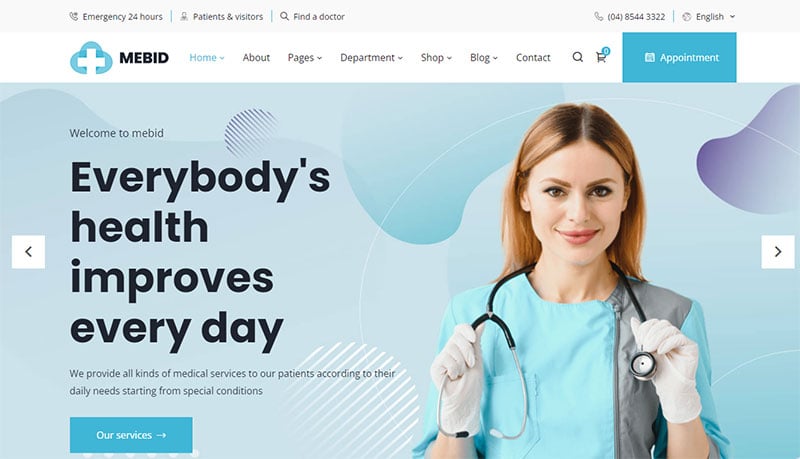 Mebid is what you want for a responsive medical HTML website. You can choose between three demos, including blog and inner pages. Mebid has Sass and Bootstrap 5.x at its core and istranslation-ready, including Hebrew and Arabic languages.
Mebid's code is lightweight, fast, clean, and W3 validated. It is straightforward to use and customize. The detailed documentation and functions also create an expandable site.
A summary of its features:
Three demos
AJAX contact forms
Bootstrap 5
MailChimp
Retina ready
RTL version
Sass
Medcity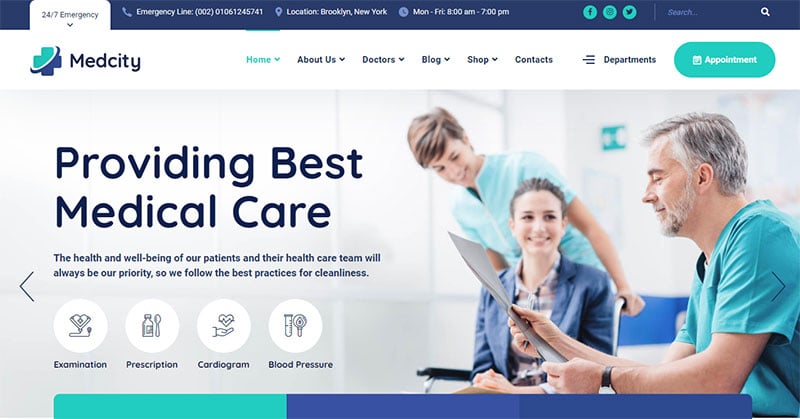 Medcity makes professional and flexible HTML5 pages. Like other website templates listed, it's most suited for clinics, hospitals, and similar businesses. The developers' in-depth research into medical website needs has made a unique multipurpose theme.
It offers a wide range of powerful features:
Five homepage layouts
More than 24 W3C validated HTML pages
Over 90 user interface blocks and options
About page templates
Endless page layout options
Projects and case study page templates
Service page templates
Team page templates
Several layouts
Mediplus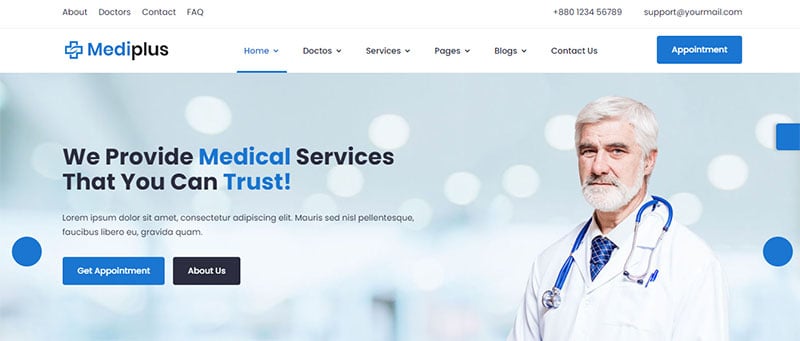 This professional template targets medical and health industry websites. Doctors, pharmacies, hospitals, and laboratories will benefit from its specialized features. Others, such as physiotherapists, gynecologists, psychiatrists, vets, and dentists, will also appreciate it.
Thanks to the Bootstrap 4.0.0 framework, this modern and responsive theme will captivate your visitors, resulting in more clients for your business.
Velazio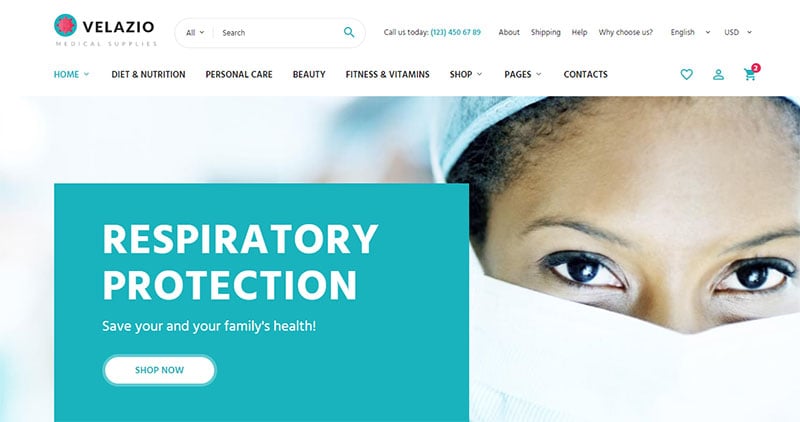 This modern theme addresses medical needs for the ongoing COVID-19 pandemic. Velazio presents your medical supply business and products on one website. Visitors will know what to expect and how to contact you.
This medical website template offers features for selling products and services online. The webshop's powerful search function helps customers find what they are looking for.
This SEO-friendly template ensures your website is visible to search engines, boosting your online presence.
Medin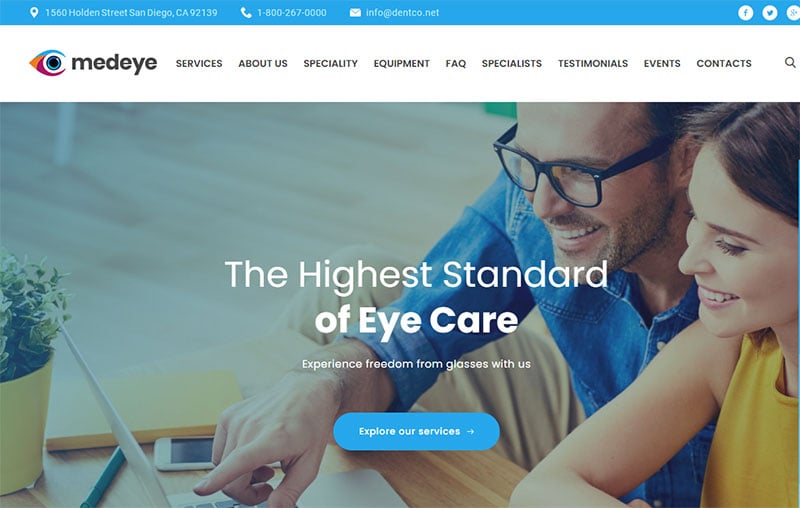 This premium template offers seven HTML layouts for medical laboratories, clinics, and dentists. The single-page or multi-page website is retina-ready, responsive, and works well on mobile devices.
The designers created this theme to offer a range of features filling the medical businesses' needs. It has a timetable schedule, appointment forms, and two different galleries. Some other features are:
Bootstrap
Different color schemes
HTML5 and CSS3
Single-page version
Seven different layouts (dentist, medical clinic, laboratory, ophthalmologist, skin surgery, weight loss)
Healsoul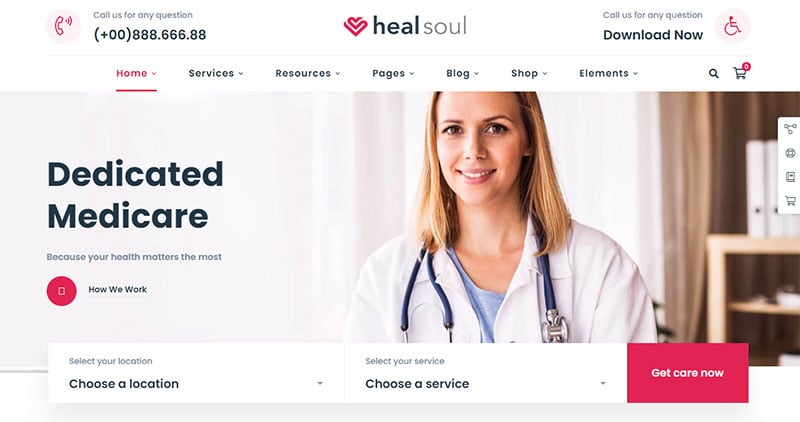 Healsoul is a lean theme that provides just the basic needs of a medical website.
To simplify customization, it has six different homepages, 20 header styles, seven title bars, and over 65 custom shortcodes. And its responsiveness delivers visitors an excellent user experience on any device and screen size.
Additional features Healsoul includes:
Font Awesome Pro
Free lifetime support
Megamenu
Slider Revolution
Smart search form
WP Bakery Page Builder
Mediseba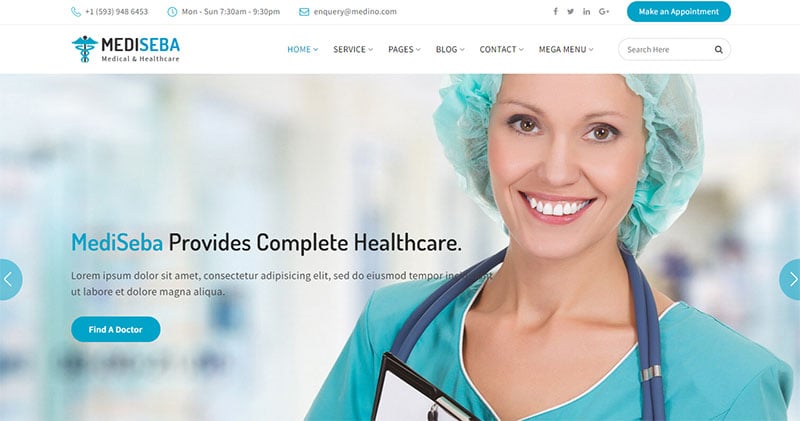 This modern responsive medical website template has everything you need. It's simple but well-built and uses an up-to-date framework.
Mediseba's comprehensive documentation and simple code focus on SEO optimization. You can easily add or remove details as needed. And it works well with nearly all browsers.
It includes one demo homepage, and the developers will add more soon. You will enjoy the benefits of Font Awesome icons, Google Fonts, 30pages, and more. Medisebaalso provides an AJAX-based contact form so that visitors can contact you straight from the website.
Dental Dentist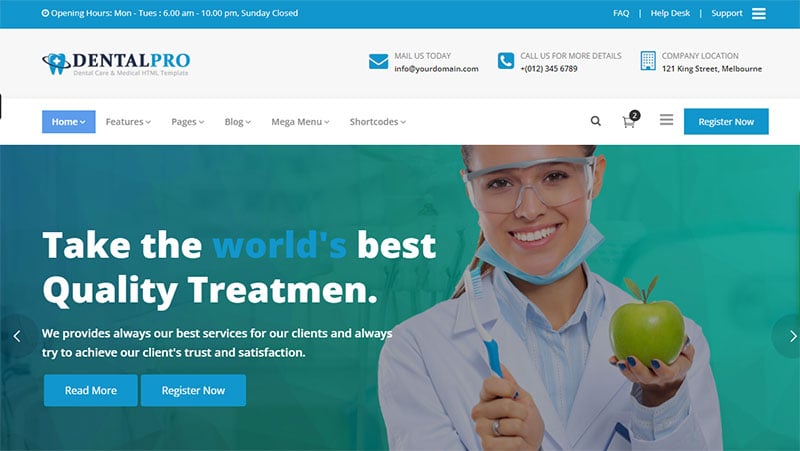 Continuing the list of best medical website templates, you have Dental Dentist. This responsive medical theme focuses on the needs of dental clinics. You can use the theme's default design or customize it to your liking.
It offers many valuable features and homepages, so you can choose the one you like best. This responsive theme always provides your visitors with an excellent user experience.
Here are Dental Dentist's most prominent features:
Twelve multi-page demos
Twenty-four home page variations
More than 350 HTML files
Five popular page demos
More than 67 handy shortcodes
Boxed demos
Easy customization
Single-page and multi-page demos
RTL page demos
Clinico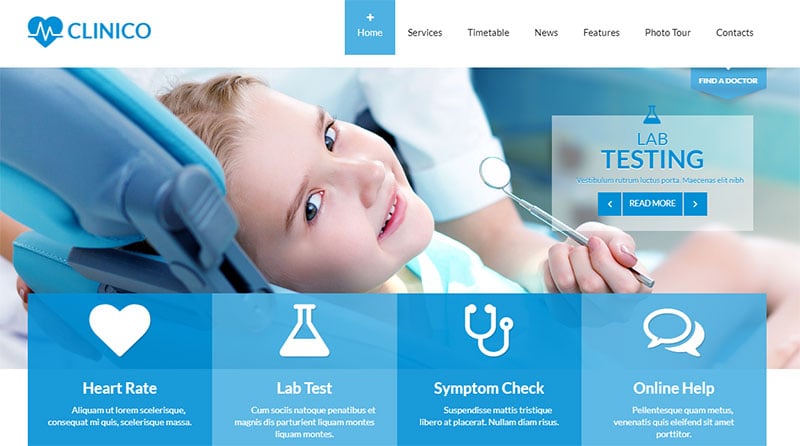 Clinico is a responsive medical template fitting various health and medical industry applications. Its clean appearance is suitable for both corporate sites and personal blogs.
You wil enjoy this website on whatever device you use, and the retina graphics make it even better.
The Clinico package includes boxed and wide layouts and six color schemes you can customize.
Besides that, you will enjoy different layouts, web elements, contact forms, widgets, and more.
MediHub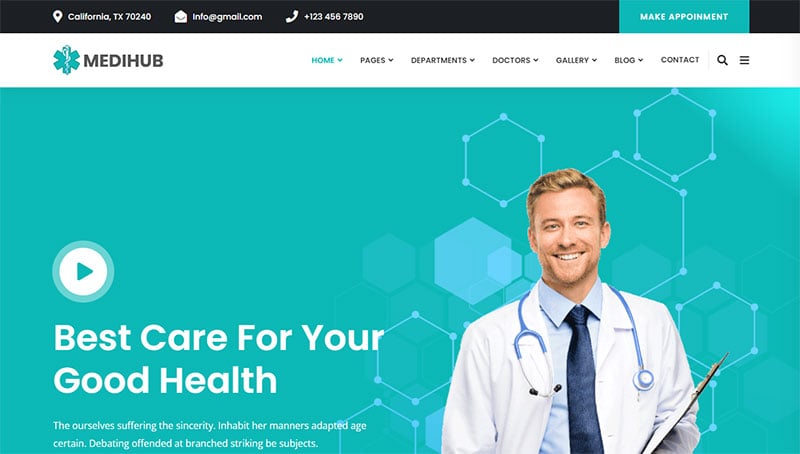 MediHub is easy to work with and customize. This fully responsive multipurpose template works for any health and medical business. Examples include cardiologists, clinics, surgeons, dentists, optometrists, psychiatrists, vets, and physiatrists.
This theme includes more than 35 valid HTML5 pages and 14 home page designs.
MediHub is suitable for private clinics with various specialties or offices with just one doctor. Its features are everything a medical website needs, from clear and well-commented code to an understandable file structure. MediHub also offers excellent 24-hour support.
Medilink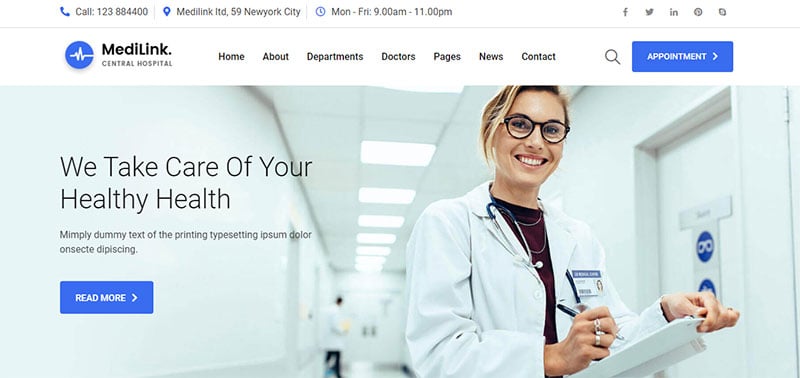 Excellent responsiveness and fast stylesheets thanks to Bootstrap 4 are just some of the great things about this medical website template.
Medilink helps you to get online fast. It has four home page demos and 20 inner pages. You can also add a timetable and scheduling page. This ready-made template only needs your customization. Then your patients can use the appointment forms to book an appointment quickly. And you can present your team on one of the pages.
This affordable template includes 15 hours of customer support.
MediDove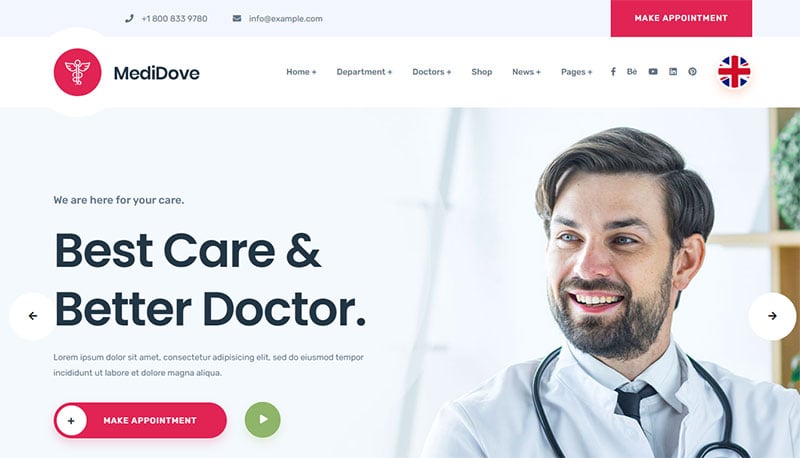 MediDove is a Bootstrap and HTML template for medical professional websites, such as psychologists, laboratories, hospitals, and dentists.
You can design a layout based on a 1170x grid or Bootstrap. This beautiful template has what you need for your healthcare website.
It has three home page demos, a shopping cart, About and services page, an appointment scheduler, a blog sidebar, and more.
MyMedi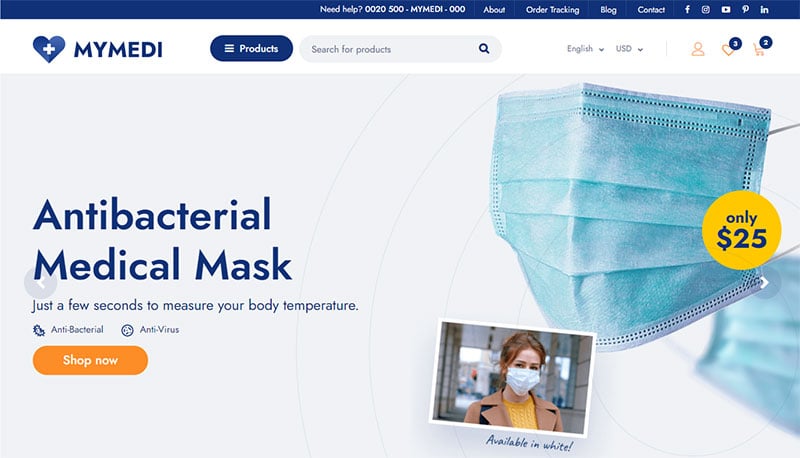 With MyMedi, you can make a medical website and include an online shop. This HTML5 template has everything you need to make an attractive website.
It offers app-style navigation and can display your logo at the top, saving space on small mobile phone screens.
The shop page offers five attractive layouts from which to choose.
You can send newsletters and manage subscriptions with MailChimp integration. It also supports Google Maps, so you can display your clinic's or practice's physical location.
Mecina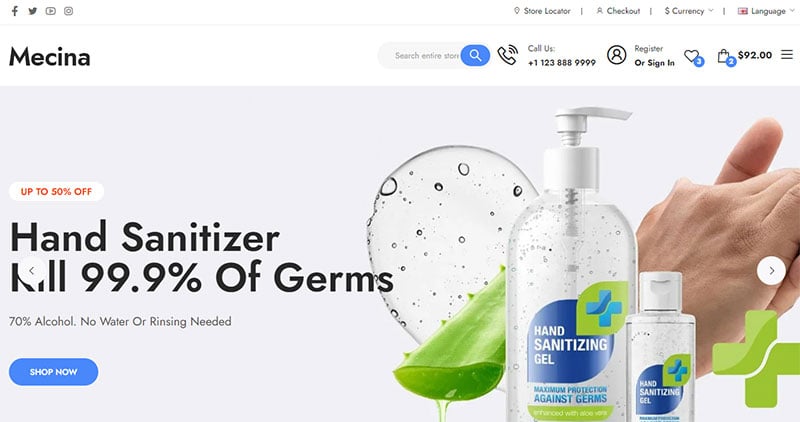 Mecina is hand-coded and designed especially for medical and healthcare enterprises. You can also make a medical center, pharmacy, COVID-19 care, or online medical shop site.
The over 28 HTML pages and four homepage layouts have various sections, like a product tab, testimonials, and featured products.
The sticky header makes navigation easier for your visitors. Mecina includes Google Web fonts, making the pages readable for everyone.
Medix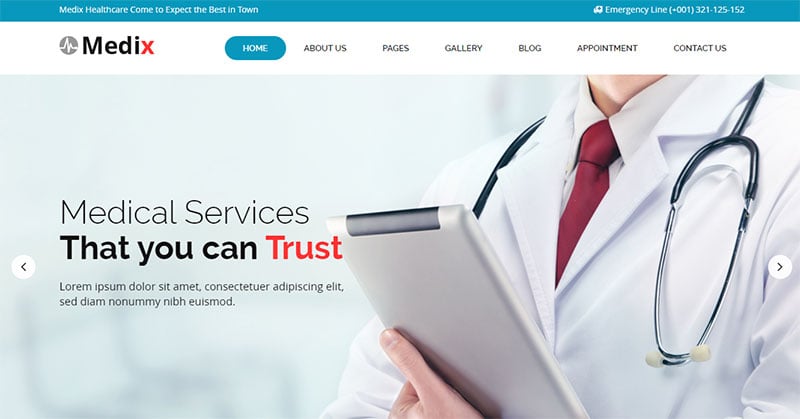 Medix is a creative template specifically designed for medical and health websites. It has sections for testimonials, appointment forms, galleries, services, and doctors.
The clean and well-organized code ensures effortless editing and customizing. Its responsive layout looks perfect on any device. And its features make it is one of the best medical website templates available.
The comprehensive selection of website templates and home pages includes Font Awesome, Font Icons, and a professional design.
Carenow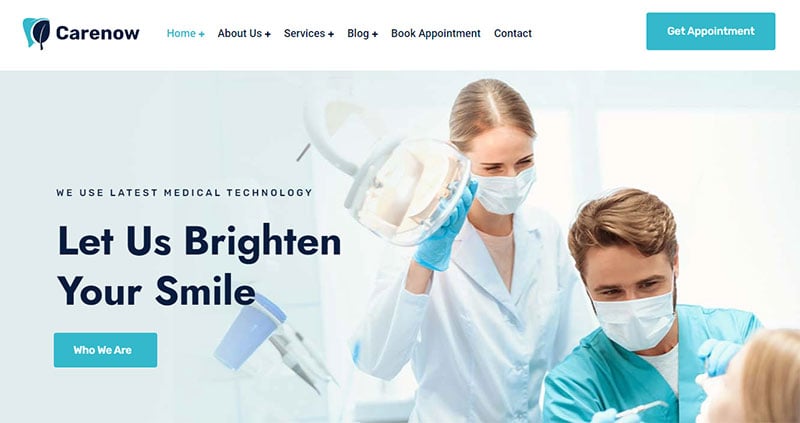 The last medical website template on this list is Carenow for dentists, medical doctors, and other healthcare professionals.
The design of the medical templates is beautiful, responsive, and 100% retina-ready. It is built around the Bootstrap framework, ensuring easy customization. You can make any design that you like with this premium medical theme.
FAQs about medical website templates
1. What types of medical website templates are available?
There are many different kinds of medical website templates available, including those for dental, dermatology, chiropractic, and more in addition to general healthcare themes. While some templates are made for hospitals, clinics, and medical practices, others are made for health news websites and medical blogs.
2. How do I choose the right medical website template for my practice?
There are many different kinds of medical website templates available, including those for dental, dermatology, chiropractic, and more in addition to general healthcare themes. While some templates are made for hospitals, clinics, and medical practices, others are made for health news websites and medical blogs.
3. Can I customize the medical website template to fit my brand and needs?
Yes, you may alter the majority of medical website templates to suit your preferences and brand. To develop a special website that represents your practice, you can modify the colors, fonts, layouts, and add or remove features.
4. Are medical website templates responsive and mobile-friendly?
Yes, the majority of contemporary medical website templates are made to be mobile-friendly and responsive.
As a result, users on PCs, laptops, tablets, and smartphones will have the best possible viewing experience on your website as it adjusts to various screen sizes.
5. What features are included in medical website templates?
Depending on the template supplier, different functionalities may be present in medical website templates.
However, the majority of layouts have standard functionality like blog sections, contact forms, and appointment scheduling. Advanced features like e-commerce capabilities, medical animations, and virtual consultations are also included on some layouts.
6. How do I integrate appointment scheduling and patient portal into my medical website?
Using third-party software or plugins, you can incorporate patient portal and appointment scheduling functionality into your medical website. Many medical website templates provide built-in connections to well-liked patient portals and scheduling applications like Practice Fusion, Healthgrades, and Zocdoc.
7. What kind of support is available for medical website templates?
It depends on the template vendor and what kind of support is offered for medical website templates. To assist consumers in getting started, the majority of providers provide documentation, video tutorials, and support forums.
While some services offer live chat assistance and even customized website design services, others only offer email and phone help.
8. Can I add my own content and images to the medical website template?
You may absolutely add your own text and graphics to the template for a medical website. The majority of templates have built-in content editors that make it simple to create and edit pages. Drag-and-drop interfaces let you include pictures and movies on your website.
9. How do I ensure that my medical website is HIPAA compliant?
You must adhere to stringent security and privacy regulations to make sure your medical website is HIPAA compliant. In order to achieve this, safe hosting, SSL encryption, the use of strong passwords, and the encryption and secure storage of all patient data are required.
If you want to be sure that your website complies with the relevant laws, you might also need to collaborate with a HIPAA compliance consultant.
10. What are the most popular medical website templates used by healthcare professionals?
Healthcare professionals frequently utilize the medical website templates Avada, MedicalPress, HealthFlex, and Medicare. These templates are appropriate for a variety of healthcare practices and specialties since they offer a variety of features and design possibilities.
Ending thoughts of medical website templates
That brings you to the end of this list of the best medical website templates. Now, you'll be able to choose the one that fits your needs perfectly.
All of them give you value for your money. You not only get many practical features and a beautiful design, but these themes also help you win your visitor's trust. A professional-looking website keeps people from thinking you're a quack. So pick the one that will elevate your business to the next level.
If you liked this article about medical website templates, you should check out this article about startup website templates.
There are also similar articles discussing actor website templates, business website templates, website templates with video background, and website templates for artists.
And let's not forget about articles on modern website templates, creative website templates, interactive website templates, and website templates with slider.
Professionally Looking Medical Website Templates You Can Use