Most bands and musicians know the power of social media to promote their music. However, that is no longer enough. The current music industry scene demands a stronger online presence.
Music websites dedicated to bands and artists are platforms for showcasing music to a broader audience. Likewise, it is a portal to discover more about gigs and a possible means to sell music and merchandise.
The WordPress plugin directory offers a wide range of music website template options. Each option's features aim at specific website needs. A music website can market a band or artist, keep fans updated, or encourage them to buy tickets or music.
A template that matches those needs offers a shortcut to improve online presence quickly. This article makes picking the right one easier. It contains a list of 23 of the best music website template options for music artists and bands.
Rockable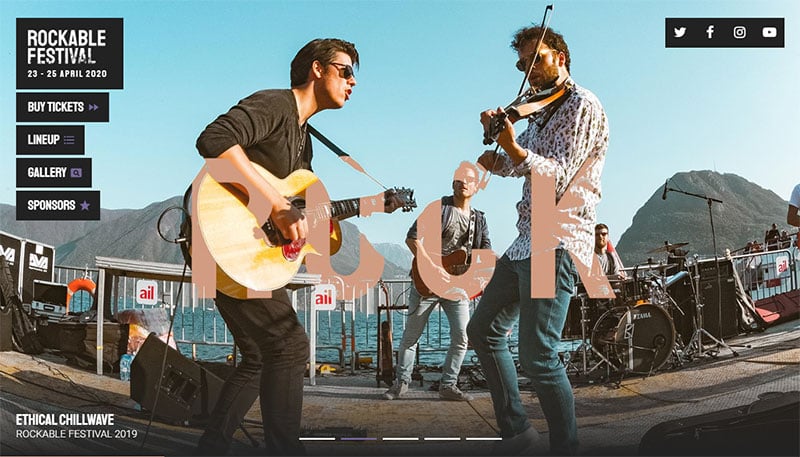 The first on the list of music website templates is Rockable. It includes an attractive website design, carousels, Hero, and sliders.
Music Band Website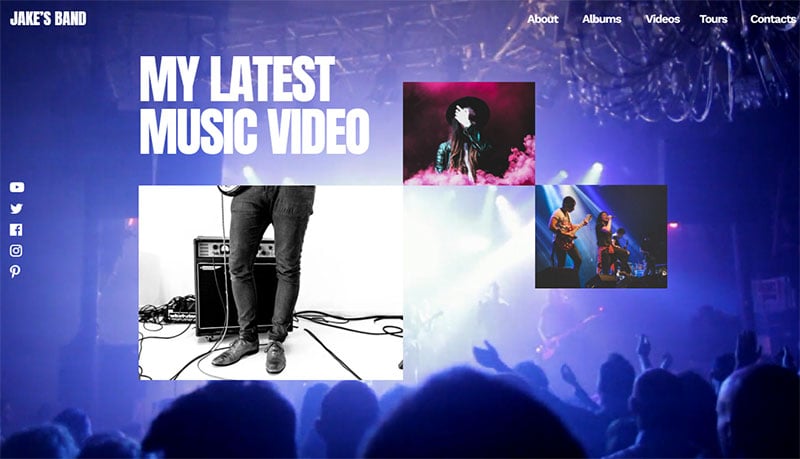 The Music Band Website template also offers sliders.
Volna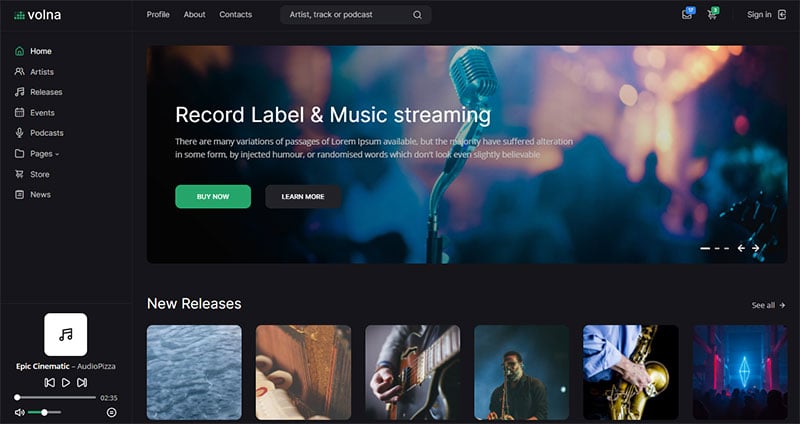 Volna is a responsive HTML website template designed for music websites. The unique layout, audio player, and variety of music website pages make it exceptional. Online music streaming, internet radio, blogs, and record labels are just some of its many applications. The options are endless.
Vice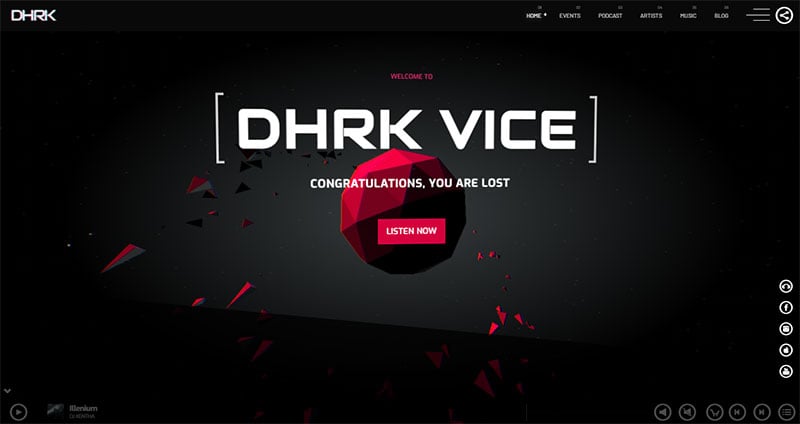 Vice is a great option for anyone that wants to make a professional music website. It is perfect for singers, musicians, radio stations, and clubs. It has an excellent music player and several other essential features.
Sonorama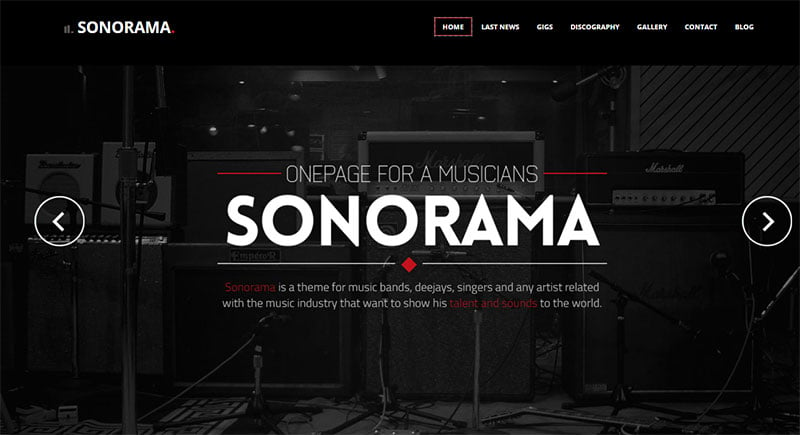 Sonorama is a music website template for bands, professional DJs, singers, and other music artists. Sonorama is the ideal WordPress theme to show off their talents for the whole world to see.
It offers endless design options and many customization features. The user can pick navigation styles, colors, backgrounds, patterns, and images.
Websites made with Sonorama look good in any browser and on any screen size. The sliders it offers are also responsive. It is based on CSS3 and valid HTML5.
Bishop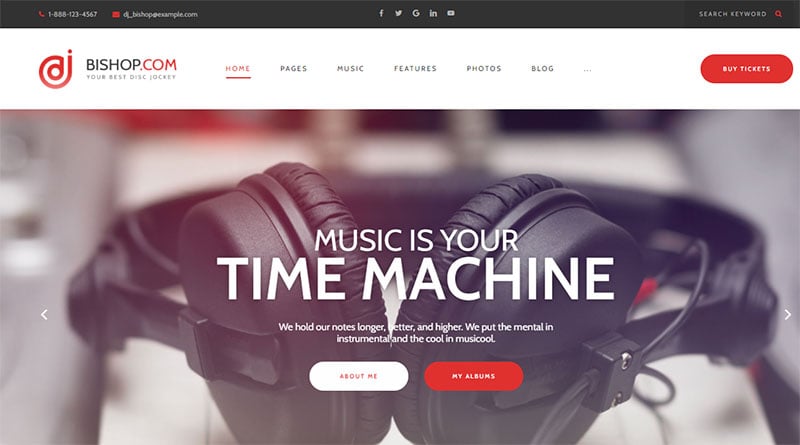 Anyone familiar with the industry will immediately recognize the name Bishop. It offers music website templates for DJs and other performers. It has a clean design that users can fine-tune according to their needs.
This flexible template comes with various homepage designs, inner layouts, and color schemes.
The visual page builder makes it very easy to customize the templates' appearances. There is a practical introduction video that shows how to make a website that attracts many visitors.
Ushno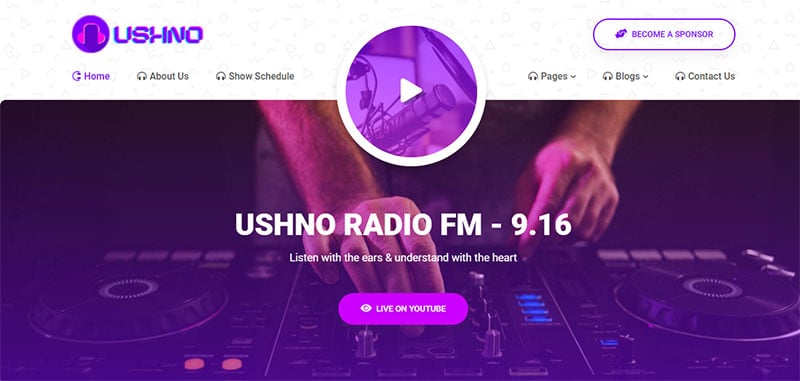 Ushno is especially suited for FM radio stations and other websites with mp3 music streaming services. This HTML music website template offers cool designs with a modern feel.
This WordPress theme is well worth the money because of the well-organized layers and other technical aspects.
This music template is compatible with mp3 streaming, internet radio, music, and video players. It can play mp3 music from any public streaming or FM radio station. Ushno helps people get to know the radio station easier through the internet.
MixMusic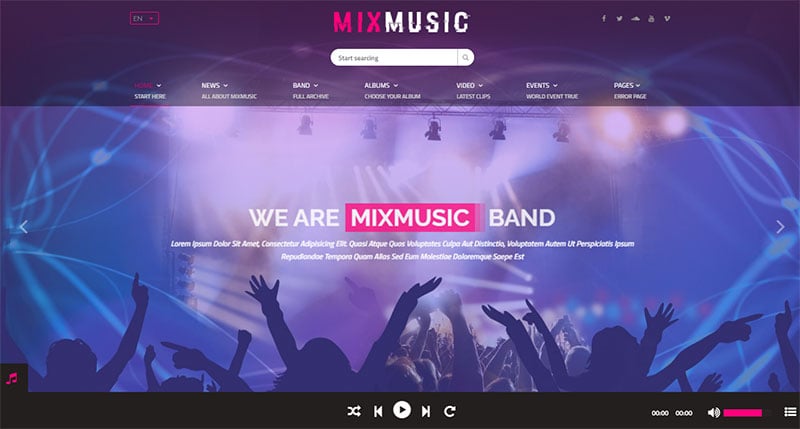 Mixusic is next on the list of best music website templates. This WordPress HTML5 template manages albums, artists, audio, and artists and facilitates the sale of music files. It is particularly suited for DJs and musicians.
MixMusic is a complete music website template that boosts business and showcases the portfolio. The user interface is intuitive, easy to navigate, and easy to customize. The layout is attractive and will increase visibility on the internet.
TheArtist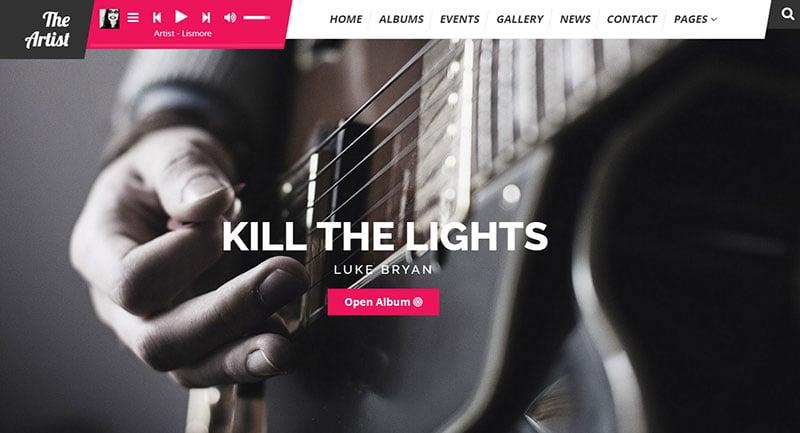 TheArtist is one of the many HTML website templates. This one specifically caters to the needs of the music industry. Music bands, DJs, singers, and radio stations will enjoy using it. The responsive template is optimized for easy visuals on desktops and mobile devices.
Some of its main features are:
Ajax Photo Gallery
Bootstrap
Customizable Audio Player Skin
Google Fonts
Fewer CSS files for easy color changing
MailChimp subscription form
Photo plugin for Instagram
Responsive Embedded Videos
Working contact form
Decibel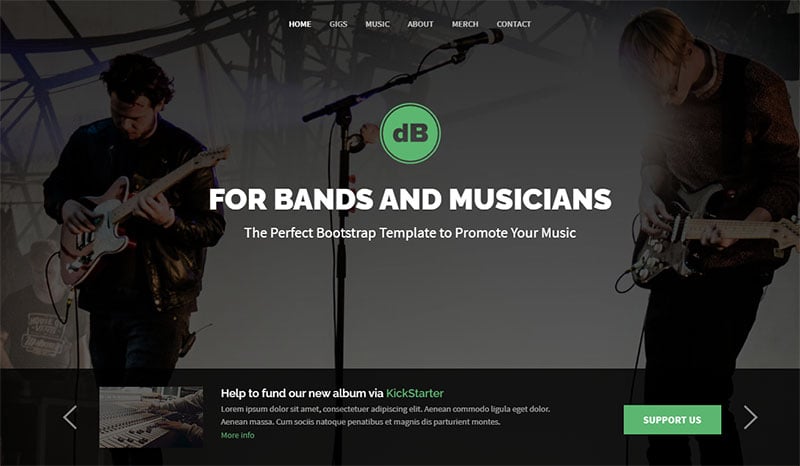 Decibel is a music HTML template designed for promoting musicians and music bands. Although indie music artists will enjoy this theme the most, musicians in any genre can make an attractive website matching their style.
It builds functional websites and beautiful landing pages. Decibel helps its clients to market their songs, promote concerts, and raise money by crowdfunding. Several valuable features and design elements achieve those objectives.
FWRD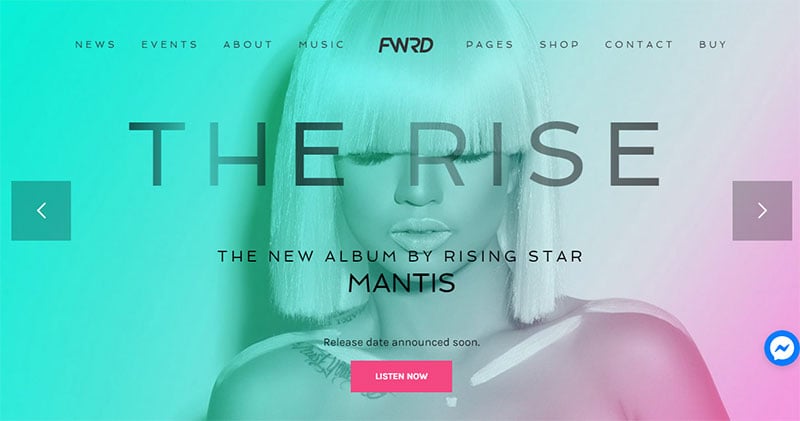 FWRD is a drag-and-drop WordPress website builder. It includes five different themes called demos. These demos have different designs with specific feels, such as The Fall and The Peak.
However, all themes have the same functionalities and offer the user complete flexibility. Each has a special section for announcing events and concerts. Also, an audio player plays music from Bandcamp, Mixcloud, or SoundCloud.
FWRD also offers the option of creating a WooCommerce webshop. That makes it possible to sell music and merchandise directly from the music website.
Bepop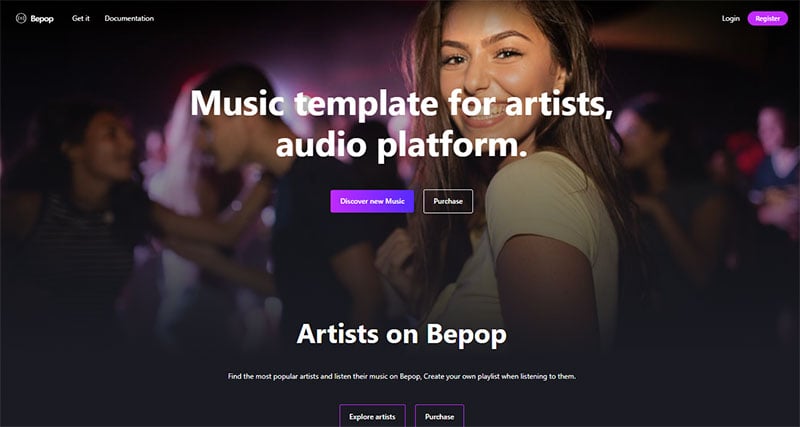 Music artists, bands, and recording studios are attracted to Bepop because it is an HTML template. It has a continuous music player, making Bepop the perfect choice for audio platforms and other music web applications.
This theme offers charts, genres, and artist or band pages. Other important features are:
Bootstrap 4
Non-stop player
Playlist player
Responsive layout
Transparent design
TheBand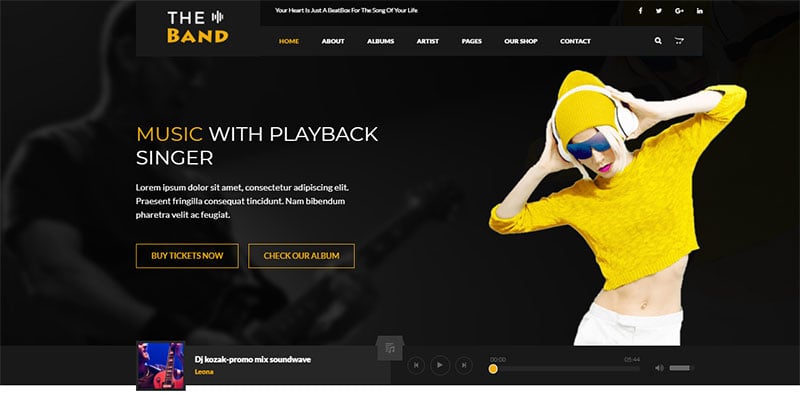 This HTML template appeals to the specific needs of the music industry, especially music bands and artists. TheBand is straightforward to use and easy to customize. Skin colors are easy to change.
The professional websites are responsive so that they look awesome on any device and any browser. The code is well-written, and there is ample documentation available.
TheBand is packed with useful features, such as:
Albums listing
Albums player
Customizable artist styles
Customizable blog styles
Customizable event styles
Customizable gallery styles
Music audio playlisting
Video album playlisting
All these features make TheBand the ideal music website template.
Muzik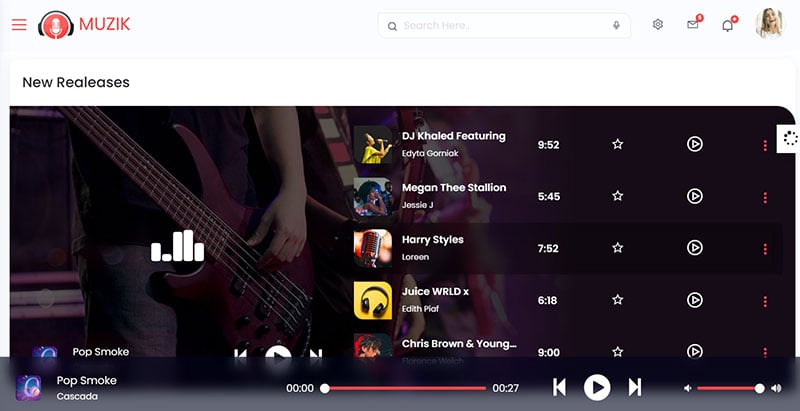 Muzik is a modern music VueJS and HTML template for streaming songs and other useful applications for the music industry.
The modern user interface aims at providing the best user experience. It offers a clean and simply designed homepage. And it's perfect for anyone that wants to stream music and similar applications.
Miraculous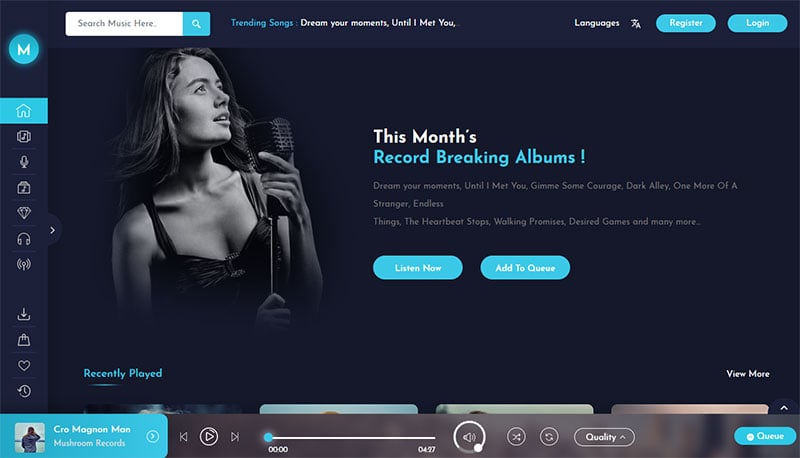 Miraculous is based on HTML5 and designed for online paid music streaming. There are two versions of Miraculous, light and dark. It includes 25 page templates.
The templates are built on Bootstrap and include music and video streaming functionalities. The feature design of Miraculous makes for a quick music streaming service setup.
Adonis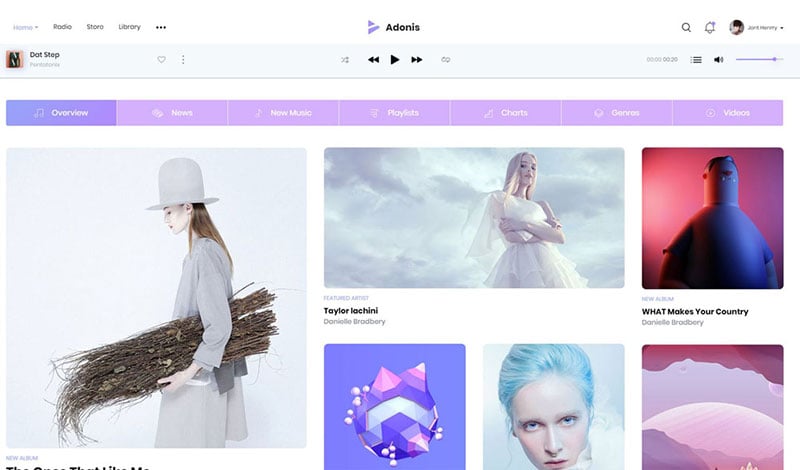 The Adonis website template is for music industry applications, including music stores, social networking, and portfolios. The theme offers various templates and many excellent features. It's so easy that anyone can create a professional website with it.
Adonis comes with six different layouts. A music player plays while visitors are browsing the site. It presents animations based on Ajax and Viewport while loading.
It contains two different search options. One is a simple search with classic input. The second one is for people who want to do an advanced search.
Mousiqua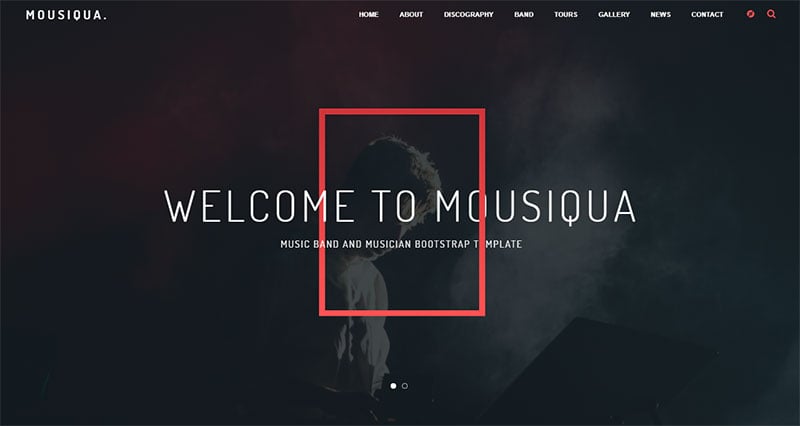 Mousiqua is a Bootstrap-based website template for music bands and artists. It helps people in the music industry create an unforgettable impression on the web page viewers.
Visitors can browse through the unique and elegant song page it offers. The Mousiqua templates are flexible and very customizable.
MusiX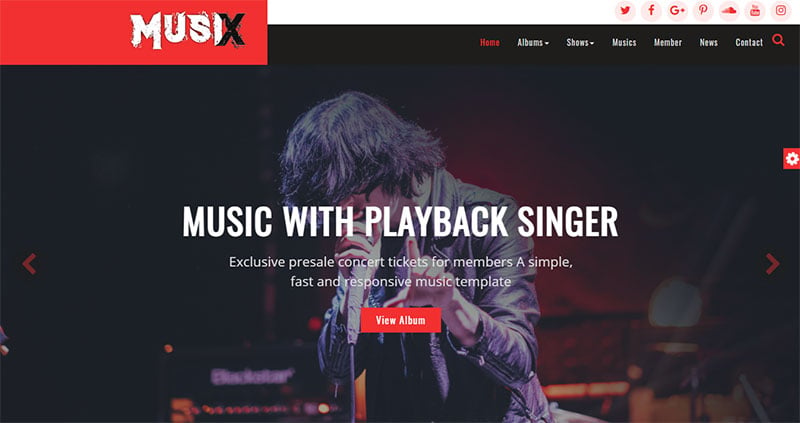 MusiX is another excellent modern music website template. The clean and simple design works great across most platforms. The templates are suited for music bands, artists, or anyone working in music.
It utilizes the most modern website technologies, such as CSS3, Bootstrap Framework, Gulp, HTML5, LESS, Modernizer, and Owl Slider.
MusiX allows the user to add different sections:
Band Members
Featured Albums
Featured Music (with Music Player)
Footers
Headers
Latest News
Sliders
Upcoming Events
Twitter Feed
Video (with Animated Popup)
The range of pages includes album listings, blog listings, contacts, event listings, single blogs, and single members.
Kube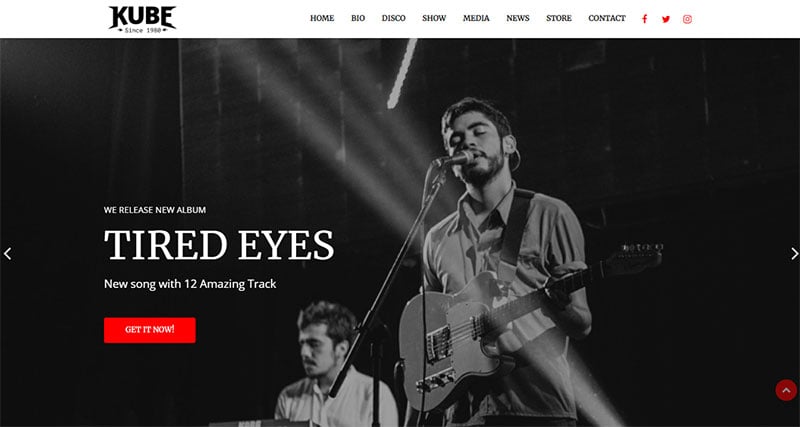 Kube is another responsive HTML template with a clean and modern design. It is most suited for record labels, music groups, artists, and agencies. However, it works equally well for any kind of creative website. Its main design professionally shows off the artist's work.
KUBE templates are beautiful and easy to use. This is why KUBE is so popular.
Bootstrap 4.2 framework runs behind the scene in this design. That makes it responsive and easy to customize. The well-supported code has clear documentation and works to improve the website's SEO.
Y.U.N.G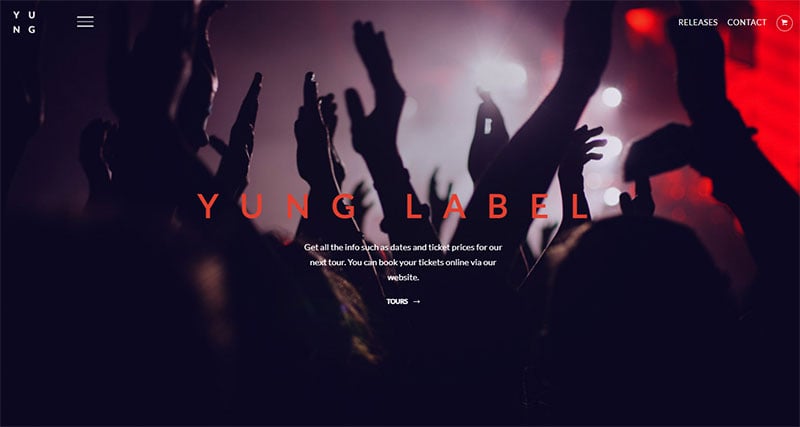 The Y.U.N.G. template is well-suited for music groups, music producers, and recording studios. It enjoys multiple clean-looking pages, demos, and Revolution Slider.
The GSAP custom animations make Y.U.N.G. truly unique. They add to a professional look and definitely attract many visitors.
Mazika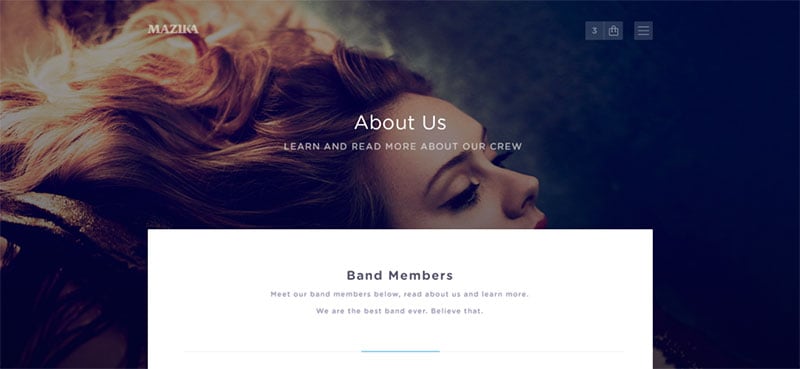 The next on the list of music website templates is Mazika, which has a unique design. The designers used Photoshop to create it, and the result is sleek and modern.
The different Photoshop files are simply organized. The file names refer to the different parts of the site. That feature makes them easy to use and change. The template files are1200px wide.
Groovy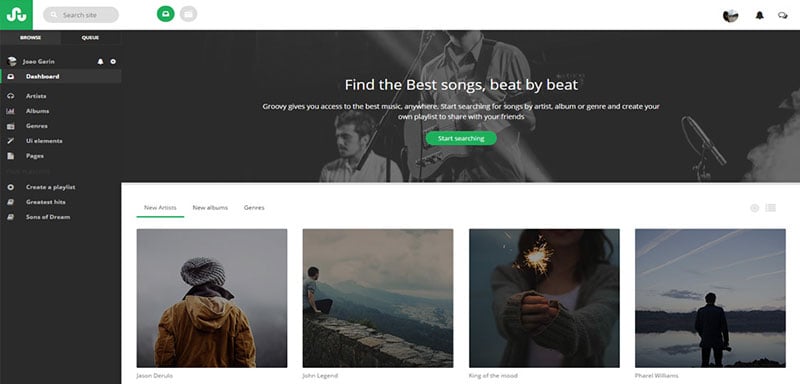 Groovy uses the Angular JavaScript framework, which makes it quite responsive. It also includes the Angular media player, which is very robust. Groovy is easy to use.
The Artists and Albums pages have an excellent and beautiful design. In addition, Groovy contains a range of practical Bootstrap Framework User Interface elements. These elements come in handy for building web apps.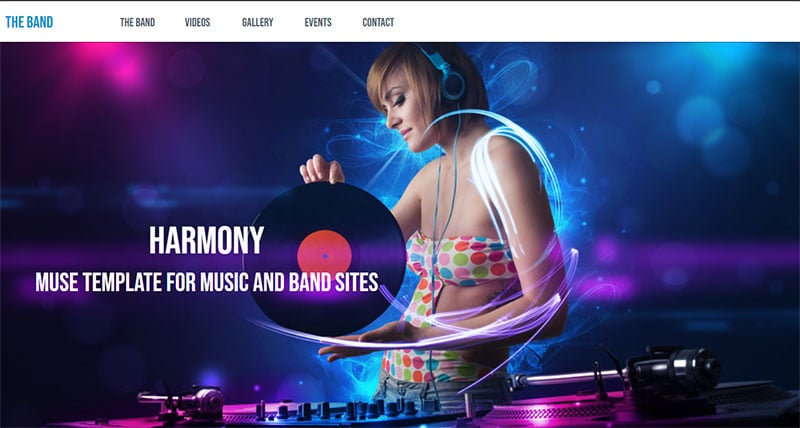 The last on the list of best music website templates is Harmony. Harmony is a Muse template for building music websites. There is a Lightbox video gallery to showcase music videos.
The HTML template is responsive and lets the user manage albums, artists, audio, and genres. There is also an option for selling streaming music.
The templates are easy to customize, navigate, and very intuitive. Some consider it one of the best ways to bring music to the audience's attention.
If you enjoyed reading this article on the music website template, you should check out this one with non-profit website templates.
We also wrote about a few related subjects like church website templates, illustrator portfolio website, best WordPress sliders, WordPress logo slider plugins, slide menu examples, the most innovative and creative websites, video portfolio websites, the best graphic design portfolio examples, cool website header examples, one page website examples and photography portfolio examples.
The Best Music Website Template Options You Should Check Out