Most people are straightforward about the things they want. Some websites have moving parts that may turn off a lot of visitors. It distracts them from the real reason they came to that page, to begin with. That's why a one-page website template is crucial.
Many websites have multiple pages and use them to their advantage. But other sites can work just as well with a single page. Its simplicity and ease of use enable readers to navigate easily.
The most significant advantage of a one-page website is that the page works faster. Visitors don't need to go through a series of pages to find the information they need or click on links that lead them to various places. It leads the visitors to their desired action quickly.
Having a one-page website is especially great for those marketers who need to launch a new website for their business or company.
Check out These Easy to Edit One-Page Templates
Creative Portfolio Website Slider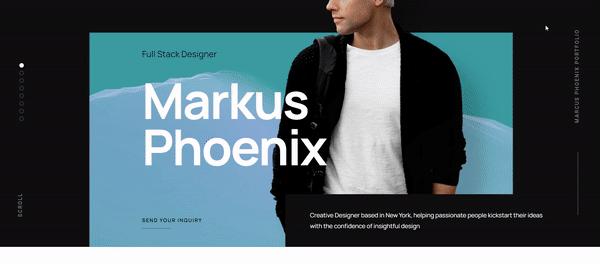 Introducing a captivating one-page portfolio website template designed to leave a lasting impression. Showcase your work in a remarkable and interactive layout that will instantly captivate potential clients as soon as they enter your website.
Woodworking Website Template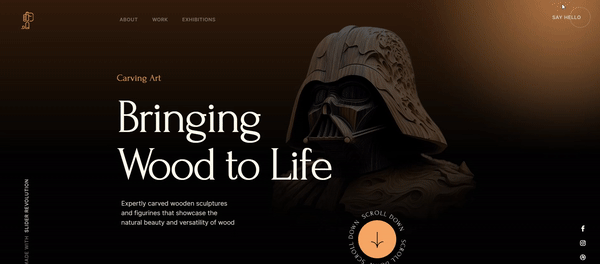 Experience the exquisite craftsmanship of a meticulously designed template that caters to the needs of professional woodworkers and woodworking enthusiasts.
This visually stunning and user-friendly template serves as the ideal platform to display your skills, projects, and products in a captivating and engaging manner.
Stand out from the competition and establish a remarkable online presence that leaves a lasting impression.
Landing Page Website Template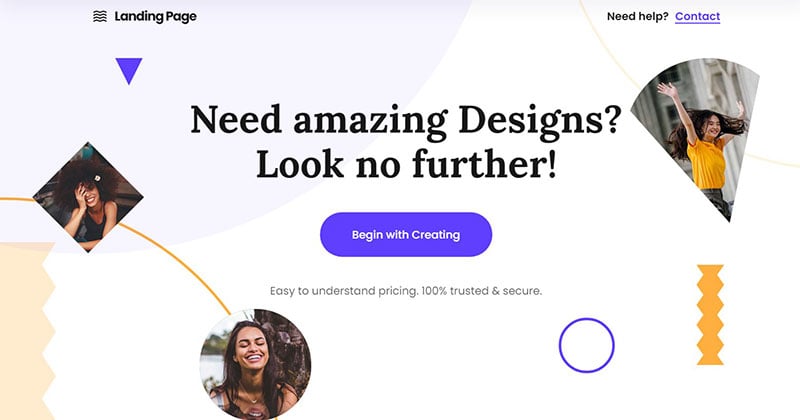 Coffee Shop Website Template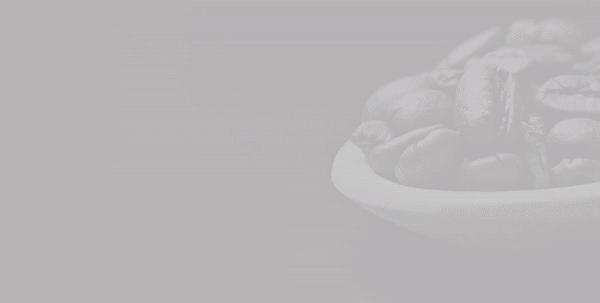 We've crafted a visually appealing website template that ensures seamless viewing across all devices.
With our user-friendly responsive editor, you can effortlessly modify and preview your Slider Revolution module from various perspectives, guaranteeing a consistent and impressive user experience for your visitors, regardless of the device they use.
Smart Living One Pager V1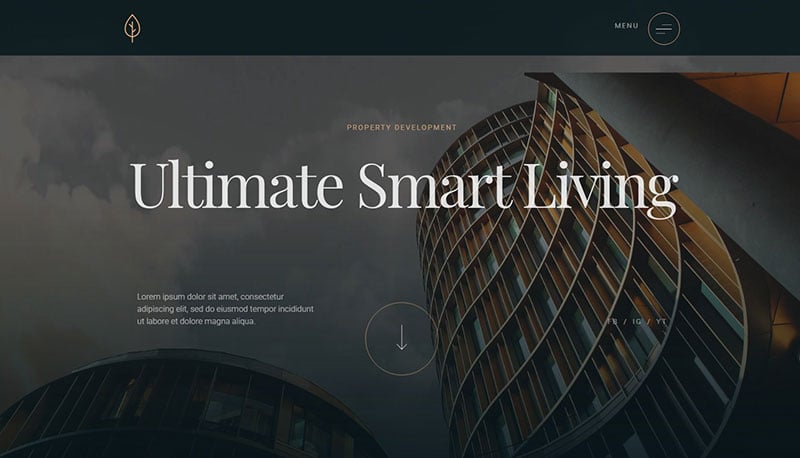 Barber Shop Website Template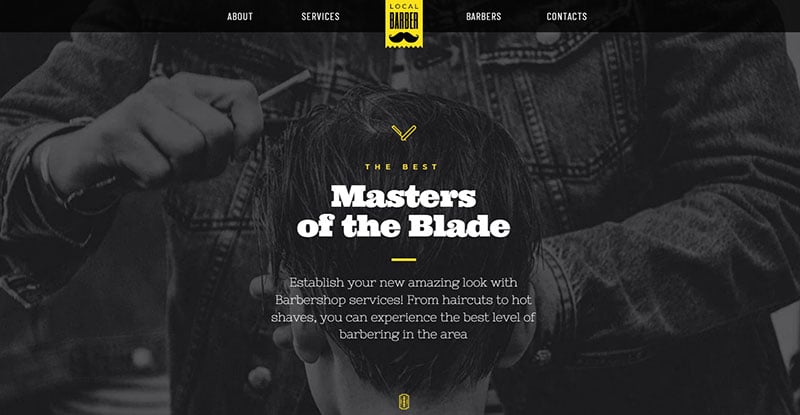 Angled Business Website Template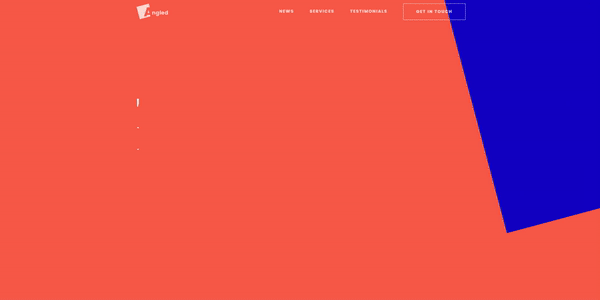 Smart Living One Pager-V2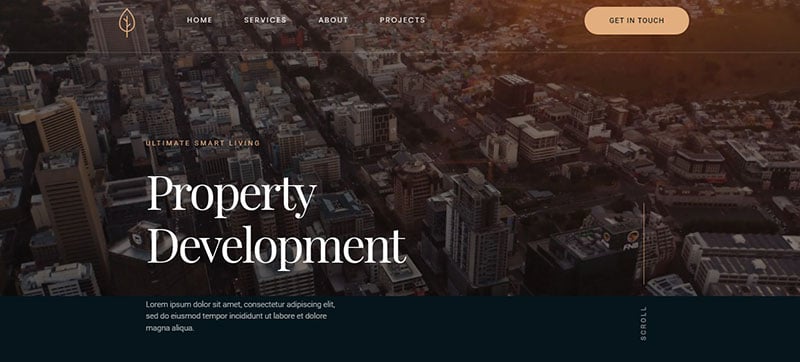 Charity Non-Profit Website Template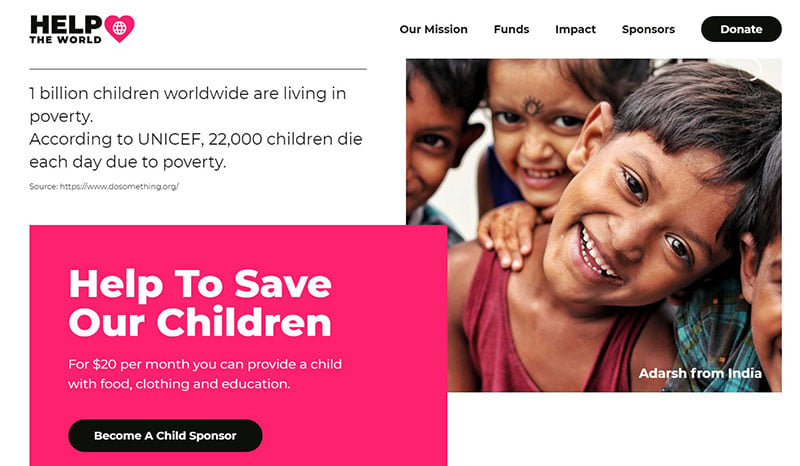 Stark Agency Template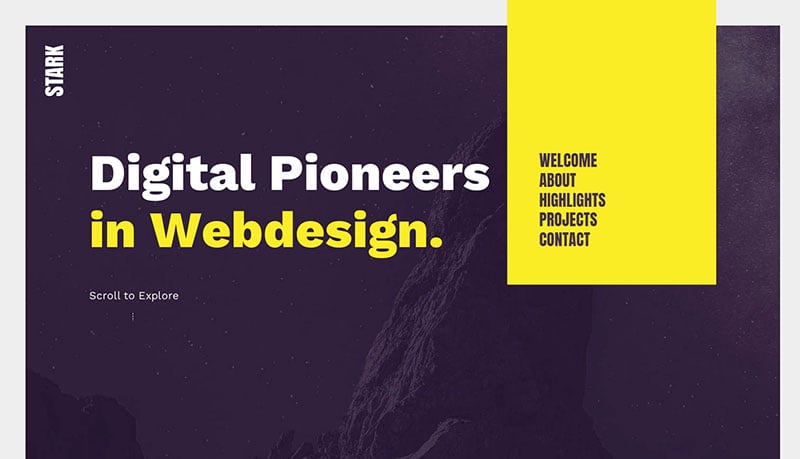 Brutal Website Template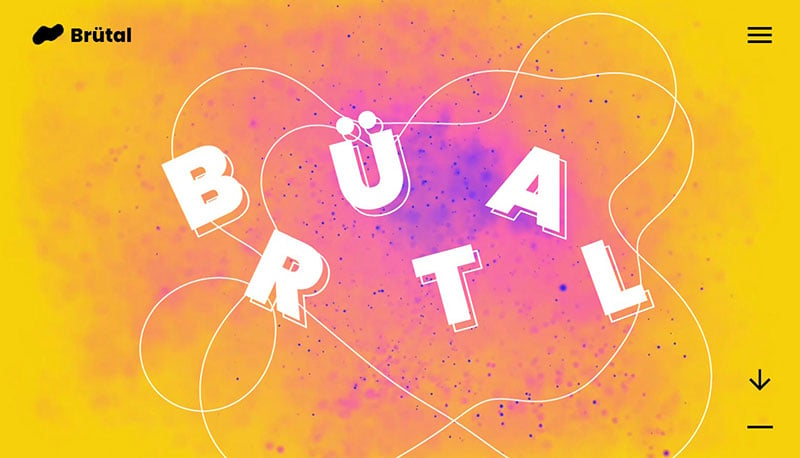 Smart Living One Pager-V3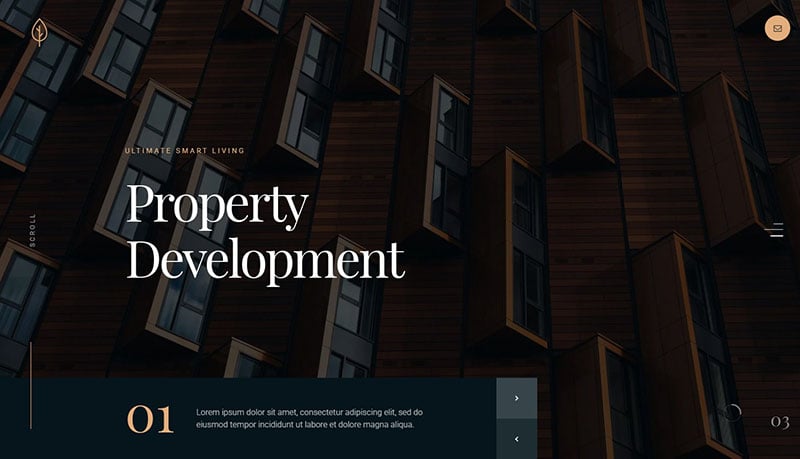 Construction Company Website Template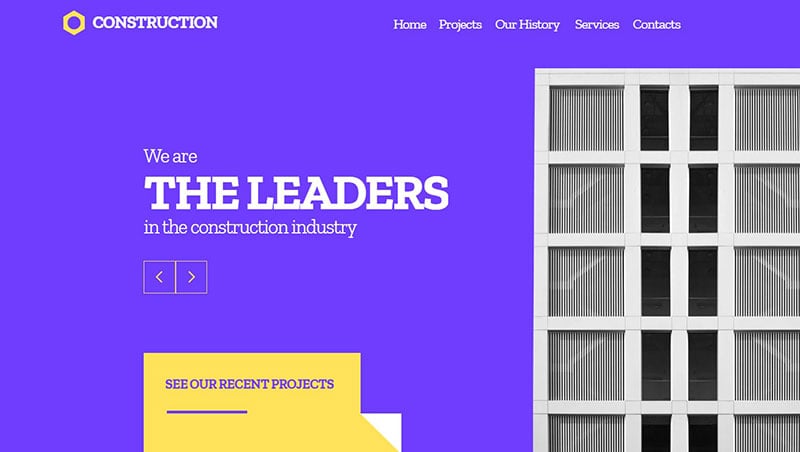 App Studio Website Template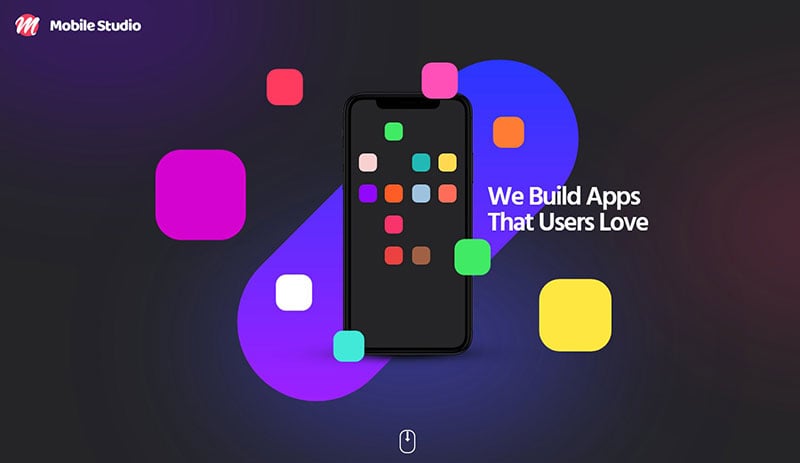 Reversal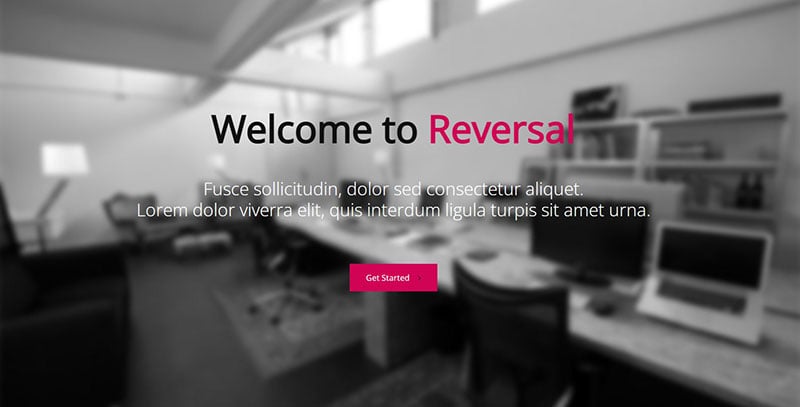 This template is ideal for business and personal websites. It has a clean, minimalist, and professional design, making it perfect to launch a website.
Main Features
Minimalist
Google Maps
Font Awesome with 200+ icons
Google Web Fonts with 600+ fonts
Well-documented with CSS3 code and HTML5
Working PHP contact form with unlimited fields
Unlimited colors
Bootstrap-based framework
Horizontal one-page
Fully-responsive layout
With these many features, online marketers can adjust their websites to their needs and preferences. They can change the color scheme using the Search and Replace button and do it however they want. With hundreds of font and icon options, it's easier to be flexible.
RockoX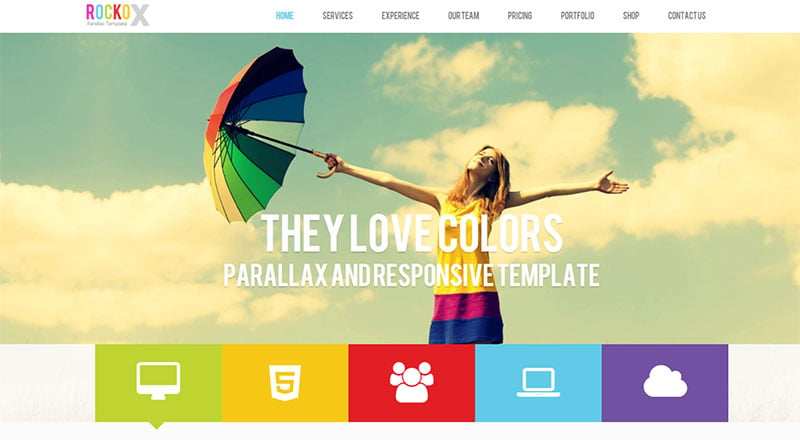 RockoX is suitable for creative industry companies, such as photographers, web designers, fashion designs, agencies, and more. It is a one-page parallax and responsive template for faster web performance.
Main Features
Multiple dark and light layouts
CSS and jQuery animations
Responsive layout
Compatible with several browsers
Legendary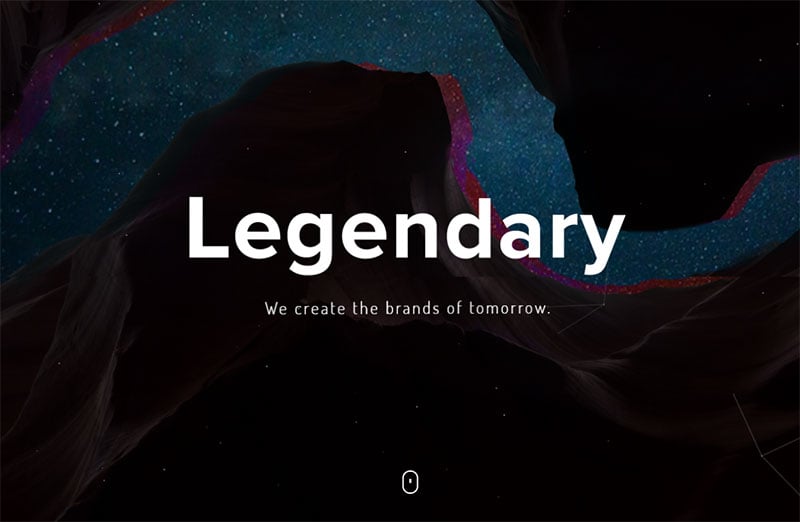 Two of the greatest advantages of Legendary one-page website templates are their innovativeness and versatility. Every detail they offer is essential for an entrepreneur's marketing strategy.
The ultimate goal of this template's developer is to focus on new technology and human-centered design. With that said, it focuses the visitors' attention on the brand and content.
It allows web designers flexibility in their designs and makes them visually appealing to potential leads.
MyBio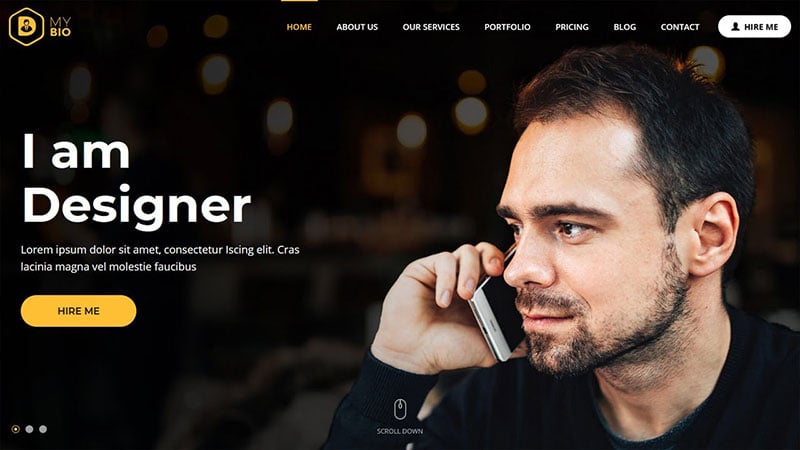 This template's primary goal is to help web designers be more creative. It provides several sections with varying features. With its simple and innovative design, online marketers can focus on being creative and on their brand.
Its professional look and straightforward introduction of the products and services offered help develop the visitors' trust.
Main Features
Fast performance and lightweight
The best UX for higher performance
Fully responsive
100% retina-ready
Users can download this template on various devices
Eventr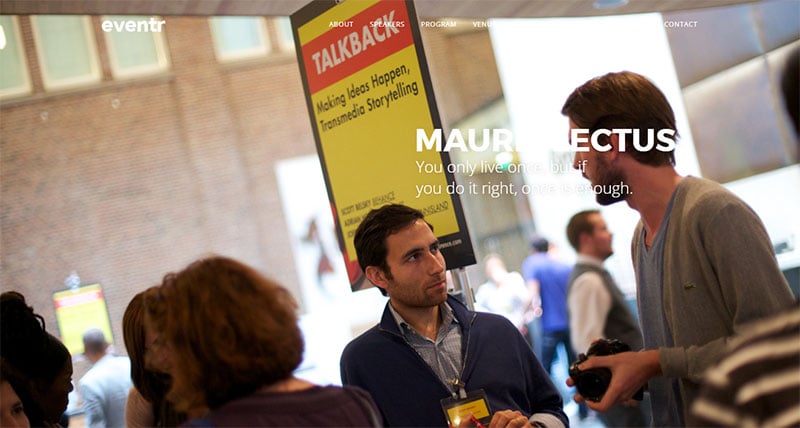 When looking for the ideal template for workshops, events, and conferences, this is one of the best choices. It comes complete with features and a button to invite more people to the platform and allows visitors to sign up for the upcoming event.
Main Features
One-page template
Fully-responsive
Popup speaker details
Working newsletter subscribe form
Working registration form
100% retina-ready
Font icons
Bootstrap 3
Clean and modern design
HTML5 and CSS3
One Clic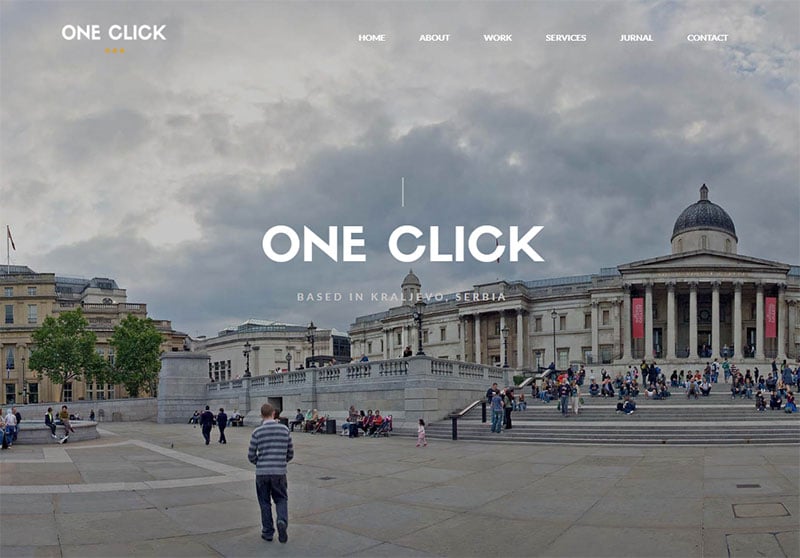 This one-page website template is perfect for freelancers and agencies. Portfolios are an essential part of this career. One Clic understands this and enables users to showcase their skills in a modern and professional-looking portfolio.
Main Features
Enables photographers, illustrators, graphic designers to create a quick and easy portfolio
Unique design that showcases the creativity
Anema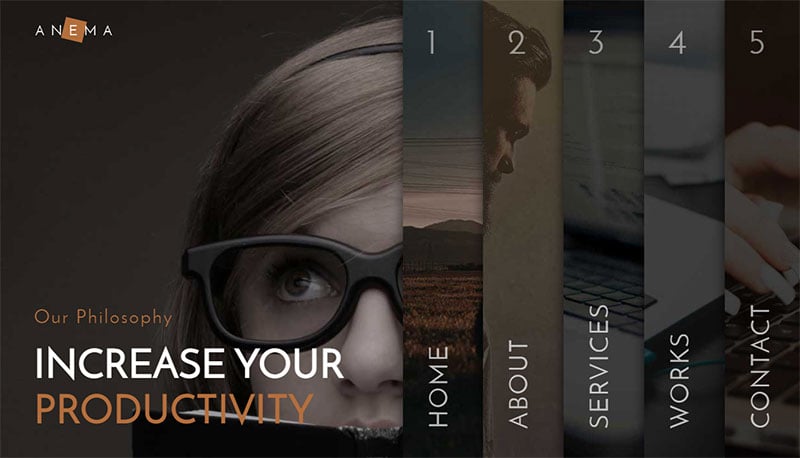 Anema is ideal for corporate business, design studio, personal, and portfolio websites. Its jam-packed features result in professional website designs and backgrounds.
Main Features
React and Bootstrap 5
JavaScript, instead of jQuery
Modern design
Faster loading React template
Developers prefer JavaScript over jQuery since it is developer-friendly and component-based.
Metrika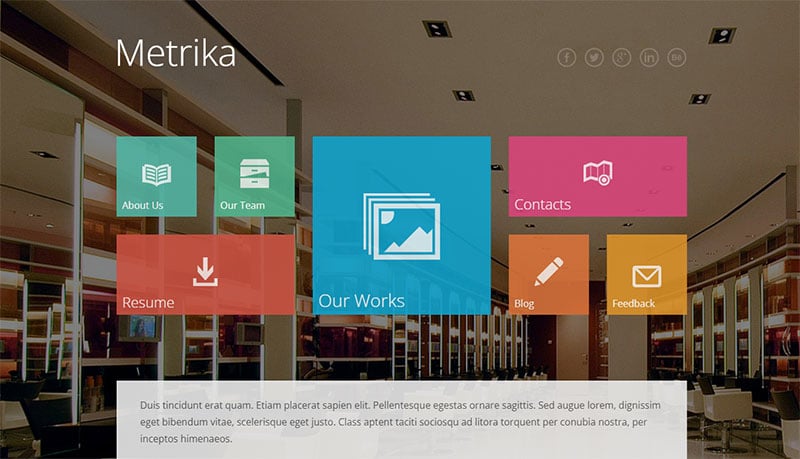 Metrika, with its one-of-a-kind functionalities, is an ideal option for online entrepreneurs looking for a modern, dynamic one-page template. It comes with great features to get the most out of this template.
Main Features
Easy setup
Highly-customizable
Responsive
Elegant design
Flexible and versatile
Expressive animation
Premiex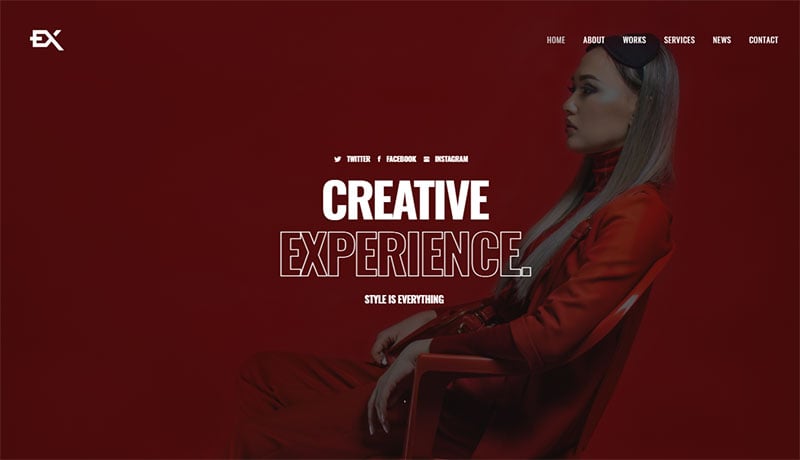 The biggest advantage of using this Premiex one-page website template is its flexibility and one-template-does-it-all creative fields. However, it is most suited for designers, artists, and photographers.
Main Features
Fully-responsive template
Modern and responsive design
Powerful full-screen background video and imagery
One-page template for easy website creation
Bootstrap framework
Clean and semantic HTML
Well-structured CSS
Solido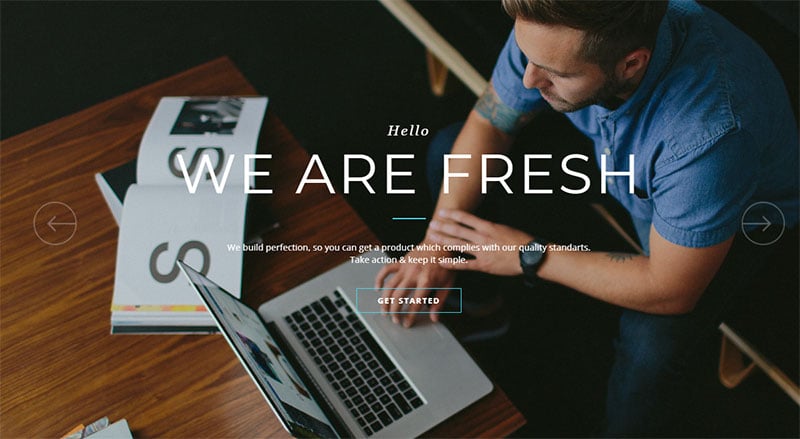 This one-page website template is ideal for business and creative websites, whether for personal or business.
Main Features
Fully-responsive HTML5-based
100% retina-ready
Boost company or online business's brand and services
One Page Pro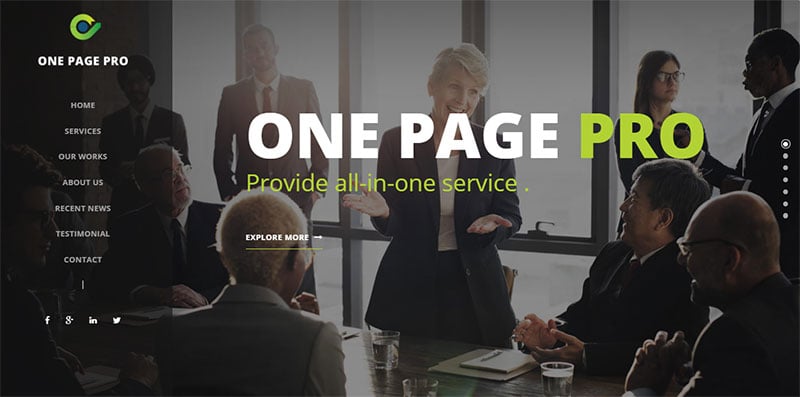 One Page Pro is a one-page website template that caters to different business niches. It also comes with three different demos to serve as a guide for newbies.
Main Features
Modern outline resulting in well-structured codes
100% responsive
Compatible with different devices regardless of the size
Three advanced pre-made templates with well-organized codes
350+ HTML page and portfolio layouts
Multiple organized and structured shortcodes
WaveX
WaveX is the best option for web studios and creative industry agencies.
Main Features
One-page website template
Parallax design
HTML5 template
Multiple dark and light layouts
Integrates with tons of CSS and jQuery animations
SCRN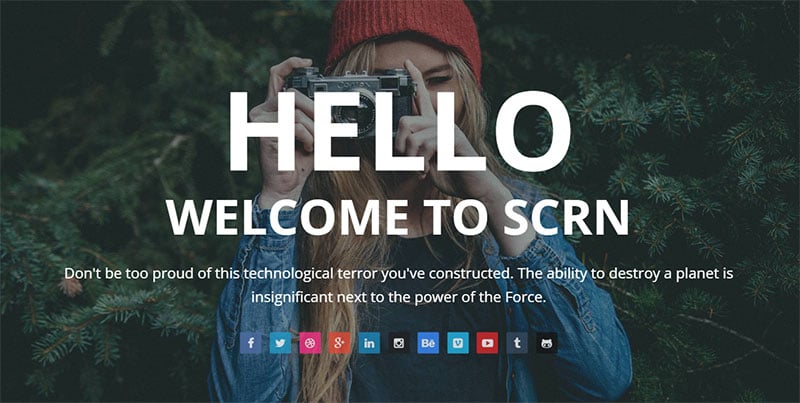 This one-page website template is ideal for various creative websites.
Main Features
Portfolio template for agencies and freelancers
Bootstrap framework with HTML5 and CSS3
100% responsive
Compatible with different devices
Sphene
This one-page website template is an excellent choice for entrepreneurs, freelancers, content creators, and agencies who want a website with a fresh design. Business websites will appreciate the ability to add more features to their pages.
Main Features
Background video and unique animations
Enough room to create a copy and include features about the products or services being offered
Easily customized
Well-documented
Icons for highlighting services
Choose an off-canvas menu and sticky menu
Frost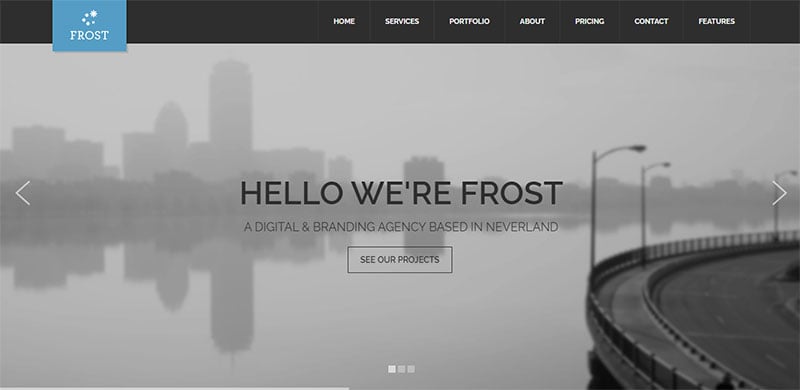 Frost is a one-page website template with one-page and multipage HTML5 options to create different styles of portfolios. It is ideal for entrepreneurs, freelancers, creative agencies, photographers, and artists to showcase portfolios in a way that entices potential customers.
Main Features
Awesome Twitter Bootstrap v3
20 cool HTML5 pages
Seven color options
100% responsive
Compatible with multiple devices
Kerge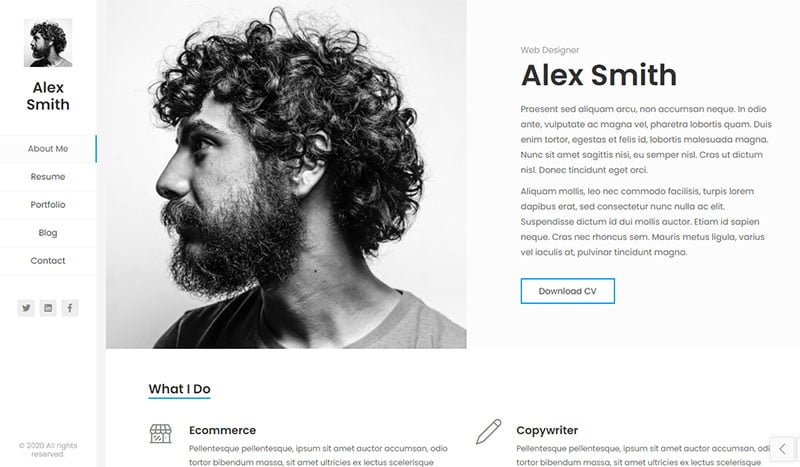 This one-page website template is the ultimate choice for creating a CV, resume, and vCard. It helps freelancers and online entrepreneurs promote themselves and their services.
Main Features
Compatible with different devices
Six built-in, eye-catching color schemes
Easy to match the color scheme to any element
Numerous elements, like menu links, buttons, links, and more
Detailed documentation and its examples
Ability to create a high-quality website
Newave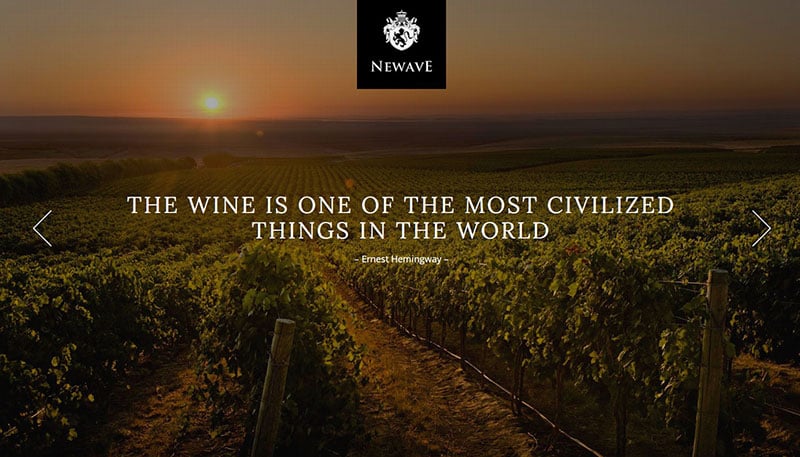 A one-page website template should have all the essential features to showcase the website on a single page. Thankfully, Newave provides that and more to different website genres. It is ideal for small businesses, photographers, agencies, and corporate platforms.
Main Features
Sixhome sections
Background video support
100% responsive
Highly customizable design
Parallax slider
Full-screen slider
Four navigation styles
Customizable backgrounds, including the patterns, images, and colors
Font Awesome icons
iCon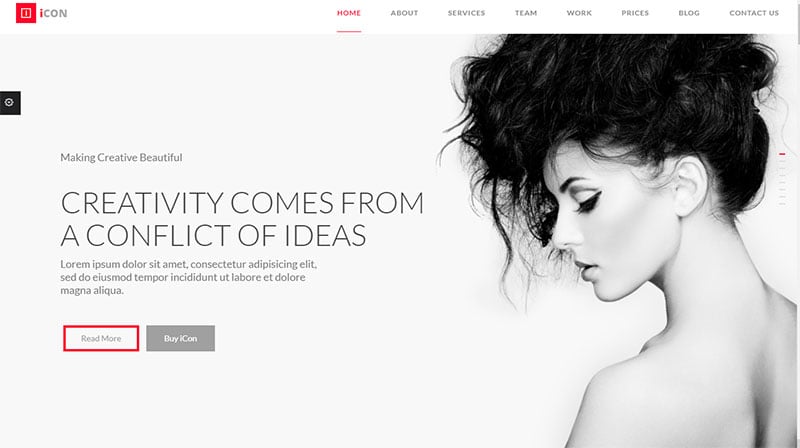 This one-page website template has a parallax effect for better intuitive design. It is ideal for art studio websites, company websites, and business websites.
Main Features
Popular Bootstrap v3.3.7 Framework
Five pre-made home page designs
Compatible with different devices—both mobile or desktop
Xone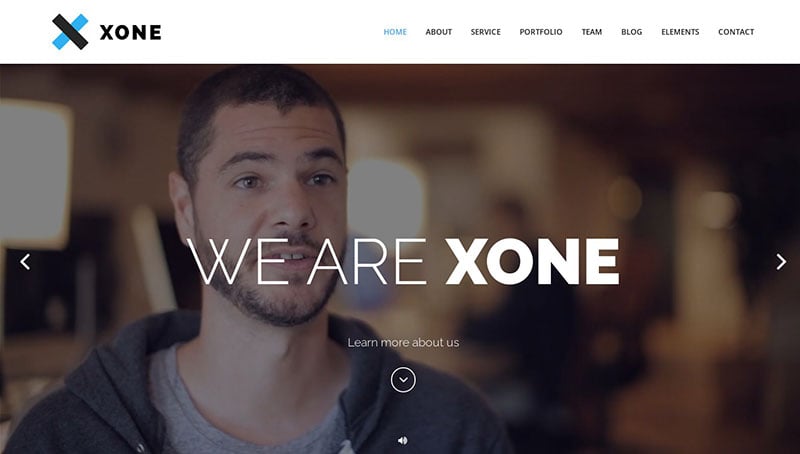 If online entrepreneurs or marketers are looking for a one-page website template with loads of features, this is the right choice. It comes with numerous options for designing flexibility.
Main Features
Clean and modern design
Well-organized CSS
Ajax portfolio loader
Sortable portfolio
Font Awesome icons
Slider Revolution
Google Fonts
Parallax background image
Retina-ready
Background parallax video
Responsive design
Valid HTML
Bizcon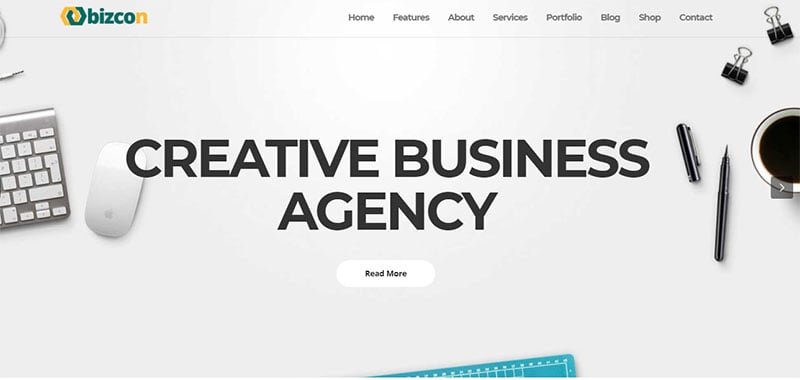 Here's another one-page website template with simple yet elegant designs. It's ideal for several types of websites, specifically creative agencies, personal businesses, and freelancers. It has everything website owners need to jumpstart their online careers.
Main Features
Several layout designs and unlimited colors
Enables website owners to create beautiful sliders
Integrates with Slider Revolution
Sections for Team Members, Testimonials, Skills, and Portfolio
Impressive contact form to get lead information
Google Maps
ODIN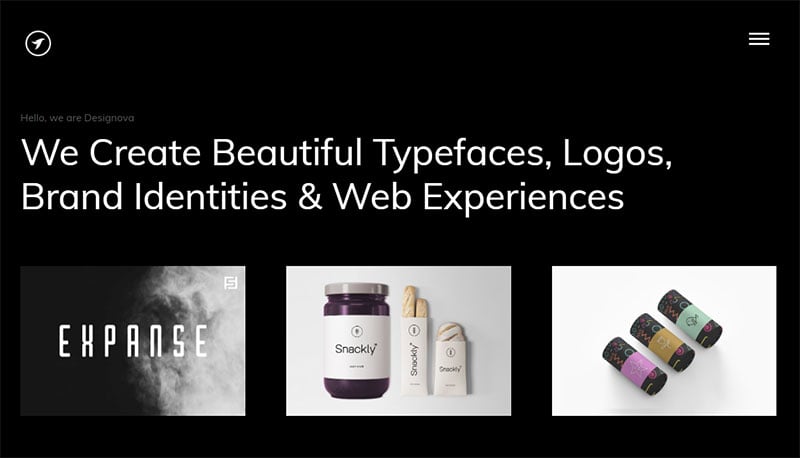 Odin is a responsive, minimalist one-page website template that fills online entrepreneurs' needs. This template jam-packed with amazing features will eliminate the need to look further for the perfect one.
Main Features
HTML5 template
Responsive and retina-ready
Ten pre-made home page variants and additional pages
Premium Slider Revolution
Filterable AJAX expanding media portfolio
Unlimited color choices
Customizable layout
Widescreen image sliders
Widescreen video
Parallax design
Animations
Google Web Fonts Integration
Unlimited Content Carousels and Sliders
Touch Support
Additional pages, including error pages, project pages and more
Working contact form PHP email sending
Koyta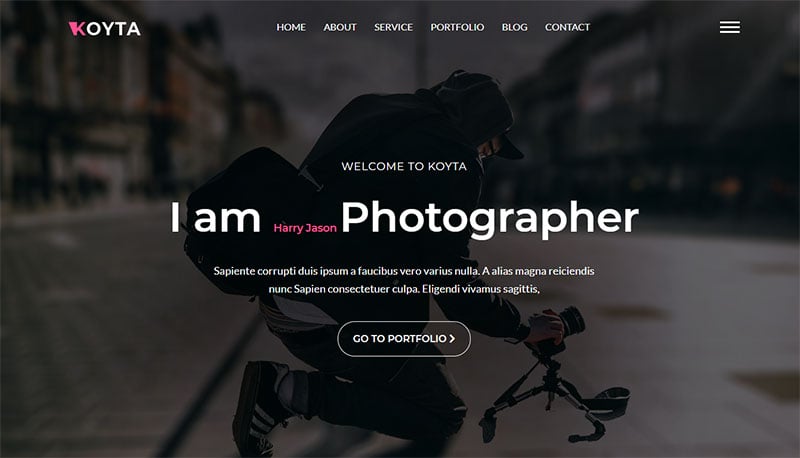 Koyta is the best choice for creating websites for portfolios, company profiles, and any related website. It has essential features and functionalities, enabling website owners to customize pages according to their needs and likes.
Main Features
One-page personal portfolio HTML template
Bootstrap5, HTML5, CSS3, JavaScript, and jQuery
Highly-customizable
Compatible with different devices—both tablet and mobile devices
Documentation folder for code structures
Eichsa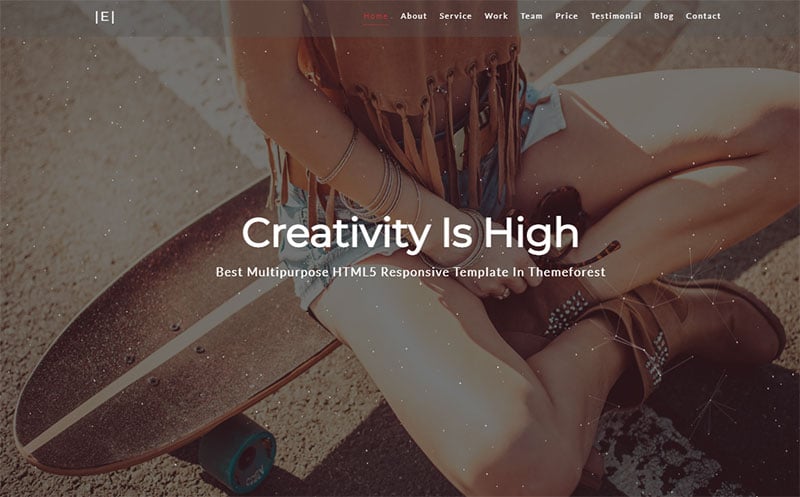 When talking about the modern and latest one-page website templates, Eichsa makes itself part of the conversation. It is responsive and elegant enough to create an impressive landing page. Its designs are perfect for all types of business websites. It is jam-packed with great features and functionalities.
Main Features
Fully-responsive
Modern, slick, and high-tech design
Modern technology, like Bootstrap, jQuery, HTML5, and CSS3
Supports old and new browsers
Codes are clean, well-documented, and well-organized.
Archi_tecture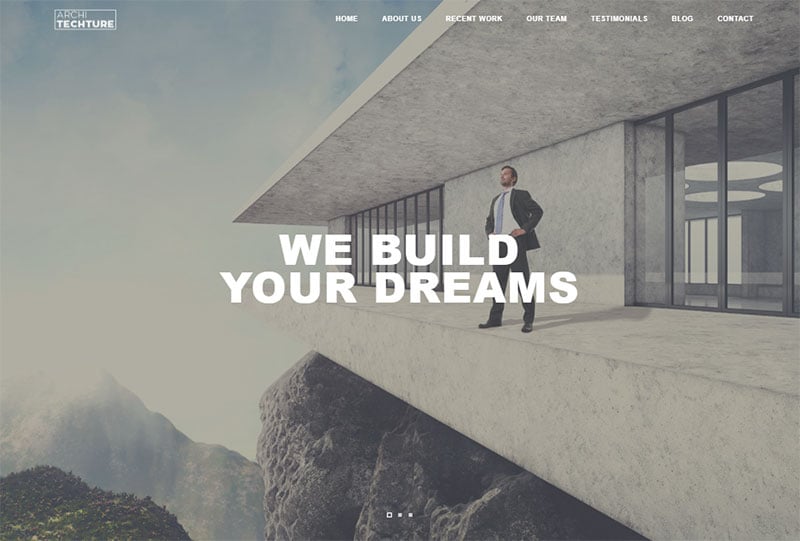 The greatest strength of this one-page website template is its perfect design for architects. It suits all the inventive groups, internet studios, and business startups websites.
Main Features
Works well and is compatible with any device
Multiple home layout designs
Navigation styles
Multiple CSS and jQuery animations
StudioX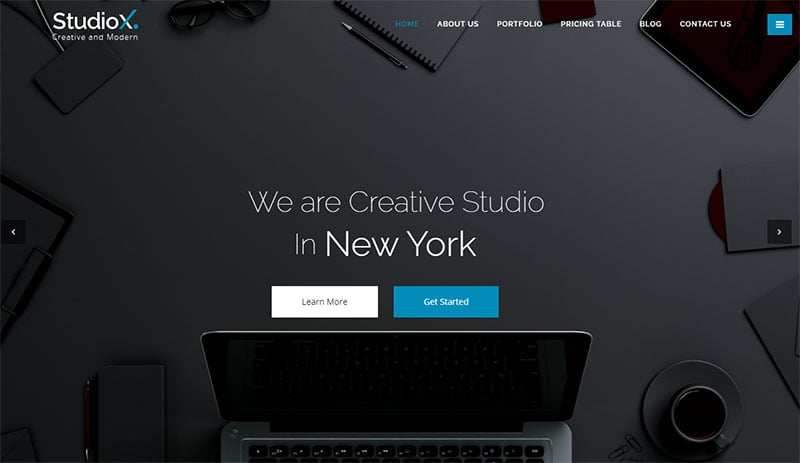 This one-page website template is the perfect choice for freelance designers and creative agencies. It provides great designs and is full of the features essential to create eye-catching websites.
Main Features
Clean parallax design
Several layouts
Flexible and customizable
Features all the projects, services, and client testimonials for more leads
Call to action buttons for potential leads
Contact section button to encourage people to ask about the product or service
Google Maps so customers can find the business location right away.
InBio
When looking for a template for a specialist, software engineer, politician, freelancer, photographer, instructor, content writer, designer, teacher, engineer, and developer, InBio is one of the top options.
The flexible template is completely customizable so that anyone can use this template regardless of the profession.
Main Features
Better performance
Loads faster
Easy-to-use and customizable
Well-documented
FinWin
Here's a modern one-page website template for a minimalist landing page. Online marketers and entrepreneurs love all of its features.
Main Features
4-grid style system
100% responsive
Compatible and works well across different platforms and devices
Eight pre-built home page designs to choose from
Mobile-friendly
Three attractive page designs
Includes PSD and working forms
Well-documented
The latest framework
OXO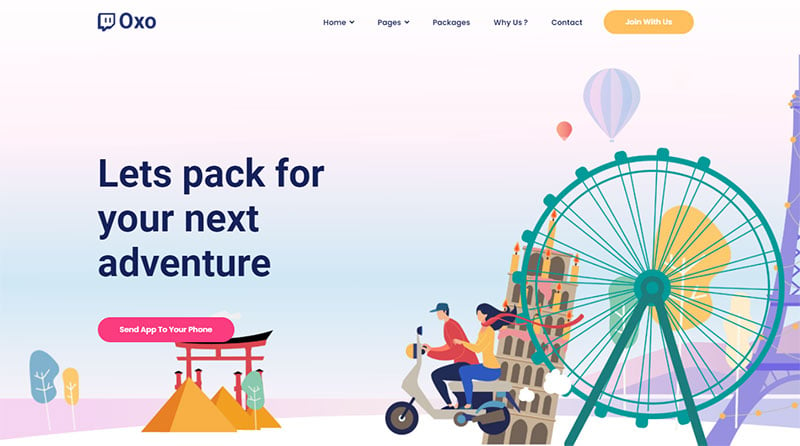 If users need to present a modern-looking business, OXO is the best one-page template partner. It is an HTML5 template with features that get the job done right. Use this template to create startup businesses, entertainment apps, social media apps, agencies, travel apps, Saas landing pages, and app landing websites.
Main Features
Change designs anytime
Flexible and customizable
Well-documented
coloriT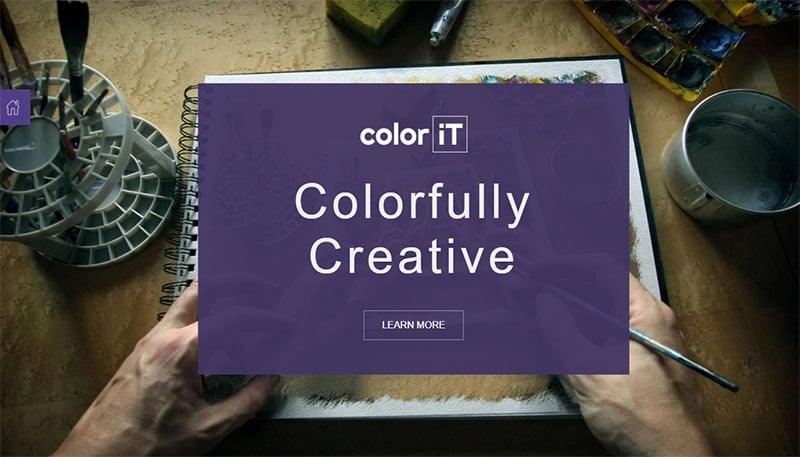 As users would expect, this HTML- and CSS30based one-page website template works very well. It is perfect for creating a portfolio and showcasing the skills, products, and services offered.
Main Features
The latest HTML5 and CSS3
Creates vibrant, colorful, and stylish websites
Consbus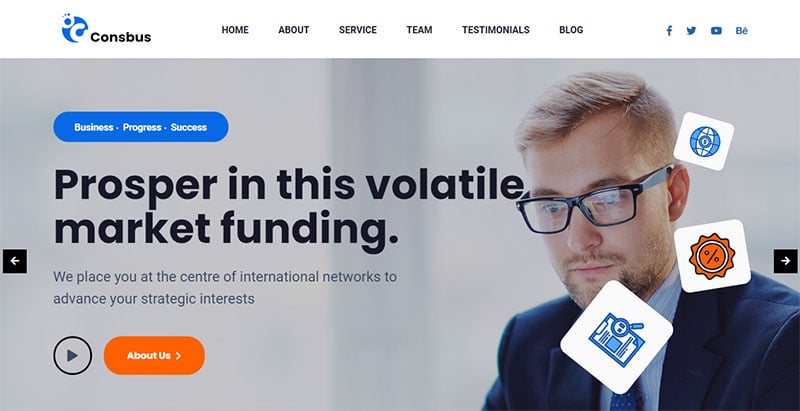 This one is excellent for IT solutions, startup companies, consulting, marketing, agencies, SaaS, SEO, apps, and service companies with a business background. It is mobile-friendly, enabling viewers to see the pages whether using a mobile phone or desktop.
Main Features
High-customizable
Compatible with any device
Well-documented
Clean code structures
100% responsive layout
Compatible with any screen resolution
Reva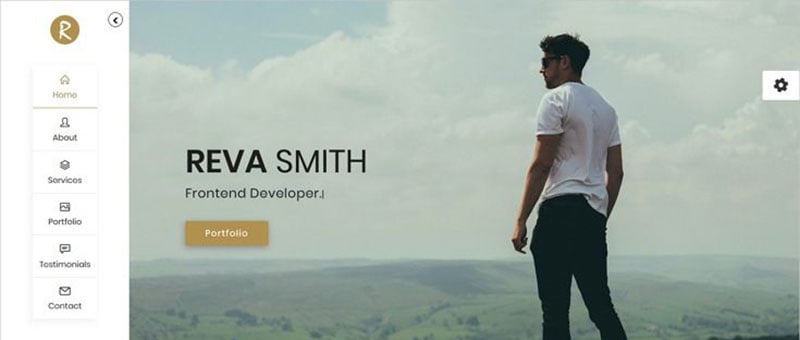 Here's another attractive one-page website template with a simple, modern design. It is flexible enough that users can use it across different types of web pages.
Main Features
Clean and fully-responsive
Easy to install and customize
Modern technology, including Bootstrap 4, the latest jQuery, CSS3, HTML5, and Sass
BizOne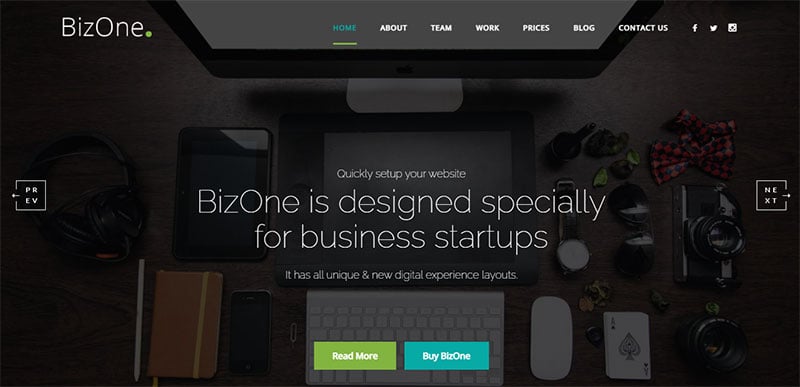 When looking for an elegant and modern one-page website template, BizOne is found at the top of the list. Users can create a portfolio with a template while taking advantage of its long list of layout options. As a result, websites can offer extra visual appeal to their visitors.
Main Features
Stylish slider and slideshows
Video background
Parallax layout
Various sections to showcase business partners and coworkers, past projects, and a pricing table
Working contact form
10 Things to Consider When Looking for the Best One-Page Website Template
A few years ago, one-page website templates gained popularity through their ease and simplicity. That's why many online entrepreneurs, marketers, and freelancers have been using this for quite some time now.
Since most one-page website templates have the essential features to create a well-organized website, they have been widely used, especially by startup companies and freelancers. And most of them are compatible with modern web browsers.
Because it is only one page, users can remove clutter and unwanted obstruction from their website and focus on creating potential leads.
However, before choosing the one-page website template for your business, it is vital to consider a few important details. The following checklist details what every single-page template should have.
Checklists of a Great One-Page Website Template
Emphasized contact block
Full-screen backgrounds
Quality UX
Call to action button
Clean, simple fonts
Several sections
Bold colors
Sticky or an off-canvas menu
Focus on visuals
Responsive design
FAQs about one-page website templates
1. What is a one page website template?
A pre-made website layout that just has one web page is known as a one page website template. The homepage, about us, services, portfolio, client testimonials, and contact us are usually all present. A one-page website's goal is to give users a straightforward, basic interface that makes it easy for them to access the information they need without having to browse between several pages.
2. How do I choose a suitable one page website template for my business or personal website?
Consider the design components, color scheme, style, and functionality that complement your brand and the goal of your website when selecting an appropriate one-page website template. Look for designs that are simple to edit, responsive to mobile devices, and offer elements that support the objectives of your website, such as contact forms, social network integration, and SEO optimization.
3. What are the benefits of using a one page website template?
Faster load times, simpler navigation, a more streamlined user experience, higher conversion rates, and cheaper maintenance costs are all advantages of adopting a one page website template. One page websites are a fantastic choice for small businesses or personal websites since they are simple to optimize for search engines and social media sharing.
4. Can I customize the content and design of a one page website template to fit my brand or personal style?
Yes, you may alter the graphics, colors, and fonts in the majority of one-page website templates to match your brand or preferences. To better meet your needs, you can alter the content by adding or removing parts.
5. Are one page website templates suitable for all types of businesses and industries?
One page website templates can be used for a wide range of enterprises and industries, including portfolios, startups, and small businesses. They might not be appropriate for bigger businesses or websites that need a more intricate site structure, though.
6. How do I ensure that my one page website template is mobile-friendly and responsive?
Make sure the one page website template you choose is responsive and mobile-friendly. Verify the template's preview on several platforms to make sure it scales correctly and is prepared for mobile use. To determine whether your website is mobile-friendly, you can also use tools like Google's Mobile-Friendly Test.
7. What are the best practices for creating an effective one page website using a template?
Maintaining a simple design, concentrating on your most crucial material, utilizing high-quality photographs and videos, optimizing for speed and mobile use, and providing clear calls to action are some best practices for developing an effective one page website using a template.
8. How do I optimize my one page website template for search engines and improve its visibility?
Use pertinent keywords in your content, optimize your images, and add meta tags and descriptions to your one-page website template to make it more search engine-friendly. Make sure your website is mobile-friendly and make use of internal linking to enhance navigation. Additionally, you can submit your website to search engines and monitor the effectiveness of your website using programs like Google Analytics.
9. Are there any limitations to using a one page website template compared to a traditional multi-page website?
Websites with a lot of material or intricate structures might not be a good fit for one page website designs. In comparison to conventional multi-page websites, they might also offer fewer options for e-commerce or blog features.
10. What are some examples of successful websites built using one page website templates?
The "Lively" website from Squarespace, the "Better World" website from Nike, and the "Uber" website are some examples of successful websites created utilizing one page website designs. These websites serve as examples of how a one page website template can be utilized to good effect to produce an attractive and useful website.
If you liked this article about one page website templates, you should check out this article about animated website templates.
There are also similar articles discussing professional website templates, real estate website templates, florist website templates, and music website templates.
And let's not forget about articles on barbershop website templates, coffee shop website templates, restaurant website templates, and technology website templates.
---
Amazing One-Page Website Templates for Your Site