When it comes to the digital world, branding is an important thing to keep in mind. Entrepreneurs, whether beginner or established, need personal branding.
The first stage of personal branding on social media is to share about a particular topic. But it doesn't end there.
Every online marketer has to reach various goals to enhance their brand. Advertising the business, entrepreneur, or freelancer themself is of prime importance.
This is possible by creating a personal portfolio, hosted on a personal website. However, success depends on implementing strategies to get ahead of the competition.
A personal website can help online marketers and entrepreneurs to evaluate their skills. They will see which things they need to improve.
The customization possibilities are endless with personal website templates.
The following is a list of personal website template options. It includes their features and functionalities, so you can see what works best for you.
The Best Personal Website Templates For You
Fashion Front Page Website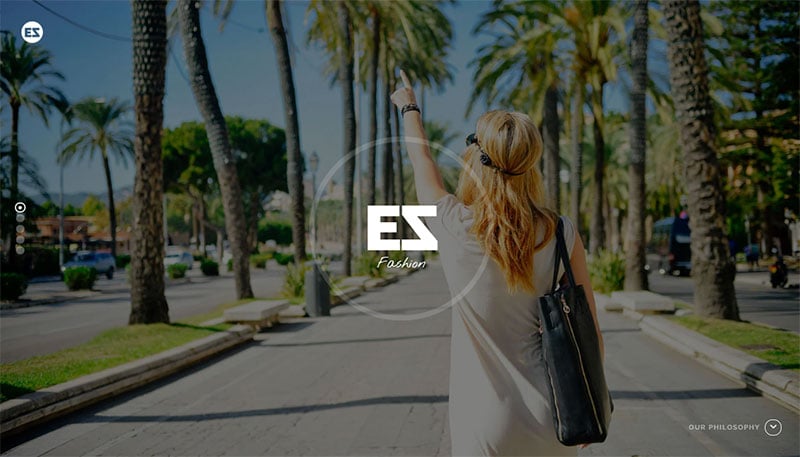 This personal website template is ideal for those who want to showcase fashionable looks. Fashion designers can use it to present portfolios reflecting their skills and capabilities.
Main Features
Clean design
Slider and slideshow sections
Responsive
Unique animations
Nice & Clean Website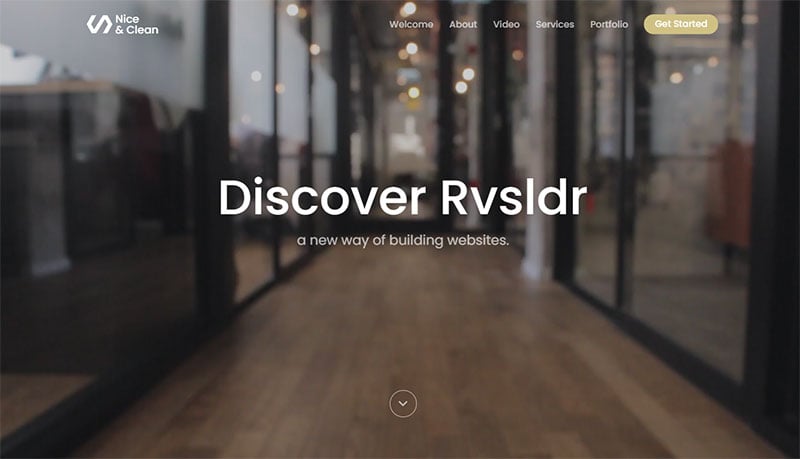 Music Band Website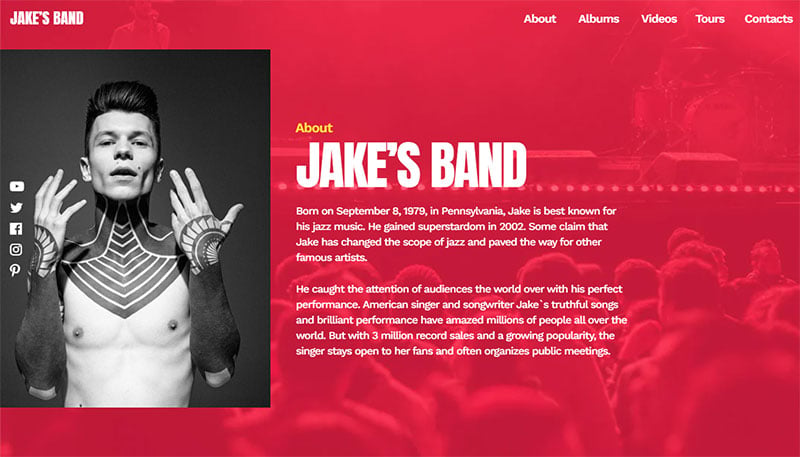 Clear Cut Portfolio Website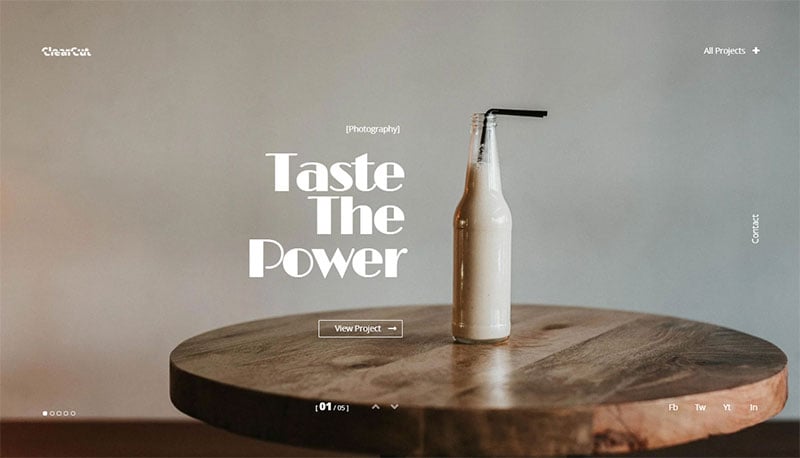 This portfolio website template has a unique design. Its minimalist design makes it easy for visitors to navigate the website.
They can find information easier thanks to the menus and sections.
Main Features
Clean and minimalist design
Smooth navigation
Image and video integration
Social media integration
Contact page
Easy navigation
Parallax One-Pager Website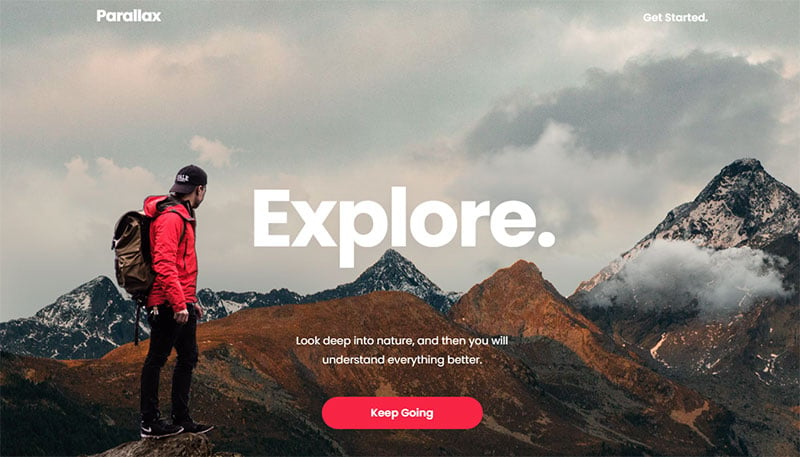 This is a great option for those who want a personal website template with a parallax design. It has a simple design, allowing users to scroll through the pages without worries.
Main Features
Comes with 150+ pre-made templates
25+ add-ons
500+ GFX elements
24/7 excellent customer service
Parallax design
Responsive
Fast-loading
Wonderstruck One-Pager Website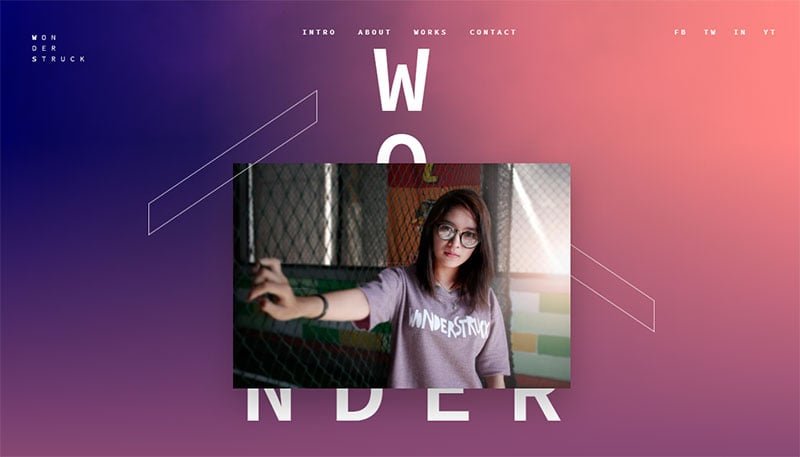 Wonderstruck personal website template has a new look design. It is sure to catch people's attention.
When hovering the cursor on menus, the text has a strikethrough style.
Main Features
Minimalist design
Social media integration
Image integration
SEO-friendly
Photographer Website Template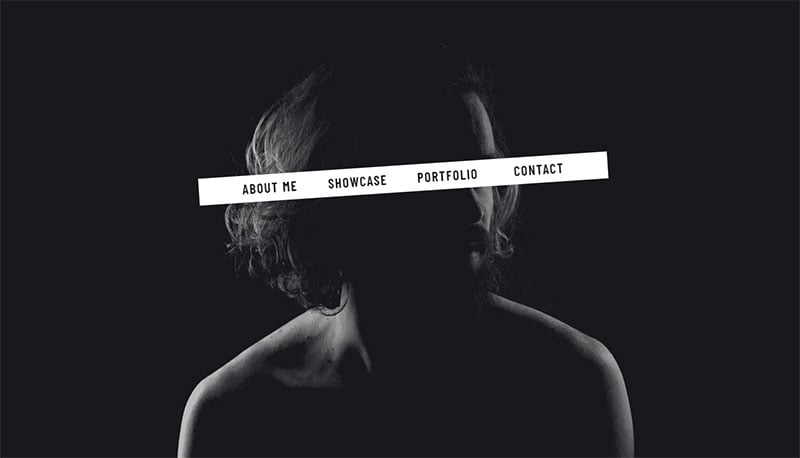 This template will showcase the pure talent of a photographer. They can use this to present their skills and portfolio via the template's sections and pages.
Main Features
Unique style
Parallax design
Straightforward style
Image integration
Portfolio section
Easy navigation
Social media integration
Photography Front Page Website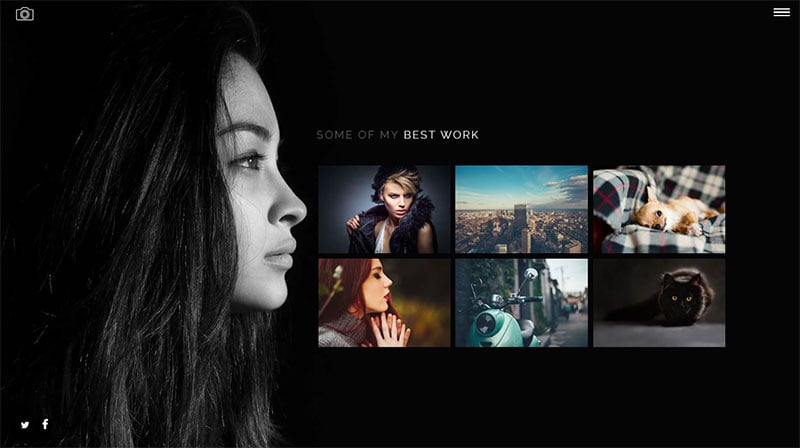 Here's another photography website template with a simple, one-page layout. It is straightforward to use.
It focuses on the main goal of the page, to showcase the project portfolio of the photographer.
Main Features
Hamburger menu to present the website's available pages
Social media integration
Front-page design
Classy design
Image design
Clickable images
Sunshine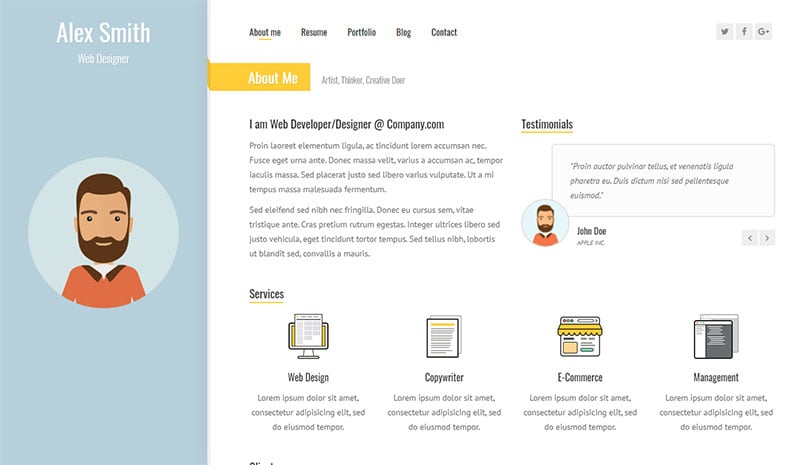 Here's a template to help freelancers show their credibility. It is the ideal option for creating a portfolio, CV, vCard, and resume.
Main Features
Compatible with different devices
Looks good on big and small screens
Comes with 6 beautiful color schemes
Set colors for different buttons and sections, such as menu links, buttons, links, and more.
Waxon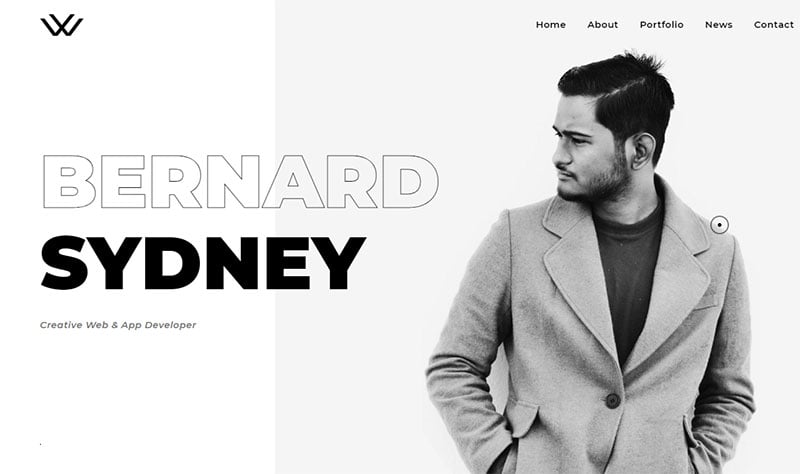 For those who want a professional personal website template, this one is an ideal choice.
Main Features
Fully responsive template
Has navigation features for various devices
Comes with eight beautiful unique designs
RTL function for translating to the Arabic language
Easy documentation
Allows users to choose from 12 color skins for the site design
Has two magic cursors for navigation
Comes with a contact form and Google Maps located in the footer section
With these features, visitors can navigate through the website without worries. Its clean documentation ensures that every section and button is working well.
Singer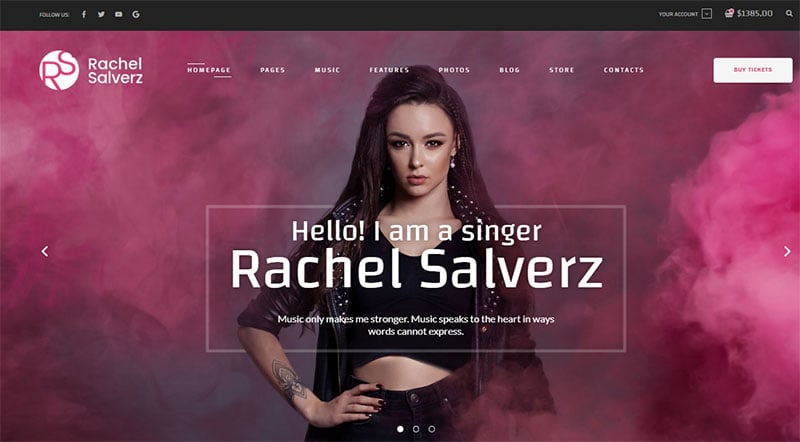 Singer is a personal website template that's ideal for singers, performers, and musicals. They can promote their music and talent to people and potential talent creators.
Main Features
Users can choose from predefined accent colors
Comes with light and dark skin
Has boxed and wide layout variation
Features Visual Page Builder
The Visual Page Builder offers a drag and drop feature. This allows site owners to place elements wherever they want on the page.
ShiftCV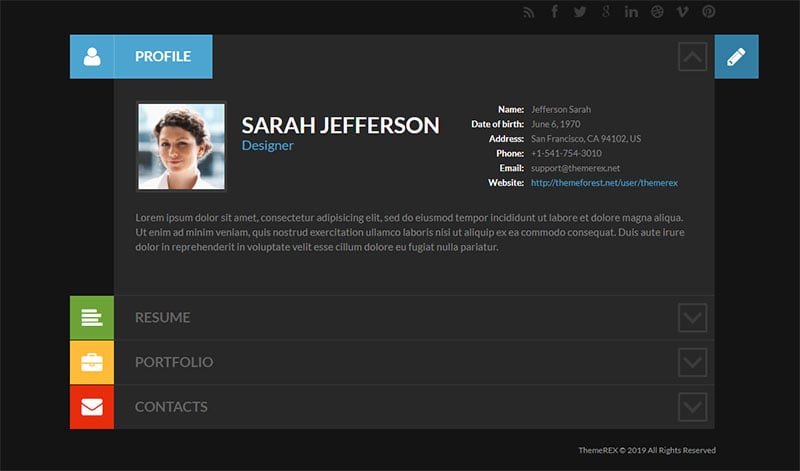 This template is ideal for a personal blog, resume, and CV. It has everything an entrepreneur or freelancer needs.
Main Features
Has a personal blog, resume, or CV
Comes with a clean HTML5 and CSS3 design
Simple layout
Allows users to print online resume and download PDF document
Responsive layout
Eye-catching design
Retina-ready
Lightweight design
Cross-browser support: IE, Opera, Safari, Chrome, and Firefox
Rose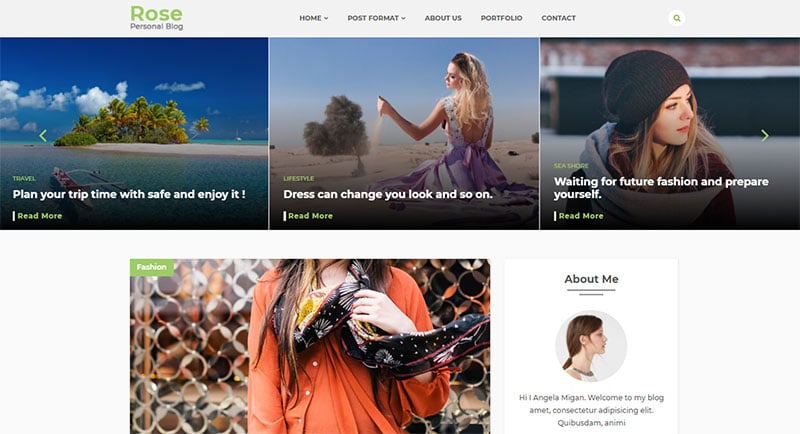 This template comes with great features and functionalities. It could be the ideal option for creating personal blogs.
It enables users to tell their stories in the most efficient way.
Main Features
Minimal design
Comes with five homepage styles
Has various layouts available. These include full-width pages, masonry grid style, blog list, and standard
Choose from different types of posts. Options include post with Sound-cloud embed, post with video embed, post with gallery slide, or standard post
Photography Liza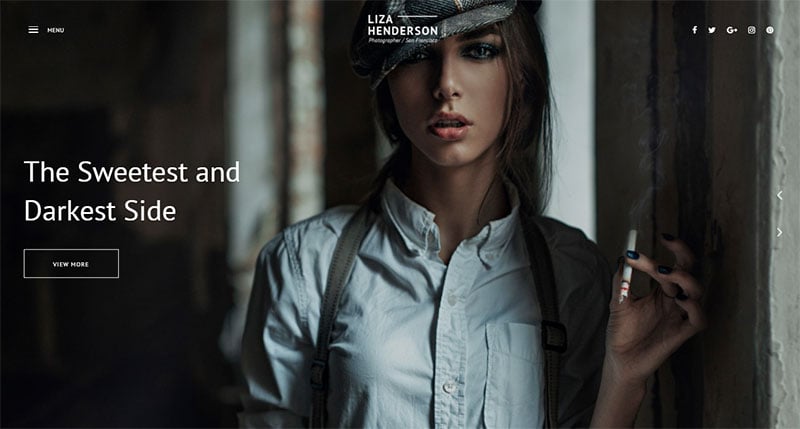 For a personal website template with incredible features, Photography Liza is top of the line.
It enables users to create professional portfolios and manage their blogs. It helps to improve the visual presentation and increases traffic.
Main Feature
Comes with a wide variety of ribbon, fullscreen, and grid.
Marqa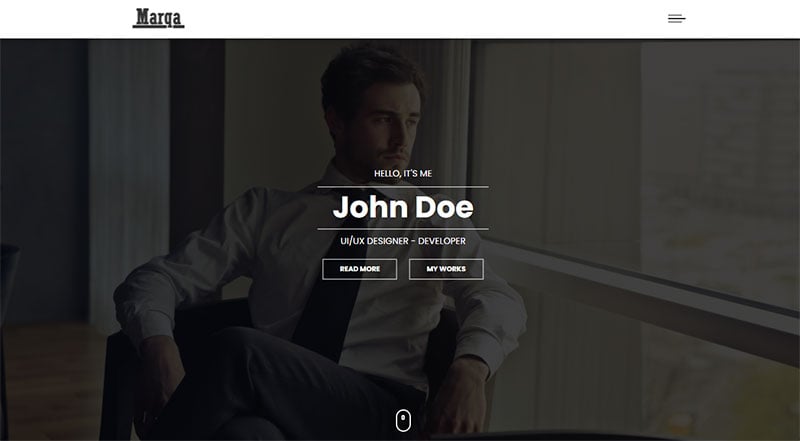 Marqa is clean and packed with great features. It is one of the best options for commercial or personal portfolios.
Marqa allows users to present all the essential details about their business.
Main Features
Clean and minimal portfolio
Well-organized code
HTML5 and CSS3 code based on the Twitter bootstrap 3.3.6
Comes with various sections like Contact, Testimonials, Portfolio, Services, About Me, and more.
Fully responsive
Ritsu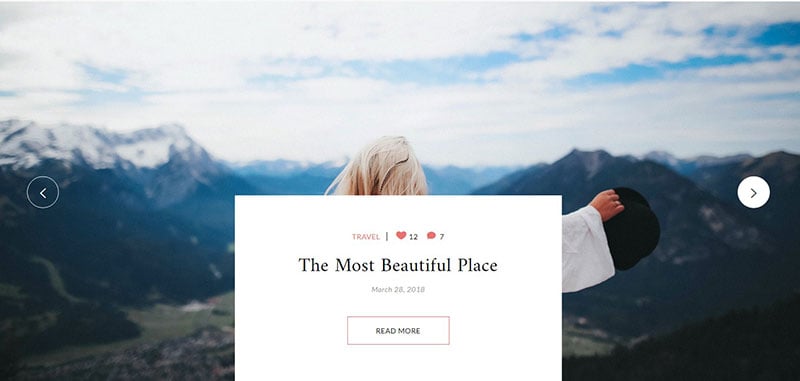 Whatever goal an entrepreneur or blogger has, the Ritsu template will help them reach it. Its amazing features enable them to showcase and express themselves throughout the pages.
Main Features
Modern and beautiful design
Selection of page layouts
Compatible with different devices
Comes with a big slider
Allows users to showcase page templates, articles, and web posts
Easy to use and customize
Clean and well-written code
Choose the design and customize the pages according to your needs and preferences. As a result, it ensures an amazing experience for the visitors.
Arshia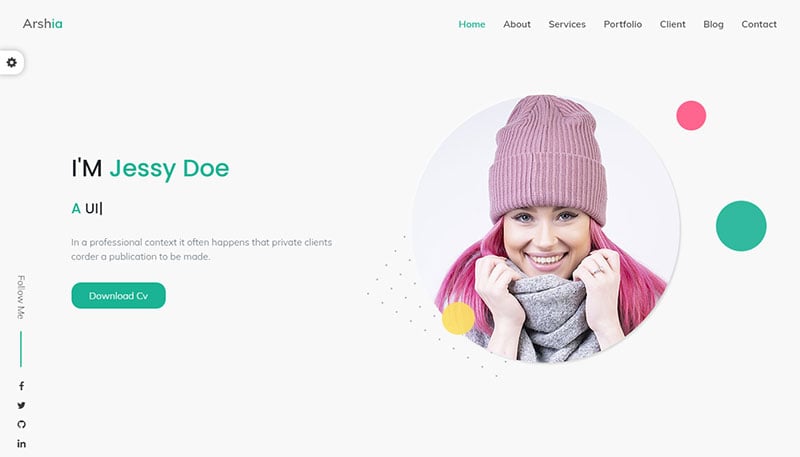 Since this template has LTR and RTL design, websites can reach more people, especially in Arabic countries. There is no limit to using the features of Arshia.
What's more, it is a simple, minimal, and creative template that is ideal for all.
Main Features
Supports LTR and RTL design for better translations
Consists of 54 creative dark and light demos with SASS files.
Responsive design
Based on HTML5 and CSS3, then Bootstrap4 and jQuery
Well-documented template and w3 validated
Tunis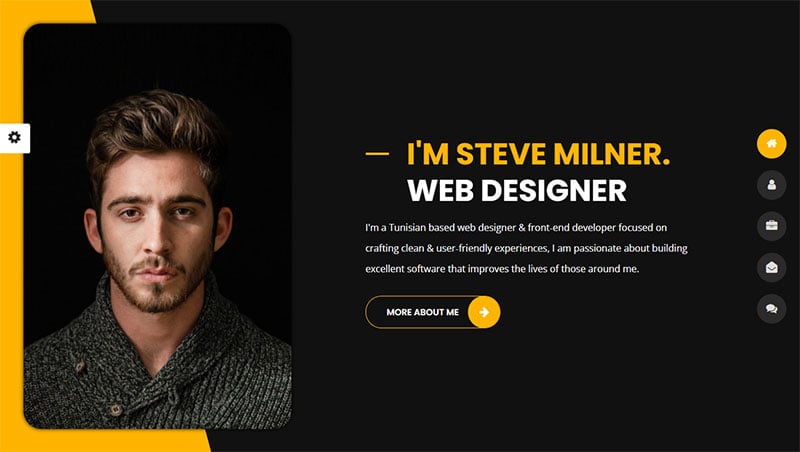 Tunis is a personal website template with light and dark versions. Through its blog pages, users can post updates about their business or network.
With excellent features, Tunis is more than a simple website template.
Main Features
One-page responsive template
Compatible with multiple browsers
Written with HTML and CSS3
Navigation-friendly template
Comes with 10 eye-catching color skins
Enables users to toggle between skins colors via the live style switcher
Comes with a blog page designed for business updates only
Arlo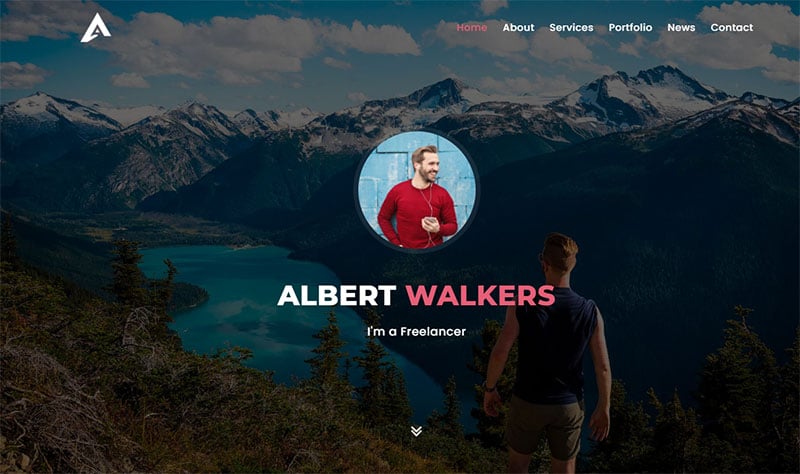 This personal website template is suitable for different types of websites. It comes with the essential features to create a working business website.
It is also the best option for freelancers, agencies, companies, and startup businesses. With Arlo, entrepreneurs and freelancers can showcase their work in a professional way.
Main Features
Clean, minimal, and creative design
Responsive design
Bionick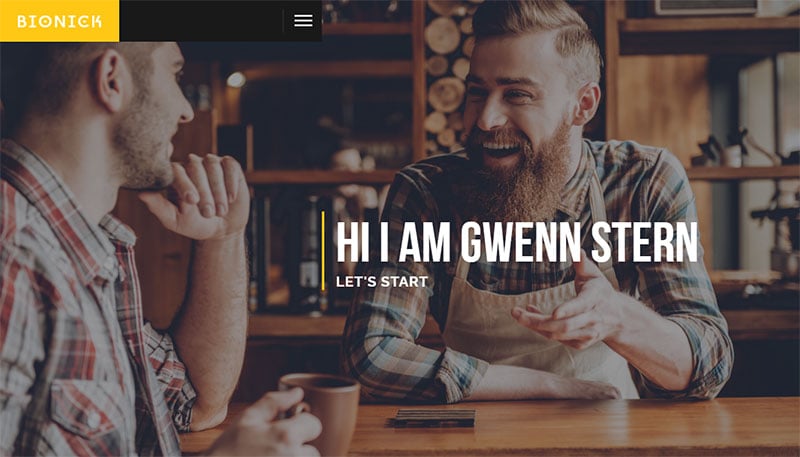 When creating a beautiful and professional portfolio, Bionick is the best option. It has the essential tools for creating an eye-catching website.
It is an ideal platform to showcase your skills and talents. Use it to present your portfolio to potential clients.
Main Features
Responsive
Comes with an attractive scrolling page
Has different options for background, portfolio template, and homepage.
Packed with Isotope plugin
Imroz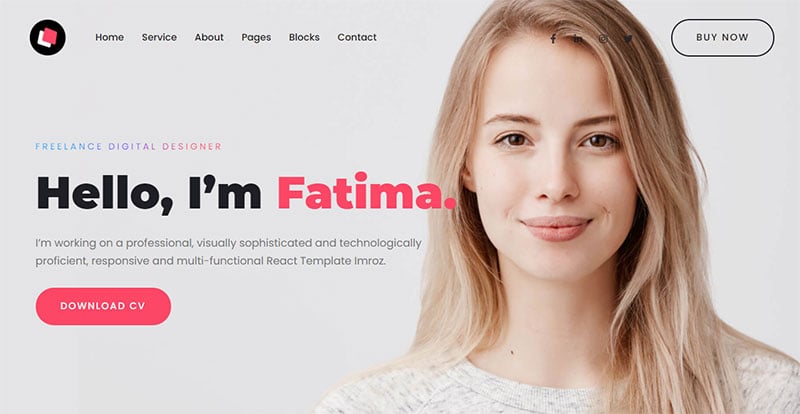 This personal website template is perfect for multi-purpose web designs. It is a React portfolio and creative agency template too.
Its modern design will entice visitors to make more frequent visits to your site.
The available templates are:
Freelancer
Study Agency
Startup Business
Home Particles
Minimum Portfolio
Digital Agency
Personal Portfolio Landing
Personal Portfolio
Creative Agency Landing
Creative Agency
Main Features
Purely component-based
Based on JavaScript and jQuery
Modern design
Fast loading Reaction template
Ideal for different types of pages
Journey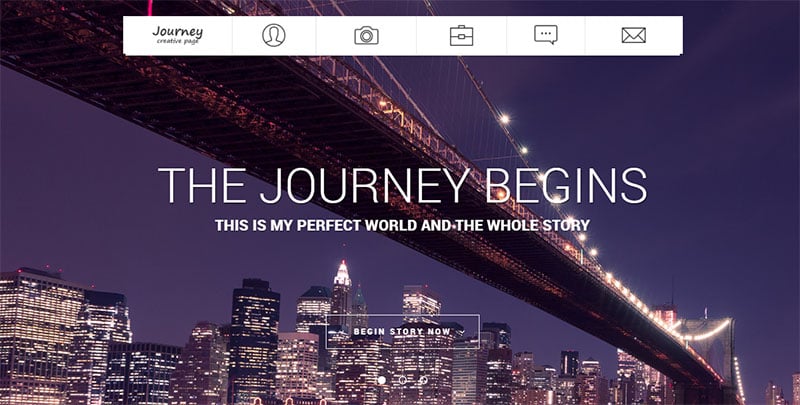 Journey is a great template for an Illustrator Portfolio, a Designer Portfolio, a Photographer Portfolio, and a Personal Portfolio.
This template has a universal design, so users can use this regardless of the nature of the business. Since it is so customizable, users can edit and change the design however they want.
Main Features
One-page photographer HTML template
Easy to customize
Enables users to replace images and texts
Valid HTML5 and CSS3
Based on Bootstrap 3
Comes with Parallax backgrounds
CSS3 content animations
100% responsive design
Retina-ready
Has a universal design
InBio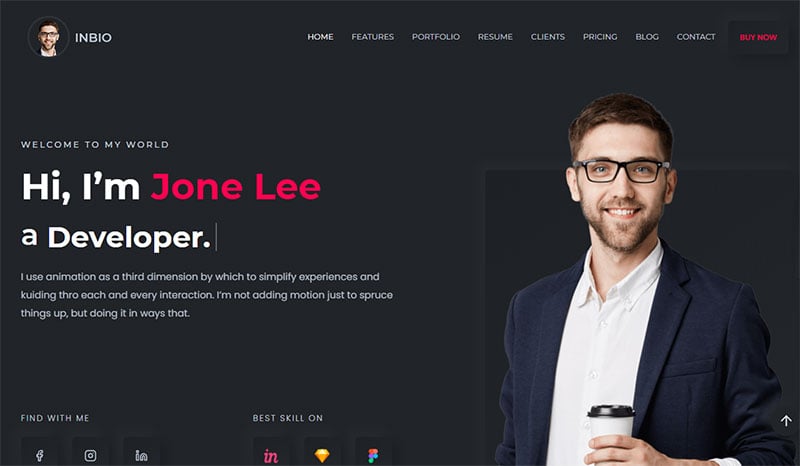 As a freelancer, a website is crucial to earn more clients and attract more customers. This is a freelancer portfolio template, but it is also suitable for other businesses.
With InBio, users can showcase their skills and recent works.
Main Features
One-page template
Easy to use and customize
Comes with adjustable colors
Enables users to choose from light and dark layout
Customizable dashboard
Has various widgets to choose from
Thousands of Google Fonts
Fully responsive
Adapt to all types of devices
SEO-optimized
Modern design
100 percent valid w3
Fast loading speed
Supports multiple browsers
Excellent customer service
Free updates upon requests
Arter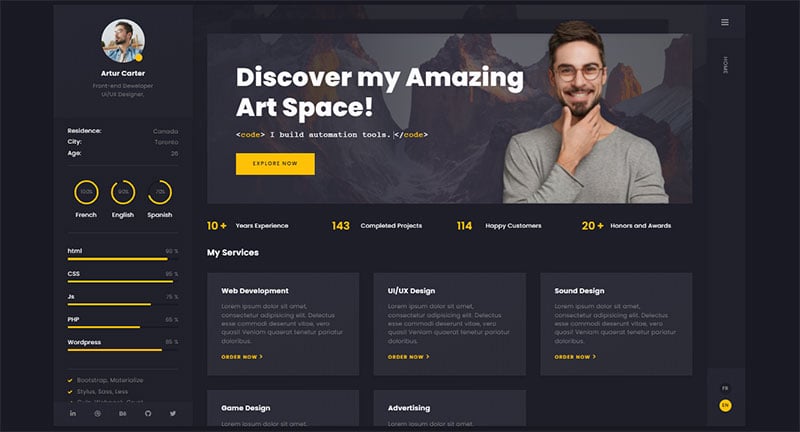 Arter has all the necessary features of a unique personal website template. It is suitable for coders, developers, designers, programmers, and freelancers.
As one of the ideal platforms for CVs and resumes, this can showcase all the skills and projects of a freelancer.
Main Features
Modern and unique design
Fully responsive
Easy to use and customizable
This template enables users to win new contracts and earn more clients. The customizing possibilities are limitless.
Caliber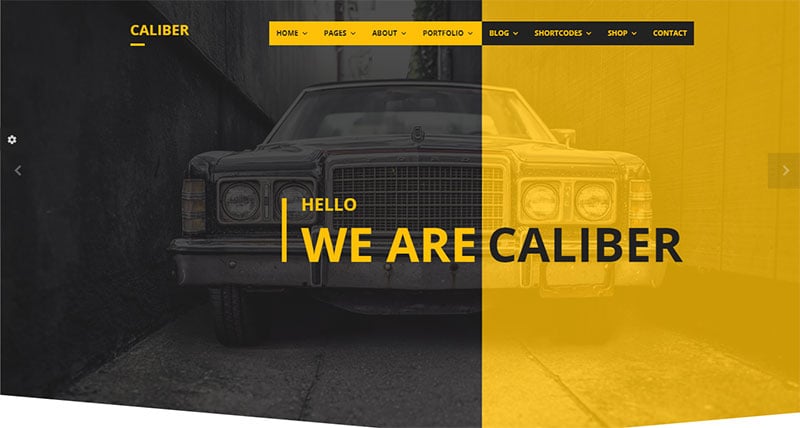 This unique template has lots of creative possibilities for customizing the website. It comes with all the essential tools and features every freelancer needs.
Main Features
Built on Bootstrap 3 framework
Fully responsive
Looks great on different devices
Compatible with various screen sizes
Support all browsers
Has reusable UI components and plugins for better customization
BreezyCV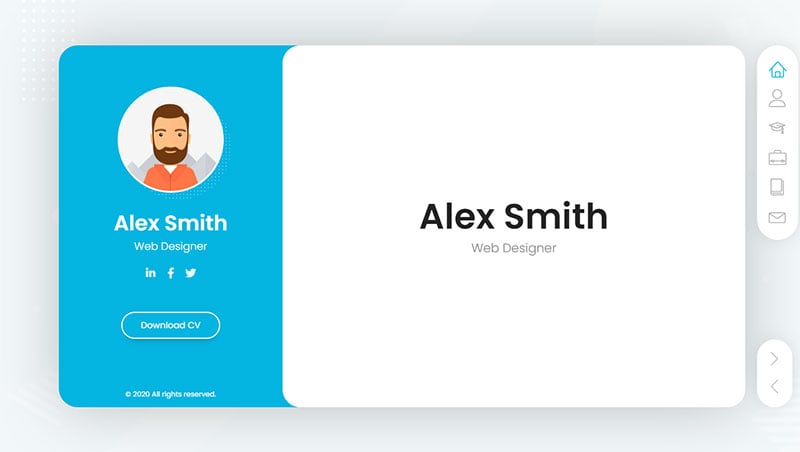 Here's another premium tool for creating a website or template. It is a vCard, CV, or resume template to present the user's skills and recent projects.
Main Features
Comes with 12 attractive color schemes
Looks good on any device
Compatible on different screen sizes
Users can set colors for buttons, menu links, and links
Comes with detailed documentation
Photographer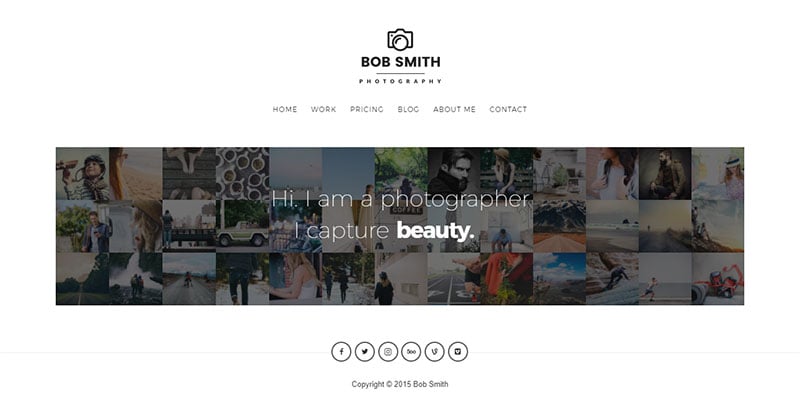 For a minimal design that is mobile-friendly, Photographer is a suitable choice.
Main Features
Minimalist and distraction-free design
Has an optimal image viewing experience
Comes with zoomable images for better viewing
Live photo wall homepage
Responsive design
Retina-ready
Based on HTML5 and CSS3
jQuery-powered
Flexible images and videos
2 blog layouts (with or without sidebar versions)
Solonick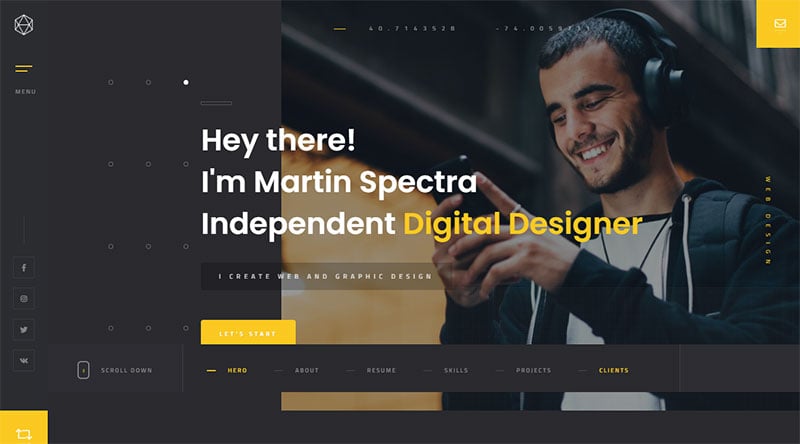 If looking for a multipurpose template, it is crucial to consider the features offered. They should fit the needs of the website you are building.
Solonick has features that cater to photographers, architects, video producers, musicians, and designers.
Main Features
Responsive
Multipurpose portfolio template
Alan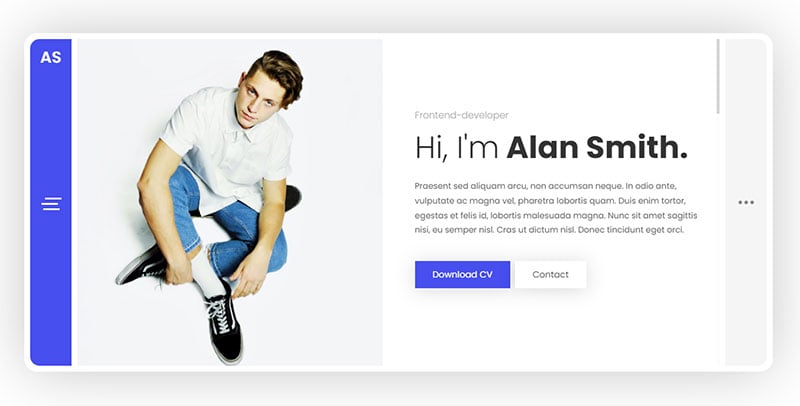 Here's another vCard, CV, or resume template. It's a great platform for promoting your skills and credibility to prospective customers.
Its features help to create a meaningful website that attracts more visits.
Main Features
Looks great in different designs
Compatible with various screen sizes
Has six eye-catching color schemes
Enables users to change the colors of buttons, links, and menus
Detailed documentation
Nairo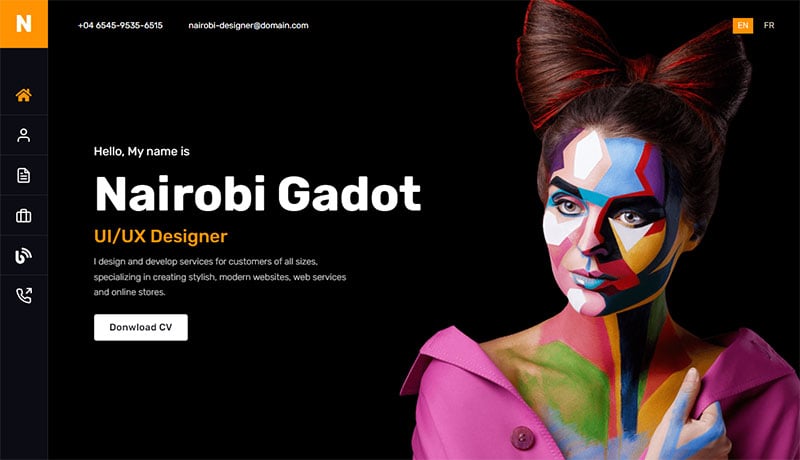 This portfolio website template is ideal for content writers, teachers, software engineers, freelancers, photographers, instructors, specialists, developers, and designers. Experts can showcase their talents through the Nairo template.
Main Features
Minimal and clean design
100% responsive
Made with React v17+
Fast performance
Tokyo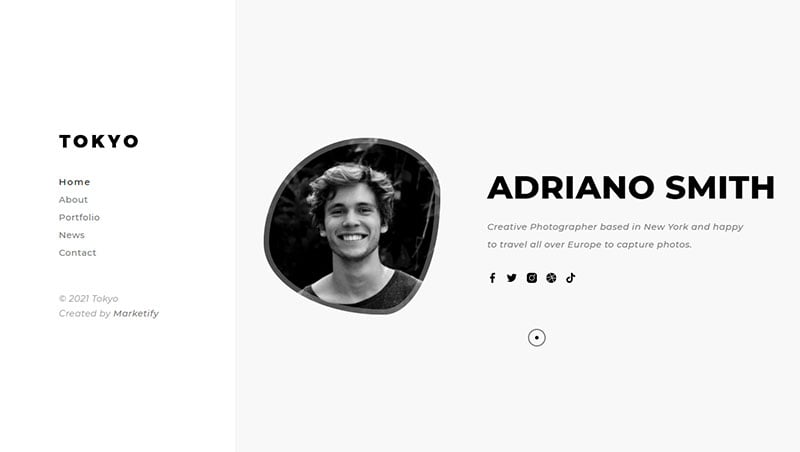 Here's another template that is ideal for agency websites. It is the best place to showcase skills and sell services.
It comes with essential features and functionalities.
Main Features
Fully responsive
Available in both light and dark versions
Optimized with CSS3 animations
Ultra-fast loading time
Developer-friendly template
Easy to customize
Well-documented
Free updates upon request
Angels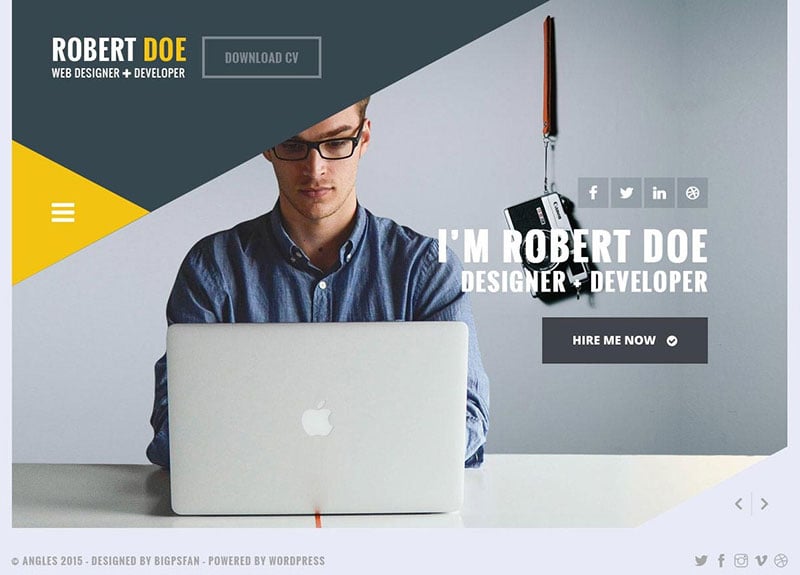 This is ideal for websites that focus on resumes, personal portfolios, freelancers, agencies, and vCard.
Jewel Theme developed this template. They have included key features that help online entrepreneurs and freelancers.
Main Features
Responsive
Built with Bootstrap Framework
Kerri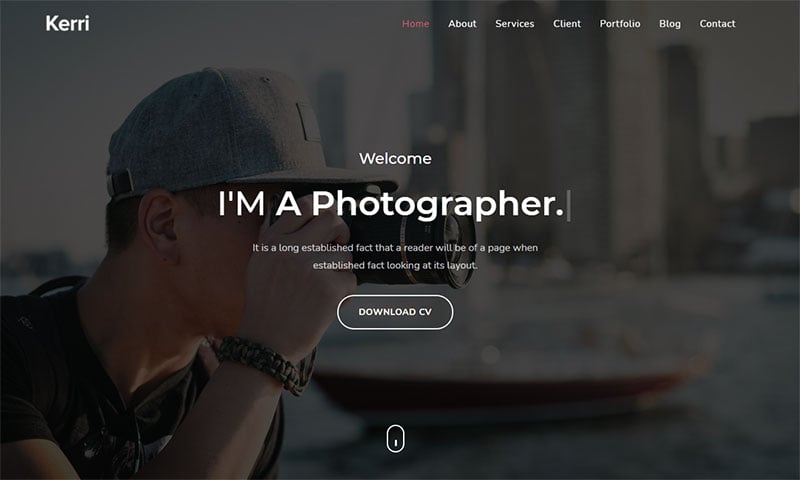 When it comes to preparedness and being organized, Kerri is the one to choose. Ithas a clean layout with organized features to help experts, specialists, engineers, and planners.
Main Features
One-page portfolio
100% responsive
Built with Bootstrap Framework
Clean code
Assemble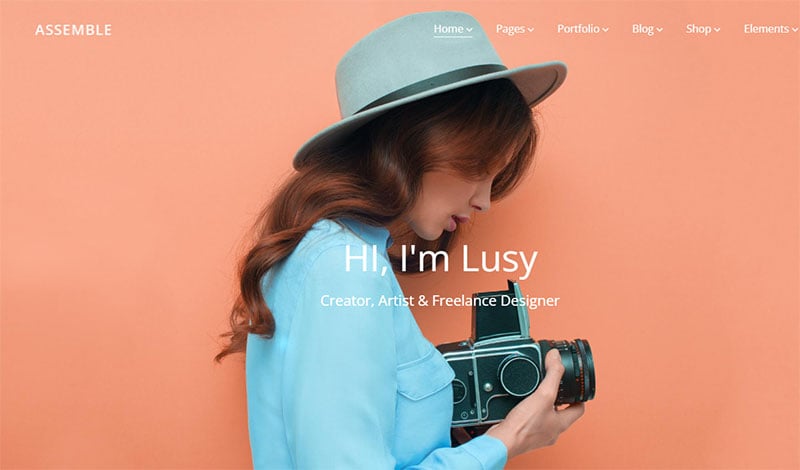 Main Features
Comes with 18 beautiful homepages
Provides excellent personal homepage
Cooper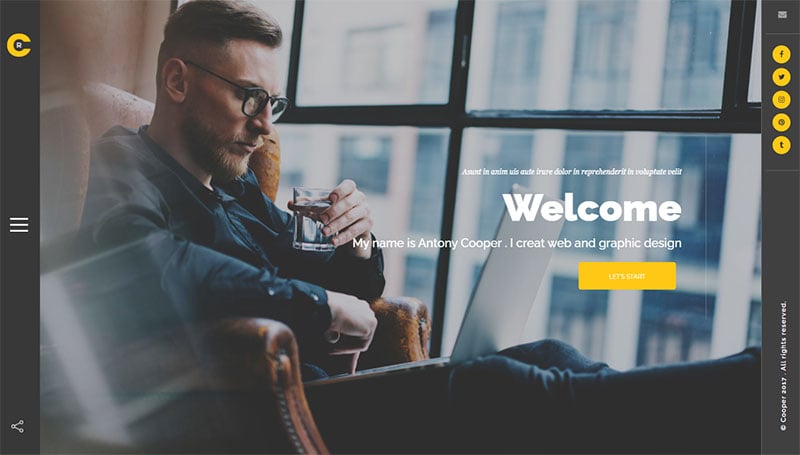 Main Features
Responsive
Has six different homepage styles
Comes with four various portfolio templates
Users can include full-screen images or Youtube videos
Based on Bootstrap 3.x
Retina-ready
FAQs about personal website templates
1. What are personal website templates?
Users can establish their own personal websites by customizing pre-made web pages called personal website templates. They frequently contain pre-made layouts, graphics, and other design components that may be quickly changed to meet the demands of a user.
2. Why should I use a personal website template?
When creating a website from scratch, using a personal website template might save time and work. They are perfect for people who might not have advanced web design skills because they are frequently economical and offer a wide range of adjustable options.
3. Are personal website templates easy to use, even for beginners?
Yes, personal website templates are frequently made to be intuitive and user-friendly. Many templates feature user-friendly interfaces that enable users to quickly and easily edit their website without the need for advanced technical knowledge.
4. Can I customize a personal website template to make it unique?
Yes, personal website templates are made to be altered in a variety of ways by users to create a singular website. They can alter fonts, colors, graphics, and other design aspects to distinguish their website from rivals.
5. How much do personal website templates typically cost?
Personal website templates can range in price based on the supplier, their quality, and their feature set. They can cost nothing or hundreds of dollars. Some vendors provide yearly or monthly subscriptions that grant access to numerous templates and extra services.
6. Are there free personal website templates available?
Yes, there are a ton of free templates for personal websites online. For individuals on a small budget, these templates—which frequently have simple features and design options—can be a fantastic place to start.
7. What features should I look for in a personal website template?
Users should consider a variety of aspects when choosing a personal website template, including adaptable design, flexible layouts, and simple content management systems. They must also take into account the particular requirements of their website, such as e-commerce capabilities or social media integration.
8. Can personal website templates be optimized for search engines?
Yes, a lot of templates for personal websites include built-in SEO features like meta tags, page titles, and descriptions. By employing pertinent keywords, enhancing photos, and producing high-quality material, users can further optimize their content for search engines.
9. Do personal website templates have mobile responsiveness?
Yes, a lot of templates for personal websites are made to be mobile-responsive, or able to adjust to different screen sizes and resolutions. In order to guarantee that users can access and view a website on any device, this is crucial.
10. Can personal website templates be integrated with social media platforms?
The ability to link a user's website to their social media accounts and distribute material across platforms is a feature that many personal website designs offer. This could boost interaction and encourage visitors to a user's website.
Final thoughts on the best personal website templates to pick from
Creating a resume is still an important part of applying for a job or getting more clients.
A personal website helps entrepreneurs, job seekers, and freelancers to emphasize their skills. They can show their past works or portfolios to potential clients.
Before choosing a template for the portfolio, ensure the page has a lot of space for visual content. A visual presentation is more likely to get a clients' attention than using words only to describe skills.
Having space on a portfolio website will make the page cleaner. It will also prevent the readers from being distracted.
If you liked this article about personal website templates, you should check out this article about dentistry website templates.
There are also similar articles discussing consulting website templates, nonprofit website templates, church website templates, and photography website templates.
And let's not forget about articles on construction website templates, minimalist website templates, corporate website templates, and portfolio website templates.
---
The Best Personal Website Templates to Pick Yours From