Creating a quality portfolio for your photography is no easy task. However, if you do it right it can help you land potential clients and impress your existing clients. Finding out how to make an excellent photography portfolio website to display your work can be incredibly time-consuming.
A well-designed portfolio can make even an average photographer look good and can land many more clients. There are many portfolio photography websites to choose from and you do need to select just the right kind of site, or the design can go awry.
Regardless of your type of photography, the following portfolio ideas should help you choose one to enable you to design an outstanding site to showcase all your talent.
This article was created by our team to showcase awesome photography portfolio examples. We hope to inspire you to create similarly awesome portfolios for yourself, with the help of Slider Revolution.
The Best Photography Portfolio Websites
Yasamin J Tehrani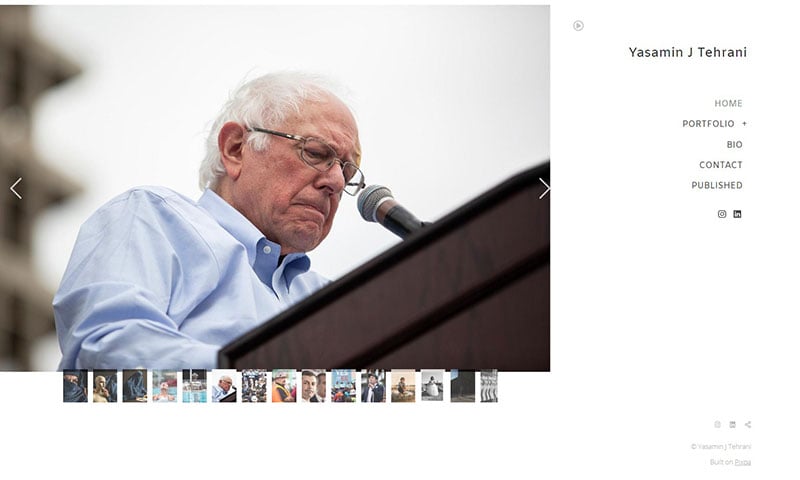 Yasamin is an Iran-based photographer who is passionate about photography as fine art. During her studies, she focused on documentary photography, and currently works as a photojournalist for the newspaper, Corsair. The elegant and simple layout makes this an excellent photography portfolio website.
Andrew Hobbs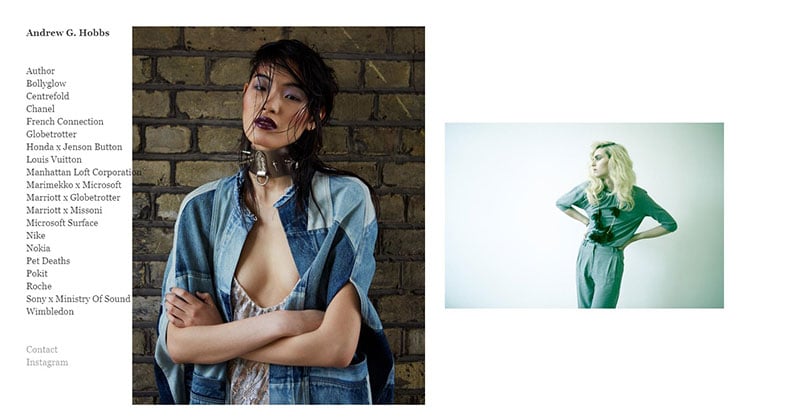 Andrew Hobbs has worked with very famous companies such as Louis Vuitton, Chanel, Nokia, and Nike. His photography portfolio website is clean and minimalist. The white backdrop perfectly offsets his images.
Mike the photographer website template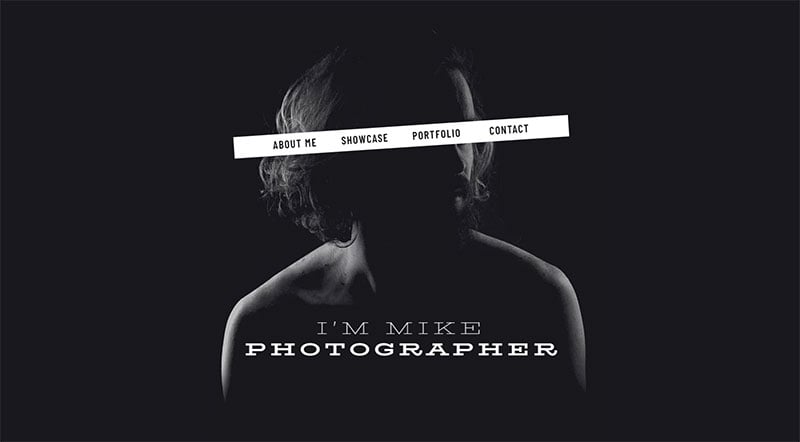 Levon Biss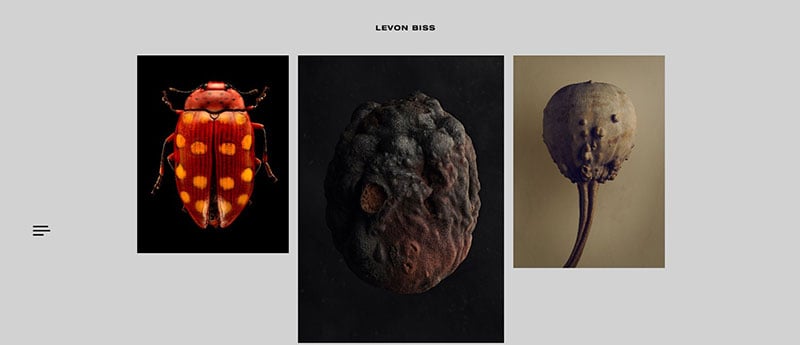 London photographer Levon Biss creates incredible images. He works with insects, people, and soccer in particular. The insect photographs use Microsculpture to create the perfect insect imagery. His portfolio website will inspire all wildlife photographers.
James Ransom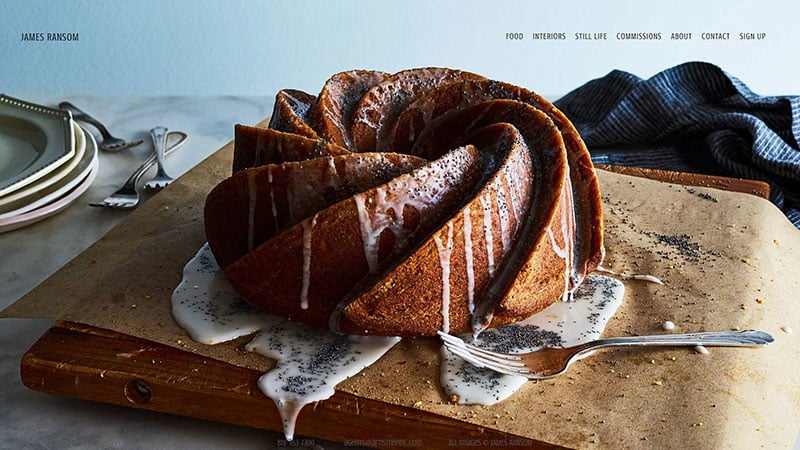 James Ransom is based in New York City and photographs food, interiors, and still lifes. He is famous for incredible color images, using color and light treatments for his images to draw in the viewer. He has collaborated in the past with Food52 to create some stunning shots and is thus a pivotal part of this famous brand.
Tim Flach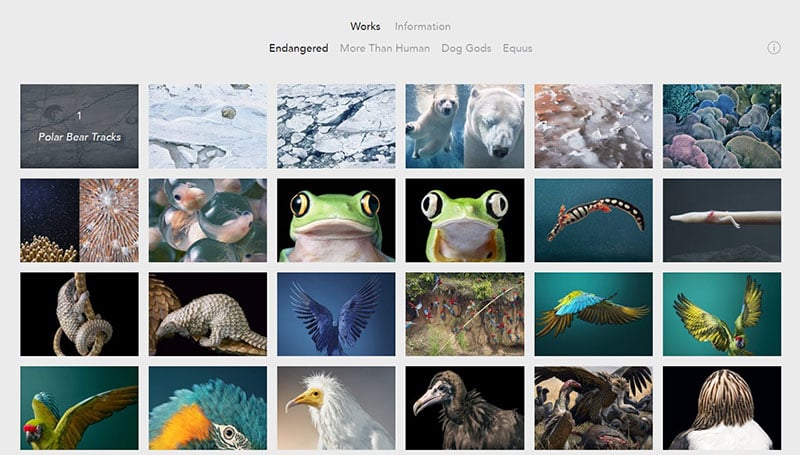 Tim Flach is a famous photographer whose photography portfolio website features fabulous images and incredible website design. The video background is immediately attracting your attention, then the portfolio's lovely grid structure makes it easy to view the images. Each time you select an image, it shows up in full screen with fading transitions, all of which equates to a fantastic user experience.
Matthew Ree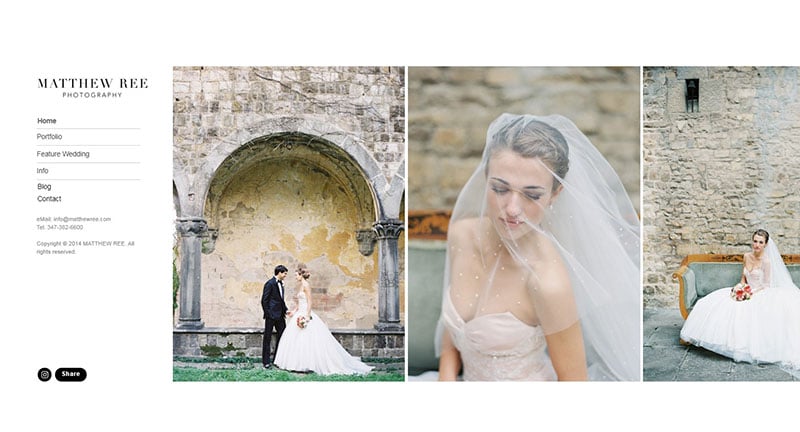 Photographer Matthew Ree specializes in weddings and lifestyle shots, and has been featured in New York Magazine, The Knot, and many other publications worldwide. His portfolio website features a carousel slider with wedding photos, professionally shot with a brilliant use of posing, color, and lighting.
Dark portfolio grid created with Essential Grid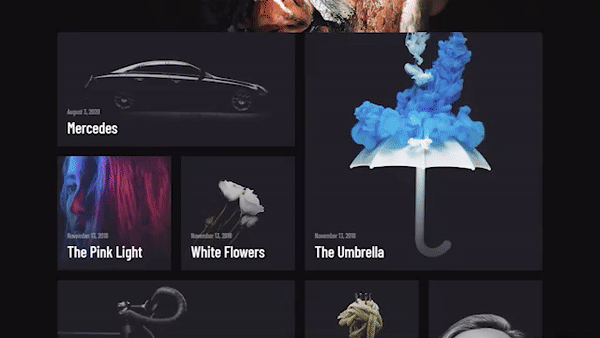 Essential Grid is hands down the best gallery plugin. If there's one plugin that would make your website better more than others, it's this one.
Essential Grid lets you display your images in a gallery format, whether from the WordPress gallery, social media, or elsewhere.
Ruud Luijten Photography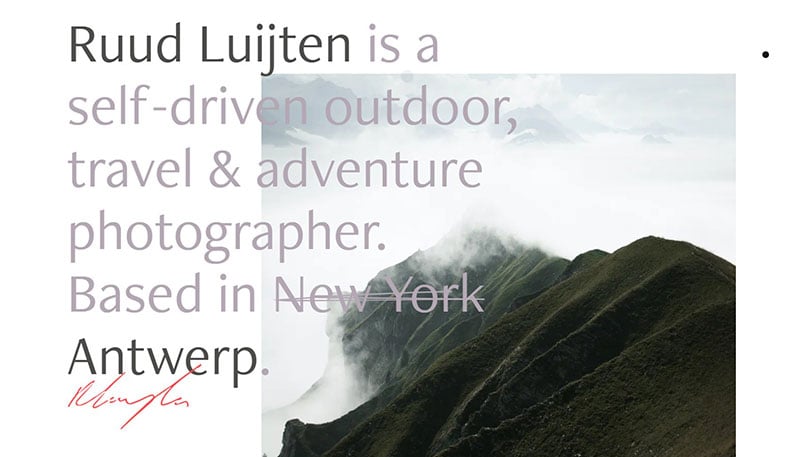 Self-taught Belgian photographer Ruud Luijten's passion for the wilderness and the outdoors is manifestly obvious on his photography portfolio website.
Olya Kobruseva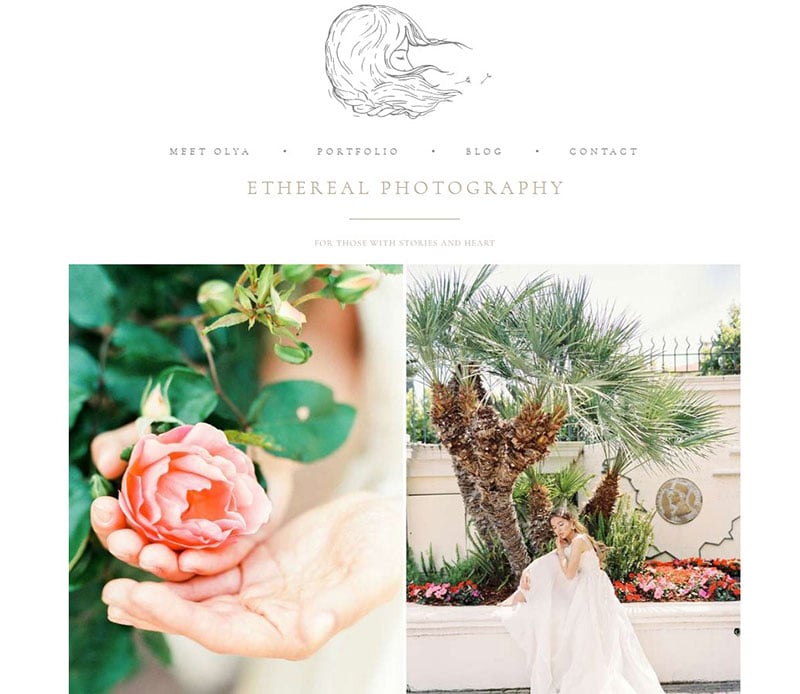 Olya Kobruseva's site is simple, has great navigation and loads very fast, and the visitor's path is completely intuitive. Upon entering the site the wonderful slider captures your attention, then choose one of the 15 galleries, where the images are displayed in a column formation. At the bottom of each gallery page, you can either choose another gallery to visit, or return to the top.
Max Montgomery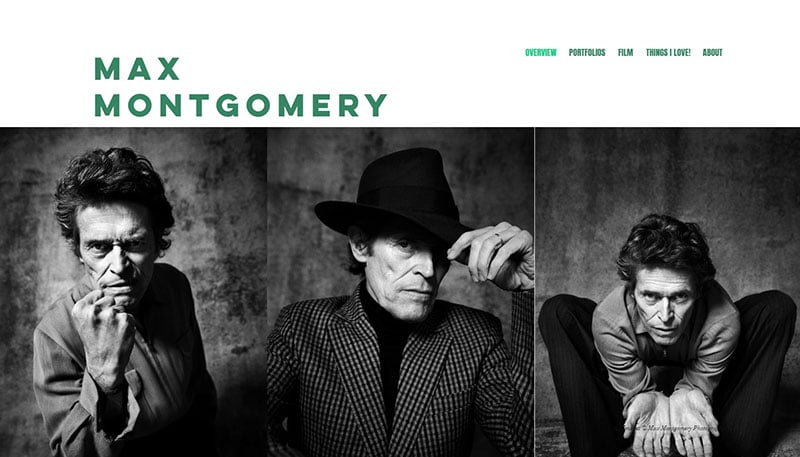 The main gallery on this site is used as an access point to other projects. Max Montgomery has a wonderful site with an easy to follow structure. It puts all of the attention onto his work and the site is the background support.
Jill Greenberg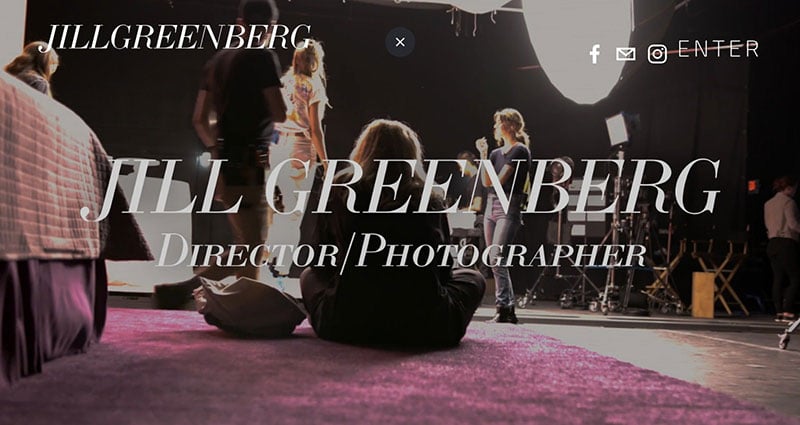 You may have heard of the photo series 'End Times', captured in 2005, which depicted images of children crying and caused quite the stir in the creative community. She has been photographing images since she was 10 years old, and has since won many photography awards, including for the controversial "End Times" collection.
Mike Kelley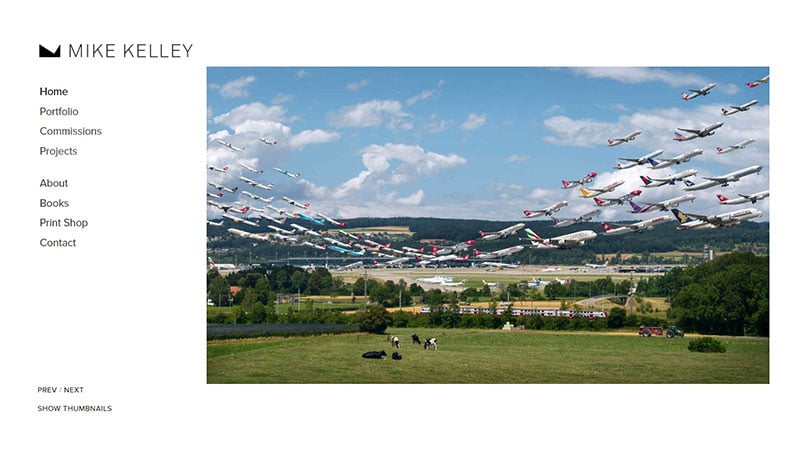 California photographer Mike Kelley has a wonderful photography website, specializing in architectural photography, as well as brilliant aircraft images. He has created advertising shots for many enterprises including HGTV, and also provides useful resources for those interested in learning about photography.
Vladimir Rys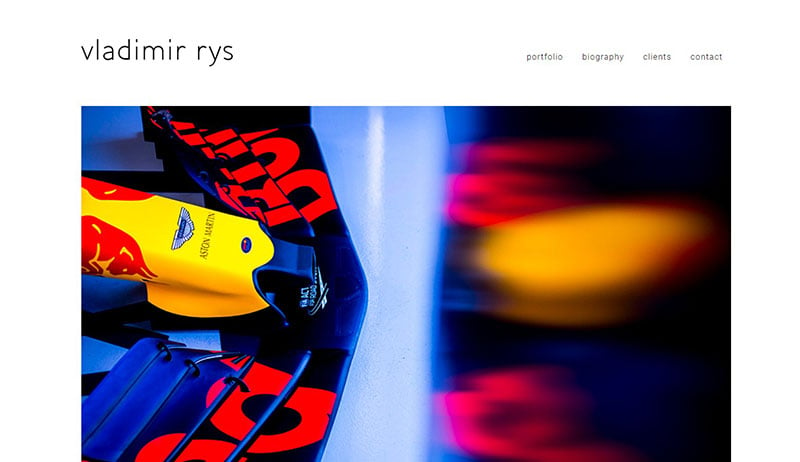 Vladimir Rys is a multi award-winning sports photographer from the Czech Republic. He photographs Formula One races, as well as many other sports, including boxing, swimming, and soccer.
Lucy Birkhead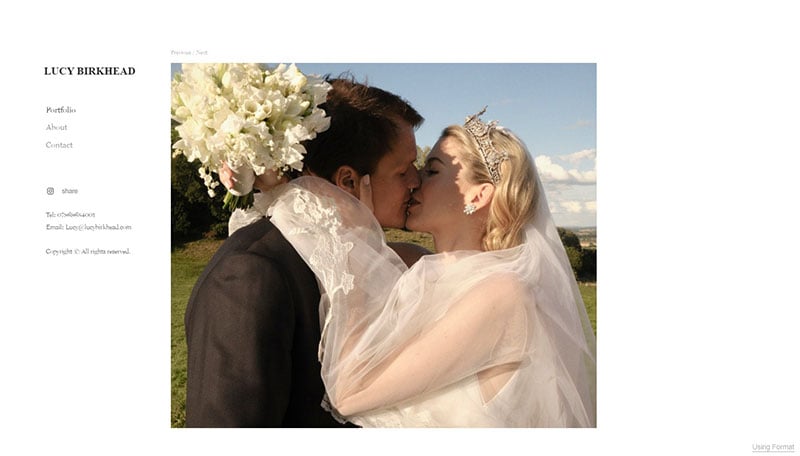 Lucy Birkhead is a UK based wedding photographer, who weaves incredible stories through her images. She also has a blog on her site to explain some of the stories that accompany the images. Her portfolio has a captivating slider with some of her best shots. She is wonderful at capturing candid stills, which is what makes her unique in the industry.
StudioChevojon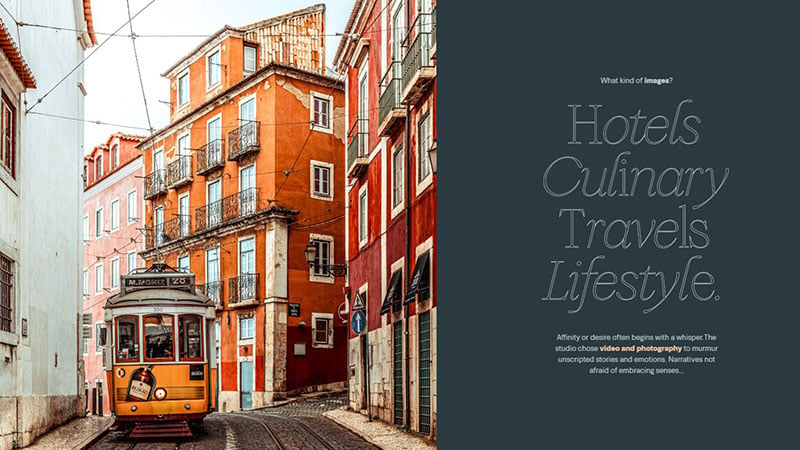 StudioChevojon creates premium shots for luxury restaurants and hotels with multiple visually stunning images.
Anwita and Arun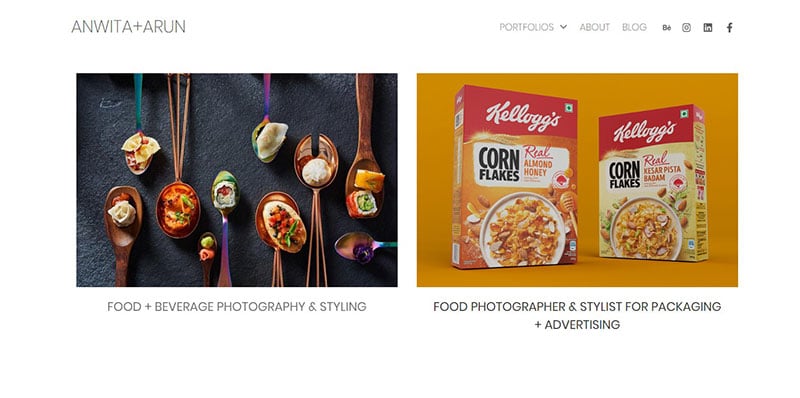 Arun and Anwita are a husband and wife team, based in India, who work together to create wonderful images. They are highly creative people, undertaking many types of creative arts, including photography. Their well-designed portfolio site contains many vibrant images. Photos appear in an attractive horizontal grid layout accompanied by categories for easy navigation.
Aralani Photography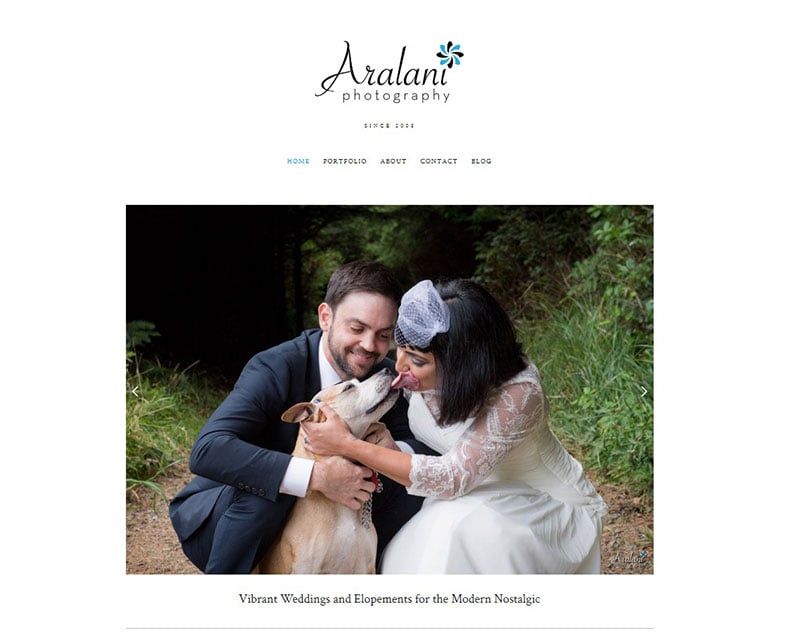 This minimalist site looks deceptively simple. It is certainly easy to use, but contains screeds of information, with plenty of features, including a blog, testimonials, and categories. It remains intuitive to navigate and find anything you are looking for. Each page was designed intentionally for a specific purpose, making browsing a pleasure.
Michael David Adams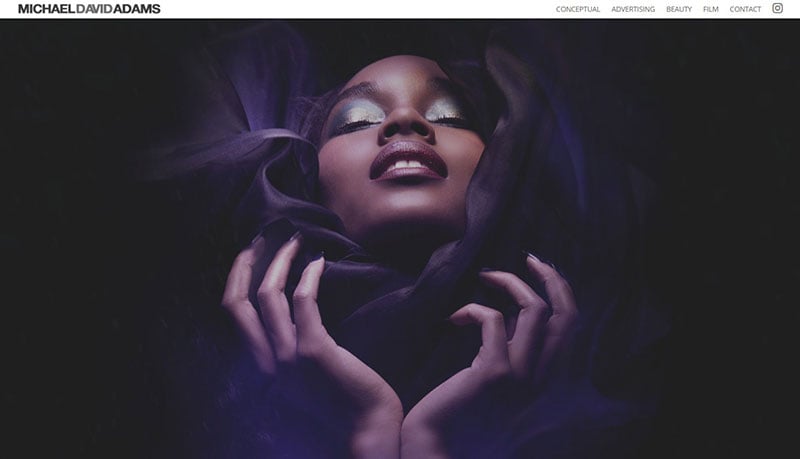 Michael David Adams has created a brilliantly designed portfolio, with a grid design featuring monochrome images. Roll your mouse across them to see them in color.
Adrieana Blazin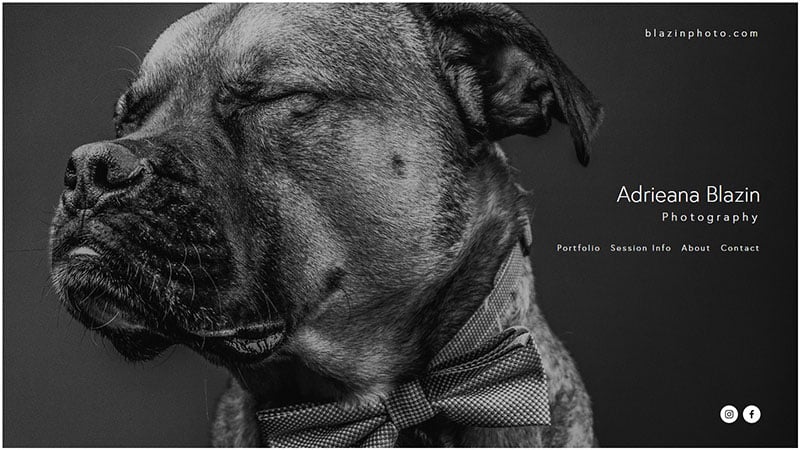 New Jersey photographer Adrieana Blazin has breathtaking photos of people and animals on her portfolio, many of which are monochromatic. In a former life, she was an opera singer. Whilst performing as an opera singer she learnt how to be successful in a different creative industry.
Cadeau Boudoir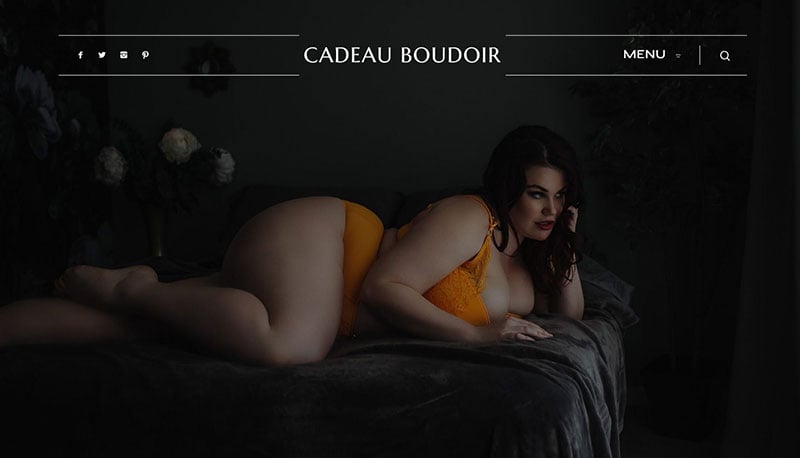 Patricia Ricardo is the photographer for Cadeau Boudoir, using a style of photography popular from the 1920s onwards.
Lisse Wedding Photography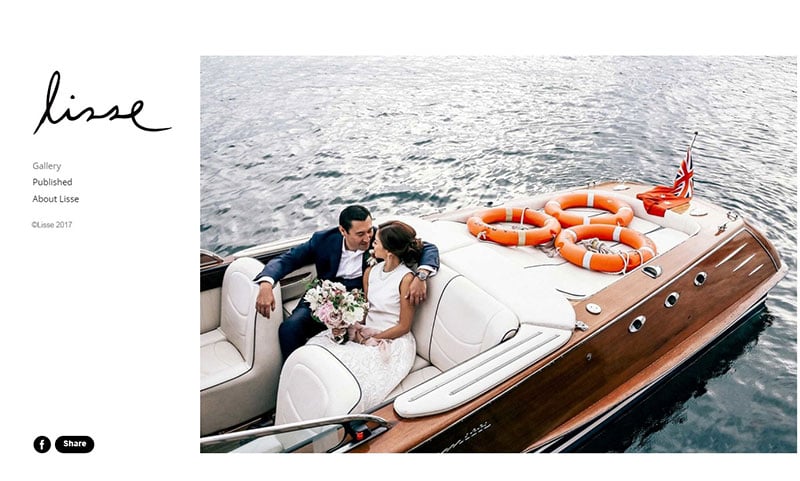 Elise Hassey is the photographer at Lisse Wedding Photography. She is based at Bondi Beach in Sydney, Australia. Ellie creates gorgeous wedding photos with wonderful flair. She takes many black and white images which showcase her skillful work behind the lens. You can find her images in many popular magazines in Australia, including Bride to Be, Bazaar Brides, and Vogue Brides. Sleek and stunning photography is displayed on the site using a slider.
Hilary O'Leary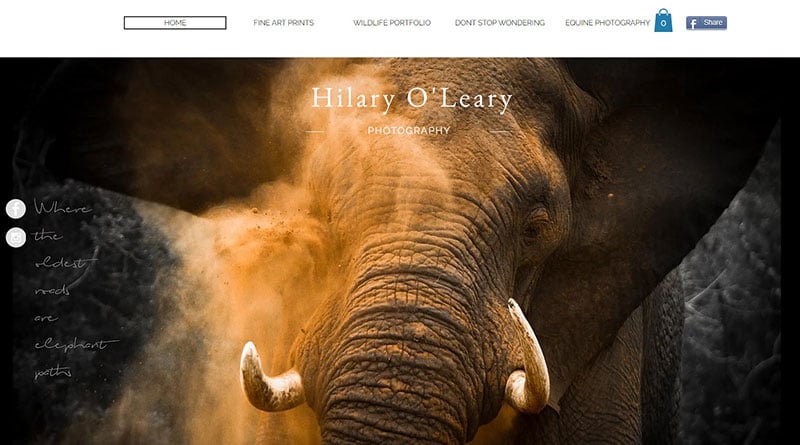 Hilary O'Leary, based in South Africa, uses the landscapes to take beautiful photos for site visitors to engage with completely. African wildlife is her main feature and she uses a parallax scrolling feature.
Justin Eiler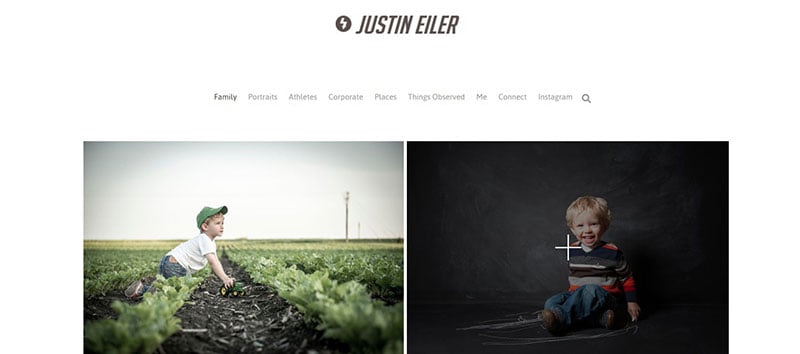 Justin Eiler resides in the US in North Dakota and focuses on portrait photography. He works for the North Dakota University and also does plenty of freelance photography. The portfolio on his website has images shown horizontally. Use the categories to easily navigate throughout the site.
Kartsie Photography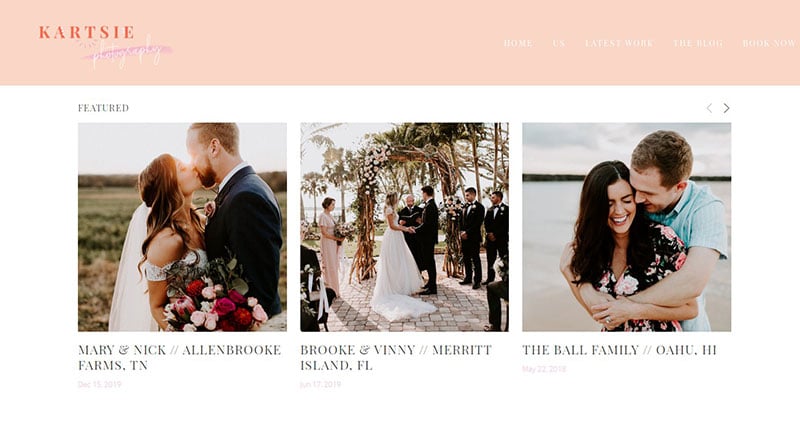 Kaila is the photographer for Kartsie Photography. This site is more of a blog folio that shows images within blogs to tell the accompanying stories. This is a great example of a sleek and easy-to-navigate photography website.
Nick Onken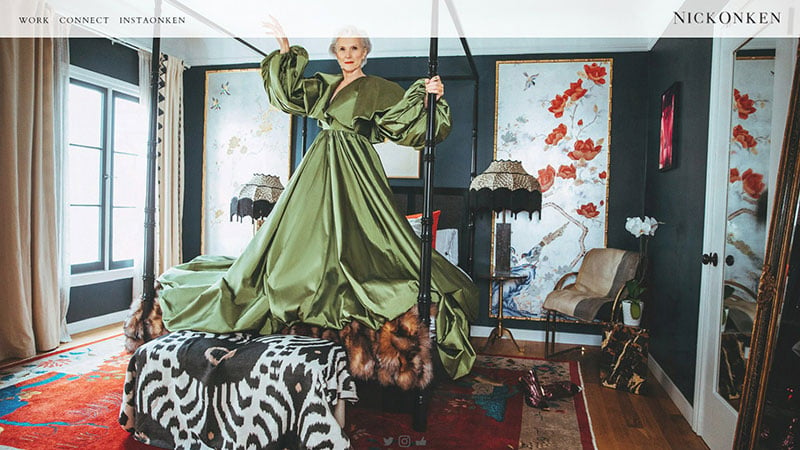 Nick Onken has professionally photographed Jessica Alba, Tom Hanks, and Justin Bieber and has become famous for these images. He has also completed photographic campaigns for Adidas, Nike, and Coca Cola.
Pedro N The World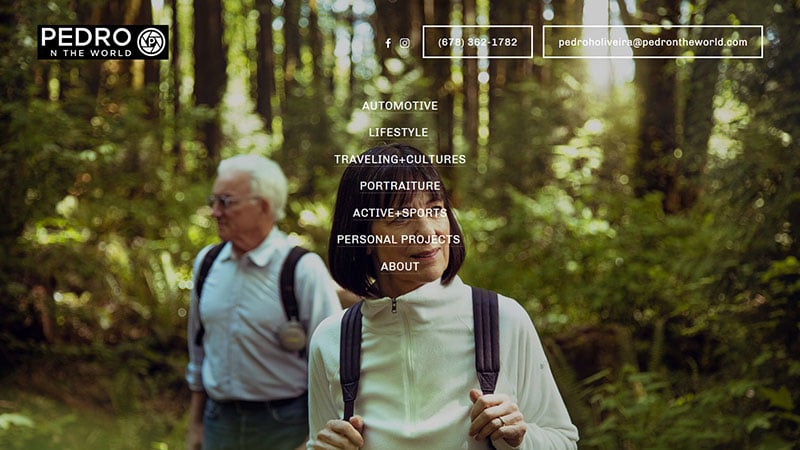 Pedro moved from Brazil to the US at age 22, for his education. His imagery skills are unmatched, featuring the full range of emotions, and his portfolio shows this perfectly.
Aubrie Pick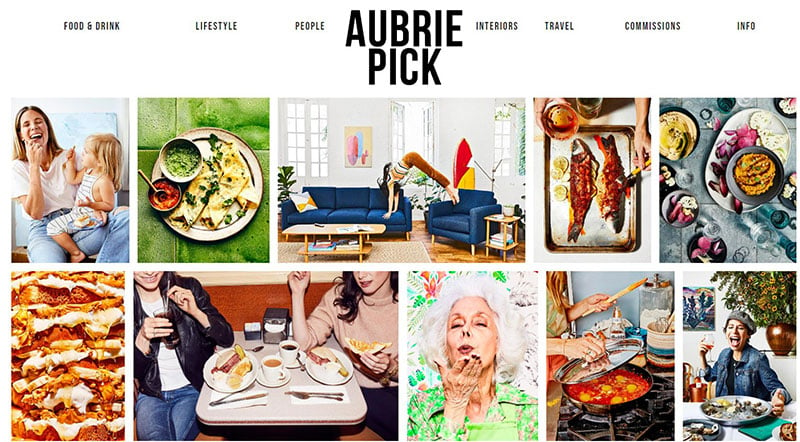 San Francisco based Aubrie is a highly talented food and travel photographer, as well as lifestyle and portraits. She has worked for numerous famous brands, including Vanity Fair, Lonely Planet, and Bon Appetit. She uses vivid colors and interesting contrast and lighting features.
James Anderson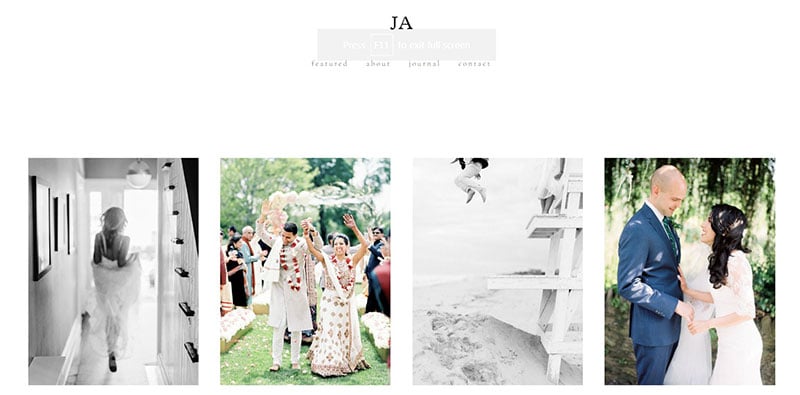 James Anderson can find the beauty in any otherwise normal moment. He is popular for his relaxed attitude when conducting wedding shoots.
Dory Younes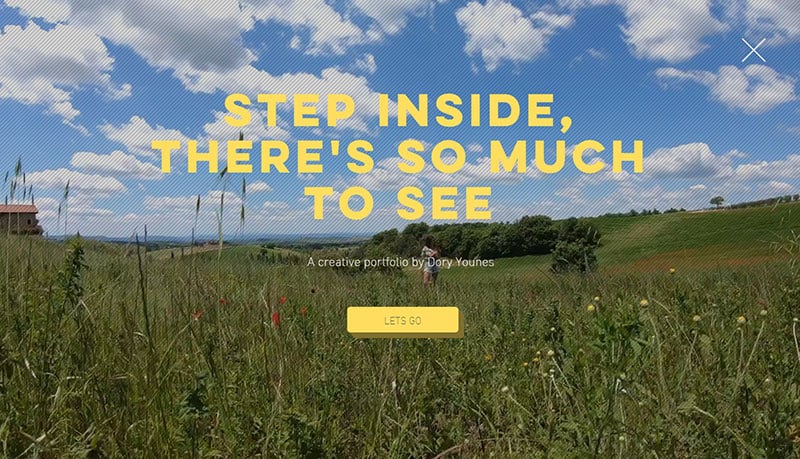 Dory draws in her viewers instantly with a wonderful splash page, tiled with many stunning images. They contain such depth and detail that visitors will spend a long time exploring them.
Estevez & Belloso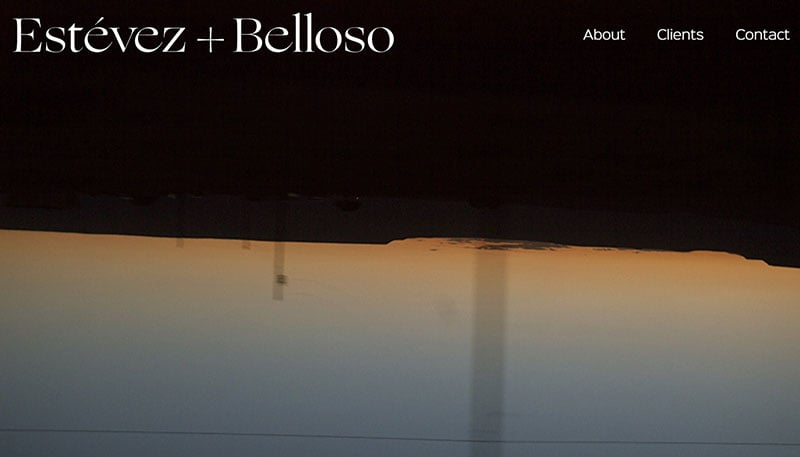 Cruciform thumbnails make up the portfolio of Estevez and Belloso. Hover your mouse on one of these and you can see the full image, complete with a headline.
Larissa Ong Shu Wen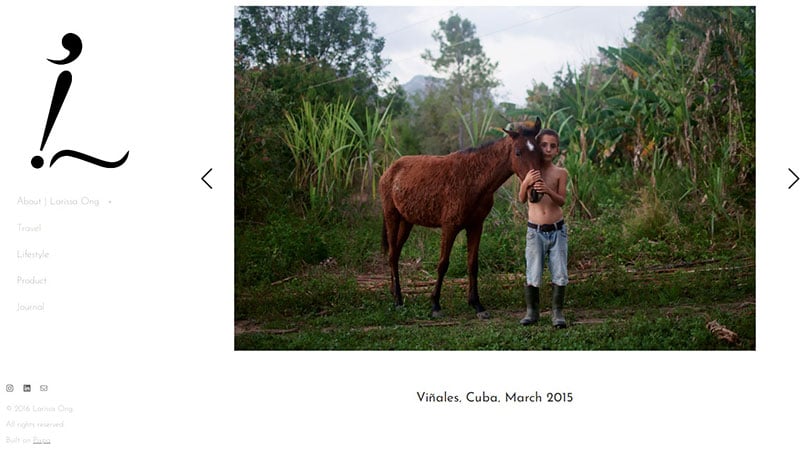 Larissa is a Singapore-based photographer, specializing in product, travel, and lifestyle photography. She is a very accomplished individual, having studied Latin American Studies, and Culture and Politics at Georgetown. Larissa now works with documentaries for Channel News Asia. She ultimately wants to have a social impact through her storytelling. The site is minimalist but maintains a sleek and interesting design. Images are shown one at a time by scrolling horizontally.
Caitlin Worthington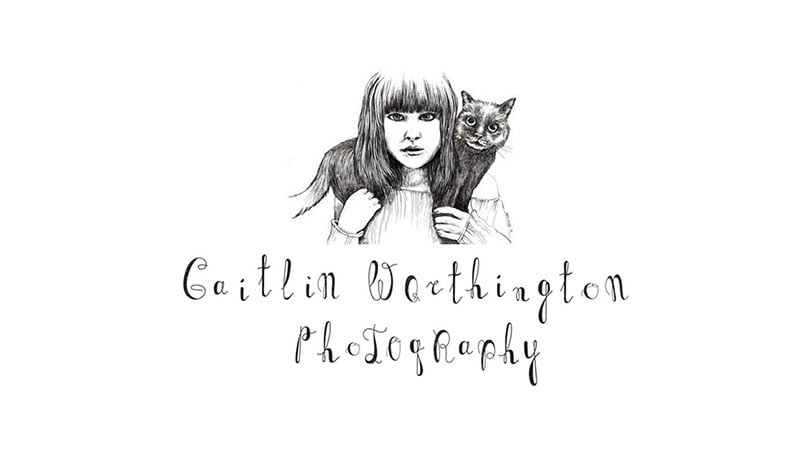 Horizontal portfolio layouts look incredibly stunning. Caitlin uses horizontal layouts perfectly. Her photography portfolio uses small images to create a wonderful photography website.
Mareen Fischinger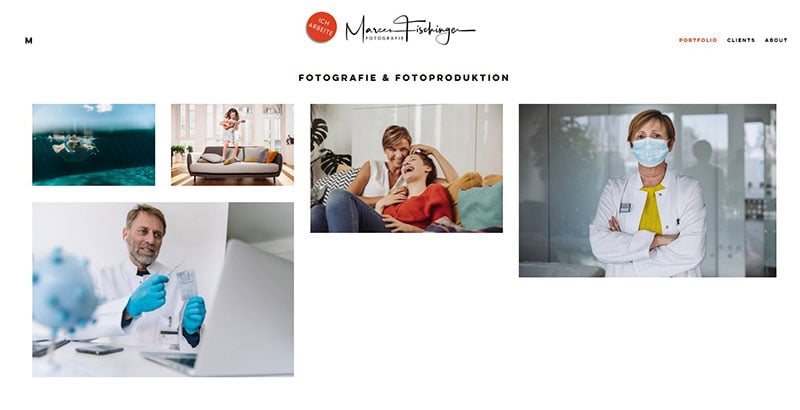 Mareen works all over the world and currently lives in Germany, where he is involved with photoproduction, including booking, casting, art direction, and location scouting.
Haris Nukem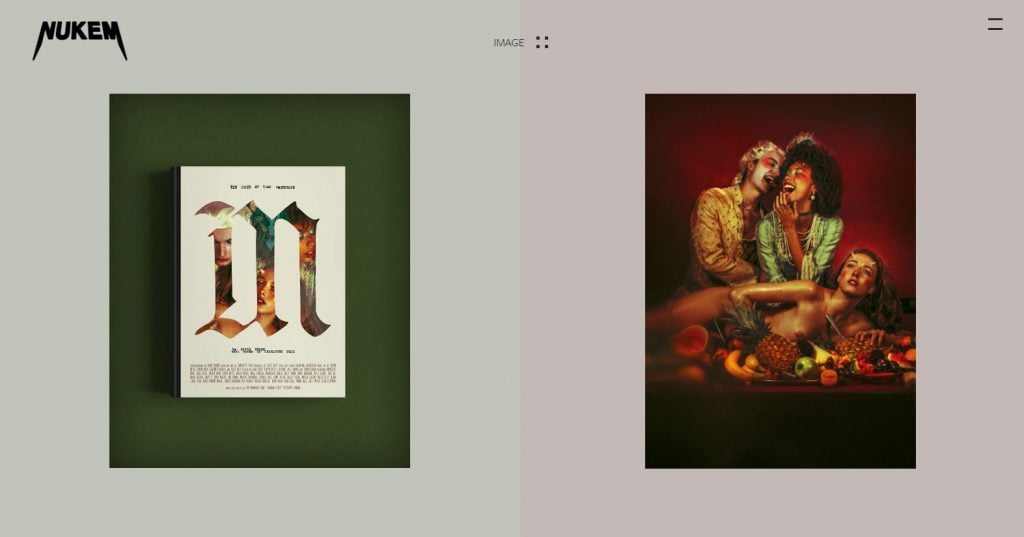 Haris is a commercial photographer, creating pictures for worthy causes with important messages. Take a look at the press section of the site to see where his shots have been displayed, as well as the numerous articles were written about this man and his talents.
Nathalie Champagne

French photographer Nathalie Champagne has a website with a photo gallery containing thumbnails to the right. Larger photos are front and center on the homepage. Her debonair attitude shines through in her joyful shots.
Erich Saide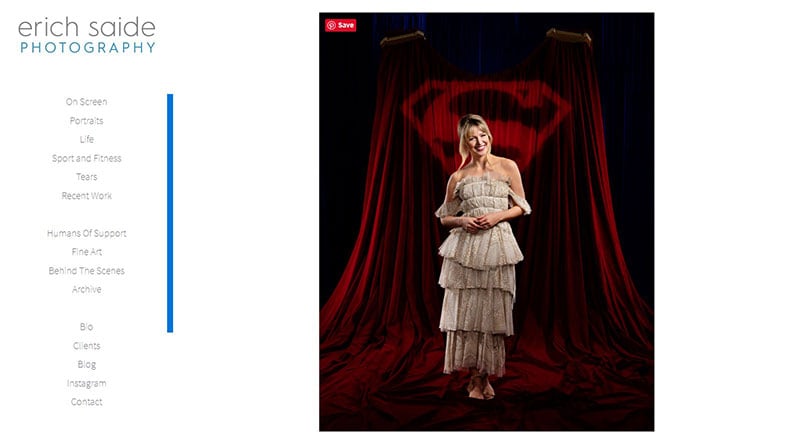 Originally from Jamaica, Erich now resides in Canada. He's been a versatile photographer for more than 20 years. His work includes sports, celebrities, and so much more. His photography of multiple subjects has real depth and breadth and perfect composition.
Hana Knizova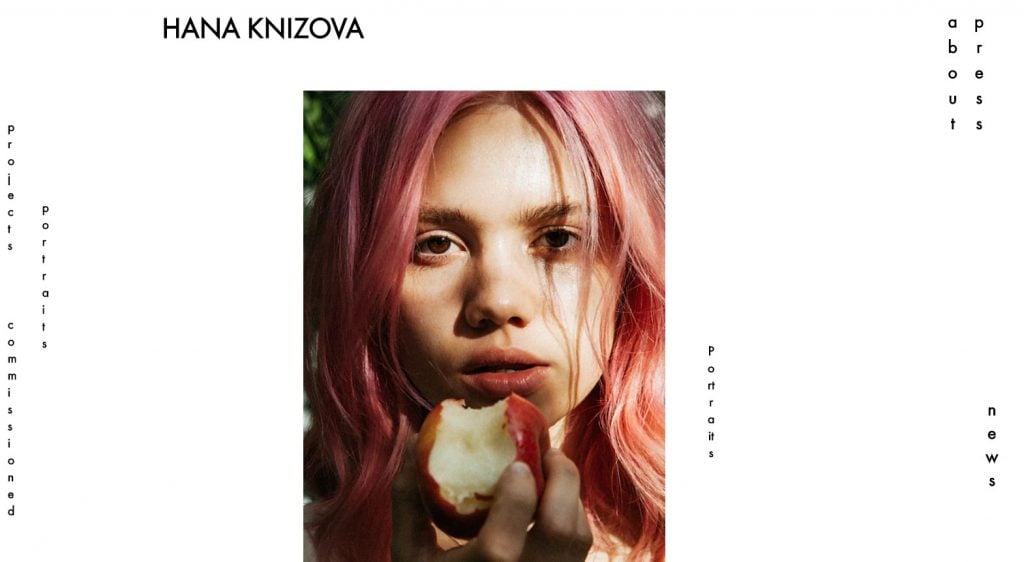 Hana's photography portfolio is a great example of lateral thinking. She uses parallax scrolling elements as well as an interesting layout to create something unique. The menu is vertical, which is certainly an unforgettable eye-catching feature.
Abhishek Bali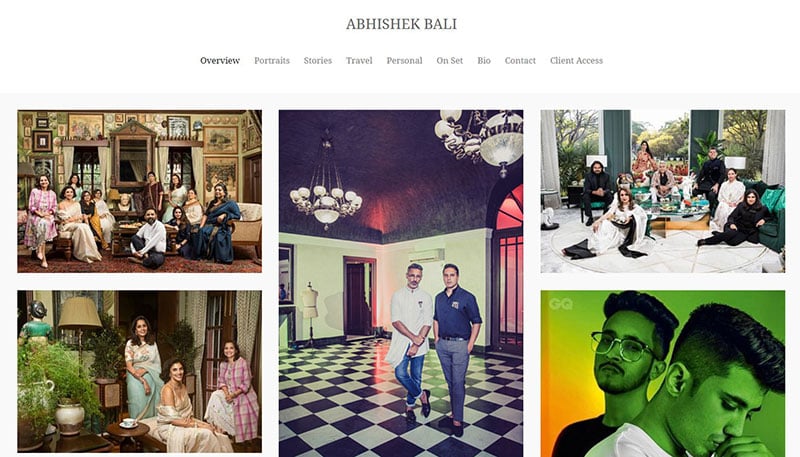 Abhishek is a highly creative photographer based in India. He has worked with multiple magazines including Forbes, Vogue, GQ, and Elle. His site focuses on gallery layouts to see many images simultaneously.
Adam Von Mack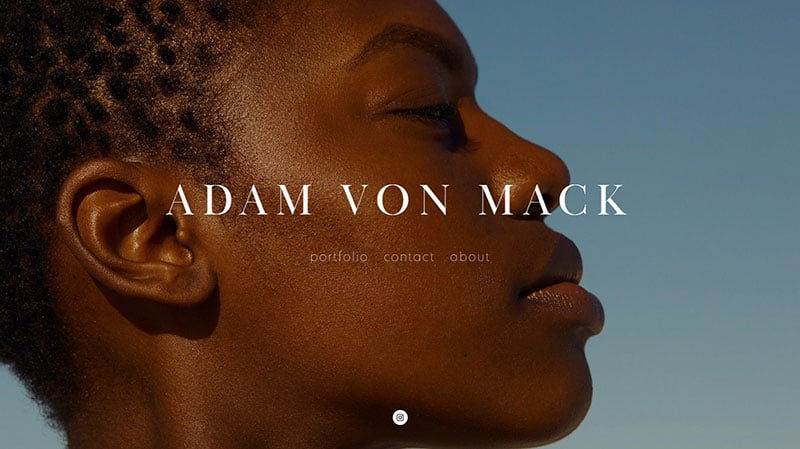 Adam Von Mack's photography portfolio is a clean alternative whose goal is to show off his best work. The welcome page draws you in. Then you can select one of 5 categories to see his portfolio, shown with simple but effective image sliders.
Julia and Gil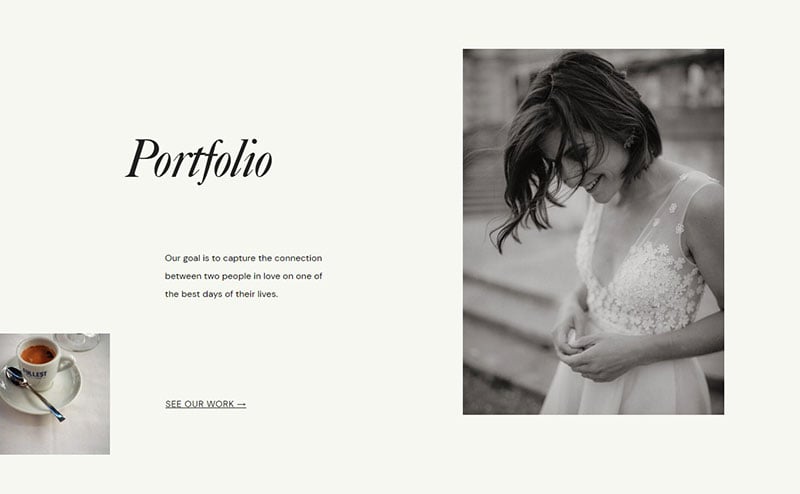 Julia and Gil work as a team, and their artistic goals are to capture people in love. They have been traveling for 7 years, all over the world to capture their love images. They offer presets which can help you to create your own wonderful images.
Photography Portfolio Creation Tips
The best way to attract potential clients is by enticing them with your fantastic work portfolio.
An online portfolio allows thousands of potential clients to see your best work. It can help you get new business and show off your skills to attract big clients. Frankly, if you don't have an online portfolio you may get left behind in the photography industry.
Whether you have countless photos or just a few hundred, you can make them look amazing in an online portfolio. You will need to cull so your portfolio stays sleek and clean. The following information should help you create a compelling professional portfolio site.
Set Goals for The Portfolio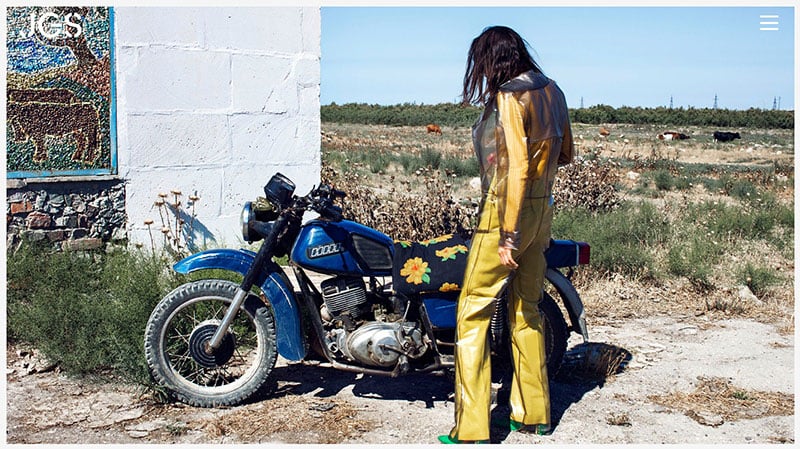 Firstly consider why you want a portfolio. Is it to attract more potential clients? Are you trying to get a job with an agency? Or applying to get into college?
Write down these questions and your answers, which will help you to define your goals and assist in creating a photography website that meets them.
Simplicity Is Key
Simple photography websites allow your best work to remain the focal point. They are also more intuitive to navigate, so people have no trouble finding your work. You might choose to add other features, but keeping it simple is usually best. Let your pictures do the talking and create a wonderful user experience.
Design Style
All creators have their own views about their art and how they want it displayed. This is highly personal, so creating your own photography website will provide your method of storytelling, which will decide how you set up your site. After you know the intention of the portfolio, it's much easier to decide on the design.
Next consider the size of your photos. Higher resolution can make a slower loading site and people might try to steal your images. Lower resolution can be easier but doesn't look as good. Ensure you match the backgrounds of your different pages to the photos you display on them as well.
Create a Structure
Next, you need to categorize your images for easy searching, which could be with flags, colors, or rating selection. This will help you to file your photos well.
If you work across many different styles, just show images for that audience. For example, keep only portraits in a portrait photography section.
Create a page for each audience you may have. Portrait, landscape, and wedding photography would all have different audiences.
The First Shot and the Last
Everyone understands the importance of a first impression and your pictures are no different so put your most compelling shot first. This must be one that entices viewers to want to see more of your shots.
Keep up the quality of your images. If one is lower quality or less engaging, simply don't include it. Add an equally compelling shot for your last image.
Match the Design to Your Photography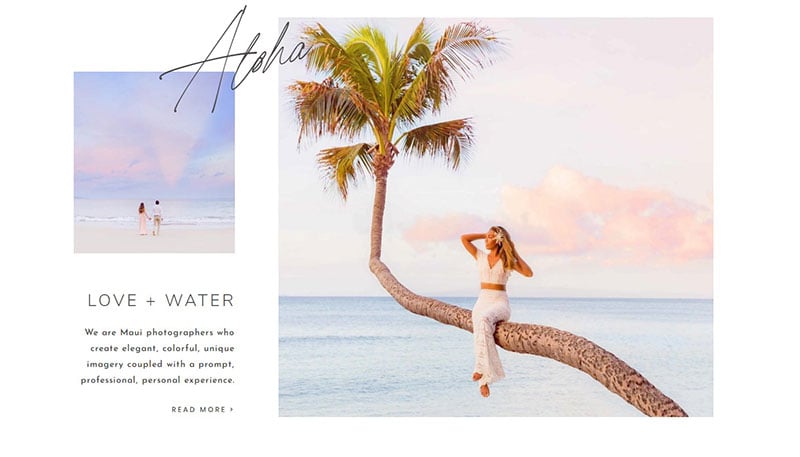 A wonderfully designed site will reflect your work. As an example, wedding photograph portfolios should exude joy and love. Travel photographers' sites should be adventurous.
Learn from Others
One of the hardest things can be selecting a style for your photos.
If you are unsure seeing the portfolios of others may help you get some inspiration.
Take a look at how many photos they include, and whether the photos look good together. Have they grouped them in a certain way?
Taking a look at competitor sites can help you define what is unique about your own work.
Order Your Pictures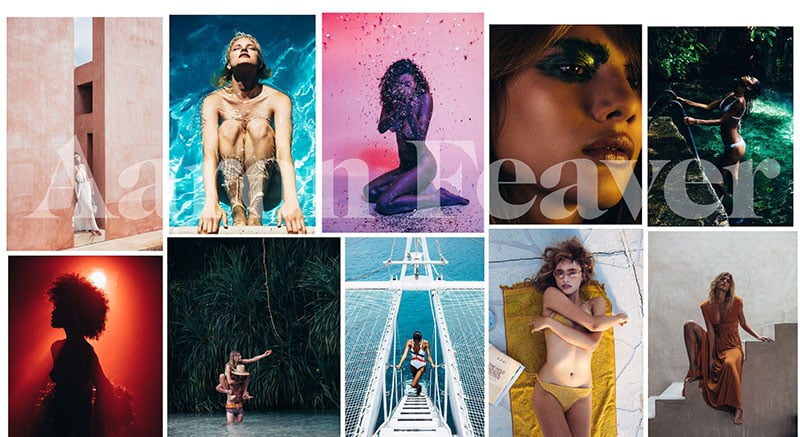 Your photographs should be in a certain order, chosen by you. As mentioned, put the most compelling one first. People won't always look through every photo is a slideshow. Make the first and last ones count.
How Do You Make a Photography Portfolio?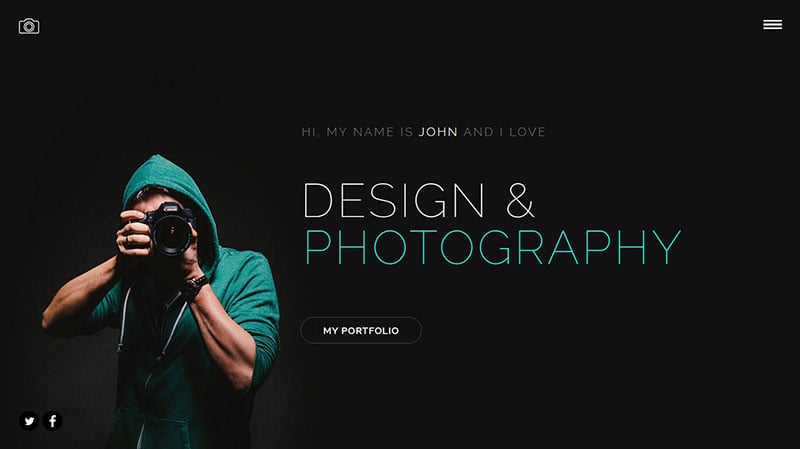 Now that you've seen so many amazing designs, you're likely wondering how to make a great photography portfolio.
This is easy with Slider Revolution, a plugin that allows you to create photography portfolio websites, requiring only a domain.
Slider Revolution creates the best photography portfolios. It will have your photographer portfolio looking fabulous with its many incredible features:
Slider Revolution Version 6.0 has been optimized to categorize intuitively. Find what you're looking for to make it even faster.
SR allows more than just in and out layering for animations. You can add multiple animations for each layer.
More than 200 templates help you create a stunning photo portfolio. Slider Revolution can help whether you want a whole website or just a header.
It includes special effects templates.
There are also new images, templates, layer groups, and add-ons.
You get access to royalty-free images, layer groups, and other media assets.
FAQs about photography portfolios
1. What should be included in a photography portfolio?
A photographer's best work ought to be included in their portfolio. It's crucial to include a variety of photographs that showcase their abilities and aesthetics while also showcasing their versatility in terms of working with various subjects and environments.
Portraits, landscapes, still life, action photos, and other forms of photography can all be included in a well-rounded portfolio.
2. How many photos should be included in a photography portfolio?
Depending on the objective and target audience, a photographic portfolio may contain fewer or more pictures. In general, a portfolio should be brief enough to keep the viewer's interest while yet including enough images to demonstrate a photographer's abilities and style. Aim for 20 to 30 images as a general guideline.
3. What are the most important things to consider when selecting photos for a photography portfolio?
It's critical to take into account both the image quality and the images' connection to the photographer's style and interests when choosing photographs for a portfolio.
Technically sound images that exhibit the photographer's distinctive viewpoint and voice should also have acceptable arrangement and lighting.
4. How should a photography portfolio be organized and presented?
An attractive and simple-to-navigate layout is essential for a photography portfolio. Use a consistent layout and design throughout the portfolio, and group photos into categories based on subject matter or style.
A good first impression and differentiation from the competition can be made by a photographer using a well-designed portfolio.
5. Should a photography portfolio have a specific theme or focus?
A theme or concentration might be present in a photography portfolio, but it is not always required. A defining characteristic that connects the photographs, such as a specific aesthetic or subject, can be useful. A varied portfolio, however, can also highlight a photographer's adaptability and scope.
6. How often should a photography portfolio be updated?
A photographer's portfolio should be periodically updated to showcase their best and most recent work. This can be done on a recurring timetable, such as every year or every six months, or it can be done when new projects are finished. Updating a portfolio demonstrates that the photographer is actively developing their abilities.
7. Is it better to have a physical or digital photography portfolio?
Depending on the demands and interests of the photographer, a photography portfolio can be displayed in both physical and digital media.
While a digital portfolio can be easily shared and accessed online, a physical portfolio is better suited for in-person meetings and events. To optimize the portfolio's reach and impact, it can be beneficial to have both alternatives available.
8. How can a photography portfolio be tailored to a specific audience or purpose?
By choosing photographs that are pertinent to that audience or goal, a photographic portfolio can be personalized to a particular target market or goal. In contrast to a fine art photography portfolio, which could contain more abstract or experimental photographs, a commercial photography portfolio might contain images that demonstrate a photographer's skill to make engaging product shots.
9. Should a photography portfolio showcase only the photographer's best work, or a range of styles and techniques?
A photographer's best work should be included in their portfolio, but it can also cover a variety of styles and approaches.
This might show the photographer's adaptability and capacity to work with various locations and subjects. However, it's crucial to make sure that the portfolio has a unifying aesthetic and that the pictures work well together.
10. How can a photography portfolio demonstrate the photographer's unique vision and creative voice?
Through the choice of images, as well as the overall design and presentation, a photography portfolio can reveal a photographer's distinct vision and creative voice.
A photographer can build a portfolio that is both distinctive and captivating by showing their greatest work and highlighting their strengths. If someone wants to stand out in a crowded field, they must allow their personality and sense of style to show through.
Ending thoughts on creating a photography portfolio
Hopefully this complete guide to some of the best photography portfolio websites has inspired you to take action by giving you some photography portfolio ideas.
The majority of the photography portfolios on this list keep it simple, using their incredible images to draw in viewers. Simplicity should also be the goal of your online photography portfolio design.
Photography portfolios take the visitor on a journey so you need intuitive navigation to assist your visitors. Don't make people guess where to discover the images they are looking for. Create a clear path and structure to guide them on their way.
If you enjoyed reading this article about photography portfolio websites, you should read these as well:
Amazing Photography Portfolio Examples and How to Create One