Startup business owners need more exposure and advertisements to thrive in their business venture. One crucial element is to create a website that appeals to many different people. It is also the best way to promote and showcase your business, products, and services to your target market.
Going digital is the best way to flourish in this type of industry. So make the most out of it. Your website can also attract an international target market instead of reaching just the local target market. You can thrive in different business ventures when you turn to digital marketing strategies.
The following templates are ideal choices to build your business website. You'll find more creative designs with unique characteristics on this list.
Here are the features you can expect in the following startup website templates:
Web browser compatibility
Simplicity
Retina-readiness
Responsiveness
Startup Website Template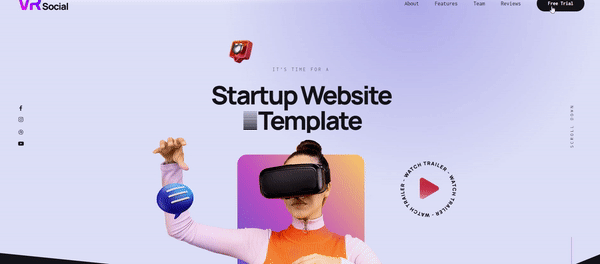 This template has a modern design perfect for any startup business. Its many features and functionalities provide faster performance. Your visitors can scroll through your website with ease, resulting in a better retention rate.
Main Features
Fast performance
Real-time support
Social media platform integration
Landing Page Builder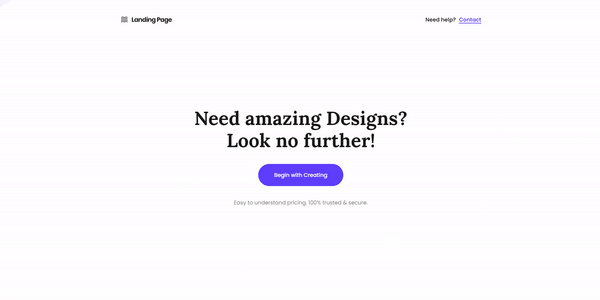 If you are looking for a landing page for your startup website, this is an ideal template choice. It comes with advanced animation, perfectly suiting various businesses. And its multiple designs allow you to customize your landing page the way you want.
Main Features
200+ built-in templates
Amazing customer support
Instant updates
Object Library with thousands of elements
Several page customization tools
Angled Business Website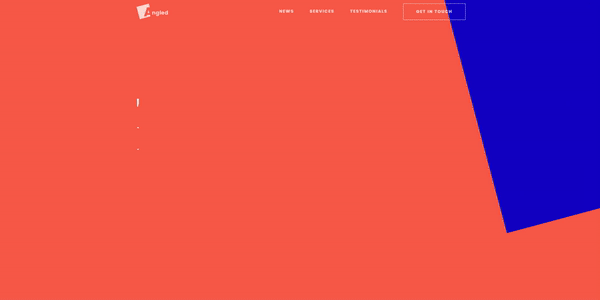 This startup website template focuses on your business identity. That means its design has a corporate feel that is minimal and professional. You can also customize the page to your preferences. With its high-speed performance, visitors can scroll through the page quickly.
Main Features
Easy customization
Slider Revolution
200+ templates
Excellent customer support
Fast performance
App Studio Website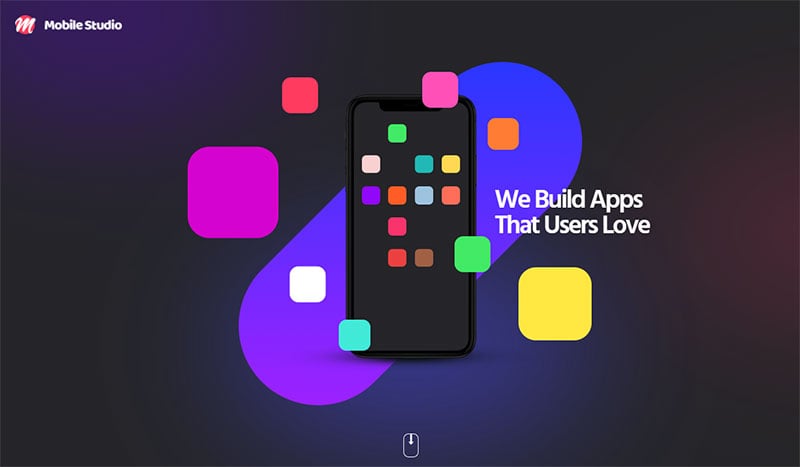 Are you looking for something unique for your studio startup website? Then this could be the one. The modern design will catch your visitors' interest. It's also easy to customize the entire page according to your wishes. And it's not just for studios; you can also use this template on different websites in various niches.
Main Features
100% responsive
Excellent customer support
Fast performance
Compatible with most WordPress plugins
Eye-catching effects
Flexible and customizable
Digeco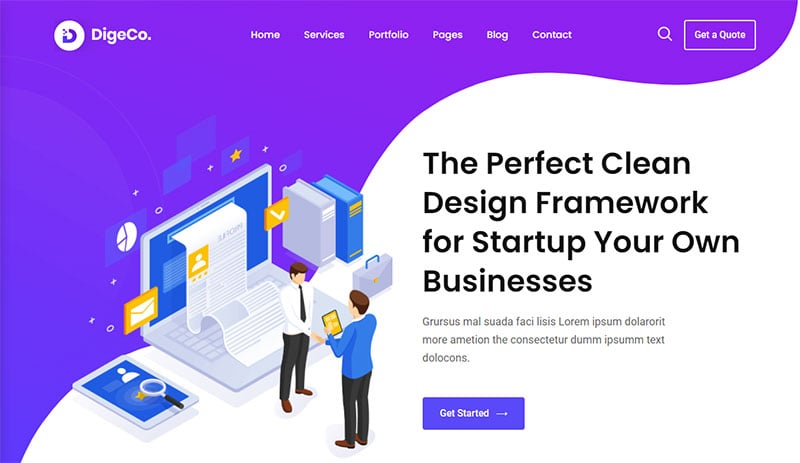 Digeco's versatile features complement any startup company website. It suits different businesses, and its built-in functionality makes designing your website straightforward.
Main Features
Clean and modern design
W3C validated HTML5 and CSS3 coding
Responsive
Google Map with API Key
AJAX Power Contact Form
Two About pages
Two service layouts
Seven portfolio layouts
11 home page designs
37 HTML pages
Bootstrap V4
Moxo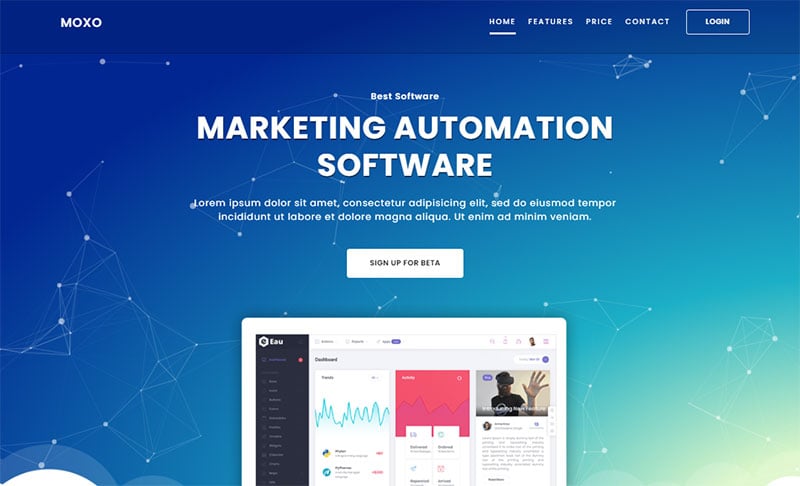 If you have a startup software business, then Moxo is ideal. Developers created this template for web applications, startup landing pages, and startup websites.
A mobile-friendly website gets you more web traffic. And this template is compatible with mobile devices, tablets, laptops, and desktops. Its elegant design mainly works for software businesses.
Main Features
Clean and modern template
Creative design
Font Awesome
Google Fonts
W3C validator
Fully responsive
Six Different Color Skins
Powered by Bootstrap 4
Built with HTML5 and CSS3
Snowlake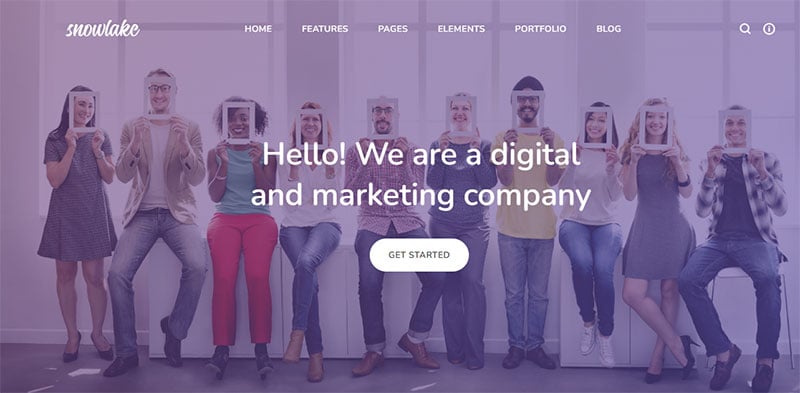 This is the template you need for a professional-looking website. It comes with UI elements, countless features, and layouts that suit various business niches.
If you don't want the hassle of customizing your web design, you can choose from the 27 different demos suited to your business's style. It is highly customizable, allowing you to edit the pre-built layouts for your brand.
Main Features
Slider Revolution
Four icon sets
SEO-friendly content
Header and slider options
Clean code
Five font options
17 color schemes
HTML5 pages with 27 demos
Twitter Bootstrap 4
Unlimited combinations
Portfolio sets
Izan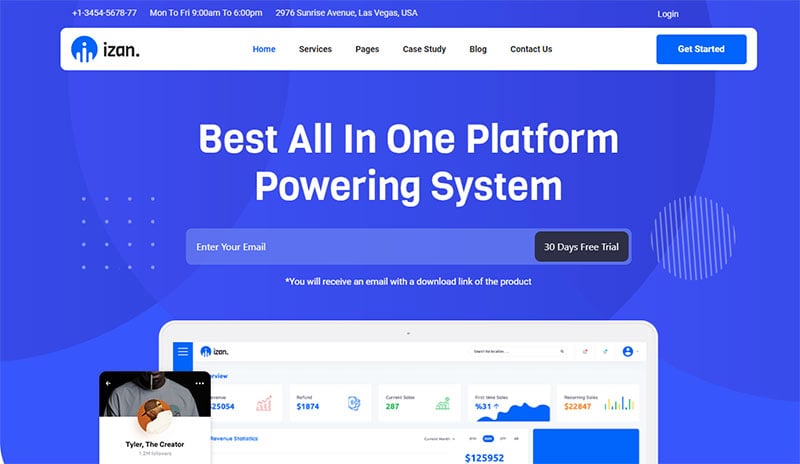 This template is ideal for software services, IT solutions providers, and startup businesses. But applications and services are the template's primary focus.
Main Features
Smooth transition effects
Lightweight and powerful
Fast performance
Creative layout design
Fully responsive
Mobile-friendly
Retina-ready
CSS and Sass
Bootstrap (v5.x)
More than three demo variations
Tracer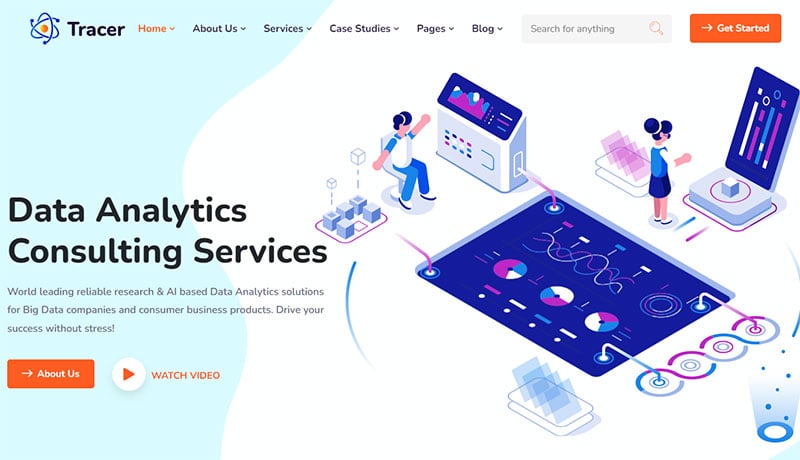 This startup website template provides different designs suitable for IT businesses. It is highly customizable to create the web design of your dreams.
Main Features
CSS and Sass
Bootstrap (v5.x)
Smooth transition effects
Lightweight and powerful
Smooth performance
Creative layout
Mobile-friendly
Fully-responsive
Retina-ready
Latest blog layouts
Mailchimp integration
AJAX Contact Form
Animation GSAP
More than 72 pages
RTL version
13+ demo variations
Vizion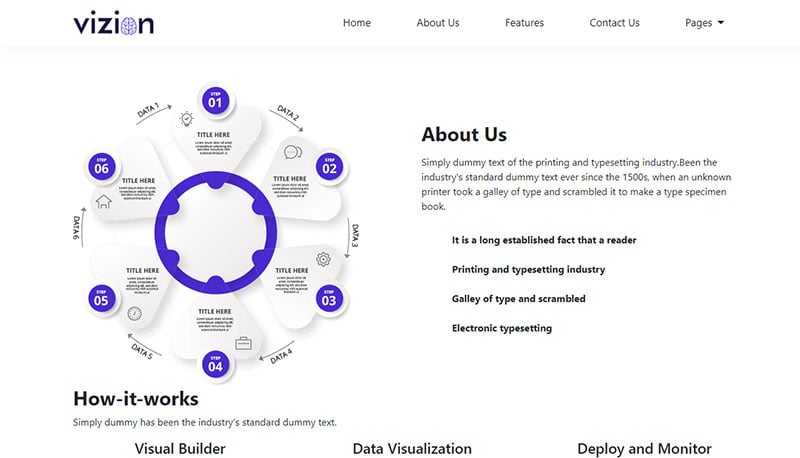 With inner pages such as About Us, Contact, Blog, and Pricing, you can upload all necessary details about your company. The Vizion startup website template is an excellent option because it includes computer vision, advanced security, marketing AI, data analytics, chatbot, and NLP.
Main Features
10+ pages
W3C validator
Unique and modern design
Clean layout
Customizable
Clean code
Three header styles
More than six artificial intelligent home page layouts
SaasLand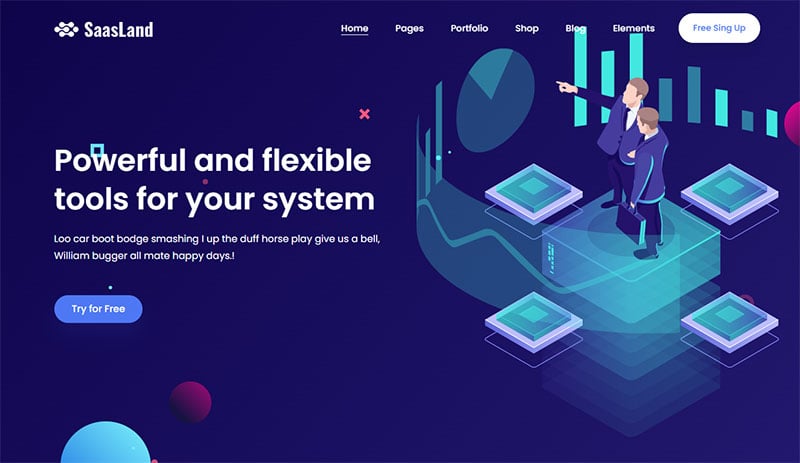 Main Features
Google Maps integration
On-page SEO-optimized
Retina-ready
Fully responsive
Modern and clean design
Flat design
Unlimited colors
Sass/Compass
Mevius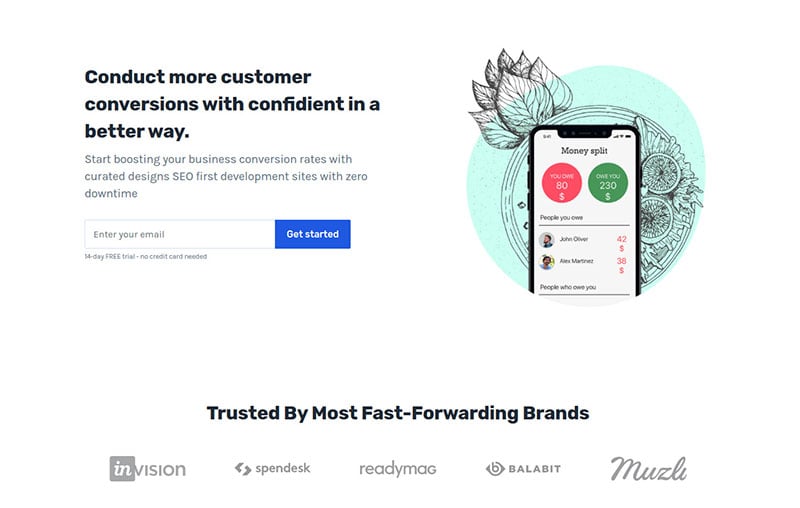 You can expect more features and functionality from this Bootstrap-based startup website template. It is a lightweight landing page, fast with no lagging.
Main Features
Free customer support
200+ free icons
Google Fonts
Slick and modern design
Fully-responsive
Valid W3C codes
Unique design
SEO-friendly
Bootstrap 4
HTML5
CSS3
Evolta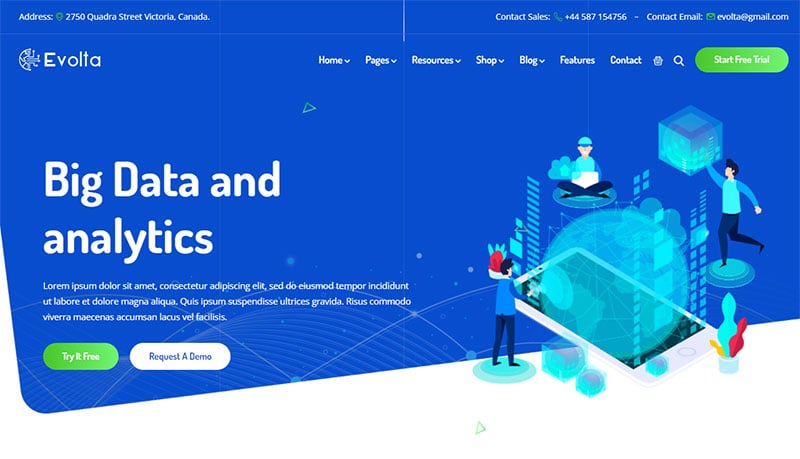 Here's another multipurpose HTML template that is perfect for different websites. The pre-built templates suit IT, IT solutions, machine learning, big data, and other high-tech startups. It's SEO-friendly, so you can optimize your content to drive more traffic.
Main Features
Mailchimp integration
Working contact form submission
Bootstrap v5.x and Sass
RTL version
Single and multi-page templates
More than six full niche templates for AI, IT startups, chatbot, big data, machine learning, and IT solutions
Bootstrap 5.x
SEO-friendly
StartP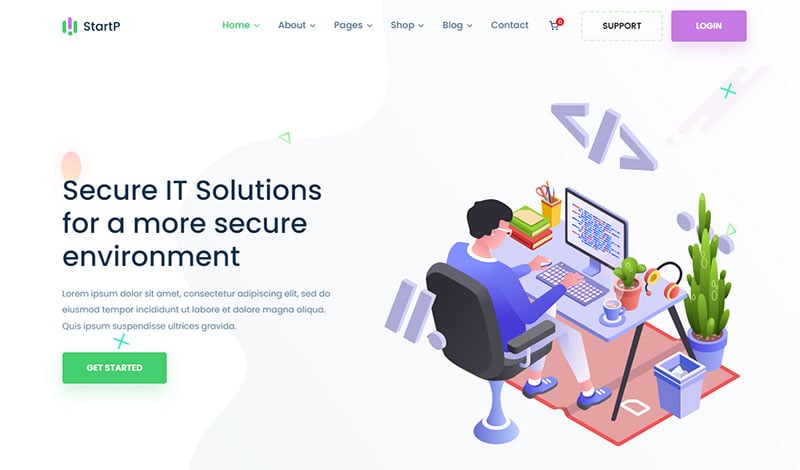 StartP is ideal for IT solutions and software services, whether your business is a micro-enterprise or an agency. It comes with various home page designs and various web page layouts.
Main Features
AJAX-based contact form submissions
Bootstrap 5.1.0 Sass
Multiple unique home page designs
Mobile-friendly
Unique inner page layouts
Appway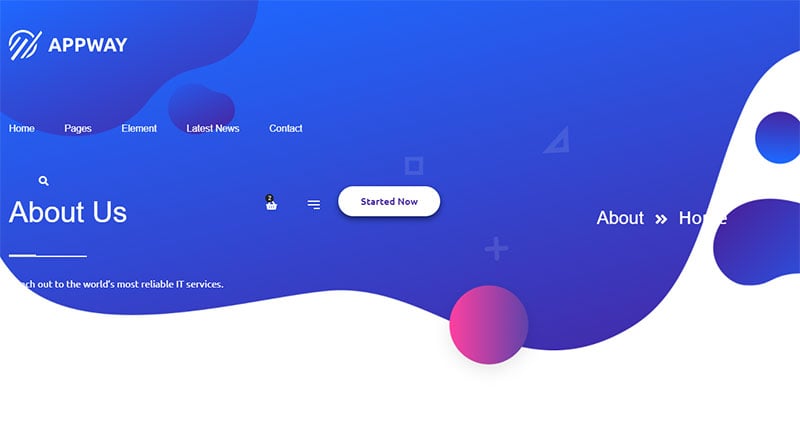 Appway startup website template is highly customizable and easy to use. You'll love its comprehensive selection of layouts for blog pages, landing pages, services, and more. Bootstrap provides better functionality, ideal for websites promoting SEO and other internet marketing-related services.
Main Features
The latest Bootstrap
Highly customizable
Multipurpose templates
Multiple web page layouts
Responsive layout
Five different landing pages
Pricing tables section
Galleries section
Strax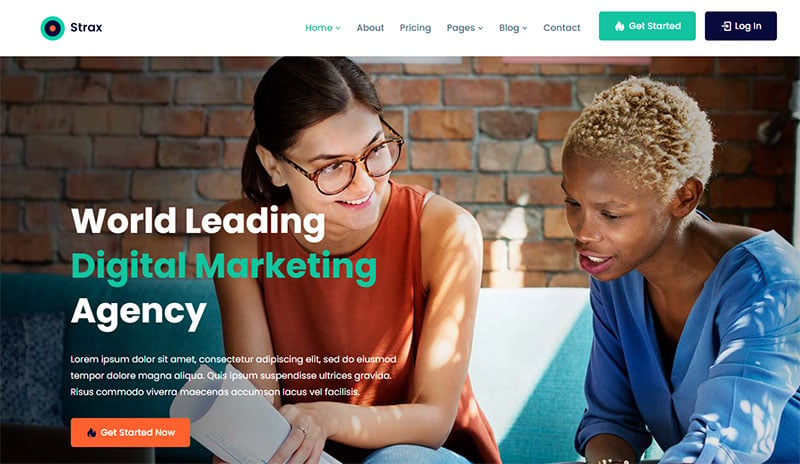 If you're looking for a startup website template for a tech-focused business or agency, then this one is for you. Strax also works great for SaaS, IT, and marketing startups. The following features enable you to create enticing websites for your target market.
Main Features
Smooth transition effects
CSS & Sass
Lightweight and powerful
Fast performance
Creative layout
Fully responsive
Retina-ready
RTL compatibility
Bootstrap (v5.x)
More than eight demo variations
Dostart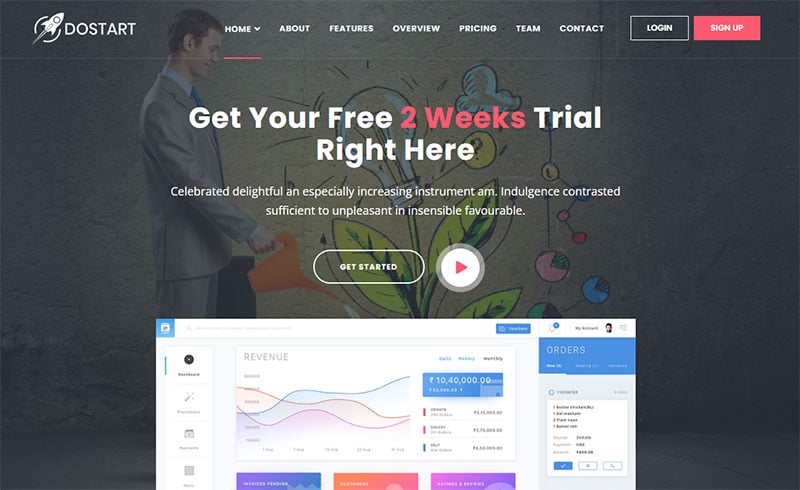 Here's another customizable startup website template ideal for all kinds of marketing websites. Dostart promotes mobile apps, web apps, Sass, and different marketing websites.
Main Features
Working Ajax Dynamic Contact Form
Fully-responsive
Built with Bootstrap
Well-organized files
All required files available
15+ valid HTML files
Customizable
Wetland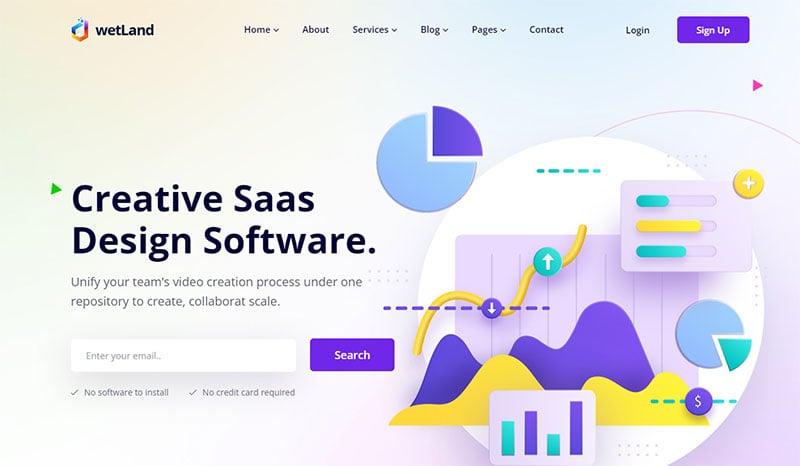 If you want to start a startup, agency, software business, or application website, then Wetland should be on the top of your list of templates. It has highly responsive features, and it is mobile-friendly so that people can view your website on their phones.
Main Features
On-page SEO optimized
Retina-ready
Sass CSS
Modern and clean design
Flat layout
Responsive
Bootstrap 5.x
19+ valid HTML5 files
Touch-friendly
50+ elements
More than five home pages
Particle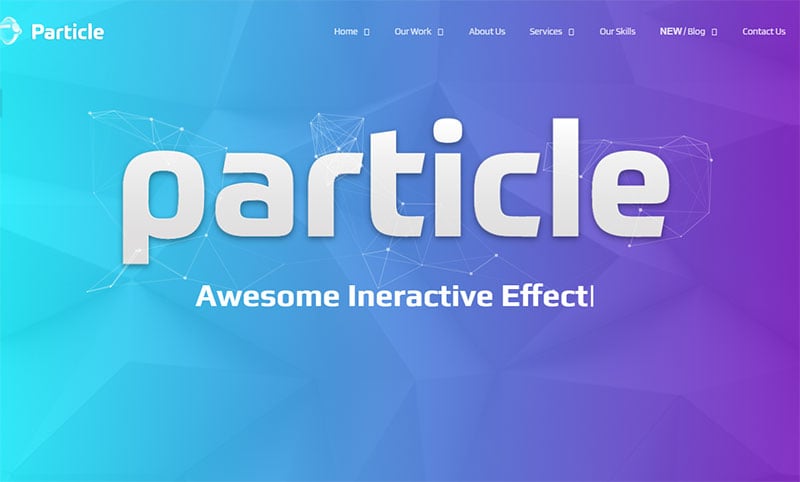 Particle is one of the best options for a startup website template, and it works great for tech companies and modern websites. This lightweight template allows you to customize different web pages with pre-built blog layouts.
Main Features
One-page layout with nine different sections and pages
Built on responsive Bootstrap grid
CSS3 and JavaScript animations
18 blog page
Six single or blog post page variations
Riyaqas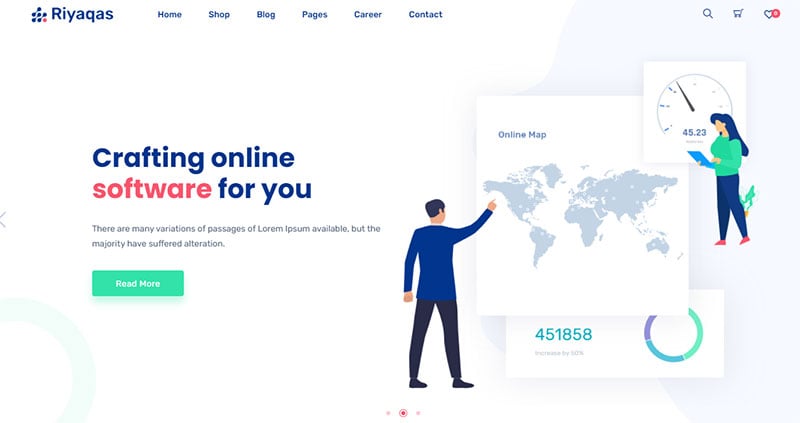 This highly-customizable template lets you edit your designs to what you need for your business. It is a highly responsive design, so expect your website to look good on mobile devices, tablets, and browsers. The Bootstrap 4 framework gives you all the essential features your website needs.
Main Features
SEO-friendly
User-friendly
Smooth transition effects
Clean and simple style
100% pixel-perfect design
Google Font
60+ unique elements
Sass file
Shop pages
17+ inner pages
Nine different homepages
TheSaaS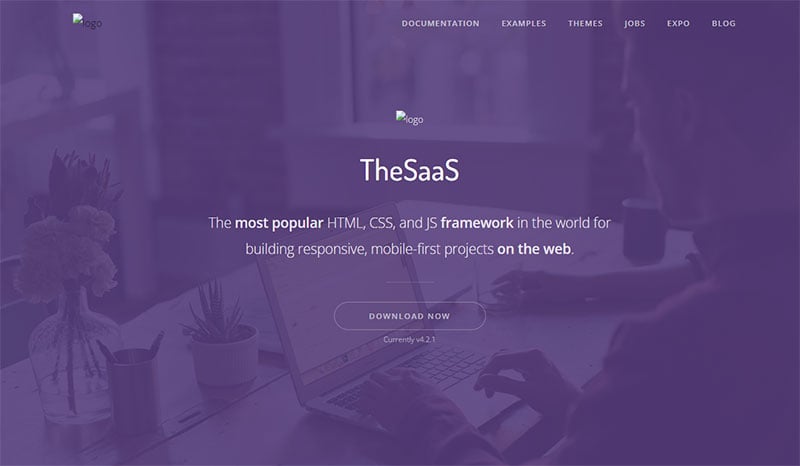 Here's another multipurpose startup website template that also works for web app landing pages, software, and SaaS. This template gives you the flexibility to design the perfect site.
Main Features
Normal and minified CSS files from SCSS
80+ commented SCSS files
Responsive
Multipurpose design and layout
Bootstrap 4
Suitable for landing pages
Kant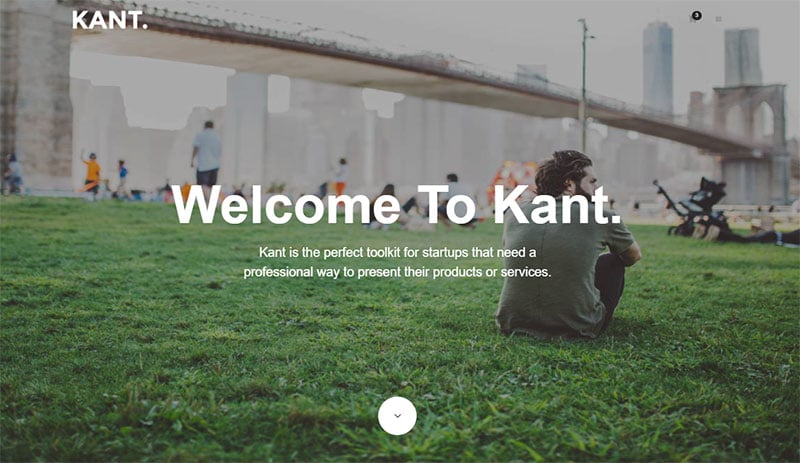 With this startup website template's multiple blocks and pages, you can create a stunning website just as you want. You can also use it to launch a professional email campaign.
Main Features
Fullscreen section with bullet navigation
Fullscreen parallax sections
Fully responsive
Full-width screen slider sections
HTML5 and video support
70+ HTML template files
100+ purpose-built blocks
Nine homepage variants
Retina-ready
JellyNet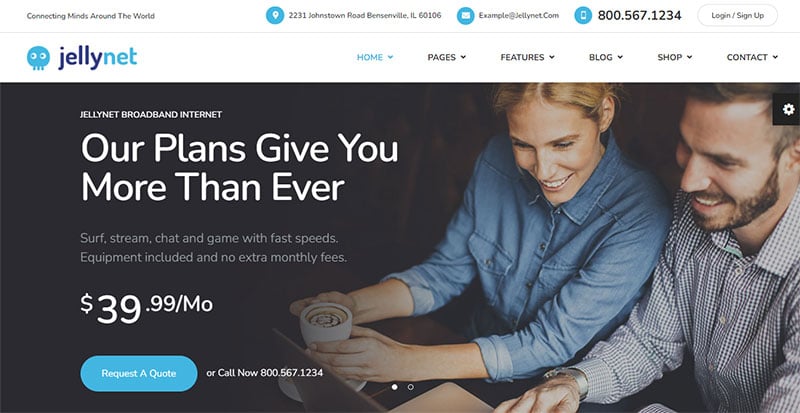 Broadband and network providers, VOIP service providers, and web hosting services can enjoy what JellyNet has to offer.
Main Features
Parallax sections
Customize animations
Fully responsive
PSD files
Bootstrap 4
Mega Menu
Various headers and footers
Side menu
100+ predefined HTML pages
Signflow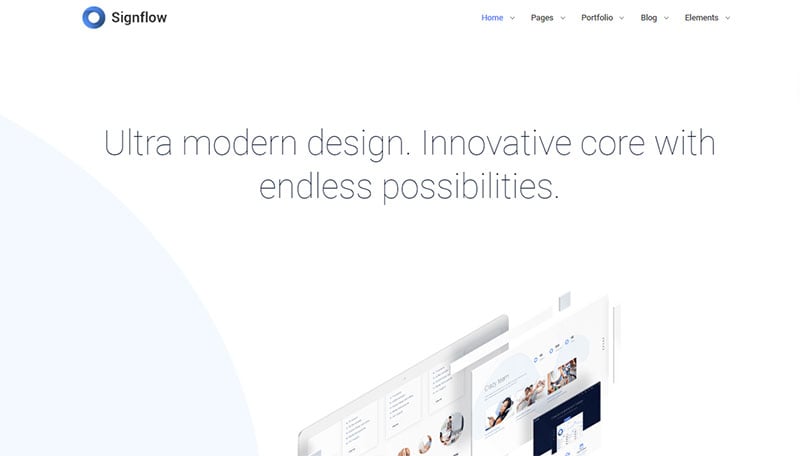 HTML Website Framework (HTWF) is the foundation of the Signflow startup website template. That makes it ideal for fintech, internet services, startup businesses, Saas, and web-based services.
Main Features
Built with HTWF
Full page templates
24/7 customer support
FAQs about startup website templates
1. What are startup website templates, and how are they different from regular website templates?
Startup website templates are pre-made web pages that assist business owners and entrepreneurs in swiftly and effectively building their websites. These templates are different from standard website templates in that they are created specifically to address the special requirements of startups and include features like call-to-action buttons, user-friendly navigation, and customizable sections to highlight important information.
2. What are the benefits of using a startup website template for my business?
In terms of web design and development, using a startup website template can help you save time and money. You can save time by using these pre-designed templates, which are frequently inexpensive or even free. Additionally, conversion is taken into consideration when designing startup website templates, making it simpler for you to convert visitors into paying clients.
3. Can I customize a startup website template to fit my brand's unique style and tone?
Yes, you can alter a startup website template to reflect the distinctive tone and design of your firm. The majority of templates have modification features that let you alter the colors, fonts, and other design components. To truly make the website yours, you may also add your own pictures, a logo, and other branding components.
4. What features should I look for when choosing a startup website template?
You should look for elements in a startup website template that match the requirements of your company. For instance, you'll need a template with an integrated e-commerce solution if you're selling goods. Mobile responsiveness, social media integration, and search engine optimization (SEO) skills are additional factors to take into account.
5. Are there any free startup website templates available, or do I have to pay for them?
There are startup website themes that are both free and cost money. While some website builders, like WordPress, provide a large selection of free templates, others could charge a price. More customization choices, added features and technical assistance are frequently included with paid themes.
6. How easy is it to set up and launch a website using a startup website template?
Using a startup website template makes setting up and establishing a website normally quite simple. Many templates feature a drag-and-drop interface that makes it possible to change the design without knowing any code. The website builder or a third-party service can be used to set up web hosting and link a domain name to your website.
7. Can I use a startup website template with my existing content management system (CMS)?
Prior to making a purchase, be sure the startup website template will function with the website builder or content management system you intend to use. To change to a new design without losing your previous content, most website builders offer the option to import a template.
8. Are there any SEO considerations when using a startup website template for my business?
Yes, adopting a startup website template requires some SEO considerations. Make sure the template lets you edit the meta descriptions and page titles, has a simple website structure, and is mobile-friendly. Additionally, you should make sure your website loads quickly and optimize the content for keywords.
9. Can I add new features and functionalities to a startup website template after launching my site?
After launching your website, you can add new features and functionalities to a startup website template. Numerous website builders provide plugins or add-ons that enable the addition of new features including contact forms, social network integration, and e-commerce capabilities.
10. Are there any performance or security issues I should be aware of when using a startup website template?
To make sure your website is safe and functions well, it's crucial to pick a reliable website builder and template supplier. You should also frequently back up your website to avoid data loss and keep it updated with the most recent security fixes.
Finally, be careful when including third-party plugins or integrations on your website as they may create security flaws or speed problems. To reduce these hazards, it's crucial to thoroughly check out and maintain updated third-party products or services you use.
You can make sure your website is safe and operates well over time by being mindful of these factors.
Which Startup Website Template Should You Use?
Every startup website template presented in this article comes with different features. And, of course, the choice is up to you. What works best for you depends on the type of your startup business. List the features you need for your niche and compare each template to see which one has what you require. All of the templates have solid components that will benefit you and your website.
If you liked this article about startup website templates, you should check out this article about medical website templates.
There are also similar articles discussing actor website templates, business website templates, website templates with video background, and website templates for artists.
And let's not forget about articles on modern website templates, creative website templates, interactive website templates, and website templates with slider.
Startup Website Template Examples to Use for Your Company