Many developers use website templates with slider images in their web designs. Adding an image slider to your website makes it more attractive and engaging.
This feature motivates your website visitors to purchase your products and services. A slider is one of the trendiest website design fads today. It is one of the great features you can use to display information, like:
Exclusive content
The latest news
New products, and more
There are many versatile sliders from which designers can choose. This article will show you some of the best website templates with slider themes.
Website Templates with Slider Demos for Paid or Free WordPress Themes
Many of the website slider templates featured in this compilation have demo content that slides and changes.
These website templates use beginner-and-user-friendly codes. Your visitors can seamlessly slide through your visual work on their desktops or mobile devices. Here are some of the best website templates with slider demos that you can download.
Portal Effect Hero Slider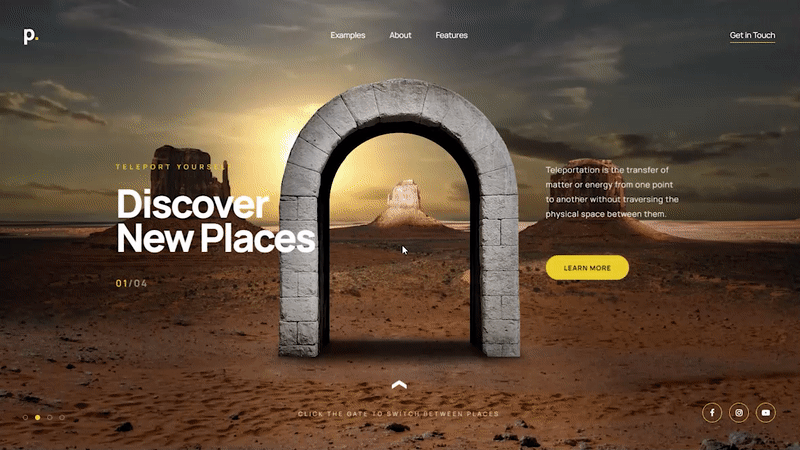 Stark Agency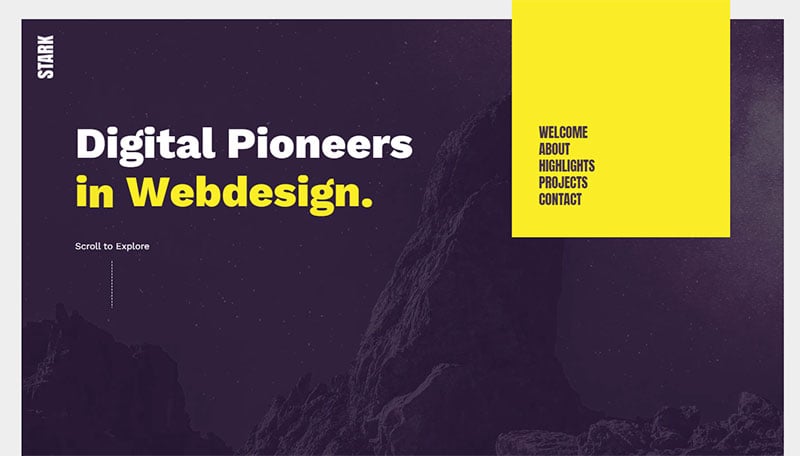 Photographer & Videographer Slider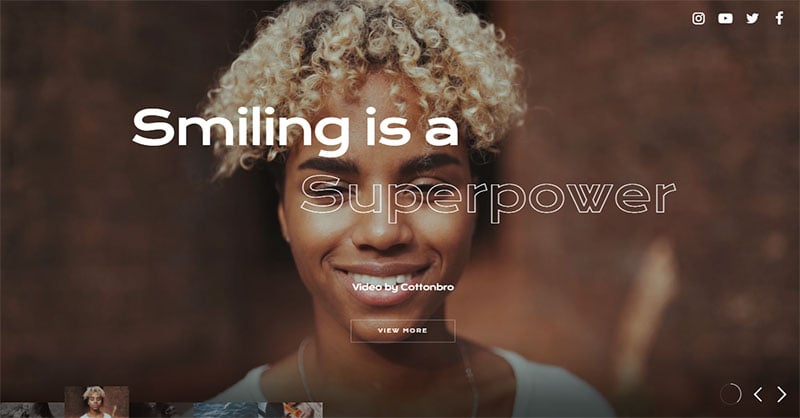 Fast Food Burger Restaurant Slider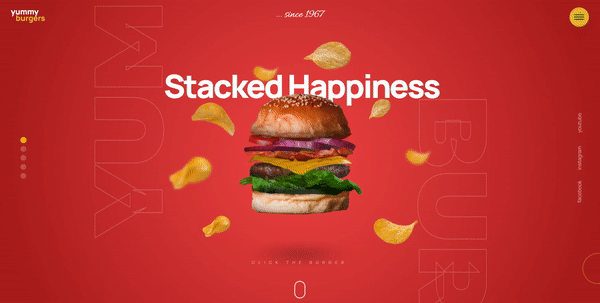 Winery Timeline Slider Website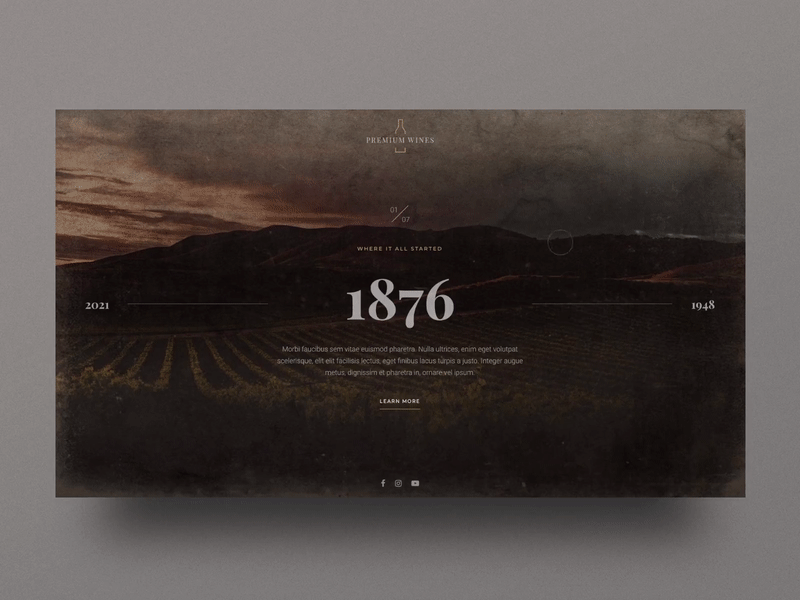 Cinematic Wildlife Slider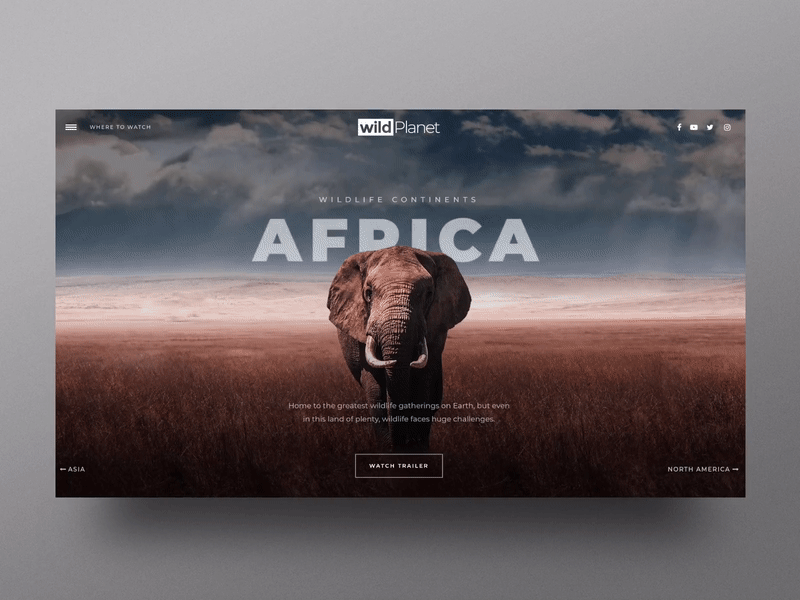 Tattoo Event Website Template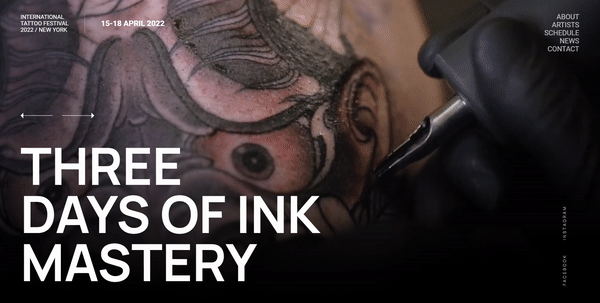 Angled Business Website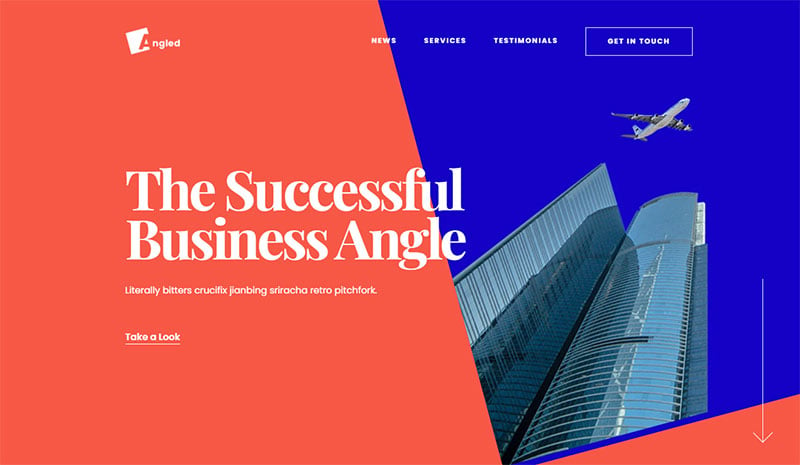 Minimal Portfolio Website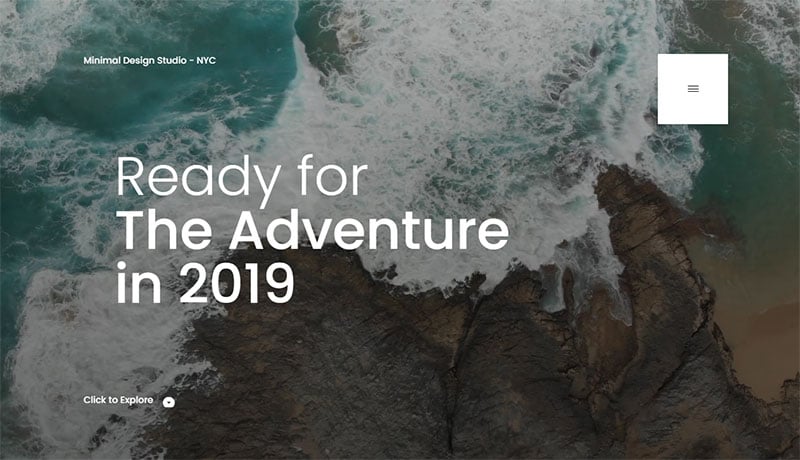 Landing Page Builder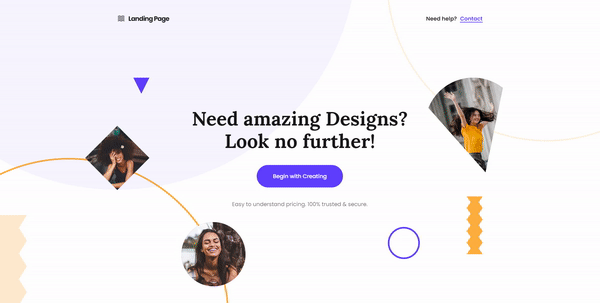 Real Estate Showcase Slider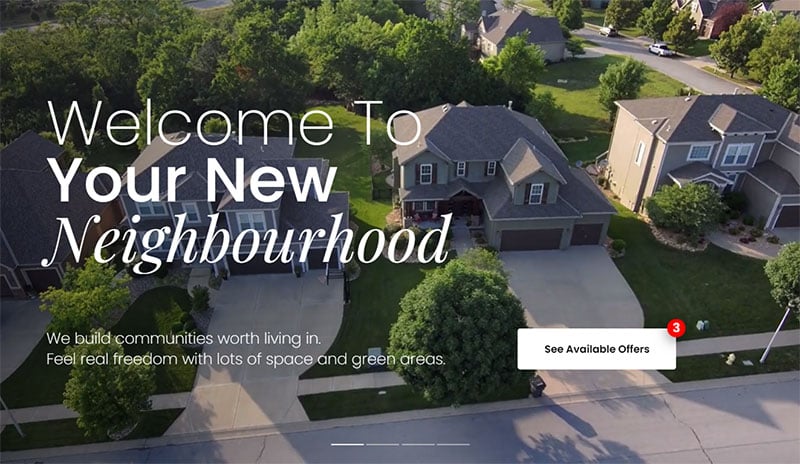 App Studio Website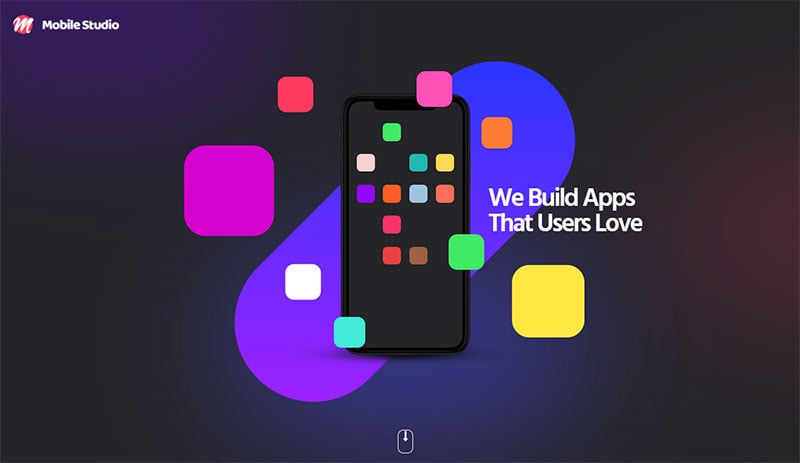 Real Spaces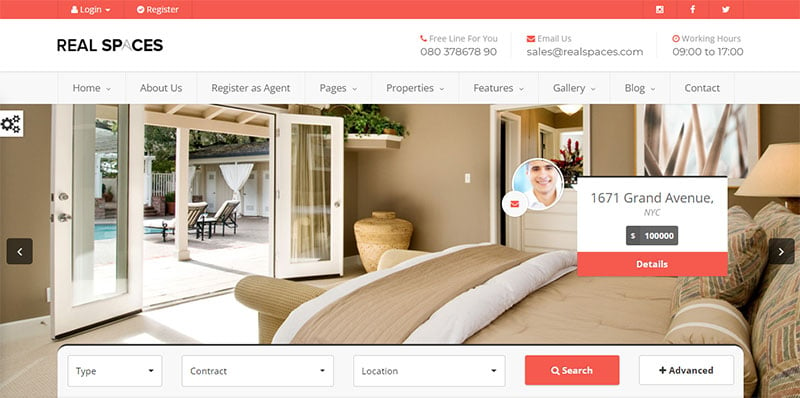 This fully functional HTML5 template was developed and designed for estate agents and real estate websites. It also works great for business or corporate websites. Its features include:
30+ unique pages
Twitter Bootstrap
Multiple blog layouts
Retina-ready andfully responsive
List/grid properties view
Multiple gallery layouts
Front-end property submission page
Tenprebuilt color schemes andunlimited color options
Touch/swipe slider support
Satelite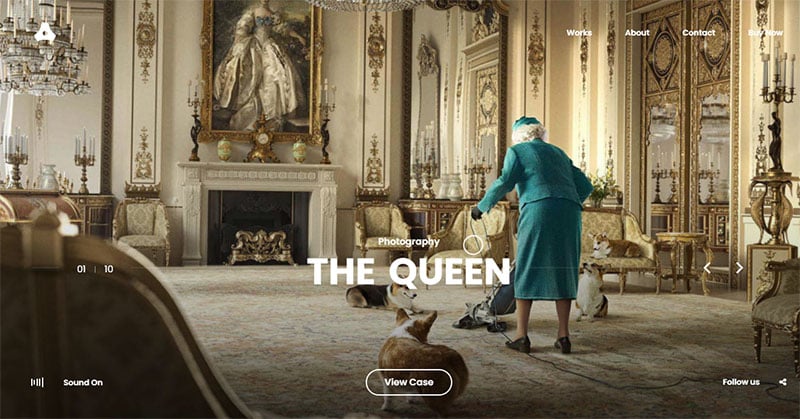 This slider is an elegant,innovative HTML template. You won't find the same attributes in many other website templates with slider demos designed for the same purpose. Satelite's key features include:
Superfast Ajax page load
A selection of creative portfolio sliders and grids
Ingenious menu options
Video background support, and much more
Revision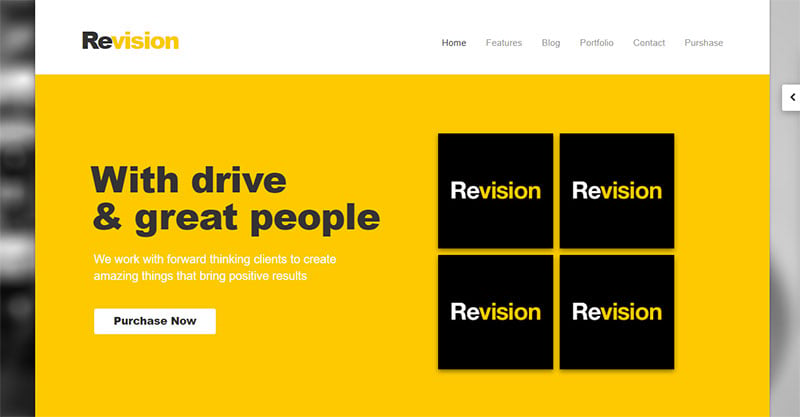 This slider is compatible with WordPress themes. It is a responsive CSS3 & HTML5 template for software, business, and blog sites. Revision is flexible and sleek.
It is a multipurpose site template you can use for any website design. This slider's responsive design looks stunning on any device, from computers to mobile devices. Its features include:
Over 300 icons
A modern multipurpose design
Unique page layouts
Responsive HTML5 and CSS3 template
jQuery enhanced
Slider Revolution Responsive jQuery Plugin
Webox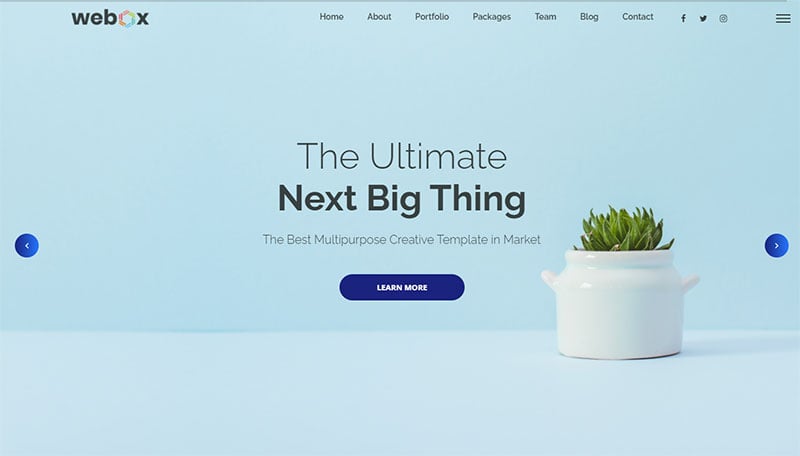 The Webox slider is a responsive HTML5 template made for:
Startups
Corporations
Portfolios
Creative businesses
This slider creates any website easily because it is coded with the latest Bootstrap4,providing a wide range of flexibility.
This template comes with 50+ unique HTML templates with one-page, multi-page, RTL version, and many navigation styles. It also has 75+ HTML block elements.
It includes standalone pages such as About, Team, Services, Blog, Testimonials, Shop, FAQ, 404, and other essential pages.
REWORK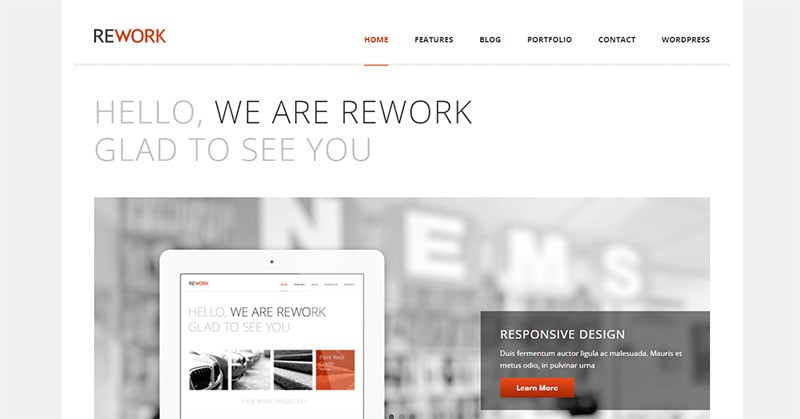 REWORK is a responsive CSS3 & HTML5 template. It is the ideal choice for a business, software, or blog site. This multipurpose slider looks great on any screen size. It includes:
Responsive HTML5 and CSS3 template
Google Web Fonts
Unique page layouts
jQuery-enhanced
Custom shortcodes
Rudermann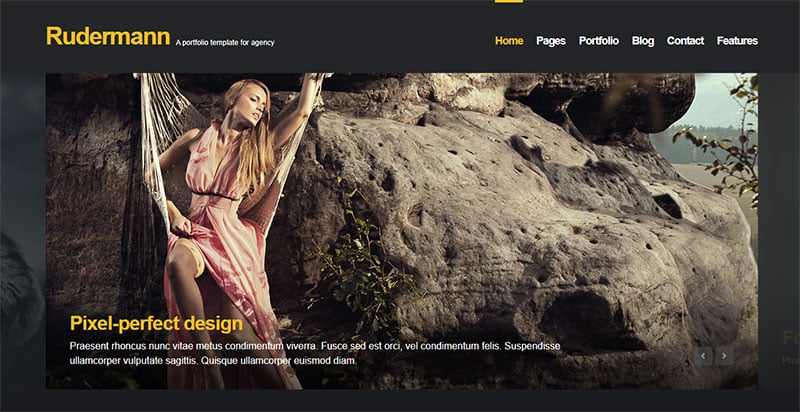 Rudermann is a pixel-perfect,responsive HTML template based on the Twitter Bootstrap Grid System.
This slider is optimized for Retina Display (for iPhone, iPad, iPod Touch, and MacBook Pro Retina). It is best suited for:
Digital or creative agencies
Design studios
Web-development companies
Freelancers
This WordPress website-compatible slider includes:
Dark (original) and light versions
Hero carousel slider
3D Cute Slider
FlexSlider 2
PortfolioIsotope
Fancybox Lightbox Clone
Over 250+ font-icons
Contact form
Countdown
Shortcodes
PSD files
HTML5 and CSS3
Silence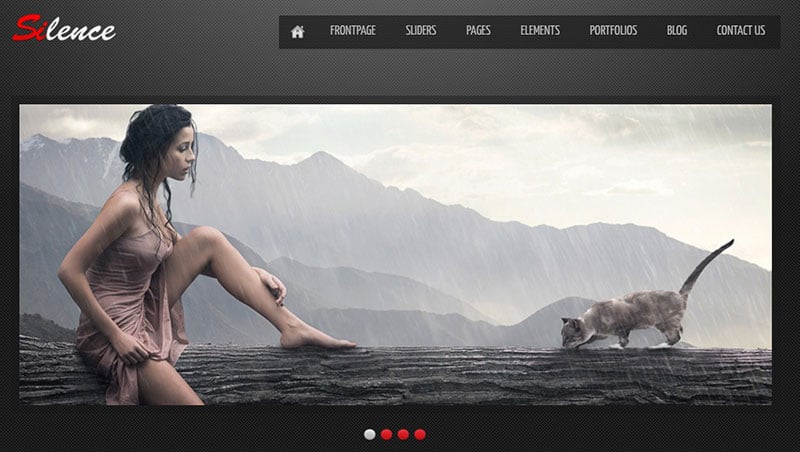 The Silence website slider workssmoothly with your chosen WordPress theme. The 960-grid-system-based template is a favorite of photographers, companies, private bloggers, and more.
You can easily customize this template with CSS and PSD files. This website template includes:
Four different sliders and a large static photo
Three different home page layouts
Standard and filterable portfolio
Working Ajax contact form
Pricing tables
FancyBox plugin for images
Carousel slider FancyBox integration
jQuery tabs powered service pages
Envor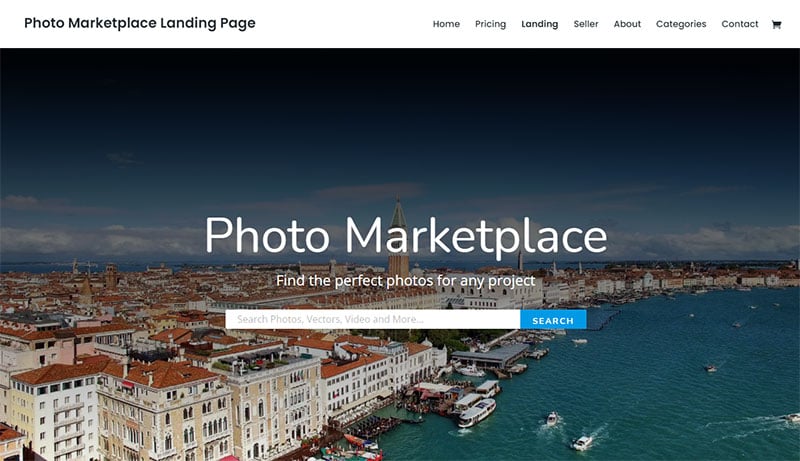 Envor is a modern HTML template best suited for corporate and portfolio sites based on Bootstrap Framework v3.1.1. and Envor PSD.
It is often used for hosting sites, estate sites, and online stores. With 50 HTML page templates and 100 ready-to-use pages, you can create the custom website of your dreams. It also includes:
Bootstrap features
12-columndesign
Responsive markup
15 PSD files
50 ready-to-use HTML files
10 home page templates
Font Awesome icons
Coming soon dynamic countdown
Folio Two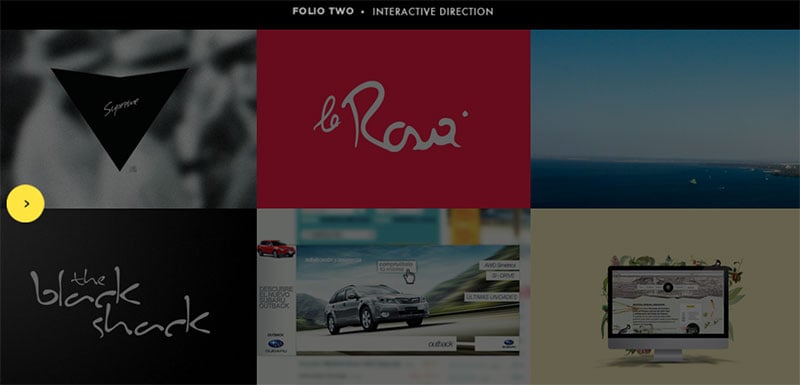 The Folio Two website slider is a practical, advanced portfolio template designed with HTML5 + CSS3. It also uses jQuery to enhance your experience.
This WordPress compatible website template is a powerful tool based on RESPONSIVE DESIGN, adaptive to any device. Your favorite works will display beautifully on any screen size.
Its gallery was developed exclusively for this template. It maximizesvisible space when displaying each work.
BIG Gallery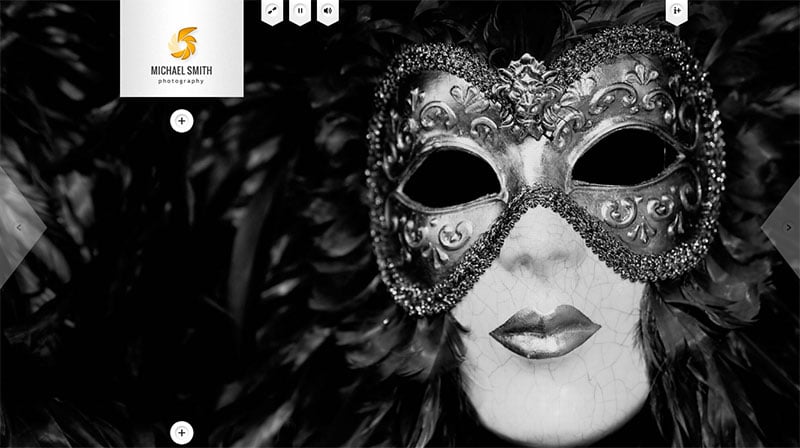 This full-screen photography portfolio offers a unique way to present your photos. It features:
Slider gallery
Fill
Uncut
Full-width or full-height full-screen slideshow (set it separately for home page and other pages)
Autoplay slideshow
Swipe support for touch screens
Full-screen video background (you can use self-hosted MP4 file, YouTube, or Vimeo)
Auto-hide navigation
Twoskins: dark and light
Ruko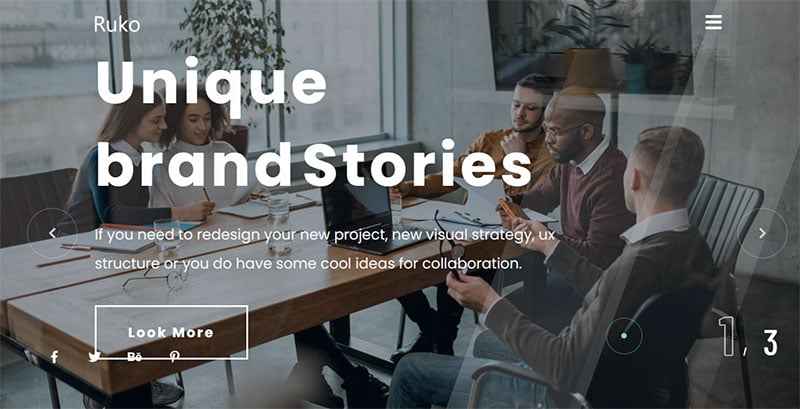 Ruko is a creative, trendy, multipurpose slider template. Itsmany templates and CSS and jQuery animations are perfect for creativeagencies, web studios, and business startups.
Paradigma Studio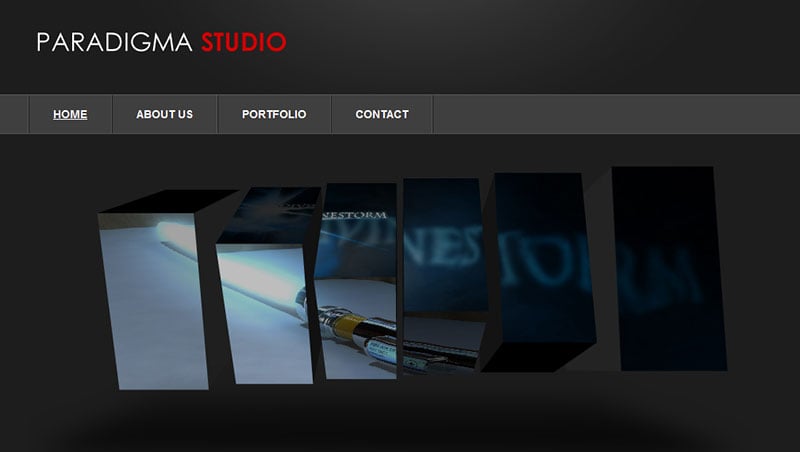 Are you a freelancer or small business owner who wants to create a website to showcase your work? This template is a clean, dark, and professional option to do just that. It comes with:
Valid XHTML 1.0 Transitional and CSS 2 .1
Query Integrated: 3D slider
Gallery page with PrettyPhoto
Documentation
All PSD files to modify the template are included
Zeplin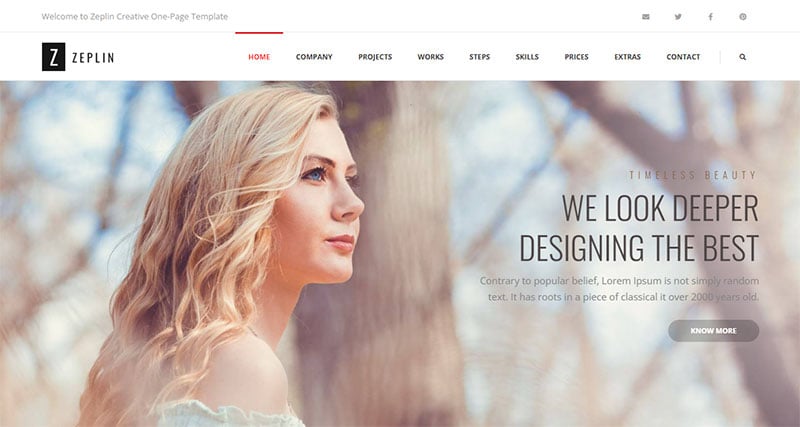 The Twitter Bootstrap Framework powers the creative Zeplin template. It is mobile-friendly and loads quickly with scrollingon all devices.
Zeplin comes with premium plugins such as Slider Revolution, Isotope, and Light Gallery. It also comes with:
16+ demos and 46+ templates
Mailchimp support
11+ super useful element templates
Portfolio templates for single pages
History and timeline features
Ajax support
Multi-page and one-page options
Bauman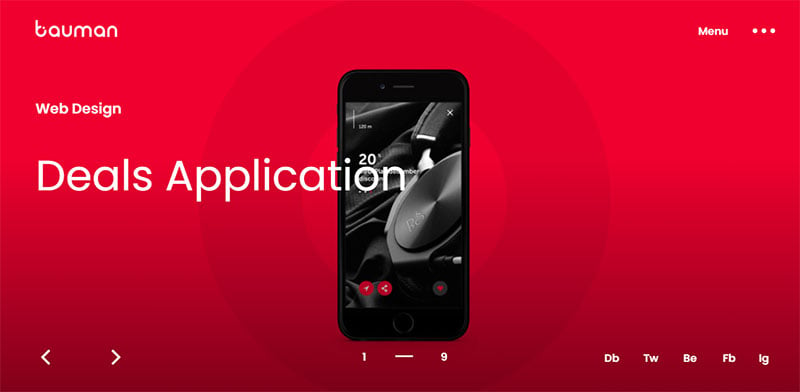 This option is an elegant,creative HTML template. It features:
Fast Ajax page load
Creative portfolio sliders and grids
Video background support
Menu options, and more
Jump Eco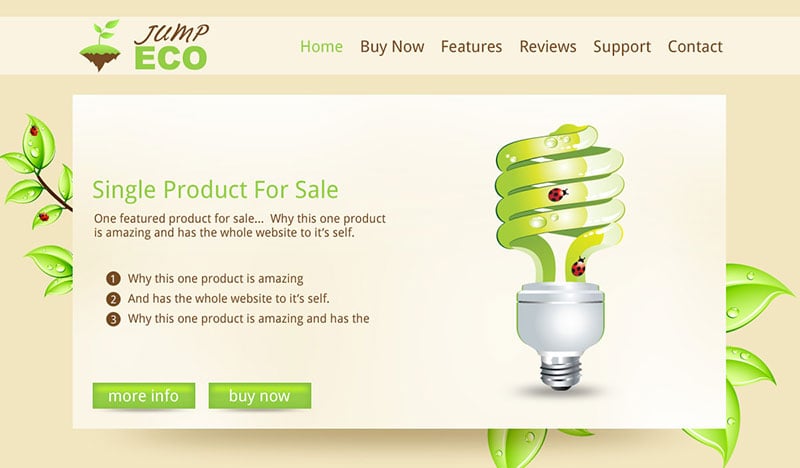 Does your company sell a single product or service? Or, do you have aprimary product or service that you want to promote? Then this unique single-page slide Jump Eco theme is for you.
When visitors click a menu link, the website jumps to the relevant section in a smooth scrolling motion. To use it without the sliding effect, create a separate page for each menu item.
Single Slider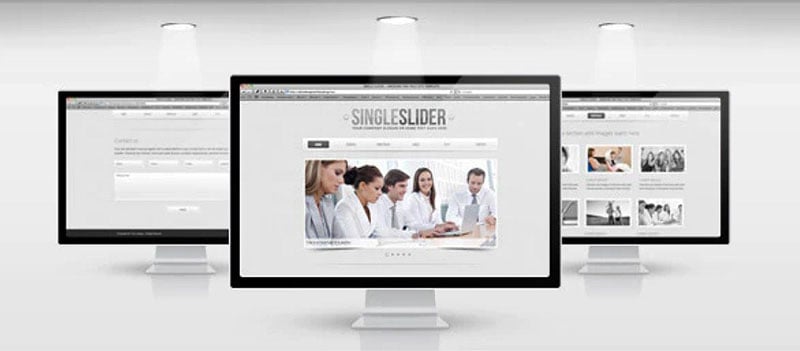 Here is a minimal, clean one-page website template suited for all business sites and portfolios. It is heavily jQuery-enhanced and includes:
Nivo Slider
Cufónfontreplacement
FancyBox gallery
jQuerytooltip
jQuery tabs
Liststyles
Revelation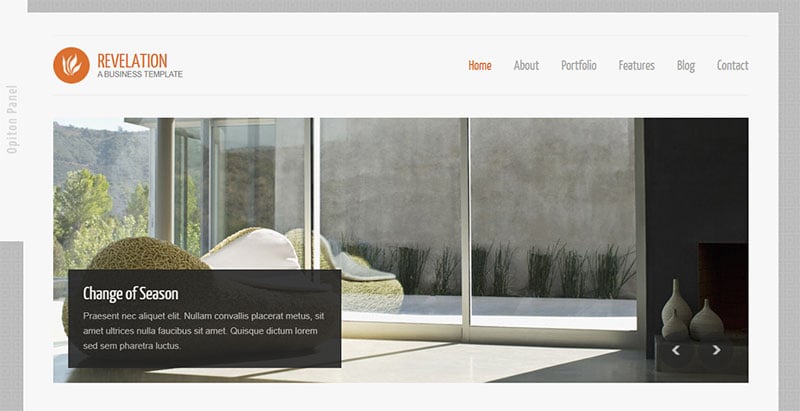 If you need a template with a clean and elegant design to promote your content, this is the template for you. The Revelation slider is an HTML template designed for personal and professional use. It comes with:
17 pre-coded HTML pages (which are easy to use and customize due to their extensive documentation)
10 color variations
20 custom-made social icons
Toggle panels
Integrated Google Maps
Working Ajaxcontact form with validation
Twitter feed plugin
jQuery cycle plugin for slide transitions
Gravity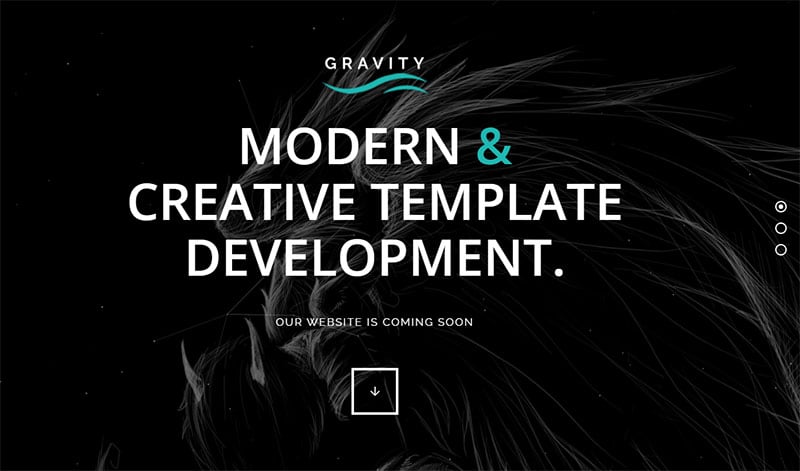 Here is an innovative and versatile option to boost your company. It is a premium, under-construction HTML template based on the Bootstrap framework.
Gravity focuses on an innovative, human-centered design to set your brand and content center stage.
This coming soon theme will empower you to create a visually appealing webpage for any occasion. Gravity includes:
12 hero backgrounds
Outstanding design
Advanced overlay system
Strong integrations
BIG Countdown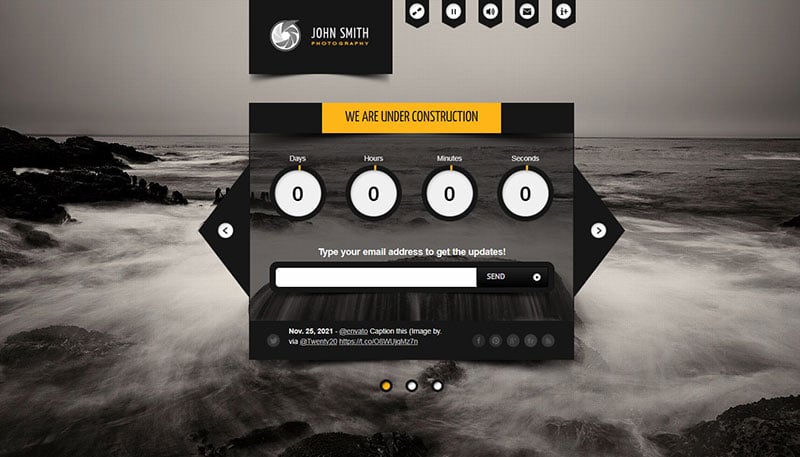 BIG Countdown is a unique coming soon page. Some of its features include:
Fullscreen slider
Full-screen video background (self-hosted MP4 file, Youtube, or Vimeo)
Static background or fancy parallax effect
Audio player
Two skins (dark andlight)
Four variants (slider, video, static image, and parallax)
Working subscription form (saves e-mail in CSV file)
Working Ajax contact form with real-time validation
About Us page
HalfTime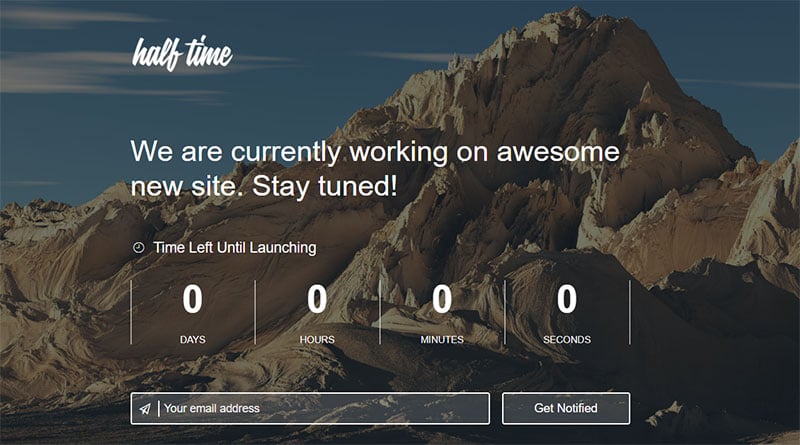 The HalfTime slider is a well-organized, documented, under-construction template. It comes in two versions: image background and image slider background. It is an HTML template that includes:
A countdown timer
Ajax newsletter subscription form
About, Team, and Contact sections
Responsive layout
Retina display ready
Google Web Fonts
Social media icons
FAQs about website templates with a slider
1. What is a website template with a slider and how does it work?
A pre-made website layout with a significant slider element is known as a website template. The slider often shows a number of images or pieces of material, such as highlighted goods or services, and it rotates either automatically or in response to user input.
Website slider templates are a popular choice for companies and people who want to rapidly establish a visually appealing website since they are simple to use and require little customization.
2. Are website templates with sliders user-friendly and responsive on all devices?
Many website templates that include sliders are responsive, meaning they will adjust to the size of the screen being used to view them. By doing this, you can make sure that the slider is simple to read and use on all types of gadgets, including desktop computers, tablets, and mobile phones. The majority of templates are also made to be user-friendly, with simple controls and obvious navigation.
3. Can I customize the slider in a website template to match my brand's color scheme?
Yes, most website templates with sliders allow for customization, including changing the slider's color scheme. The backdrop, font, and other design components can typically be changed to reflect the visual identity of your brand.
4. How many images or slides can I add to a website template's slider?
Depending on the particular website template you are using, you may be able to add a certain amount of slides or images to the slider. The majority of themes do, however, let you add many slides to the slider, which may then be easily modified or updated using the template's content management system (CMS).
5. Are there any SEO concerns with using a website template with a slider?
Using a website template with a slider may raise certain SEO issues, especially if the slider employs large images or if it causes the website to load slowly. However, a lot of website themes with sliders are made to maximize the performance of websites and may have features like lazy loading, which can assist to allay any SEO worries.
6. How do I change the animation speed of the slider in a website template?
Depending on the particular template and CMS you are using, there are different ways to change the slider's animation speed. However, the majority of themes let you change the length of the slide animation or the gap between slides.
7. Are website templates with sliders compatible with all content management systems (CMS)?
Not all website slider templates are compatible with every CMS system. However, the majority of well-known CMS platforms, such as WordPress, Shopify, and Squarespace, provide a large number of designs with sliders that are tailored for each platform.
8. How do I ensure that the slider images are optimized for web performance in a website template?
You should optimize the photos themselves for web use by compressing them, scaling them suitably, and utilizing the correct file type in order to guarantee that the slider images on your website design are optimized for web speed.
The slider's performance can also be improved by allowing lazy loading and reducing the number of photos that are shown.
9. Can I add call-to-action buttons to the slides in a website template's slider?
Yes, you may include links or call-to-action buttons in many website layouts with sliders. These buttons, which may be tailored to reflect the visual identity of your company, can be used to link visitors to additional pages on your website or to other websites.
10. What are some examples of businesses or industries that can benefit from using website templates with sliders?
For organizations and industries that mainly rely on visual material to attract and engage clients, website templates with sliders are a popular option.
The photography, art, fashion, culinary, and travel industries are some examples. However, any company or person wishing to quickly and easily establish a visually appealing website can employ website themes with sliders to great effect.
Conclusion on the best website slider templates to download
The website templates with slider demos in this article are ideal for all your website design needs. They are responsive, easy to customize, and display beautifully on desktop or mobile phones.
These sliders are designed to spotlight the goods and services you want to showcase. Slider templates are great web design tools to boost your productivity, so don't miss out.
If you liked this article about website templates with sliders, you should check out this article about startup website templates.
There are also similar articles discussing medical website templates, actor website templates, business website templates, and website templates with video background.
And let's not forget about articles on website templates for artists, modern website templates, creative website templates, and interactive website templates.
The Best Website Templates with Slider That You Can Download