As a blogger, images are crucial to increase engagement with your blog. You may blog about your retail shop, a destination, photography, fashion, food, or travel.
By utilizing a WordPress image plugin, you can add more photos to your blog. An image plugin also allows you to better highlight your brand experience.
Including more photos on a blog can help to boost traffic and visitor engagement.
That's why image plugins are essential. They allow you to integrate your images with your web design and brand.
This article lists the best WordPress image plugins on the market. It will help you to narrow down your choices.
The Best WordPress Image Plugins To Use
The best out there: Essential Grid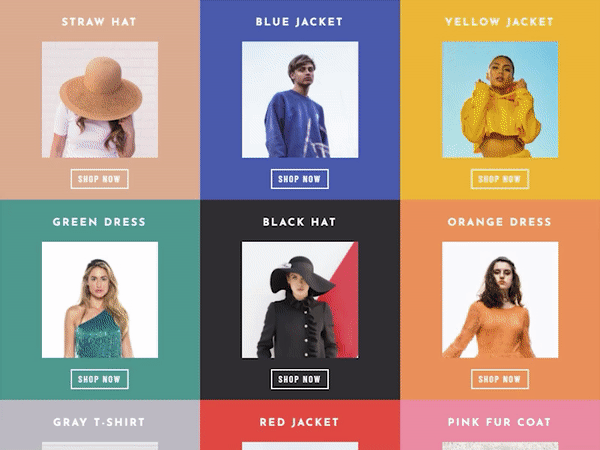 Essential Grid is hands down the best in the game. If there's one plugin that would make your website better more than others, it's this one.
Essential Grid lets you display your images in a gallery format, whether from the WordPress gallery, social media, or elsewhere.
The attractive, user-friendly interface makes customization and selecting your format tasks straightforward.
You can use images or add WordPress content, such as blog posts or other custom post types (including WooCommerce products). Also, you can connect to external services such as:
The visual skin editor creates gallery item layouts. For instance, when creating a gallery for WooCommerce, you can include:
Product price
Add-to-cart button, and more
And that's is not all. Once you get a license, you have access to quick FAQs and video tutorials that will walk you through the process of making your website look amazing with Essential Grid.
Key Features
Integration with other plugins such as WooCommerce
Multiple gallery layouts, including a template library with 50+ starter grids
Image, video, and audio galleries
Galleries from posts or custom post types
Create galleries from many different sources
Galleries from dynamic sources, including Instagram, YouTube, Vimeo, Twitter, Flickr, SoundCloud, and more
Here's a glimpse of what you can do with Essential Grid:
Present your blog posts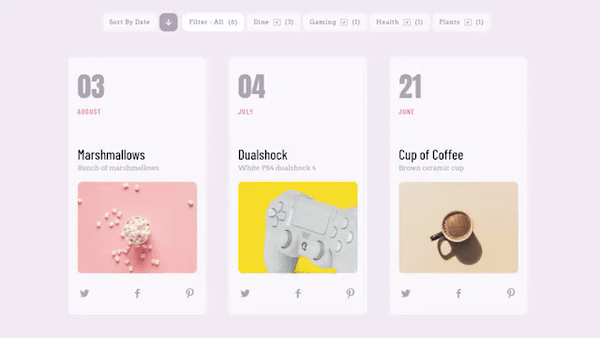 Showcase your portfolio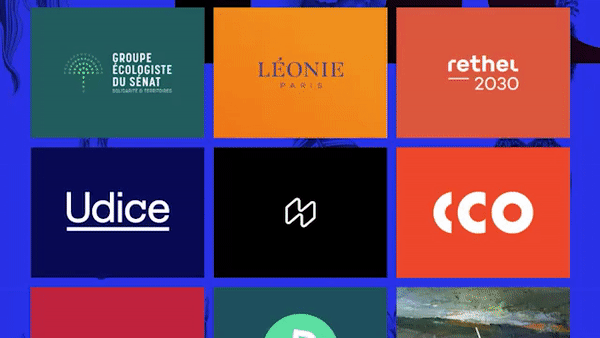 Display unique products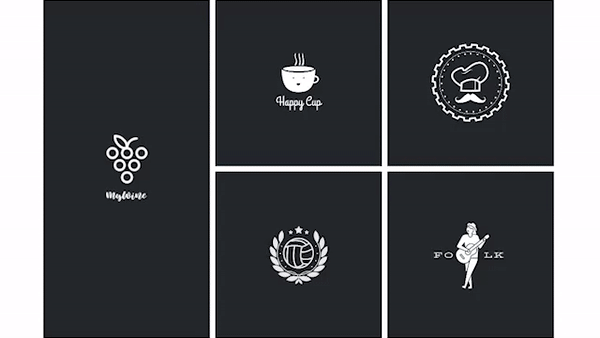 Share audio files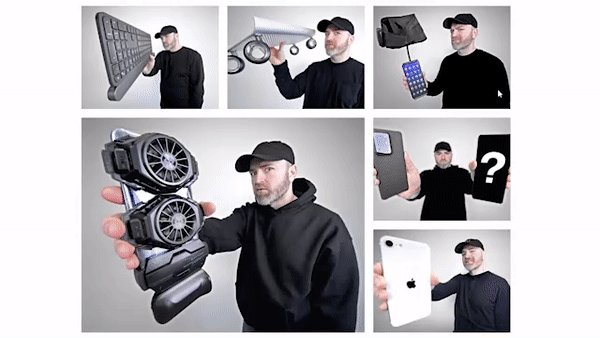 Display videos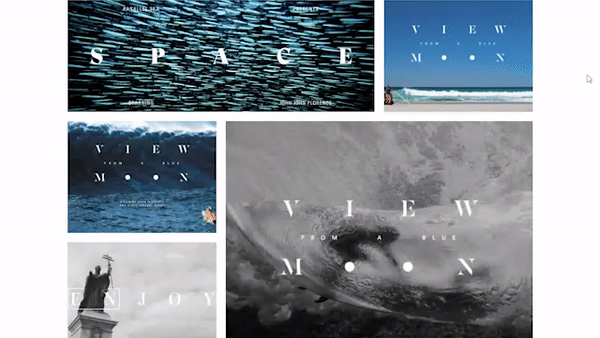 Show your Instagram stream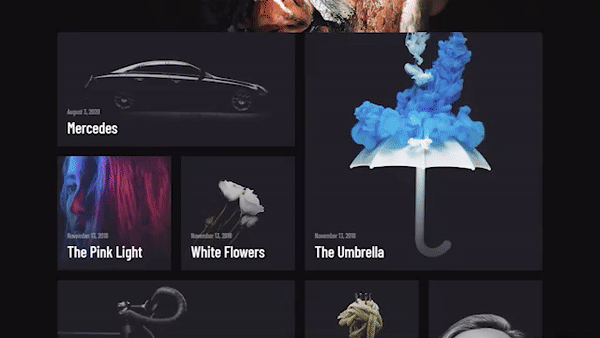 Compress JPEG & PNG Images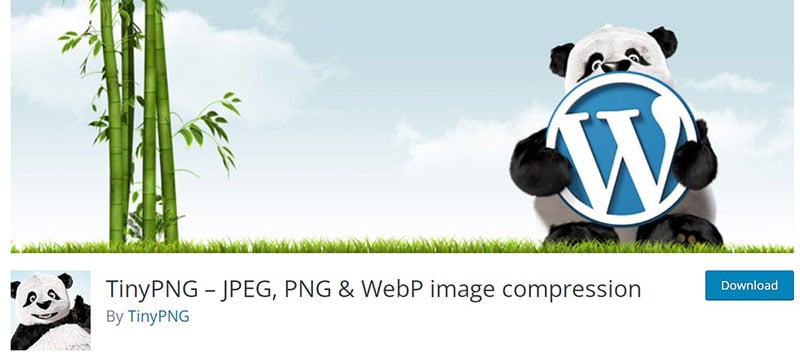 This WordPress image plugin integrates with the image compression services TinyJPG and TinyPNG. These services optimize your JPGs and PNGs.
This integration further allows you to analyze the content of the image. Then you can choose the best compression strategy.
So, when you compress the image, you can ensure that the quality stays the same.
With this plugin, you have the option to keep metadata in your images. This includes information such as geolocation and copyright.
There are no file size limits and it comes with a CMYK-to-RGB converter.
Main Features
It preserves the copyright metadata of the original images, such as GPS location and creation date
Enables you to present JPEG images faster with the progressive JPEG encoding
Sets the maximum width and/or height to resize huge images automatically
Allows you to bulk optimize your current media library
Lets you optimize the existing images from your media library
Can speed up your workflow with its advanced background optimization
Automatically optimizes new images on upload
Global Gallery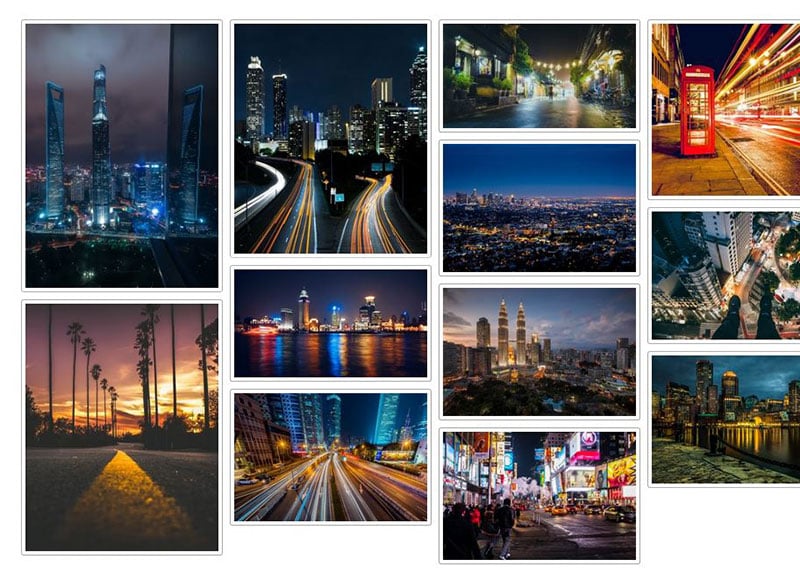 This WordPress image plugin integrates with WordPress and NextGEN galleries. Most other gallery plugins create their own load interfaces and shortcodes.
It comes with 4 gallery layouts, 8 lightboxes, and a drag-and-drop gallery builder. There are also watermark systems and deep-linked filters.
The 4 gallery layouts are photostring (justified), masonry, columnized, and standard (fixed image sizes).
Global Gallery is a premium WordPress image plugin. This allows you to make a gallery using media from WordPress media gallery, NextGen, and local directories.
You can populate your galleries using sources, eliminating the time-consuming manual selection process. In addition, you can access ten lightboxes.
Group your galleries together into collections or albums. To help with filtering, you can assign tags to the images.
Main Features
Visual Gallery Builder comes with thumbnail cropping management and drag-and-drop sorting
Carousel with image-centric mode and multi-column feature
Slider with lightbox support and fixed/responsive sizing
The Image-to-Gallery system comes with multiple customizations and six different layouts
Multiple photogalleries
Filter and search using gallery image tags
Photo Gallery by Supsystic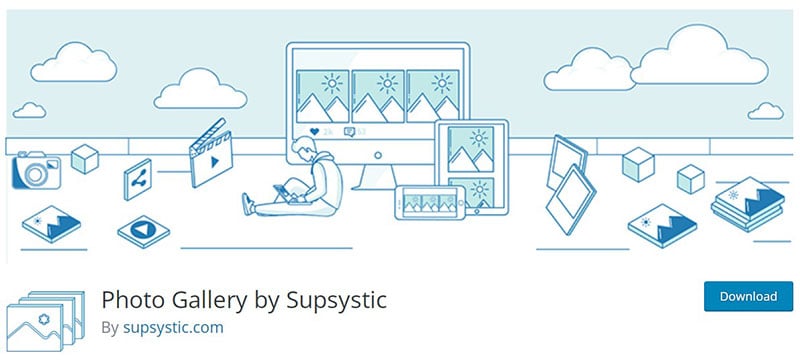 This plugin is not only for images but also for carousel and post feeds. Users can access eight various customizable gallery layouts.
It also comes with a Polaroid-style presentation. You can place captions on every image and create a little bit of nostalgia.
If you want to get the most out of this plugin, you can purchase the premium version. The premium has more features like tags, albums, and galleries to organize the images.
A CDN makes this plugin more mobile-friendly and accessible on all types of devices.
If you prefer simplicity, the free version provides you with all the essential features. For example, you can import gallery images from your personal Media Libraries.
But if you want to add videos and external images, then you might want to opt for the premium version.
Although it comes with a lot of features, this plugin delivers fast performance. It is also simple to set up.
You can enable the watermark in the free version too. This helps to prevent unauthorized usage of images or videos.
Main Features:
Include watermarks on all media
Social share buttons
Add icons, captions, borders, and shadows to customize your galleries
CDN integration to improve image loading
15 multiple designs to create different gallery layouts
WP Image Zoom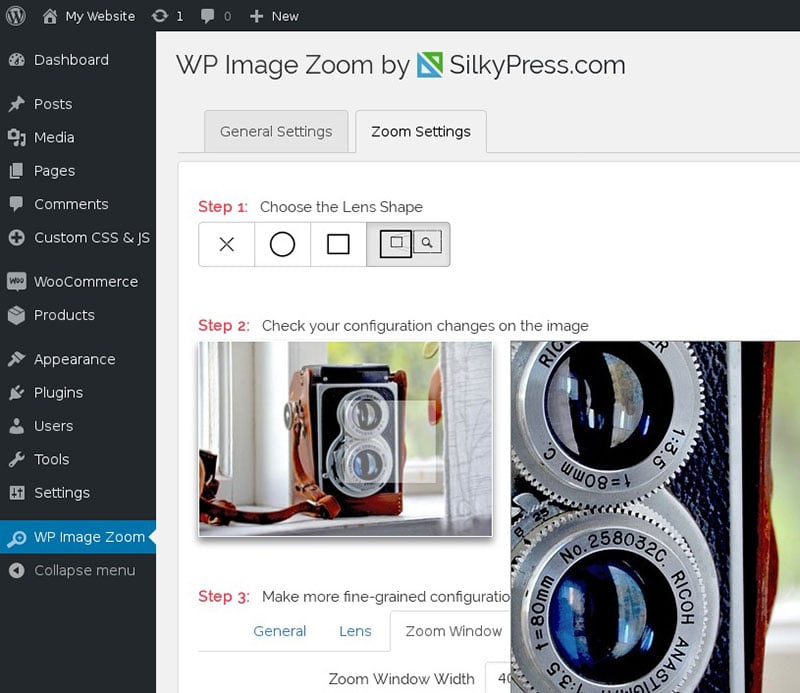 There are lots of WordPress image plugins on the market. But WP Image Zoom gives you amazing features for better website performance.
This image zoom plugin creates a magnifying glass on your WooCommerce products and images in posts. This is all possible through the intuitive admin interface.
This plugin is necessary especially if you are selling products. It allows potential buyers to view every detail in your photos.
Thus, it enhances and improves the user's interface.
Pro Version Features:
Custom theme support
MouseWheel Zoom
Works with portfolio images
Works with MarketPress
Other Main Features:
Excellent customer support offered by WP
Avia Layout Builder
Brizy
Elementor
WP Bakery
Beaver Builder
Divi Builder
Gutenberg
High compatibility
Fade effect
Animation easing effect
Four zooming types
Flagallery Photo Portfolio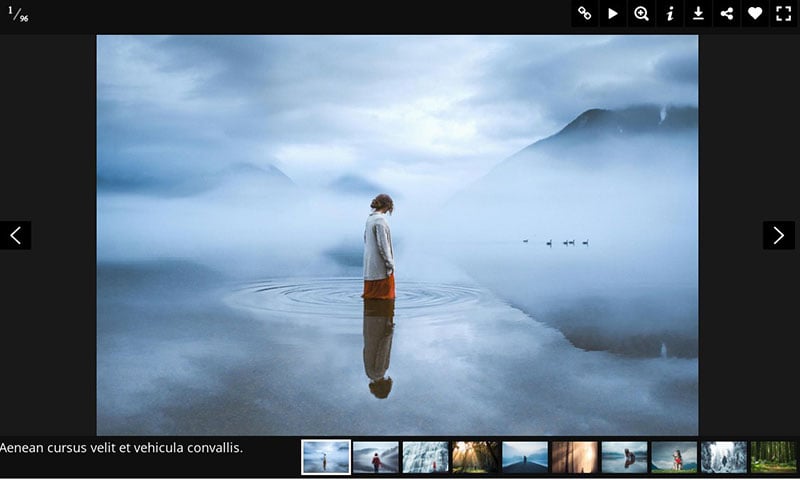 If you are looking for a unique plugin, this one fits the bill. Not only can you include images on your page, but you can also create your very own audio studio.
Although it might not be a top priority to other web owners, this is a plus point. Especially if you want to present more media to your site visitors.
It comes in a free and premium version.
With the free version, you can create albums and galleries with the Album Navigator tool. The premium version has more functionalities such as gallery display options.
Main Features:
Popular sliders in Pro version
Easy to use with a low barrier to entry
Extra display options in Pro version
Amazing free display options
Easy image management through batch upload option
Extra album and gallery display options
WoowSlider
Fullscreen galleries
Nivo Slider
Video player
MP3 player
Gallery display options and pagination tools
Responsive Lightbox & Gallery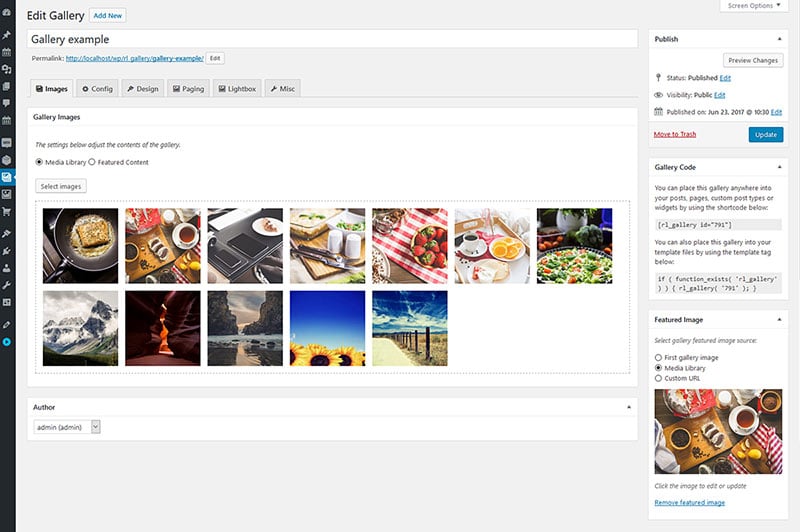 Here's another mobile-friendly WordPress image plugin. This works well on desktops and mobiles, so visitors can use any device with the same great result.
Even with the free version of this plugin, you benefit from three included settings and templates. But for more features and customization options, you'll need the paid extensions.
Overall, this plugin's main focus is on lightboxes.
Main Features:
Mobile-friendly lightbox functionality
Supports videos, WooCommerce integrations, and posts
Set gallery images title from alt, description, caption, or image title
WooCommerce product gallery support
Instantly add a lightbox to WordPress video links (Youtube, Vimeo), WordPress image links, and WordPress image galleries
WP VR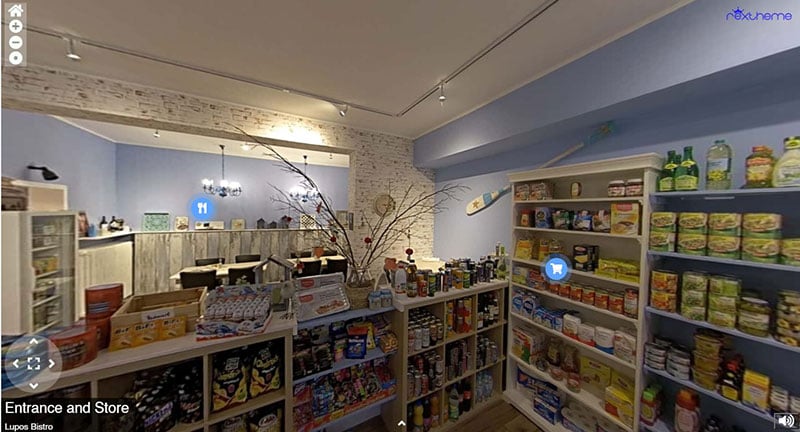 This plugin offers a different way of presenting images to site visitors. It invites them to take a virtual tour of the photos on your page.
This plugin is the perfect choice if you're new to creating blogs and websites. Also if you're not into coding.
All you need to do is upload a 360 image. Then let the plugin do the work by transforming it into a virtual tour.
Other effects include scene fade animation, auto-rotation, and more.
Main Features:
Excellent customer service
900+ premium icons
Scene fade animations
Embed Google Street View
Color picker for custom hotspot
VR Background music support
On-screen compass
Custom Hotspot icon
Keep full control over the virtual tour
Enables users to add custom icons
Robo Gallery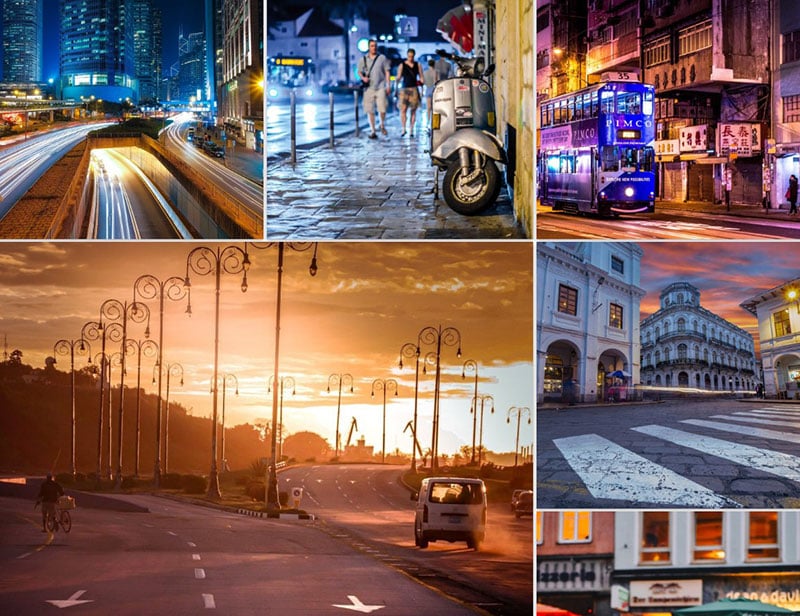 Robo Gallery is one of the best WordPress image plugins you will ever find.
It improves the design of your website and prevents any loss of page performance when adding images or media. Moreover, it can categorize galleries to make it more organized.
With its password protection, you have peace of mind that others will not steal your images.
Main Features:
Highly-customizable themes
One website install
50+ themes gallery wizard
YouTube playlists & channels
Unlimited galleries
Widget, Elementor, Gutenberg, Page, and Post Galleries
Password protection
Configure the size of each gallery, lazy loading, menus, hover effects, and thumbnails
Smush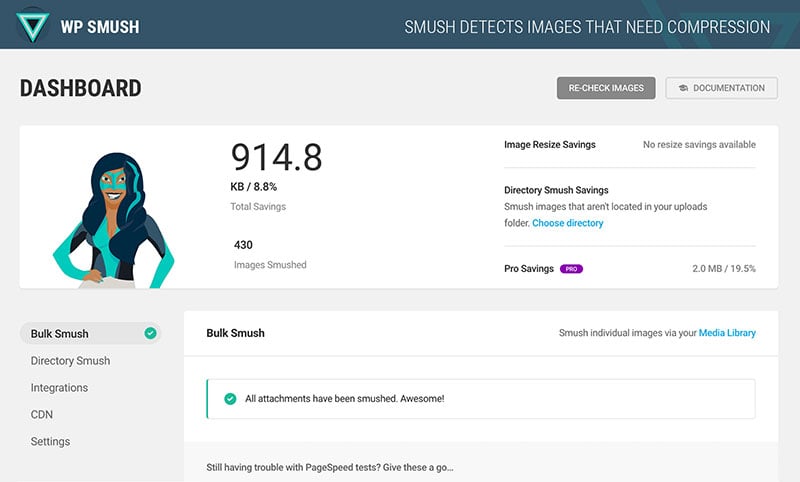 Compressing photos compromises the quality most of the time. But Smush can maintain the image quality even after compressing it.
What's more, this plugin is free. It reduces the file size to improve the website's load time and improve its performance.
Fast website performance is one of the most important SEO performance factors.
The lazy loading feature helps to make the images load faster. It's compatible with all the themes and builders you already have.
It also comes with a wrong size image finder with smart tips to highlight the images.
Main Features:
Supports multiple websites
Integrates with Gutenberg Block
Auto-smush your attachments
Scale large images automatically before adding them to the media library
Smush attachments in the media library individually, or in bulk, 50 attachments at a time
Advanced lossless compression techniques to optimize images
Compatible with various themes and builders
Image size detection
Lazy loading feature
Envira Gallery
This plugin is beginner-friendly and allows you to add photo galleries in a short time. You can use the template library to make a personalized gallery.
With Envira Gallery, you can employ effects and animations to personalize your gallery. You can also choose the gallery layout and thumbnail sizes.
For improved organization, Envira enables you to add image meta tags.
You have full control over the number of columns, lazy loading of images, and the lightbox. Grid and masonry galleries look good on different devices thanks to the responsive drag-and-drop builder.
Main Features
Integrates with Instagram so you can import images to your website
Lightroom integration
Image deep-linking
Video galleries
Watermarking
Social sharing
Integrates with WooCommerce to sell photos
Client proofing
Album functionality
Lazy loading feature
Drag-and-drop gallery builder
Jetpack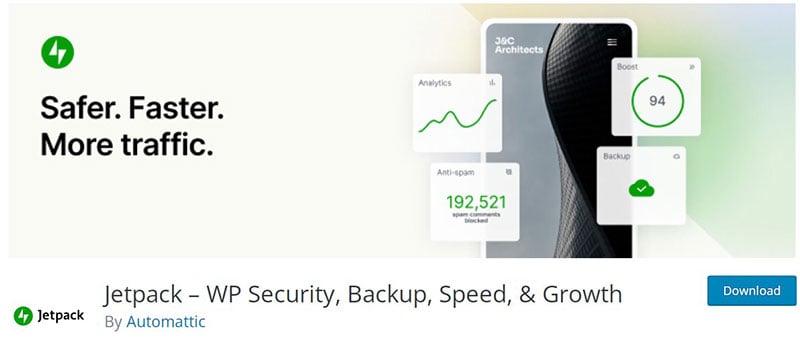 There are lots of WordPress image plugins with free and premium versions. Jetpack is one of them.
Its functionalities include security, performance, and design. If you want to add tiled galleries, you can use Jetpack to do it as long as you have installed it already on your site.
However, Jetpack is not intended as a gallery plugin. Rather, it serves as a collection of essential tools for WordPress.
This is the ideal option for you if want a minimalist or simple image grid. Especially if you want this without doing too much work or installing more plugins.
Jetpack helps those who want to keep a light codebase. Not having to install other plugins makes a WordPress site's performance lighter and faster.
Main Features
Enables users to add tiled galleries
Collection of essential tools for WordPress
Light codebase
Gmedia Photo Gallery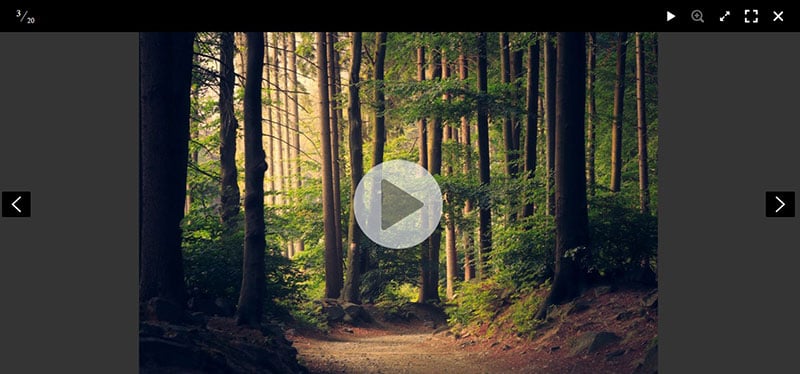 Here's another affordable plugin to help you on your online entrepreneurship journey. It enables you to create responsive video galleries and photos.
On your page, you can embed videos from Vimeo or Youtube. What's more, you can add more information in EXIF data or other pages.
It comes with large back-end settings that allow you to edit or personalize your own galleries.
However, if you are someone who hates too many tweakable settings, this plugin might not be ideal for you. But it suits those who like to have tight control over their gallery.
Of course, the premium version gives you more options. You can comment on media, upload, and manage galleries through the mobile app.
Moreover, it comes with more gallery and album options, Google Maps, a Waveform music player, and a GMediaCloud tool.
Main Features
Integrates with Gutenberg blocks
Comes with lots of image tools
Options for album display and multiple galleries
Gmedia mobile app
Easy to use due to its widget support
Embed Youtube and Vimeo to web page
Google Maps for geolocation
Manage galleries
Protect images
Allows commenting on each post or photo
Foo Gallery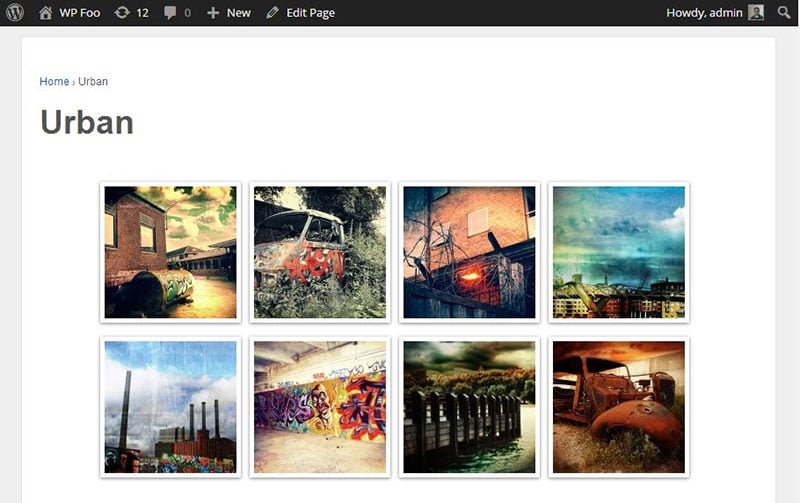 Foo Gallery is another WordPress image plugin that comes in free and a pro versions.
The free version gives you all the needed features to let you create a gallery with relevant media. Some features include retina thumbnail support, media library management, album creation, and drag-and-drop ordering.
As with other plugins, with the pro version, you can access more functionalities. The premium version comes with Video Galleries support and Polaroid PRO, to name a few.
Main Pro Features
Comes with 11 hover effect presets
Video gallery support
Loading effects options
Infinite scroll
More choices of gallery templates and styles
Photo Gallery by 10Web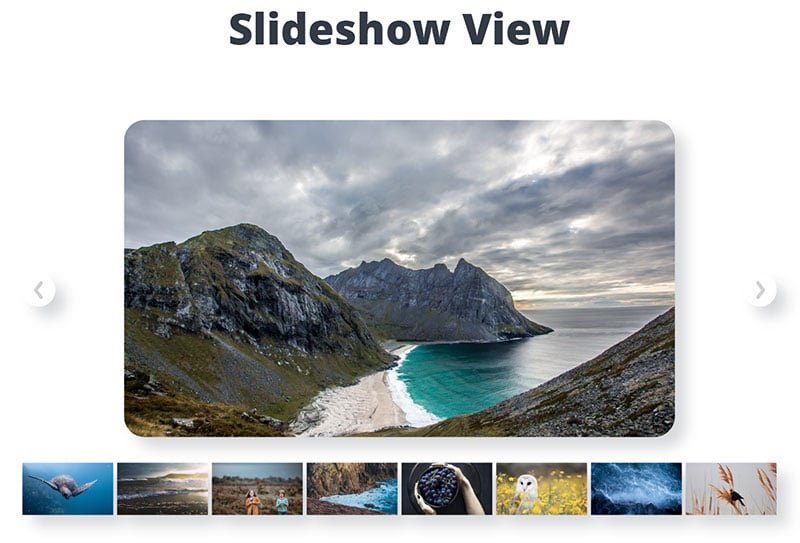 Whether you choose the free or paid version,this is a top-quality plugin.
The good thing is that this plugin is available to everyone who needs a sleek image gallery. It is easy to use and very flexible.
You can choose how to display your video and image galleries. It is possible to display them in a blog style, carousel, mosaic, masonry, or thumbnails.
Rearranging media is also hassle-free through the drag-and-drop interface of this plugin.
Main Features
Multiple social sharing
eCommerce tools
Image galleries and mixed video
Beginner-friendly with available default settings
Watermark option to protect images
Sleek image gallery
Extremely versatile
Fully-responsive
Drag-and-drop interface
GT3 Photo and Video Gallery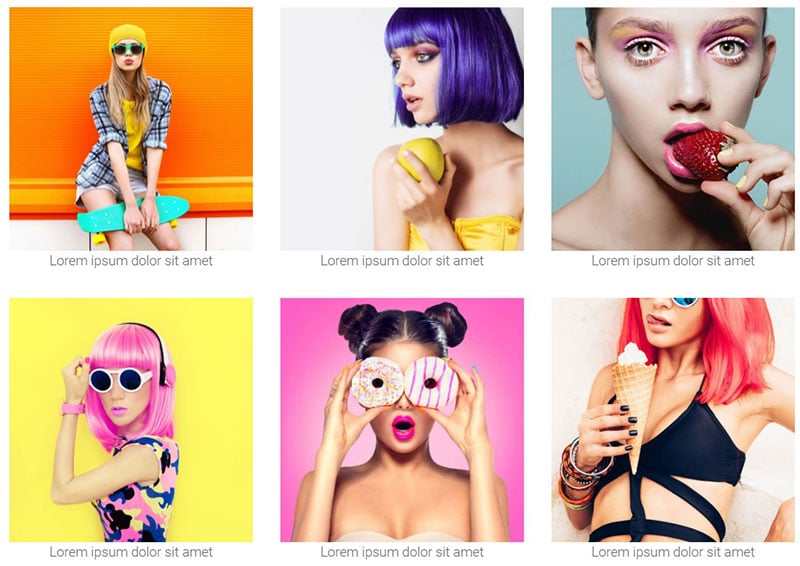 Compared to the usual WordPress image plugins, this onedoes things in a different way. To manage your images it integrates with the WordPress Gutenberg editor.
Thus, instead of adding a dashboard to your page, you gain tools in more familiar areas.
The premium version offers features such as custom CSS support and downloads, lazy loading, Lightbox options, video gallery support, filtering, slider options, and Elementor builder widgets.
Main Features
Watermark options for image protection
Integrates video gallery
Integrates with existing page builders
Integrates with Gutenberg blocks for compatibility and ease of use
Multiple display and album options
Compatible with Elementor
Comes with masonry and grid layouts
Offers creation and customization tools
Modula Gallery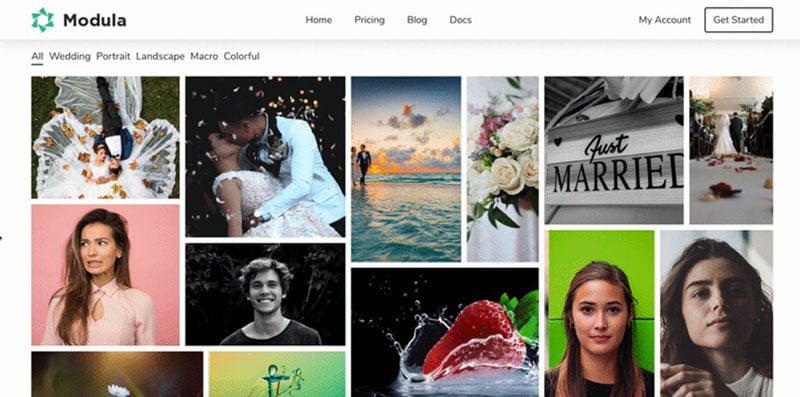 This WordPress image plugin also offers free and premium versions. It allows users to create a website according to their preferences.
You can design anything to match your niche, and you can do it without too much effort. This is a true beginner-friendly plugin.
Modula is easy to use and the tools provided are perfect for every user's needs. Its custom grid with drag-and-drop feature enables you to create personalized gallery grids.
Thanks to this, it is hassle-free to adjust or change the image size and layout.
Main Features
Enables users to add captions
Options for layout, lightbox, and to change sizing
Enables loading and hover effects
Pre-built image CDN based on StackPath
ShortPixel optimization
Ajax filterable galleries
The unique custom grid feature
12 cross-browser compatible hover effects
NextGEN Gallery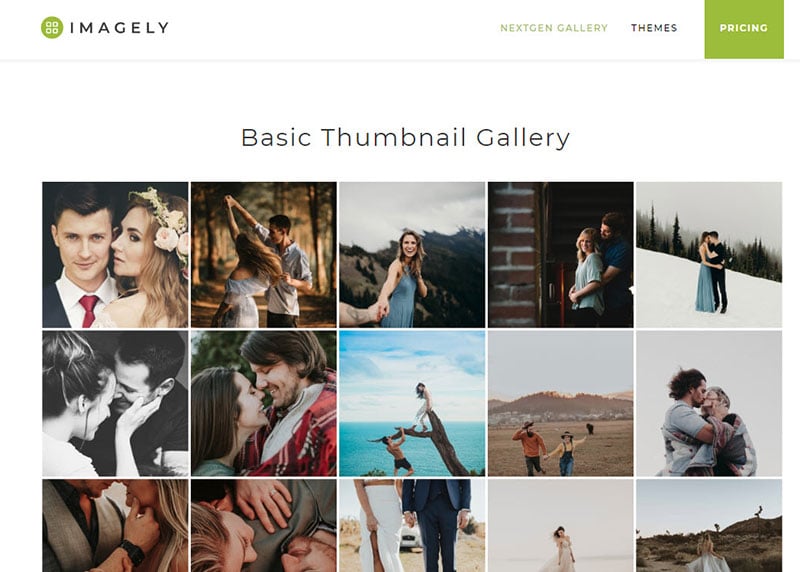 When it comes to the most downloaded plugin, NextGEN is at the top of the list. It has a free and a pro version that includes necessary features based on the user's preferences.
With the use of Lightbox, you can create a fully-customized website.
By purchasing the premium version you obtain features like digital downloads, image proofing, Lightroom, backups, and more. What's more, you can access NextGEN WordPress themes for a better web layout and design.
Main Features
Integrate social media
Allows comments or images
Integrates eCommerce for selling images
Multiple gallery styles
Lightbox galleries deep linking
Watermark option to protect images and avoid illegal image theft
Two gallery and album styles
Retina-ready
Open graph support
Social sharing
Payment options via PayPal or Stripe
Digital downloads
Proofing
Coupons
Automatic sales tax
FAQs about WordPress image plugins
1. What is a WordPress image plugin?
A piece of software called a WordPress image plugin extends WordPress' built-in image processing features with new features. This can involve functions like reducing the size of image files, applying watermarks, making image slideshows or galleries, and more.
2. How do I install a WordPress image plugin?
A WordPress image plugin can be installed similarly to other plugins. You can look for plugins right from your WordPress dashboard, download one from a different website, and manually upload it. When the plugin is installed, you can activate it from your dashboard's Plugins page.
3. What are some popular WordPress image plugins?
Essential Grid, Smush, WP Compress, Imagify, and EWWW Image Optimizer are a few of the most well-known WordPress image plugins. These plugins provide a variety of image optimization capabilities, such as lazy loading and automated picture compression.
4. How do I optimize images using a WordPress image plugin?
You must first install and activate a plugin that includes image optimization features in order to use a WordPress image plugin to optimize photos. Once the plugin is installed, you can modify its settings to batch-optimize photos from the plugin's dashboard or have it automatically optimize images as you submit them.
5. Can a WordPress image plugin automatically resize my images?
Yes, a lot of WordPress image plugins have the ability to automatically resize images. This can be helpful for making sure that your photographs are the appropriate size and dimensions for your website, which can enhance the performance and load times of your website.
6. How can I add watermarks to my images using a WordPress image plugin?
You must first install and activate a plugin that offers this capability if you want to use a WordPress image plugin to apply watermarks to your photographs. Once installed, you can set the plugin to automatically apply watermarks to your photographs as you upload them or use the plugin's dashboard to add watermarks to several images at once.
7. Are there any free WordPress image plugins available?
A lot of free WordPress image plugins are available, yes. Popular free plugins include Lazy Load by WP Rocket, Smush, and WP Compress. Free features for lazy loading and picture optimization are provided by these plugins.
8. How can I bulk compress images using a WordPress image plugin?
You must first install and activate a plugin that offers this feature in order to mass compress images using a WordPress image plugin. The mass compression feature of the plugin is normally accessible via the plugin's dashboard once it has been installed. You may then choose the photographs you want to compress, and the plugin will do it for you automatically.
9. Can a WordPress image plugin help with image lazy loading?
Yes, a lot of WordPress image plugins support lazy loading. By loading photos incrementally rather than all at once, lazy loading can reduce the time it takes for your website to load. Lazy Load by WP Rocket and BJ Lazy Load are two examples of popular lazy loading plugins.
10. Are there any WordPress image plugins that can create image galleries or slideshows?
Yes, there are a lot of WordPress picture plugins available that can produce slideshows or galleries of images. Envira Gallery, NextGEN Gallery, and the Carousel module of Jetpack are a few well-liked plugins. For making stunning image galleries and slideshows on your website, these plugins provide a variety of customizing possibilities.
Final thoughts on choosing the right WordPress image plugins
When you are building a website, selecting a WordPress image plugin is quite a challenge. However, it is crucial for improving engagement with your readers.
So, making sure that the images are high-quality is a significant part of creating your web pages.
First, build your photo library. Then choose a plugin from this list that complements your needs and preferences.
Pick the one with the features that will help you reach your goal, and you will see how it improves your website.
If you enjoyed reading this article on WordPress image plugins, you should check out this one with WordPress logo slider plugins.
We also wrote about a few related subjects like the WordPress photo gallery plugins, best WordPress sliders, professional website templates, carousel slider examples, slide menu examples, CSS cards, CSS text animation, the most innovative and creative websites, and full-page slider examples.
The Best WordPress Image Plugins That Any Blogger Should Use