Table of Content
Progress
1. Slide Length
The total time in milliseconds for the Slide's Timeline. Leave at "default" to use the Module's Default Slide Duration.

2. Pause Slider
Leave at "Default" for no pausing or choose "Stop Slider Progress" to always pause the Slider when the current Slide is shown.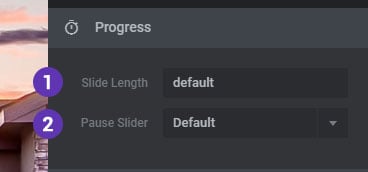 Visibility
1. Visible/Hidden in Navigation
If a Slide is "Hidden in Navigation", it will be taken out of the Slider's regular rotation and only accessible by Layer Actions.

2. Hide After Loops
Choose if the Slide should be automatically hidden after the Slider has looped through all Slides a certain amount of times declared here.

3. Hide on Mobile
Choose to hide the current Slide on Mobile devices.