Table of Contents
Get Your License Key Unlocked
In this article we're going to cover a lot of useful information to help you with license key management, but first things first, let's get you back up running by getting your key unlocked as quickly as possible.
To unlock your license key please contact our support team by either opening a support ticket or dropping us an email at [email protected]
Why Unlocking Might Take a Little Time
We go through a manual process of checking on license keys before unlocking them, so while we always strive to help you as quickly as possible this may take up to 12 – 24 hours.
The reason for this is we put in extra effort to verify that only our customers can access the exclusive premium benefits that come with a purchase of Slider Revolution, such as downloading our latest templates, addons and high quality assets.
We apologize that this can sometimes take extra time, but we hope you enjoy the quality this process helps us deliver exclusively to our customers, and we thank you for your patience.
All About License Keys
Now let's take a close look at exactly what a license key is, why it's needed, how it can end up locked, and how you can manage your keys.
What is a License Key and Why Do I Need One?
A license key for Slider Revolution acts as pass you can use to connect to our servers and access exclusive premium content.
This premium content includes 200+ ready to use templates [?] A "Template" is a premade module. It has pre-configured layers already in place.

It is designed to be ready for use, either as is or after being modified in the module editor.

Slider Revolution comes with several templates you can use, or alternatively you can create your own templates, thereby allowing you to easily reuse modules you have produced., high quality objects [?] Objects are images or videos that come bundled with Slider Revolution. They can be found in the image and video object libraries.

Both images and videos from the object library have been formatted and optimized in advance to make them suitable for use in modules. such as photographs and videos, 25+ addons [?] Addons extend the functionality of Slider Revolution, adding new controls to the module editor and allowing you to do extra things with your design.

For example, using the particle addon you can create effects such as falling snow, and using the distortion addon you can create shimmering effects such as simulating being underwater.

There are dozens of addons available, all included with the full version of Slider Revolution. that extend the functionality of Slider Revolution, one click updates, and direct 1-on-1 support.
Note: To access premium content you'll need a stand-alone license key for Slider Revolution. If you have a copy of Slider Revolution that came bundled with your theme but you haven't purchased a premium license yet, you can get yours here.
What Can Cause a License Key to be Locked?
Each license key for Slider Revolution is intended to be used on a single domain at a time. This is still the case if you have a bundle of licenses, as a bundle is a way to purchase multiple license keys at a discount, with each meant for use on a single site.
For this reason, a license key can be locked if it is used on more than one domain at a time.
If you decide you want to stop using a license key on one domain and use it on another domain instead, you can definitely do that. We'll step through how to do so in just a moment.
However, if a single license key is used on more than three domains within a week, that can also cause the license key to be locked.
So if you find yourself needing to move your license between domains more often than that, you'll probably be better off using multiple licenses instead.
Benefits of Purchasing Multiple License Bundles
With a bundle of licenses you'll be able to register multiple sites for full access to premium content, all at the same time.
These means that on top of having full access to templates and the object library during content creation, you can also have as many addons activated on your sites as you like.
Not only this but you can use one click instant updates on all of your websites, ensuring you always have the latest additions to Slider Revolution.
These additions include immediate access to the newest templates and features, and can also include bug fixes and conflict resolutions that help keep your sites running smoothly.
Reuse Your License Key on a Staging / Localhost Site
If you use a staging platform or localhost to work on your site, you don't need to use an extra license key in order to set up such a development environment.
This is because for each license key you register on a domain, you can reuse that same key on a corresponding localhost or staging site.
To learn more check out our Licensing Information for Staging Sites and Localhost guide. The article includes a complete list of the whitelisted domains we allow for development and localhost sites.
Deregister a License Key Before Moving to Another Domain
You can move a license key from one domain to another as many times as you like, as long as you don't do so more than three times in one week.
However because license keys can only be used on one site at a time, it's important to deregister a key from its current domain before registering it on a new domain.
There are two ways to deregister a plugin:
Through your site's Slider Revolution dashboard
Though your account portal
Let's learn how to use each of these methods.
Deregistering a License Key Through Your Site
To deregister a license key through your site, go to the dashboard of the Slider Revolution plugin:

Scroll down to the Registered License Key section: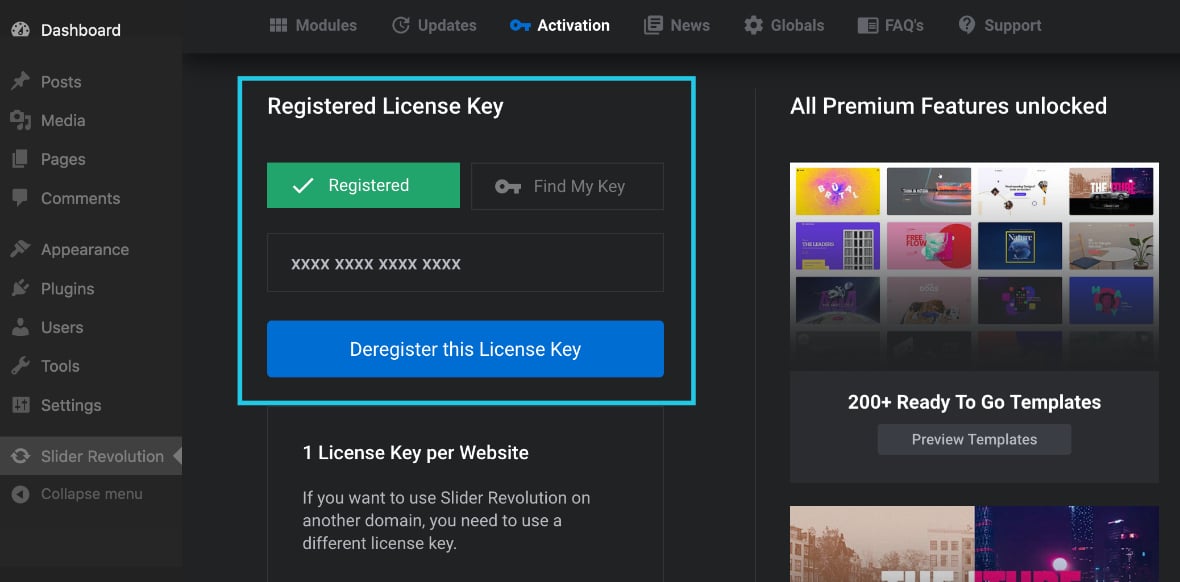 Click the Deregister this License Key button:

After deregistering the license key, this is how the Register License Key area should look:

Resetting a Key Through Your Account Portal
As an alternative to deregistering a key through your site's Slider Revolution dashboard, you can instead reset a license key through your account portal.
If you deleted a website before deregistering the license key you were using on it, this option is particularly helpful.
Go to your account portal on sliderrevolution.com: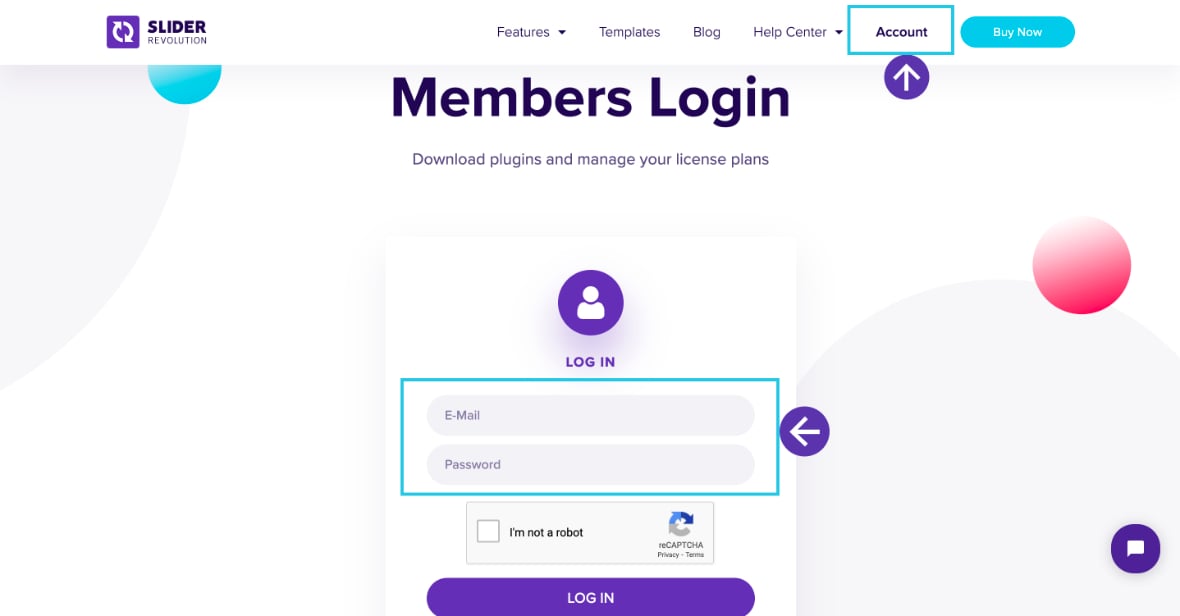 Click on the RESET KEY button to the right of the license key you want to deregister:

After deregistering a license key through your Slider Revolution dashboard or account portal, that license key is free to be registered on any other domain.
Wrapping
Let's have a quick recap of everything we've covered:
If your license key is locked, contact our support team so we can unlock it for you.
You can move a license key from one domain to another, but you should deregister it from its current domain first.
License keys can be deregistered either through your site's Slider Revolution dashboard, or through your account portal.
If you want to setup a development environment for a site, you don't need an extra license key because each key can be reused on a corresponding staging / localhost environment.
If you'd like to access premium content and instant updates on multiple websites, without inadvertently locking a license key, one of our multiple site bundle options might be a great fit for you.
As always, if you have any further questions or need any additional assistance you can contact us via support ticket or email ([email protected]), we're here to help.
How To Unlock a License Key