Good Question!
ThemePunch products are distributed in two ways:
Premium Version – Sold individually on here in the offical shop and on CodeCanyon , ThemePunch Support Included
Bundled Version – Included with ThemeForest themes/templates, ThemePunch Support not Included, Theme Author support Included ( Envato Terms )
And when "bundled" users contact us for support, we usually give the following standard answer because those users did not buy a Slider Revolution License: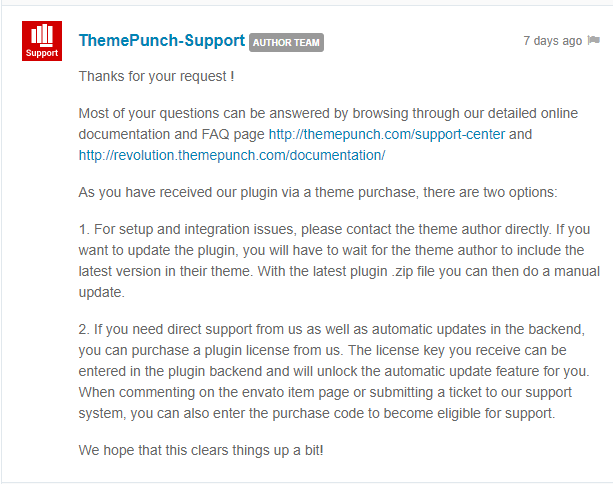 A direct question from a recent user:
"But I'm confused, I don't really understand why I would need to buy a second license for the same plugin since it has already been licensed through the theme – they've paid you for it, I've paid them, etc.?"
We agree. It's confusing! 😀 And at Slider Revolution we always want to help, so we always answer questions whenever possible. But if you received the standard response, it means your question/issue requires an investigation… aka "support" aka lots of our time.
So why can't we provide support for the bundled version?
This can be answered by learning about the "bundle" system. As an example:
A ThemeForest authors purchases an "Extended License" from us for 5x the cost of the normal price
The ThemeForest author packages the plugin with their theme
You purchase the theme and Slider Revolution or Essential Grid is included (great!)
You also pay a certain amount to the theme author for his support
Only thing is, in the above scenario, the plugin author(us) doesn't receive any additional royalties on the theme sale. Instead, they just earn 5x the cost of the regular price (around $100 after fees).
Now imagine this. Let's say a theme bundles Slider Revolution, then goes on to sell 100,000+ copies (this actually happens), and now all those customers come to the ThemePunch support center for help. We really wish we could provide support to 100k users for $100, but logistically it's just not possible 😀
So why does ThemeForest allow theme authors to bundle plugins that don't include support?
Because it's a win-win for everyone. The plugin author makes a sale. The theme author adds even more value to their amazing theme. And you get a great theme with some of the most popular plugins (in special bundled versions) included at an amazing cost!
In Closing:
We hope this helps to better explain how the support system works. Check out the following article for some additional information:
https://help.market.envato.com/hc/en-us/articles/213762463-Bundled-Plugins
And here's a list of all the benefits included with the Premium Version of the plugin in addition to our famous 5 Star support.
Hoping we get a chance to talk with you over at our support center!
Why isn't support included with my bundled version?