Modules, Slides & Layers
In this section of the manual we're taking a closer look at modules, and how they act as containers for slides and layers.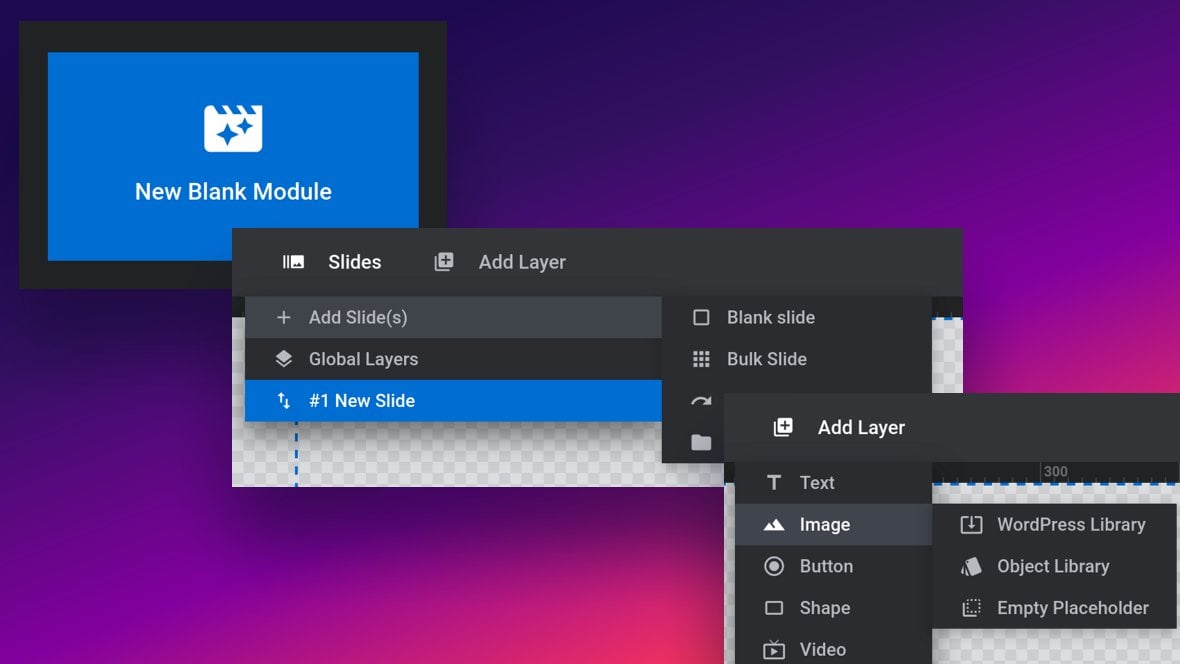 When you first come to Slider Revolution it might not be immediately clear how the various terminology we use fits together. This is in part because Slider Revolution started out as a plugin meant purely for making sliders before evolving into a complete website content creation tool, so we still have some naming conventions with us from the plugin's early days.
For example, you can make a module designed to act as a slider and within it will be slides, as you would expect. However you can also make modules such as navigation menus or headers, which are not sliders at all, but they will still contain slides.
So to make sure you don't have any confusion as we move further into how to use Slider Revolution, we're going to cover exactly what we mean when we use the core terminology module [?] A module in Slider Revolution acts as a container for slides, which in turn act as containers for layers. Modules are created and edited with the module editor.

A "module" is a single, self contained piece of content. You can think of this as being similar to the way a post or page in regular WordPress is a self contained piece of content.

A module can represent any kind of content Slider Revolution is capable of creating, such as a slider, carousel, hero unit, navigation menu, posts display and so on.

Multiple modules can be combined to form rich content such as complete sites and landing pages., slide [?] A "slide" in Slider Revolution is a container into which multiple layers can be added, with layers in turn acting as containers for various forms of media such as images, text, video, audio, buttons, and special effects.

Slides are added to modules and edited via the module editor.

Within the module editor, each slide has its own animation timeline, background and collection of layers.

A single module can have one or many slides. A module with one slide is called a scene, and a module with multiple slides is called a slider or carousel. and layer [?] Layers are containers for visual, audio or layout items and are added to slides. For example, text, button, image, audio, video, group and row are all types of layers.

Layers are added to slides via the module editor., starting with how the three relate to one another.
Relationship Between Modules, Slides & Layers
The way modules, slides and layers fit together can be summarized as follows:
Modules are containers for Slides which are containers for Layers.
We're about to go into detail on what layers are, but to give you enough context for the above to make sense:
So the reason we always use "slides", no matter what kind of module we are making, is that they act as containers for layers. Then because you can have multiple slides there needs to be a container to group them together too, and modules fill that role.
The Essential Process in Slider Revolution
With that relationship summary in mind, we can see how the process of creating content with Slider Revolution is essentially:
Create a module.
Add slides to that module.
Add layers to those slides.
If that's not entirely clear yet don't worry because we're going to expand on how all this works in the next three pages, starting with modules.