Nowadays, every author needs a website. It doesn't matter if they are negotiating an editorial deal, if they are still unpublished, or if they are only starting. Establishing an author's website is vital.
A good website is the key to any business or personal brand. So, why should authors be the exception? Naturally, their niche follows the same rules as any other when it comes to digital needs.
Although most WordPress theme options come with ready-made templates, some are designed for writers only. If you want the world to know your work, you can use any of these templates and customize it with just a few clicks.
These author website templates have everything an author needs: great functionality, customizable features, and user-friendly platforms.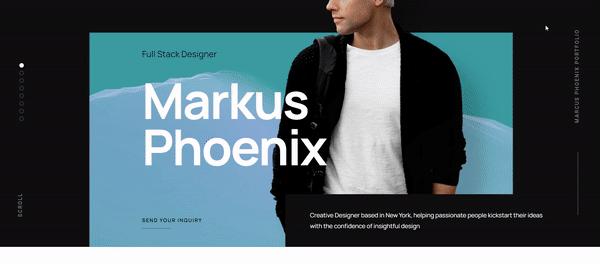 Introducing a captivating one-page portfolio website design, carefully constructed to leave a lasting impression.
Showcase your achievements in a striking and compelling manner that will instantly captivate potential clients as soon as they visit your site.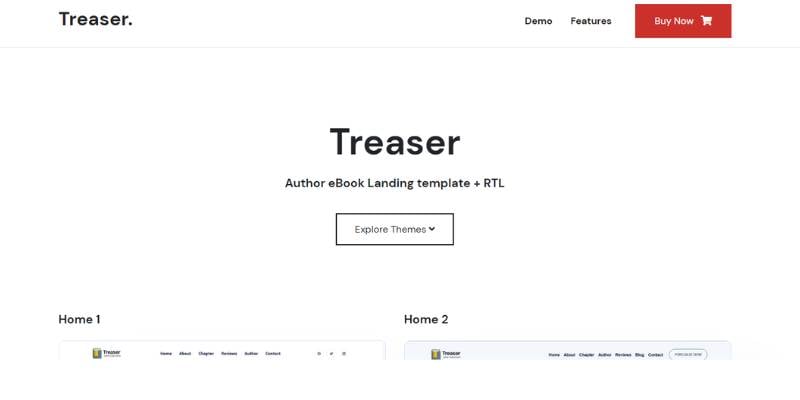 Treaser will help you display your work appealingly. Focus on your products and choose a WordPress theme that helps you do it accordingly. With Treaser you'll find a stunning header with animated texts, call-to-action buttons, a preview of a project, and other details. Treaser comes with all the features that you need. This includes reviews, about sections, contact, chapters, and pre-built pages. Moreover, it boasts retina-ready technology and a responsive design.
Developers used a variety of technologies like SaSS, React bootstrap, React Router Dom, and React to build Wonted. If you want a minimal design for customers to focus exclusively on your work, this is it. Update your existing website or create a new one: in both cases, you'll get an elegant feel and a unique layout.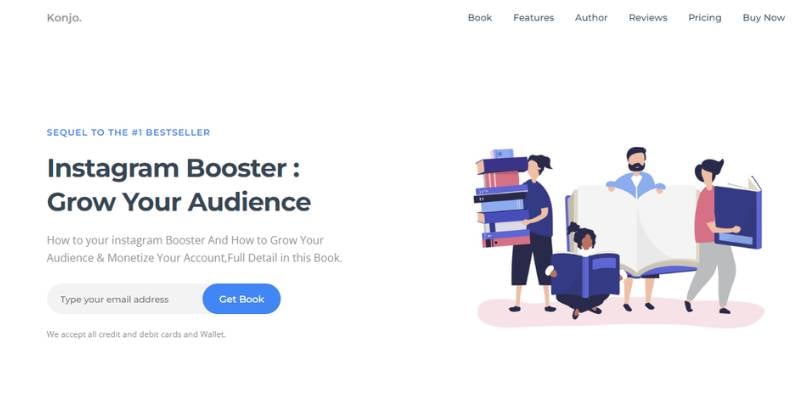 Here is a design that will help you stand out from the crowd. Based on a vector illustrator, Konjo brings unique layout options. Stunning visuals, retina-ready technology, and a responsive platform are only some of the advantages you'll find here. Easily customize Konjo and adapt it to your needs and, step by step, you'll build wonders. Advanced author website templates are key to reaching the right people.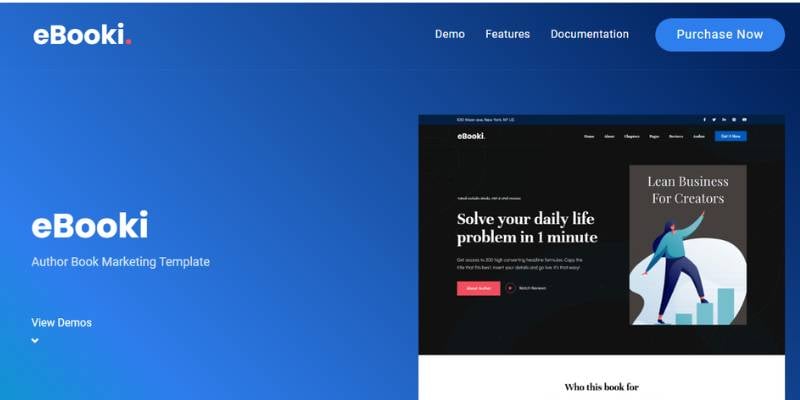 based on Bootstrap 5, eBooki will allow you to build one of the best author websites to sell books online. Use all the features to promote your ebooks and enjoy a marketplace and plenty of marketing alternatives.
Among other things, you'll find 6 homepage options. Any of them can be the right choice to customize the perfect author website. It comes with W3C HTML valid code, SEO-friendly coding, and a modern design.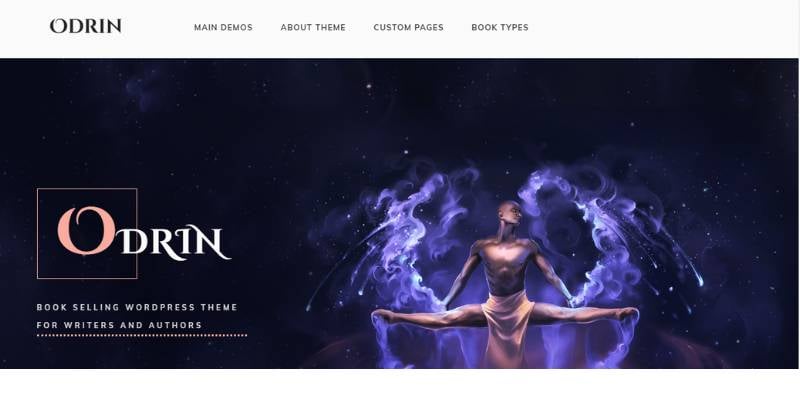 When it comes to easy setups, Odrin is the right choice. Looking for website templates may not be easy, but Odrin is worth the look because of its simplicity. For example, you can set up your website with a one-click import function. Also, choose from 10 templates and insert custom widgets. Through them, you can add your social media links and lots of other content. This includes accordions, preview images, book covers, and upcoming events.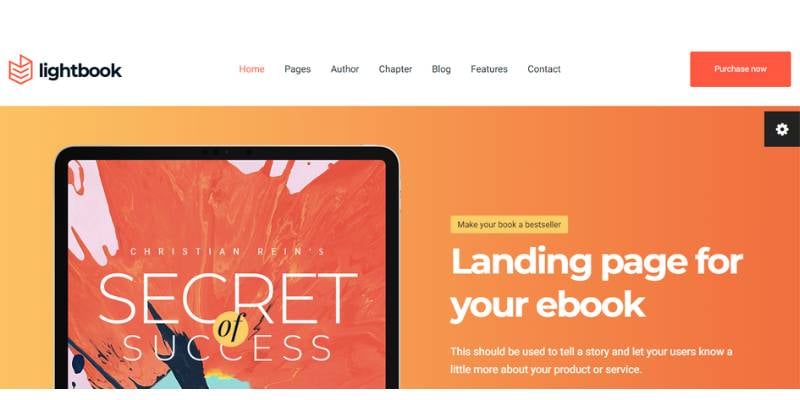 Lightbook is based on Bootstrap 4 and HTML. Here you'll find plenty of pages to customize including blog and service pages. By putting together different combinations, you can attract more readers. Create interesting content with articles, pages, and blog entries. It also has over 100 pre-made HTML pages. Finally, use headers, PSD files, a mega menu, and several footers.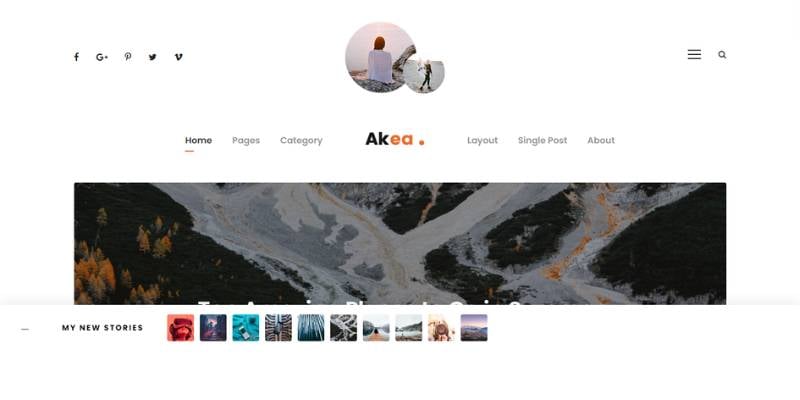 This is the perfect option for those who want a simple solution. Check out Akea's clean layouts and you'll find the perfect place where to upload your content. Akea boasts many features like HTML pages, retina-ready technology, and Pixel Perfect. With these impressive colors and modern fonts, you can attract more readers and show them your work. If you want to run a blog, here you'll find key features to help you get the job done. This includes a contact form, format support, animations, and smooth scrolling effects.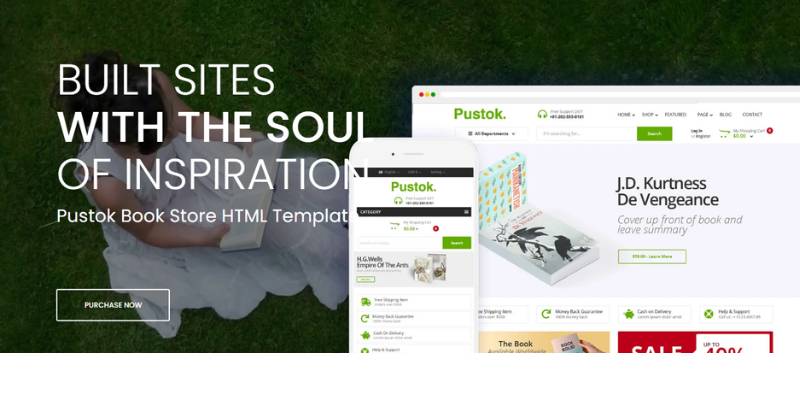 A smart solution for modern writers, Pustok has everything you need. Starting with magazines, photography, calendars, and biography sections, this is a great tool to create an e-commerce author website. It also lets you display your books neatly. This is one of the best author website templates with 41 HTML pages of different types. In other words, it comes with 6 shop pages, 5 homepage versions, 12 blog pages, and 8 product variation pages.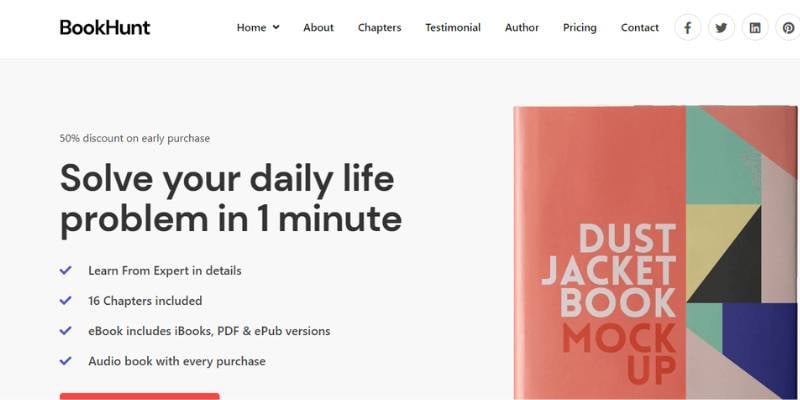 When choosing a website template, you want an option that will impress readers. Besides offering great support, Bookhunt has all the features that your website needs. It's fully responsive and has a landing page specially designed for the reading business. Bookhunt is based on Bootstrap React.
If you want your visitors to read you avidly, Bookhunt is a great tool. It comes packed with features like Google Fonts, HTML, CSS3, and React JS.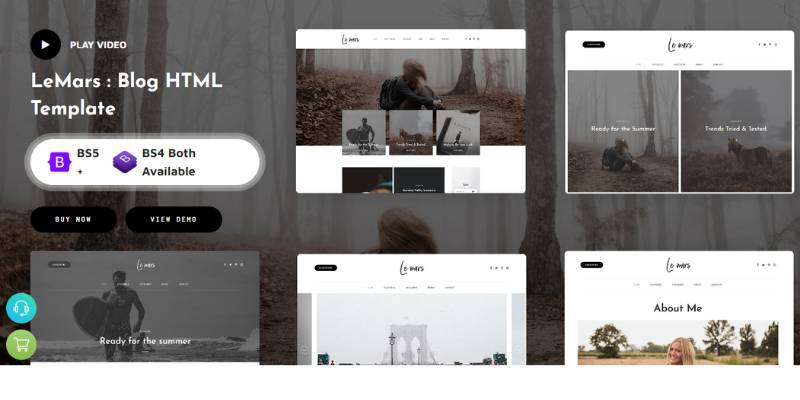 looking for inspiration? Here is a clean design that will let you highlight your products. With LeMars you can promote your books online in the most effective way. You'll find that each section is fully responsive. So, rest assured that your viewers will see your content perfectly from any device. Also, its retina-ready features are a huge plus. Based on HTML, LeMars comes with attractive features so that your visitors stay longer. This will make the website more appealing to search engines.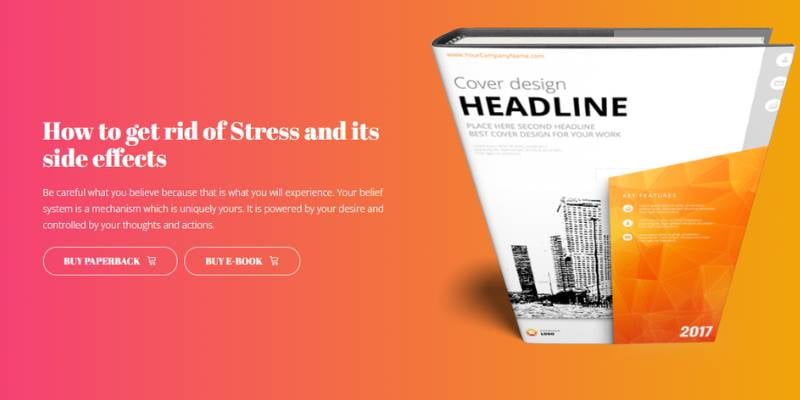 Any publisher or author would be thrilled to have a WordPress theme with this template. Bestbook comes with a modern yet clean layout and with all the features that you need to create the best author website. It comes with Bootstrap 4, unique homepage alternatives, a grid system, and a creative design. Add Pixel Perfect and Google fonts and you have the percent template. Most importantly, you can customize Bestbook 100% so it fits your personal brand's style.
Have you ever wondered what it's like to have the perfect theme? Take a look at Book Library. Similar to a library, this option won't disappoint as it comes with interesting functionalities. Also, elements like header variations and carousels are always a plus. In this case, Book Library comes with three carousel variations and plenty of icons and fonts. Finally, it's 100% compatible with e-commerce projects.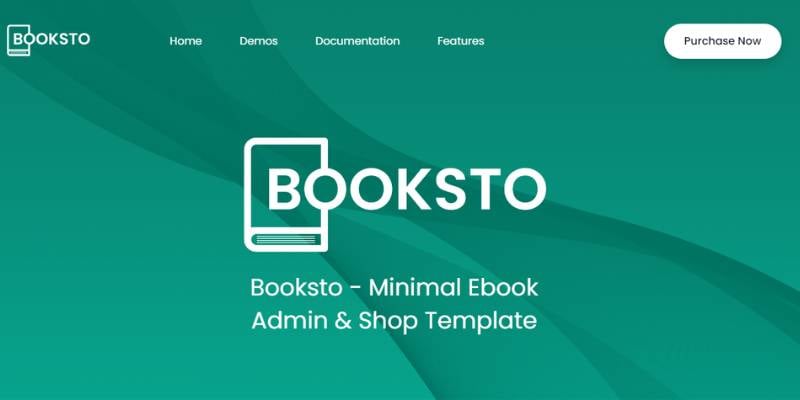 Enjoy Google Fonts, Cross browser functionalities, clean code, and hover effects. This is Booksto: an excellent solution for any website template. This template is based on HTML and it's ideal for an ebook store. Its clean code allows you to create a modern website and customize it as you like. Since it's fully responsive, Booksto helps you deliver your content to more people in a perfect way.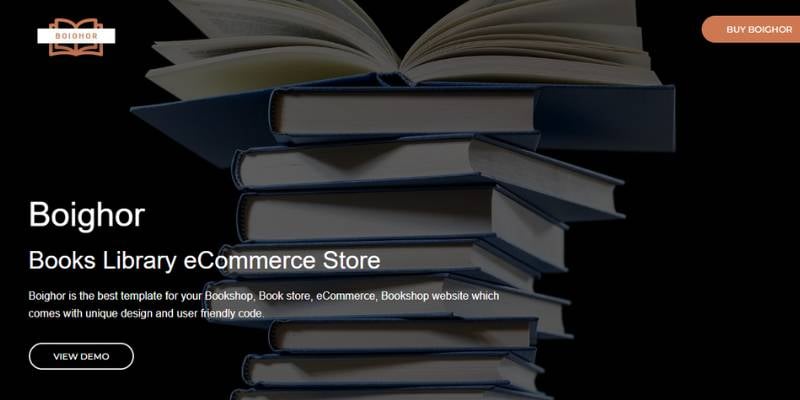 Your author's website must be compatible with all browsers and devices. This is exactly what Boighor offers. It comes with retina-ready HTML files that fit any type of screen. Two homepage variables are fully customizable. It comes with impressive features including custom HTML, three blog pages, an owl carousel, and mega menus. With these features, you can showcase your services and books creating a beautiful portfolio.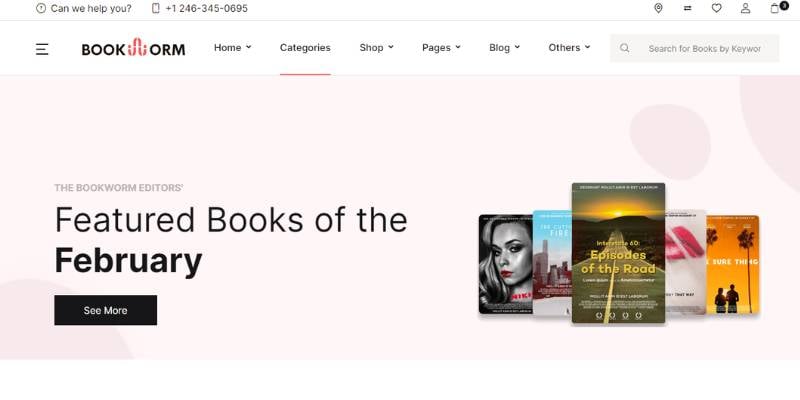 Bookworm is geared to fit every author's needs. Also, it's great for bookstores. Based on HTML and built with excellent coding, Bookworm lets you play around with its features. Enjoy an author page, book details, shop pages, a blog, and a book list. Its 48 HTML pages are based on Bootstrap 4, making the template easy to customize. Keep in mind that an author's website template must provide both design and functionality.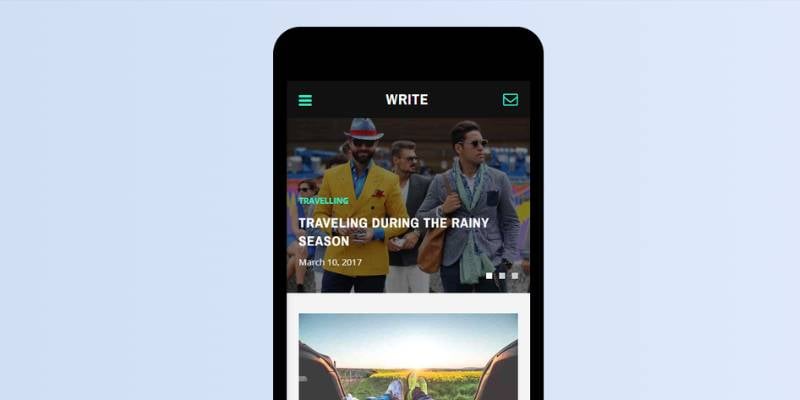 Do you want to create a blog? With Write you can do this and more. Add reviews, notes, and other types of writing pieces. You'll enjoy a modern and clean design that looks great on all devices. Moreover, it's easy to customize. This website template comes with Font Awesome, plenty of documentation, and a working form.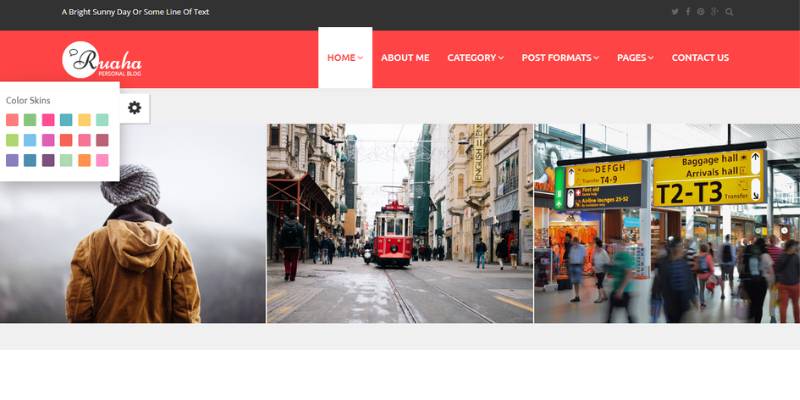 All authors would be proud to have a website template like Ruaha. Its elegant and clean layouts make it ideal both for corporate and personal users. Being fully responsive, it's based on Bootstrap 3.3.4 and it's easy to customize. If you have any doubts, you can consult its extensive documentation. Also, it's Seo friendly, which will help you reach your target audience.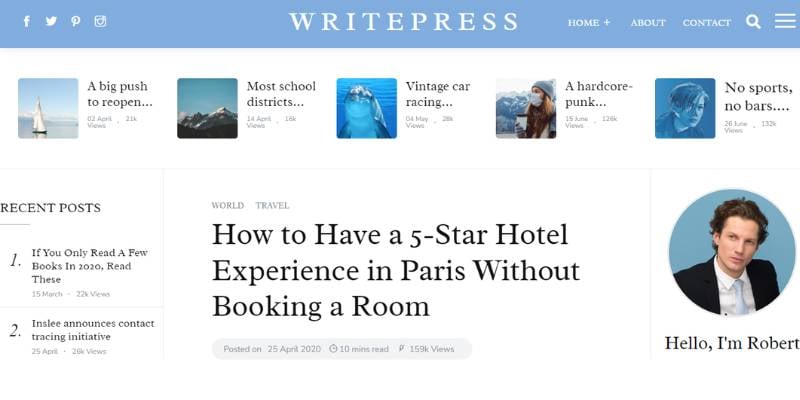 Here is a Bootstrap 4 template for your website. Its creative and minimal design is ideal to highlight your books. With a bold approach, Wrtiepress has done a great job at organizing the website elements with a unique balance and outstanding visual hierarchy.
Besides being fully responsive, it comes with homepage designs, archive pages, and posts. Finally, you can customize it by choosing your favorite color as this feature is easily changed. It has a W3C-validated code.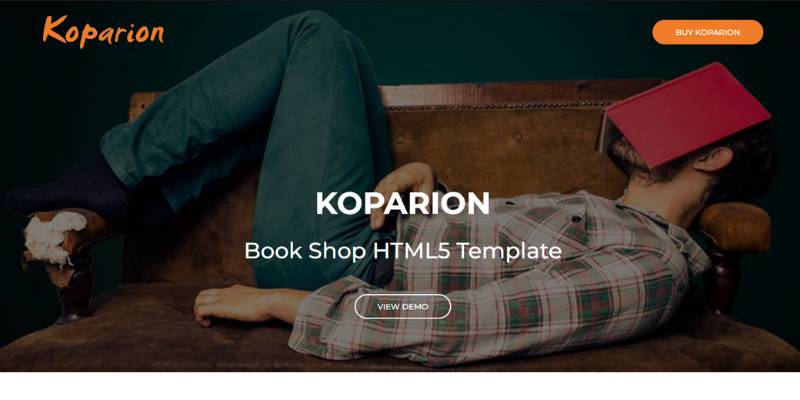 With Koparion you can create a solid e-commerce platform. Enjoy 6 homepage options, an owl slider, and a shopping grid. Thanks to its more than 18 HTML pages you can put together your author website in the blink of an eye, especially if your objective is to run an ebook store. If this is not enough, add to the mix the 2 one-of-a-kind blog pages.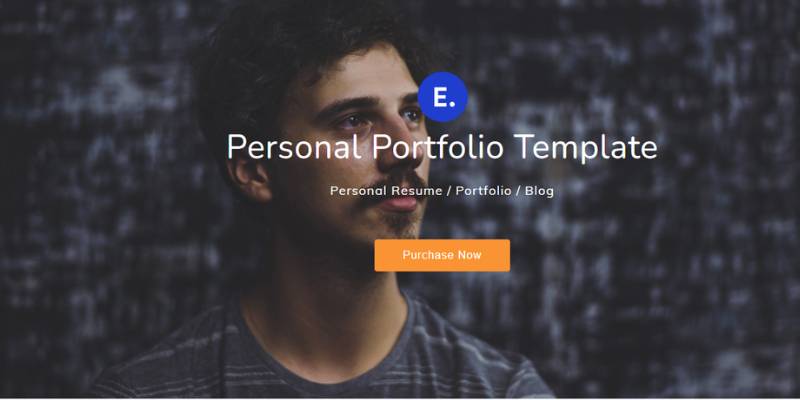 Every good author needs a personal portfolio to promote their work. With Elipse they have a great author website template to achieve this goal. Its 3 homepage demos will make the task easier. Add single pages, lists, and contact details. All in all, this is a great option not only for writers but for researchers, designers, and developers.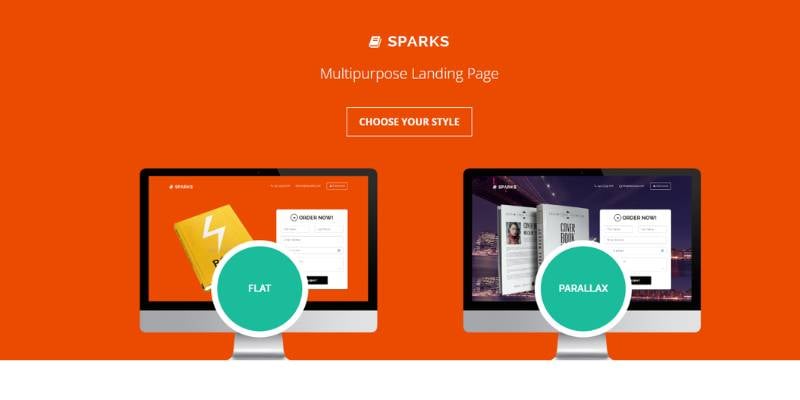 Sparks gives you lots of options to promote your work. With Flat and parallax effects you can highlight your products in an interesting way. Add videos, testimonials, and a bootstrap gallery. For optimal email marketing, Sparks comes with Mailchimp integration. Since it is based on HTML and CSS3, the platform is 100% reliable. Of all the author website templates out there, this is one of the best as it's mobile-friendly and lightweight.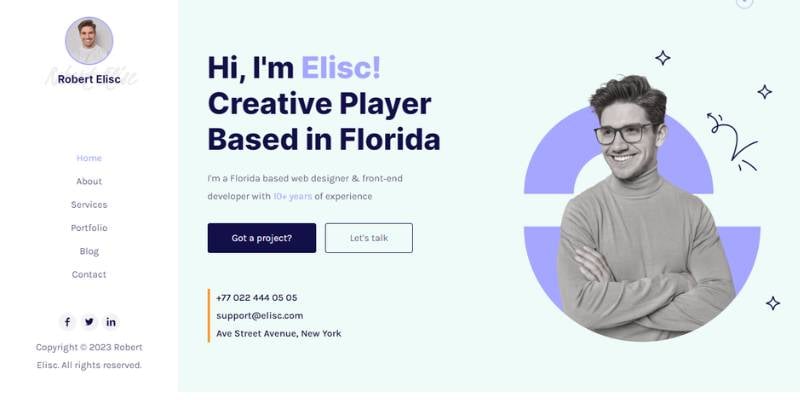 Whether you use coding or page builders, you need a reliable template. Check out R.Elisc and its minimal, creative layout. Since it has all the features to promote books, this template is suitable for writers.
Based on HMTL 5, it comes with mobile navigations, CSS# animations, and friendly coding. Besides, it looks great on all devices and has extensive documentation. Finally, it's optimized for the best SEO.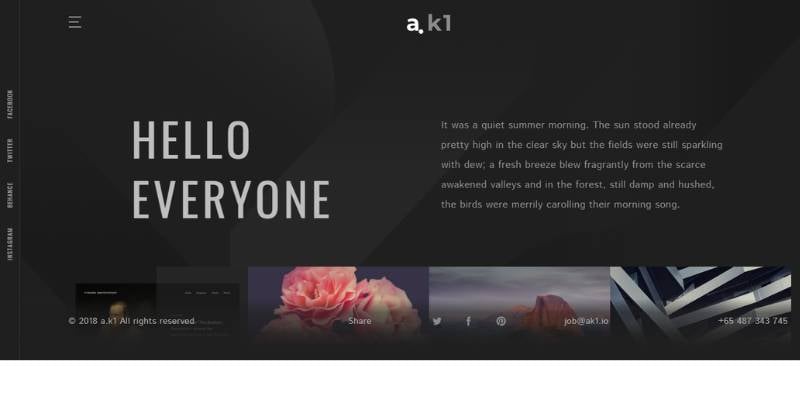 If you want to write books and sell them online, a.k1 is your best friend. Among its features, you'll find a minimal design that adapts to all screens. Choose from any of its two themes, light or dark, and start building your website. Customize all elements to your liking and include portfolio and blog pages.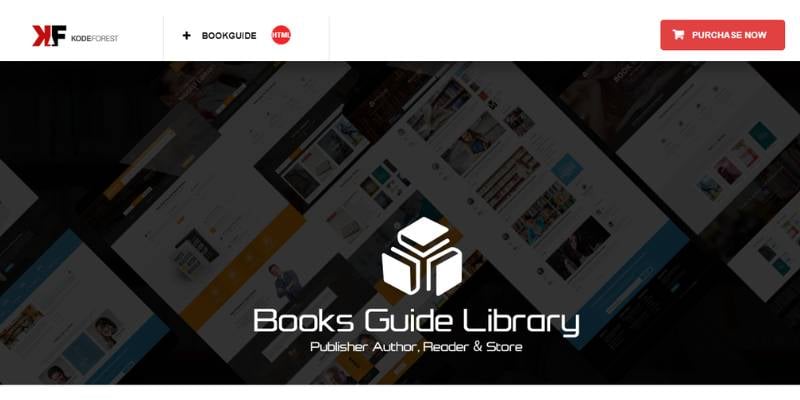 This online store author website template is based on HTML5. All in all, it constitutes a reliable solution for your online author portfolio. Turn it into a Publish Book Marketing and add free books for your visitors to read online. They can be based both on image or text.
It comes with multiple WooCommerce styles, responsive headers, over 400 Font Awesome icons, and multiple styles of footers.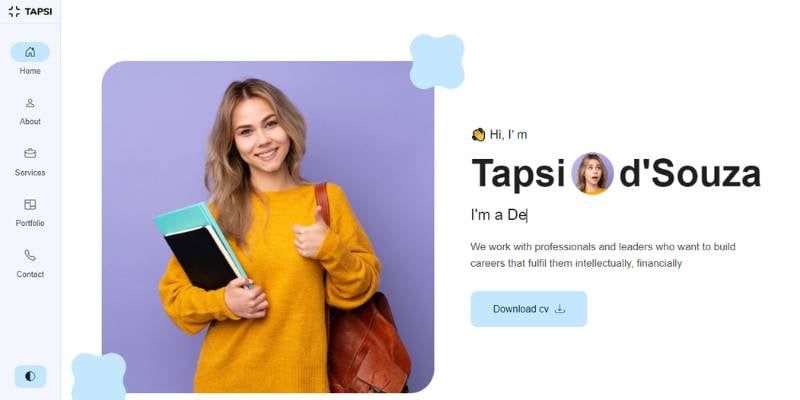 Tapsi is creative and comes with a modern design that's perfect to showcase your books. If you want an option with stunning visuals, this is it. Tapsi is built on clean coding and comes with powerful elements and 100% valid W3 standards.
Among its features, you'll find a responsive portfolio, ReactJS, cross-browser compatibility, sidebar navigation, free updates, and Pixel Perfect. Get Tapsi and enjoy one of the best author website templates to promote your writing.
FAQ on Author Website Templates
What is an author website template?
Author website templates are pre-designed layouts you can use for your website. They give your site a professional look and feel without needing to know code. These templates are usually packed with features ideal for authors, like sections for your books, author bio, upcoming events, and a blog.
What's the benefit of using a website template?
Website templates save you time and money. Instead of designing from scratch or hiring a designer, you can select a template that fits your style and start populating it with your content. They're often customizable, so you can still make it feel unique to you.
How can I choose the best template for my author website?
Think about your brand and what you want your website to communicate to your readers. Do you want a minimalist design or something more elaborate? Consider templates that showcase your books effectively, provide space for an engaging bio, and allow you to interact with your readers, such as through a blog or contact form.
Can I change the look of my template after selecting it?
Absolutely! Most website templates are customizable. You can change the color scheme, fonts, images, and even layout elements. This allows you to align the website with your author brand, making it truly unique to you.
Are website templates mobile-friendly?
Most modern website templates are mobile-friendly or "responsive." This means they automatically adjust to look good on any device, from a desktop computer to a smartphone. Given that many people browse websites on their phones, this is a crucial feature to have.
What features should an author website template include?
An author website template should include sections for showcasing your books, an about page for your bio, a contact page, and ideally a blog for sharing updates. You might also want to look for social media integration and email newsletter sign-up features to build your reader community.
Do website templates have SEO built in?
Many website templates come with basic SEO (Search Engine Optimization) features, like the ability to set meta descriptions and title tags. However, SEO is more than just these basics. It's about your site's overall quality, content relevance, and more. So while templates can help, you'll still need to pay attention to your SEO strategy.
Can I sell my books directly from my author website template?
Many templates allow you to integrate with e-commerce platforms like Shopify, allowing you to sell your books directly. This is a great feature to look for if you want to sell signed copies of your books, special editions, or if you just want more control over your sales.
What if I need help setting up my author website template?
Most template providers offer support to help you set up your site. This might be in the form of documentation, tutorials, or even a helpdesk you can contact. Some providers also have user communities where you can ask for help from other users.
Will an author website template be expensive?
The cost of a website template can vary, from free templates to premium ones that can cost hundreds of dollars. Remember that you might also have costs for hosting your website and for any additional services like e-commerce platforms or email marketing software. It's important to consider these in your budget.
Ending Thoughts on These Author Website Templates
So, let's get to the meat of the matter: author website templates.
Ever spun a globe and watched where your finger lands? This journey, right here, feels a bit like that. Imagine we're landing on this terrain of endless digital potential, a realm rich with the promise of outstanding author website templates.
Each one, a realm of its own, each one with a story to tell. A coded manifesto, whispering of the soul and spirit of the author it represents. And the best part? You are the mastermind who gets to choose, tweak, and truly own that online presence.
In the wondrous chaos of the world wide web, an author website template is your compass, your north star, your GPS. It's your own corner of the cosmos, an oasis in the digital desert.
If you enjoyed reading this article about author website templates, you should read these as well:
Author Website Templates That Impress