Many see church and religion as something old and traditional. Yet, religious institutions also need to stay up to date with the current communication channels. It is important for them to update the way they communicate to keep in touch with their followers. To do this, many churches have started their own website.
A Google search will show that the most influential religious denominations have an official website.
Starting a church website will increase the reach within a community. It is the right place to explain the ministry, publish sermons, and keep people informed of the latest events.
Free church website templates are the right starting point for building a church website. But finding a good one is not that easy.
This article has a collection of the most convenient templates for religious websites.
Church Website Templates to Check Out
Church Website Template Divinity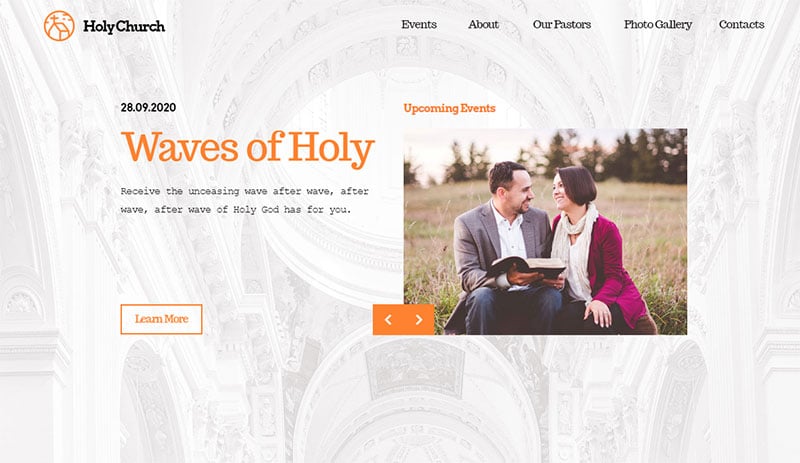 This is a good-looking and inviting website template. There is much to mix and match with 25 unique headers and 28 ready-made pages. It is a good option for inviting people to join and showcasing the church's activities.
Church Responsive HTML5 Website Template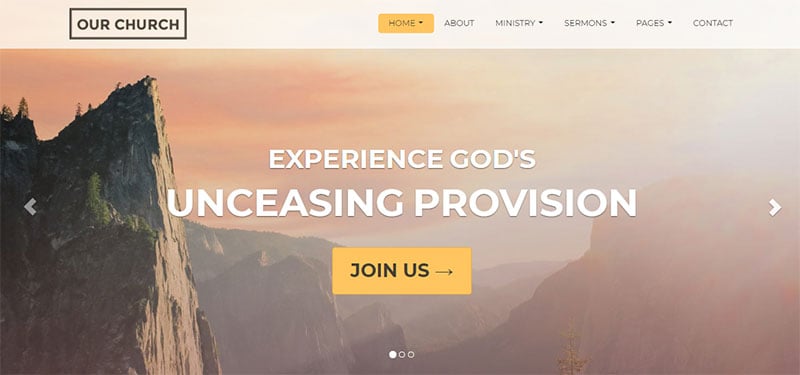 The "Our Church" website template is responsive, which means it will work on any device. It is based on Bootstrap 3.2.0 and the Mobile First principle.
Besides churches, this one is also suited for non-profit and charity organizations and smaller prayer groups. Some of the features are bulletin boards, events, and programs. It contains various other features that cater to the needs of churches and similar institutions. Contains more than 18 pages to choose from.
Blessing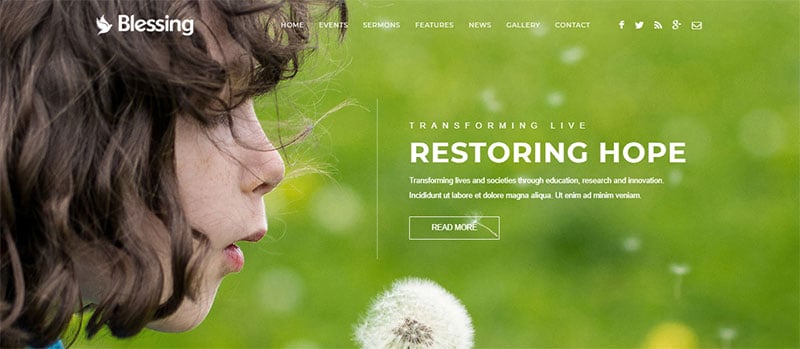 Blessing is built on the Bootstrap framework, which makes it highly responsive. So, this church website template works with nearly all screen sizes and devices. It contains important features like a contact or swipe carousel, Revolution slider, countdown timer, and much more.
New Life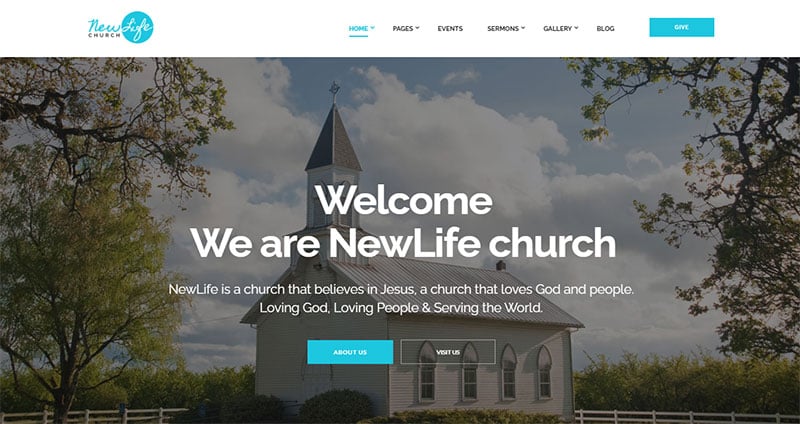 A lightweight template for church websites, which is also useful for prayer groups, and church charities. This option is also able to adapt to any screen size and resolution.
Bethlehem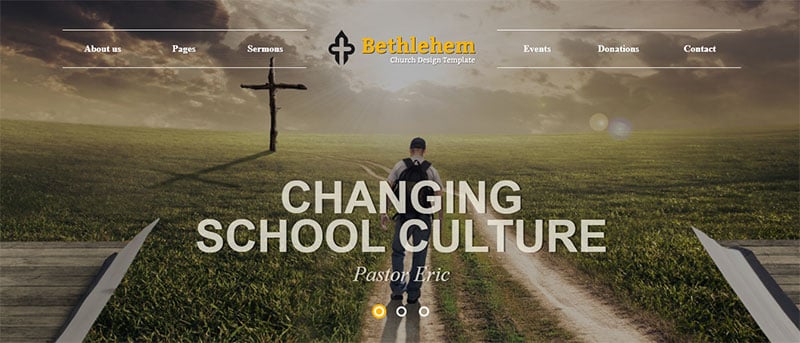 The design of the Bethlehem church template is modern and clean. It is excellently suited for a non-profit organization. It features options for showing sermons and events. It also has pages for donations, an online shop, integrations for social media, and much more.
Christian Responsive Website Template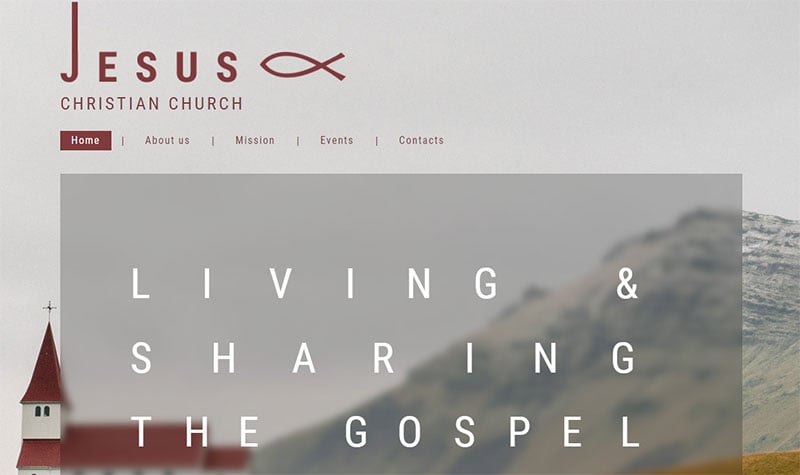 This church website template focuses on presenting churches and other religious projects. Customization is fast and easy, with various features packed into the template. Also, the appearance can be adjusted to the likings and needs.
There are a couple of custom page layouts available, as well as a Google web fonts pack. The template contains ample documentation and layered Photoshop files.
BetterLife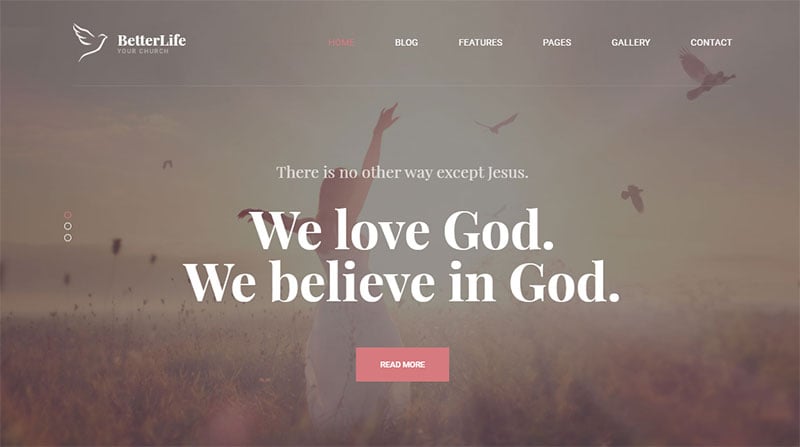 This HTML template is especially lightweight and has a bright design. It is the right companion for a religious institution, like a church or a charity. It is a great way to update the congregation, connect with people, and organize events.
Modern Church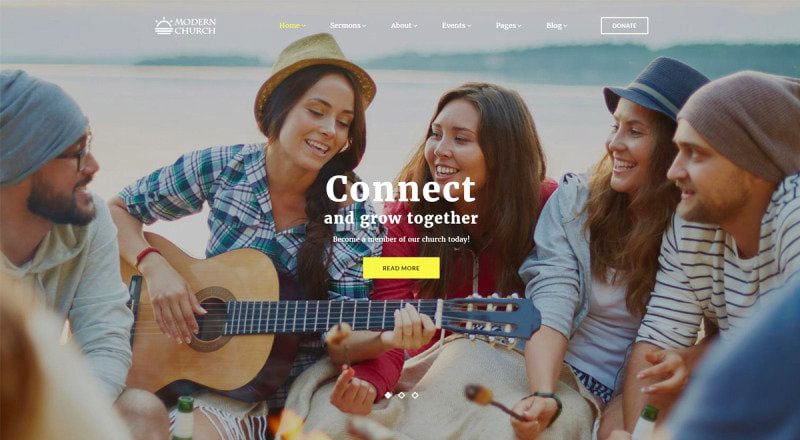 Modern Church is a website template for creating a website for people who feel the power of spirituality and want to help others feel the same peace.
It is based on Bootstrap and contains various HTML page templates. It also offers three different engaging options for a landing page. That will save a lot of time and effort when building the site.
Chronicles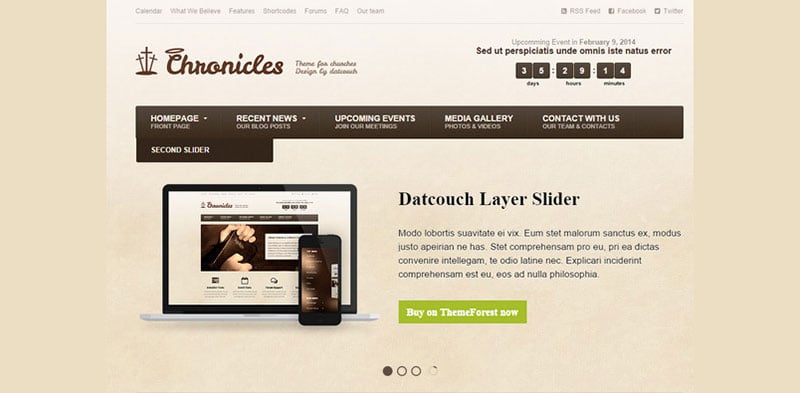 Chronicles is well-suited for churches and non-profit organizations. The company behind it, datcouch.com, made it special with care and love.
The template is very responsive and retina-ready. The crispness of these features is best appreciated on smaller displays, like iPads and iPhones.
Native Church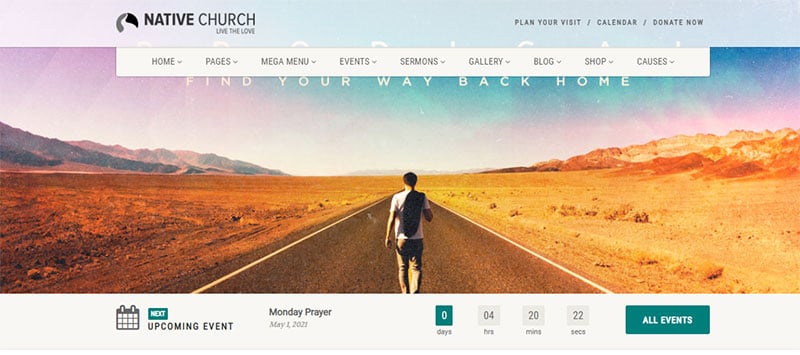 Native Church is an HTML template for church websites. A unique theme that features multi-purpose theme designs and has a responsive interface. It has possibilities for managing events.
Buddha
BudhSpace is aiming particularly at Buddhist websites. It would be ideal for a website that presents Buddhist religious beliefs to the public in general. It is highly responsive and built around HTML and Bootstrap.
Farite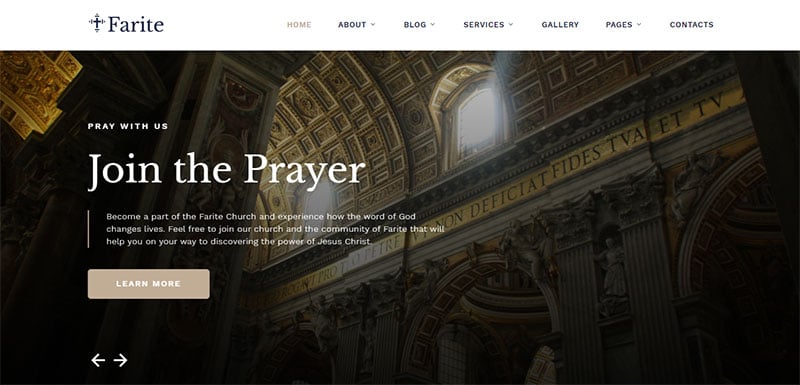 The next template for church websites is Farite. This clean and simple layout is also ideal for other religious sites and non-profit organizations and charities.
It is designed to be responsive and coded with HTML5 and CSS3 technology. It does not matter on what device the site is viewed; it will look good.
Vineyard Church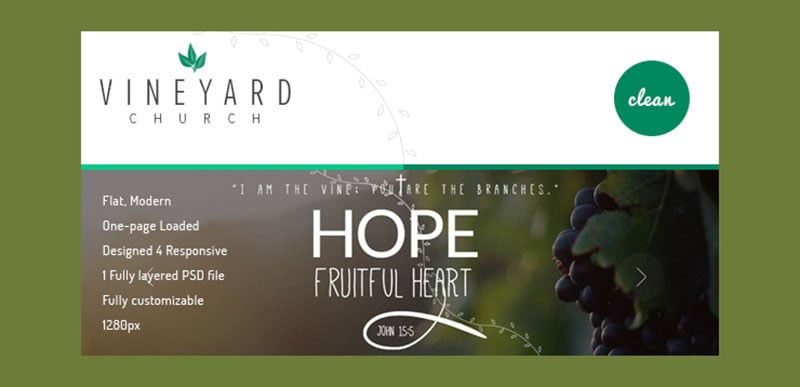 The Vineyard Church Theme uses HTML5 and Bootstrap 3 and is compatible with all commonly-used browsers and search engines. As the name suggests, it is specifically made for churches.
Worship – Islamic Center Bootstrap HTML Website Template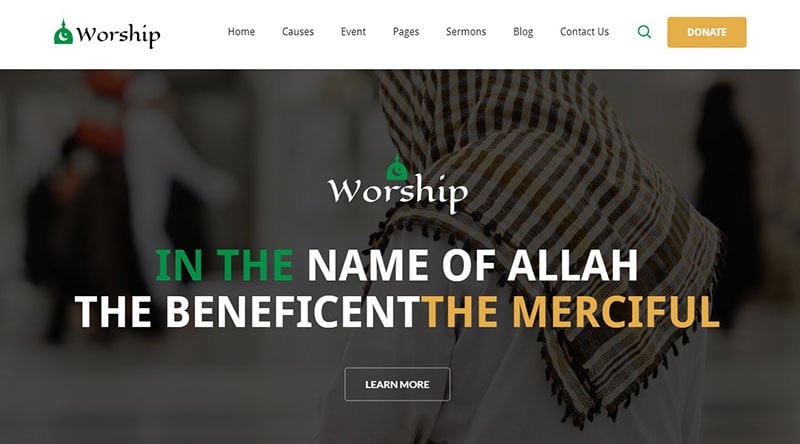 Of all the options in this list of church websites, this is the one that is most suited for Islamic websites. It contains everything that an Islamic site could need. Use it to spread knowledge with love and respect. It has features to manage events, promote causes, publish blogs and sermons, and receive donations.
Exodus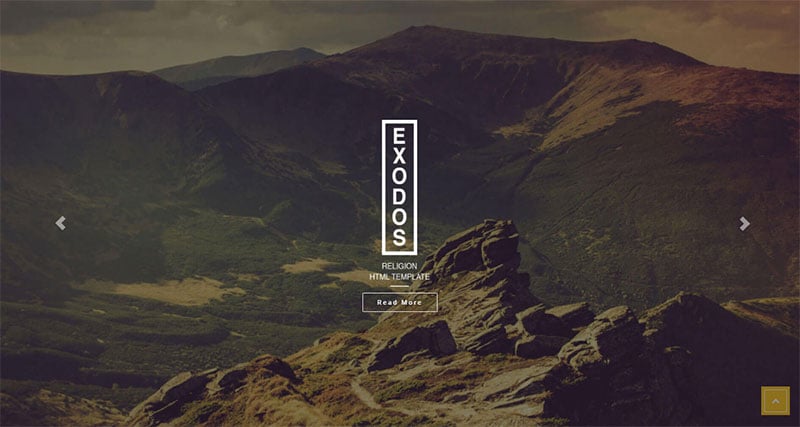 Exodus is a very versatile website template. It is designed for religious use but is suited for creating any kind of website.
It makes use of the Bootstrap framework. Exodus has many CSS animations to make the website more engaging. The optimized SEO makes sure that the site is visible in web searches.
Churhius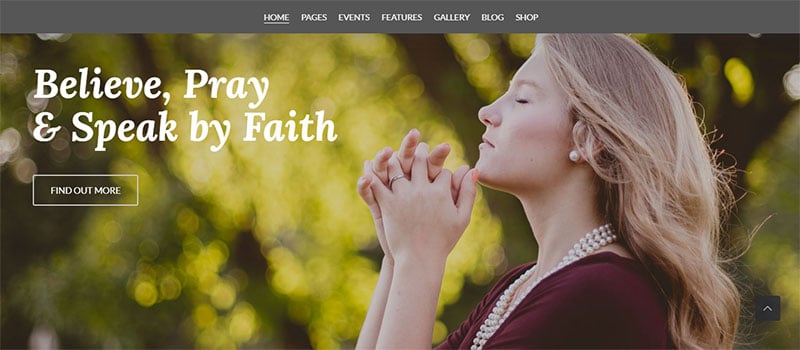 Churhius is an HTML template for church and other non-profit organization websites. The template has many intuitive features that meet the needs of a church website. Besides HTML, it makes use of the Bootstrap 4 grid and the technology works excellently on mobile devices.
Grace Church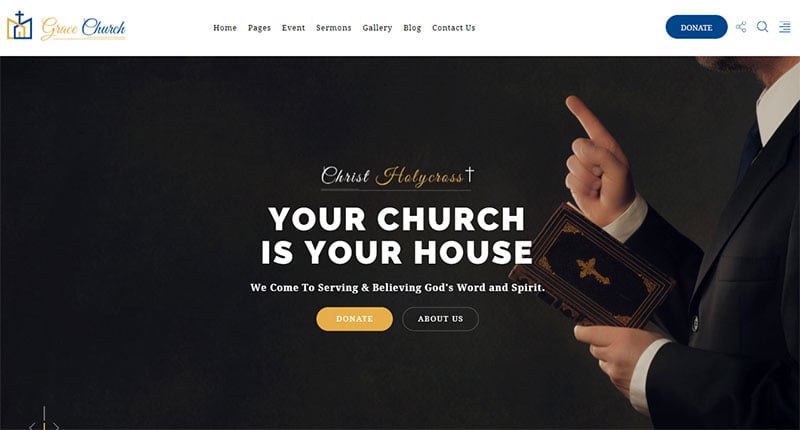 The HTML template of Grace Church works in union with Bootstrap and uses the 1170 px grid system. Its features include sermons, bulletin boards, events planning, and programs. It is ideal for churches, charities, and prayer groups.
Deeds
Deeds is another church website template, based on HTML. It is an inviting, neat, and easy-to-use template. The package includes seven different homepage layouts, which give style and variety. The features focus on the needs of a site for a church, a charity or prayer group, or a non-profit organization.
Cross Church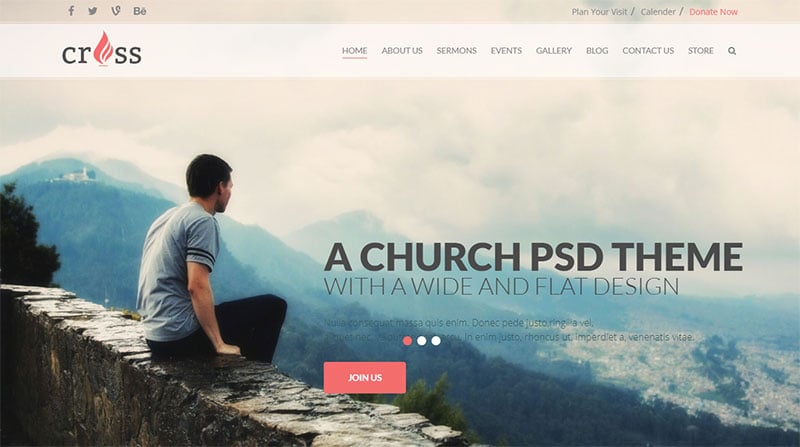 An ideal and complete template package that is optimized for the needs of a church or other religious project. Its flexibility and the wide range of features guarantee an engaging and professional result.
Adore Church

Adore Church is a church website template, developed for churches, non-profit organizations, and other religious websites. It is even suited for portfolio and corporate websites.
It is a fully functional HTML template with over ten different and attractive color schemes. The colors can be further adjusted to get to the exact desired result.
Cathedral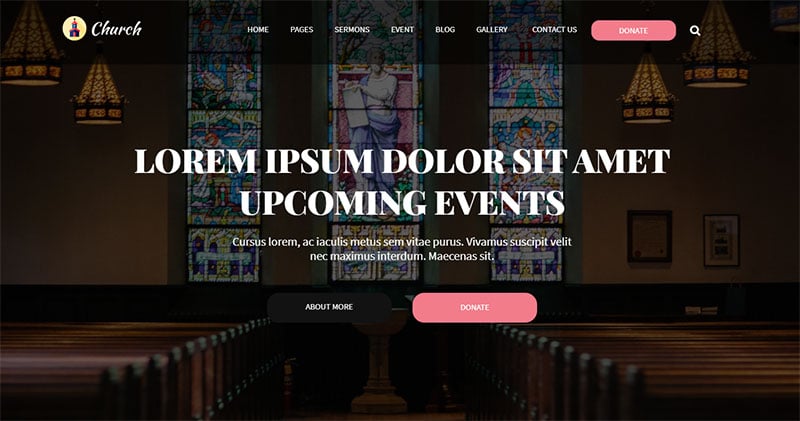 Cathedral is a church website template that works for websites that spread the word, raise funds, arrange events, and much more.
It is built on HTML and Bootstrap and is made to be fully responsive and retina-ready for the best display results. It contains a set of more than 23 different HTML templates to start building a website. Among the page templates are two home page options, a blog page, and options for contact forms, event announcements, and services.
Righterra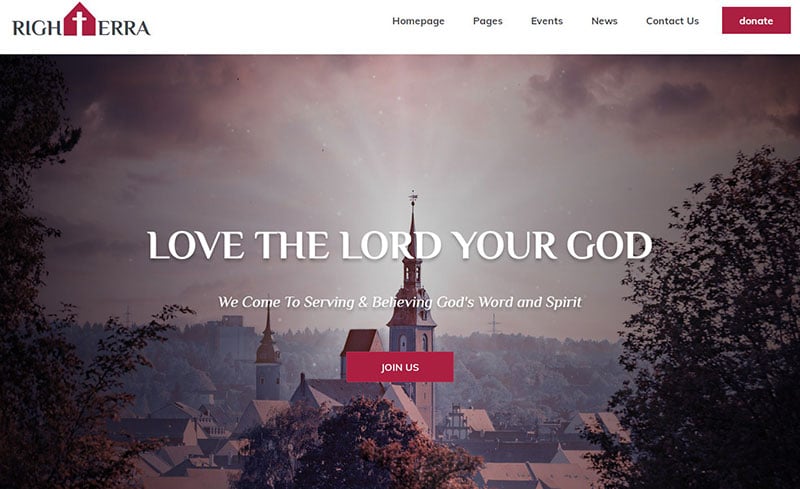 Righterra is a church website template in responsive HTML code. It is a good choice for churches, charities, non-profit organizations, and other religious themes.
It has a modern and simple look and has sections for sermons, events, donations, and a webshop.
Peace – Church / Muslims / Temple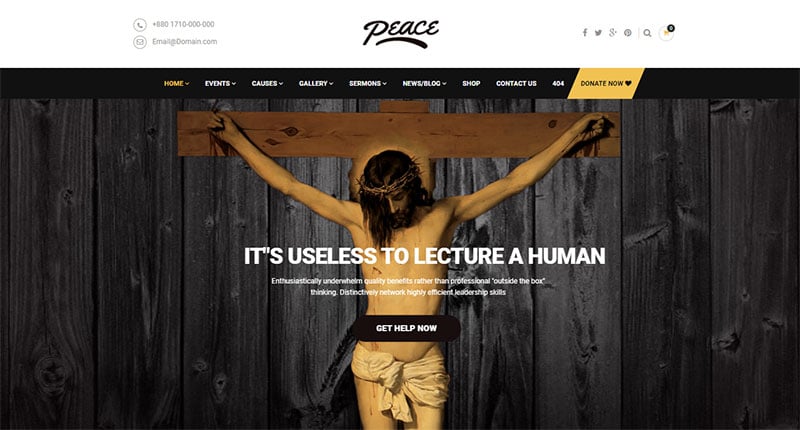 Peace is an original and responsive church website template. It is focused on various religious and non-profit websites. It does not only appeal to Christian website builders but equally to Islamic and other religions. It contains a variety of features and other options that are of relevance to these types of websites. Peace has an elegant and modern appearance.
Kause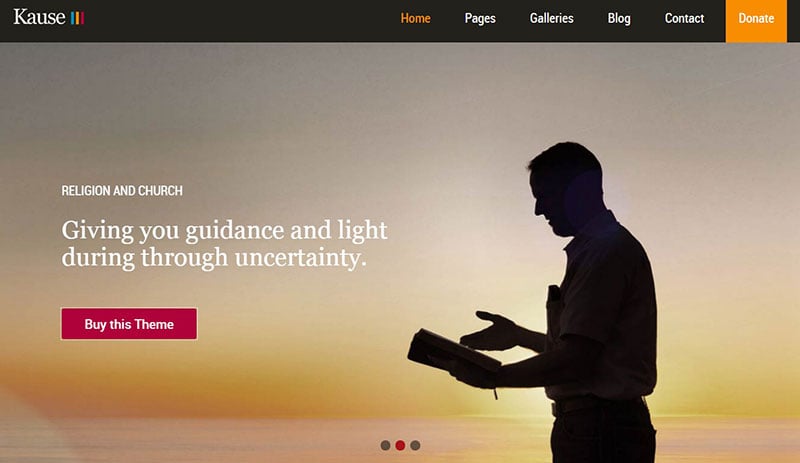 This website template is very flexible in its use and purpose. It works perfectly for a church website, but also non-profit purposes. It can be used to make multi-page websites, with a variety of different purposes. It is minimalistic, which gives it a clean look and helps to bring out the message optimally.
WeBelieve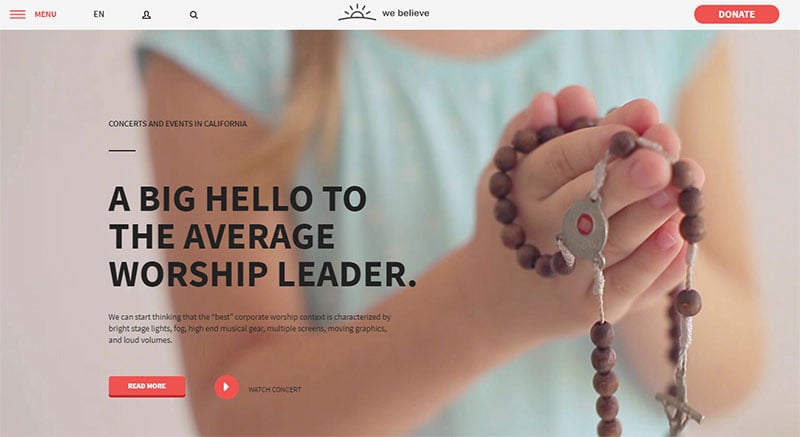 WeBelieve is based on HTML5. This template was developed and designed especially for churches, charities, and prayer groups.
Its full responsiveness is thanks to the Twitter Bootstrap framework that was used. It works perfectly on any type of screen, from computer to mobile phone screens. The retina-ready templates ensure that sharp images appear even on HiFPI and Retina devices.
Rome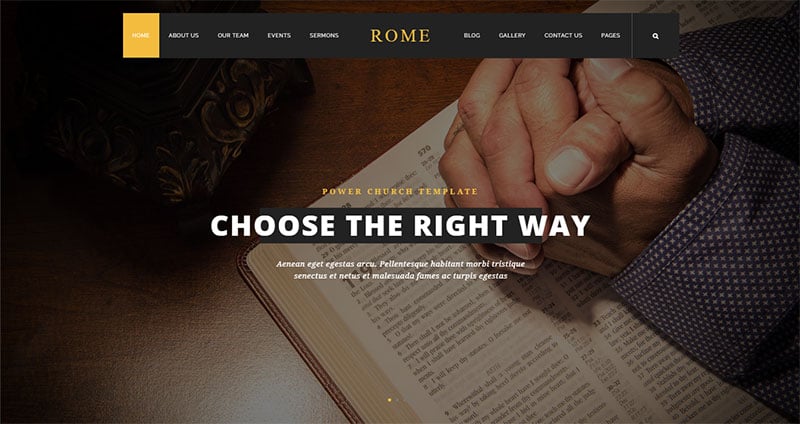 Rome is another HTML template, which also CSS3 coding to make for smooth animation. The result is a very beautiful and appealing design. Added benefits are responsiveness and Retina-readiness, which make sure that the site looks good on any kind of device. The template includes 18 different layouts for home, about us, sermon, and event pages.
Rome is excellent for making church-related websites. It helps to spread the church's message and teach others the word of God and the holy spirit to anyone willing to listen.
Hinduism – Beautiful Religious Organisation Multipage HTML Website Template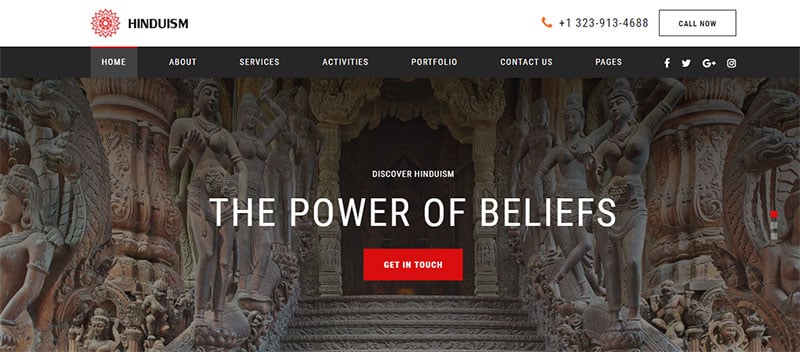 This church website template has a unique antique feel to it. It is just right for making a religious website.
The HTML template contains a straightforward menu, which ensures that the visitors will be able to find what they are looking for in an easy way.
FAQs about church website templates
1. What is a church website template?
A pre-made website layout created exclusively for churches and other religious groups is known as a church website template. Preaching archives, event calendars, and contribution forms are just a few of the functionality and design components that these themes often have.
2. What are the benefits of using a church website template?
Your church can save time and money by using a church website template instead of hiring a professional web designer to build a website from scratch. Additionally, these templates are frequently simple to use and include features that are intended especially for churches, making it simpler to establish a strong online presence.
3. How do I choose the right church website template for my church?
Think about your church's branding and the particular features you require when selecting a template for your church website. Look for themes that give the functionality your church needs, like as event calendars, donation forms, and sermon archives, and are mobile-responsive, simple to use, and easy to customize.
4. Can I customize a church website template to fit my church's branding?
Yes, you may alter the majority of church website templates to match your church's logo. Choose templates that allow for simple customization, such as altering the colors, fonts, and photos.
5. Are church website templates mobile-responsive?
The majority of church website templates are, in fact, mobile-responsive, which means that they will display well and work properly on a variety of gadgets, including smartphones and tablets.
6. Can I integrate social media into my church website template?
Yes, you may incorporate social media into the majority of church website layouts. Search for themes with simple social media integration features, such as social media sharing buttons and symbols.
7. Do church website templates come with built-in features like event calendars and sermon archives?
Yes, a lot of church website templates have features like sermon archives and event calendars built in. Look for templates with the features your church need.
8. Are church website templates user-friendly for people who aren't tech-savvy?
Yes, even for those who aren't tech savvy, the majority of church website templates are made to be user-friendly and simple to use. Look for templates that provide simple customization choices and appealing user interfaces.
9. Can I use a church website template with my existing website hosting provider?
You can use a church website template with your current website hosting company in the majority of circumstances. To make sure the template is compatible with your hosting company, check the template's prerequisites.
10. How much does a church website template cost, and are there any ongoing fees?
Depending on the features and design of the template, the price of a church website template might vary greatly. While some templates might be free, others might set you back several hundred dollars. Furthermore, some templates might need to pay ongoing costs for hosting, upkeep, or support. To pick a template that suits your demands and budget, make sure to carefully consider your possibilities.
Ending thoughts on church website templates
Nowadays, a simple standard website will no longer do. In the past, many church sites were very basic with a standard presentation. More and more large religious organizations have technologically advanced websites. They feature scrolling headers, automatic slide shows, sidebars, and single-page scrollable presentations.
All the examples in the list of church website templates are of the highest quality and all have a professional presentation. A couple of them even offer the possibility of raising funds online.
All provide a great tool to spread the message in an effective way. All of them are HTML templates, which makes making a functional and responsive website easy.
If you liked this article about church website templates, you should check out this article about personal website templates.
There are also similar articles discussing dentistry website templates, consulting website templates, non profit website templates, and photography website templates.
And let's not forget about articles on construction website templates, minimalist website templates, corporate website templates, and portfolio website templates.
Top Notch Church Website Templates to Download