Don't miss out on capturing potential customers before your upcoming website launch or product launch! A coming soon page is a crucial tool that helps you do that. It's a temporary placeholder on your website that lets visitors know that something exciting is coming, and it's the perfect opportunity to capture leads.
HTML Coming Soon page templates create engaging graphics that let users sign up for a newsletter or show a countdown timer. Coding experts created these templates using HTML5 and jQuery-JavaScript code.
So, whether you're redesigning your current website or about to launch a new online project, these are the best coming soon website templates.
Coming Soon Website Templates To Check Out
Coming Soon Add-On Hero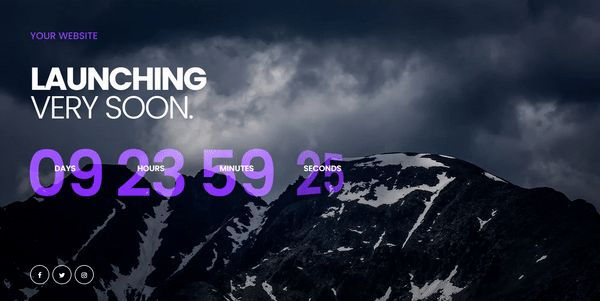 The Slider Revolution template incorporates the latest Coming Soon & Maintenance Add-On for WordPress.
Launching Soon Countdown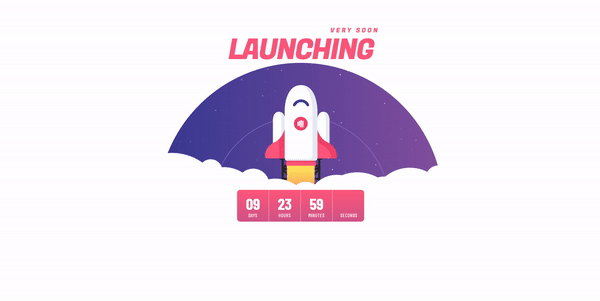 Kounter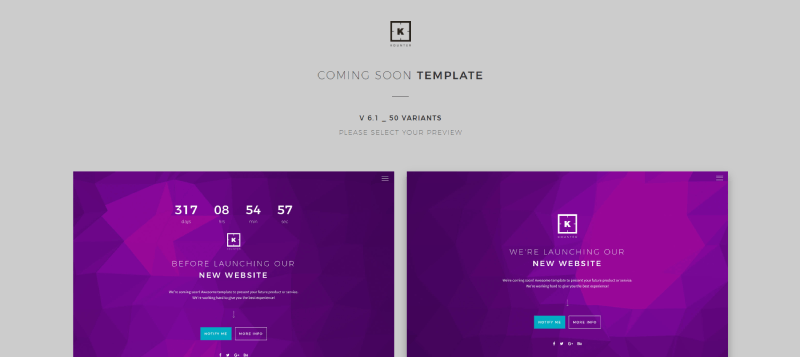 Kounter boasts its versatile and elegant coming soon website templates. HTML5 and CSS3 markup ensures an exquisite look and layout. The site is fully responsive with just a few clicks, whether you use a PC, tablet or mobile. With smooth animation effect, the Google fonts, retina ready display, and SEO make Kounter an appealing coming soon website template.
PINAK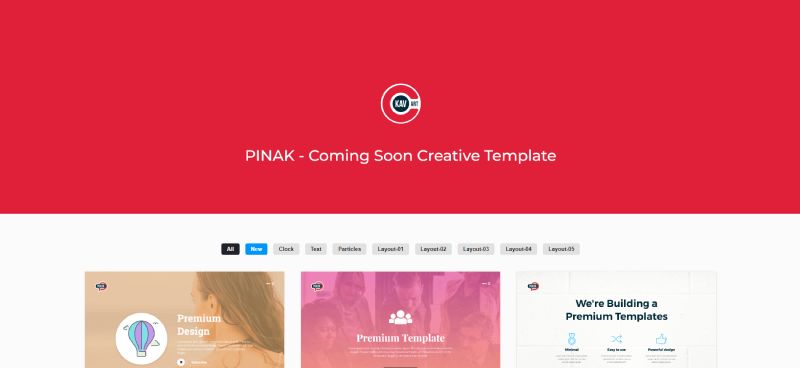 Pinak is a creative, multipurpose Coming Soon HTML template with many features, variations, and demos. It features a full screen one-page layout, making it suitable for categories such as coming soon, maintenance, product launch, app launch, business, agency, hotel, restaurant, personal, corporate, gym, minimal site, and info site.
The template comes with a long list of features, including a fully functional Ajax form, Google map widget, various background slideshow effects, HTML video, YouTube background, countdown clock, and much more.
NC-Hold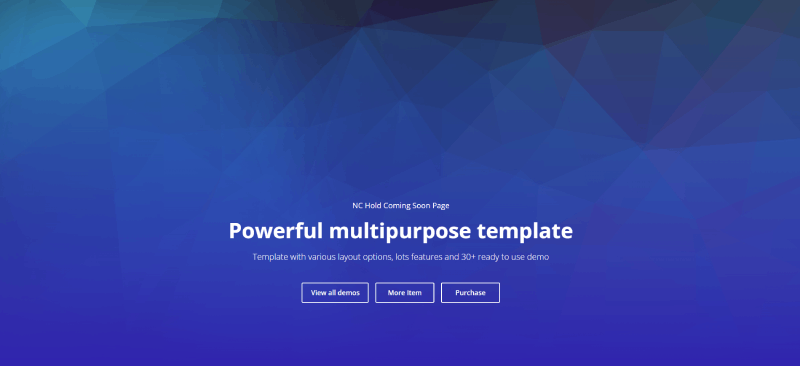 NC Hold Coming Soon Page is an elegant, versatile, and multipurpose HTML template designed to help you create excitement for your upcoming ideas. With 30+ demos, 4+ layouts, and many more features, the NC Hold Coming Soon Page offers many options, with additional demos and features waiting in the queue. This template is an excellent choice for creating an engaging and professional Coming Soon page for your next project.
Minimal Coming Soon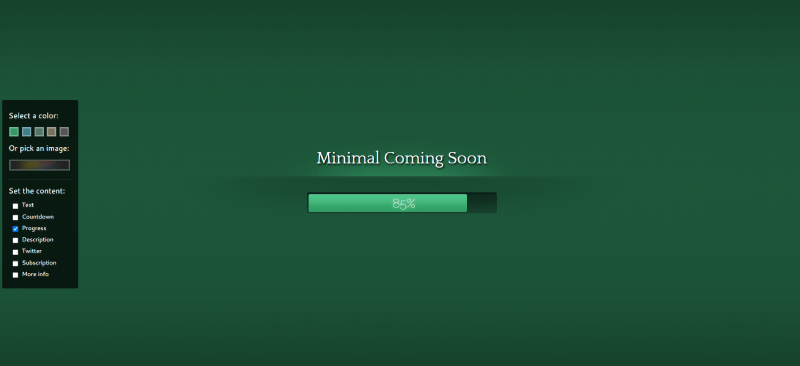 The Minimal Coming Soon site template catches your visitor's attention and informs them about your upcoming project while allowing them to subscribe to your mailing list for updates. In addition to the five color schemes, you have the option to set any image as the background for your site, ensuring that your Coming Soon page matches your brand's aesthetic.
MUMM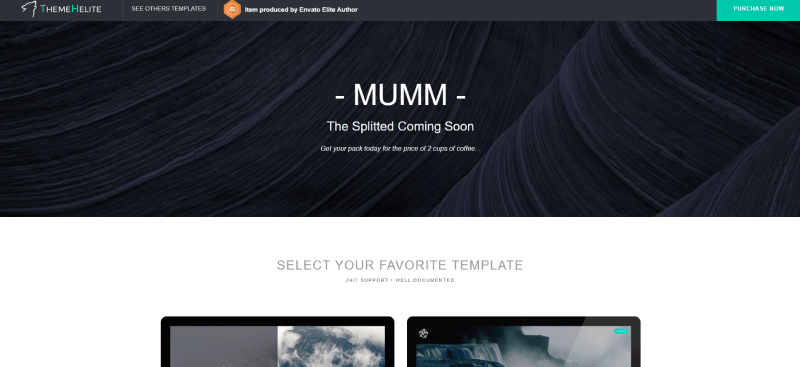 Welcome to MUMM, an innovative Coming Soon website template with a unique scroll feature, which is fully functional on all modern browsers and older ones. Built with Bootstrap 3.2.0, HTML5 (verified 100% by the W3C), and CSS3, MUMM offers a modern and sleek design for your upcoming project. The template uses a contact form that enables visitors to contact you. A Help file makes it easy to troubleshoot errors. MUMM works seamlessly on touch devices like mobile phones and tablets, ensuring a smooth user experience across various platforms.
Imbue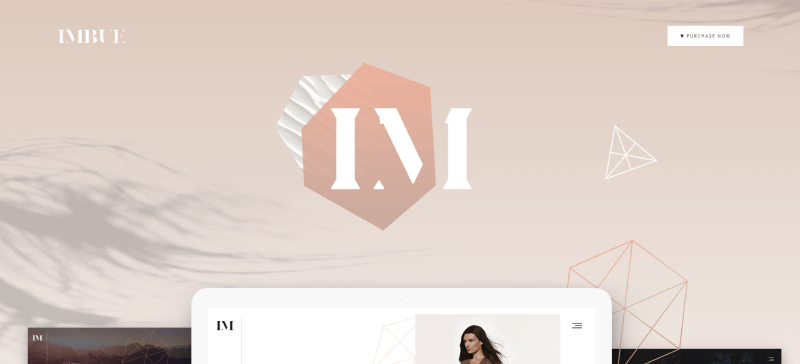 With elegant fonts, smooth section transitions, and a unique layout, Imbue offers everything you need to showcase your brand, new product, portfolio, or story with style and ease. The template comes with three color skins and 20 ready-to-use demo variations, allowing you to choose the best one for your business. It provides four excellent home screen variations, including split and full screen options, and three helpful content sections for various purposes, such as landing pages, portfolios, new product presentations, or brand launches.
SAPHIR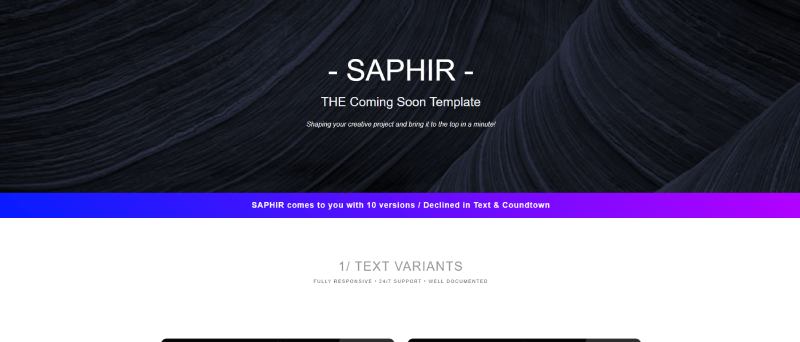 You will enjoy SAPHIR's fully flexible and customizable templates. Designed with your audience in mind, SAPHIR aims to grab their attention and give them a taste of what they can expect from your site, project, or brand. The template offers a range of fresh, modern designs, including slideshow, distortion, constellation images, dynamic liquid or bubble effects, and abstract animated backgrounds. Built with Bootstrap 4 and coming with Font Awesome 5, SAPHIR is easily customizable in seconds.
Zoon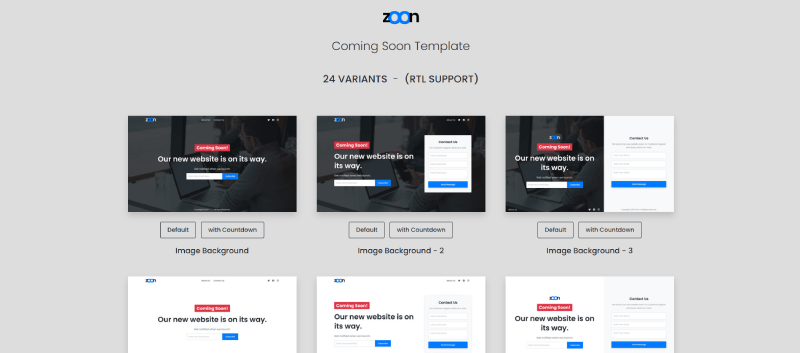 Zoon is a unique coming soon and under construction HTML template designed to help you retain your customers while you rebuild your website. It offers 24 excellent layout variations, including a nice countdown timer with RTL support. Zoon is versatile, clean, and elegant, making it suitable for creative people, agencies, e-commerce businesses, corporations, and portfolios.
Complete integration with MailChimp, Campaign Monitor, or PHP Mail for newsletter subscriptions and contact forms in the Zoon template, making it easy to deploy.
LEGEND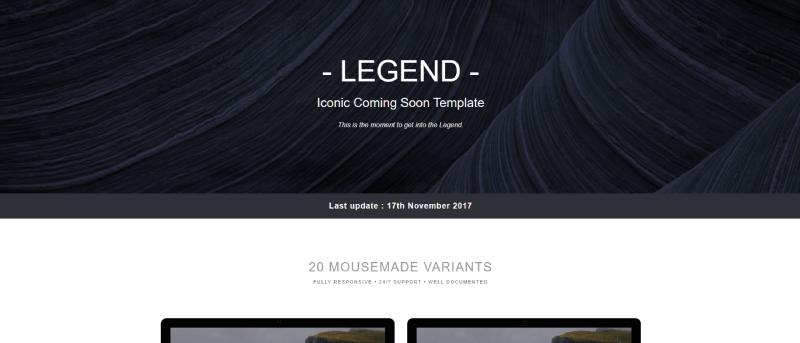 LEGEND is a creative and professional Coming Soon HTML template. The template comes with 20 pre-made variants, including YouTube, Slideshow, Flat Surface Shader, Clouds, and Stars. It is fully responsive and includes a working newsletter form with Mailchimp integration and two other methods (file storing or direct email). They built it using the Bootstrap 3 framework. LEGEND responds to all screen sizes and is easy to customize.
Oli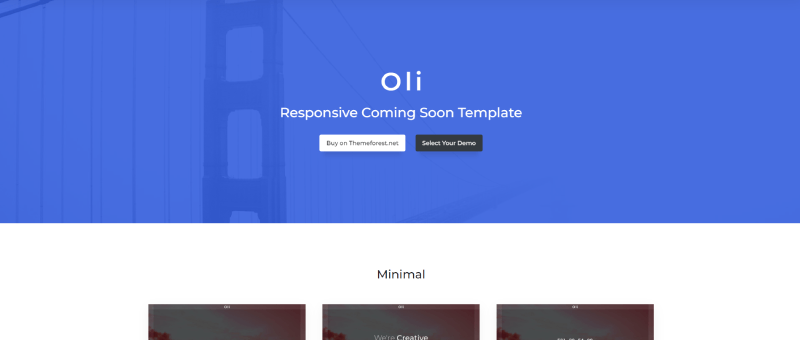 Oli coming soon HTML template is proud to offer 15+ background styles. You can even pick four home styles including text, text slider, countdown, and minimal. With integrated Ajax Subscription form, as well as availability of Mailchimp, Oli ensures visitors can contact you. Oli boasts responsive design and Bootstrap 4.5.2 compatibility, and their Coming Soon HTML template includes three different button styles, offering options for customizing the call-to-action buttons on the page.
Gravity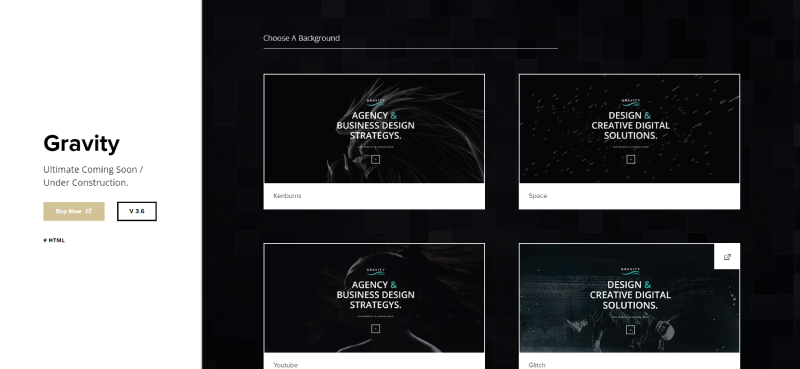 Gravity is an innovative, versatile, and premium Coming Soon or Under Construction HTML template that is based on the Bootstrap framework. This template focuses on innovative and human-centered design, aiming to bring full attention to your brand and content. The outstanding and customizable theme allows you to create a visually appealing page for nearly any occasion.
Klif
If you like a clean and minimalist design, Klif responsive coming soon template is an excellent choice. This versatile website template offers three different page styles: static background, slideshow background, and video background, providing various visual options to suit your preferences best. Additional features include full-screen backgrounds, video backgrounds, an Ajax PHP contact form, and an Ajax subscribe form, ensuring that your website offers visitors a comprehensive and engaging experience.
Lana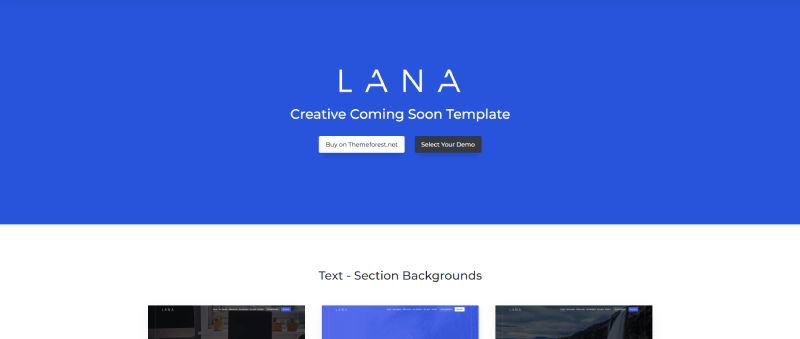 Lana is a versatile website template designed to cater to various types of websites, professional or personal. The designers meticulously crafted this template. It offers a wide range of features for beginners to customize their website easily. Lana has forty HTML files and seventeen unique backgrounds, and offers countless design options.
Powered by Bootstrap, Lana ensures a stable and smooth experience while browsing your website. To enhance user interaction, the template includes MailChimp integration, a contact form, and a subscription form as part of the package. With such comprehensive features and customizable options, Lana is an excellent choice for creating a functional and visually appealing website.
TWIST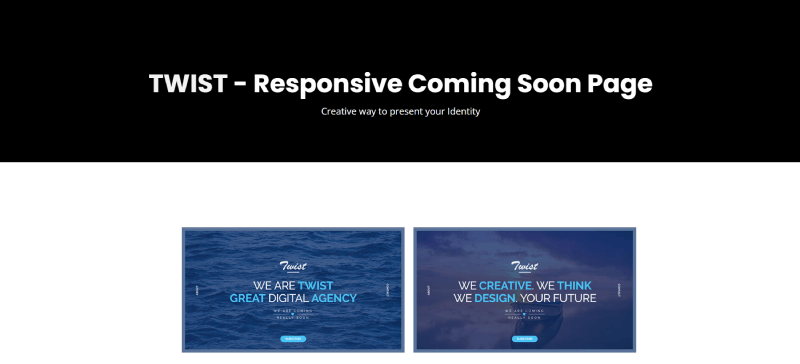 If you are looking for a Coming Soon template that is modern, professional and versatile using HTML5, then look for Twist. Powered by the latest Bootstrap 3.3 framework, this template will fit your needs with their ten variations. Your visitor can subscribe to you via a Mailchimp subscription form. Users can seamlessly contact you using Ajax contact forms. With Font Awesome icons, Twist is suitable for any creative agency.
PHLY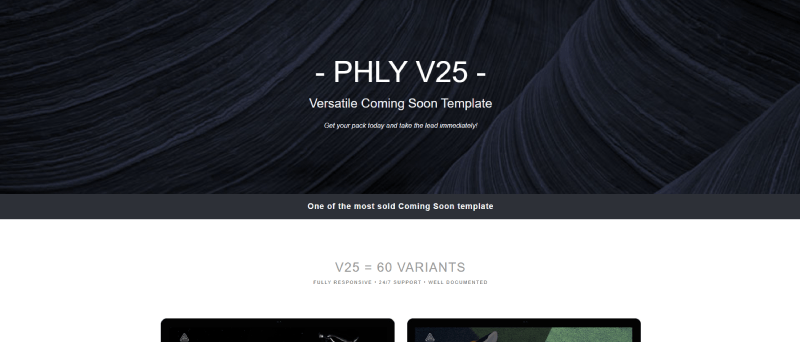 PHLY is a fully flexible, customizable, and responsive Coming Soon template designed to boost your next project. It is a versatile template packed with stunning designs and variants and is ready to be adapted to any project. Built with your audience in mind, PHLY grabs their attention and gives them an enticing taste of what to expect from your site, project, or brand. Key features include modern designs ranging from monochrome cityscapes, corporate or agency-style images, dynamic liquid or bubble effects, and abstract, animated backgrounds.
TICTOC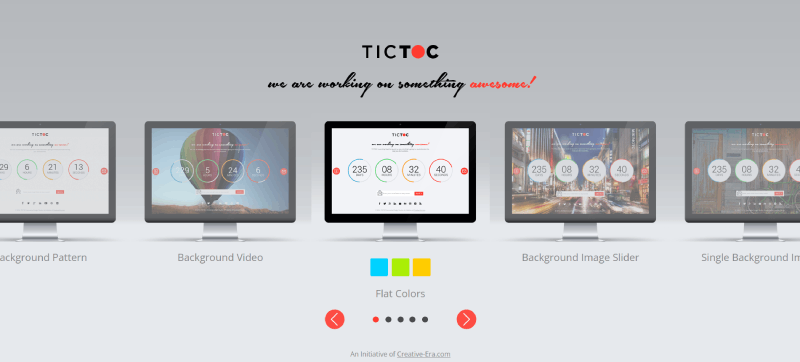 TICTOC is a clean, elegant, responsive, and animated countdown coming soon template, designed and coded for under construction or coming soon websites. It has six premade templates, including Flat Colors, Background Image Slider, Single Background Image, Background Pattern, and Background Video.
Waye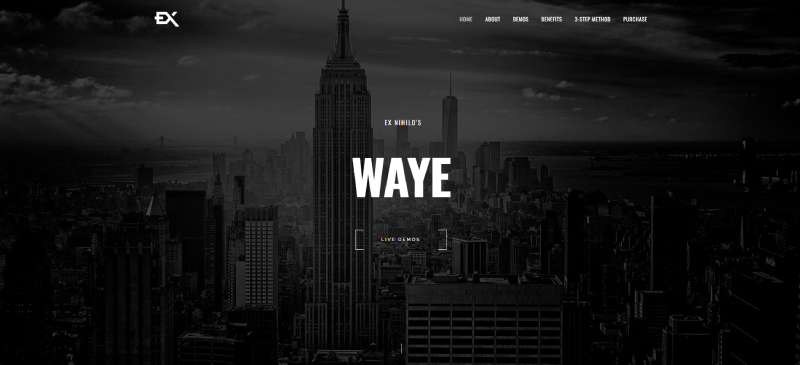 Waye is a fully responsive Under Construction and Coming Soon website template with a modern design suitable for all creative fields, such as photography, art, and design. It features a powerful full screen background video and imagery, making it ideal for showcasing innovative work while building a website. They built the template on the popular Bootstrap framework and offers clean, HTML and well-structured CSS.
Coming Soon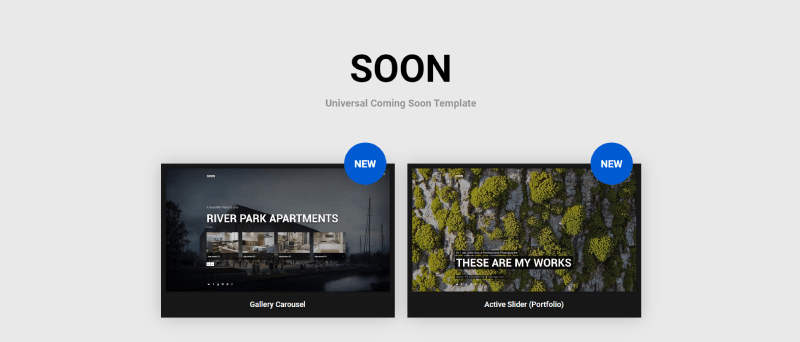 Soon is a versatile and attractive Coming Soon and Under Construction template that offers 18 homepage variations and Mail Chimp integration. You will enjoy their dark and light versions templates and different layouts for subscriber forms, countdown timer, and buttons. Key features of the template are sections for About Us, Portfolio/Works, Services, and a Contact section with a map. It comes with working contact forms, particle effects, slider burn effects, slider zoom animations, self-hosted video, countdown, product showcase, and a triangle generator.
Jonny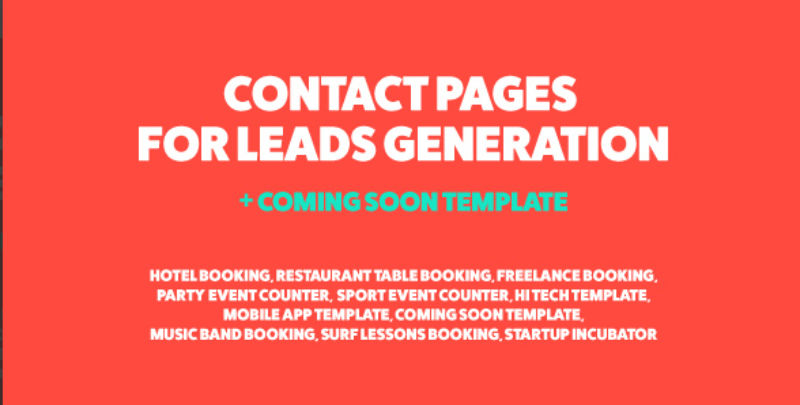 Jonny's template offers a clean, well-organized demo page for a quick start. It includes a ContactMe v1.4 script for easy contact form setup, is fully responsive and mobile-friendly, and features retina-ready graphics. Jonny's under construction website template supports eight social networks, 12 icon/color combinations, modal pop-ups, galleries, countdowns, and various background options. It also boasts Google Fonts, CSS3 enhancements, cross-browser support, and is SEO friendly. The contact form is highly customizable, supports multiple languages and sizes, and offers Google reCAPTCHA support to prevent spamming.
Cecko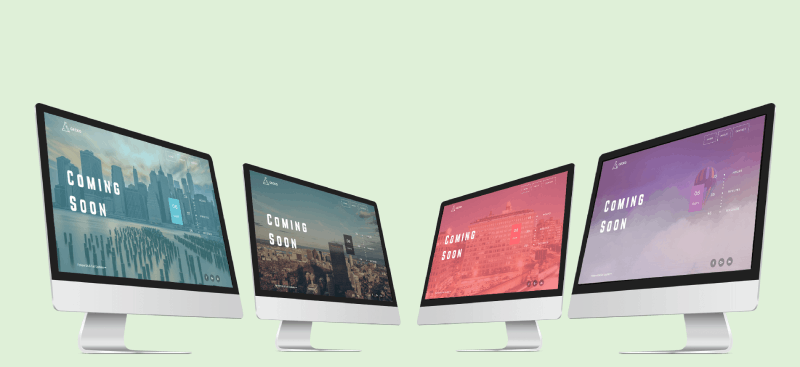 Cecko is an ultra-responsive HTML5 Coming Soon template designed for creatives, corporate sites, agencies, e-commerce, photographers, and more. Built with HTML5 and Bootstrap, it offers a clean and elegant way to showcase a coming soon page while your website is under construction. Cecko features 56 versions, working AJAX subscription and contact forms, Mailchimp integration, and a variety of demo options to suit various needs, including a landing page.
FAQ on Coming Soon Website Templates
What's a coming soon website template?
Well, a coming soon website template is like a pre-built design that you can use to let your site visitors know that your website is in the works. They usually have a countdown timer, an email subscription form, and some social media links. These templates are great for building anticipation and collecting leads before your big launch.
Why use a coming soon template?
You see, using a coming soon template is a smart move because it helps you create a professional and engaging online presence, even if your website isn't fully ready. It allows you to connect with your audience, build your email list, and generate interest in your brand, product, or service. Plus, it's a fantastic way to keep your visitors informed about your progress and let them know when to expect the full site.
How do I customize a coming soon template?
Customizing a coming soon template is usually a breeze. Most templates come with an easy-to-use control panel or theme options, so you can modify the colors, fonts, images, and other design elements. Sometimes you might need to tweak the HTML or CSS code, but don't worry – there are plenty of tutorials and resources online to help you out with that.
Are there free coming soon templates?
Absolutely! There are a ton of free coming soon templates available on the internet. You can find them on various websites and marketplaces, as well as in the template libraries of website builders. Just remember that free templates might not offer as many features or customization options as premium ones, so weigh the pros and cons before making your choice.
What features should I look for in a coming soon template?
When looking for a coming soon template, you'll want to make sure it has these key features:
Responsive design: Your template should look great on any device, from desktops to smartphones.
Countdown timer: A customizable countdown to let your visitors know when your site is launching.
Email subscription form: Capture leads and grow your mailing list from day one.
Social media links: Connect with your audience on different platforms.
Customization options: Be able to change the design to fit your brand.
Can I use my coming soon template with any website platform?
Most coming soon templates are pretty versatile and can be used with various website platforms, like WordPress, Shopify, Wix, or Squarespace. Just make sure to check the template's documentation or description to see if it's compatible with your chosen platform. If it's not, you might need to find a template that's specifically designed for that platform.
Can I add a contact form to my coming soon template?
For sure! Many coming soon templates already include a contact form, but if yours doesn't, you can usually add one by using a plugin or third-party service. This way, your visitors can get in touch with you directly from your coming soon page, making it even easier to engage with your audience and gather valuable feedback.
Do I need coding skills to use a coming soon template?
Nah, you don't need coding skills to use most coming soon templates. As I mentioned earlier, many templates come with user-friendly control panels or theme options, so you can customize the design without touching a single line of code. However, if you want to make more advanced customizations, some basic knowledge of HTML, CSS, and maybe even JavaScript could come in handy.
Final Words on Coming Soon Website Templates
In conclusion, take advantage of the opportunity to create a captivating and functional coming soon page using easy-to-customize Coming Soon website templates listed above. They offer various features and flexibility that make your site stand out, ensuring an engaging and user-friendly experience for your visitors.
Never again have a boring under construction website template. These various templates will fit any of your needs and will keep your audience hyped about your upcoming project.
If you liked this article about coming soon website templates, you should check out this article about band website templates.
There are also similar articles discussing video website templates, financial website templates, architecture website templates, and gym website templates.
And let's not forget about articles on travel website templates, pet website templates, app landing page templates, and tattoo website templates.
Easy to Customize Coming Soon Website Templates