Creating a professional website for your consulting business is essential to stand out in the finance industry. It helps attract new clients, promote services, and create a sturdy reputation.
Yet, building a great web design with a user-friendly interface is challenging. Many businesses opt for pre-built consultant website templates. This way, they get a perfect template while saving time and money.
You can do the same! This article will share a list of consulting website templates. You'll only have to customize them to fit your business identity.
Business Consulting Website Templates To Check Out
Creative Portfolio Website Slider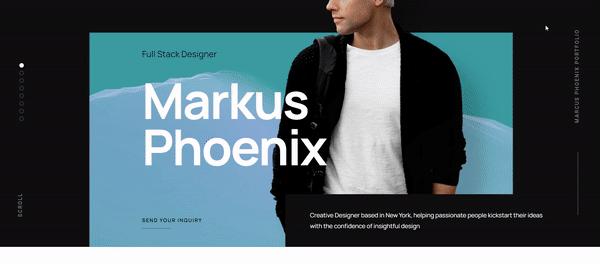 Presenting an enchanting template for a one-page portfolio website, meticulously crafted to make a profound impact. Display your accomplishments in a remarkable and engaging format that will instantly mesmerize prospective clients the moment they step into your website.
Angled business website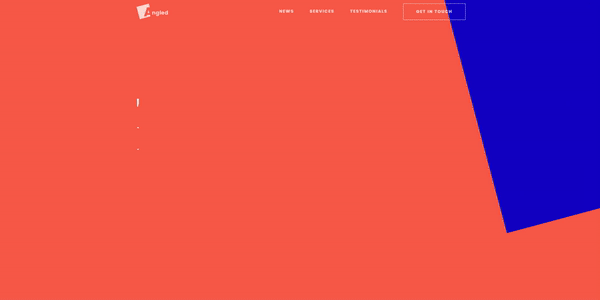 Consult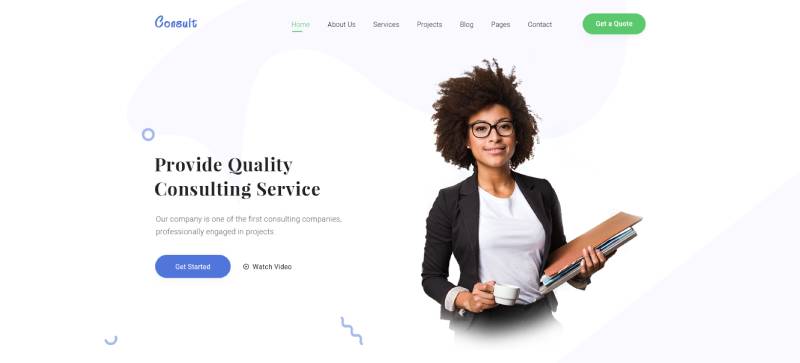 With two homepage layouts, Consult is a responsive consulting website template. It keeps an elegant and clean design that delivers mobile-friendly pages. You'll find many opportunities for customization.
Besides, you get solid support from its creators at frothy_team. Consult's build includes SASS, HTML5, CSS3, JavaScript, and jQuery. It is also compatible with the well-known framework builder Bootstrap4 and all the major browsers.
Bcom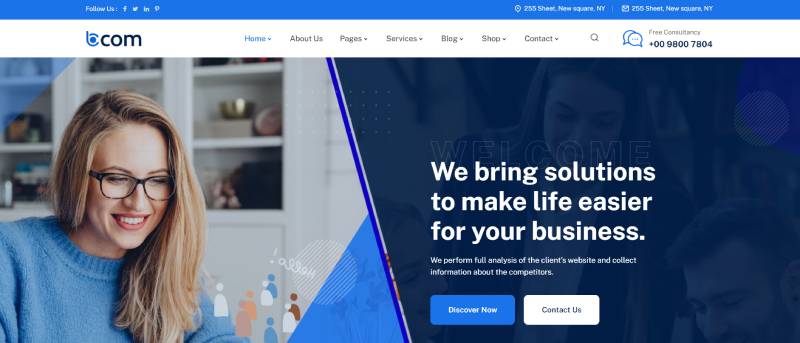 Bcom is one of the most recent consulting website templates with an acquirable WordPress theme version. Built on Bootstrap 5, it uses well-documented and W3C-valid HTML code. Like other options, it includes a working AJAX Contact Form and an e-commerce page.
Bcom is versatile, modern, and cross-device and browser compatible. It comprises multi and one-page design options. Plus, this solution has reliable backing free for six months with your license.
Vizac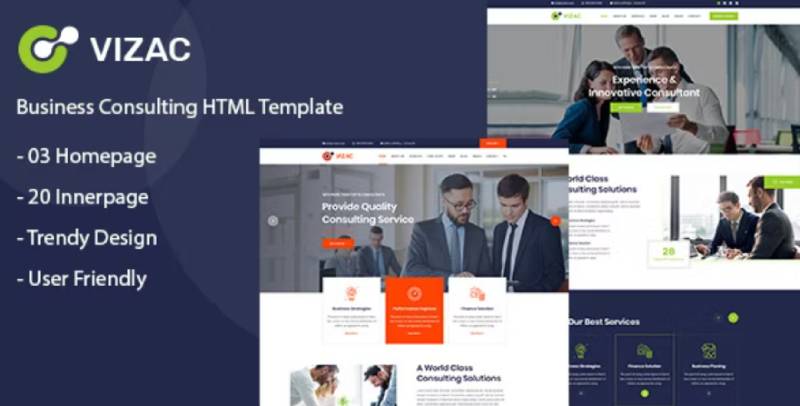 Vizac is a user-friendly solution for business consulting firms to build their websites. It has three unique home page versions and twenty inner pages.
Vizac comprises over fiteen W3C valid HTML files. It has a fully responsive design on all devices. It emphasizes functionality on a Pixel Perfect layout. You also get a PHP contact form for your site and six months of free support from its creator.
Dodrin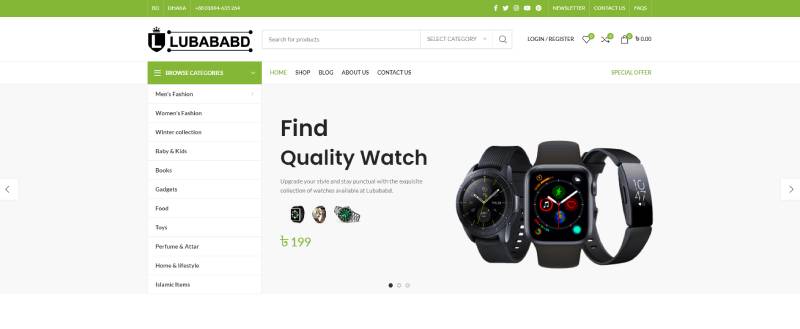 Dodrin introduces itself as a consulting agency HTML template. It features a responsive and modern design that is cross-browser compatible.
With Bootstrap 4 as its builder, Dodrin is easy to use and enables fast customization. This solution includes top-notch support and accessible and extensive documentation. It delivers a smooth experience, a critical feature for all consulting website templates.
Reobiz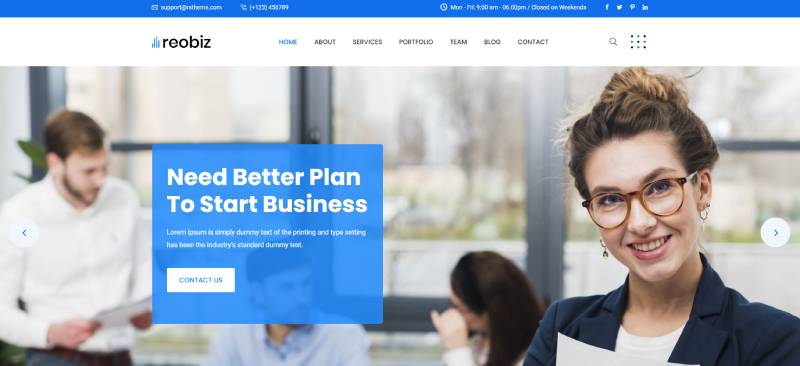 Reobiz is one of the best consulting website templates, with 34 demo homepages, including 18 multi and 16 one-page layouts. It incorporates Google Maps, Google Fonts, and Font Awesome.
Reobiz includes a working AJAX Contact Form and a sales page ready to benefit you and your clients. You can feature everything from client testimonials to your consulting services pricing table.
You get 24/7 support for this website template from its creator rs-theme. Its 5-star WordPress theme version is also available for purchase.
EZY
With dozens of raving reviews, EZY is among the best-selling consultant website templates. It emphasizes flexibility through exclusive professional designs you can customize. Additionally, it is SEO-friendly, using a clean source code that is easy for search engines to crawl.
You will also find many resources for developers, from shortcodes to high-quality plugins. This well-documented business consulting template guarantees future updates. You can buy the EZY WordPress theme with WooCommerce integration to expand your sales to the online world.
Consulter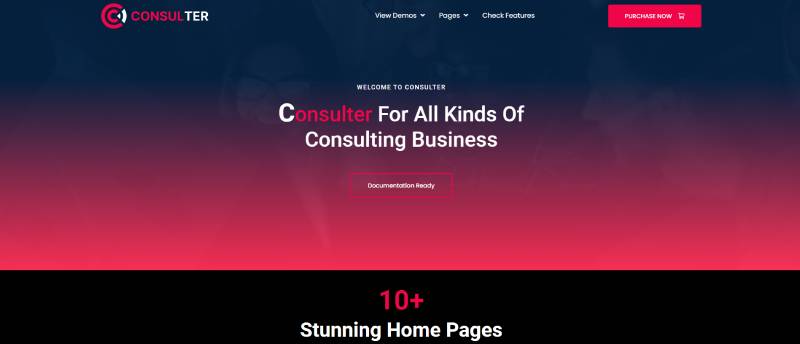 Consulter is a high-resolution template based on the Bootstrap 5 framework. It has over 25 HTML pages for consultants and consulting agencies. Its well-organized supportive documentation includes screenshots and ordered codes to ease customization.
Consulter has been tested on real devices to ensure you can create a captivating website for your consulting firm. It contains embedded social links, advanced typography options, and a pixel-perfect design.
Finbuzz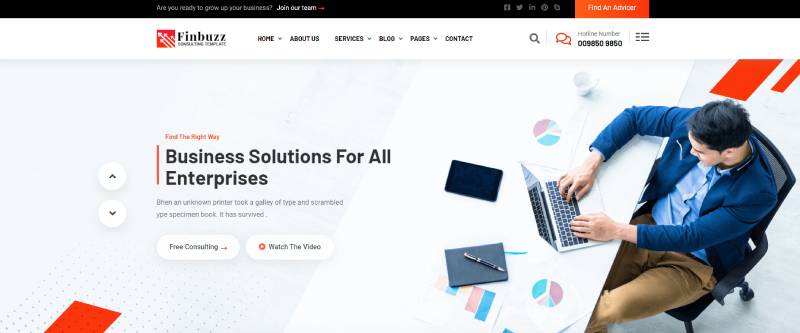 Finbuzz is a business HTML template for any financial company. It encompasses all the standard website pages. With 21 HTML pages, you can present your company portfolio, service offering, team profile, testimonials, and more.
This WordPress theme features smooth transitions through W3c Validated HTML5 and CSS3 coding. Another advantage is that you get free lifetime updates with your licensing purchase.
Besides, with Finbuzz, potential clients can use the AJAX Power Contact Form. This way, they can easily communicate with your consulting business.
Syntax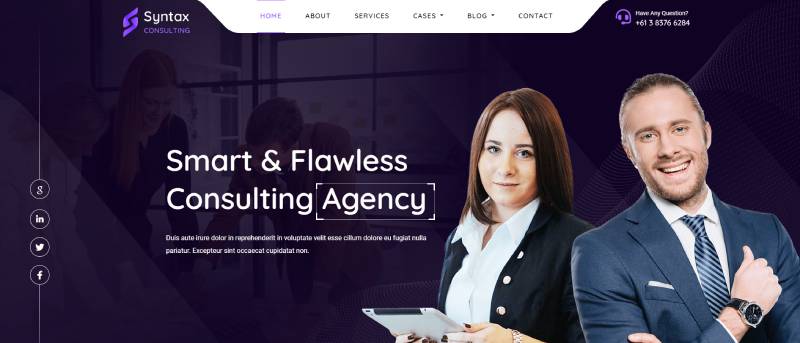 Syntax introduces itself as a consulting services HTML website template. This recently published design package focuses on versatility and functionality.
It comprises unlimited color schemes and endless layout configurations. Unlike other templates, it is not a high-resolution tool. Still, it delivers different page designs and blog page formats. Its licensing includes free updates for the future and six months of builder support.
Barnet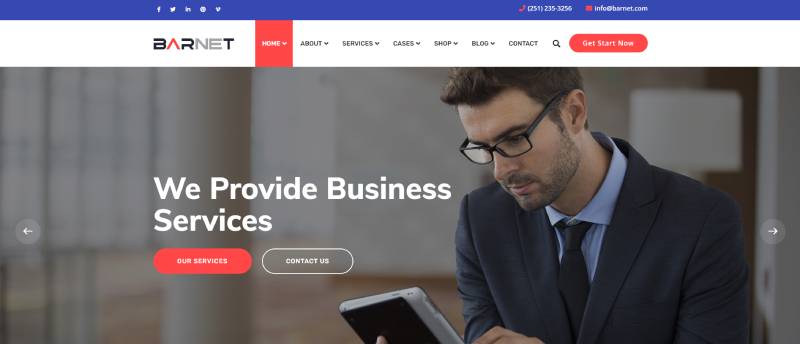 Barnet is a business consulting and professional services template. Built on the Bootstrap 4 framework, it enables a fluid and responsive website. With PHP and AJAX Contact Forms and a flexible layout, it delivers a comprehensive solution for corporate finance.
It is retina-optimized and has social links and footer widgets. Barnet includes animations and effects like parallax. The template_path team provides quick support to help you get the best of its technology.
Conalz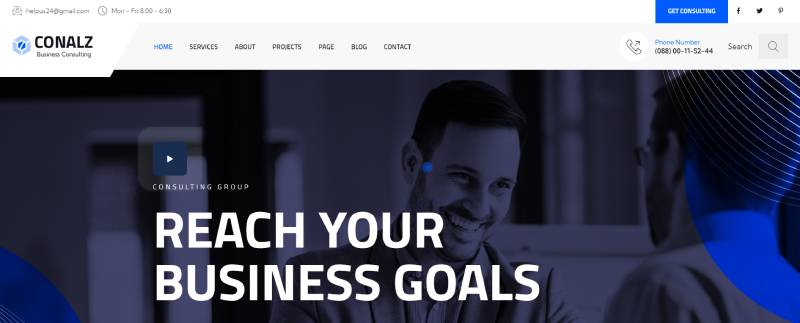 Conalz is a corporate business template with over 17 HTML files. It helps you create a responsive, minimalistic design for a smooth user experience. This template offers cross-browser compatibility and SEO-optimized code.
Choose from the three homepage versions and add various pages to meet your consulting firm's needs. You can pick Conalz to base on Bootstrap or 1170px Grid. Plus, you get free quick support and extensive documentation.
Consult Vita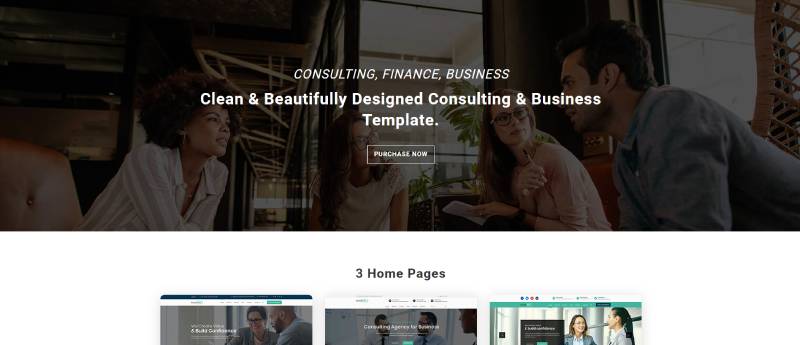 Consult Vita helps you create a web design based on Bootstrap 4 or 1170px Grid. This website template is SEO-optimized and has valid contact forms.
It is well documented, with a clean and organized code that is highly customizable. Its creator used top-notch web design tools, from Isotope to Owl Carousel 2. You get six months of free support with your licensing purchase.
Consulti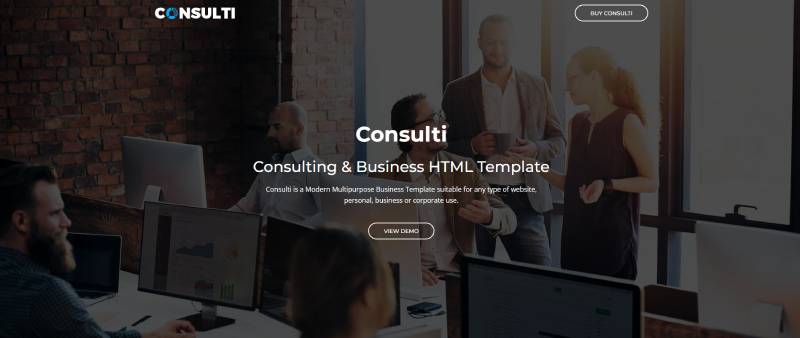 Recently updated to support Bootstrap 5, Consulti is an HTML business consulting firm template. It is flexible, creative, and has a professional design that eases navigation for visitors.
Besides the regular updates, Consulti has a significant advantage with quick support. Hastech, its builder, offers to add exclusive features to the technology and answer any user questions.
Consulting Finance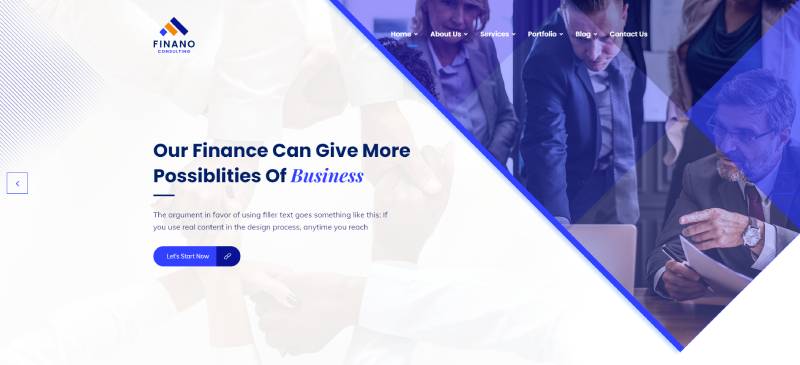 Finano-Consulting Finance is a consulting business website template built with Bootstrap 4. It has an elegant design and presents five homepage variations. It ensures an optimum experience through a working PHP form and a sticky menu activated upon scrolling.
ConsultPro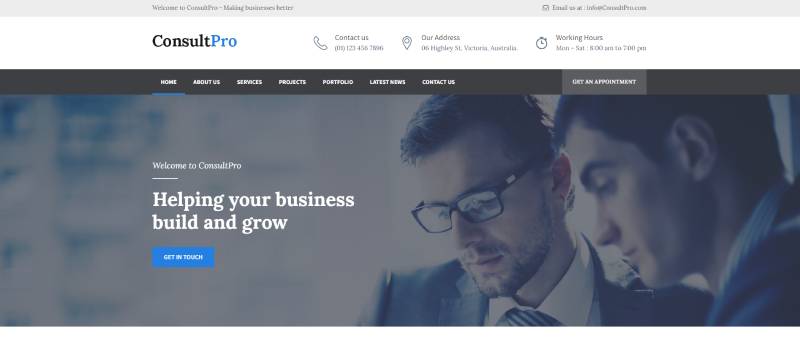 ConsulPro is an excellent corporate business website template. It especially fits finance agencies and consulting firms. Despite being built on Bootstrap 3, you will get plenty of valuable resources.
It displays smooth background transitions to provide visitors with the best experience possible. This theme has varied layouts for the predominant pages of your agency site. It also includes extensive documentation.
Dynamic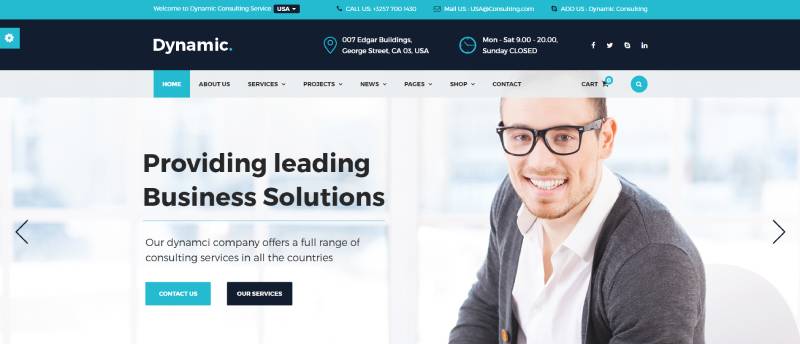 Dynamic is a finance and consulting business HTML 5 template. It contains over 20 unique page designs in 4 different color schemes. Suited for corporate business websites, it is fully responsive and retina-ready.
Dynamic focuses on the smartphone and tablet user experience and supports boxed and full-width layouts. It has Slider Revolution to enhance your professional site through sleek animations. Its comprehensive WordPress theme is also available for a higher licensing fee.
Financity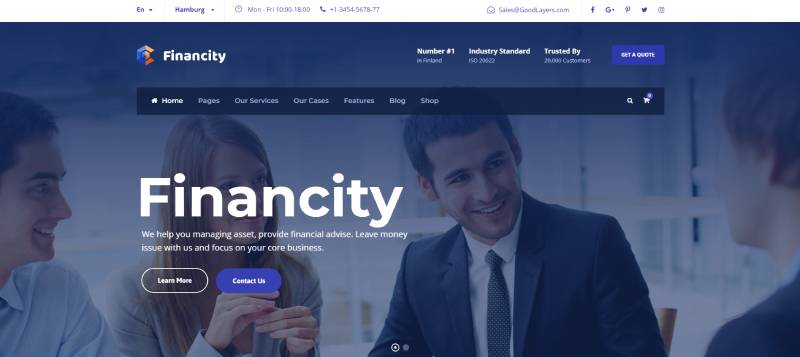 Financity is not a WordPress theme but has a WordPress-compatible version available. This consulting template bets on creativity with three carefully curated demos.
Then, each demo has its own HTML pages amounting to over 350. You can combine their features and use shortcodes to set up your website design.
Zuberia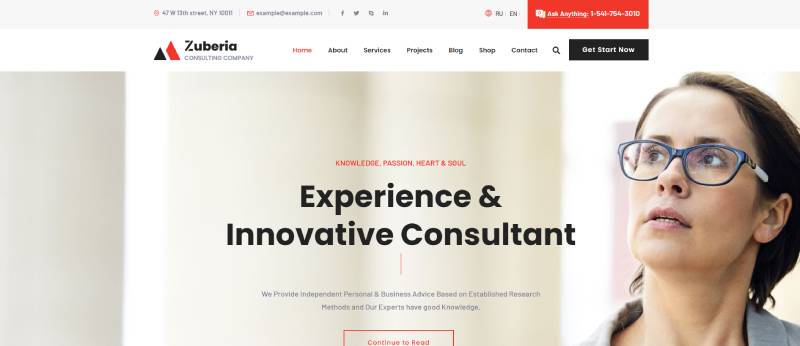 Business consulting template, Zuberia, has a WordPress theme ready to help you launch your company online. It is compatible with most browsers and delivers a responsive and smooth experience for all devices.
You will get powerful W3C valid HTML files and a clean, commented code that is easy to customize. Built on Bootstrap 4, Zuberia is retina-optimized and displays a Pixel Perfect design. It has unique effects and allows you to set up unlimited galleries, sidebars, and pages.
Auston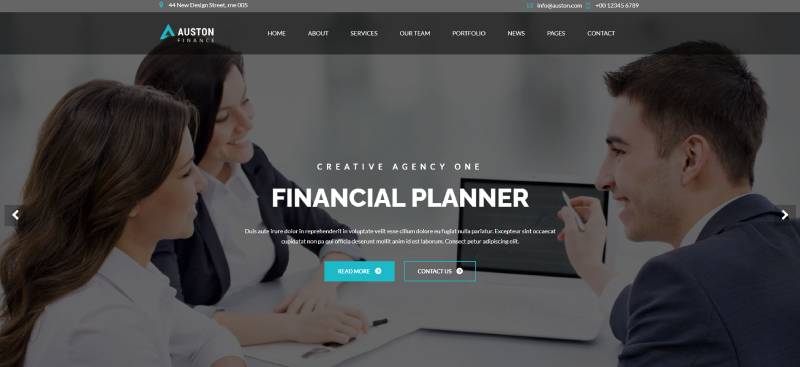 Auston is an HTML 5 and CSS3 template created by RadiusTheme for finance, corporate, and consulting businesses. It has a WordPress theme and a Joomla version available. It has four distinctive designs for the standard pages, like Home, Team, and About Us.
You will also get smooth transition effects and hundreds of icons through Font Awesome. Auston offers easy customization, flexibility, and free lifetime updates. You can choose between a single or a multi-page design for your website.
Consulterz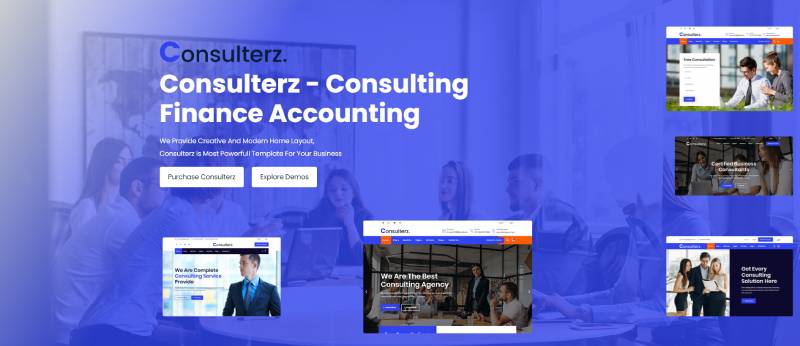 Consulterz emphasizes customization with various header styles, inner page models, and color options. It benefits from regular revamps and suits any finance or consulting business.
With a purpose-oriented design, it delivers resources for developers and non-developers alike. It includes a collection of sales pages for companies that want to bet on e-commerce. Consulterz is shortcode-ready and has a creative banner.
Creote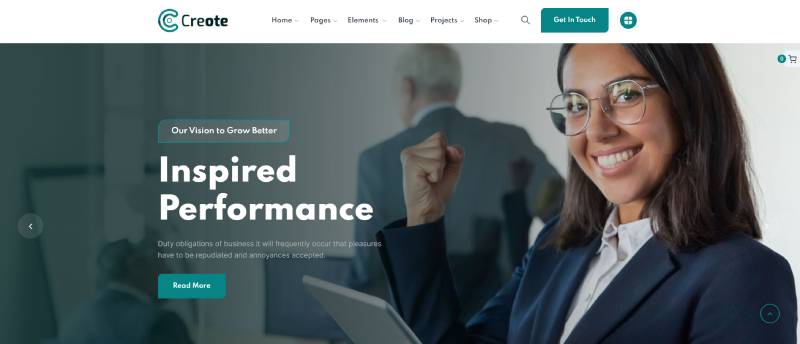 Creote is a corporate and consulting business template based on the builder NextJS framework. It is compatible with ReactJS and Bootstrap 5.
It has 16 homepage design layouts and many inner pages supported by most browsers and devices. With it, you get numerous ready-to-use blocks to extend your site. Creote is one of the latest consulting website templates and offers free lifetime updates.
Nexgen
Nexgen is a 5-star rated consulting business template with over one thousand sales. CondingsDev updates it regularly and works with the best resources to provide steady backing.
It is one of the most comprehensive templates and helps you build a complete website. You get dozens of pages, hundreds of icons, and endless customization options.
Qwilo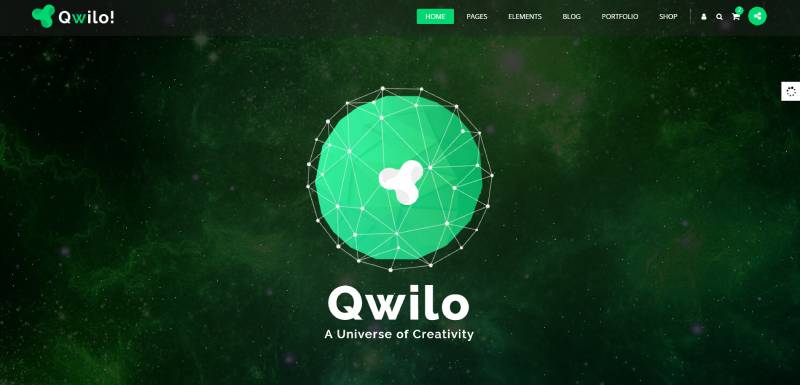 Qwilo is among the trendiest consultant website templates. It has over 22 home pages and more than 210 inner pages to help you showcase your business consulting firm.
This solution underscores versatility and flexibility. You will find varied options for blog, portfolio, and team presentations. You will also get access to multiple header styles. Qwilo now includes an app landing template to help you build a business consulting landing page.
Visapress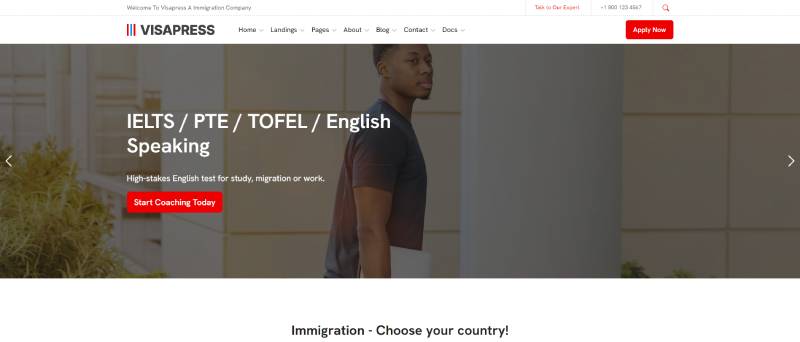 Visapress is an immigration and visa consulting template. Recently updated to support the latest version of Bootstrap, this solution has all the elements your company might need.
You will find beautiful landing page templates, various other pages, and extra components, such as alerts and tables. It includes 404 error pages and an e-mail list builder to support client data management.
FAQ on Consultant Website Templates
What are the key features I should look for in a consultant website template?
Ideally, you want your template to be user-friendly, both for your audience and for you. Essential features include a responsive design, clean typography, space for your services and credentials, and sections for client testimonials and case studies.
Don't forget about SEO-friendly coding. Make sure it's customizable to fit your branding, and check that it's compatible with the latest web standards and browsers.
Can I customize these website templates myself, or do I need a professional?
Most templates these days come with user-friendly interfaces that make customization a breeze. Using drag-and-drop editors, you can typically alter colors, fonts, and page layouts.
If you're comfortable with technology, this could be a DIY project. However, if you want more complex changes or a unique, professional touch, you might consider hiring a web designer.
How important is mobile compatibility for a consultant website template?
Mobile compatibility is absolutely vital. Many visitors will access your site via a smartphone or tablet.
Without a mobile-friendly design, you risk alienating a significant portion of your potential clients. So, make sure your chosen template is responsive, meaning it automatically adjusts its layout based on the viewer's device.
How does a SEO-friendly template affect my website?
A SEO-friendly template is structured in a way that makes it easier for search engines to crawl and understand your content.
This means better visibility in search engine results, which can lead to increased website traffic. So, make sure your template adheres to SEO best practices, like proper HTML structure, fast loading speed, and meta tags support.
Are website templates expensive? What is a reasonable price to expect?
Prices for website templates vary widely, depending on the platform and the level of sophistication. Some basic templates are available for free, while premium options may cost anywhere from $30 to a few hundred dollars.
Remember, it's a one-time investment that should bring value to your business, so consider the quality and the features you need when deciding.
Can I switch to a different template later on?
Yes, you can! Most website platforms allow you to change your template at any time. However, be aware that switching templates might require some work to reformat your content and ensure everything displays properly.
It's best to choose a flexible and future-proof template from the get-go.
Does the website template affect the speed of my site?
Absolutely. A poorly coded template can significantly slow down your site, negatively affecting user experience and SEO.
Look for templates optimized for speed, avoiding those with excessive JavaScript, large image files, or unnecessary animations. Speed should always be a consideration in your template choice.
Are there specific website templates designed for consultants?
Indeed, there are! These templates are specifically designed to highlight the services and expertise that consultants offer.
They often include sections for showcasing your credentials, client testimonials, and case studies. Look for these if you're a consultant, as they're tailored to your unique needs.
What's the benefit of using a website template versus building a website from scratch?
Website templates offer a faster, easier, and often cheaper solution to getting your website up and running.
They require less technical knowledge and can be customized to suit your needs. Building a site from scratch, on the other hand, requires significant coding expertise and time. Unless you have specific, unique needs, a template is often the best way to go.
Do website templates come with built-in security features?
Some do, but not all. Some premium templates come with extra security measures, but it's mostly up to your website platform to provide core security features.
Always keep your template and website software up-to-date to protect against vulnerabilities. It's also a good idea to regularly back up your website content, just in case.
Conclusion on Business Consultant Website Templates
Today, financial advisers and companies must promote their services in a technology-driven world. To avoid losing time and money, they can use pre-built themes. These consultant website templates are the perfect way to attract and retain clients.
Plus, they offer unlimited customization opportunities to help build sturdy brands. There are many available solutions to structure and animate your business consulting website.
As you have seen, you can choose from a wide variety of HTML templates or opt for a WordPress theme. Either way, with a premade template, you will be on your way to a first-rate site.
If you enjoyed reading this article about consultant website templates, you should read these as well:
The Best Consultant Website Templates You'd Want To Use