A website's navigation is one of its most important features. Whether a website is intricate or simple, if users cannot navigate it, they will leave. A common navigation design is to use CSS tabs.
Tabs are a graphical button that links users to more content on the website. Digital navigational tabs are like physical tabs in a binder. In general, tabs appear to protrude and highlight the tab that is selected. They help create an organized UI and facilitate navigation.
How can you include tabs on your website? Many developers go open source and make their code snippets available to the public. So instead of creating a tab widget from scratch, you can use an already existing code and customize it for your website.
This article provides a list of thirty-five code snippets for HTML and CSS tabs.
Tabbed Content Section
Author: Allen Brady
This CSS tab navigation by Allen Brady is simple and elegant. It is a good option for a personal or professional website. It offers animated icons as its tabs that link to more content or media files. The selected tab is spotlighted by turning blue.
CSS Tabs
Author: Massimo
This link offers pure CSS tabs. Instead of horizontal tabs, they are vertical tabs that mimic a physical binder.
Bootstrap-tabs-x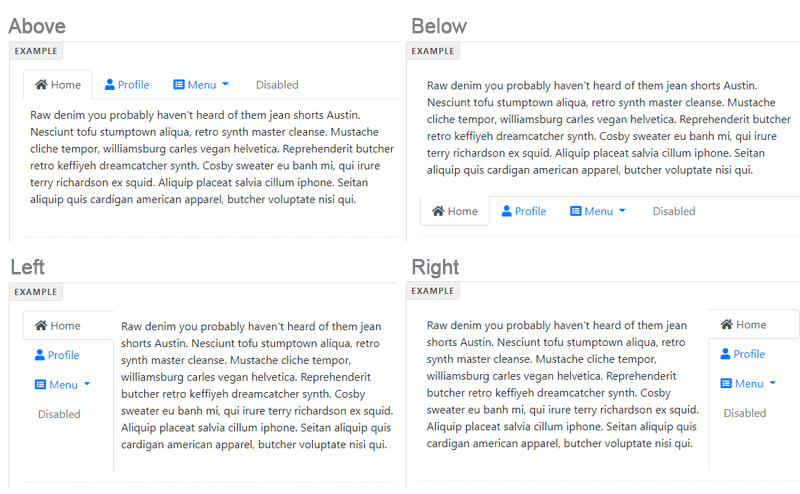 Author: Kartik Visweswaran
This is a tab plugin built on top of Bootstrap Tabs. It offers various features and allows users to customize it in many ways. For example, users can align the tabs on the top, bottom, right, or left side of the page. Users can also customize the tab borders, rotate titles, load content with AJAX, and much more.
Glowing Tabs
Author: Simon Goellner
Simon Goellner created the majority of these glowing tabs in CSS. A JQuery function controls the slide effect. There is a light and dark skin theme.
Nav Tab
Author: Ilham Ibnu Purnomo
Nav Tab provides rounded tabs for two forms. One CSS tab is for a login form and one is for a registration form.
Material Tabs & Pages
Author: Reza
This CSS tab variation is designed with small details in mind. It uses HTML, CSS, and JavaScript. It starts with simple CSS tab icons and adds sliding effects and color effects.
Tabs. Pitaya CSS
Author: Flkt Crnpio
The tabs from this link follow a more professional design. It provides two tabs but users can customize it according to their needs. The tabs are large and have animated sliding transition effects.
Tabbed Widget
Author: CodeAlb
This CSS tab widget is simple yet effective. The whole widget runs on CSS which makes it compatible with most browsers. It highlights the activated tab with a protruding effect and a line of color.
Pure CSS Tabs with Indicator
Author: Alex
Following a modern design, this is a pure CSS tab that provides fast loading. It features a simple yet professional design. It includes both icons and text in its tabs as well as an indicator of the activated tab.
CSS Tab
Author: Wendy
Another pure CSS tab widget, this code snippet includes three tabs. It is a simple tabbed navigation design but is functional. It includes an activated tab indicator.
CSS Tab Selection
Author: Andrew Wierzba
Made with HTML and CSS, this tab widget offers basic tab navigation and transitions. The simple design imitates a physical folder with tab separators.
Aria Tabs
Author: Dan Smith
This code snippet provides five professional-looking tabs for a content-heavy website. It was designed to have a wide range of usability. These tabs run on JS and each tab has a custom CSS animation. However, the tabs are simple because it supports ARIA attributes to make it accessible to viewers with disabilities.
Tabby
Author: Chris Ferdinandi
Tabby allows users to create basic toggle tabs and includes advanced features. The tabs can show any kind of content, including media content. Tabby comes with two themes; horizontal tabs and vertical ones. Users can choose one of those themes or modify the code to their needs. Tabby supports NPM and Bower.
tabbed widget
Author: Drew Adams
This tabbed widget provides nice tabs that span the entire content container. It runs on HTML, CSS, and it uses JQuery to switch between the content. It has more than 170 lines of CSS because it includes more details than the other tabs on this list.
Tabs Widget. No JS!
Author: Dmitry Sharabin
These tabs use pure CSS and no JS. It offers large tabs with icons and text that produce a clean and organized UI. This is a nice tab widget for a modern website.
Pure CSS Tabs
Author: Wallace Erick
Here is another pure CSS tab design. It uses only HTML and CSS but produces an impressive and elegant layout. This CSS tab works well for displaying multiple posts on a single screen. It uses hues of purple to contrast the activated tab with the deactivated tabs.
Tabbed Widget
Author: Ian
The code snippet provided here is for a scheduling widget. It includes tabs for an organized design. Users can use this code to create a scheduling element with a style that suits their website. It uses HTML, CSS, and JQuery to switch between the custom tabs.
Adaptive Tabs
Author: Lewi Husey
These adaptive tabs make smooth transitions from a heavy content tab to a small content tab. It is a simple tab widget but a valuable one since it is adaptive to different sizes of content. It also includes a color switcher that gives users five color options.
Equal-width Navigation Tabs

Author: csswizardry
This code snippet offers plain CSS navigation tabs that have the same width. Users can customize its appearance but the code does not include any advanced features.
"Next" to each other, but not next to each other
Author: eightarmshq
The most impressive styling feature of these tabs is that viewers can click on a button and be directed to the adjacent tab.
Pure CSS Color Tabs (no label)
Author: ari
With about sixty lines of code, this link offers a simple and pure CSS tab navigation. These tabs do not include a label but are colored vertical tabs. An animation effect occurs during the transition from one tab to another.
Transitioning Between Variable Heights with Tabs
Author: Joseph Fusco
Joseph Fusco presents tabs with variable tab heights to fit different lengths of content. With this widget, going from a heavy content page to a short page does not cause a massive page jump. The container width is also adaptable to fit as many tabs as needed. It includes a fading effect for the content.
Just Another CSS Tab
Author: Kseso
Here is another CSS tab layout that provides a simple but organized design. The tabs use flat icons instead of text. This CSS tab design includes transition effects that zoom the content in and out of view when a tab is clicked.
Pure CSS Tabs
Author: Jay Pick
This CSS tab uses HTML, CSS, and JS. It is a basic tab design that identifies the tabs with plain text. It is a good code snippet to build from and style according to your needs.
Material Design CSS Only Tabs
Author: Ben Mildren
This tab design code offers four tabs with a blue header. It highlights the selected tab with a yellow line. It fits well with a mobile site.
Pure CSS Tabs Widget
Author: SitePoint
This is a CSS code snippet with about eighty lines of code. It provides a basic tab navigation design with a pure CSS solution so users do not have to use JS. The tabs create a good user experience for any website.
Pure CSS tab module
Author: clem
This CSS tab module demo presents a straightforward but effective tab navigation design. It includes a pink background, a black design stripe, and a selected tab indicator.
Responsive CSS Tabs & Accordions
Author: Mikestreety
This is a back-to-basics- uncomplicated CSS tab navigation design. The blue and white module produces organized and professional-looking tabs.
Simple Tab Designs
Author: Hoangbach
Hoangbach offers lightweight tabs with a universal appeal. They have a light purple border and a transition animation. When a viewer clicks on a tab, the current tab's content slides away and the new tab's content slides into place.
Material Design Tabs
Author: LukyVJ
The tabs featured with this link were created using Vanilla JavaScript and inspired by Material Design. It does not provide advanced features, but it is straightforward and customizable.
CSS3 Tabs by Sorax
Author: YozhEzhi
These are responsive pure CSS tabs. The selected tab is highlighted with a bright blue background and a blue border surrounds the content. When viewers click on a tab the content transitions with a swinging effect.
Simple pure css tabs
Author: Sean B
Sean B presents a pure CSS tab navigation design. The tabs use both icons and text with small animation effects and a highlighted tab feature.
Simple jQuery-CSS Tabbed Panel
Author: Aaron Macwan
These tabs use CSS styling to change the color of the tabs on hover. But it also uses JS to ensure a smooth transition from the content of one tab to another tab.
Tab controls using HTML and CSS, no JS!
Author: Nicolas Bevacqua
This pure CSS tab design presents a bright color on each tab. Users who want to style the selected tab will have to add some JS.
Pure CSS Tabs
Author: Mark Caron
This is also a pure CSS tab navigation design. It is flexible to include about two to six different tabs. It highlights the selected tab and is an excellent choice for professional websites.
FAQs about CSS tabs
1. What are CSS tabs and how are they used in web design?
Users can browse between several content areas on a website without leaving the page by using CSS tabs, a user interface element. They are frequently used in web design to compactly and intuitively arrange and exhibit a lot of content, enabling users to easily discover and obtain the information they require.
2. How do you create a basic CSS tab layout using HTML and CSS?
The tabs and the content they will display may be defined using HTML, and the layout and behavior of the tabs can then be styled using CSS. One typical method is to specify the tabs using unordered lists, set the display style to "none" for all but the first tab using CSS, then manage tab switching using JavaScript when the user hits a tab. (nelsonjsalon.com)
3. What are some popular CSS frameworks for creating tabs, and how do they work?
For making tabs, some well-liked CSS frameworks are Bootstrap, Foundation, and Materialize. By offering pre-built tab styles and functionality, these frameworks make it simpler to build unique tabs without having to write as much code. The tab interface is often made using a combination of HTML, CSS, and JavaScript, with adjustable styles and choices for various use cases.
4. How can you customize the appearance of CSS tabs, such as changing the colors or adding icons?
The colors, fonts, borders, and backgrounds of CSS tabs and their contents can all be changed using CSS, as well as the tabs' and their contents' backgrounds. Using a typeface icon library or an image sprite, icons can also be added to tabs using CSS. For more precise control, customization can be focused to particular classes or IDs using either inline styles or external stylesheets.
5. What are some common accessibility concerns with CSS tabs, and how can they be addressed?
For CSS tabs to be accessible, the tab interface must be keyboard navigable, accessible by assistive technology like screen readers, and provide enough visual cues and feedback for users who might have trouble seeing or navigating the interface. Designers may make the interface more accessible by using semantic HTML markup, ARIA features, and the necessary CSS styling to address these issues.
6. How do you implement responsive design for CSS tabs, so they work well on different screen sizes?
CSS media queries are used in responsive design for CSS tabs to modify the layout and behavior of the tabs depending on the device's screen size and orientation. For smaller displays, you might use a dropdown menu, increase the number of tabs that are displayed at once, or arrange the tabs vertically rather than horizontally. The objective is to design a layout that functions well and is simple to use across a variety of platforms and screen sizes.
7. How can you use CSS transitions or animations to add visual effects to CSS tabs, such as hover or click effects?
CSS transitions and animations can be used to provide visual effects to CSS tabs, such as altering the background color or adding a border when the user hovers over a tab. When a user clicks on a tab, they can also be utilized to choreograph the transition between various content parts. This can make the interface more interesting and interactive while also giving the user visual feedback on their activities.
8. How do you make CSS tabs keyboard navigable for users who rely on keyboard navigation?
In order to make CSS tabs keyboard accessible, HTML and CSS must be used to make sure that the interface can be used just with the keyboard and is not dependent on a mouse or touch screen. This may involve applying focus with CSS, utilizing the "tabindex" attribute to determine the order in which elements should be navigated, and styles to show which element is currently focused, and using JavaScript to handle keyboard events and perform actions such as switching between tabs when the user presses a key.
9. What are some best practices for organizing and styling content within CSS tabs, to make them user-friendly and intuitive?
The best practices for organizing and styling content within CSS tabs include using clear and concise headings to describe the content of each tab, staying away from clutter and excessive amounts of content, using predictable and consistent navigation and layout, and providing enough visual cues and feedback to help users understand how the interface functions. Real people should test the interface to make sure it is user-friendly and suits their demands.
10. How can you use JavaScript with CSS tabs to add interactivity, such as showing and hiding content based on user actions?
To add interactivity and dynamic behavior, such as revealing and hiding material based on user activities, JavaScript can be used with CSS tabs. To do this, event listeners can be used to determine when a user opens a tab or takes other actions, and JavaScript can then be used to modify the CSS and HTML of the user interface in response. This can improve user engagement and interaction and offer more sophisticated capabilities, such filtering or sorting content within tabs.
If you liked this article about HTML & CSS tabs, you should check out this article about CSS text animation.
There are also similar articles discussing CSS menus, CSS tables, CSS hover effects, and CSS checkboxes.
And let's not forget about articles on CSS forms, CSS search boxes, CSS button hover effects, and CSS slideshow.
The Best HTML and CSS Tabs You Can Use In Your Website