Online stores have become an integral element of many retail businesses. If you're having trouble getting in-person customers, why not turn to the Internet? But this isn't always easy. An online store needs an effective eCommerce design to find real success.
From beautiful aesthetics to easy navigation, effective web design is crucial for impactful eCommerce websites. But if you have never designed a website before, or simply don't know how to build one, building an eCommerce site can seem too difficult or even impossible.
This is where eCommerce website templates come into play. By using templates, you can create an online store without all the hassle of coding, then continue to monitor the profits from your admin panel. It's easy!
But which templates should you use? Don't worry, this article is here to help. Below are 34 of the best eCommerce website templates available today. No doubt, with these templates by your side, you will be able to create an efficient and profitable online business.
What to Consider When Choosing an HTML Template for Your eCommerce Store
Although there are many eCommerce templates available on the internet, finding one worth your time can prove quite challenging. Here are some important qualities that you should look for when buying an eCommerce template.
Design and color. Design is one of the most crucial elements of your website. Just like a physical location, customers won't want to enter a store that looks old and disheveled. However, customers will remember a website with a modern and interesting design. Also, don't forget to choose a color scheme that fits your brand.
Features. Naturally, an eCommerce template needs features to give clients a great browsing experience. Try to focus on templates with responsive design, multi-browser compatibility, and new-age technology in your search.
Support and customization options. In today's technological age, a template that does not expect improvements is not great. Therefore, a great template needs to have easy customization options as well as after sales support from the author to keep up with the competition.
34 Best Ecommerce Website Templates
Sneaker WooCommerce Slider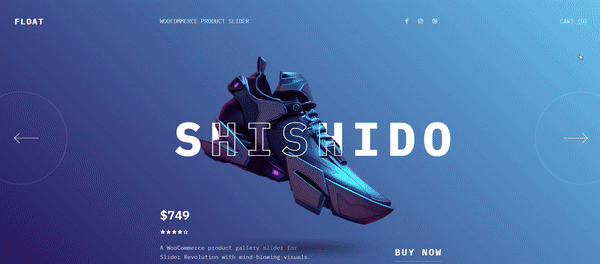 Discover the versatility of our WooCommerce product gallery slider, available in both static and dynamic versions. Choose the static version for a preview-like experience, or opt for the dynamic WooCommerce version, which effortlessly loads your desired products automatically.
WooCommerce Slider Liquid Effect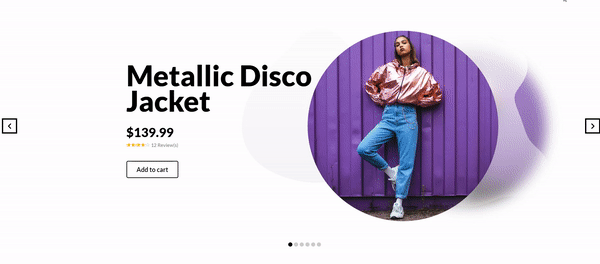 Experience an intriguing liquid effect with the BubbleMorph addon, enhancing your WooCommerce slider.
Effortlessly select product categories, and watch as the slider seamlessly fills up with your WooCommerce products. Alternatively, you can opt for the static content version, which is showcased on this page.
Porto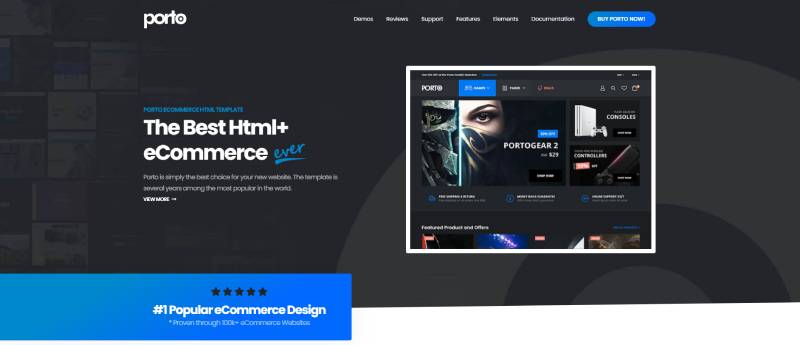 Porto is an eCommerce template that gives you all the tools you need for a responsive online store. With its amazing UI and UX design, it gives your clients the shopping experience they want. Porto also offers over 20 demo layouts and eCommerce themes that let you design your store to fit your business's niche.
Ciseco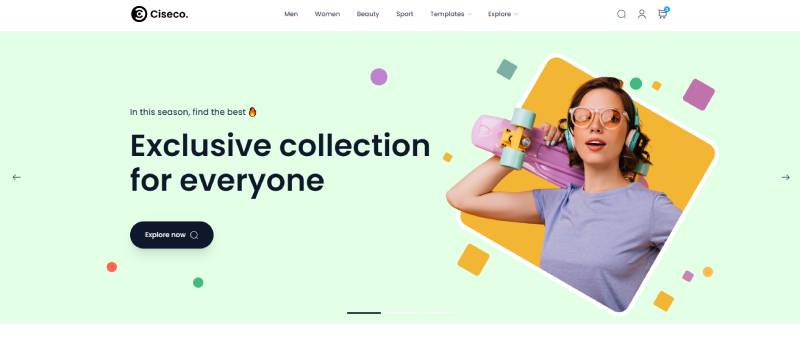 Ciseco is an eCommerce platform designed for eco-friendly shops and businesses. It also uses tools like React Typescript and TailwindCSS to bring you the most versatile template possible.
The Ciseco template also uses a contemporary and new-age design, from its impressive homepage to its useful features. This includes its fancy shopping carts, smart search filter, and fresh checkout page.
Shofy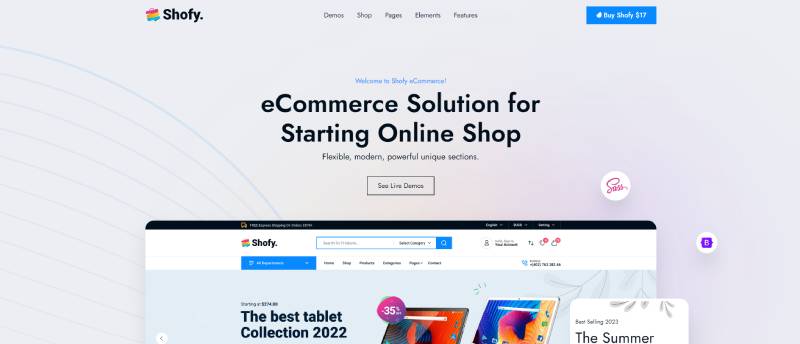 Shofy is a clean and modern HTML5 eCommerce Template with a bootstrap framework. To start, they offer a spread of five separate homepages, each with its own clean design. It also uses similarly clean and easy-to-edit codes.
Lezada
Lezeda is a creative eCommerce template that focuses on delivering the best user experience possible. Along with its multi-browser support, it offers simple website management, easy customization, and dedicated support from the authors. Needless to say, this is a great template that can help push your business forward.
Put simply, Lezeda is a great choice for anyone who wants a simple yet effective eCommerce template. If that fits your description, give it a try!
Nest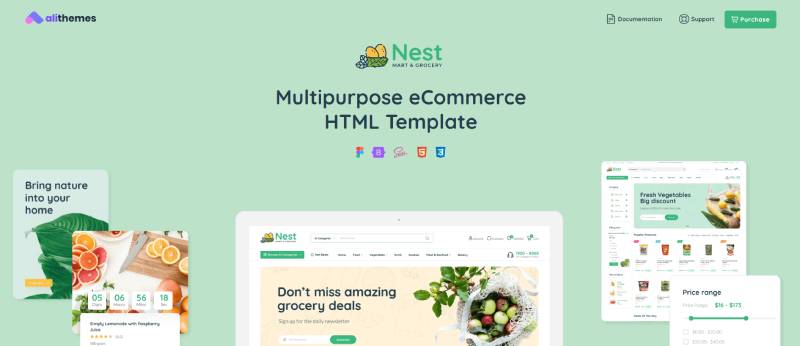 Nest is a beautiful, 5x eCommerce template built specifically for multipurpose stores. For example, it works perfectly for shops like supermarkets, grocery stores, organic shops, and online stores. It also uses a bold eCommerce theme that organizes content to follow where your eyes will naturally lead you, creating a striking beautiful balance in the site's visual hierarchy.
eTrade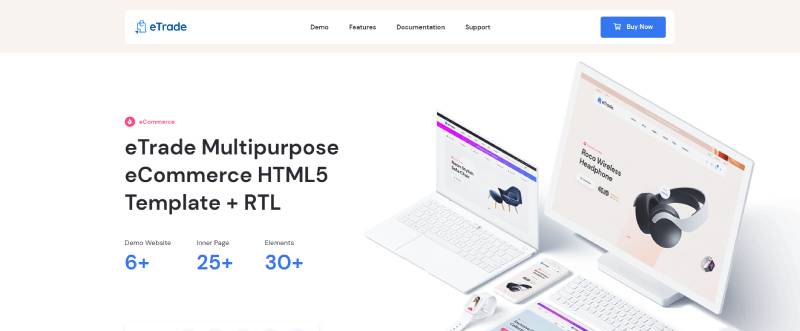 eTrade is a straightforward yet adaptable template for WooCommerce. Its simple-to-use design makes it a great choice for online stores that offer things like clothing, cosmetics, or other retail items. It also offers many accessibility options for clients with different devices. Whether they are visiting from their laptop, phone, or tablet, eTrade is ready to serve.
Shopo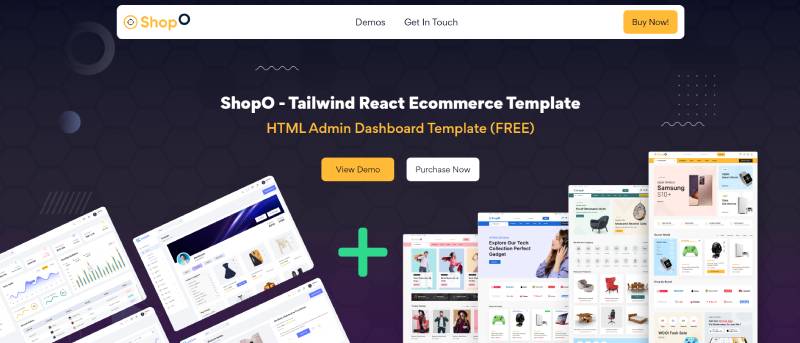 Shopo is another TailwindCSS/React template that is built on the latest React Technology. It has a wide range of features; here are just a couple of them:
More than 25 modern pages
100+ components/layouts
Useful authentication features
Middleware for authenticated users
In addition to these, Shopo offers many smaller features such as:
Smart Drawer
Custom React hooks
A drag-and-drop feature for product uploads
Toast notifications
Functional reusable components
Pixel-perfect design
Fully responsive layouts
A fully responsive navigation menu
Skudmart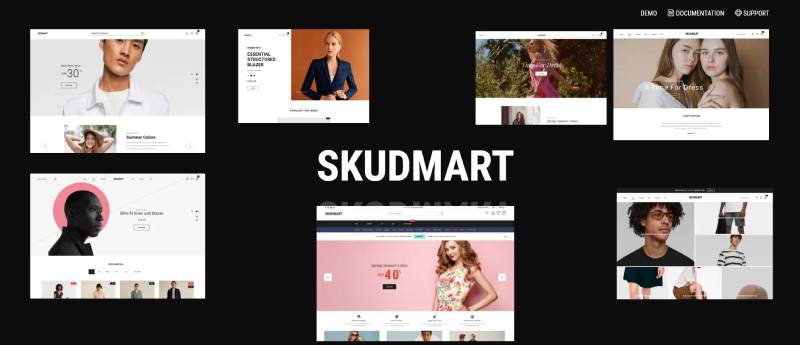 Skudmart is a flexible template that's built with high-end code languages and frameworks. It also uses simple codes that increase your page speeds. These two features combine to make Skudmart a great option for search engine optimization.
But that's not all; Skudmart also comes with 15 hot-and-ready homepages, as well as 65 optional HTML pages. These pages include shopping pages, about us pages, blog pages, and contact pages, so you know you won't be left wanting more.
Helendo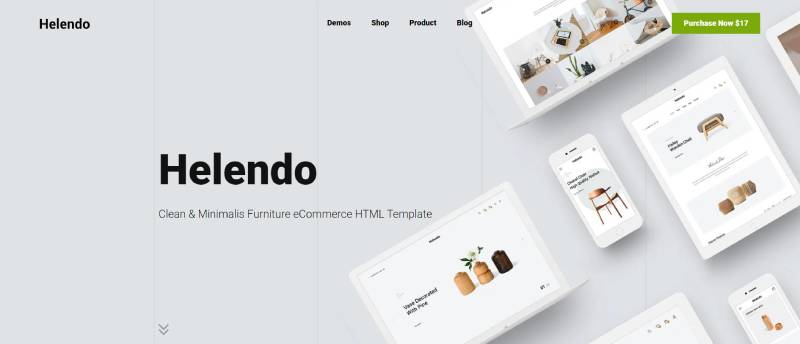 Helendo is a furniture eCommerce template that, as the name suggests, deals with furniture and other accessories. It offers 11 premade HTML pages, as well as clean code to facilitate changes. The authors also offer dedicated support, which decreases the headache that eCommerce website troubleshooting can bring.
Multikart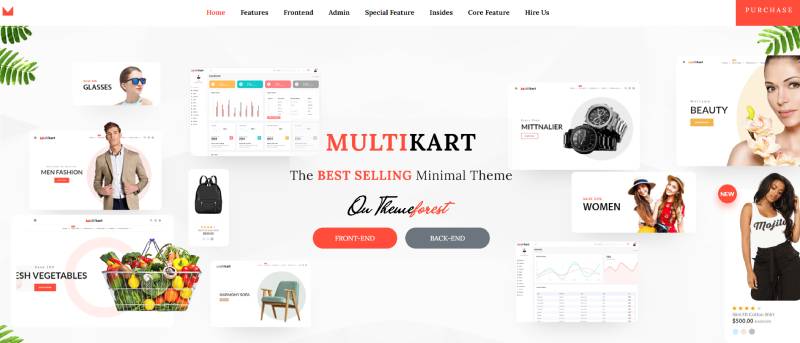 Multikart is a multipurpose eCommerce template that focuses on angular design. It offers 15 angular files, each supporting both CSS and Javascript code. It also offers Paypal payment integrations, which gives your clients one more reason to use your site.
Optimal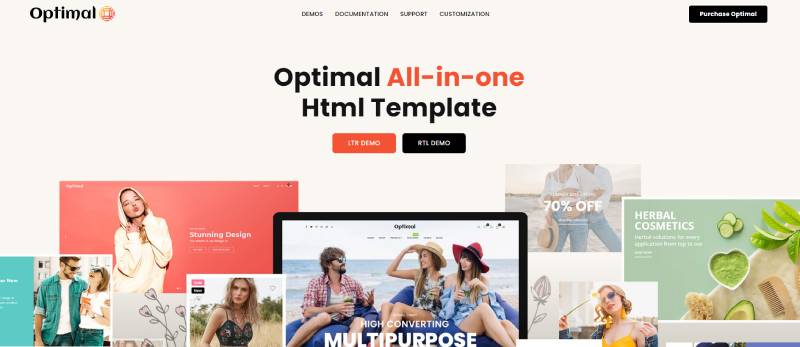 Optimal is a flexible HTML template that's built from the best. It uses the 5x Bootstrap framework and offers more than 20 attractive homepages. What's more, they offer all of the key internal pages that your online store needs.
Fastkart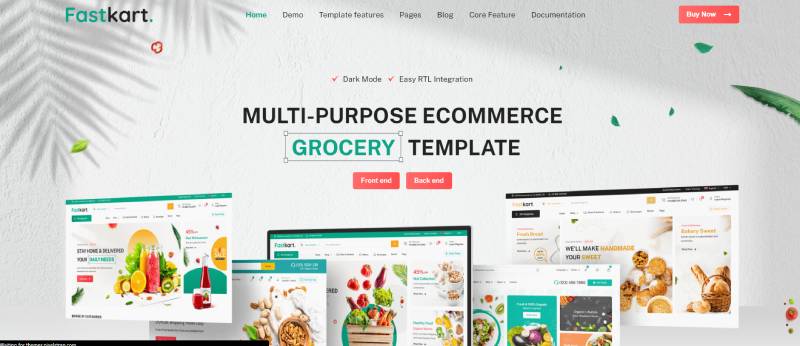 Fastkart is another multipurpose eCommerce template, and it comes with a wide array of features. Here are a few of them:
five multi-purpose layouts
five attractive product layouts
seven interesting shop layouts
More than 15 individually designed internal pages
Many header styles
Multiple footer styles
A wide range of blog options
More than 36 total HTML pages
An integrated mega menu
A mobile-friendly design
Mr.Bara
Mr.Bara is a versatile template with over 68 HTML pages. This includes 24 homepages, 11 product layouts, six shop themes, and multiple blog pages.
It was designed with many of the latest web design technologies like HTML5, CSS3, Bootstrap4, and SASS. It also uses clean code, which gives it a simple design. As for its features, Mr.Bara offers multiple product filtering options, smart product search options, order tracking, and many more.
Airi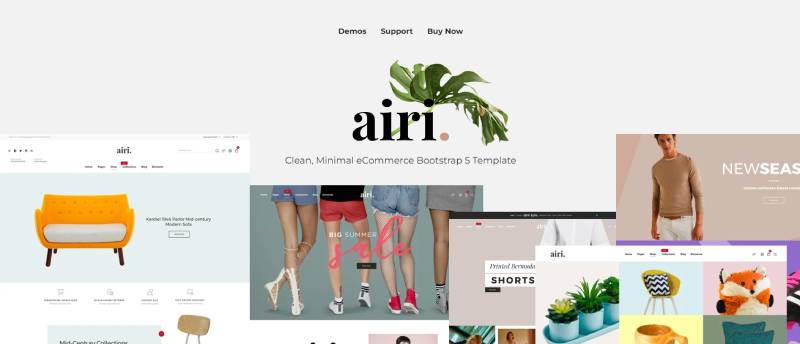 Airi is an eCommerce template that you can use for fashion, home decor, and kids' websites. It has a wide range of features, including a smooth image carousel, Fontawesome icons, and SASS support. It also offers over 50 HTML pages, as well as an array of homepages, blog pages, and shop pages.
Electro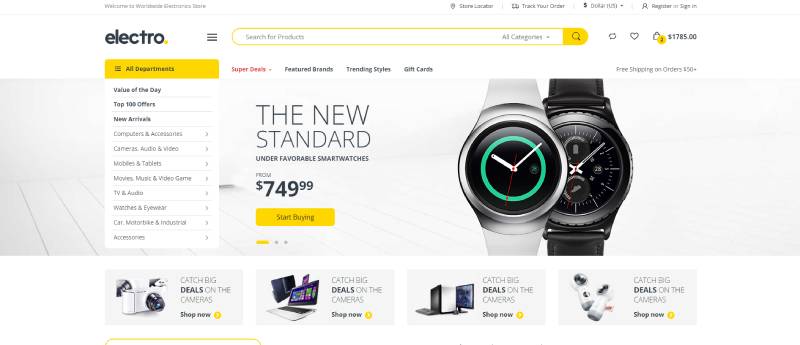 Electro is an eCommerce website template that features a clean and functional design, it's the perfect choice if you want an electronics eCommerce store. To start, it offers a whopping 46 HTML files, along eight separate header styles.
It also includes seven unique homepages that you can play around with. And if you end up choosing one that you don't like, no need to worry. Each homepage is completely transferrable, which means that you can transfer all previous homepage information into another theme if you prefer.
Suruchi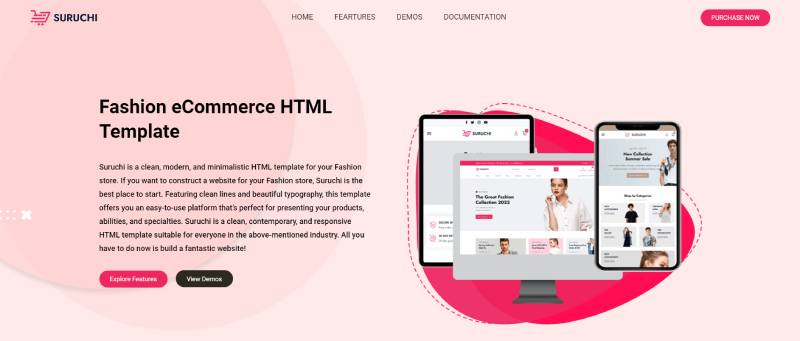 Suruchi is a template that focuses on simplicity. It uses clean code and easy customization options to give you the control you need when creating your website. It also offers multiple homepages and nearly 25 HTML pages to boot, which is nothing to scoff at.
Outstock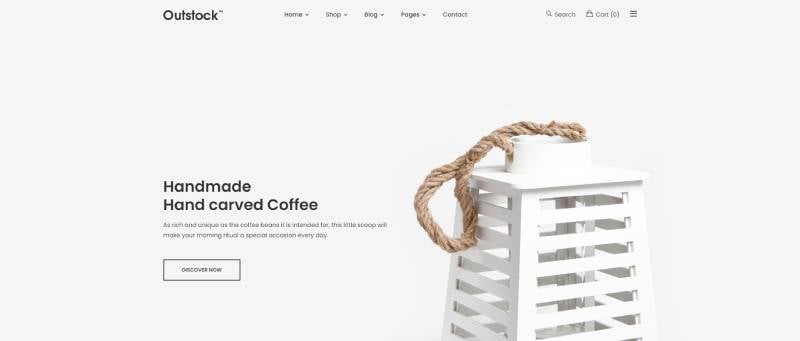 Outstock is another clean and minimalistic professional eCommerce website template that deals in multipurpose. It works for anything: fashion, cosmetics, watches, bags, etc. If you wear it, Outstock can sell it.
Outstock is also designed with Vue Nuxt 3 files, which focuses on easy conversion. This means that you could have a responsive Magento, WooCommerce, Shopify, Drupal, or WordPress website; the choice is yours.
Riode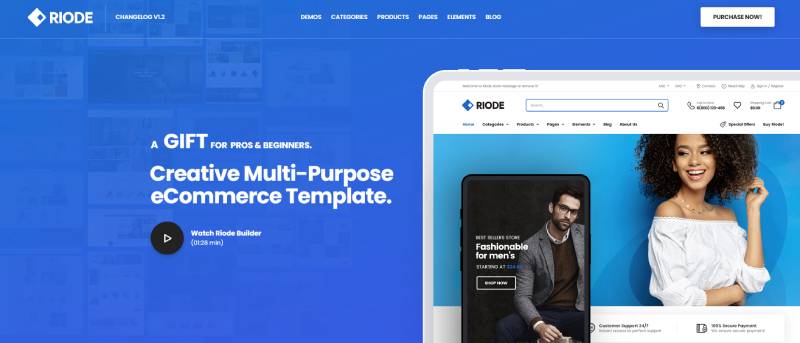 Riode eCommerce is another eCommerce HTML template that focuses on flexibility. It offers over 30 demo layouts, each with modern designs and specific themes. If you own a niche store and are worried about finding a layout for you, Riode is ready to help.
Molla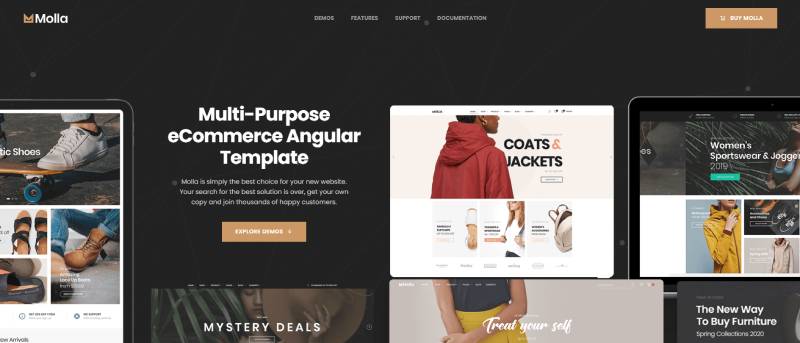 Molla is an eCommerce template that gives you all the tools you need to build a professional eCommerce website. To start, it offers more than 30 demo layouts and skins, each with modern designs. You also get access to features like brand sliders, various carousels, and multiple blog functionalities.
Ekka
Ekka is a next-generation multipurpose template that focuses on using the latest technology. Not only does it use the new 5x Bootstrap framework, but it also comes with a wide range of impressive features. Here are a couple of them:
Multipurpose vendors
Free consistent updates
10 complete demo homepages
More than 99 useful inner pages
A free language translation plugin
More than 15 email templates
Greeny

Greeny is a template that works perfectly for online stores that focus on organic food. It's a highly customizable and responsive template that works on any device, so all of your clients can enjoy your website to the full. Also, every part of the template can be changed and edited to fit your needs, so there won't be any impassable walls when building your website.
Harri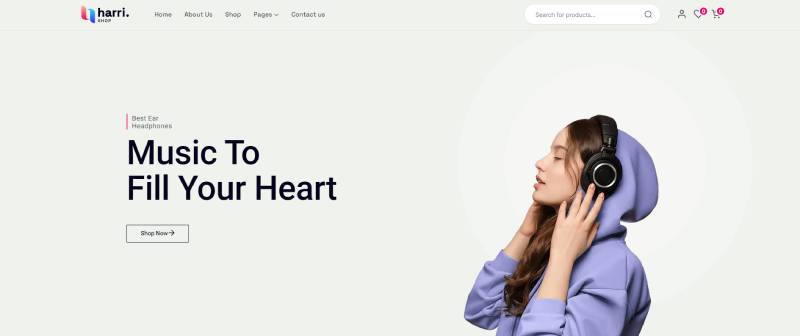 Harri is a clean and minimal eCommerce template built with multipurpose in mind. It has a wide range of compatibilities, like mobile, laptop, Monitor, Hub, and Kittle. It also has an in-depth backend with a wide range of capabilities., It can even be easily converted to a WooCommerce, Shopify, OpenCart, Drupal, or WordPress website.
Vegist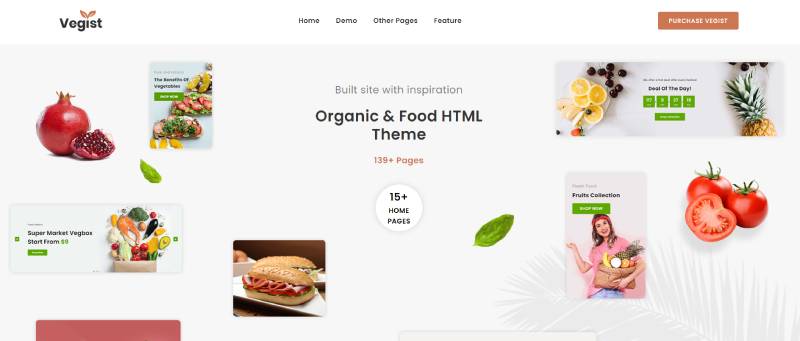 Vegist is a fresh and simple template. It uses multipurpose HTML5/CSS3 code and even supports Bootstrap 5, Google Fonts, and Fontawesome icons. What's more, it's also fully SEO friendly, with RTL and box layouts.
Cartzilla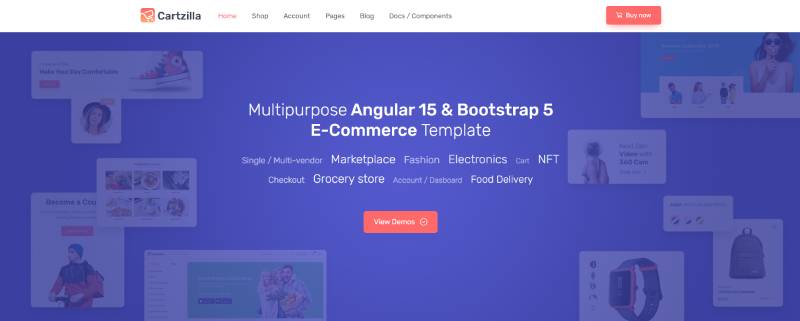 Cartzilla is the best when it comes to front-end eCommerce features. It starts with the Bootstrap 5 framework & Angular 15 capabilities, but then continues to style it to introduce new flexible elements into the website. In total, this leads to over 40 new components being added.
Besides its well-designed storefront pages (including its homepage, catalog, and category pages), Cartzilla continues to offer pages regarding user accounts, carts, checkouts, and menus. They even offer buttons specifically designed to improve handheld users' experiences.
KachaBazar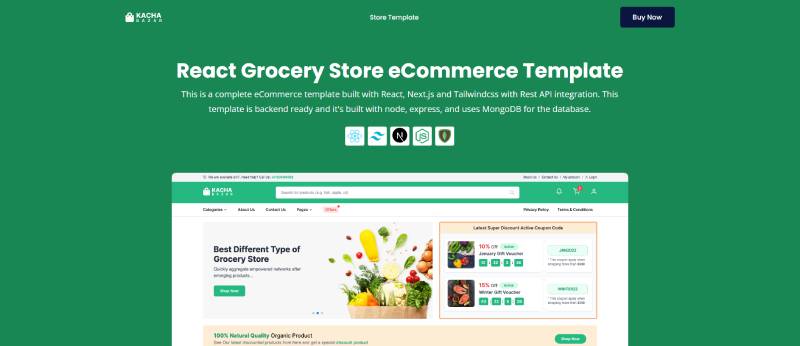 KachaBazar is an eCommerce template for groceries and organic food stores. It's built with Next.js and TailwindCSS, which facilitate easy changes. The backend of the template uses MongoDB as its database, which makes managing data a breeze. In reality, KachaBazar is a completed MERN project, but it works perfectly for eCommerce websites as well.
Foxic
Foxic is a great eCommerce template that's built with a Bootstrap/HTML5 framework. It comes with a wide array of premade pages: 15+ homepage layouts and 50+ other HTML pages. It also offers multi-browser support, which helps improve your website's user experience. And what's more, it also sports a modern and creative design, which gives your clients all the more reason to stay and check out your store.
Toner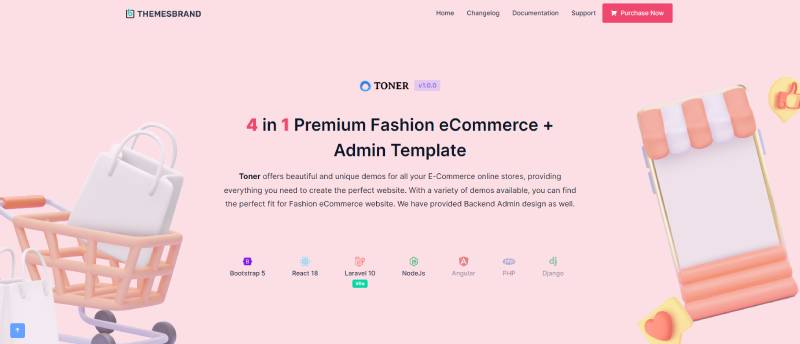 Toner is an eCommerce site that offers a wide variety of demo content, so you can rest assured, knowing that you'll find the perfect theme for your eCommerce in particular. But this isn't to say that Toner doesn't have its strong suits, as it fits especially well for fashion sites.
Wokiee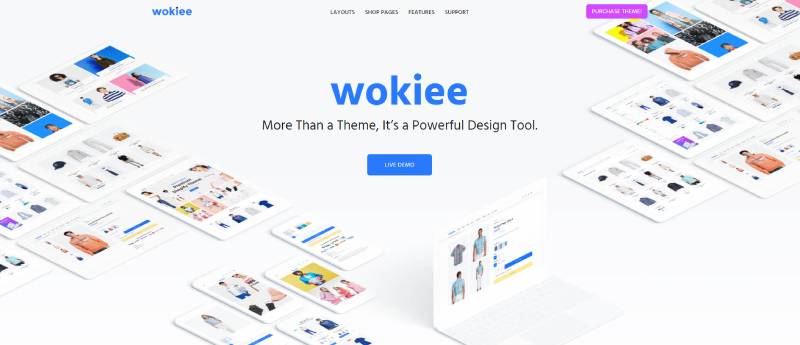 Wokiee is an amazing eCommerce site with a huge line of features. A few of them include:
Bootstrap 4 framework
Simple HTML5/CSS3 code
Responsive design
Over 60 homepage layouts
eight product pages
eight collection pages
Many header and footer variants
A revolution slider
Customer pages (such as About Us, Contact Info, and "404 page not found" pages)
SEO optimization
Bonik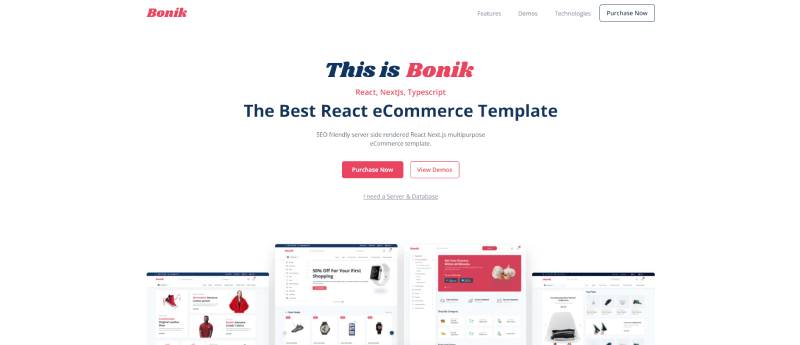 Bonix is a NextJS-based eCommerce template that aims for improved SEO optimization, quick performance, and high-quality code. The authors carefully designed components to avoid sacrificing page speed for interesting features.
Bonik has four different store variants: Food Delivery, Superstore, and Niche Product Versions 1 and 2. and it continues to offer multiple internal pages to further differentiate your business from the next, which has the added effect of building your brand image.
ChawkBazar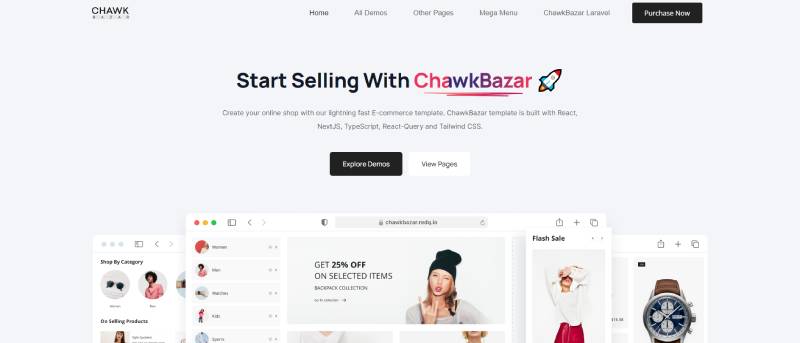 ChawkBazar is a professional eCommerce website template that focuses on the lifestyle industry. It's built on React, NextJS, TypeScript, & TailwindCSS, which gives you many customization options. But don't worry if those many code languages scare you, as the authors strictly typed in TypeScript for reusable elements.
Dashtar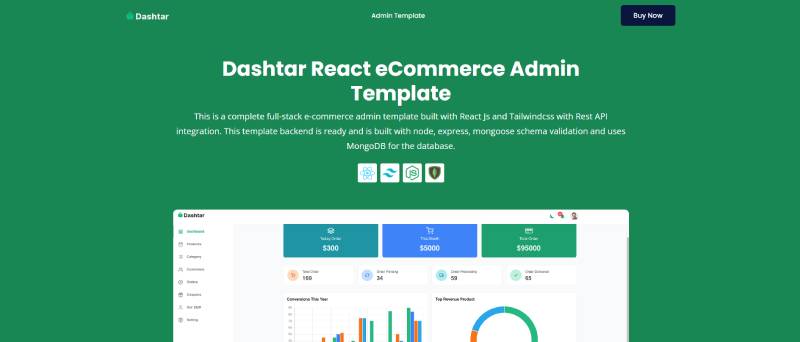 Dashtar is an eCommerce admin template that's built with React JS and TailwindCSS. It focuses on fast loading and translation of all dynamic data, like products, attributes, coupons, and categories. If you have an ever-changing website, then Dashtar is the site ready to change with you.
Media Center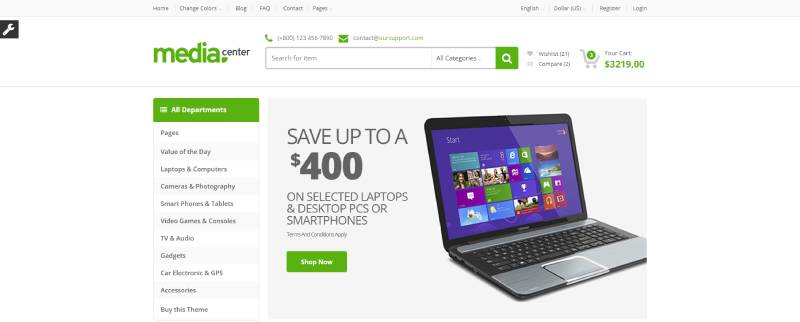 Media Center is an HTML template that focuses on easy customization options and powerful organization options. It also offers a respectable 20 pages, along with two theme variations and six predefined color schemes.
Shopwise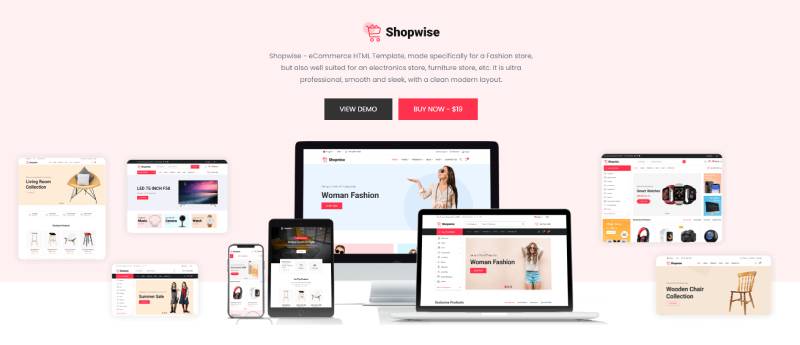 Shopwise is a Bootstrap/HTML template built specifically for the fashion industry. But if you aren't in the apparel business, don't worry. Shopwise also works well for electronic stores, furniture stores, and others.
It's also designed on the grid system, which facilitates easy customization options. So if you want to change any design element or feature inside, you can edit it in just a few clicks.
Flone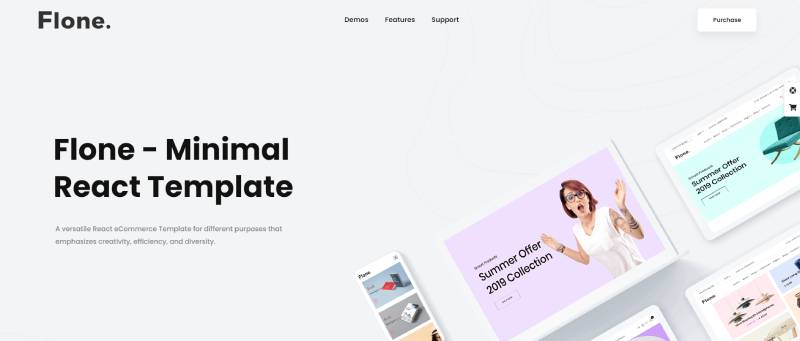 Flone is a React-based eCommerce template with a super-smooth and creative design. It comes with seven header styles, three footer styles, and over 38 section options, which is not a number to sneeze at. It also offers multiple currency and language options and cross-browser compatibility, which means that your website will be reaching as many people as possible.
FAQ on eCommerce Website Templates
What's the benefit of using an ecommerce website template?
Ecommerce website templates are a godsend for beginners. They provide a pre-designed structure, which saves you a heap of time and effort. No need to build from scratch! The layout, design elements, even color schemes are pre-set. It's kind of like buying a furnished apartment. Just bring your products and you're ready to go!
How customizable are ecommerce templates?
Think of templates as clay. They give you a shape to start with, but you can mold and modify them. You can change colors, swap images, tweak layout – all that jazz. It depends on the template, of course. Some offer more flexibility than others. But, in general, you get a good balance of ease and customization. It's a win-win!
Are website templates mobile-friendly?
In today's world, your store gotta look good on a small screen. Good news is, most ecommerce templates these days are designed to be mobile-responsive. That means they adapt to different screen sizes. So whether your customer is shopping on a phone, tablet, or desktop, your online store's still gonna look spiffy.
Can I use a template on multiple websites?
Ah, the multi-site question. Generally, when you buy a template, you get a license for one use. Like a movie ticket, it's good for one show. If you wanna use the same template on another website, you'd need another license. But be sure to check the specific terms. Not all templates have the same rules.
How much do ecommerce website templates cost?
Price tags for templates are all over the map. You can find free templates and you can find ones that cost a pretty penny. It's like shopping for clothes. You can go bargain hunting or you can splurge on designer gear. Typically, you're looking at anywhere from $0 to $200 for a premium template. Remember, you often get what you pay for.
Do I need coding skills to use an ecommerce website template?
Worry not, non-coders! You don't need to know a lick of code to use an ecommerce template. They're designed to be user-friendly. Think drag-and-drop, not lines of HTML. But if you do know some code and want to get your hands dirty, you can dive in and tweak the template even more.
How secure are ecommerce website templates?
Safety first, right? Most reputable templates are designed with security in mind. They follow best practices to protect your site from nasty stuff like data breaches. But remember, security isn't just about the template. You also need to secure your hosting environment and stay updated with the latest security protocols.
Will an ecommerce website template affect SEO?
SEO, or search engine optimization, is key to getting found online. Many ecommerce templates are built with SEO in mind. They have clean code and fast load times, which search engines love. But remember, SEO isn't just about your template. You gotta create good content, use the right keywords, and keep your site fresh and updated.
How long does it take to set up a website with a template?
Want to get your ecommerce store up and running quick? A template can be a big help. It's a bit like a pop-up shop. You choose your template, upload your products, tweak the design, and voila – you're live! It could take just a few hours or a few days, depending on how much customization you want to do.
How to choose the right ecommerce website template?
Choosing a template is like choosing a pair of shoes. It's gotta fit your style and your needs. Look for a template that matches your brand and makes it easy for customers to shop. Also, consider how much customization you want. And don't forget about customer support. A template with good support can save you a lot of headaches down the road.
Why Should You Use eCommerce Website Templates?
eCommerce websites have completely revolutionized the way business is done today. Instead of forcing customers to come to an in-person location, eCommerce websites can give customers a great shopping experience from the comfort of their homes. eCommerce website templates open the functionality of an online store to small businesses, instead of only being open to huge corporations.
With their responsive design, optimized checkout processes, and user-friendly interfaces, these templates make effective web design easy. And last of all, they ensure that your clients enjoy exploring your website, and what could be more important than that?
If you enjoyed reading this article about e-commerce website templates, you should read these as well:
Ecommerce Website Templates For a Seamless Experience