Congratulations, you're about to start your one finance-related online business. You already have a plan ready for your business goals and operations, all that's left is to execute that plan on your website. Just like how the location can be the make-or-break factor for in-person businesses, your online presence will determine how many clients you will receive.
Hiring a web developer can be expensive, and learning how to code can take a long time. Instead, why not use a pre-made website template?
Financial website templates can be a great way to improve your website's appeal and credibility. Templates can also ensure consistent branding, which can be a crucial element of a well-polished online image.
To help you decide, this article will showcase a wide selection of the most functional and beautiful financial website templates available today. After reading, you will no doubt be ready to get started on your finance website. Enjoy!
The Benefits of Using Website Templates
Website Templates come with a wide range of benefits. Some of their key advantages are
They save time and money: Since website templates don't need to be coded, they can save you the time and money you would invest if you were to code them yourself.
They enhance credibility: Your target audience needs to see a well-polished, professional website to trust your company. Website templates can help you create that sense of professionalism without extensive design skills.
They offer customization options: Since website templates let you modify their layout, design, color scheme, and content, they can be easily aligned to match your brand.
They're responsive: Since website templates are made with responsiveness and flexibility in mind, they often look and function well on different devices.
They're SEO-friendly: Many website templates use SEO-enhancing features like structured data, meta tags, and optimized coding to improve your website. These features can help your website's search engine rankings, as well as increase online visibility.
Without further ado, here are the best financial website templates available today.
WordPress Charts And Graphs Template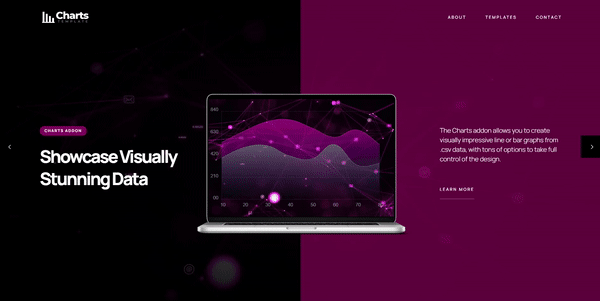 Present your information using highly adaptable line and bar graphs, featuring easy .csv data importing options.
Avo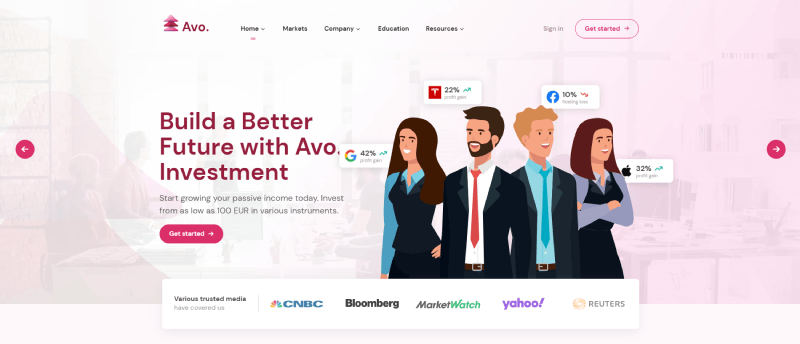 Avo is a lavish HTML5 template that caters to the finance and investment industry. It is well suited for financial businesses like the Wealth Asset Management Company, Introducing Broker, and Forex. If you own a business like the aforementioned, Avo will work well for you too.
It comes with four homepage variants, all of which are flexible and easy to customize. It also has a very responsive design that works well on all devices. And what's more, it is also SEO-friendly and optimized for high-speed page performance.
Vastu Finance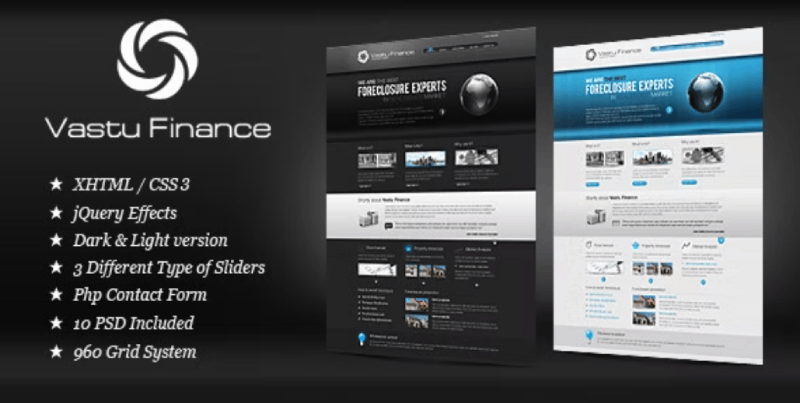 Vastu Finance is a startup template with a clean style. You can also easily customize it to fit your needs because it includes many different types of scripts and sliders.
Consent
Consen is a financial consulting template that focuses on clean and modern design. It uses simple design elements and plenty of white space to make the template easy to understand and easy to navigate. Also, the template uses simple customizable HTML files, which makes it easy to hand-tailor the website for your brand needs.
Financity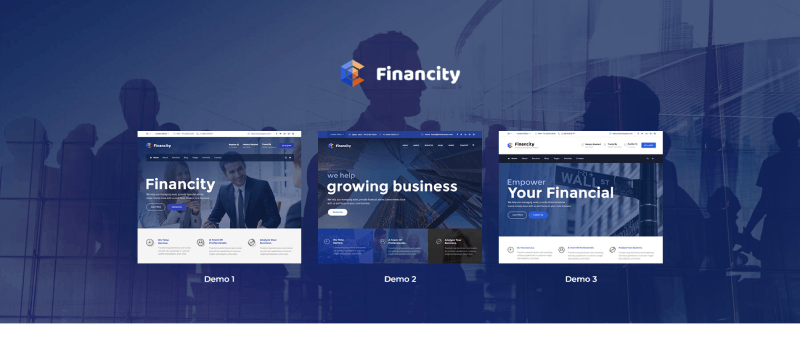 Financity is a WordPress finance website template that focuses on simple admin and user interface and navigation. It also includes an impressive spread of features. It offers three elegant demos, each of which includes its own HTML page. It also includes more than 350 HTML pages, huge portfolio layouts, and many shortcodes. Give it a try.
Finano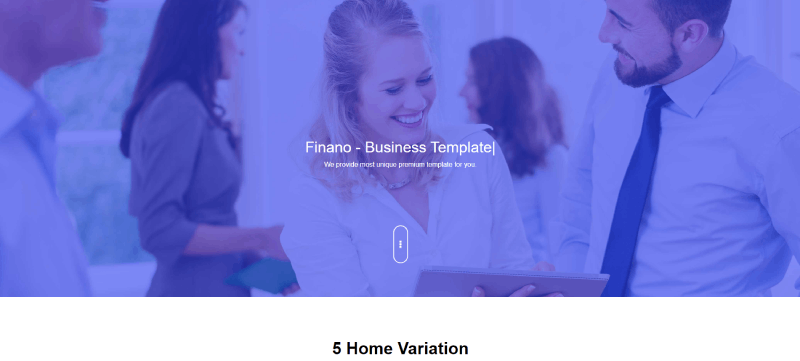 Next, Finano is an HTML template that offers a wide range of features aimed specifically toward enhancing your online presence. To start, it includes five homepage variations, each with its own clean and modern design. These five variations also give you the flexibility to choose the layout that will best represent your business, instead of being forced into one option. It also includes other features like CSS3 and HTML5 coding, Bootstrap 4 capabilities, PHP contract forms, and much more.
Finance Top – Consulting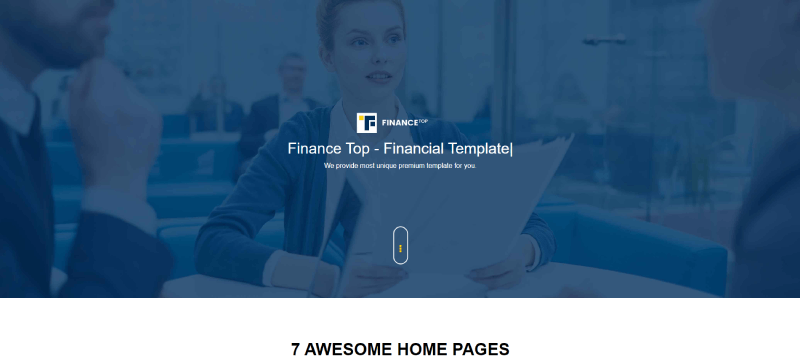 Finance Top is an HTML template with seven multileveled landing pages and box layouts, which gives you enough options to create a website that meets your business's individual requirements. It is also a template that includes continuous free updates, which allows you to improve your website without paying for additional add-ons.
Finance Hawk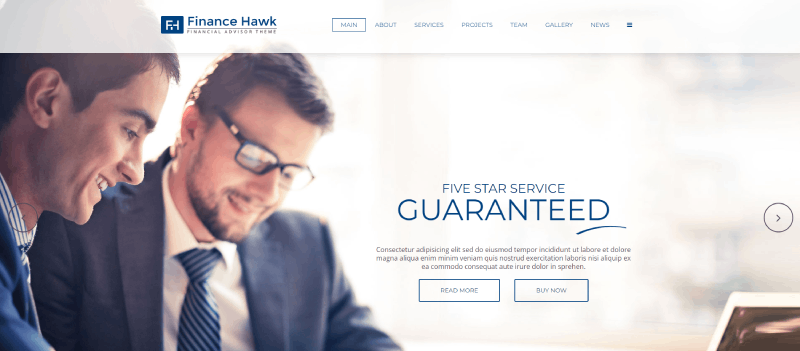 Finance Hawk is another HTML template that focuses on artistic homepages that grab visitors' attention. The template also offers cross-browser compatibility, which means the website will perform well regardless of the user's web browsers. And lastly, the template's inner pages use an elegant design that gives users a cohesive and seamless experience throughout the entire website.
Me Finance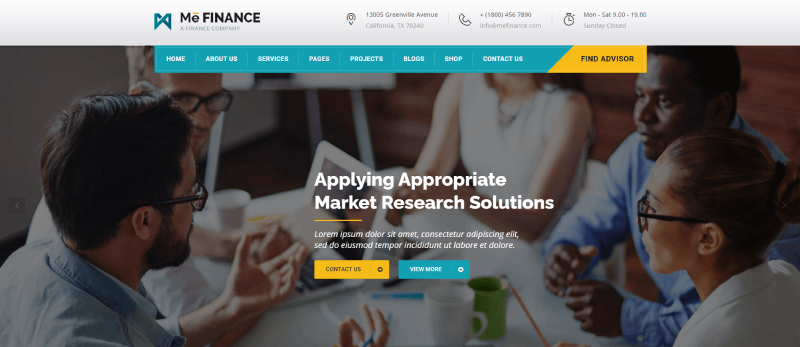 Me Finance is a modern and clean HTML template that is well-suited for financial services websites. It can handle accounting, insurance, and consulting services businesses. It offers features like shop pages, Parallax effects, and much more.
Finbank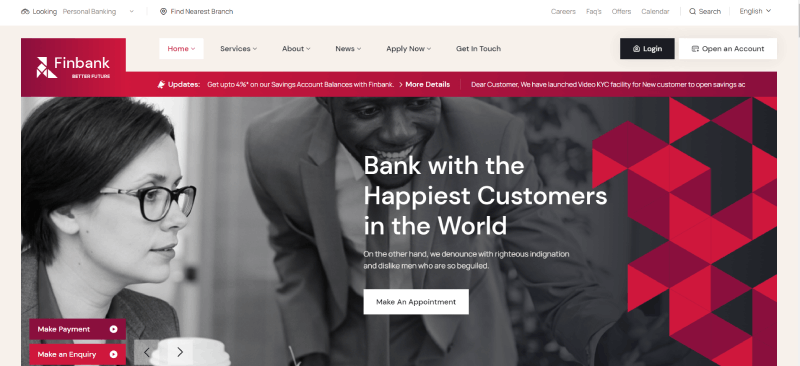 Finbank is a new HTML template that is designed for industries dealing with corporate bank loans, mobile banking, insurance, and the like. The template has 4 creative and responsive homepage layouts to accommodate these industries. It also uses an elegant, modern design that's easy to customize.
Financeness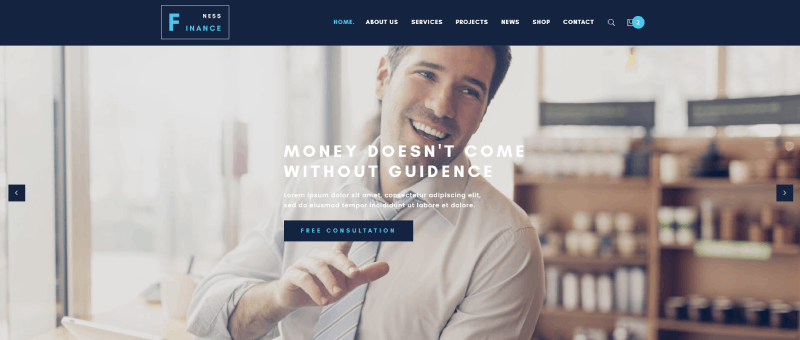 Financeness is a great template option for trade websites, like brokers, consultants, or even investment advisers. It uses a great new age Bootstrap that looks elegant on any screen, whether it be a 23″ laptop or an iPhone 6.
Wave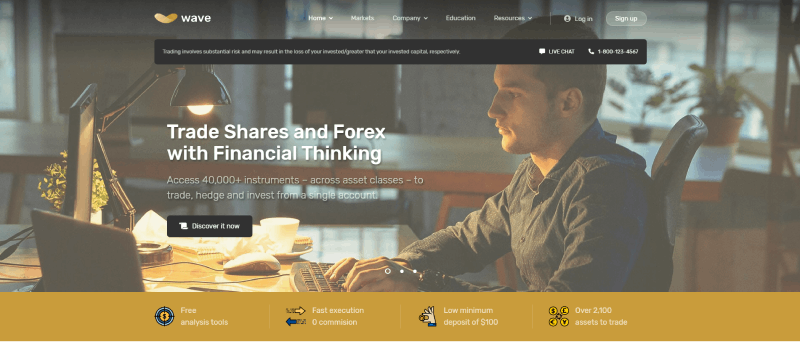 Wave is another template made by the creators of Avo, and it is similar in many of its main capabilities. The biggest difference between the two is their framework. Avo uses the powerful Bootstrap 5 framework, and Wave uses the lightweight and flexible Ulkit 3. Both templates are good, so choosing one would depend on your goals.
Finance Press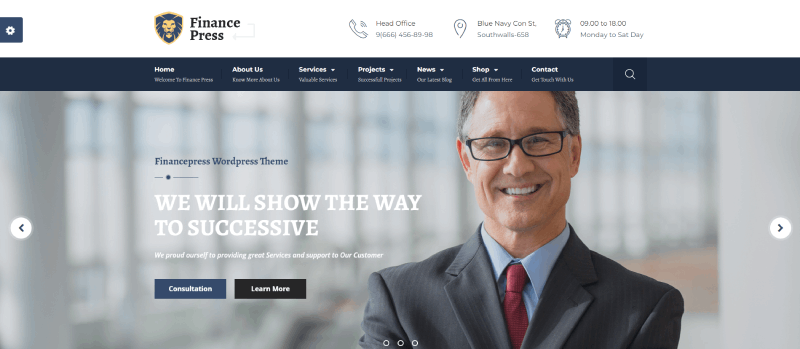 Finance Press is an HTML5/CSS3 template with many modern and powerful features. One of these features is its free revolution slider, which lets you create attention-grabbing dynamic sliders to showcase your content. It also offers six separate color skins, more than 500 font icons, and PHP contact forms.
Proff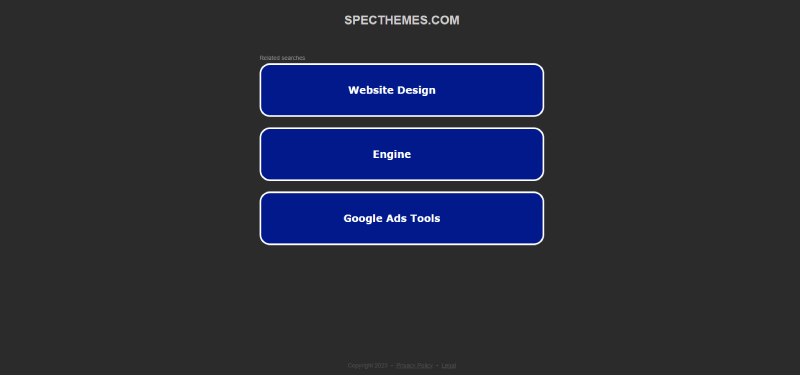 Proff is an amazing and "Professional" (get it?) HTML template. It's a great option for finance, corporate, and consulting websites, or for simply promoting your services. It also uses clean and easily customizable code that gives you flexibility.
Corpai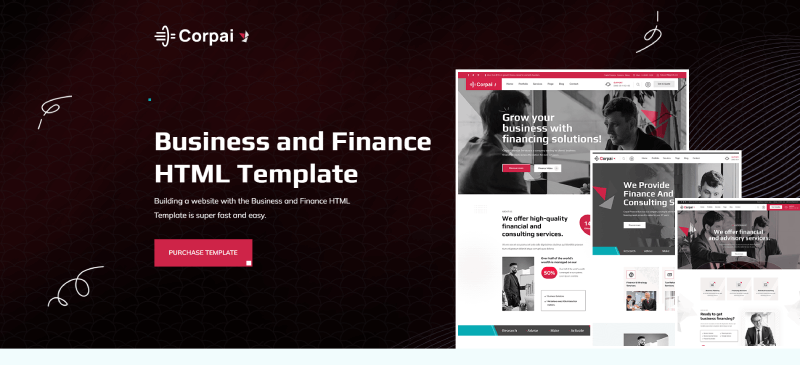 Corpai is another HTML template designed for business and finance. The HTML files are also clean and attractive. It also comes with over 20 creative HTML files that you can use freely within your site. Also, everything within the template is in a documentation file to facilitate easy editing.
Bizpoint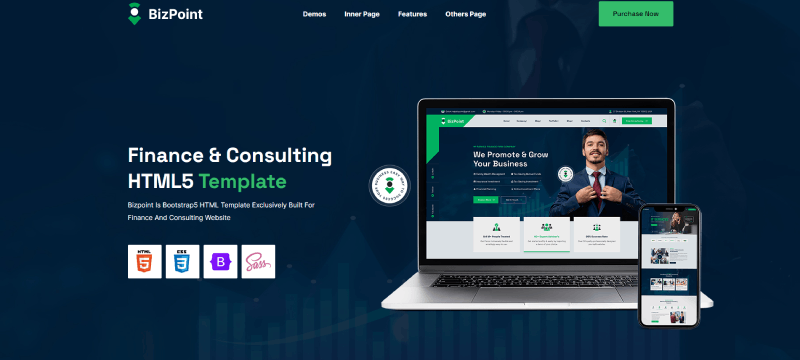 Next, the Bizpoint template is built on a 1320 px grid system which ensures a responsive and visually appealing website, regardless of the device or screen size. It also offers four homepage layouts, multiple individual page types, and a blog page for sharing valuable insights. Its HTML files are also easy to customize, which makes the website a lot more flexible.
Atrium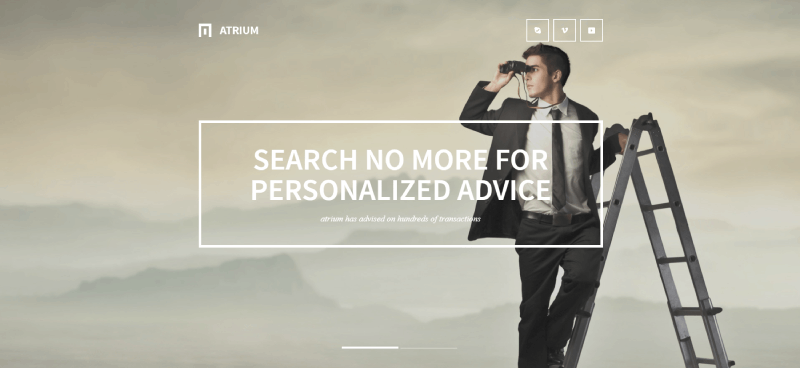 Atrium is a responsive single-page template that is well-suited for corporate-related projects. The template has a very modern and minimalistic design with a strong green color scheme. The template greets visitors with a powerful hero unit that resembles a fullscreen slideshow. It also utilizes a descriptive about section with an image carousel. It even includes a separate blog page to round the website out.
GoodGrowth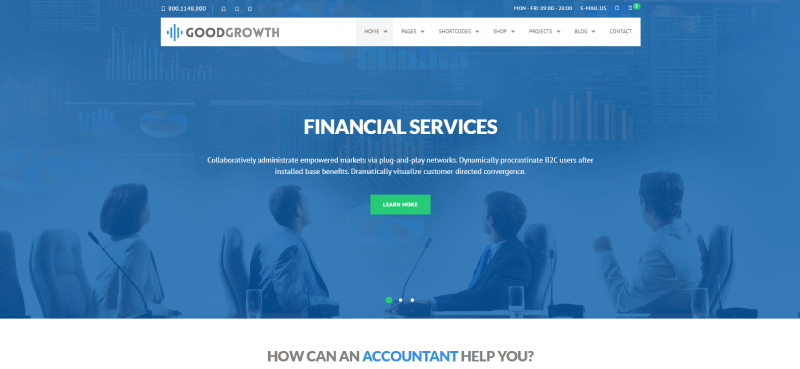 GoodGrowth is another HTML template designed for financial and accounting businesses. It uses a modern and clean design built from the powerful yet flexible Bootstrap 3, and it includes a wide range of features. To start, it includes PHP and Ajax contact forms, right-to-left (RTL) support, Google web fonts, and a Mailchimp subscription form. What's more, it includes Font Awesome, a feature that includes over 350 icons to help enhance your website's visual appeal.
Financy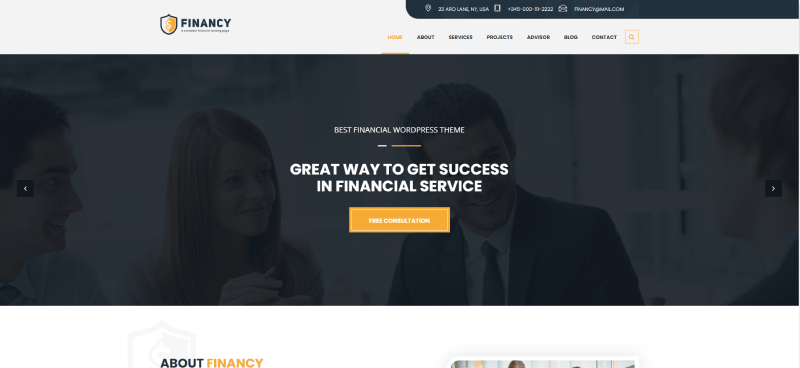 Financy is another HTML template that is suited for accounting, consulting, and insurance firms. This template comes out on top with 17 complete HTML pages. It also offers features like Google fonts, amazing effects, and over 1,000 icons.
Profit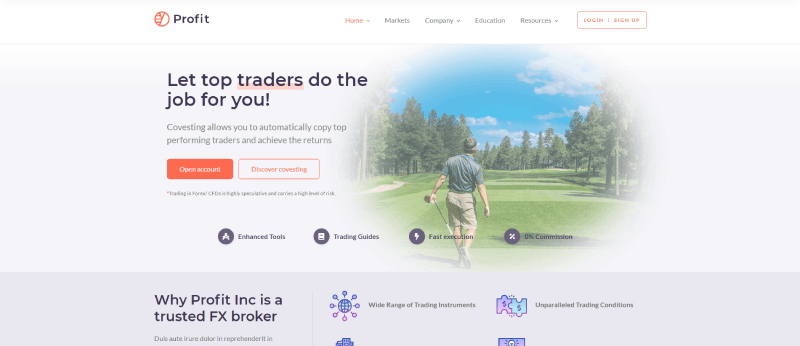 Last of all, Profit is an HTML template that offers many options for customization and flexibility. This is mainly due to its many file types, ranging from HTML files, CSS files, HBS files, SCSS files, and even JS files. The template also comes with documentation files detailing the template's setup and customization options. This template makes the website creation process simple.
FAQ on Financial Website Templates
How do I pick the best financial website template?
Well, you gotta consider several factors when selecting a financial website template. Look at the design, user experience, mobile compatibility, and customization options. Also, think about the features you need, like calculators, charting tools, and secure forms. And of course, you can't forget to check the template's support, updates, and documentation. Make sure it fits your brand and functionality requirements, and then you're good to go!
Are financial website templates responsive?
You bet! Most financial website templates these days are built to be responsive. This means they'll adapt to different screen sizes, whether it's a smartphone, tablet, or desktop. It's super important, 'cause your users should have a seamless experience, no matter what device they're on. Just make sure to double-check the template's responsiveness before buying, 'cause you don't wanna end up with a dud.
Can I customize a financial website template?
Oh, absolutely! The whole point of using a template is to make your life easier, but you still want it to look unique, right? Most templates come with customization options, like color schemes, fonts, and layout changes. You can also add your logo, images, and content. Some templates even include drag-and-drop page builders, making customization a breeze. Just read the documentation and, if needed, contact the template support for assistance.
Do I need coding knowledge to use a financial website template?
Nope, not necessarily! Most templates are designed with user-friendliness in mind, so even if you're not a coding whiz, you should be able to manage. Many templates come with a visual page builder, allowing you to create and edit pages without touching a single line of code. However, if you want to make more advanced changes, some basic HTML, CSS, and JavaScript knowledge can come in handy.
Are financial website templates SEO-friendly?
Yeah, they usually are! Template developers understand the importance of SEO, so they often build templates with search engines in mind. This means they'll have clean, well-structured code, and they'll follow best practices for on-page SEO. However, it's still your responsibility to create quality content, do keyword research, and follow other off-page SEO strategies to rank higher in search results.
How much do financial website templates cost?
Well, the price can vary quite a bit. You might find some free templates out there, but they often come with limited features and support. Premium templates typically range from $30 to $100, and they'll offer more design options, better support, and regular updates. You'll want to weigh the features and quality against your budget to find the perfect fit for your needs.
Can I use a financial website template on multiple websites?
Hmm, that's a tricky one. Most template licenses are for single-use only, meaning you can only use the template on one website. If you want to use it on multiple sites, you'll probably need to buy additional licenses. Be sure to read the license agreement carefully, as terms can vary depending on the template provider.
What support do I get with a financial website template?
The level of support can vary between template providers. Some offer extensive documentation, video tutorials, and even one-on-one support via chat or email. Others might only provide a basic user guide. Before buying a template, check what kind of support is included, and read reviews from other users to get an idea of the quality of the support offered.
Why Use Financial Website Templates?
After reading this article, you have seen the best financial website templates the online market has to offer. From attention-grabbing homepages to informative blog pages, financial websites can use these templates to build trust and credibility and showcase expertise to their target audience.
If you can optimize these website templates for responsiveness, SEO, and your own personal branding, you will no doubt find it easy to build a powerful online presence for your business. The financial industry is growing more and more digital, and with that growth comes more competition. But after seeing these finance website templates, you have all the tools necessary to stay competitive in today's digital world. All you need to do is get to work. Happy programming!
If you liked this article about financial website templates, you should check out this article about band website templates.
There are also similar articles discussing coming soon website templates, video website templates, architecture website templates, and gym website templates.
And let's not forget about articles on travel website templates, pet website templates, app landing page templates, and tattoo website templates.
The Financial Website Templates You Need for a Professional Online Presence