If you are into food and want to build an online presence, you will love these food website templates.
Many have a need for making an attractive website that centers around food. Food bloggers, restaurant owners, and other culinary professionals need a way to show recipes, blogs, and pictures. Or it may be your life-long dream to share your recipes with others. Also in that case, you will be able to make good use of one of these food website templates.
The website templates on this list will inspire you and whet your appetite. All these examples contain beautiful design elements and provide an immersive user experience.
Have a look at these templates and enjoy their uniqueness.
Food Website Templates to Check Out
Fast Food Burger Restaurant Slider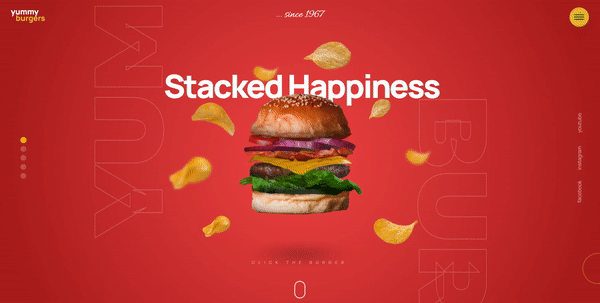 Ignite your clients' appetite with a mouthwatering slider that exudes irresistible flavors, complemented by captivating animations and seamless interactions! Effortlessly adaptable for presenting an array of delectable food-related products.
Delicious full-width slider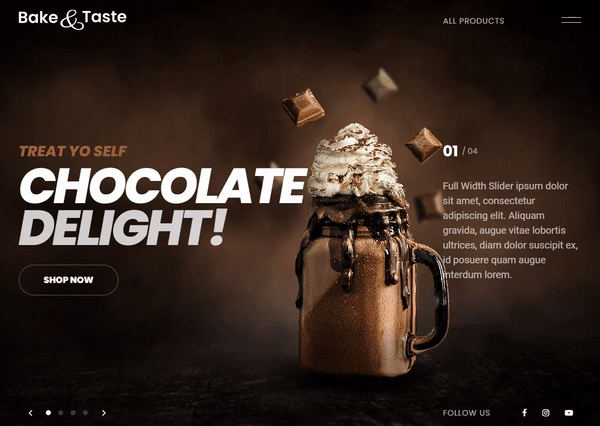 Indulge in a delectable treat we have specially curated for you. Feast your eyes on a visually enticing, fully responsive slider that spans the entire width, offering a diverse array of applications and an abundance of intelligent, user-friendly navigation choices.
Food Delivery Lottie Scroll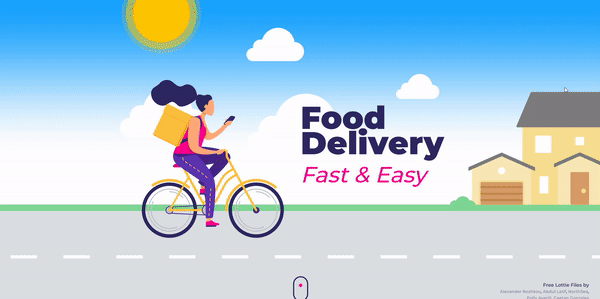 Here you have another food-related theme. The background image and other features show that it caters to the needs of food delivery websites.
Food Recipe Carousel

This theme has a carousel at the top of the page that features different dishes. It is ideal for recipe websites. Each plate shows preparation time, difficulty level, and calorie content.
Food Delivery Hero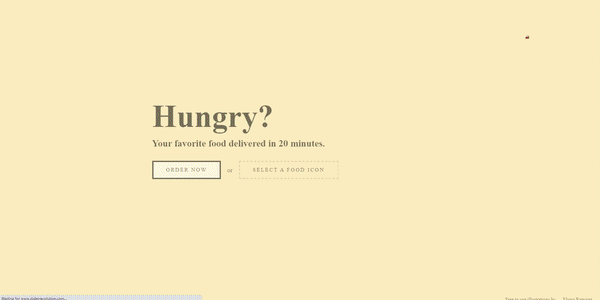 This theme can inspire you too. It has a prominent "Order Now" button. Or you can click one of the icons to select your favorite food type.
Restaurant Menu Slider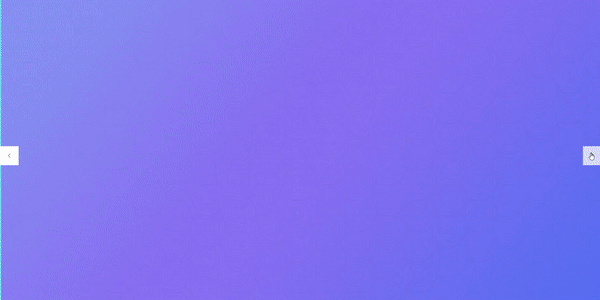 The Restaurant Menu Slider shows how you can convey information without using many words. The food pictures speak for themselves.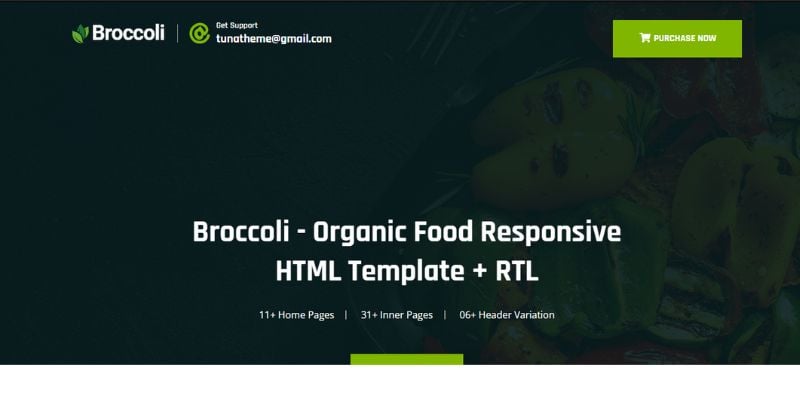 Broccoli is an HTML template that focuses on organic food and related themes. It uses the Bootstrap framework to make it responsive and easy to work with.
All of Broccoli's sections are customizable, so you can design your website any way you want. To help you, there are five awesome homepage variations.
You will also find a Coming Soon page, a Contact section with a working form, and much more. Each template has a clean and stylish design.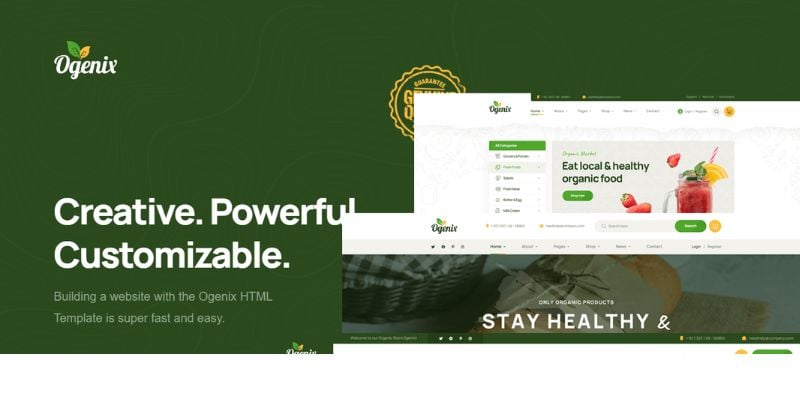 Ogenix is another organic food template, with a specific aim for food stores. It is great for an organic shop, grocery store, food market or other food-related businesses.
Some interesting key features include:
Four homepage layouts
More than 20 inner pages
Bootstrap 5 framework
CSS3 animations
Owl Carousel Slider
RTL layouts
Shop Added
Valid HTML5 and CSS3 code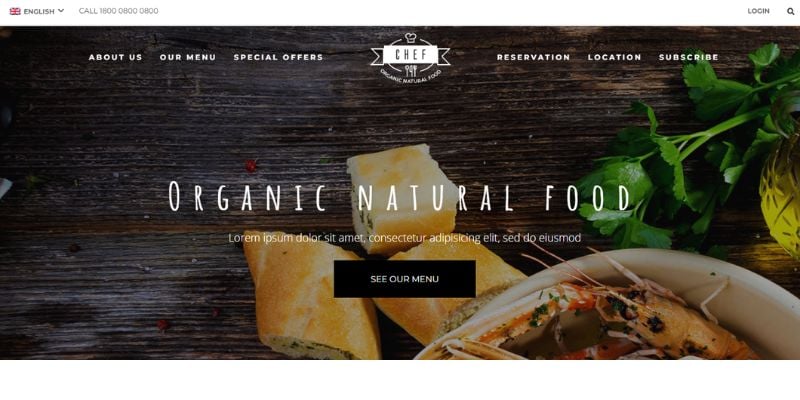 This restaurant template works for anyone in the food business. It will allow them to build their own space on the Internet. Since the COVID-19 pandemic, more and more people order their food online. So, a restaurant website must look appealing.
The Chef template helps with that, and it is SEO-ready as well. That means that many will find their way to your website. Some other features are:
Engaging parallax effects
Food menu layouts
Google Maps integration
Newsletter subscription forms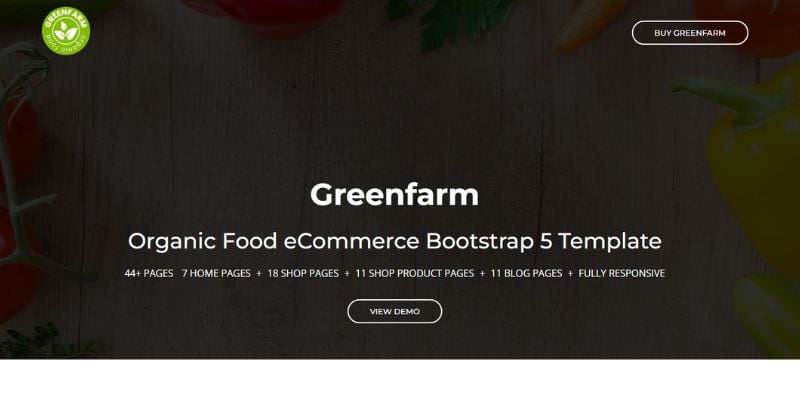 The Greenfarm HTML5 template is a modern and stylish option for organic food shops. The design is aimed at organic farms, retailers, food companies, seeds, fruit juices, and so on.
It contains everything that you need to make a website about organic food. Greenfarm's key features include:
Seven homepage variations
11 blog page layouts
11 single product pages
18 shop pages
Free updates
More than 1,000 icon fonts
Speed optimization
W3C-validated HTML code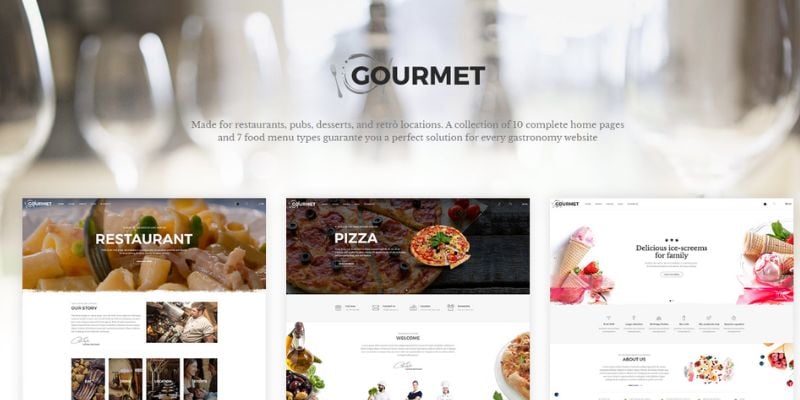 Gourmet is an HTML5 restaurant template that is easy to work with and that enjoys growing popularity. It is useful for all kinds of food-related businesses. You will love it for your wine shop, organic food grocery store, pizzeria, ice cream parlor, coffee shop, or similar business.
It uses JQuery and Framework Y, a popular and robust framework for making modern HTML websites. Have a look and see the large set of features and customization options.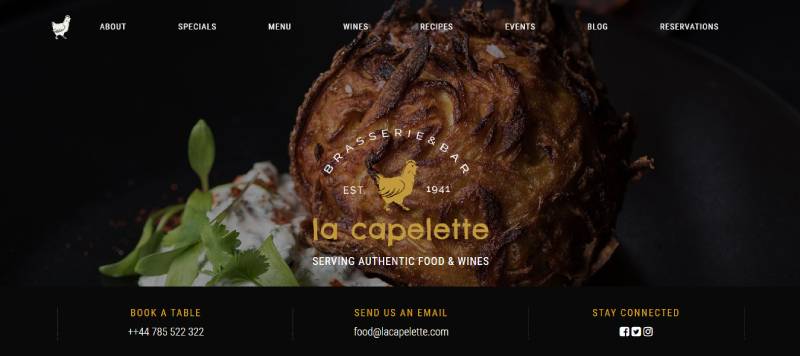 You will notice right away the France-inspired design of La Capelette. It is clean and simple but also unique and stylish.
The La Capelette template comes with extensive documentation. The template itself is easy to work with and responsive. Websites will look great on any kind of device.
Some other technical features are:
Bootstrap framework v3.3.7
Font Awesome 4.6.3
Isotope plugin
Lightbox
Responsive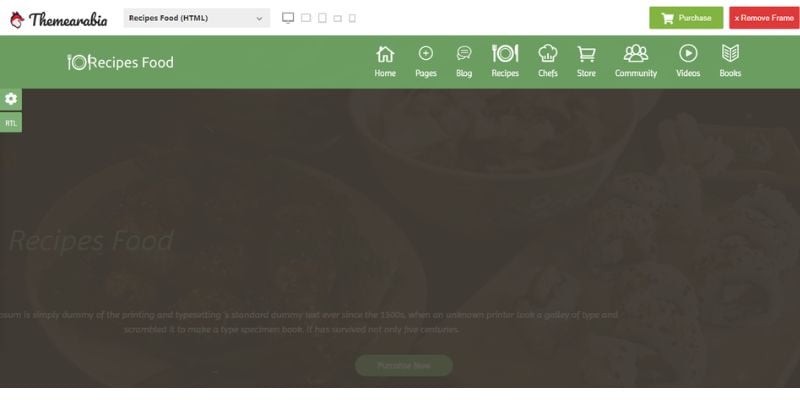 As the name suggests, this food template is for publishing food recipes. It is modern, unique, and responsive. This great template will allow you to showcase your best recipes.
It offers:
Close to 100 hand-coded HTML files
1170 Grid system
Over 1,270 icons
Extra New Colors
Google Font
More than 50 HTML pages
Nine homepage layouts
Slider Revolution
Unlimited customization options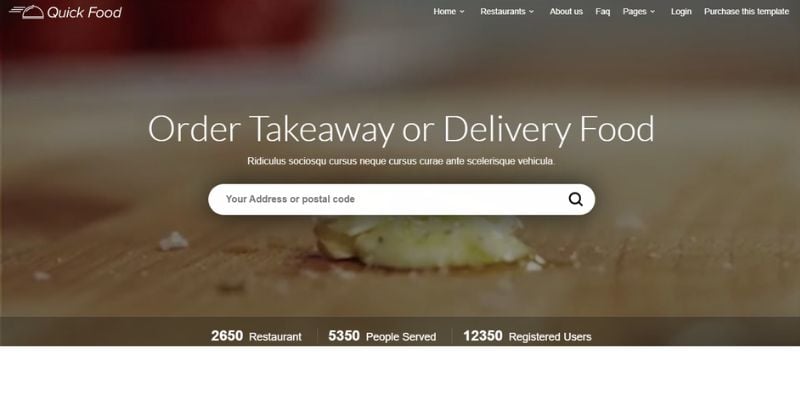 QuickFood is a template for restaurants that deliver or offer takeaway food. It uses Bootstrap 4, HTML5, and CSS3. The result is a clean template that looks great on any kind of device.
Other features of interest include:
14 layered PSD files
Sticky sidebar cart
Seven homepage designs
Retina ready
RTL
Working PHP/Ajax forms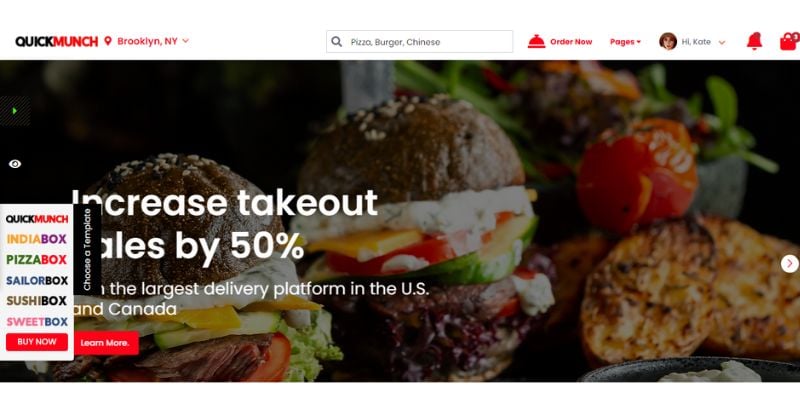 This HTML5 template comes with a huge amount of features. For example, it has 126 different pages for things like memberships, listings, homepages, contact forms, login pages. Quickmunch offers services for restaurants, online cookbooks, restaurant reviews, recipes, and more.
Bootstrap 4 powers this restaurant template for listings and directories. Quickmunch is responsive and works on all devices.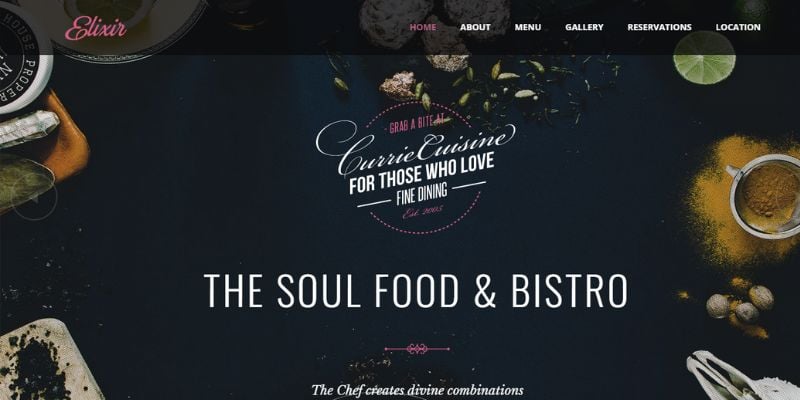 Almost endless customization options is one of the main features of Elixir. This is what makes it one of the most popular food website templates available.
Elixir comes with four homepage layouts that get you started quickly. It uses clean code, is responsive, and is Retina ready.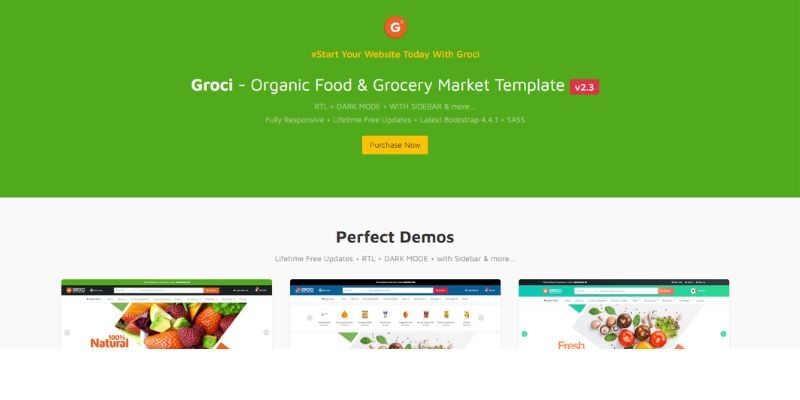 This next template is ideal for food markets, grocery stores, delivery services, and farms. Groci features a modern and clean design based on Bootstrap framework v4. It is very flexible and allows you to customize almost everything. It also has free Google Web Fonts.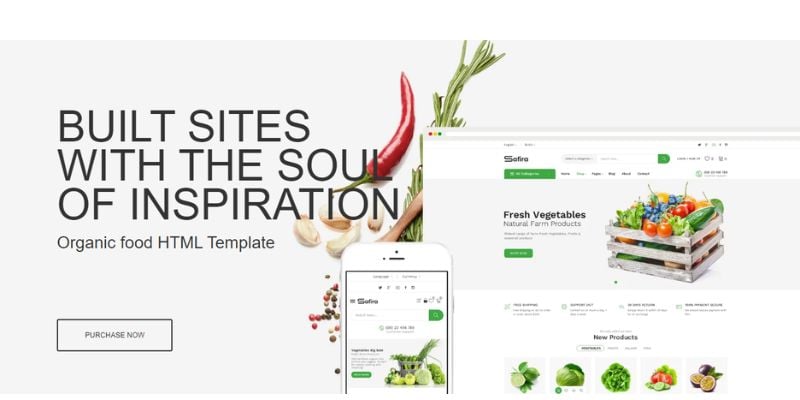 Food companies that sell organic food, seeds, superfoods, fruits, juices, and so on, will like Safira. Its use of Bootstrap 5 makes it a responsive food eCommerce option.
It is 100% customizable and offers a range of useful features:
Four homepages
Over 1,000 icon fonts
24 Inner pages: six shop pages, four blog pages, and four single product pages
6 shop pages
W3C validation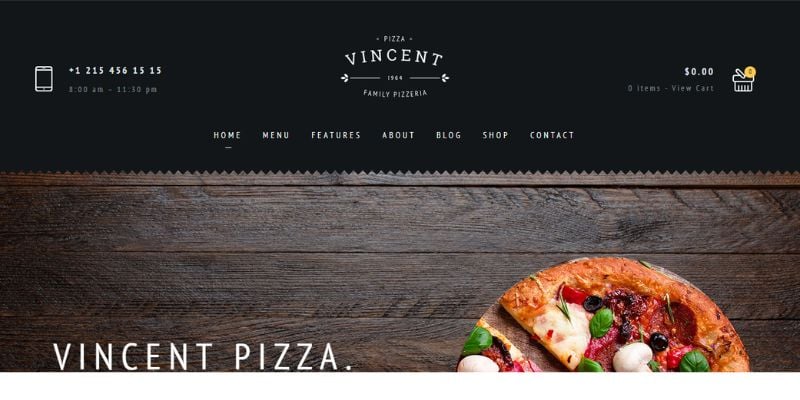 Restaurant Vincent is a special HTML template for food purposes. It has a long list of interesting features.
You can choose one of the six engaging homepage designs. Also, to create a strong online presence you can use one of the included food menu layouts.
Besides the design and layouts, you will notice how many useful customization possibilities there are.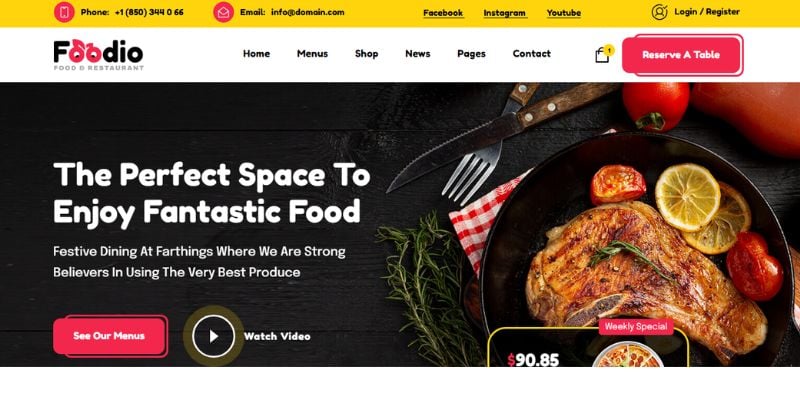 You can use Foodio for a food blog, restaurant, organic food store, or other food-related website.
There are three unique homepage layouts with more than 50 creative design elements. There are also different store pages that you can choose from.
Foodio is responsive because it uses the Bootstrap framework v5. Other technical features include:
Bootstrap 5
HTML5 and CSS3
Three homepage designs
Working contact form
Working reservation form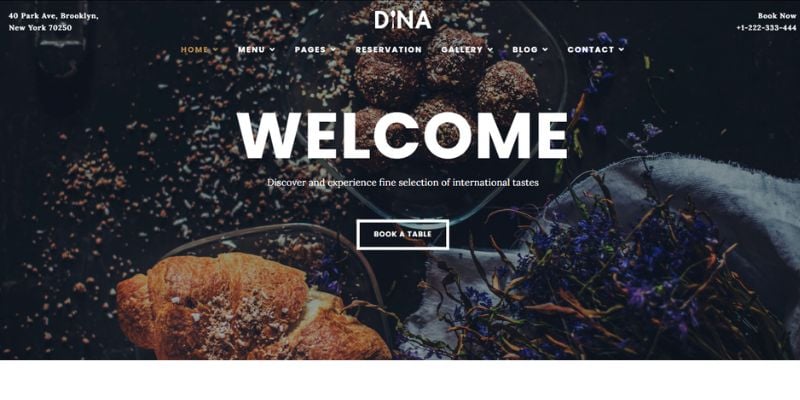 You can display your food using one of the five layouts included in the Dina template. This responsive template comes with three header styles and contact and reservation forms.
Another option is to add a food blog and an About Us page so people can get to know you better.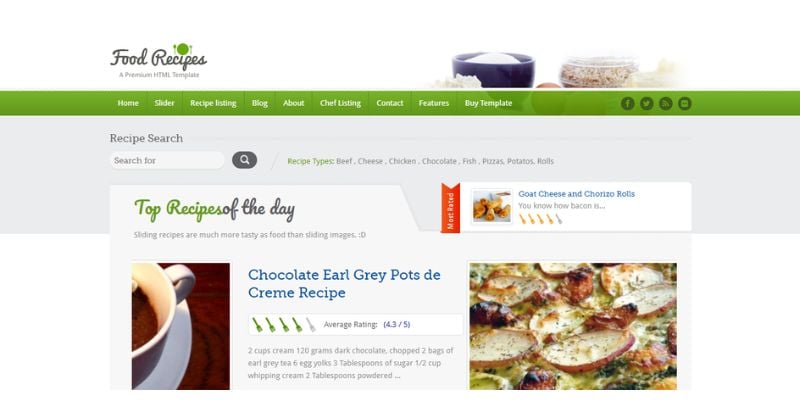 This food template option has a beautiful and clean design. To make your website, you will find 14 hand-coded HTML files. Besides, there is extensive documentation to help you get started with building your website.
Other features that are of interest are:
Blog posts with a comments section
FAQ page
Five slider variations
Full-width page layouts with column divisions
Detailed recipe page variations
Listing pages
Pagination
Service page
Sidebars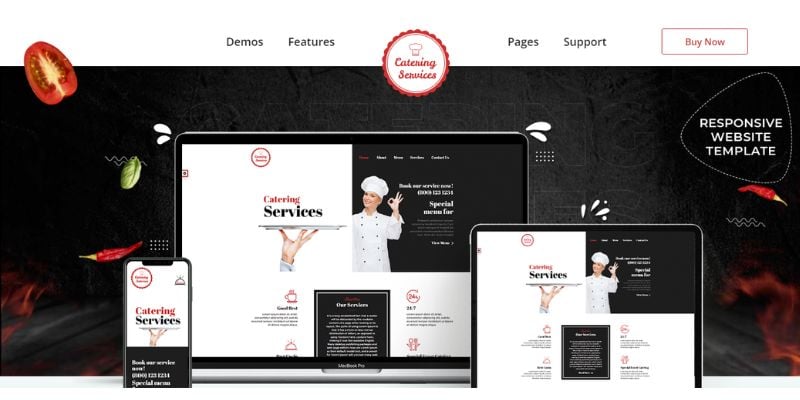 Owners of small cafes, bars, and restaurants will find the Restaurant and Catering template useful. It contains six homepage variations. It uses the latest technology and features modern designs.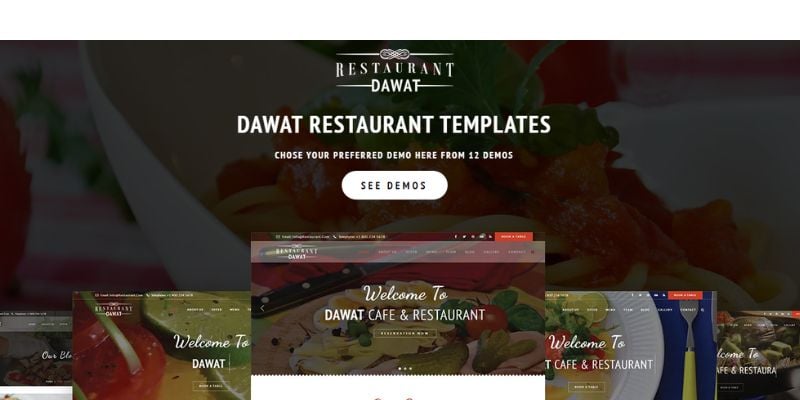 Dawat offers what you need to make a website about food or a food blog. Some of its most prominent features are:
Eight homepage design variations
12 design pages
Background slider
Font Awesome icons
Google Fonts
Responsiveness
Smooth transition effects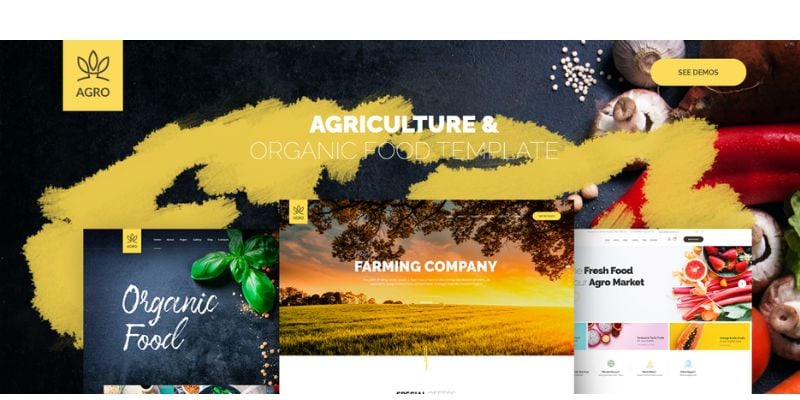 The Agro template conveys quality service and a warm welcome for all website visitors. Its design is calming but warm and helps to spotlight your products and services.
The main focus of Agro is on organic food, but you can use it for any website that is about food.
Take note of some of Agro's features:
20 customizable Photoshop files
20 valid HTML files
Four homepage layouts
Compatibility across different browsers
Easy customization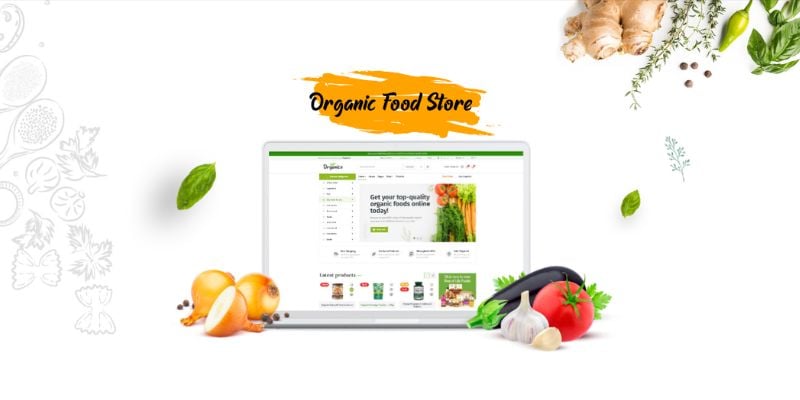 The design of Organic Food Store is clean, modern, and responsive. You will love it if you are a food blogger or own a food market, grocery store, or an eCommerce web store.
Here you find some technical details of this beautiful food website template:
Bootstrap framework v5
Clean and elegant design
Compatible across browsers
Retina ready
SASS
W3C validated code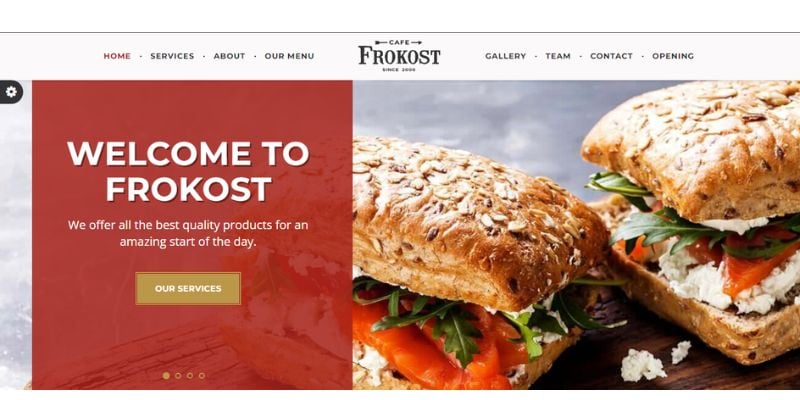 Frokost is an HTML5 one-page website template for cafes and restaurants. It has many engaging design elements that you can customize with a few clicks.
Some other technical details of Frokost are:
Bootstrap 3.3
Easy to customize
Five Ready Color Schemes
Parallax drag sliders
Validated HTML5 and CSS4 code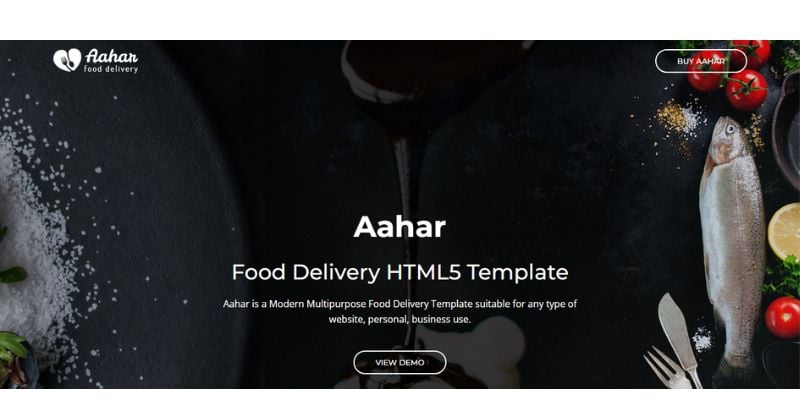 Food delivery service providers, like catering companies, will enjoy this template's design. You can customize it to make it stand out from all the other food websites. Aahar has a clean and customizable design with 19 HTML files, four homepages, and six blog pages.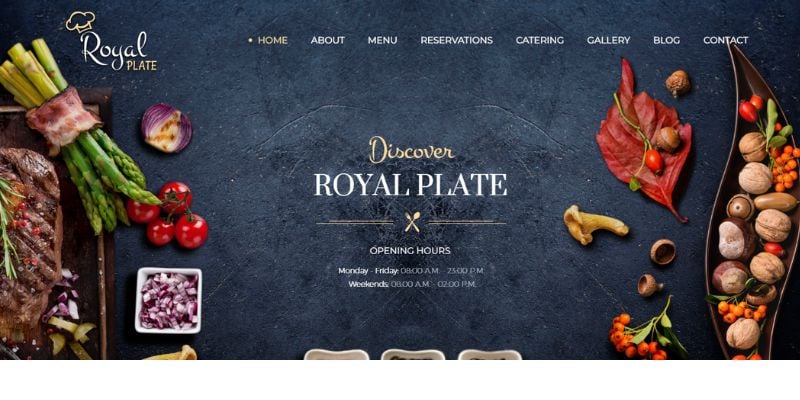 Royal Plate's design is most suited for restaurants and caterers. The template developers have done their research on their potential users. It is clear from the result that they understand their target market. It contains everything you expect from a food website template. It has an online ordering system, an HTML menu, and a rating page.
The last on this list of food website templates is the Premium Food & Restaurant template. It is responsive and easy to adapt to your needs and desires. It looks simple but elegant and presents a full-screen mode.
There are two menu choices, horizontal or vertical, and you can add parallax effects. Premium Food & Restaurant has pages for:
About
Blog
Contact
Events
Menus
Reservations
Services
Team
This template has many useful elements, features, shortcodes, and customization options.
FAQ on Food Website Templates
What is a food website template?
It's basically a pre-designed webpage or set of webpages. They're specifically designed to help restaurants, cafes, food bloggers, or anyone in the food industry to create their own website without starting from scratch. It's like a blueprint for a house, but for a website.
This way, you can focus on adding your delicious menu, stunning photos, or mouthwatering recipes, rather than worrying about coding and design.
Why would I need a food website template?
Imagine you're crafting a delicious dish, but instead of a recipe, you have to grow your ingredients from scratch. A food website template is that recipe. It saves you time, effort, and headaches. It provides a professional look without needing any design skills.
You can showcase your mouthwatering dishes, update your menu, take reservations, and engage your customers – all on a website that looks like it was built by a professional web designer.
Are food website templates customizable?
Absolutely! Just like adding your secret ingredient to a dish, you can add your personal touch to these templates. Change the colors, fonts, images, and layout to match your brand.
You can rearrange sections, add new pages, or even integrate with other services like reservation systems or social media platforms. Templates are a starting point, but your site can end up looking unique and truly you.
What features should a food website template have?
Think about what your visitors want. A menu page is a must. So are pictures of your dishes. But what about online reservations, customer reviews, or a map showing your location?
Maybe a blog to share your food adventures, or an online store for special sauces and merchandise? Look for a template that has the features you need, or one that lets you add those features easily.
Can I use a food website template without coding skills?
Yes, indeed! Food website templates are designed so that anyone can use them, even without any coding knowledge.
Most of them come with a drag-and-drop interface where you simply choose elements and place them on your site. So if you can use a mouse, you can build a website. No need for a Computer Science degree.
Can I use my own photos and text in a food website template?
For sure! Your photos and your text are what make your website truly yours. Most templates let you upload your own images, write your own text, and even embed videos.
So feel free to share your scrumptious dishes, your food philosophy, and your unique story.
How much does a food website template cost?
Prices can vary. Some templates are free, but they usually come with limitations.
Paid templates can range from a few dollars to hundreds, depending on their features, design quality, and the reputation of the template provider. Keep in mind that investing in a good template could pay off by attracting more customers.
Can I update my food website template?
Of course! Your restaurant evolves, your website should too. Most templates allow you to update content whenever you want.
Change your menu, announce special events, add new photos. Some templates even let you change the whole design without losing your content.
How do I choose the right food website template?
Think about your brand and your customers. What vibe do you want to give? Cozy and homely? Modern and chic? Look for templates that convey that. Think about your customers.
What information do they need? What devices do they use? Choose a template that looks good on all devices and makes it easy for customers to find the information they need.
Do food website templates affect website speed?
Some do. Templates with heavy graphics, complex animations, or sloppy code can slow down your site. But a well-designed template won't.
It will be optimized for speed, and it will ensure that your visitors don't leave because your page took too long to load. Check reviews or ask the provider about speed before you choose a template.
Final Words on the Best Food Website Templates
There are many excellent WordPress and HTML food website templates. All the templates on this list are premium and offer endless customization options and technical support.
If you enjoyed reading this article about food website templates, you should read these as well:
Beautiful Food Website Templates for Food Enthusiasts