Want to attract more clients to your fitness business? Your gym website is your secret weapon! Your gym website is more than just a digital brochure. It's your online storefront where potential clients check out details about your business, sign up for classes, get services, and even make payments. In fact, it's often the first place people will discover your business.
That's why making your website professional, and functional is essential. You want to create a positive first impression and make it easy for clients to navigate your site, find what they want, and take action.
The right gym website templates can give you a great design and the best features. Then your gym website can be the key to attracting more clients and growing your fitness business.
Discovering Ideas for Gym Website Templates
With so many options available, knowing where to start is hard. But don't worry – we've done the research for you and compiled a list of 20+ Gym Website Templates that are sure to impress customers.
From sleek and modern designs to templates with e-commerce functionality, our list has something for every fitness business owner. So please sit back, relax, and let us help you find the perfect gym website template for your business!
Fitness Gym Website Slider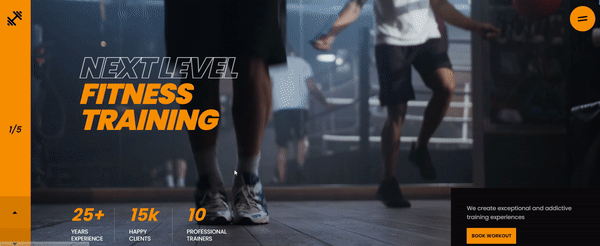 The Fitness Gym Website Slider isn't only an ideal homepage for your fitness center, but it's also a versatile tool that can enhance any theme! In no time, you'll be able to personalize the content and tweak the colors to seamlessly blend with your website's overall look.
Fitness Club Slider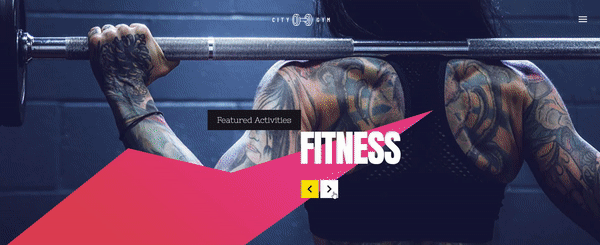 Introducing the Slider Revolution Fitness Club Header, a superb way to kick off your fitness-focused website. Effortlessly flaunt your latest deals or range of services with smooth transitions.
Golan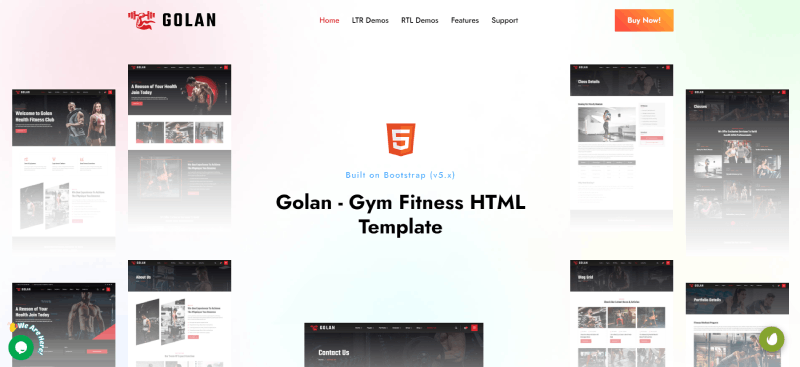 Golan is built on Bootstrap 5.1.3 & Sass. Using an HTML template, Golan would be perfect for websites such as gyms, fitness centers, or sports training. It's designed for companies offering Fitness Training to individuals.
These versatile gym and fitness website templates can be utilized for a health club, sports training center, yoga center, or other business. Additionally, Golan offers 24-hours turnaround support.
BeFit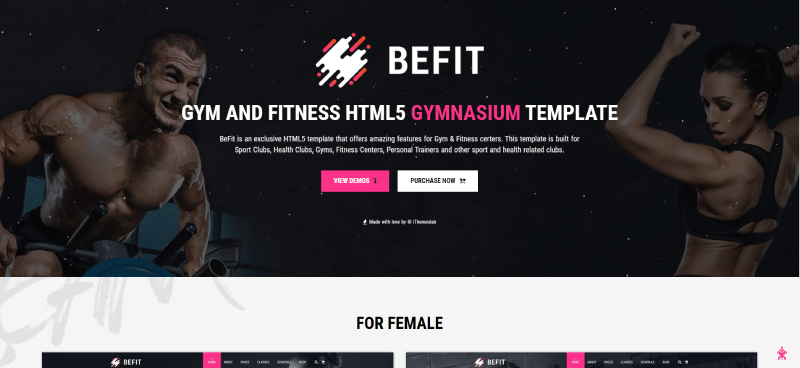 Building a website has always been challenging. BeFit has a purpose-oriented design with events, classes, schedules, and opening hours. Being built on Bootstrap v4.0.0, it is straightforward to customize with no programming skills and advanced developers. The gym website template is an exclusive HTML5 template that offers impressive features such as parallax effect, smooth transition effects, and PHP/Ajax contact form, making it easy to keep you close to your client.
Fitmax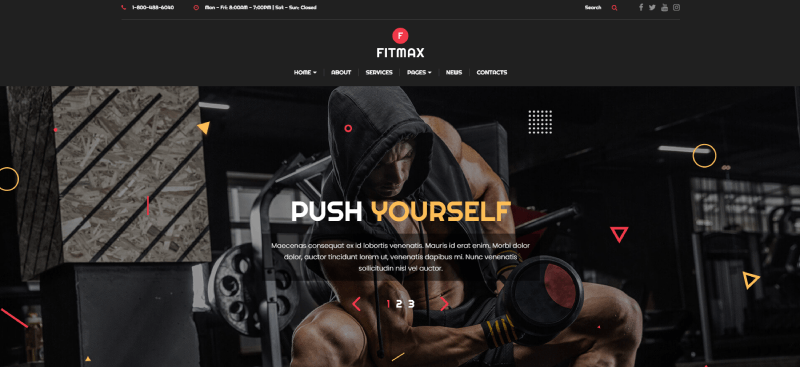 Fitmax provides a consistent and professional template suitable for Gyms, Crossfit, and Fitmax studios. It can quickly become any other niche template due to its flexibility. Its true responsiveness and excellent cross-browser compatibility make it perfect for your business. The beautiful template design allows it to utilize custom font, making your website look professional and unique.
Gym Expert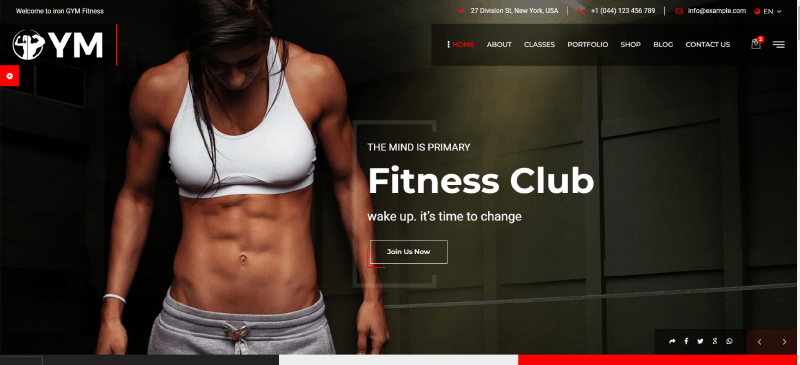 The Gym Expert template's uniqueness comes from its numerous features, stunning designs, and an easy-to-use website template solution that maximizes user satisfaction. It is built using Bootstrap 4 framework, it is very responsive, easy to customize with well-commented codes, and it is SEO friendly—the perfect template for sports, fitness, yoga studio, boxing, and coaching businesses.
Lisa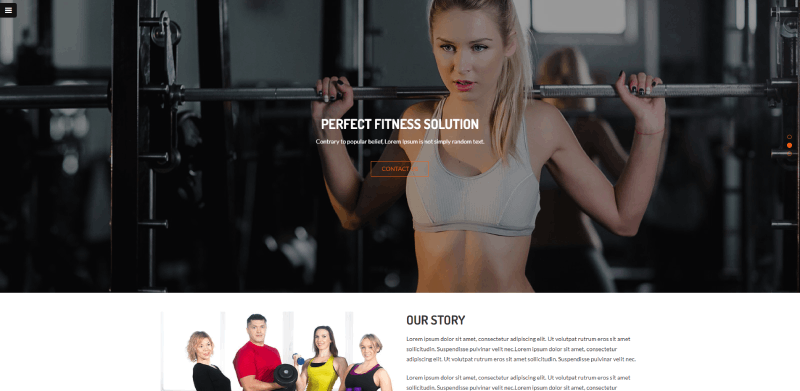 Are you a modern trend gym, sports club, or fitness center looking for a fully responsive layout for your business? Lisa can provide the perfect gym or fitness club website templates for you. It offers a great design that works on any platform. With key features such as: being based on Bootstrap v3.3.6, cross-browser compatibility, and CSS3 animation, it is perfect for building a fantastic website.
Gymster
Gymster is a fresh and modern Gym HTML5 Template. It has many outstanding features, such as:
Fully customizable. You can modify any part of the theme without having to write code.
SEO optimized. The theme caters to clients who require an intensive approach to SEO.
Large theme selection. Advanced typography and a large selection of professionally designed inner pages allow you to launch your business quickly.
Shop page layout. It is fully compatible with WooCommerce-based shopping functionality. You can customize it to sell your gym products.
Futexo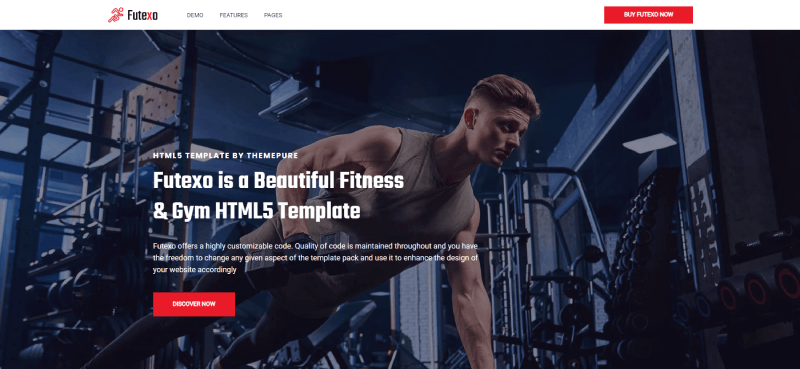 With a stunning HTML5 fitness website template, Futexo offers a highly customizable fitness website template. You can be free to play around with any given aspect of the template and use it accordingly to enhance the design of your website. Another critical element is its seamless design to make the touch device experience very easy. Definitely a worthy provider of gym website templates to be considered.
GymBase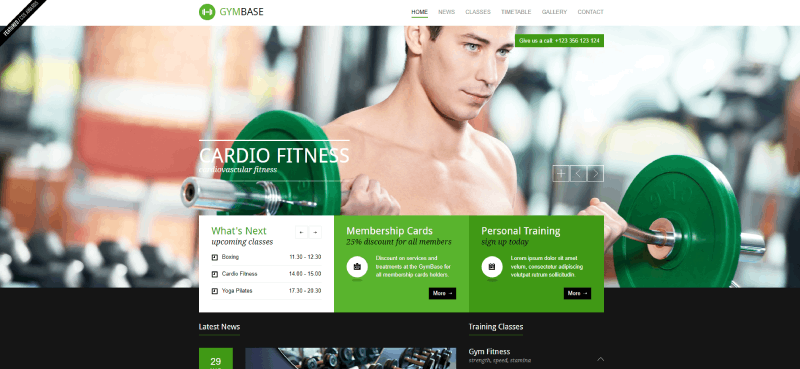 GymBase offers a minimalist HTML Template and a responsive layout that auto-adapts, making the view of a website look great on different types of mobile and tablet devices and providing superb support to answer any question within a 24-hours time frame. The template includes a PSD source file that allows you to adapt the template to your needs.
Olimpia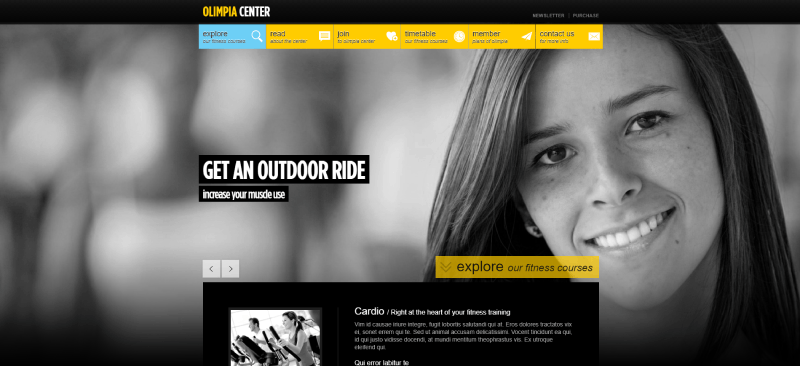 Olimpia is a responsive, fullscreen fitness center template that caters to the needs of gym and fitness enthusiasts. With its full-screen background image support, this template provides an engaging visual experience for visitors. The template includes the following:
Clean HTML5/CSS3 code.
A responsive layout that works well across all devices.
Compatibility with popular web browsers.
The standout feature of Olimpia is its fullscreen gallery, which allows for attractively showcasing fitness-related images.
Lovefit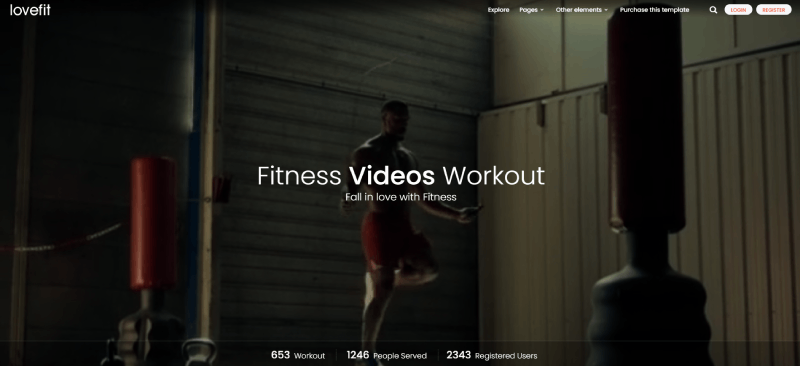 LoveFit is a fitness video training template that provides users with full-length workout videos and health information. Built on HTML5, this template is ideal for fitness industry websites, offering a clean, modern, and responsive design that looks great on all devices. The primary feature of LoveFit is its extensive collection of workout videos, including yoga, cardio exercise, and strength programs, ensuring that users have a wide variety of fitness content at their fingertips.
Gym Boosted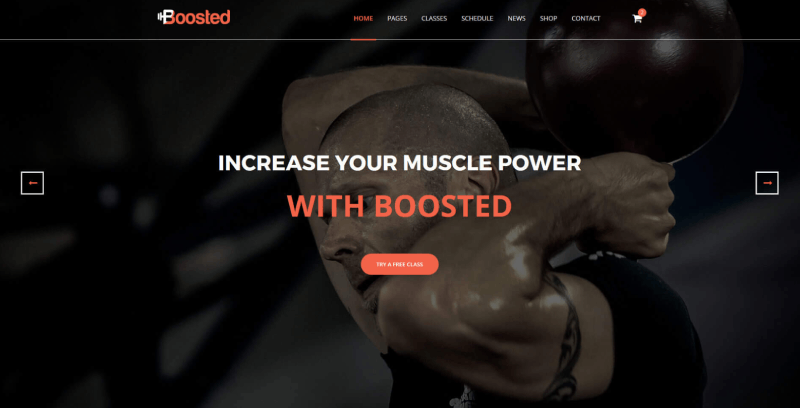 Gym Boosted is a multipurpose HTML5 gym template tailored for gym, yoga, personal trainers, and fitness shops. With 18 unique home pages, Boosted is a premium-quality template that stands out due to its strong color backgrounds and versatile design. It can be converted to WordPress, Joomla, or Drupal, and even supports e-commerce functionality. The most significant aspect of this template is its adaptability to various CMS platforms and its readiness for setting up an online store.
Zyth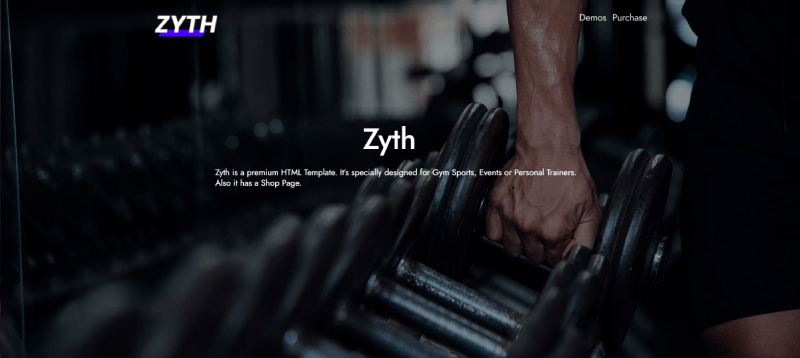 Zyth is a professionally designed HTML gym and fitness template that boasts a clean, contemporary aesthetic. Meticulously crafted, Zyth stands out for its superb design and powerful features, allowing users to merge multiple demos for a customized experience. With its stylish and modern design, Zyth is perfect for fitness enthusiasts and businesses looking to create an appealing online presence.
Fithub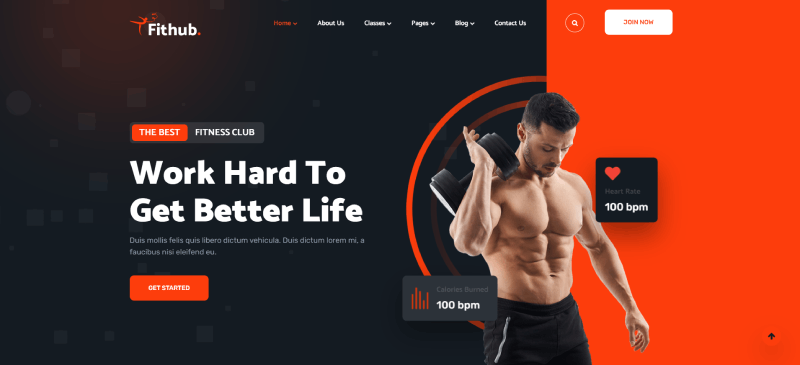 Fithub is an HTML gym and fitness template designed for a unique, colorful, and intelligent user experience. Based on the 1170 Bootstrap framework, Fithub is fully responsive and fluid across all devices. The complex layers and groups ensure easy customization, while the customer support offered makes it a reliable choice for businesses in the fitness industry.
Koshrot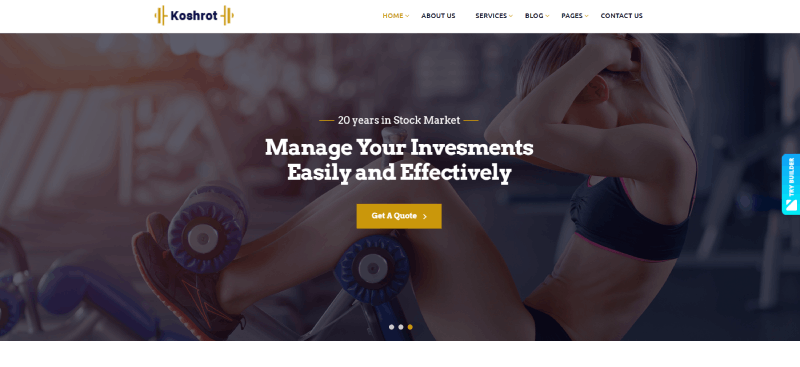 Koshrot is a fitness HTML template that features a beautiful and unique design, perfect for gym and fitness websites. With a 100% responsive layout and cross-browser optimization, Koshrot delivers a seamless browsing experience. Its main features include 02 Home Pages, a total of 15+ HTML pages, and Google Fonts, making it a versatile and user-friendly option.
Sport Trainer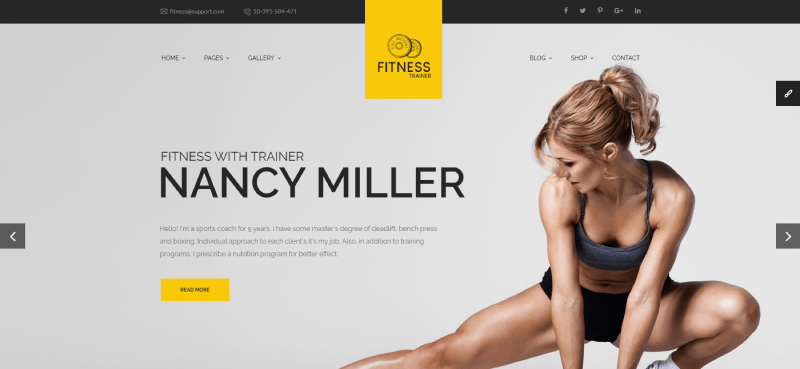 Sport Trainer is an HTML template ideal for boxing, yoga, and CrossFit trainers. With Visual Page Builder, users can create their own unique web pages. The template also includes blog and gallery pages to showcase the trainer's work and client success stories. Powered by Twitter Bootstrap v3, Sport Trainer offers several homepage options and a user-friendly experience.
Athlete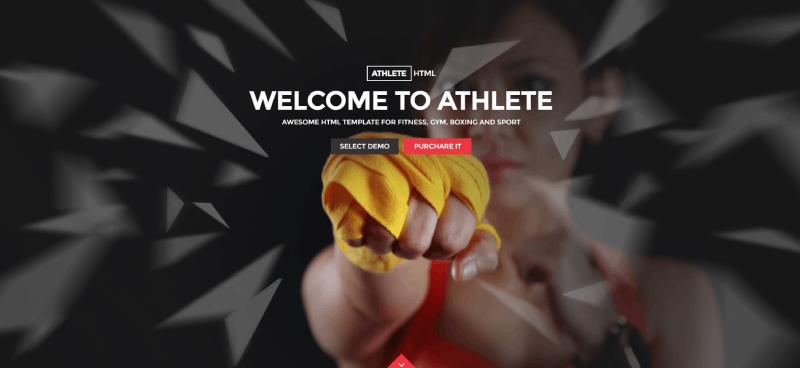 Athlete is a fitness, gym, and sports HTML template built on the Bootstrap 3.1 framework. It features over 30 HTML files and seven homepage versions, catering to various needs. Additionally, Athlete comes with advanced parallax backgrounds, boxed and broad layout support, and a working contact form. On top of that, Athlete is a stable, secure, and customizable template ideal for fitness businesses.
Zymzoo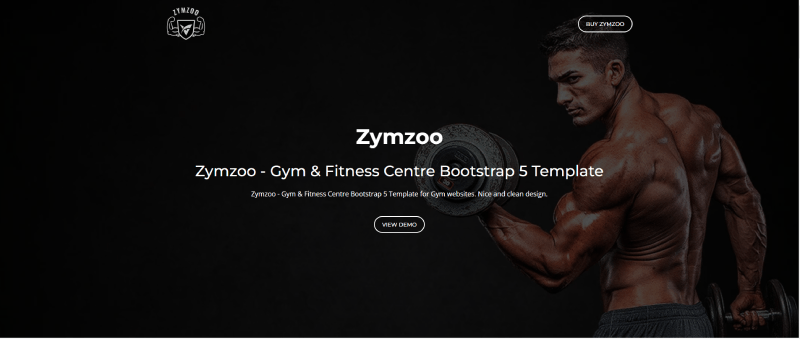 If you want top-notch web design and template solutions, check Zymzoo. Zymzoo's Gym & Fitness Centre Bootstrap 5 Template offers a sleek, engaging design tailored for fitness enthusiasts and professionals. Its pixel-perfect layout, smooth parallax effects, and CSS3 animations make browsing a breeze. The sticky header and a collection of Google Fonts ensure a polished and user-friendly experience, while well-commented code and free lifetime updates guarantee continued support for your website.
Sports&Life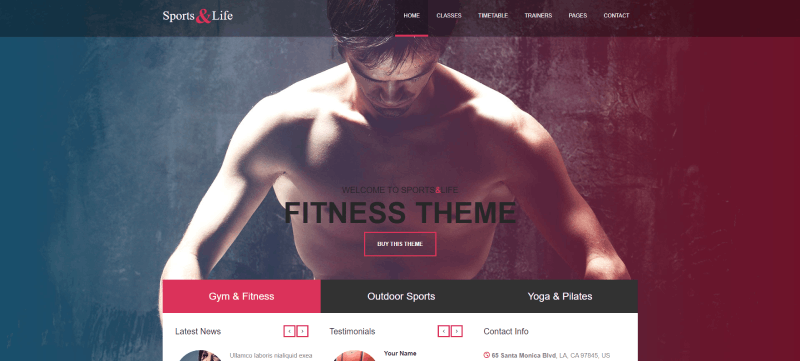 The Sports&Life gym and fitness template provides the space and a clean, responsive design that makes it the perfect fit for sports studios and personal trainers. Built on Twitter Bootstrap v3, this template boasts dedicated pages for classes, trainers, and timetables, ensuring a seamless user experience for anyone looking to improve their fitness.
BLACKFIT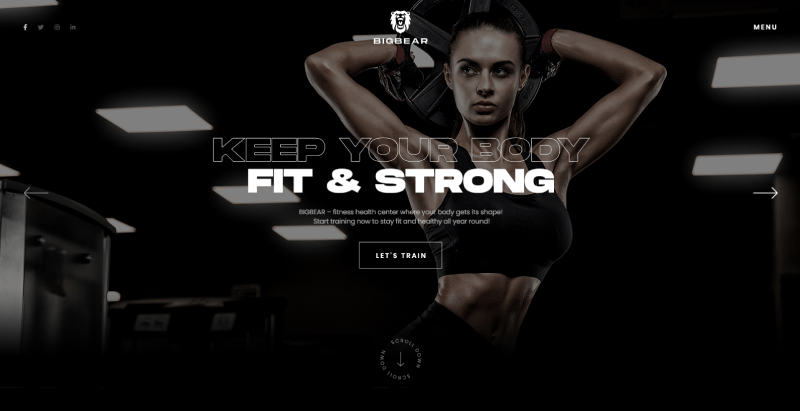 BLACKFIT is a trendy, modern fitness gym template with an elegant design that's sure to catch the eye. With a customizable font, your website will be eye-catching and unique. The template includes multiple homepage options, 15+ page layouts, and countless customization options. The fully functional contact form and newsletter integration make staying connected with your audience easy.
Stayfit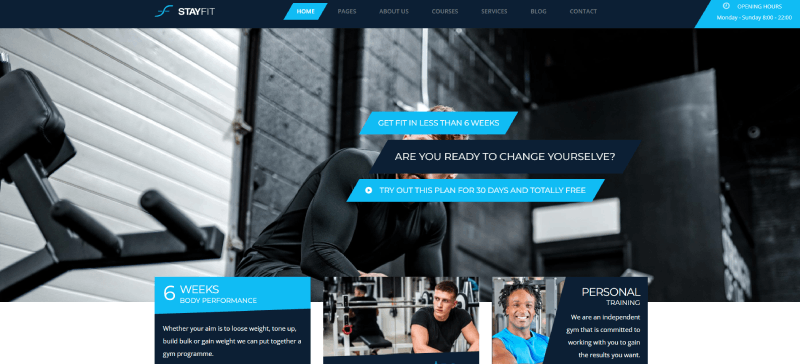 Stayfit is a modern sport, health, and gym template that utilizes the power of Bootstrap for seamless responsiveness. With two header styles, three homepage variations, and blog elements, Stayfit is a versatile choice. The active contact form and Google Map integration allow users to search and interact with your business effortlessly. This will get you ahead of your competition.
Zymmy
Zymmy Fitness and Gym HTML Template cater to gyms, health clubs, fitness centers, yoga teachers, and sports instructors. This mobile-friendly template is adaptable to showcase various sports and activities, from aerobics and boxing to karate and dancing. Zymmy ensures that your website will always look great on any device.
GYM Edge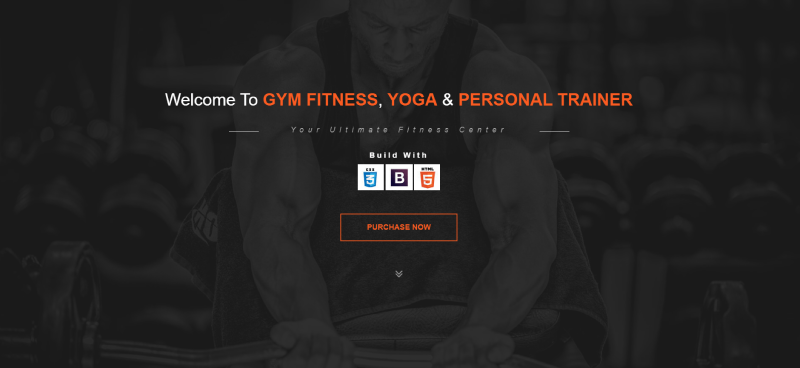 GYM Edge is a flexible gym and fitness template featuring five homepage options and 18 total pages. Built with Bootstrap 3.3.6, this template ensures a smooth and responsive browsing experience. Nivo slider, smooth scrolling, and FontAwesome icons elevate your personalized website's design and functionality.
Hitup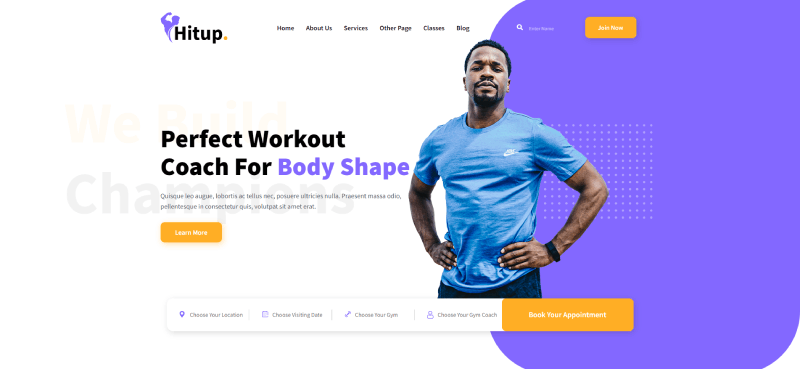 The Hitup Health and Gym HTML Template is designed to cater to sports clubs, health clubs, and yoga teachers. With a focus on user-friendliness and adaptability, Hitup includes events, classes, schedules, and business hours. It's a fantastic option for both novices and experienced developers alike. With bootstrap 3.6.6, your template would make it versatile and easy to use.
Action Gym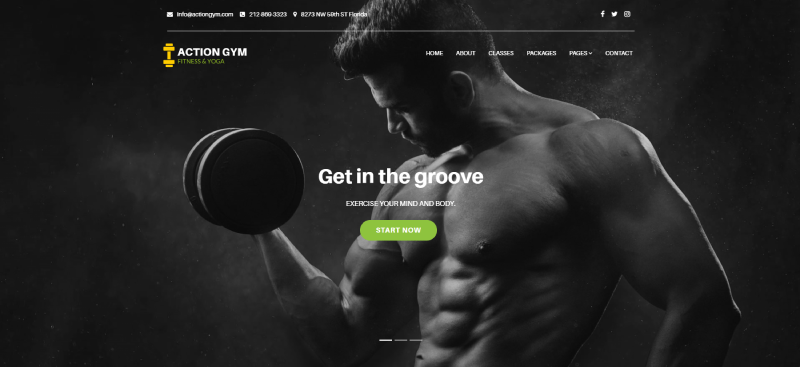 Action Gym offers a unique, clean design that's fully responsive and validated with HTML5 and CSS3. The SEO-friendly template includes a working contact form for easy communication with the client, Google fonts, parallax effects, and comprehensive documentation, making it super easy to navigate and utilize all the available features—absolutely a worthy choice to elevate your business' website.
Final Verdict on the Best Gym Website Templates
Our selection of the Best Gym Website Templates offers a range of features perfect for gym and fitness centers. Each template has been designed to optimize user experience, allowing customers to access information easily, view schedules, and contact the gym.
No matter what gym website templates you're looking for, a minimalist design or more complex features, there is sure to be a template that meets your needs. Choose from any of these great options today and get your gym website up and running quickly.
FAQs on using gym website templates

Are gym website templates easy to customize?
You bet they are! Most gym website templates come with easy-to-use customization features. You can typically change colors, fonts, and layouts without any coding knowledge.
Also, many templates have a drag-and-drop interface, which makes it a breeze to add or modify elements, such as images, videos, and text. So, you can make your website look exactly how you want it to without breaking a sweat.
What should I look for in a gym website template?
Look for a template that matches the vibe and style of your gym. A great gym website template should have a responsive design, which means it'll look good on any device – mobile or desktop.
Look for features like an easy-to-navigate menu, class schedule, membership pricing, and testimonials. It's also a good idea to choose a template that offers integration with popular booking systems and social media platforms. Oh, and don't forget about SEO optimization!
Are these templates mobile-friendly?
Absolutely! These days, it's crucial for websites to be mobile-friendly, as most people browse the web on their smartphones. Gym website templates are designed with mobile users in mind, so they'll look fantastic and work smoothly on any device.
This means your clients can check out your gym's schedule, book classes, and even make payments all from the palm of their hand.
How much do gym website templates cost?
The cost of gym website templates can vary quite a bit. Some are available for free, while others may cost anywhere from $30 to $100 or more, depending on the features and level of customization.
When choosing a template, it's important to weigh the cost against the benefits and your specific needs. Sometimes, investing in a premium template can save you time and effort in the long run.
Can I use my own domain name with a gym website template?
For sure! Most gym website templates allow you to use your own custom domain name. This is important because it helps establish your brand and makes your gym's website more professional.
To set up your domain, you'll need to follow the instructions provided by your chosen website builder or template provider. It usually involves updating your domain's DNS settings, which might sound intimidating, but it's typically a straightforward process.
Can I sell gym memberships and merchandise using a gym website template?
You bet! Many gym website templates come with built-in e-commerce functionality or integration with popular e-commerce platforms. This makes it easy to sell memberships, class packages, and gym merchandise directly from your website.
Look for a template that offers secure payment processing and an easy-to-use checkout experience for your clients. This can boost your sales and make managing your gym's online presence much more convenient.
Is it easy to add class schedules and booking functionality?
Absolutely! Most gym website templates include built-in scheduling and booking features, making it super easy for your clients to see your class schedule and book their spots.
Some templates even offer integration with popular booking systems, so you can manage your gym's schedule and bookings all in one place. Just look for a template that offers this functionality and follow the instructions to set it up.
Are gym website templates SEO-friendly?
You bet they are! A well-designed gym website template should have built-in SEO features that help improve your website's visibility in search engine results.
Some templates offer advanced SEO tools and settings, while others provide more basic options. Either way, it's important to choose a template that's SEO-friendly so you can attract more clients through organic search traffic.
If you liked this article about gym website templates, you should check out this article about band website templates.
There are also similar articles discussing coming soon website templates, video website templates, financial website templates, and architecture website templates.
And let's not forget about articles on travel website templates, pet website templates, app landing page templates, and tattoo website templates.
The Best Gym Website Templates for Your Fitness Business