The website for a non-profit organization is often the primary way people support and engage with it.
Regardless of the purpose of a non-profit organization, a well-designed website can bring its mission to life. Supporters can stay updated, register for events, and make donations through the website.
Building a non-profit website from scratch is tedious and time-consuming. There are many non-profit website templates that fast-track the website-creating process. Below is a list of non-profit website templates with customizable features that allow you to adapt them to your needs. Let these templates do the hard work for you so you can focus on helping people.
Non-Profit Website Templates To Check Out
Charity Non-Profit Website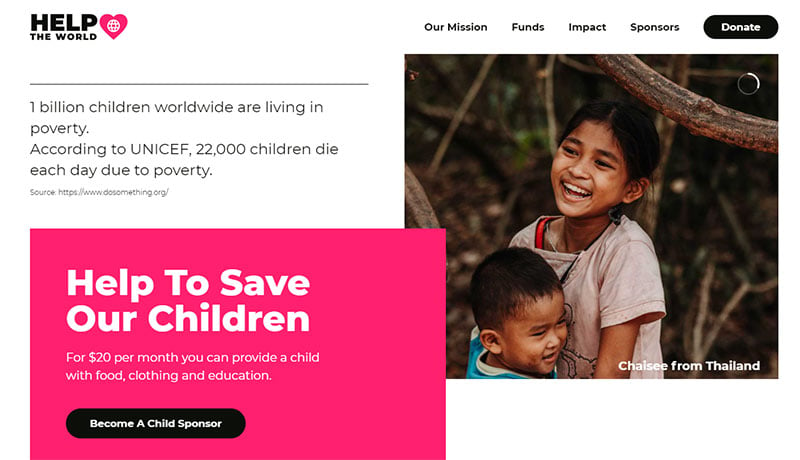 This first nonprofit website template has many features that encourage people to support the charity. Users can insert pictures and videos to show who the organization helps or what work they do. They can also add graphs to display what has already been accomplished. CTAs give clear direction to donation forms.
It uses a click and drag editor so changes and personalization are quick and easy. Users can add animated effects and cutting-edge design elements. One-click installation means that you can have a full website up and running in no time. Plus, the price allows you to focus your resources on the more important role of helping people.
Charity
Charity is a flexible website template that suits those with advanced website requirements. It is a clean HTML template based on Bootstrap. It is SEO-optimized to boost web engine rankings. It also has quick page loading.
It has many shortcodes and gives users the freedom to create new pages from scratch. It is retina-ready so your images look sharp and beautiful to make an impact on your visitors. It also includes multiple color scheme options to fit your brand.
Generous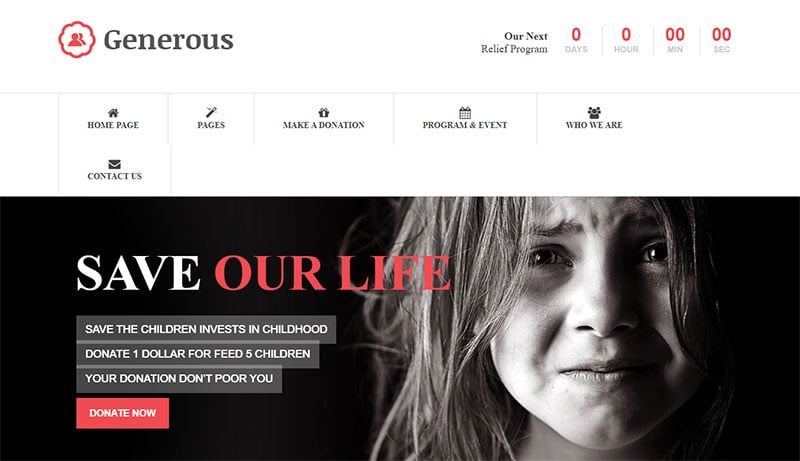 This is another website template with great features to highlight the work of a nonprofit organization. It offers two homepage layouts that display photos, statistics, and data. A gallery page allows users to showcase the work of the organization or the people they help.
It also includes event pages, a donation page, and store pages. Blog pages help keep visitors up to date with accurate information. It is responsive so any device will display its beautiful features. It is also SEO-optimized and has fast loading times.
Born To Give
Born to Give is a fully functional HTML nonprofit website template. It offers users a well-designed and modern donation form. It also has a calendar to display events. The template is retina-ready to let your images shine. It supports touch swipe for sliders. Inner pages with wide and boxed layouts give your content the best look.
Charity: Crowdfund, Non-Profit Website Template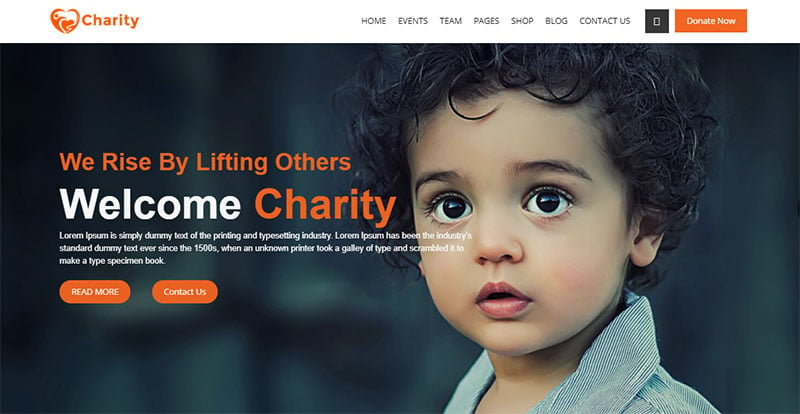 Users can use this multipurpose template for a non-profit or crowdfunding website. It comes with one homepage layout, eighteen HTML pages, and a running contact form. Users can add event pages, store pages, and team pages where they present their team of volunteers. Sliders, quality pictures, and donation forms make this a viable nonprofit website template.
Ecoisty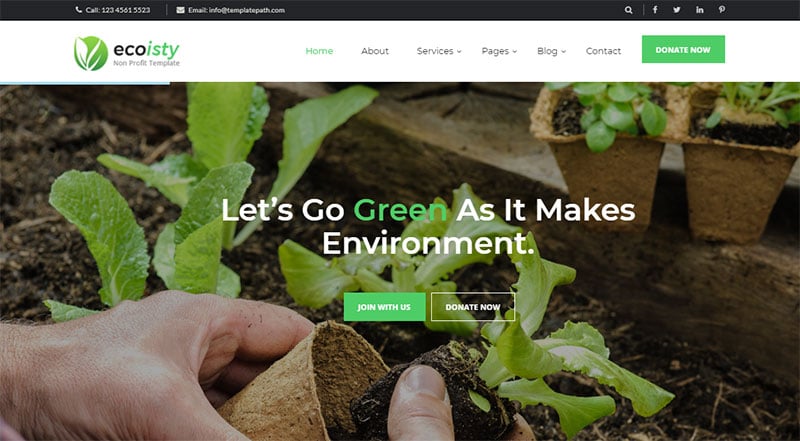 Ecoisty is a well-made theme perfect for environmental projects or to sell nature-friendly products. It is built on Bootstrap and is a responsive nonprofit template. Features include a donation count down, smooth effects, and a back-to-top button. Users can insert videos and display blog content.
Trust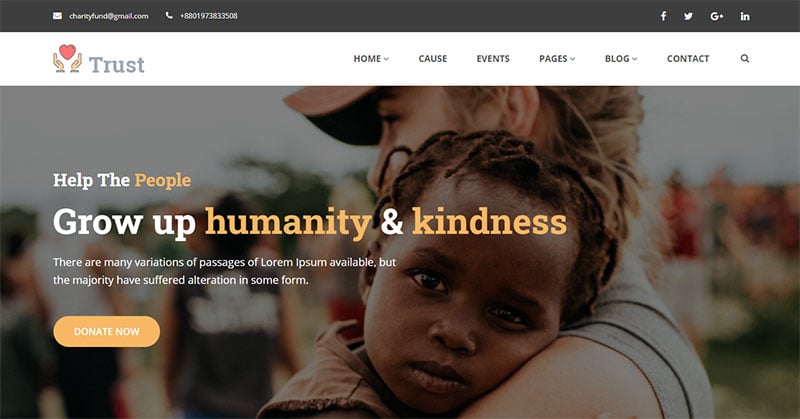 Trust is available as a HTML website template and a WordPress theme. It has a flat and clean design full of features to make your nonprofit website stand out. It includes seventeen HTML pages like cause, blog, gallery, and event pages. It is built on Bootstrap, cross-browser compatible, and customizable.
Goenviro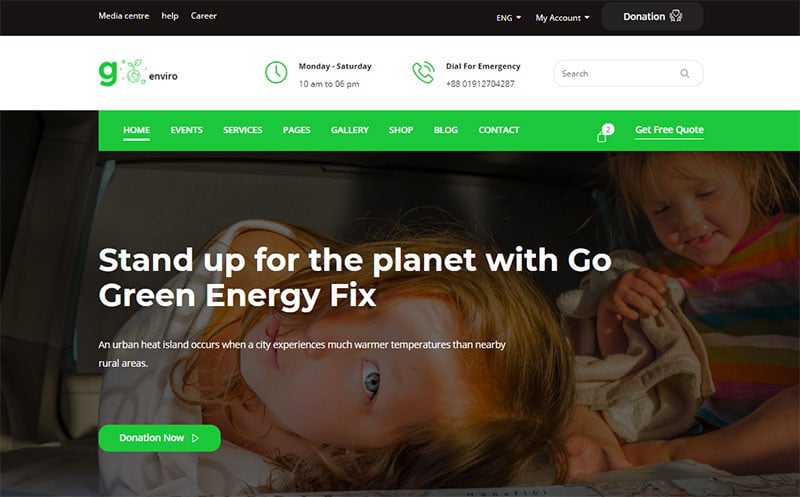 Goenviro has a beautiful layout specifically designed for environment-related subjects. The template uses real content so users only have to change the text to create a website for their non-profit organization. It encompasses features like sticky headers, sliders, search fields, inner pages, and CTAs.
SUNE Non-Profit Template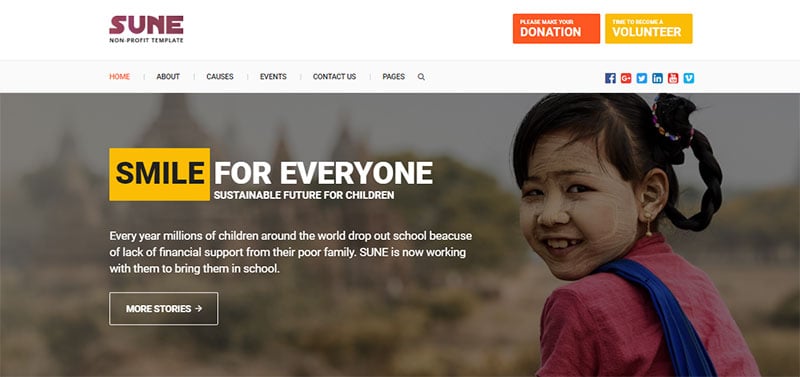 Sune is a modern and user-friendly nonprofit website template. It has Google Fonts and icons so users can customize it. The code is also easily customized. It comes with a cause, event, about, shop, and donate page. It has a clean design with a lot of whitespace so visitors are not overwhelmed.
Donate – Charity HTML5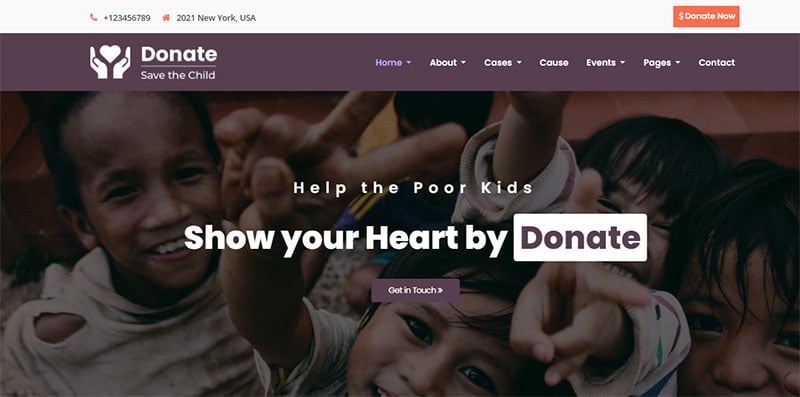 This is a HTML5 website template with a beautiful design suited for non-profit websites. It has three homepage layouts and other layout options for inner pages. It includes a donate form and testimonial section. Users can display the services of the organization and showcase their benefits.
CharityFund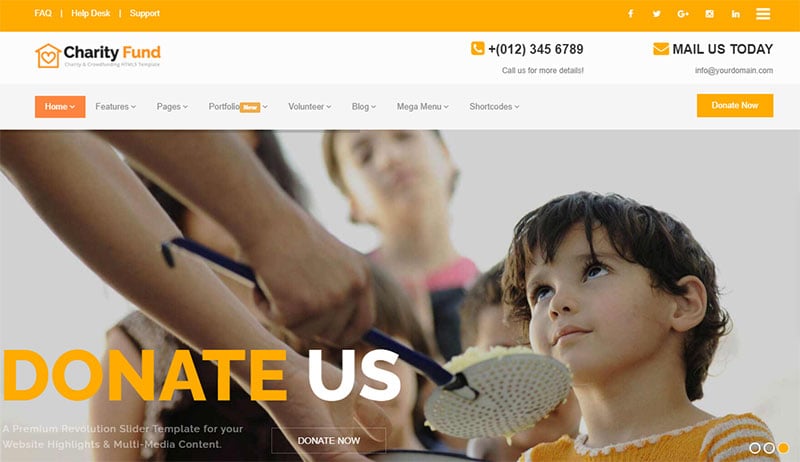 CharityFund is another website template for charity, non-profit organizations, and crowdfunding. It has multipage layouts, parallax effect pages, several slider layouts, and more. It includes subscription forms, contact forms, and Paypal donation forms. It also comes with event lists and calendar views.
Ellenton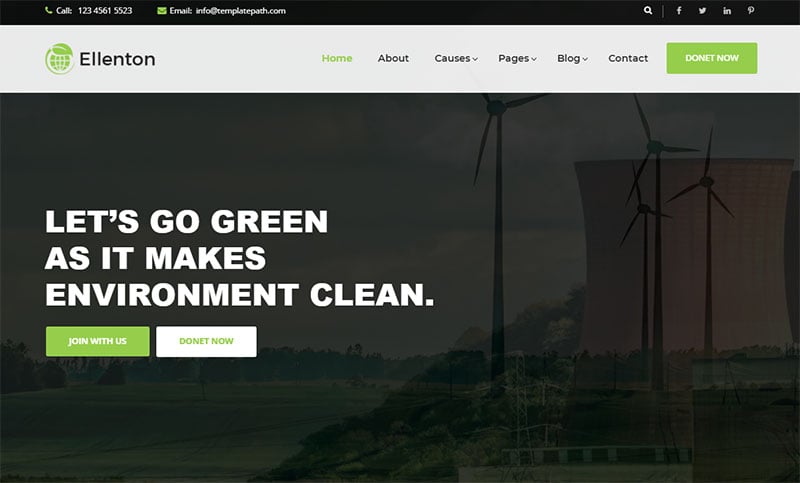 Ellenton is a template for non-profit organizations or environmental websites. It is compatible with mobile devices, is built on Bootstrap, and has valid CSS3 and HTML5. It has clean code, smooth transition effects, and parallax effects. The layout uses whitespace to create a clean design that appeals to visitors.
Maikop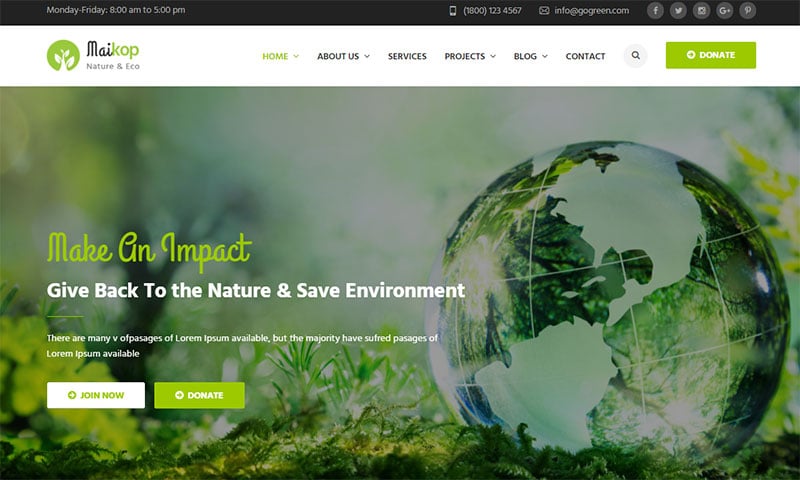 Maikop is another environment and nature-based website template for non-profit organizations. This template follows the latest design trends and is well-organized. It offers two homepage variations and necessary inner pages. It includes many features to build a beautiful website.
Reliance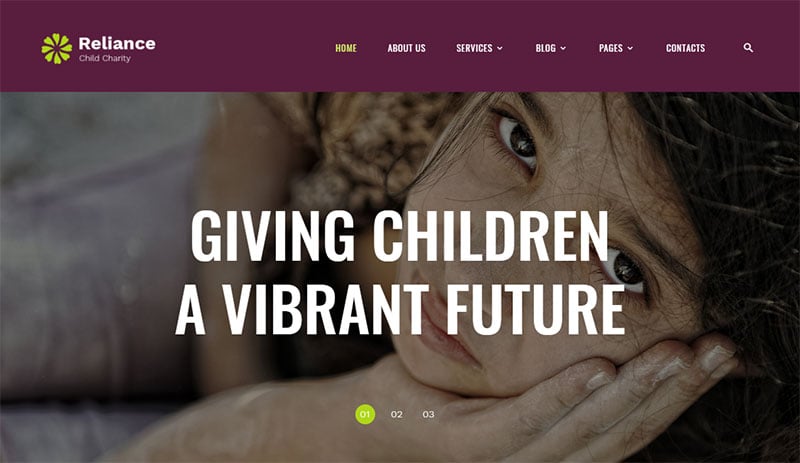 Reliance is a non-profit website template with a strong color scheme and clean layout. It supports Google Fonts, parallax effects, and multiple gallery views. It comes with free high-quality images that relate to various topics. It has more than twenty-five ready-made HTML pages waiting to be personalized.
Purpose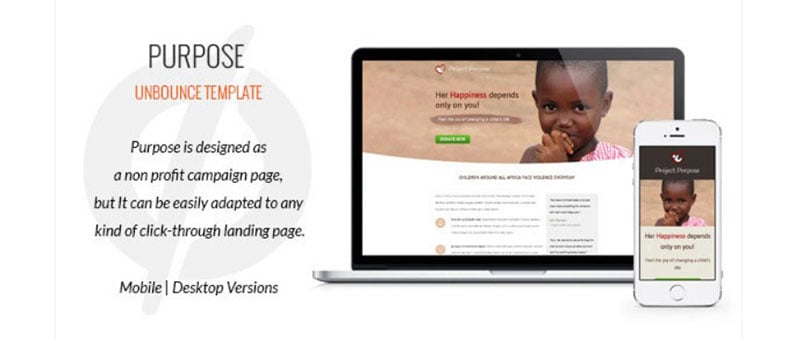 This is another template designed for non-profit organizations. It is an Unbounce template and not an HTML template. There is a mobile version and a desktop version. It is easy to replace the placeholders with your own content. Three hundred and fifty FontAwesome Icons are included in the template.
Grant Foundation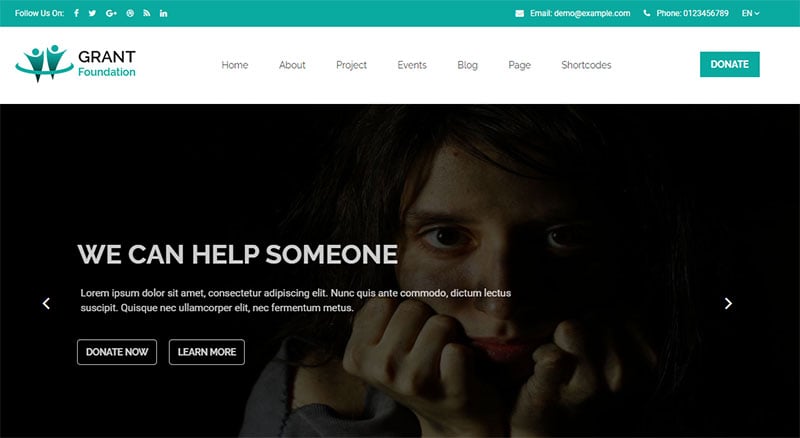 Grant Foundation provides a flat website design built by Bootstrap. It is a simple, clean, and responsive layout. It comes with forty-five HTML pages. The template includes Google Web Font, a mega menu, and shortcodes.
Green Wave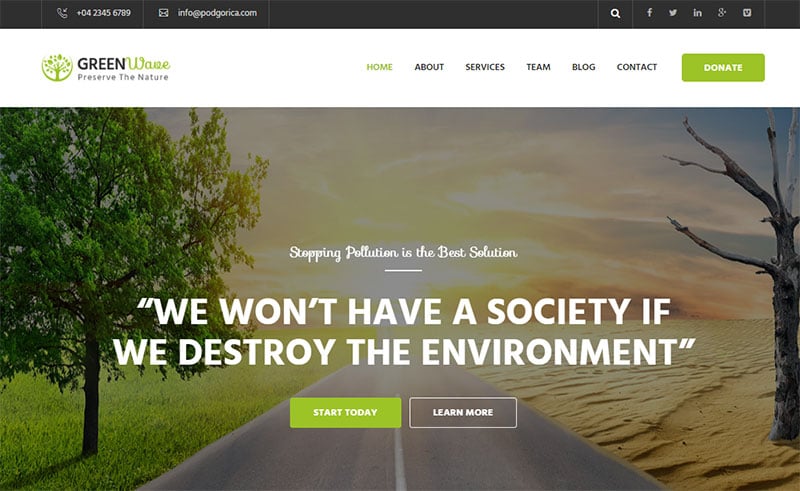 Green Wave provides an eye-catching design for environmental projects or other non-profit organizations. It is cross-browser compatible and mobile-friendly. The template includes smooth transitions, sliders, parallax effects, animation effects, and more. It uses whitespace to present a clean and refreshing layout.
Helper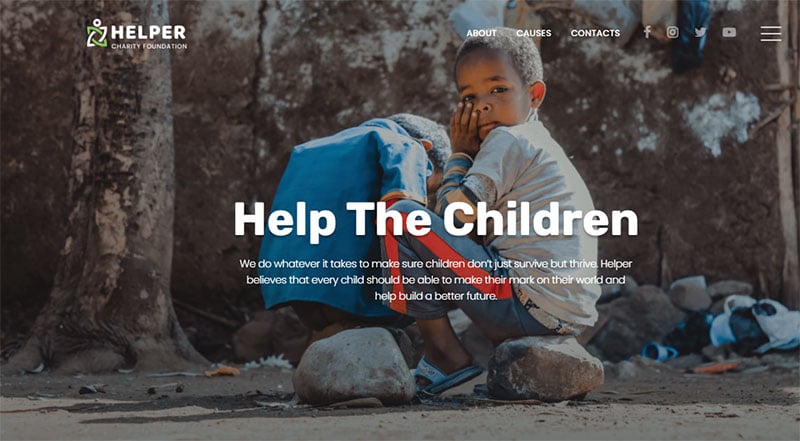 Helper is a non-profit website solution that is ready for your content. It was built with current SEO practices, is speed optimized, and has clean code. It comes with a working contact form, subscription form, gallery types, blog pages, and more.
Being Human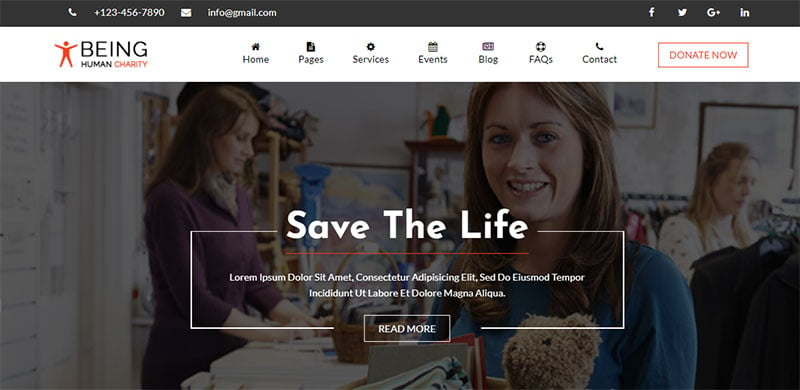 Being Human has a clean layout with amusing slider effects to call attention to charity work. It has a contact and subscription form on the homepage to encourage people to get involved. It is retina-ready and mobile responsive.
Charitas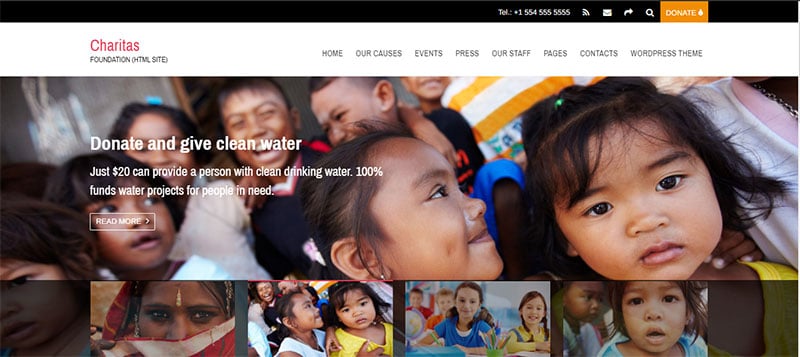 Here is a professional template for non-profit organizations or charities. The layout displays many images so visitors can visualize the work and team of the organization. It is easily customizable and adaptable to suit your needs.
Helpo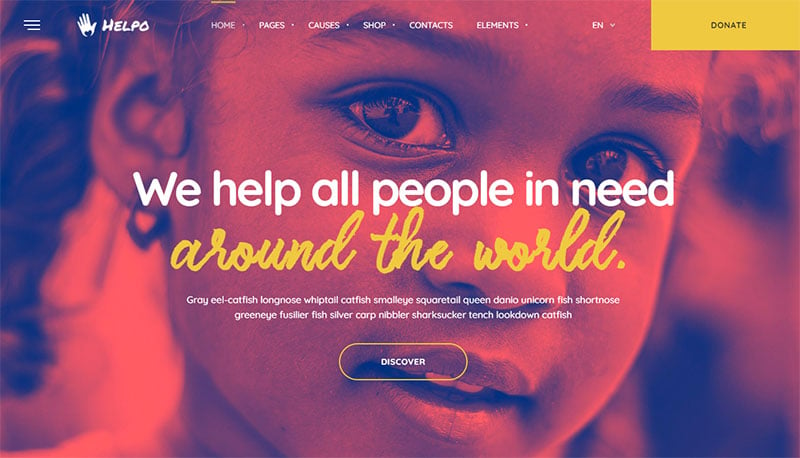 Helpo is a popular template with volunteers. It has multiple homepage and inner page variations, two color schemes, and more than one hundred icons. Its features encourage people to donate to your cause.
Greenture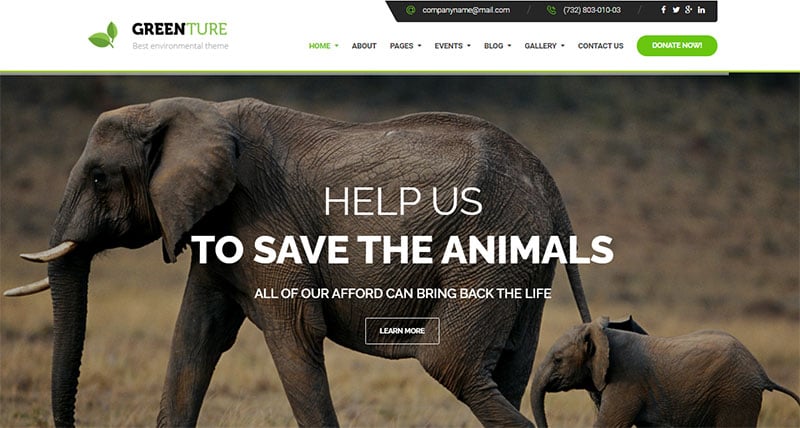 Greenture is a non-profit website template that is best for environmental projects. It is based on Bootstrap, is responsive, includes effects, and has seventeen HTML files.
Wish
Wish has many helpful tools to create a great nonprofit website. It has a full-screen slider to impact visitors. It also includes CTAs and event pages to get them involved in the cause.
Heal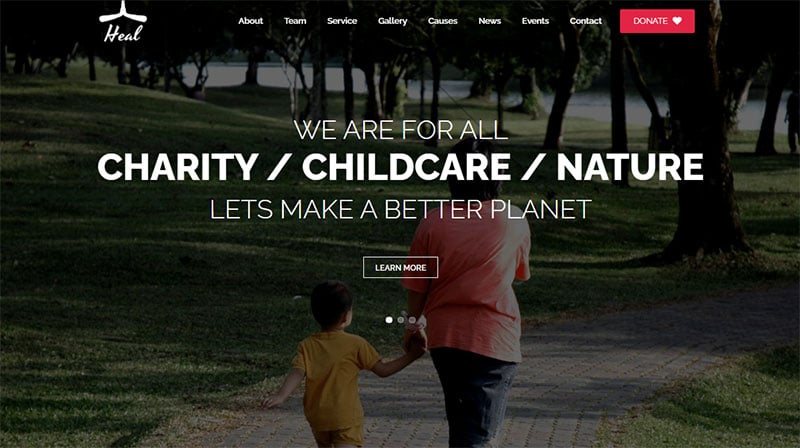 Heal contains multiple eye-catching features that make it a great nonprofit website template. Use event and news pages to keep visitors up to date. Display quality photos or show a pricing table. This template includes an angular or plain version and is easily customized.
Charity Foundation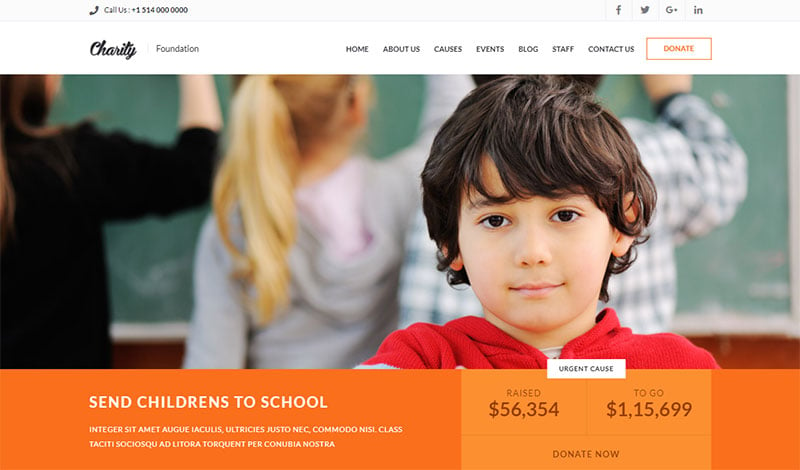 This professional template is very suitable for non-profit organizations. This one offers a clean web design, responsive elements, and parallax backgrounds.
Fundpro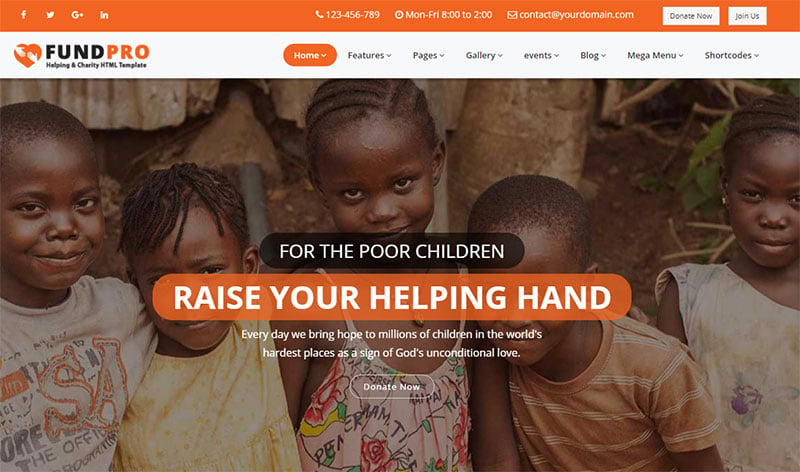 Fundpro comes with various features to create a crowdfunding or other charity website. It is responsive to different size and resolution screens. It has multiple page designs and layouts, different color skins, and sixty-three shortcodes.
Act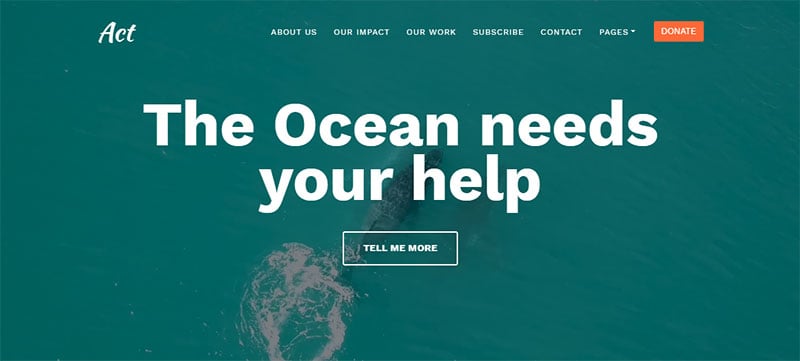 Act is a multipurpose website template with great flexibility to suit the needs of a non-profit organization. It is lightweight, responsive, and easy to use and customize.
Life Aid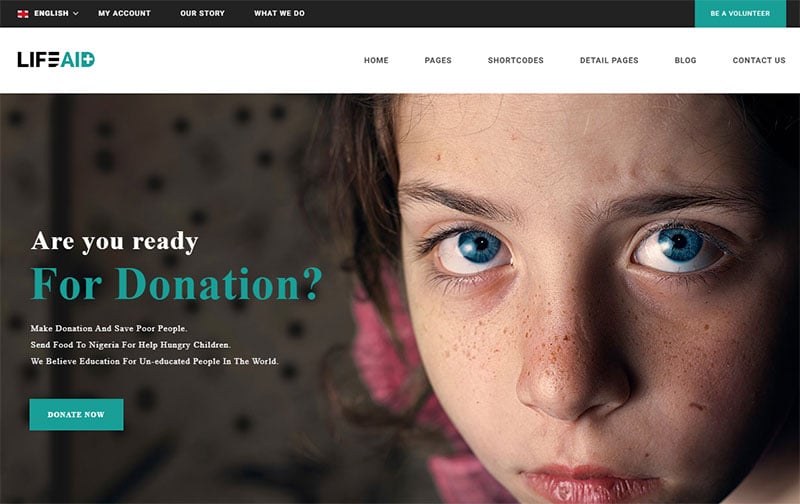 Life Aid was created specifically for non-profit organizations. It is a minimal HTML template with different style options and forms to create a functional website for your cause.
FAQs about non-profit website templates
1. What are non-profit website templates and why are they important?
Website designs that have already been created with non-profit organizations in mind are known as non-profit website templates. They are crucial because they allow non-profits to establish a strong internet presence without having to spend a lot of money on web development.
2. Are non-profit website templates available for free or do they come with a price tag?
Non-profit websites might use pre-designed website designs that are created with their needs in mind. They are crucial because they enable non-profit organizations to establish a strong internet presence without having to spend a lot of money on web design.
3. What features should a non-profit website template include?
A decent non-profit website template should have elements that make it simple to collect donations, sign up volunteers, and advertise events. Additionally, it should be easy to navigate, responsive to mobile devices, and visually appealing to visitors. Keyboard navigation and accessibility features like alt tags for images are crucial.
4. Can non-profit website templates be customized to suit the specific needs of a non-profit organization?
Yes, non-profit organizations can alter website layouts to meet their particular needs. There are possibilities to alter the colors, fonts, and other design components in many templates. Using plugins or coding, functionality can also be added or removed.
5. Do non-profit website templates come with support and maintenance services?
Some non-profit website templates include support and upkeep in the purchase price. Others might need to pay a different charge for continued assistance. Before making a purchase, it's critical to comprehend the type of support that comes with a template.
6. What is the process for selecting and implementing a non-profit website template?
Depending on the platform being utilized, there may be a difference in the method for choosing and implementing a non-profit website template. Choosing a template, modifying it to meet the requirements of the company, and adding content are the general steps involved. After going live, the website will need regular maintenance and updates.
7. How can a non-profit organization ensure that its website is user-friendly and accessible to all?
Use clear, concise language, offer simple navigation, and make sure the website is mobile-responsive to make sure a non-profit website is user-friendly and accessible. To confirm that the website complies with web accessibility requirements, it should also be assessed for accessibility.
8. Are there any legal considerations that non-profit organizations need to keep in mind when using website templates?
When using website templates, non-profit organizations should be aware of copyright and licensing restrictions. It is crucial to confirm that any photos, fonts, or other design components used in the template may be used by the organization. Additionally, some templates might have specific usage guidelines that must be followed.
9. Can non-profit website templates be integrated with fundraising and donation management tools?
Tools for managing donations and fundraising can be incorporated into a lot of non-profit website themes. This could facilitate the donation process and make it simpler for donors to contribute. PayPal, Stripe, and Donorbox are a few examples of tools that can be incorporated.
10. Are there any specific design trends or best practices for non-profit website templates?
Prioritizing accessibility and user experience is crucial while creating a non-profit website template. This entails making the site user-friendly, utilizing legible and easy-to-read typefaces, and designing for mobile devices. Visuals should be used thoughtfully and sparingly, and care should be taken to make the site accessible to visitors with impairments.
Ending thoughts on non-profit website templates
Non-profit websites need to emphasize the benefits of the organization and encourage people to support it. It should keep visitors up to date on recent events and allow them to donate to the cause. Using one of these non-profit website templates will help you create a website in little time with little effort and resources.
If you liked this article about non profit website templates, you should check out this article about personal website templates.
There are also similar articles discussing dentistry website templates, consulting website templates, church website templates, and photography website templates.
And let's not forget about articles on construction website templates, minimalist website templates, corporate website templates, and portfolio website templates.
Great Non-Profit Website Templates for You to Download