If you're a pet lover, entrepreneur, or pet-related business owner, having a website is crucial to showcase your products or pet services to a wider audience. However, designing a website from scratch can be time-consuming and daunting, especially if you don't have any coding or design skills. That's where website templates come in handy!
Whether you're a pet breeder, groomer, or run a pet hotel or club, or if it's an animal shelter, pet store, or maybe a service like pet sitting, website templates are just what you'll need to get started.
This list contains 20 of the best animal and pet website templates to get your design ideas flowing.
Ideas for Pet Websites
A few possibilities for your pet shop website might include:
A Blog
Blogs are one of the most straightforward and popular ideas for a site. They're great if you're particularly looking to produce long-form content, from sharing your experiences or expertise and tips to hair-raising tales (or 'tails') about your fluffy pals.
A Portfolio
Portfolios are often made up of a range of photos, artworks or written material all showcased in one location. For trendsetting pets, like pageant regulars or rising stars, this is a fantastic option.
Educational Initiatives
Informative resources related to pet well-being and behavior are invaluable and can include image galleries and social media posts celebrating pets. Another good feature is an online pet store for the purchase and selling of all things pet-related.
Future Events
What better way to show you care about animal welfare than by creating a website focused on publicizing an adoption day and other important animal causes. Community outreach projects benefit from the traffic such websites receive.
The Top Pets Website Templates
Pet Store Product Slider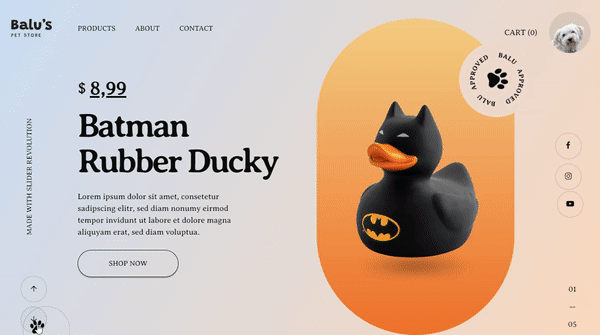 Alright, let's talk about this template.
It's got a:
Clean and modern design that'll help your products stand out.
Fully customizable feature set.
So, you can easily:
Change the colors to suit your style.
Experiment with different fonts.
Replace the images as needed.
Ultimately, this template adapts to your brand and requirements, making it a versatile choice for your web design needs.
Petopia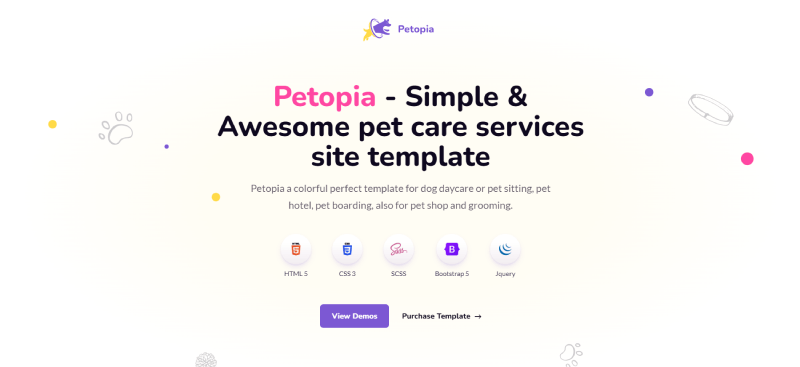 Pet care companies that offer pet hotel or boarding, veterinary services, online pet shops and more can look into HTML animal website templates like Petopia. It features a variety of themed blocks that are easy to edit, two attractive Home pages, a responsive gallery and carousel, Store pages, blog and other practical features.
Scooby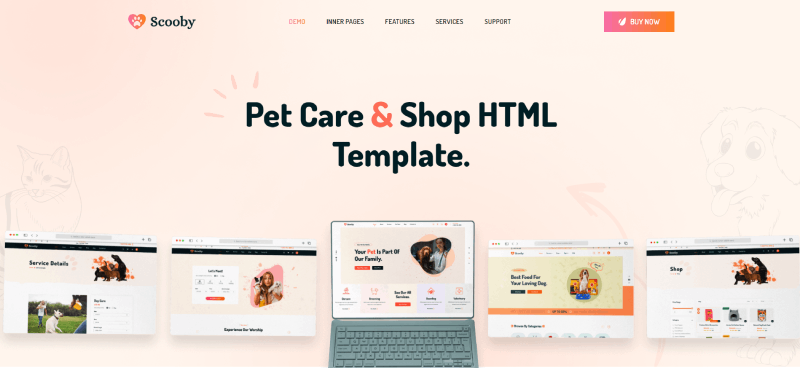 Another HTML pet website template geared towards those who run pet care businesses. The functions and features of Scooby are tailor-made for the pet care market, from highlighting services offered to handling bookings. Pet owners can access a number of resources.
PetVet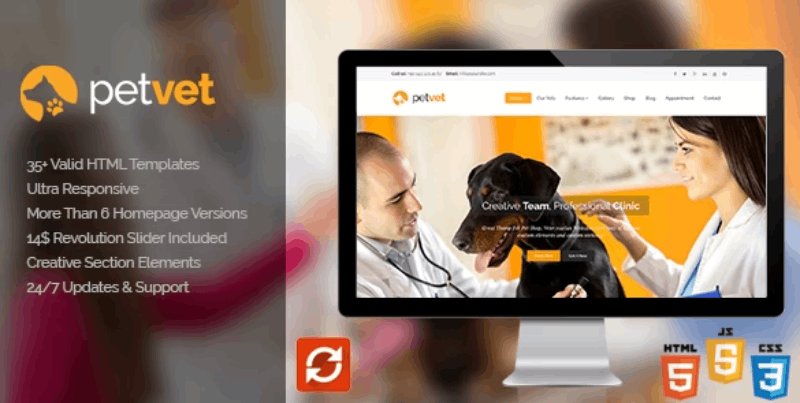 Responsive pets templates like this one from PetVet was created with Bootstrap framework and is perfect for a veterinary clinic or pet shop. It consists of more than 35 authentic HTML files, custom color schemes, and imaginative homepage layouts.
The design is stylish and contemporary and a 1170px grid makes it simple to customize. Custom gallery pages features include a grid, it can be filtered and it has a list vet's page ready. It also includes fresh and innovative color schemes.
PETS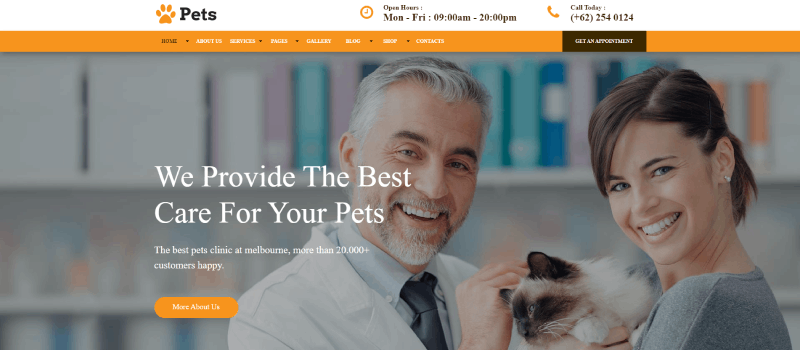 This fully responsive website template was created for anyone running a vet clinic or pet stores and other similar businesses. There are more than 100 Typekit Webfonts, responsive fixed-width layouts, limitless color options and 18 multipage demos to choose from.
PETS is an easily customizable template if you're wanting to shine a spotlight on your work or services.
Puffles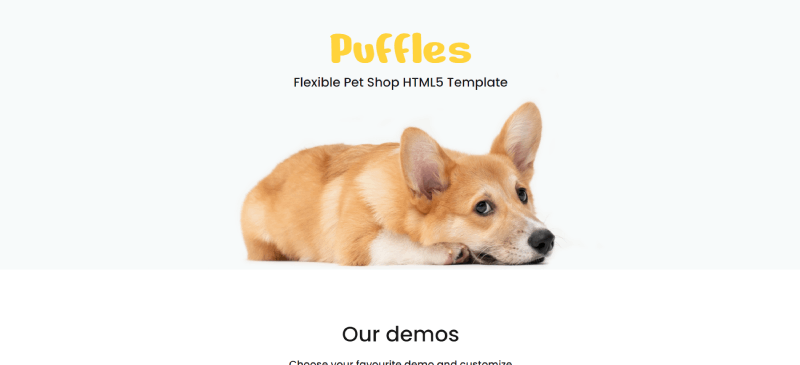 The pet care HTML5 template for Puffles boasts a finely honed layout for a diverse range of content. It guarantees a fully responsive site by supporting the flexbox grid system. Among its other features are an SEO-ready and responsive layout, W3C valid coding, SCSS and Pug files, Google Fonts and cross-browser support.
Apart from its basic and delightful design, Puffles offers a variety of extra plugins and scripts.
Woof!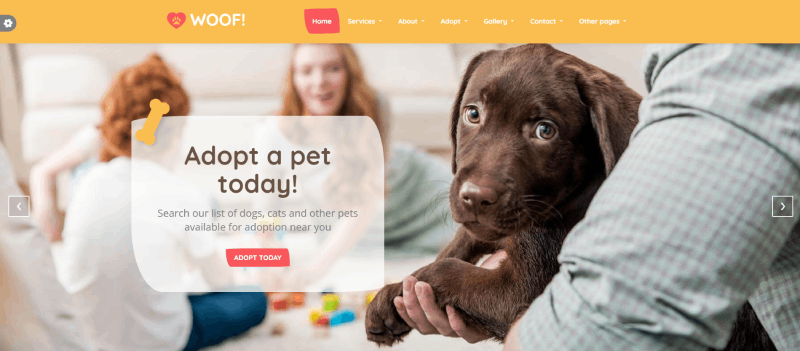 Pet website templates built on the Bootstrap 4 Framework, like Woof!, come with potent and customizable possibilities. The theme has 6 ready-made color skins, and the fully responsive template provides 18 pages. Use CSS animations for a more interactive user experience.
Customers can readily connect with your business via a validated working form. Mailchimp integration means you can create and directly organize your email list from your site.
Pet Hund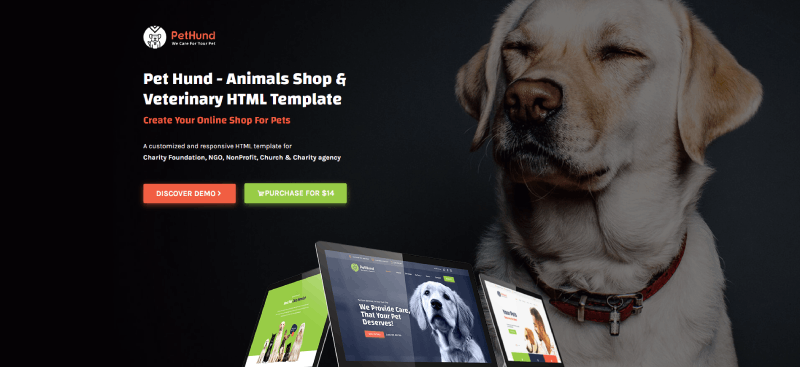 Whether you own a pet store or vet clinic, or run a pet care website, Pet Hund's premium HTML5 and CSS3 template has a lot to offer. Choose from 5 individual and attractive home page demos, over 11 ready-to-use elements, and 29+ web page templates.
Navigable header styles boast transparent, white & dark, top bar, push menu, center navigation, and center and top logo options. Contemporary 20+ inner pages: about, our story, services, process, contact, team, FAQ, pricing, maintenance, coming soon, 404 error and more.
Pettu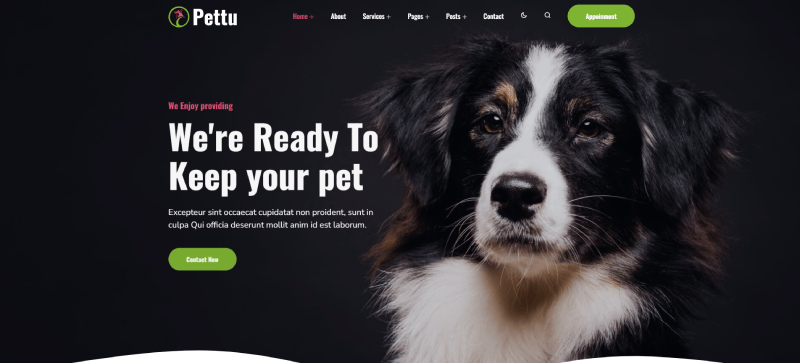 Pettu is a sophisticated and responsive HTML5 template built to meet the needs of animal shelters, pet stores, and other animal care stores and facilities. This fresh template features imaginative designs for homepage layouts.
Other notable functions to point out: smooth animation slider, option to animate whatever you need to, easy customization, Bootstrap 5 based, and free icons and fonts.
Petmark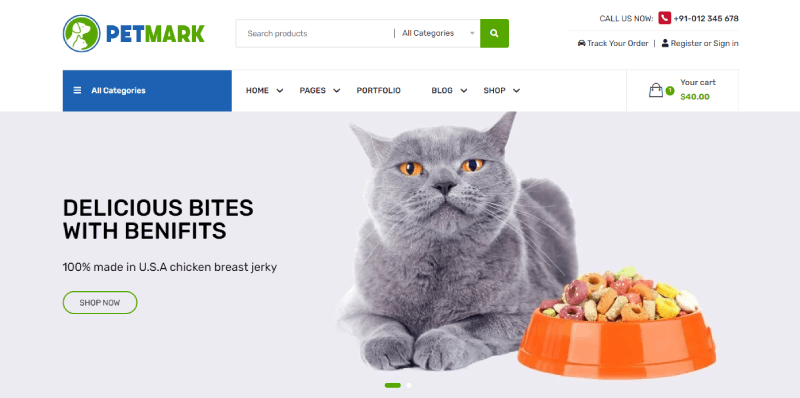 Here is an innovative pet food shop HTML template for businesses selling products online. As a WooCommerce WordPress theme, you can pick from more than 45 HTML pages with 4 unique homepages, 6 shop pages (for pet toys and more), and 8 product variation pages.
Bootmark 5, CSS3, HTML5, and SASS powers the Petmark template which boasts an AJAX contact form, W3 Validate Markup, clean code, and good documentation. Its design is eye-catching and coding is user-friendly.
Pet Care Dog Kennels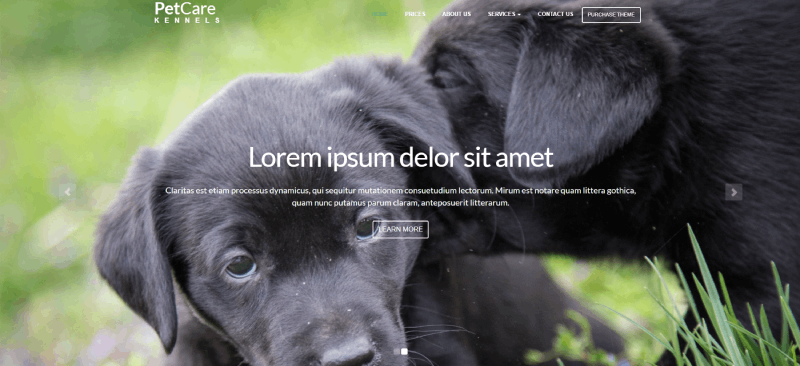 Pet website templates should have a minimalistic and refined design, particularly for those running dog boarding kennels and other pet services. Pet Care Dog Kennels template is based on 1170px width from Bootstrap and offers both mobile and tablet formats.
There are a variety of possibilities to choose from: 9 layered PSD templates, a full-width carousel and timetables to promote services and events. Make use of Google web fonts to tailor your website design, giving it a personal touch to draw animal lovers to your business.
Anima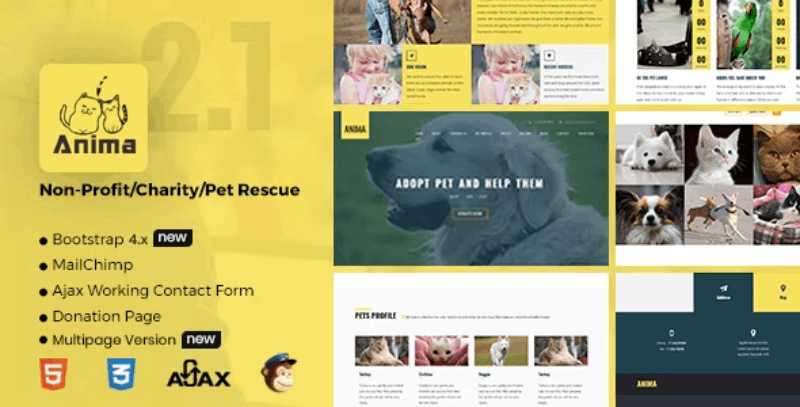 It's vital that pet shelters have appealing websites that shine a spotlight on the good work they do. Anima is a responsive Bootstrap 3 template built with Bootstrap 3.3.7, HTML, and CSS3 for just that purpose.
Some features worth pointing out include: Twitter Bootstrap 3.3.7, LESS CSS Parallax effect, working contact form, short code, blog, fully responsive design, HTML5 and CSS3, and donation pages.
Petmate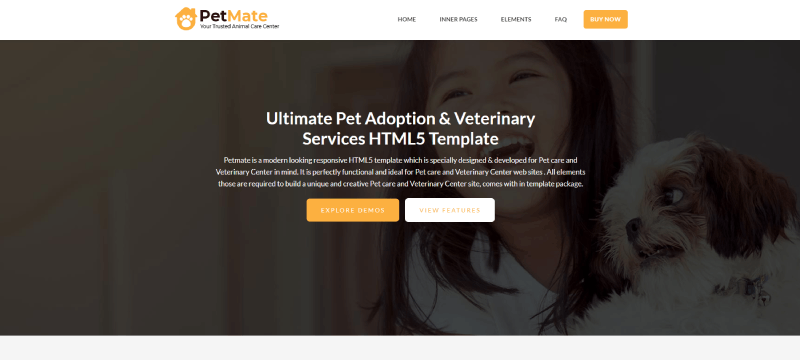 Petmate is a contemporary and responsive HTML5 template built with the well-known Bootstrap 4.1.X and SASS framework. It was designed with a focus on veterinary and pet care centers and allows such companies to design effective and appealing websites from an endless assortment of color schemes.
Other features include: a one-of-a-kind homepage layout, design that follows current trends, HTML5 and CSS3, a responsive template, and standout fonts too choose from.
Labradog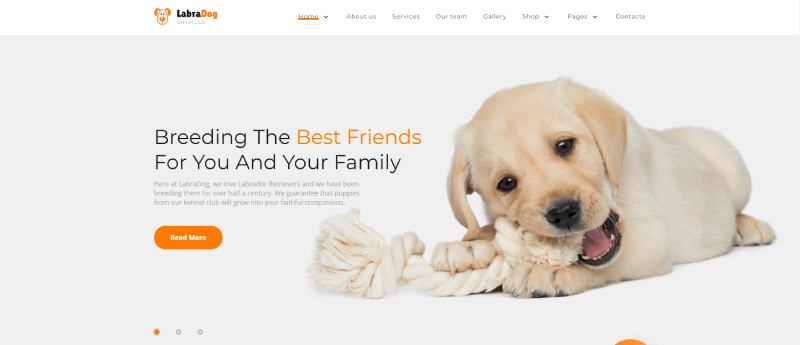 Here is a versatile website template designed for pet care companies who want to feature an online store. Labradog boasts CSS3 elements, visual effects, and customizable UI elements. Using a variety of pages, users can create blogs, promote any media content through a gallery, and publicize testimonials and feedback.
The e-commerce option enables you to sell dog food, toys, hygiene products etc…online and it facilitates online payments too. It includes SEO-friendly coding and responsive Bootstrap 5 layouts.
United Pets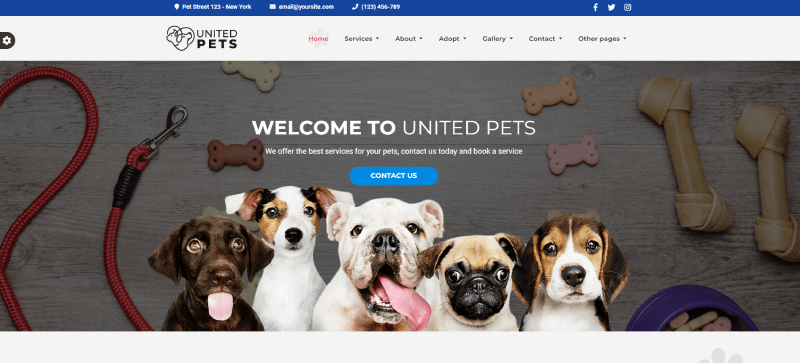 Looking for a straightforward HTML5 template that features fully responsive multi page functionality? United Pets is just what your pet-related business needs. It includes a variety of delightful and easy-to-edit elements.
Built on the Bootstrap v4 framework, United Pets boasts some robust and fully customizable possibilities. Included are 6 ready-made color skins, and you can easily create a unique color scheme for your site.
Happy Paws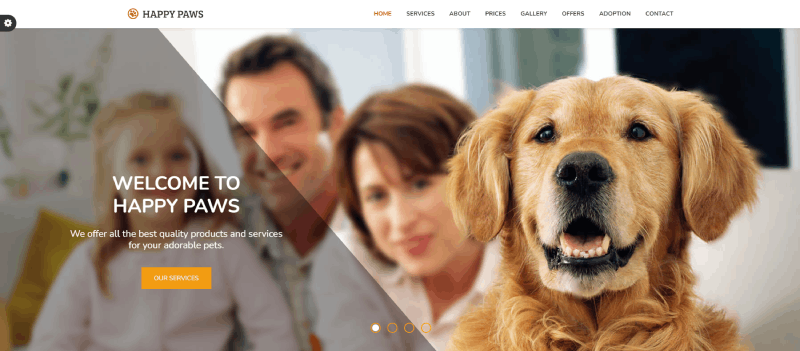 The Happy Paws pet template has 5 color skin options to pick from, or why not make your own color scheme? It's super easy to customize and edit yourself. It also has a parallax drag slider option for headers and CSS animations to bring your site to life.
Happy Paws is fully responsive and possesses a validated working contact form. Plus, you can pick from more than 500 icons!
Amber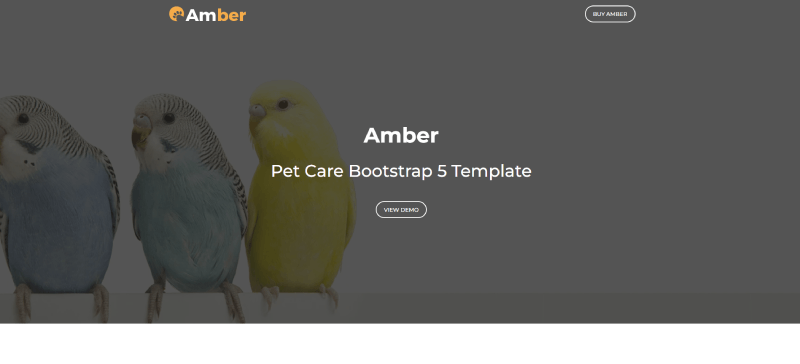 The Amber Bootstrap 5 template offers over 32 HTML pages—with 4 exceptional homepage options—which you can modify to create an eye-catching pet care website that draws visitors.
Here are a few more features worth mentioning: SASS, swiper slider, basic line and themify icons, vivid contact form, W3C validated code, Google Fonts, FontAwesome and sleek animations.
VET FOR PET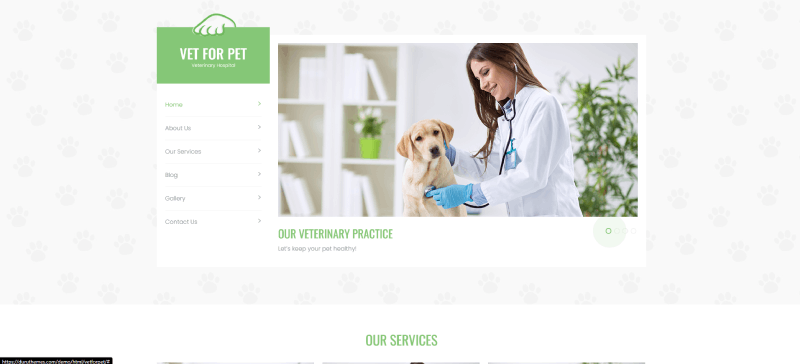 VET FOR PET's Bootstrap layout template boasts a clean code framework, making editing simple and providing a smooth performance. A mobile-friendly function ensures accessibility across devices and the design layout is both professional and artistic.
Users can also enjoy working with Google Fonts, Themify and FontAwesome icons, as well as Retina-ready graphics. Detailed documentation also helps designers to navigate and modify the template where needed.
Pet Sitter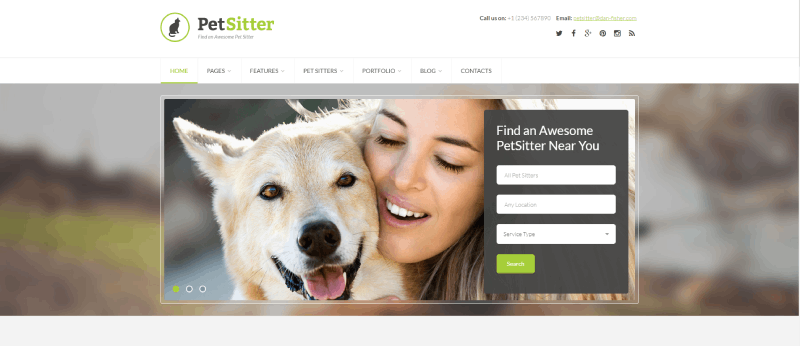 This is a straightforward and minimalistic template excellent for running a pet sitting site, blog or other animal-related websites. Designers can make use of the pricing tables, blog pages with an array of post formats, contact page, shortcodes page, and more.
To list a few more standout features: Bootstrap 3.3.7, CSS3 animation, Flickr widget, a fully responsive design layout, HTML5 and CSS3, over 600 available Google fonts, and easy customization via LESS files.
Valkuta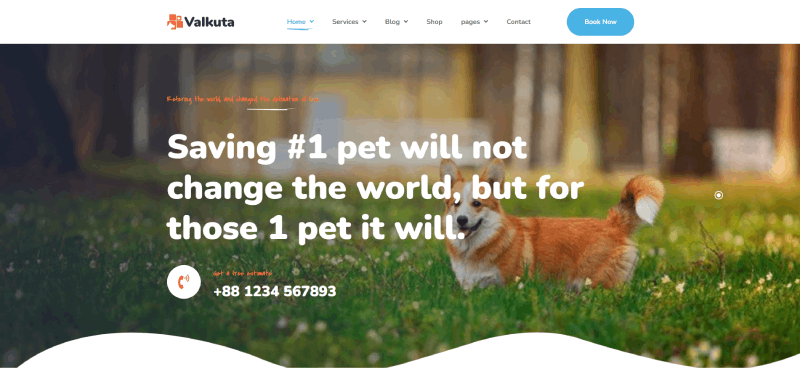 The Valkuta template is based on Bootstrap 4.and has 2 distinct homepages. Its design is minimal and trendy with one-of-a-kind functions and effects. Valkuta is also pixel-perfect. Therefore, it's easily customizable and flexible and HTML5 and CSS3 coding is W3C validated.
The template is adapted for multiple browsers and includes Google Web Fonts and FontAwesome icon fonts. It also contains informative documentation which makes it easy to get the best out of this well-designed template.
Carlisle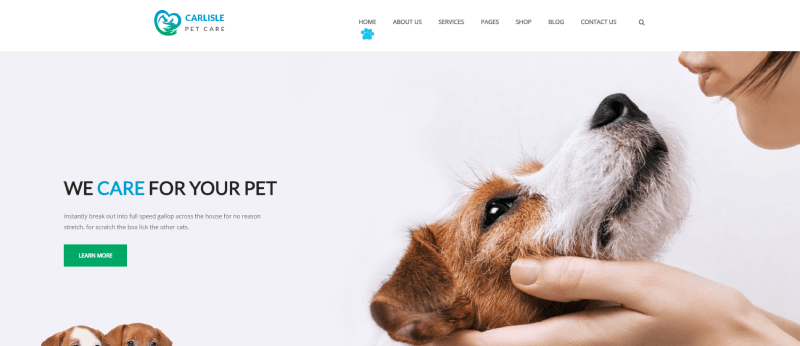 No matter the kind of pet care business, Carlisle's HTML template is well-suited for designing a site catered to the needs of pet owners. It's built on the recent Bootstrap framework, boasts 18 pages, and is incredibly responsive.
Carlisle is HTML5 and CSS3 validated which guarantees complete functionality and compatibility with current browsers. The template has a distinctive look due to the parallax effect. And you can readily communicate with clients via the operating PHP/AJAX contact form.
FAQs on pet website templates
What is a pet website template?
To save time and energy, pet businesses can utilize pet-oriented website templates. Features like pet descriptions, prices, and pictures are standard fare.
How do I choose a pet website template?
When settling on a pet website template, think about your business's unique requirements. Search for a template that has sections for details about your pet, booking options, and photos of your animal companion. Selecting a template that is both aesthetically pleasing and user-friendly is also crucial.
Can I customize a pet website template?
Most pet website templates are flexible enough to be modified to meet the demands of your company. Customization may involve renaming elements, altering the design, or eliminating options.
What features should a pet website template have?
Features such as pet information, pricing information, contact forms, and photographs of pets are essential for a successful pet website template. It also needs to be simple to use, especially on mobile devices.
How do I add my own content to a pet website template?
Use a website builder or content management system to customize a pet website template with your own text and images. Your own words and pictures can now be uploaded to the site.
How do I make my pet website template mobile-friendly?
Use responsive design strategies that adapt the site's style and content to the viewer's device size to make your pet website template mobile-friendly. This makes sure that mobile devices like smartphones and tablets can easily navigate the site.
What are the benefits of using a pet website template?
When opposed to starting from scratch, using a pet website template can save a lot of time and money. In addition, this method guarantees that your website has all the features and functionality required for a pet-related enterprise.
How do I ensure that my pet website template is user-friendly?
Make sure your pet website template is responsive by checking its usability on a variety of devices and window sizes. Important details, such as those about pets and booking availability, should also be simple to locate.
Can I integrate a booking system into my pet website template?
The option to incorporate a booking system is a feature of many pet website designs. In this way, customers can easily schedule visits and services without ever leaving the website.
How do I make my pet website template stand out from the competition?
Focus on providing high-quality content that displays the unique features and benefits of your pet business, and your pet website template will stand out from the crowd. Images of dogs, customer reviews, and in-depth explanations of the products and experiences you provide all fit into this category.
The Right Pet Website Templates
There is an incredible amount of pet website templates available for users with a variety of features, whether they need an animal care Shopify theme or bold and creative design layouts for the various needs of pet animals.
The need for unique animal website templates is rising and pet shop owners who make the most of it convert site visitors into customers. Use this comprehensive list of professional and eye-catching templates to inspire your next website.
Put together this standout site using any of these templates' responsive layouts and customizable designs to offer a quality user experience for potential customers and to put your brand front and center among the competition.
If you liked this article about pet website templates, you should check out this article about band website templates.
There are also similar articles discussing coming soon website templates, video website templates, financial website templates, and architecture website templates.
And let's not forget about articles on gym website templates, travel website templates, app landing page templates, and tattoo website templates.
The Best Pet Website Templates to Showcase Your Furry Friends