Photography is an art form. Few have the instincts and talent to capture a precious moment with the click of a button.
Those who possess this talent deserve to share it with the world.
Websites connect photographers and other artists to an audience and create exposure. However, creating a website from scratch is difficult and expensive.
A photography website often requires special design elements to best present the photos. So how can photographers create a photography website?
One solution is to use a pre-made photography website template. Photography website templates come with amazing features.
They allow photographers to build a professional website that attracts visitors. Features include social media buttons, a map to the physical studio, and testimonials.
Photography website templates also include a variety of layout, blog, and eCommerce options.
For those looking to create a photography website, here is a comprehensive list of photography website templates. Choose the photography website template that suits you best and get it right from this list.
Photographer Website Template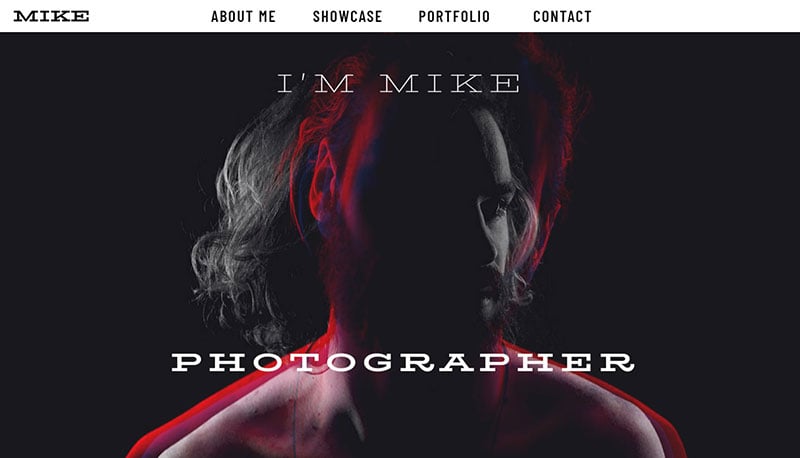 The Slider Revolution plugin helps users create websites without having to write code. This website template is perfect for creating a photography portfolio or other portfolios.
The one-page website includes parallax effects to entertain and impress visitors. Like all Slider Revolution pages, it is customizable and includes advanced API features.
A drag and drop editor makes editing simple and straightforward.
Photography Front Page Template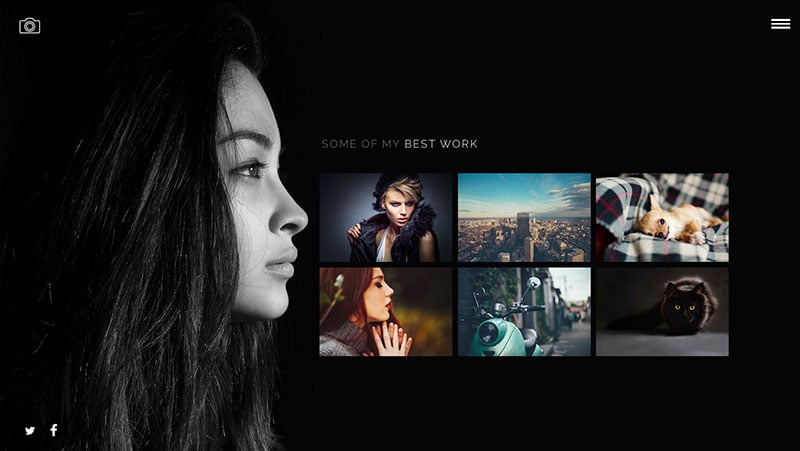 The second photography website template is also from Slider Revolution. It uses fullscreen images, letting the pictures speak for themselves.
This photography template uses creative page transitions and both vertical and horizontal scrolling. It also includes social media buttons to gain more exposure.
Photography Carousel Template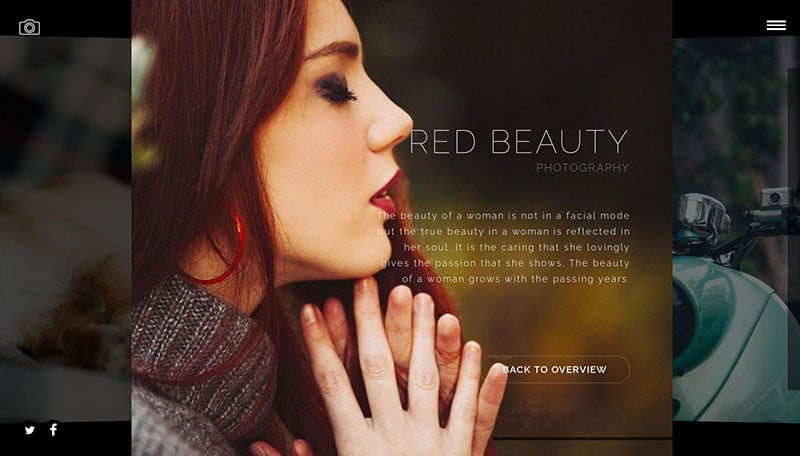 This is a one-page photography website template that directs focus to the images. The horizontal scroll of the carousel is perfect for a photography portfolio.
Complementary text and headers accompany the images. There are several navigation options for the carousel slider.
As with all of Slider Revolution's templates, the features are 100% customizable.
Sepia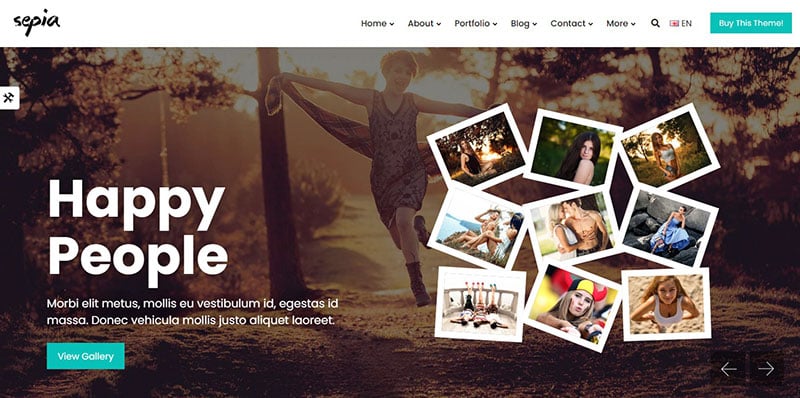 Sepia is a powerful website template that offers many features. It includes a total of 78 pages, 41 portfolio styles, 7 homepage styles, and 10 blog styles.
It is an HTML and CSS website. It is perfect for photographers, photo studios, and design agencies.
WINK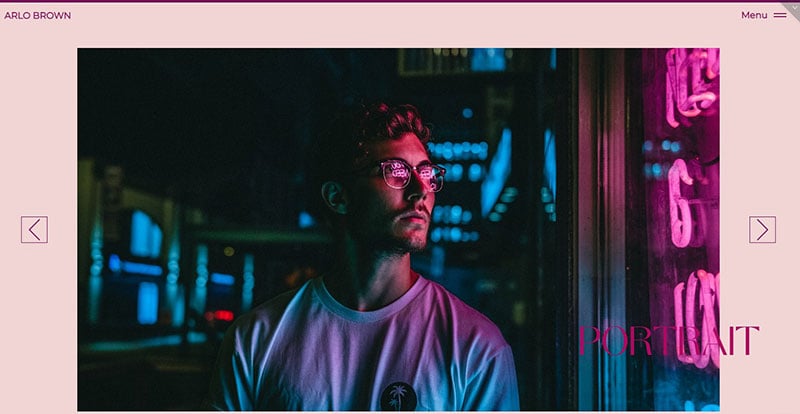 Wink is another photography website solution. It is a flexible website with clean coding.
Users with some coding knowledge can modify it within minutes. It offers smooth transitions and is responsive on all devices.
Lenze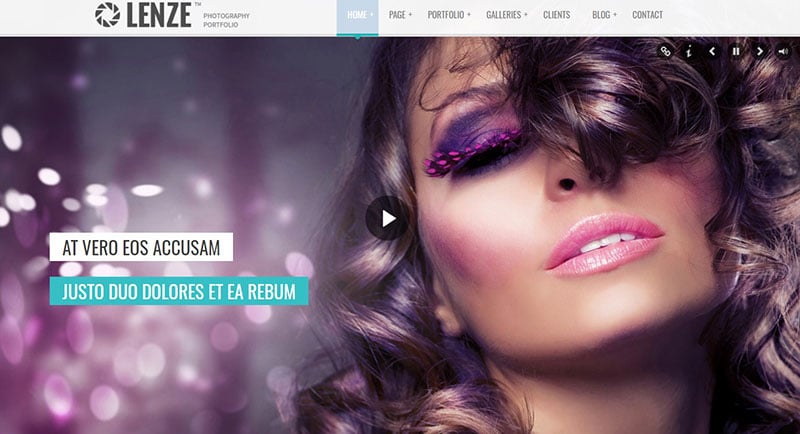 This is another great option for a photography or portfolio website. Lenze uses modern design trends to provide the best attributes.
It features a fullscreen homepage, audio and video support, and customizable grid layouts.
WISO
Wiso is a creative photography website template. Its beautiful designs showcase images in the best way possible.
It gives users the flexibility to create a website they want and love. It is SEO optimized and has fast loading times.
It provides 34 demo sites and 95 albums and galleries. It supports an online store and a booking calendar.
Brailie
The photography website template Brailie has an HTML version and a WordPress theme. It offers powerful features to create a unique website.
This template includes 50 demos, 200 pages, and 300 elements. It also includes premium plugins such as Slider Revolution to extend functionality.
It has several layouts, many headers, and various color options.
Agatha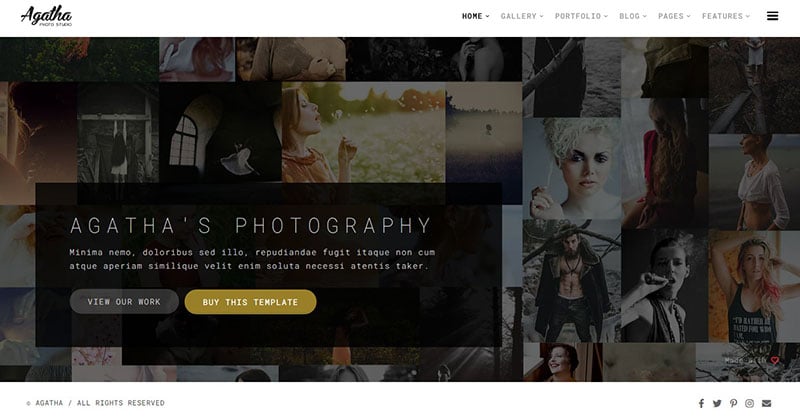 Agatha is another photography template that is a HTML and CSS website based on Bootstrap. A WordPress theme is also available.
This template has a clean design for an organized online portfolio. Features include a light and dark version, Google Fonts, and contact forms.
It supports video backgrounds, is customizable, and includes commented code.
Missio
Missio is an eye-catching photography template that offers a one-page or multipage website. It is suitable for photographers or bloggers because it has countless options.
Its many features help users create a unique website that stands out. The purchase of this template includes 5 premium plugins.
These plugins allow users more flexibility in creating a beautiful webpage.
Brittany Pierce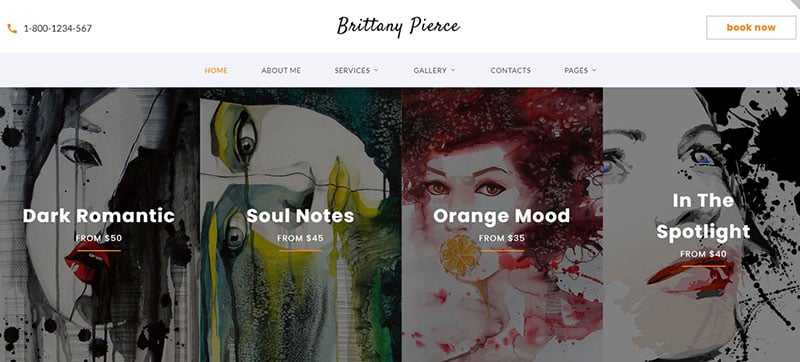 Here is another HTML website template for artists and photographers. The developers used advanced technologies to support universal and functional features.
It contains 35 ready-made pages, is customizable, and responsive.
Umbrella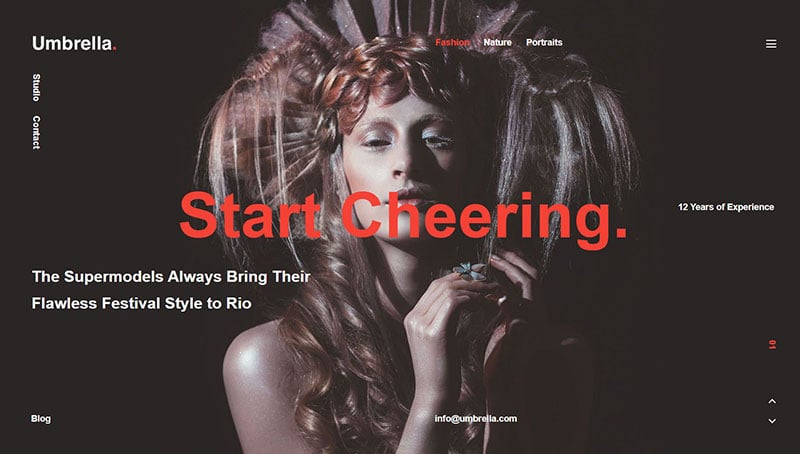 Umbrella is a premium template for photography and other artistic fields. It has a clean and minimal design.
It is available as both an HTML template or a WordPress theme. It is responsive, retina-ready, and uses AJAX for fast loading.
Corallo Studio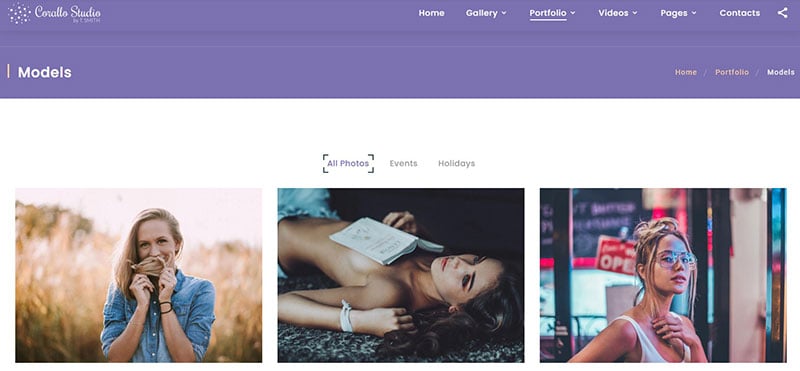 The goal of Corallo Studio is to help users create a website that is hard to ignore. It is a multipage template with an organized design.
It also offers widgets, UI elements and blocks, and parallax effects.
The template emphasizes the photos and headings. This makes it an ideal choice for a photography website.
Lydia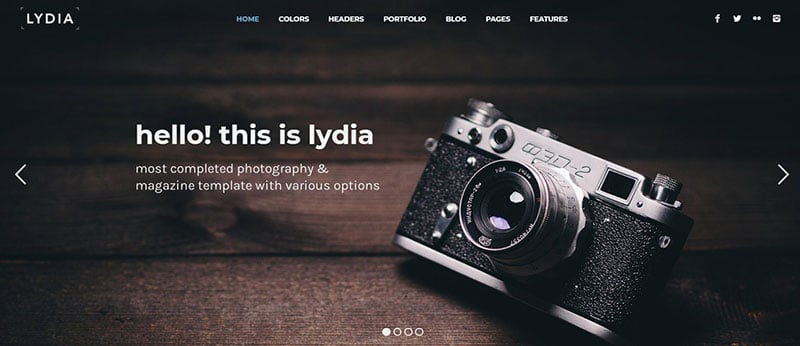 Lydia is a photography and magazine website template. It is suitable for photographers, digital studios, journalists, bloggers, businesses, and more.
Features include 30 pages, 11 colors, 3 headers, and a one-page option. It comes with 3 premium plugins included in the purchase.
It is adaptable, flexible, and responsive.
Fotonia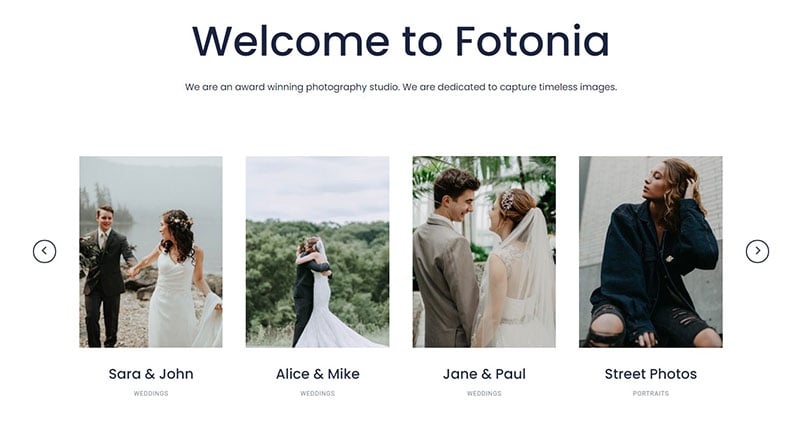 Fotonia is a clean and simple photography website template. It has a modern and responsive design.
Some of its features are 8 homepage styles, 7 gallery types, and an AJAX contact form. It also includes content pages like About, Pricing, FAQ, and more.
Oyster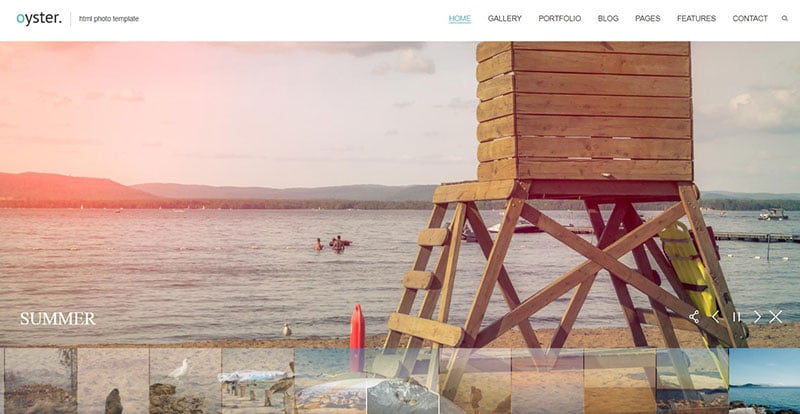 Here is another responsive photography website template optimized for SEO and speed. It is full of useful features to create a unique and beautiful site.
It offers a fullscreen design for an impressive display of pictures. It also offers sliders, image flow galleries, striped pages, fullscreen video, and more.
FreeBird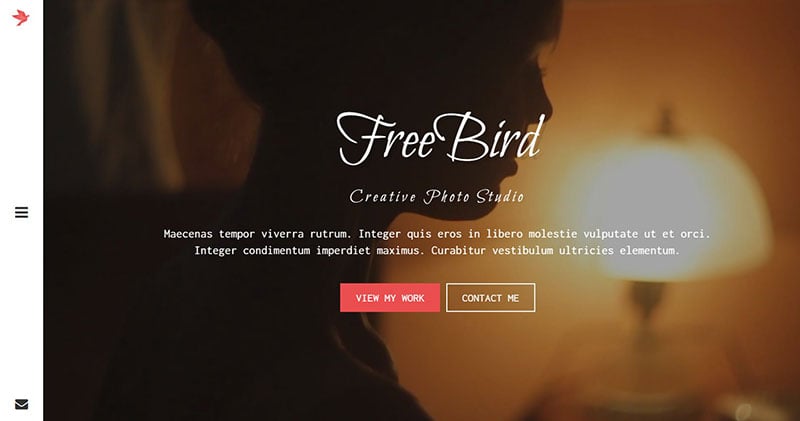 FreeBird provides a clean and neat design for photography websites. It includes a light and dark theme and many customizable attributes.
The template is built with HTML and CSS and is Bootstrap-based. A WordPress theme is available as well.
Emilie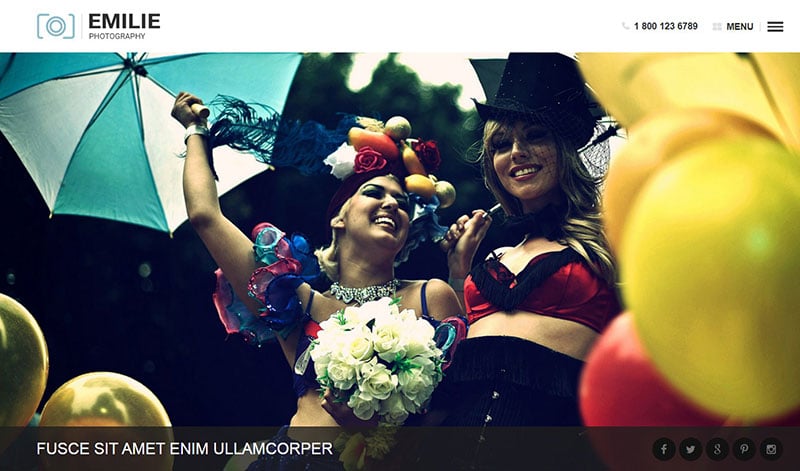 Emilie is another great website template for a photography online portfolio. Built with modern coding, it allows users to control the layout as much as possible.
It includes different style homepages, blog pages, and About pages. It has commented code that is adaptable to fit any need.
Bebovski Photography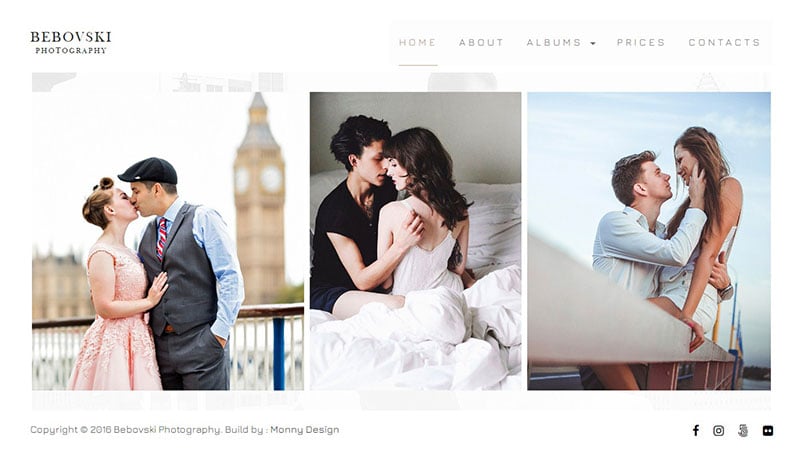 This is a stylish and modern photography website template. It comes equipped with 4 album layouts and 4 gallery layouts.
It offers a minimalistic design and stylish animations. It also includes an About page, a Contact page, and a section for prices.
Juno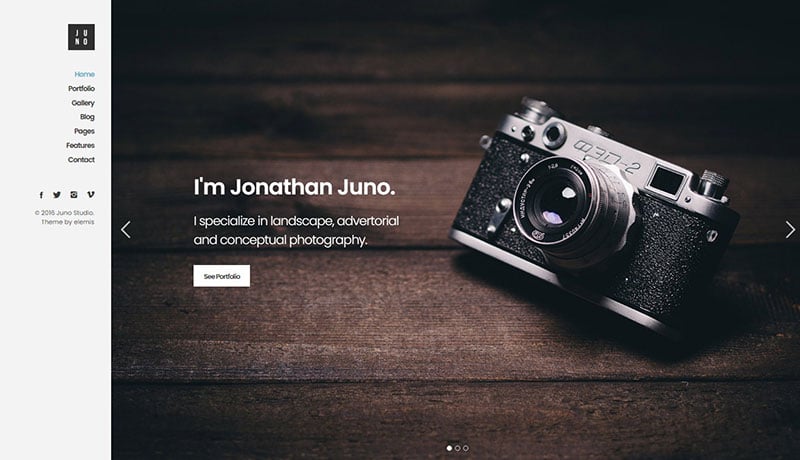 Juno is a comprehensive magazine and photography website template. It comes with 3 additional premium plugins.
It supplies users with countless design options and various features. These features include 12 demos, unlimited header and slider options.
It is responsive to any device size and is SEO optimized.
Photography Aurel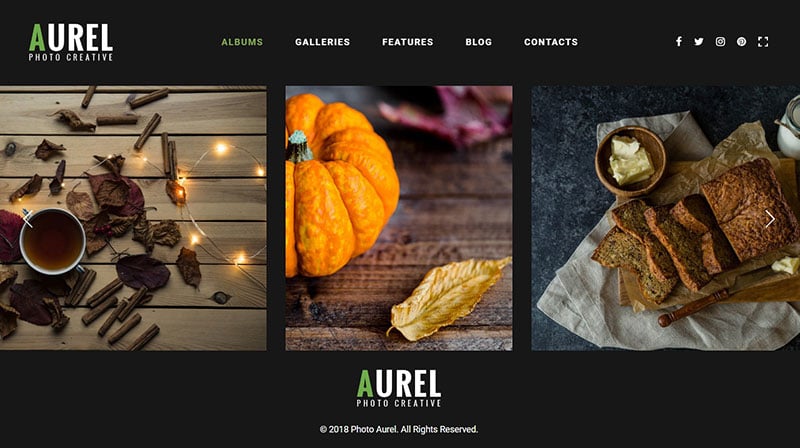 This photography website template is perfect for a professional photography portfolio. It provides unique features that allow skilled photographers to showcase their work.
For example, users can post photos in their original quality. It also allows users to do some initial edits.
It includes a before and after element and supports uncropped portrait pictures. It also includes video galleries and sliders.
Drownz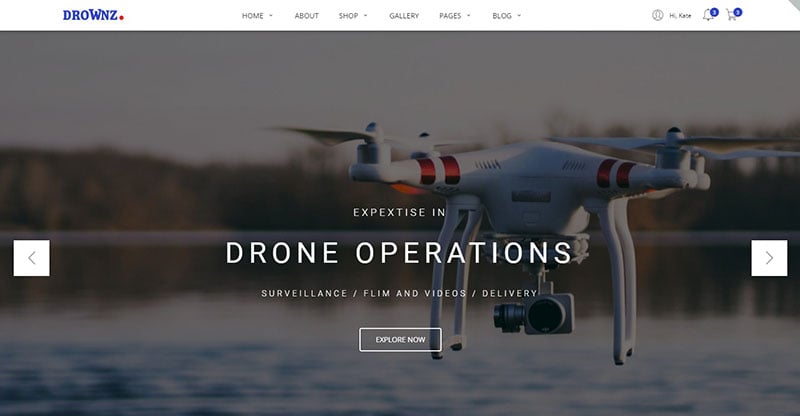 Drownz photography website template is for aerial photos and videos taken by a drone.
This template is well structured with blocks and UI elements that make it simple to navigate. It has a clean design, is responsive, and is cross-browser compatible.
Ashade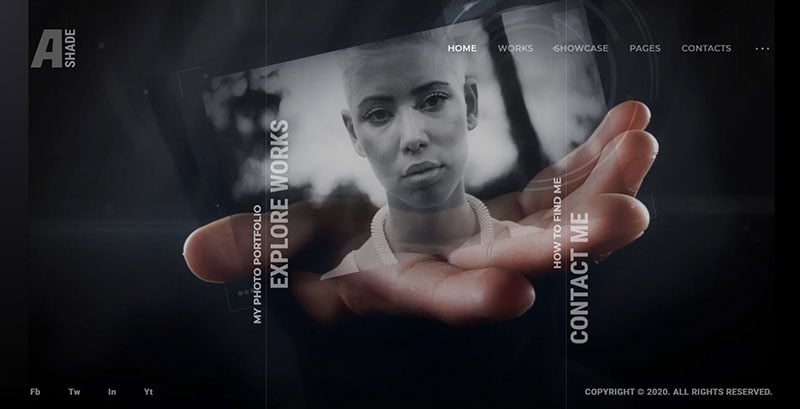 Ashade is a photography website template created in dark mode. It contains 18 clean and minimal layouts.
Features include smooth scroll, creative transitions, a before and after widget, and more. The lite design means the website is fast loading.
It's ideal to display a photography portfolio, designer portfolio, or other visual work.
A Snapshot of Photography Website Templates
This article lists some of the best photography website templates available. Each one offers unique features and beautiful designs.
These serve to highlight the work of a photographer. Each photography template above is adaptable and flexible.
They best suit photographers. However, they are also useful to artists and businesses who want to showcase their work.
To display your work in the best light, use any of these photography website templates.
If you enjoyed reading this article about photography website templates, you should read these as well:
Pick the Best Photography Website Templates From Here