Do you own a travel business? If you do, and you don't have a website yet, it would be advantageous to create one. Traveling is popular and is a part of our modern lifestyle. Most people book trips online, so having a good travel website will help you to capitalize on this propensity.
You may be wondering how to build a good website. This article lists some of the best travel website templates. All of the templates listed contain the elements you need for a travel-related website. They are easy to use and customize. Continue reading if you are ready to create a successful website for your travel business.
Why Use a Travel Website Templates for Your Business
First impressions are crucial in this fast-paced world. People want to book the trip of a lifetime, and they want to use a website that looks good. Trustworthy and professional are the qualities that you want to convey. Creating a website from the ground up is hard and time-consuming.
Travel website templates are there to help you. There are many advantages to using website templates. It saves time and money. You don't need to hire a team of designers and web developers to build your site.
Travel website templates contain the elements that you need in the travel industry. They contain features like booking forms, galleries, maps, and search boxes.
Most templates include tech support and receive regular updates from their developers. That assures you that your website will continue to work without problems and is secure.
Start your website project today by getting inspiration from this list of the best travel website templates.
Travel Agency Card Slider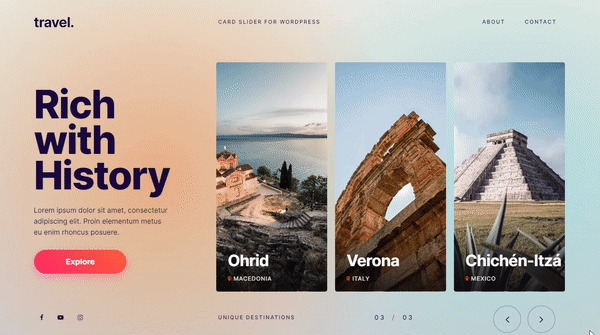 This tastefully modern card slider template for Slider Revolution will take your travel blog or travel booking website to new heights, surpassing your expectations.
Travel Blog Carousel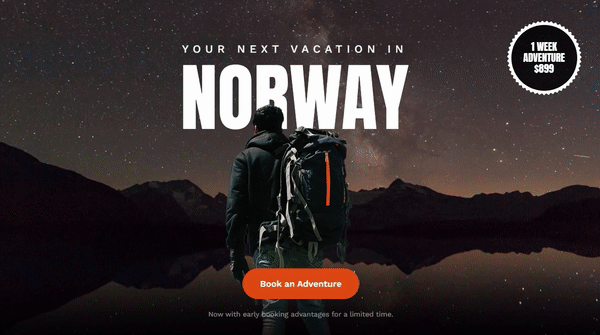 This template for a travel blog features captivating parallax and Ken Burns effects that create an immersive experience. The perspective and subtle effects enhance the overall feel of the design.
Portal Effect Hero Slider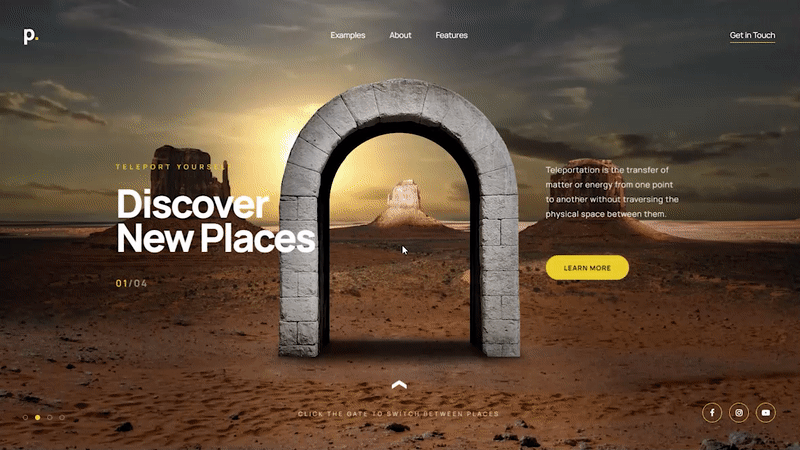 Whether you need an impressive landing page or a striking product presentation for your WordPress website, this hero slider module with a portal effect can deliver great results. Its impressive design makes it suitable for use anywhere on your travel site.
Cinematic Wildlife Slider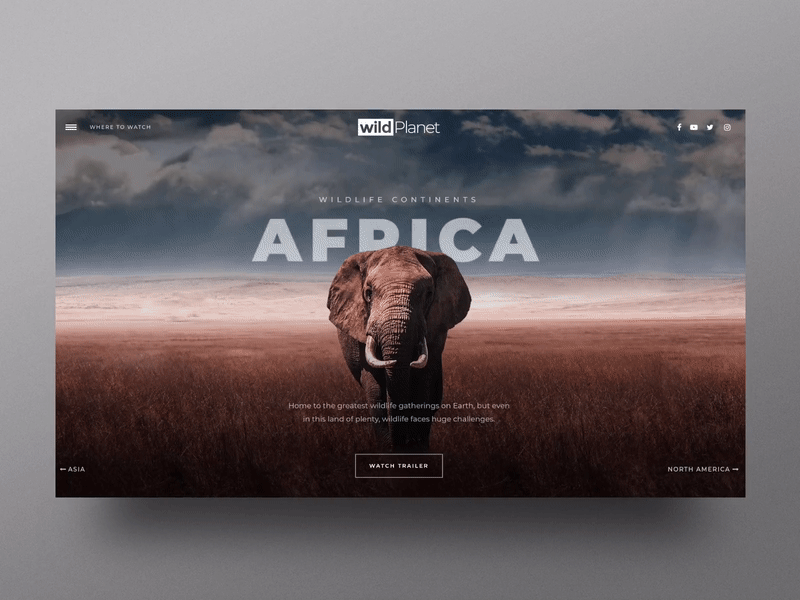 This photography-based slider enables you to effortlessly create cinematic presentations. It includes a user-friendly YouTube video popup feature for added convenience.
AndTour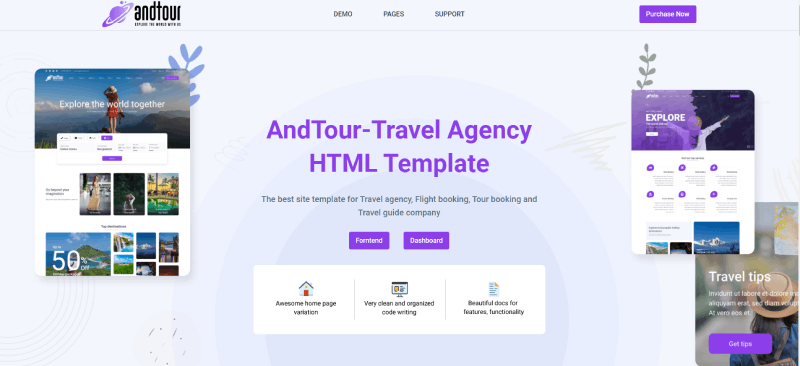 The first example on the list is AndTour which is made with Bootstrap 5, CSS3, HTML5, and SCSS. It is responsive and works on all major browsers. With AndTour you get support for boxed layout, Font Awesome, Google Fonts, and sticky headers. Whether you are into travel blogs or if you offer cruises, flights, and other trips, you'll have what you need with AndTour. It has many features and is easy to customize.
Ramble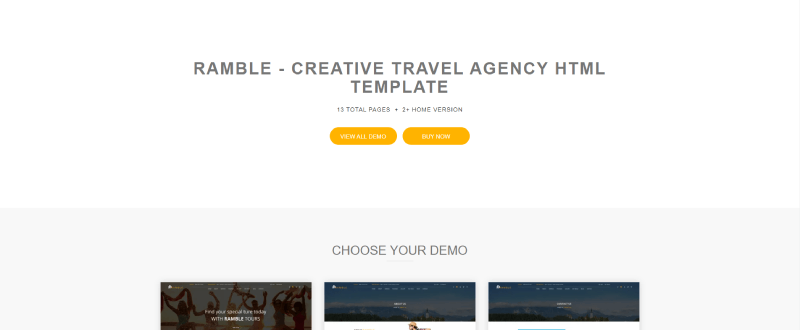 The second example is great for any travel agency. It has a modern and clean design and is easy to customize. You can add a full-size background image and use your creativity to spotlight your business. Ramble uses Bootstrap 5 which helps in making your site look great on any of the most popular browsers.
Panagea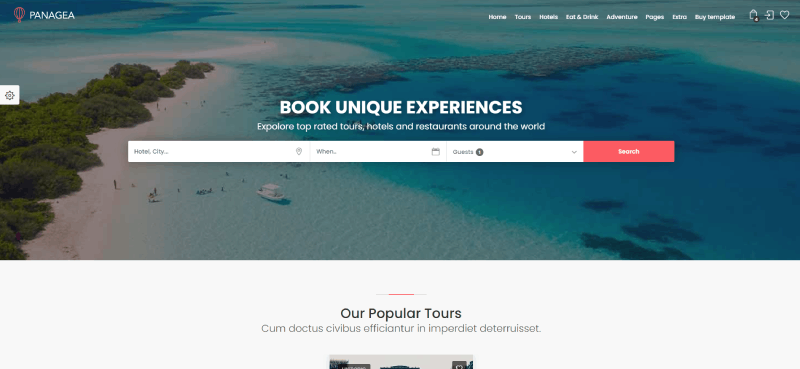 You can get started today with this HTML5 template. It will make your site and services stand out to any visitor. You can offer your customers trips, hotels, and restaurants. It uses Bootstrap 4 for optimal performance. On top of that, you can choose from any of the nine homepage layouts.
Exploore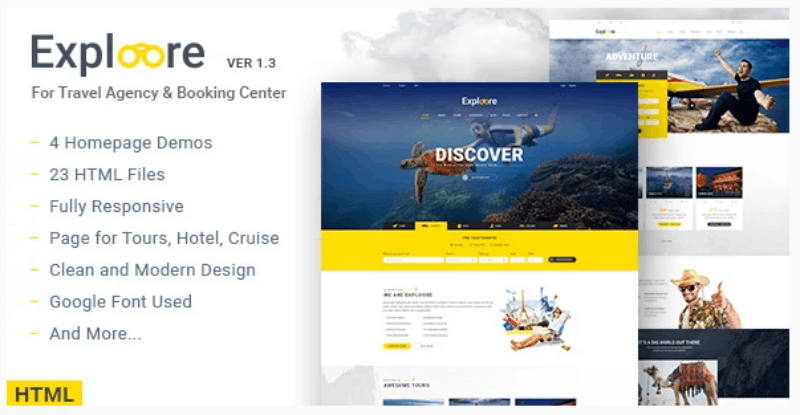 Here you find a modern and responsive tourism template in HTML. Its design suits travel agencies, blogs, tour operators, car rentals, and similar businesses. Exploore includes 21 HTML files, five different homepage styles, and 16 other useful pages. There are layouts for an about, blog, contact, and services pages. With the Bootstrap framework you will be able to make an engaging booking experience.
CityTours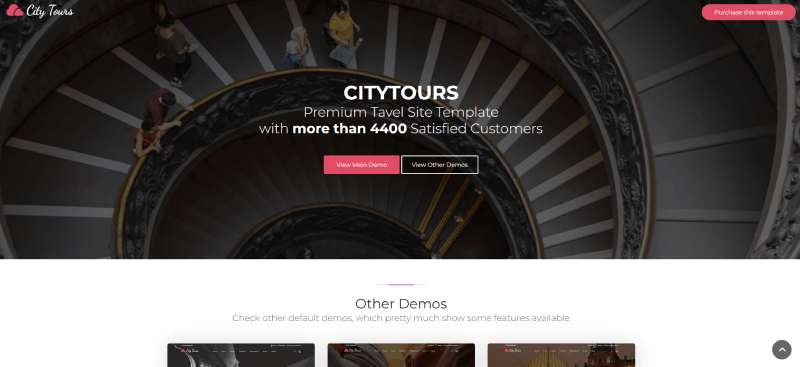 CityTours is a template for businesses and agencies that offer services for tourists. You can use it to promote a city and provide general information. Other things you can offer include event tickets, guided tours, hotels, trips, and much more.
CityTours also has much to offer on the technical side. It uses CSS3, HTML5 code, and the latest Bootstrap version. It will, thus, look great on any kind of device. You get 25 homepage designs and more than 120 HTML files.
TRAVOL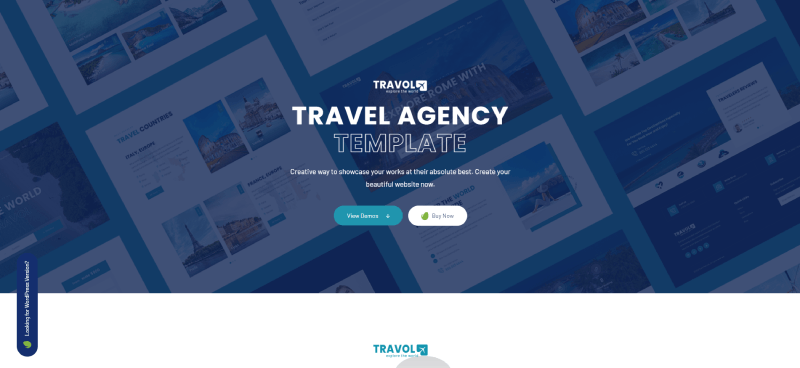 You will love TRAVOL if you love creative designs. Still, it maintains a modern and clean look. The builder allows you to see changes in real time so you always know what kind of impression you will make. There are many customization options that are easy to use. Some of its most exciting features are
Bootstrap Grid
Animate
Poppins and Barlow Google Fonts
Magnific Popup Gallery
Owl Carousel
Travel Flaticon
Themify Icons
YouTube Popup Videos
Traveler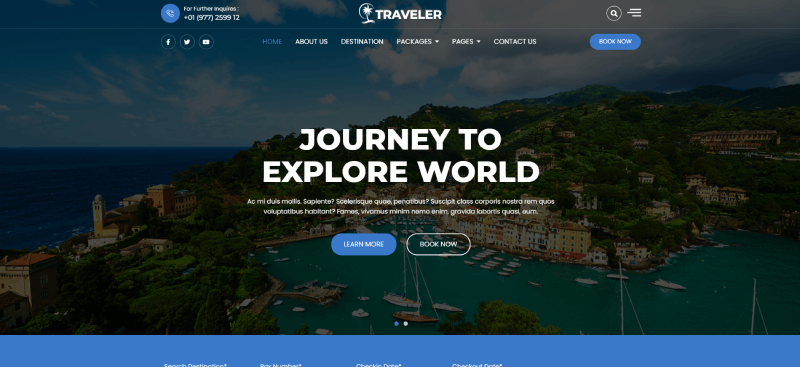 Bootstrap, CSS3, HTML5, and SCSS form the basis for this template for travel agencies. It makes it a safe and reliable option. There are more than 20 templates that are ready for you to use. You can customize them to make your services, destinations, and package deals appeal to your customers. It is responsive and will work well on any device and any browser. In fact, the developers guarantee that it will work under any circumstance.
Wonderlust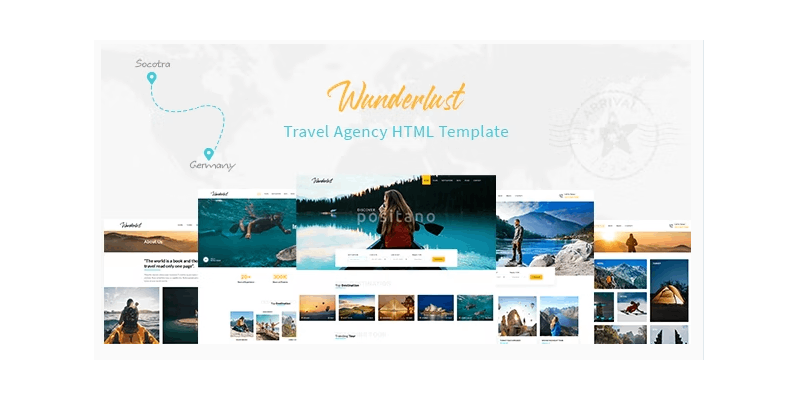 The Wunderlust template comes with a simple and responsive design. You can customize it with ease and adapt it to the needs of your travel agency. It is powerful and responsive because of the use of Bootstrap 4. The sticky headers make it easy for your visitors to browse your catalog.
Vedhak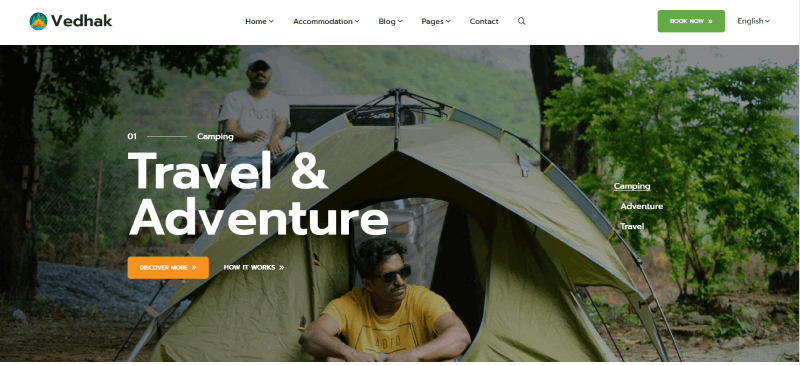 This template can launch a successful adventure travel website. Its design suits hiking, sports, and other outdoor activities.
Relevant Vedhak features include
Three different designs for landing pages
Bootstrap 5
Responsive
Clean and modern design
Includes SCSS
Unique effects and functionalities
W3C validated CSS3 and HTML5 code
TRAVELIA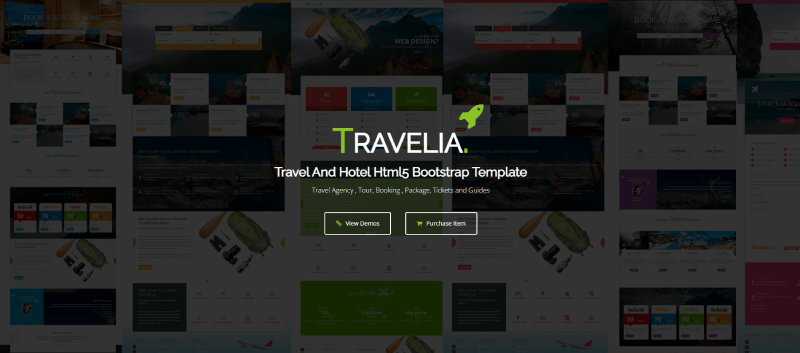 TRAVELIA is compatible with Ecwid, one of the most popular e-commerce platforms, so you can sell your travel services and products online. You will find that TRAVELIA has a modern and simple design and many layout options. You can use a full-width, boxed, semi-boxed, or boxed margin layout. You get more than 30 HTML files, including six homepage layouts. The options are endless. Other features include
Awesome Icons
Google Fonts
HTML5 and CSS3 code
Slider Revolution
Love Travel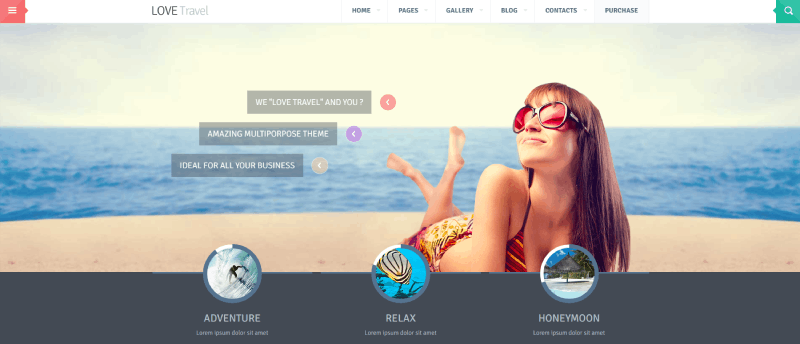 Inside Love Travel there are five HTML5 files that you can customize for your tourism and adventure website. Customizations are fast and easy. Love Travel is well-structured and works best for multi-page websites. It uses a 1200 px grid divided into 12 columns.
Travel The World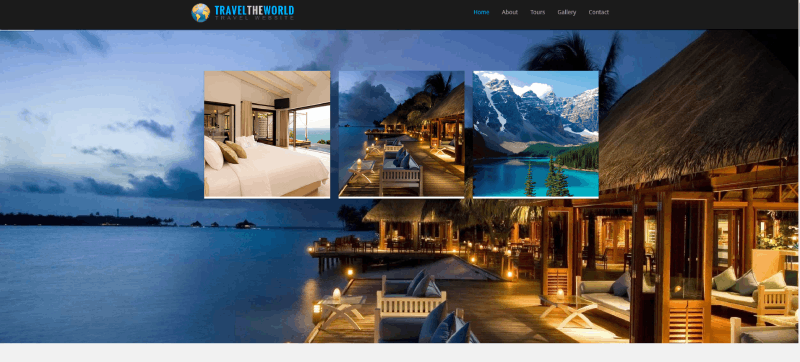 Have a look at Travel The World if you are looking for something unique and dynamic. It is compatible with most browsers and contains responsive CSS3 and HTML5 code. The result is a clean and responsive website that will boost your sales. You can add an About page with special effects and images that introduce your team. On the Contact page, you can add a Google Maps feature so that customers can find the physical location of your business.
Lavella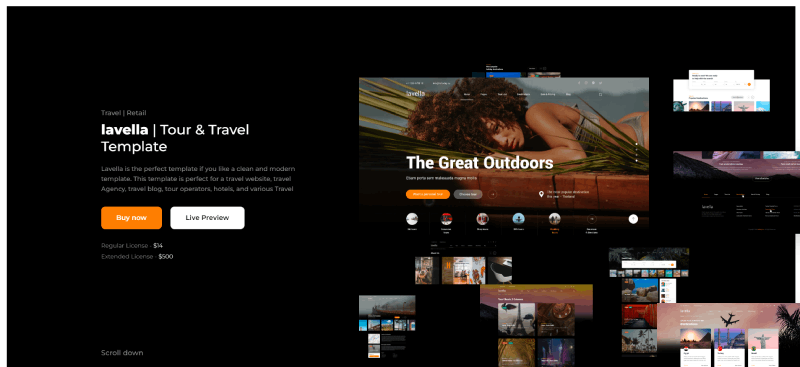 Lavella is a tourism website template that offers many layout options and awesome design elements. A major advantage of Lavella is that it is SEO-friendly so that people will be able to find your business online. That will increase the sales of your tours and destinations. It has a sidebar that you can put on the right or the left. You can arrange your catalog in two or three columns, and you can choose a light or dark theme.
Star Travel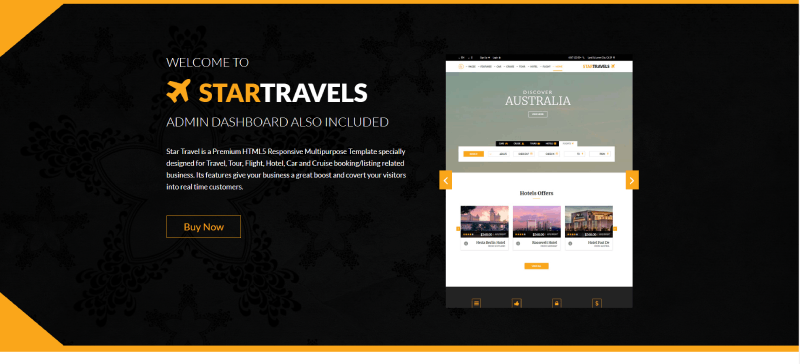 A premium template, Star Travel offers the best HTML5 for travel, hotel, cruise, car, and flight bookings. It has over 300 HTML pages, including seven homepage designs. Further, it offers footers, headers, a user dashboard, and an admin dashboard. You can choose from 12 attractive color schemes to match your branding. Other important features are
30 customizable PSD files
Bootstrap 3 and 4
Booking forms
PHP contact forms
Full responsiveness
Tevily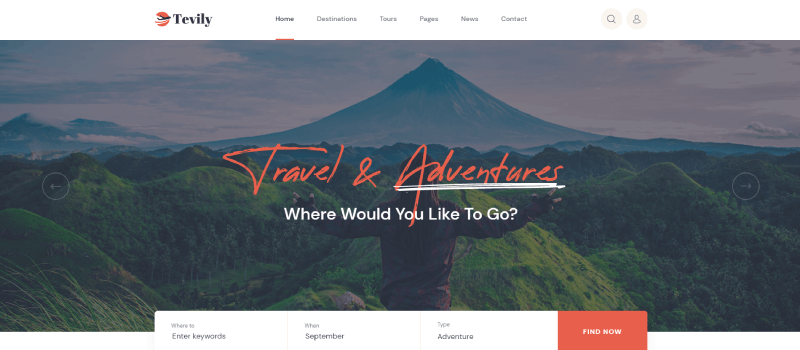 Tevily has a specific design for tour operators, travel agencies, and similar businesses. It is professionally designed and contains everything you need to get started with your website. There are two homepage designs, nine inner pages, and a wide range of extra features:
Bootstrap 5 grid
CSS3 animations
Owl Carousel slider
SEO optimization
You will be able to make something unique and amazing.
Tripin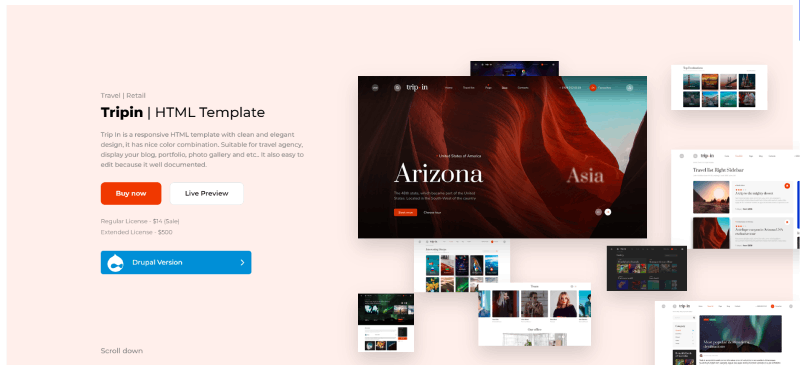 Tripin offers a variety of page layouts that you can use in different settings. It includes three layouts for offering travel and hotel options. You can display it in full-width with a sidebar on either side. There is a separate layout for offering tours that contain an image header. The user experience is excellent, even when searches don't generate results. For easy communication, there is a reply form that visitors can use to get in touch with you.
GoTrip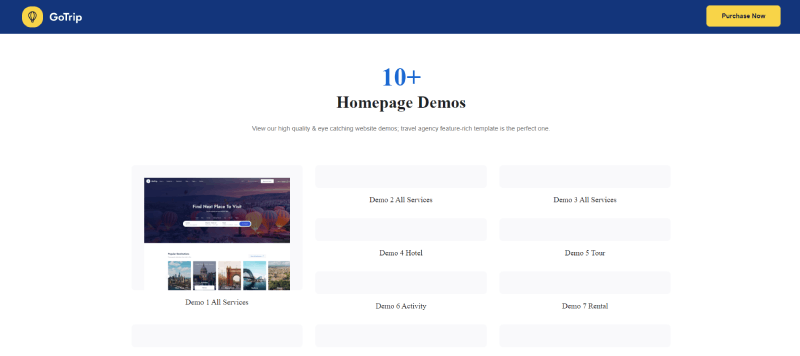 GoTrip includes over 60 amazing HTML files, including 10 homepages, five hotel listings, and two hotel page layouts. Besides that, you can add a tour listing, activity page, car rentals, and holiday and cruise offers. That is only a small selection of what GoTrip has to offer. Any business in the tourism industry will find it a useful and attractive option.
Iqoniq Travel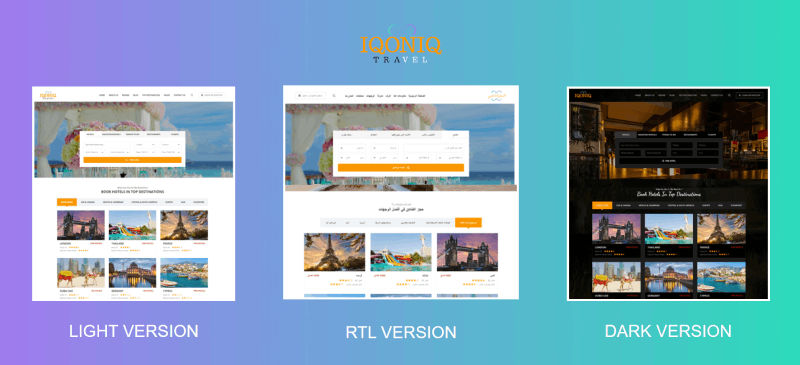 Iqoniq Travel is a template for hotels and resorts. It is also useful for room reservations, travel agencies, a travel blog, and tour booking. It makes planning a trip quicker and easier. Another application of the Iqoniq Travel template is publishing a travel guidebook online.
The HTML files are versatile and easy to adapt and customize. Interesting features include room detail pages and destination ratings. Users can tell fellow travelers about their experiences. New travelers can then make an informed decision.
Trizen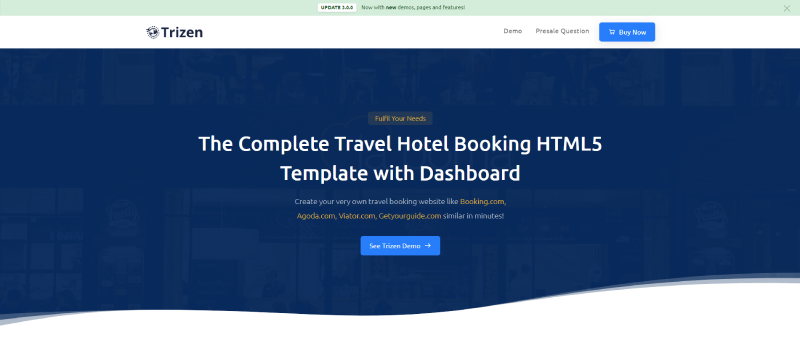 This example includes a professional HTML5 template for internet travel bookings. It uses Bootstrap 4, CSS3, JavaScript, and SASS. These features make Trizen responsive and easy to customize. You will have access to all necessary travel features. For easy use, there is an admin and a user dashboard.
Travelo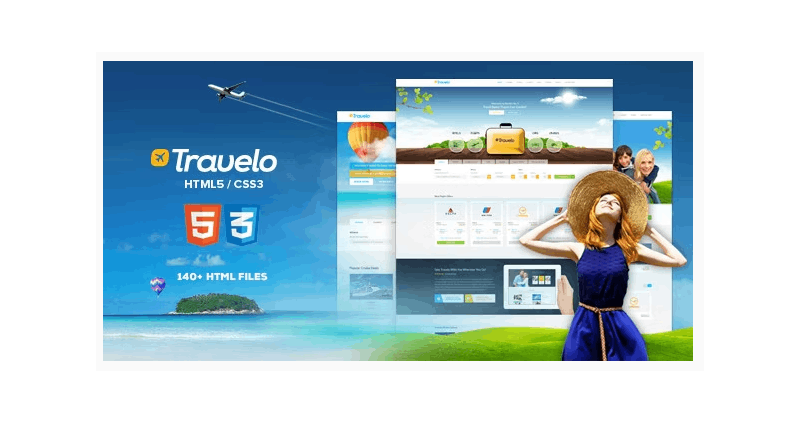 The last example on the list of best travel website templates is Travelo. It uses Bootstrap 3, CSS3, HTML5, and SCSS. This provides the grid for a responsive and beautiful travel agency website.
It has more than 140 HTML files, including 11 homepage styles. It offers a lot of customization options. There are pages for listing cars, cruises, flights, and hotels. Each category comes with a search option. On top of that, there are 10 color schemes, seven footers, and eight headers.
FAQs on travel website templates
What is a travel website template?
A travel website template is a website design that has already been created with a certain niche in mind, in this case the travel industry. Features like location details, prices, and pictures of the locations are common.
How do I choose a travel website template?
Think about how you intend to use your travel website before settling on a design. Look for examples that include travel-related details, booking links, and visuals. Selecting a template that is both aesthetically pleasing and user-friendly is also crucial.
Can I customize a travel website template?
Most travel website themes are flexible enough to be modified to meet the needs of your company. Customization may involve renaming elements, altering the design, or eliminating options.
What features should a travel website template have?
It is important for a travel website template to include things like destination details, prices, booking forms, and photos. It also needs to be simple to use, especially on mobile devices.
How do I add my own content to a travel website template?
With a website builder or CMS, you can customize a premade travel website template and add your own content. Your own words and pictures can now be uploaded to the site.
How do I make my travel website template mobile-friendly?
Use responsive design strategies that adapt the layout and content of the site to the size of the screen to make your vacation website template mobile-friendly. This makes sure that mobile devices like smartphones and tablets can easily navigate the site.
What are the benefits of using a travel website template?
When opposed to starting from scratch, using a travel website template can save both time and money. It also makes sure your site has the essential tools and capabilities for a successful travel company.
How do I ensure that my travel website template is user-friendly?
Your vacation website template should be easy to use and browse across a variety of devices and screen sizes. Destination details and available booking alternatives should be similarly simple to locate.
Can I integrate a booking system into my travel website template?
Absolutely, a booking system can be included in many travel website templates. As a result, visitors can easily plan their vacations without ever leaving the website.
How do I make my travel website template stand out from the competition?
Focus on producing high-quality content that highlights the unique features and benefits of your travel business, and your travel website template will stand out from the crowd. Images of the locations, customer reviews, and in-depth explanations of the activities and tours on offer all fall under this category.
If you liked this article about travel website templates, you should check out this article about band website templates.
There are also similar articles discussing coming soon website templates, video website templates, financial website templates, and architecture website templates.
And let's not forget about articles on gym website templates, pet website templates, app landing page templates, and tattoo website templates.
Top Travel Website Templates for Your Business