Vimeo is well-known as a first-rate website, dedicated to video hosting.
It's true, YouTube may boast more traffic. Yet more and more creatives are reaching out to their audiences through Vimeo.
You can design an effective visitor experience by integrating the Vimeo WordPress plugin into your website. If you want to embed Vimeo videos into your WordPress post or page, it's quite straightforward.
Looking to enhance User Experience (UX) and increase Click-Through Rates (CTRs) and conversions? Then using a video would be a great addition to your WordPress site.
It could even boost your share rates. This translates into more visibility and exposure for your website.
If you are using Vimeo to host your videos, you may want to create a video gallery. If so, then make use of an efficient Vimeo WordPress plugin.
This article presents a concise list of the best Vimeo WordPress plugins.
The best out there: Essential Grid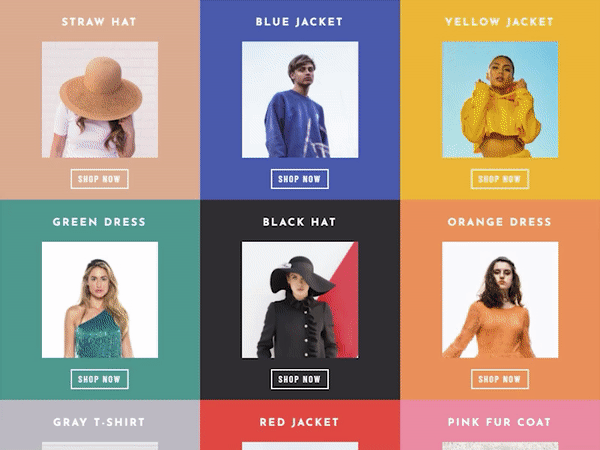 Essential Grid is hands down the best in the game. If there's one plugin that would make your website better more than others, it's this one.
Essential Grid lets you display your images in a gallery format, whether from the WordPress gallery, social media, or elsewhere.
The attractive, user-friendly interface makes customization and selecting your format tasks straightforward.
You can use images or add WordPress content, such as blog posts or other custom post types (including WooCommerce products). Also, you can connect to external services such as:
The visual skin editor creates gallery item layouts. For instance, when creating a gallery for WooCommerce, you can include:
Product price
Add-to-cart button, and more
And that's is not all. Once you get a license, you have access to quick FAQs and video tutorials that will walk you through the process of making your website look amazing with Essential Grid.
Key Features
Integration with other plugins such as WooCommerce
Multiple gallery layouts, including a template library with 50+ starter grids
Image, video, and audio galleries
Galleries from posts or custom post types
Create galleries from many different sources
Galleries from dynamic sources, including Instagram, YouTube, Vimeo, Twitter, Flickr, SoundCloud, and more
Here's a glimpse of what you can do with Essential Grid:
Present your blog posts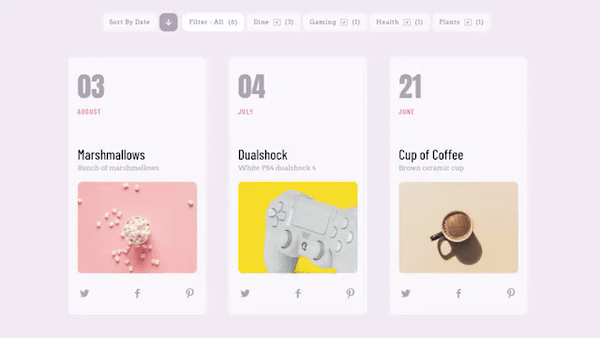 Showcase your portfolio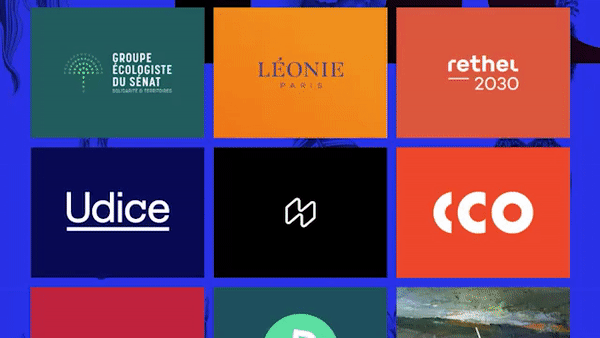 Display unique products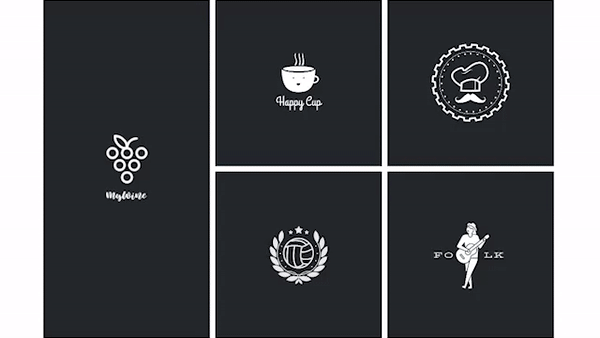 Share audio files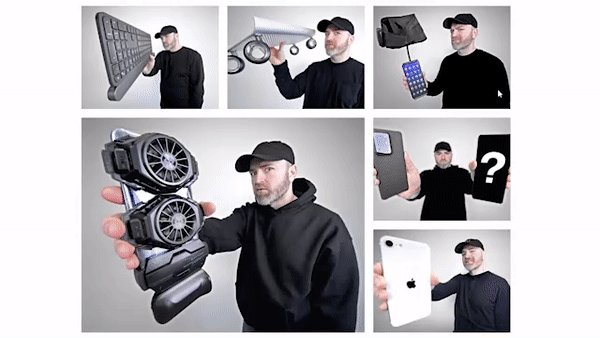 Display videos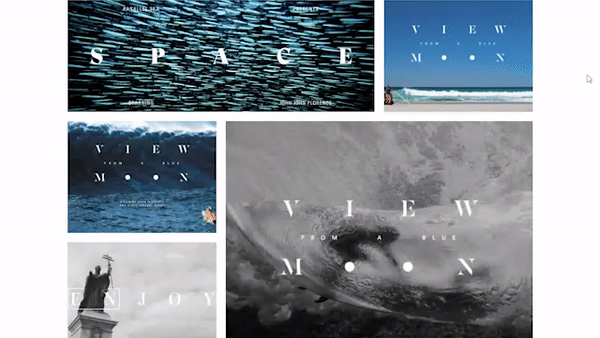 Show your Instagram stream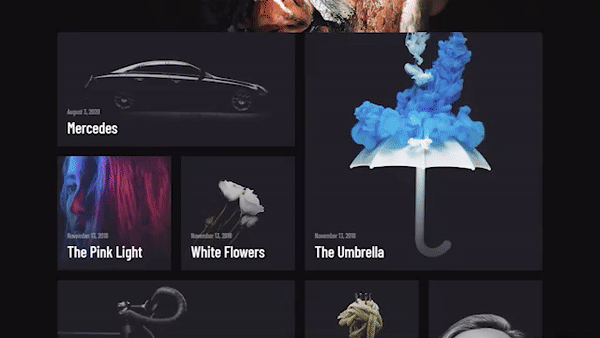 Video Gallery

This plugin functions not only as a video gallery but as a video player too. Set up YouTube galleries, Vimeo galleries, or both using the design options available.
This fantastic feature enables the aesthetic and tone of your site to merge with the gallery.
This Vimeo WordPress plugin is well-suited to both YouTube and Vimeo. It includes the following features:
a content and video slider
a light-box gallery alternative
Hebrew and Arabic languages function via RTL admin support
a view counter per video
Vimeo Gallery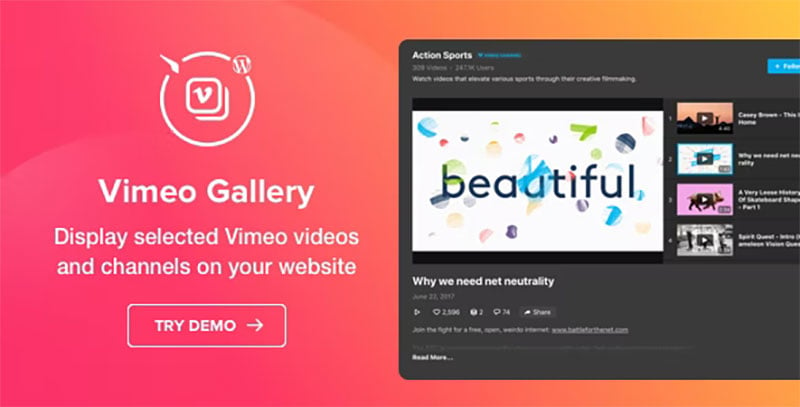 This WordPress video gallery plugin is user-friendly. It's a great option if you're on the lookout for a Vimeo gallery slider WordPress plugin.
It is quick and easy to generate different playlists for your visitors. There's also a video widget with an adaptable interface.
You can set these features up with no coding knowledge needed!
The price is reasonable and includes premium and quality support as well as free updates.
Showcase the Vimeo channel with this video gallery extension. Then watch your follower count multiply along with your popularity.
ARVE Pro Adden

This WordPress plugin supports both the Gutenberg and Classic Editor plugins.
Developed by NextGenThemes, this plugin can accomplish an unlimited number of video functions. For example, if you want to avoid a lag during the loading of your site, opt to load an image instead of a video.
This Vimeo WordPress plugin is growing in popularity. That's because it can embed videos hosted on every leading video hosting platform.
Features include a shortcode applicable to the Classic Editor and an ARVE block for page builders.
A customizable lightbox allows you to display videos with different aspect ratios. These videos play as soon as the page has loaded and have the mute option available.
This Vimeo WordPress plugin incorporates two play and hover icons. You can use these for both videos and images.
The plugin also enables the display of both automatic and custom titles.
Simply Gallery Blocks

This plugin enables you to compile video galleries within the Block Editor. You can also select from various new gallery blocks featuring diverse styles.
Alongside this, you can integrate self-hosted images and videos.
This plugin is accessible, with various customization options for each gallery block style. After clicking on a gallery image, visitors can move from one element to the next within the lightbox.
There is a drawback with Simple Gallery Block's free version. The option to embed videos from an external source will not be available to you.
However, the premium version opens up this option. Thus, you can create video galleries with files from your website and from other sources too.
Presto Player

Presto Player is jam-packed with features. If video is your main product or if it forms part of your brand's marketing, this is the tool for your venture.
Host videos anytime, anywhere. This plugin facilitates all hosting solutions that support public video links.
To make things even simpler, the plugin has dedicated blocks for Vimeo, YouTube and Bunny.net. You can insert a field for email capture and CTA at your chosen moment in the video.
Presto Player works with any page builder. Some notable features include:
offer additional information via an overlay option
adjustable video playback speed
captions for videos (perfect for course creators)
merge various features using customizable presets
This makes it a rock-solid choice for marketers, bloggers, and course content creators.
EmbedPress

Embed compelling and interactive content into your WordPress site. That includes video content, images, posts, PDFs, maps, and other multimedia formats.
This is one of the easier Vimeo WordPress plugins to use. You can embed straight from Classic Editor, Gutenberg, or Elementor.
You can also embed content through EmbedPress shortcodes in other WordPress page builders. In an instant, you can embed Wistia, Dailymotion, Twitch, Vimeo, and YouTube videos.
Turn yourself into a Vimeo video pro with the following Vimeo features:
enable DNT [PRO]
activate Auto Pause [PRO]
loop videos [PRO]
All-in-One Video Gallery

Here is a WordPress video plugin that lives up to its name. Find support for a variety of videos and video-hosting services.
Upload videos from personal files or your YouTube, Dailymotion, Facebook or Vimeo feed. You can even embed an iframe from a third-party provider.
Among other added functions is the keyword search capability for videos. You can group video collections by category and build a responsive thumbnail gallery.
Widgets, forms, shortcodes and more are also featured.
Exhibit your videos in different formats using the player. Your videos are immediately optimized for search engines.
This free wordpress plugin lends GDPR support. It is also compatible with both Google's Admanager and Adsense.
Purchase the Premium version for live video support.
Classy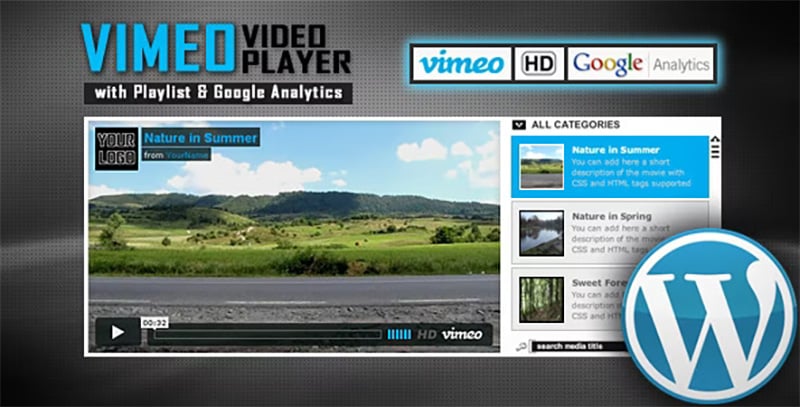 Classy features a customizable CSS, player, and playlist file. Yet it remains one of the more pocket-friendly Vimeo WordPress plugins.
It is easy to adjust the admin page if you change the video player's height or width. You can also alter the width of the playlist and add or remove various video players.
You can split one video into a number of categories and use Google Analytics to track the videos.
Moving the cursor off the video activates the settings auto-hide function. Play or pause the video by clicking on it.
Video Gallery by Huzzaz

Build a polished video gallery using this free WordPress plugin. Video Gallery by Huzzaz does not require coding skills to create video galleries.
With this plugin, you can embed the link to videos from Facebook, Vimeo, YouTube and more. The drag and drop function allows you to create content fast.
Some standout features include:
best Facebook video gallery WordPress plugin
WordPress YouTube gallery plugin
pop-out video gallery
video auto-play
no need to code in order to create a stunning video gallery
tailoring of both design and color
Gallery Box

Create an appealing image gallery featuring Vimeo videos, a picture carousel, slider and portfolio.
This Vimeo WordPress plugin is not complicated and it is easy to customizen. It provides fast, thorough support for Vimeo, carousel images, Iframes, and YouTube videos.
It further supports WordPress page builders among other things.
One of the better features is the lightbox. By means of the hover effect, it offers a seamless image display.
You can work with three contrasting masonry grid types, along with creative panels. There is support for all three masonry grid styles and the ascending and descending image panels.
You can also upload as many images as you like to the gallery.
Video.js HTML5 Player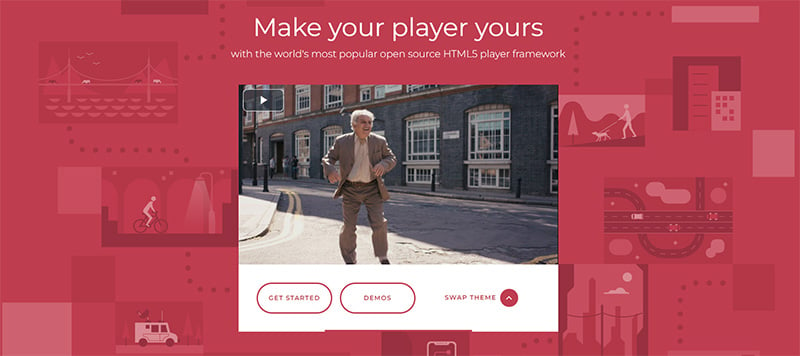 Put together piece by piece, this modest plugin supports well-known video formats. For example, OGV, WebM, and MP4.
It works best in the HTML5 landscape. However, it offers support for HTML5 video and current streaming formats.
That includes Vimeo, YouTube, and even Flash.
This is a web video player plugin that delivers a straightforward shortcode. You can apply this to a number of page builders, as well as Classic Editor.
Some notable features include:
the upload of poster images for video
a water-mark free experience
a plugin that functions with all principal and self-hosted video sources
a customizable shortcode compatible with both the Classic Editor and other block editors
Vimeography

Transform into a Vimeography pro with this plugin. It allows you to assemble shareable Vimeo galleries on your site.
Upload Vimeo videos in an instant and you place different videos on your page. Create a compelling visual experience using various video themes.
These design elements will allow you to engage with your visitors via your videos. That's a definite plus if you are planning on creating a membership or course website.
Pages load fast via the built-in caching. You can also use custom themes to change up the look or layout of your site.
Use the settings menu to arrange the videos you want to exhibit in your primary Vimeo video gallery. Let visitors grasp your idea and objective by using a featured file.
Envira Gallery

Looking for a video gallery plugin that allows you to put together video galleries in a flash? Envira Gallery could be the one.
You can customize your gallery's look with the drag-and-drop feature for page builders. Reinforce content privacy with watermarks and follow up on video performance with ease.
Apply one-of-a-kind tags to albums and choose a cover photo to identify what your video is all about.
Restrict access to your content and create passwords for each video. You can ask visitors to complete a form before giving them access to your gallery.
This also gives you the opportunity to design a secure marketing campaign for your site.
WP-Modula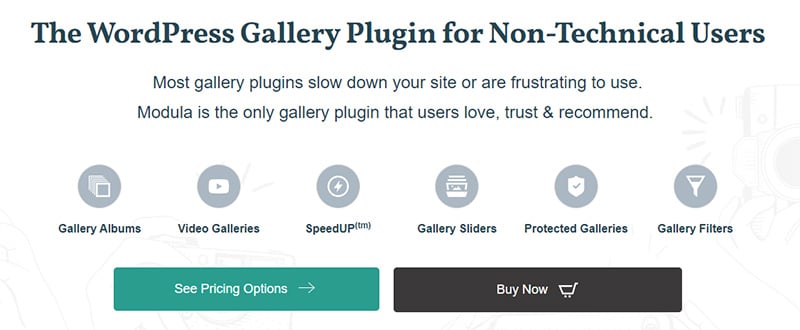 Showcase your top visual work with this phenomenal video gallery slider WordPress plugin. Load pages at lightning speed with the use of CDN and image optimization elements.
You can also add videos from video creation sites including Vimeo and YouTube. A straightforward drag and drop simplifies the work.
These features and more cement WP-Modula as one of the best video gallery WordPress plugins.
Other highlights are:
the option to filter your galleries and adjust their layout
a premium extension
ease of use for those visiting the site on their mobiles
In a few clicks, you can construct an appealing grid for your dynamic galleries.
WP Video Lightbox

If you're looking for the best WordPress Vimeo plugin, look no further than WP Video Lightbox. This plugin allows you to play videos on your site with minimal effort.
Thanks to the practical design of the video player, it does not hinder page performance. It also complements the design of the site as a whole.
This is due to the design of the player, which takes its cue from the traditional lightbox model.
WP Video Lightbox is able to manage various content. That includes videos, slideshows, and animation.
By using a shortcode, you can host videos on several video hosting platforms. The designer can embed videos onto the pages through the use of a public link.
Developed by Tips and Tricks HQ, this popular plugin enables the embedding of quality video. Showcase Vimeo videos, images, flash and more using the lightbox overlay display feature.
The shortcode contains the video's details such as height, width, anchor text, and link etc. You can use this code to embed your Vimeo videos.
Ultimate Video Player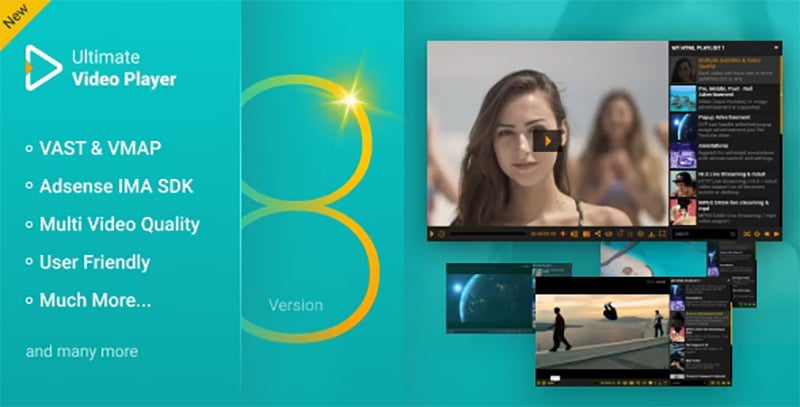 Ultimate Video Player is rich with features that enable you to display videos on a website. You can host videos from various hosting sites using the straightforward embedding interface.
This plugin allows you to include audio files for visitors to listen to. The player is easy to customize and you can alter it to match the WordPress theme of your website.
If a visitor selects a video, a lightbox player appears and the video will start playing. There are captions to support a wide range of languages, as well as the option to stream live.
Another element of this Vimeo WordPress plugin is the responsive player. Embed featured videos and play them by means of this design feature.
The plugin includes integration support for Google Analytics. This feature provides the site creator with comprehensive video metrics.
Embed unlimited videos in various playlists for improved user experience.
Video Gallery WordPress Plugin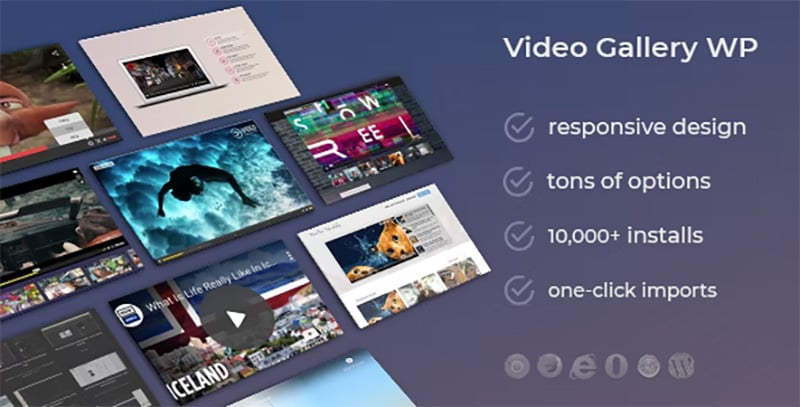 This is a cost-effective video gallery WordPress plugin. It is both very competent and user-friendly.
You can jump right in with its ultra-compatible setup and its many features.
Tailor the look and feel of your site using the five skins provided. This will boost the aesthetic appeal of your WordPress website for your visitors.
This Vimeo WordPress plugin is suitable for users of both the iPad and iPhone. Designers can embed images as well as single or multiple videos.
Other interesting features include:
iOS support
permission for use of auxiliary shortcodes
link-up to Vimeo API
numerous galleries in a single frame
super rapid performance
Conclusion on the Best Vimeo WordPress Plugin Options
This article has looked at a handful of first-rate Vimeo WordPress plugins – both free and premium. You can utilize these plugins in a variety of ways.
Need a video player or want to embed some visual content? How about putting together an eye-catching gallery?
Or do you need some help with SEO when it comes to video details? This collection of Vimeo WordPress plugins is definitely worth checking out.
Showcase your Vimeo channels and videos with a Vimeo WordPress plugin.
The tool you select will enable you to embed videos on your WordPress site. It may also give visitors the option of choosing various playback preferences.
Open up a world of varied and appealing gallery designs to suit your website's overall look.
If you enjoyed reading this article with Vimeo WordPress plugins, you should check out this one with the most impressive black websites.
We also wrote about a few related subjects like professional website templates, website templates with sliders, animated website templates, consulting website templates, website templates for artists, non-profit website templates, church website templates and creative website templates.
The Best Vimeo WordPress Plugin? Let's Compare Them