Websites that tell a story are more engaging and help to boost the success of a brand's digital marketing campaigns.
Storytelling has to do with sharing moral values through narratives that have a plot and characters. Storytelling websites use these same techniques to tell a compelling story about its:
● Company
● Product
● Slogan
● Culture
Storytelling website design includes visual cues like:
● Animations
● Images or graphics
● Large text or titles
Most web designers also use scrolling animation websites to grab readers' attention. While every visual story doesn't need to be interactive it must be engaging. Why?
The answer is simple. If website visitors are bored by what they see, they are going to ignore your web design content and perhaps your brand.
What's on-screen needs to grab their attention! Your visual story must not only be good, butit must also engage the imaginative mind of your audience.
Here's a list of storytelling website examples to help you create a compelling storytelling website of your own.
Appealing Visual Storytelling Websites
Storytelling Website Template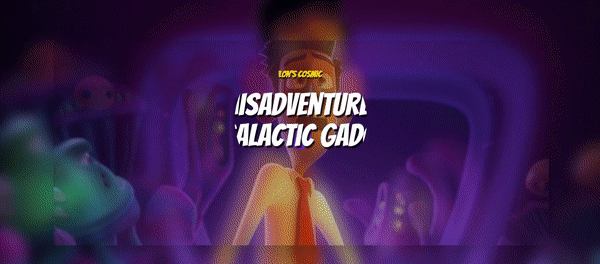 Tailored specifically for authors, bloggers, and content creators, the "Storytelling Website Template" revolutionizes the art of storytelling by effortlessly blending text, images, videos, and animations, crafting a captivating and vibrant voyage through your narratives.
Empowered by our user-friendly and adaptable framework, you possess the ability to unleash your creativity and captivate your audience, captivating them with each captivating story.
Pierre Herme Nicolas Buffe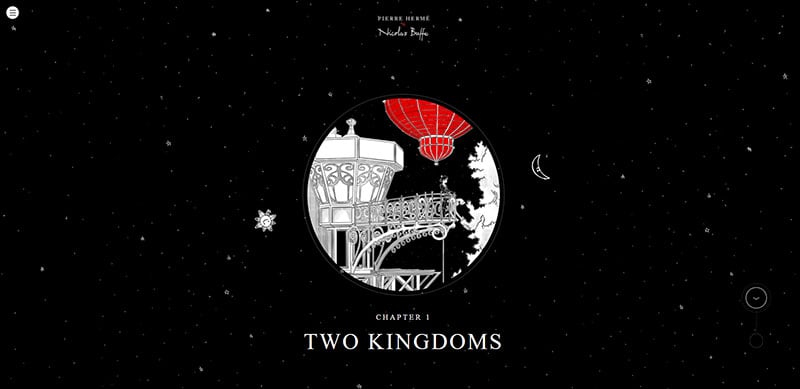 Rightly first on this list, this website features immersive illustrations and compelling animations. It's easy to get lost in the story as you explore the novel's fantastical world.
This example features background music which causes the reader to feel what they read, making the novel more realistic.
The Boat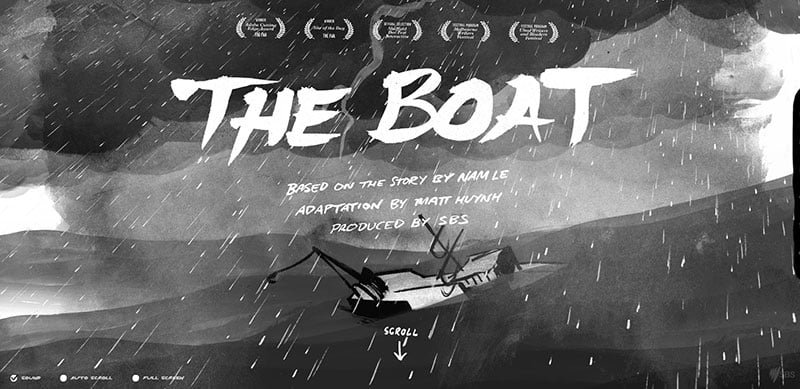 This is a game graphic novel website. Users experience the dangerous escape, with heroes from the Vietnam War, as they read the novel.
Opportunities for Our Avatars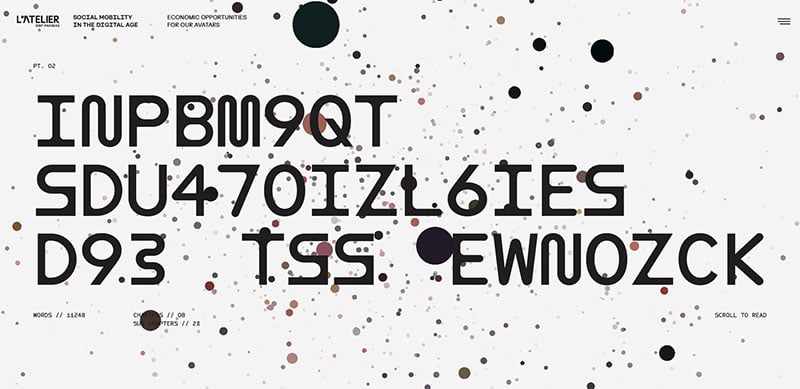 The life of Van Gogh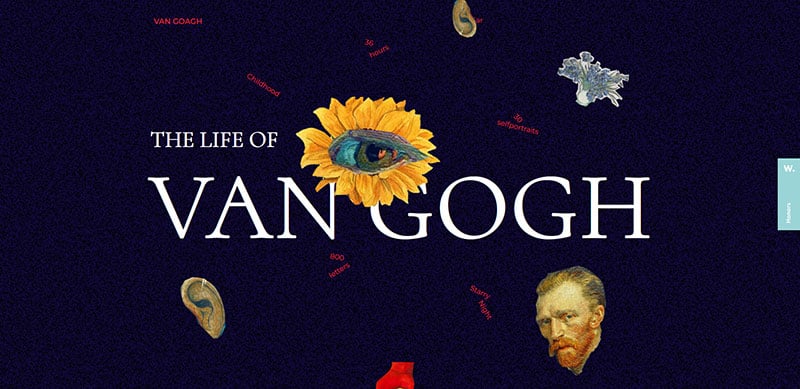 A long read about the work and life of Van Gogh.
Shanghai Old Town Vol.1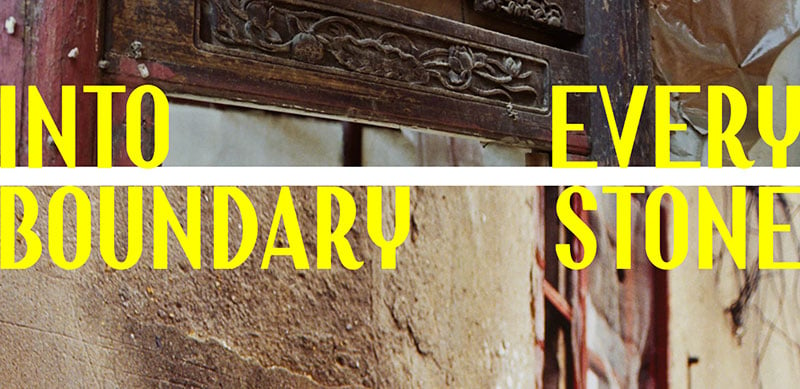 This site has a long landing page for promoting the 'Shanghai Old Town' book with unique storytelling and huge imagery.
Junko's Story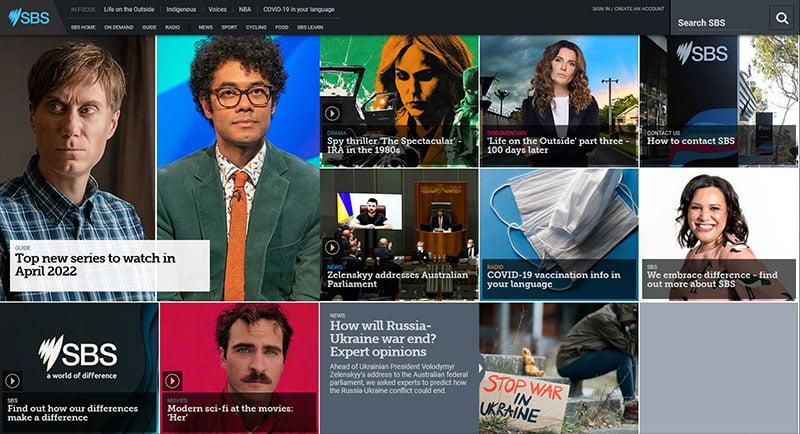 This one-page editorial revisits life as it was right after the atomic bomb hit Hiroshima in World War II.
This site demonstrates good attention to detail, e.g. the information hotspots with subtle textures.
This Side of Rice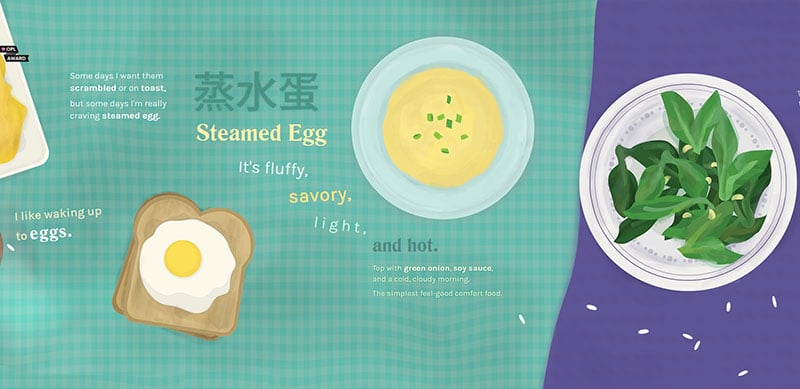 Here's a special one-pager from Jenny Zhang. This storytelling website pays homage to the Chinese food she grew up with.
This horizontal scrolling website oozes elegance and passion. It features lovely illustrations and scattered text that reads like a traditional storybook.
The Depths She'll Reach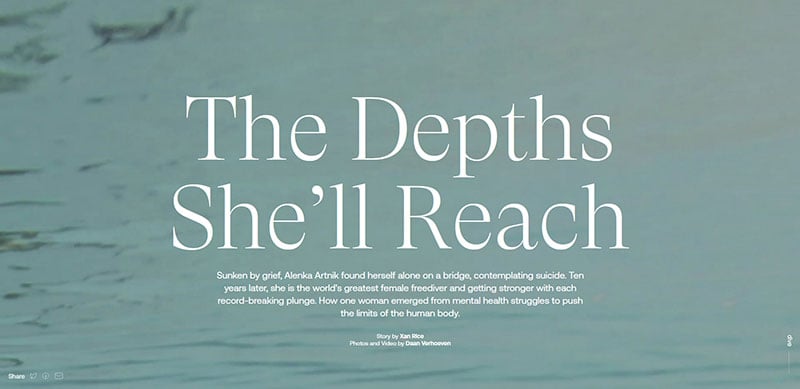 This immersive multimedia website tells an amazing and inspiring story. It is Alenka Artnik's story of obscurity, mental health struggles, and success as one of the world's most elite athletes.
James Bond 007 Cars Evolution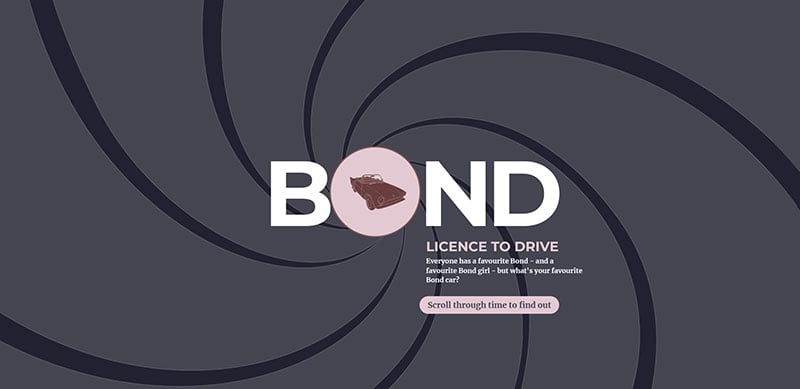 Are you a James Bond movie fan? Here's a simple website that transports you through time to see the evolution of the cars that were used by Bond in the movies.
Inception Explained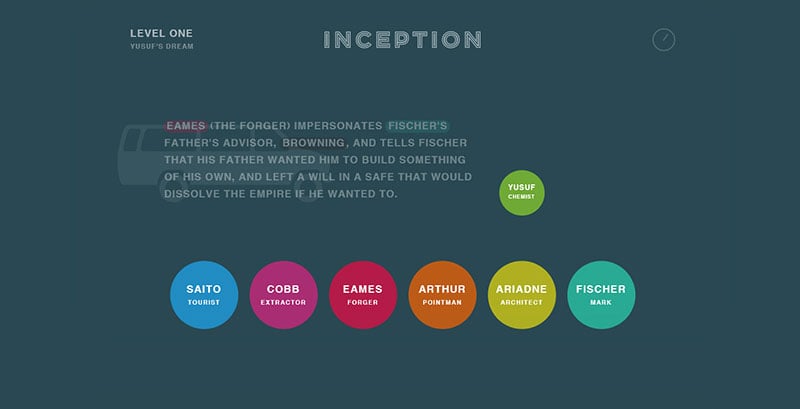 Here's a website that explains the movie 'Inception'. This immersive movie plot is explained using easy-to-read text and illustrations that take us through each dream level.
Event Websites That Tell a Story
Alpine Day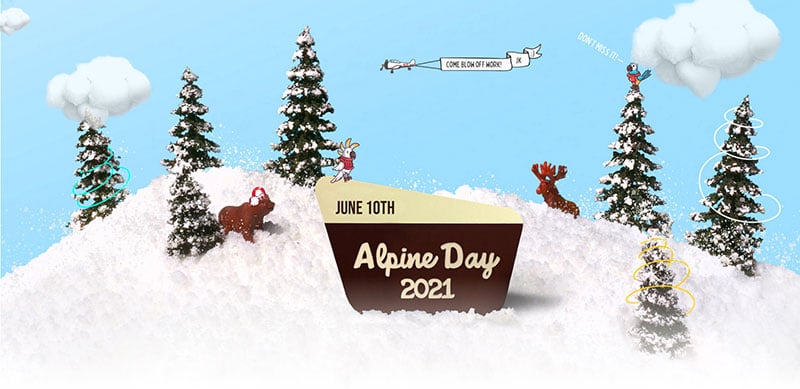 This is a good example of an event website that tells a visual story. It avoids fixed scrolling animations or other restrictive animations.
This makes the site's layout simple so that the target audience can easily absorb all the information.
Storytelling Web Design For Wedding and Engagement Sites
Jess and Russ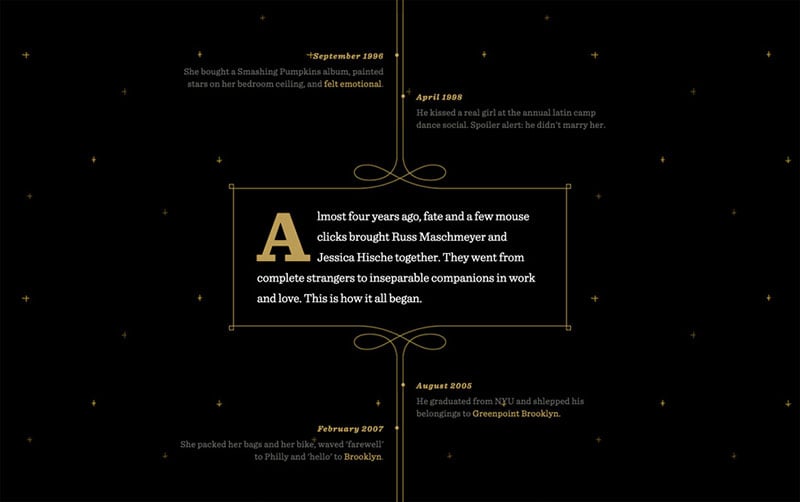 This website has a main timeline that is useful to the reader for staying on track with the dates of each part of their journey.
Appealing Visual Storytelling Websites for Fashion
Borgo Veneto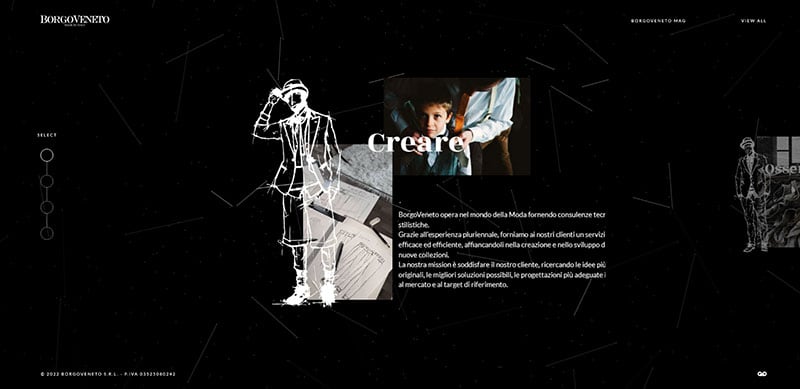 This fashion studio storytelling website uses striking transition and hovering effects.
The visual storytelling, in this example, helps users choose whether this brand is the perfect fit for them.
Storytelling Website Design for Environmental and Socio-Economic Issues
Slavery Footprint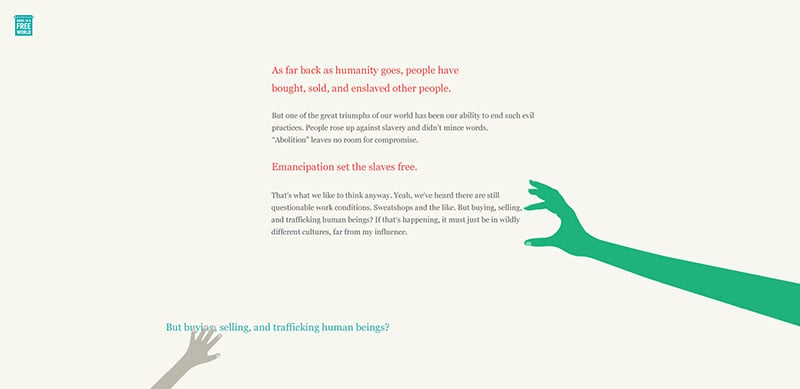 This website focuses on a topic that many do not know about or might choose to ignore, modern slavery.
Visual storytelling is used to help raise awareness of this issue.
Every Last Drop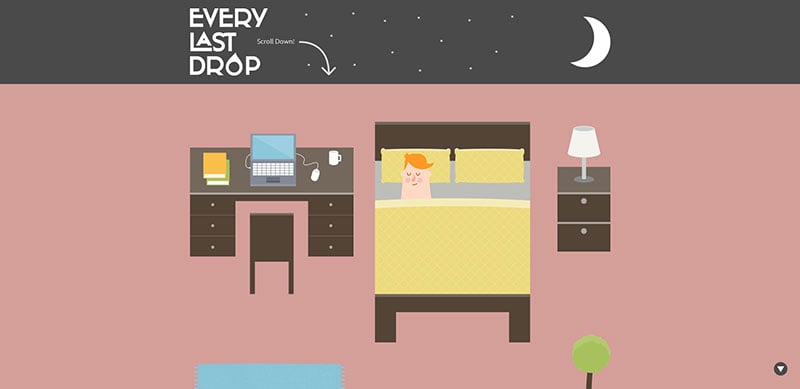 This website promotes the wise use of the earth's water resources. The site combines engaging animations with life facts that tell a story about daily water consumption.
Animals Australia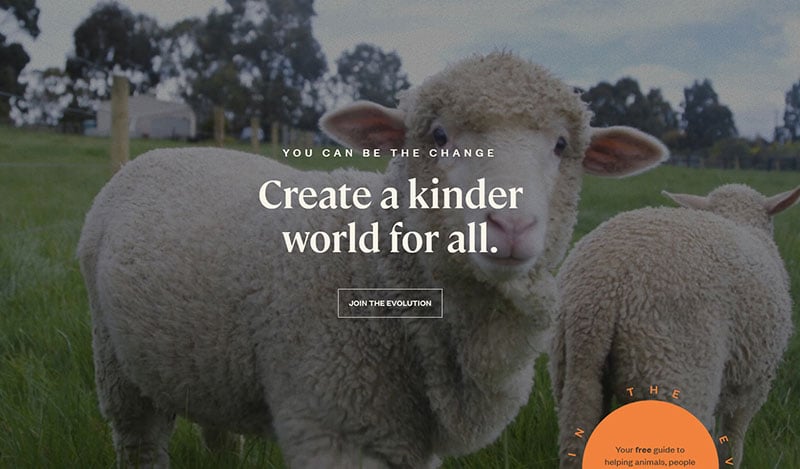 Abattoirs, chicken farms, and export ships often treat animals as objects. With this new engaging website, 'Animals Australia' can do more to lobby for change.
SABAR – The Malta Protests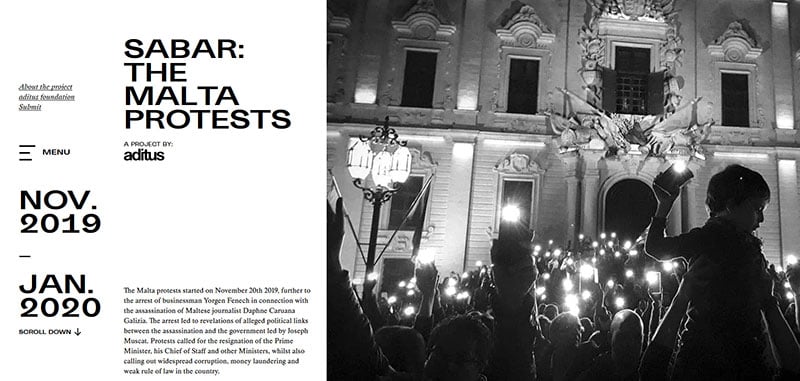 This storytelling website is an archive of memories of the Malta protests of November 2019 through January 2020.
Plastic Air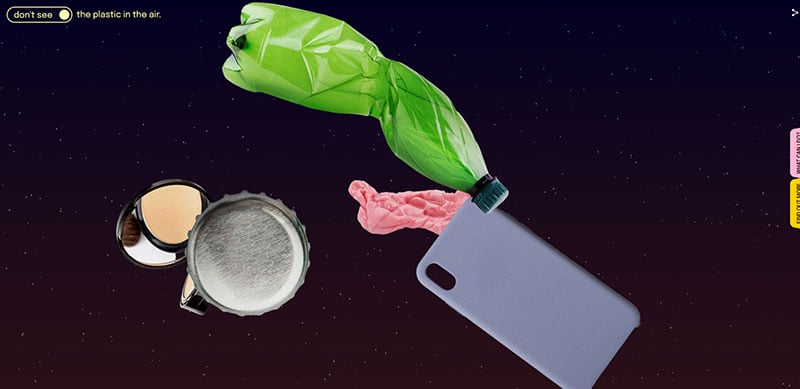 Giorgia Lupi, Talia Cotton, and Phil Cox collaborated with Google Arts and Culture to tell this story.
Airborne microplastics are no joke, but the whole experience on the site is interactive and engaging.
IsOurEconomyFair.org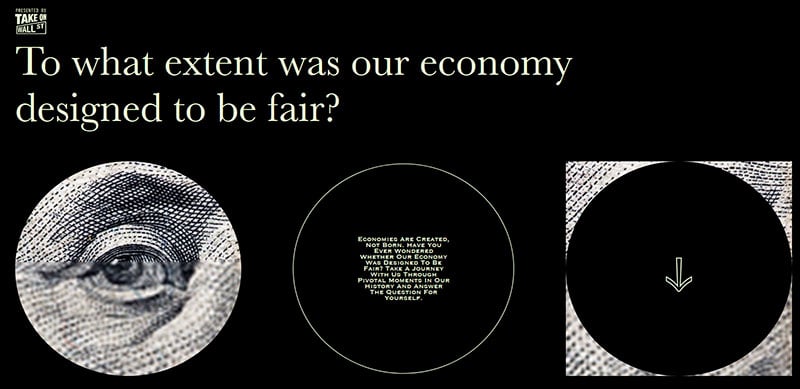 This example was built by 'Take On Wall Street'. This is a coalition of more than 50 groups hosted by 'Americans for Financial Reform.'
Cultural Solutions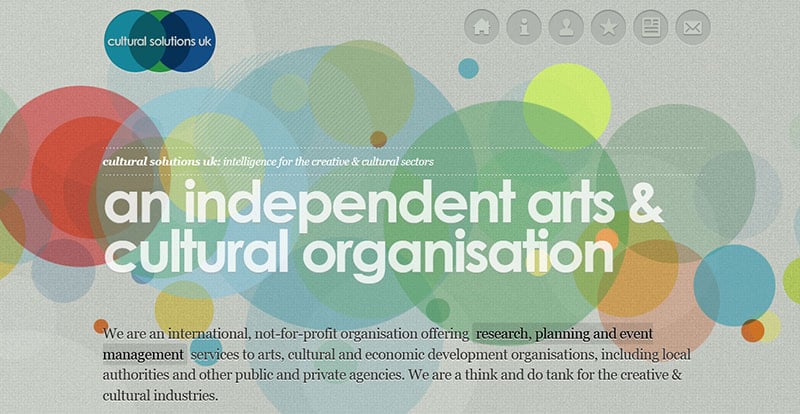 This is an excellent storytelling website that tackles cultural solutions innovatively. The template boasts a beautiful web design with subtle 3D effects.
Storytelling Website Examples for Marketing, Computer Science, and Finance
Balzac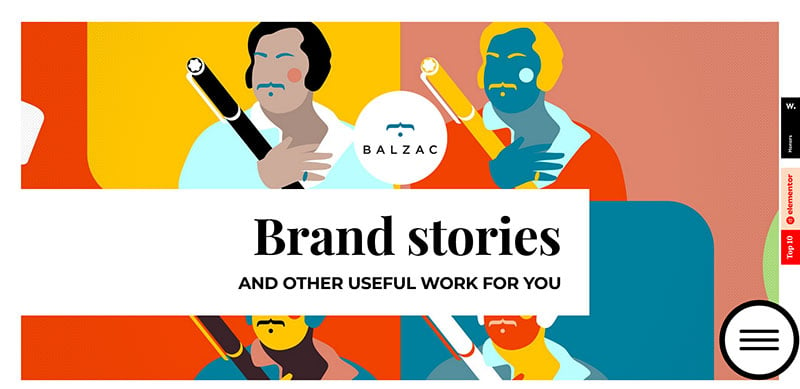 Many people produce content but not everyone knows how to tell a compelling story that gets consumers right "in the feels."
Different stories are needed for different brands and Balzac is an agency that understands this. Hence, they specialize in telling brand stories that build customer loyalty.
Dunshire Production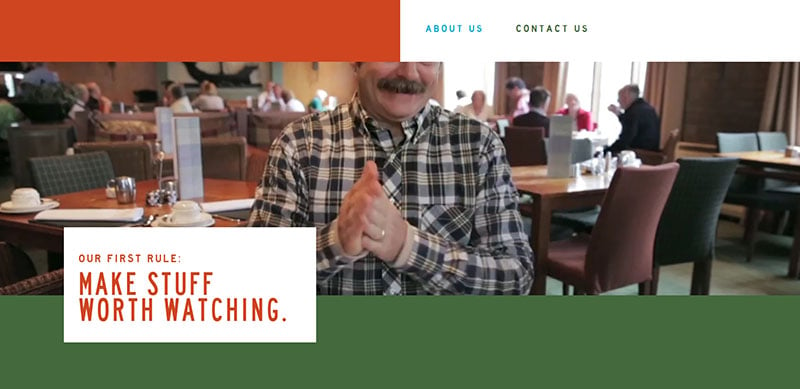 When it comes to marketing, Dunshire Productions is the new kid on the block. However, this creative studio does an excellent job at telling brand stories that will make your imagination run wild.
Dunshire produces ad content and digital marketing campaigns for different brands. It also handles traditional TV spots and short-form digital content.
Bagigia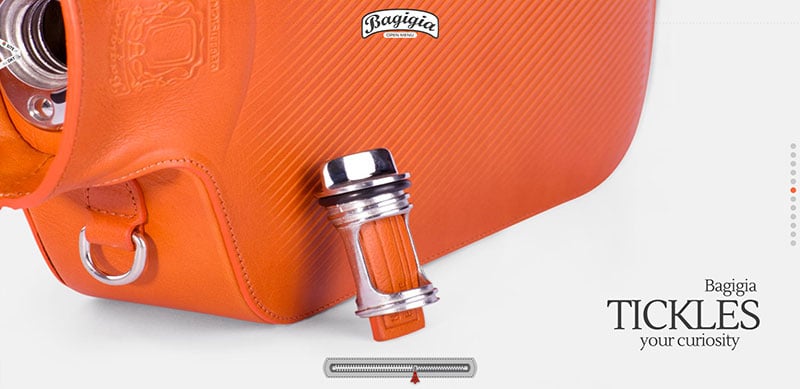 This bag shopping website is a good storytelling website example. It displays every detail of the company's hottest products with a smart parallax scrolling design and narratives.
Delysium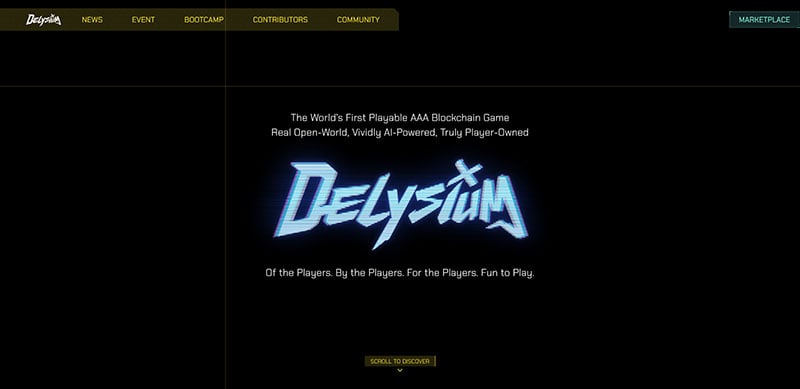 Delysium is the first playable AAA Blockchain game. It was created by an innovative team that specializes in AAA game development and Gaming AI.
Neuralink Corporation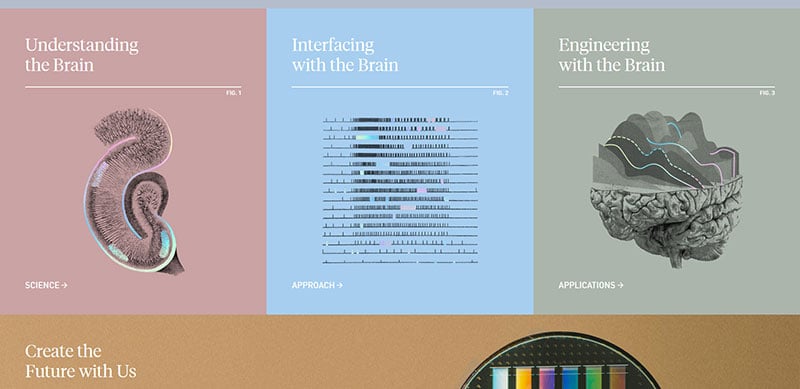 This brand is rooted in science and the use of advanced, cutting-edge technologies to better humanity.
Play Studio designed Neuralink Corp's visual language and website design to tell its story.
Pocketworlds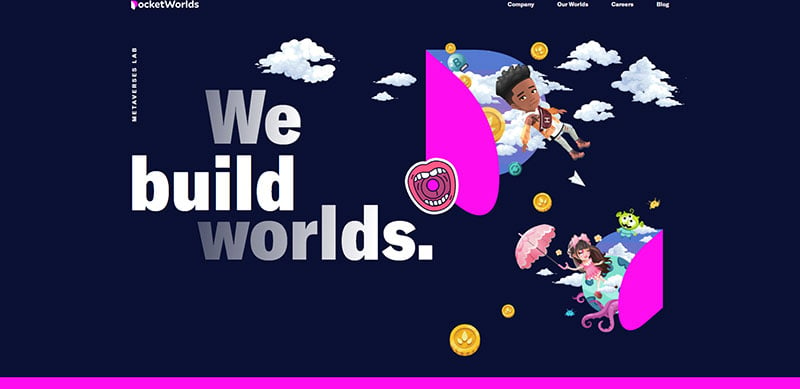 PHOTON Experience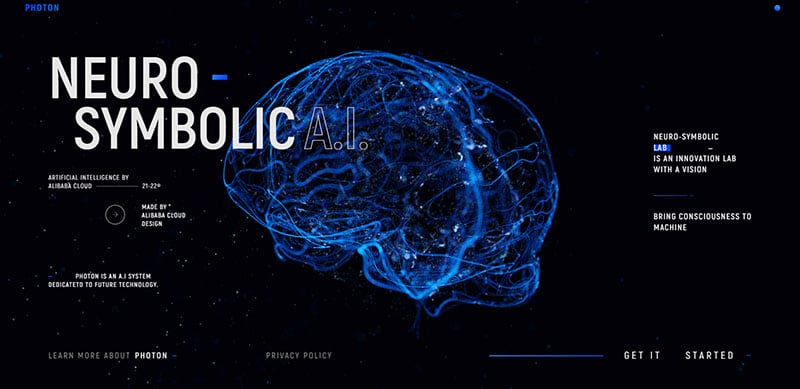 You can create a unique WebGL fiber from PHOTON. This is the AI system from Alibaba Cloud Neuro-Symbolic Lab.
Evolve01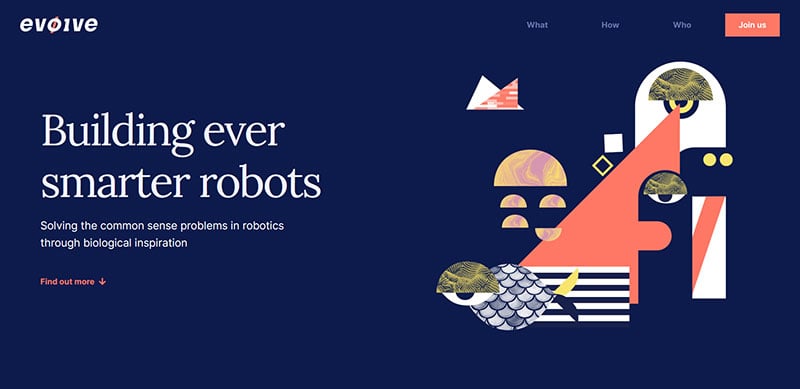 This lab focuses on creating an ecosystem and tools that help the world better understand intelligent robotic systems. Its website uses storytelling to highlight this mission.
NVP 2021 Year in Review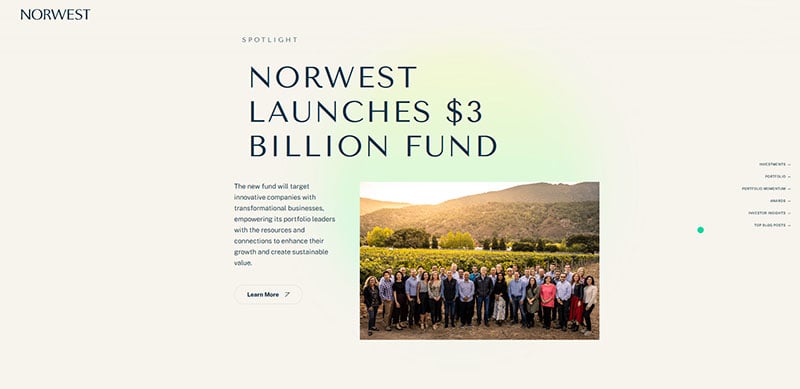 NVP is the leading venture capital and equity investment firm on the market. Looking back into 2021, it celebrates another year of:
● Insights
● Momentum
● Accolades, and more
Mi Banxico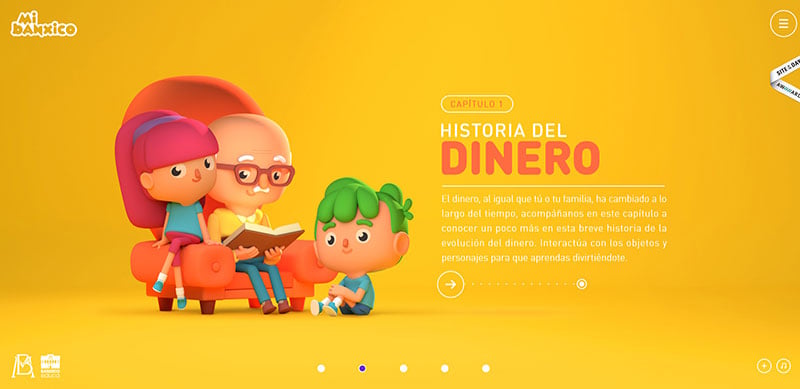 This great example of a storytelling website was created for a Mexican bank. This bank offers educational and financial investments to schools and other organizations. Its website displays these offerings one by one using:
● Micro-interactions
● Icons
● Colorful illustrations
● Animations
More Examples of Websites That Tell a Story
Circa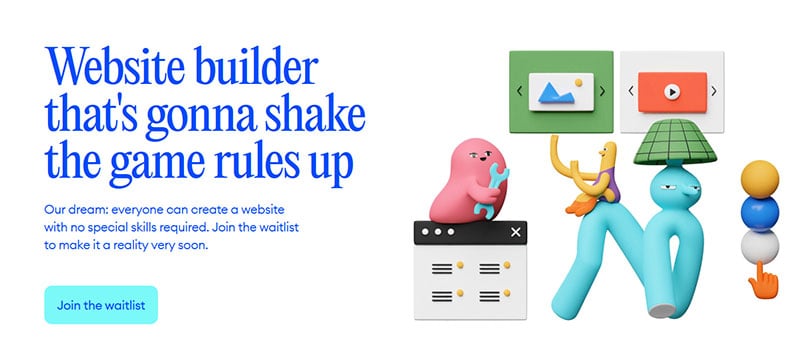 Circa is the perfect example of a free no-code website builder. It's the only assistant in website creation that you'll need. Get started with ready-made design templates and create your dream site.
Le Commandant Charcot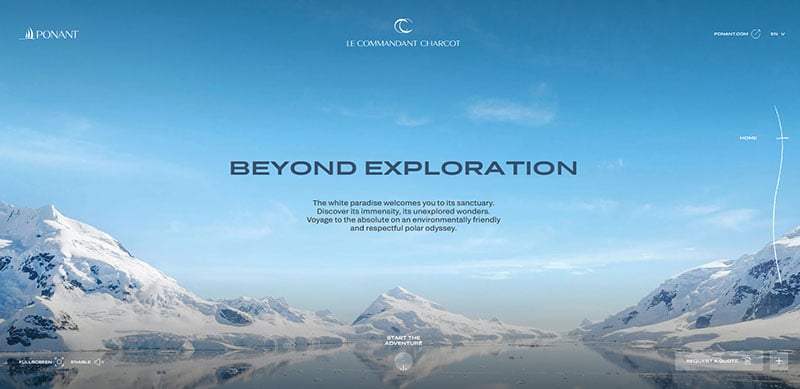 This immersive website presents 'Le Commandant Charcot' from PONANT. This is a new hybrid-electric polar exploration vessel.
CANALS
Take a look at Marcus Brown & Aristide Benoist's stunning horizontal-scrolling one-pager. This website tells the visual story of the iconic 17th-century Amsterdam canals.
This single-page website oozes style with eye-catching on-scroll load transitions and typography.
Story of Santar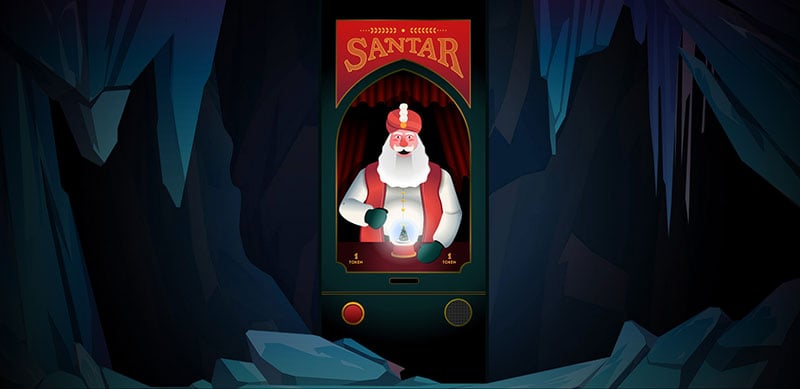 This example offers an immersive experience that would be a great fsite for children. It can also be used to tickle the imaginative mind of other audiences.
Kalso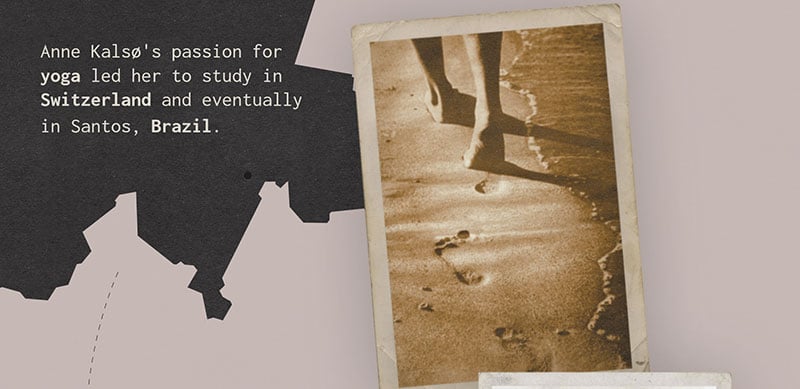 This immersive design offers users a one-page site with a variety of images, graphics, and animations.
It's a very interactive and engaging visual experience that will stimulate your audience.
Chaletbau Matti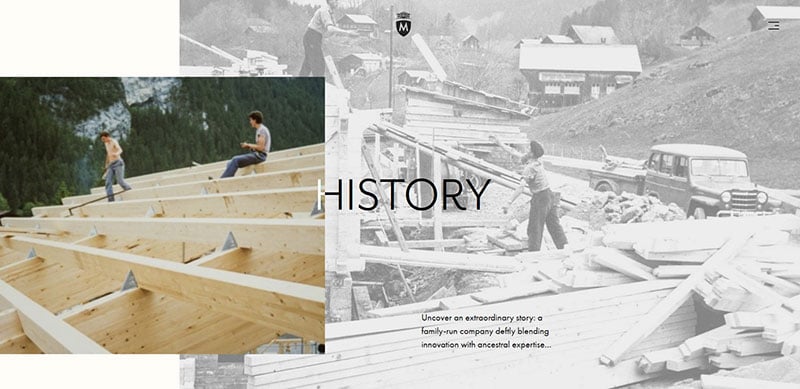 Here is the perfect example of a family-run company. This company has designed and built the finest chalets for 3 generations.
Based in Gstaad, their unique craft and rich legacy are recognizable through this storytelling website design.
Kontrapunkt Futures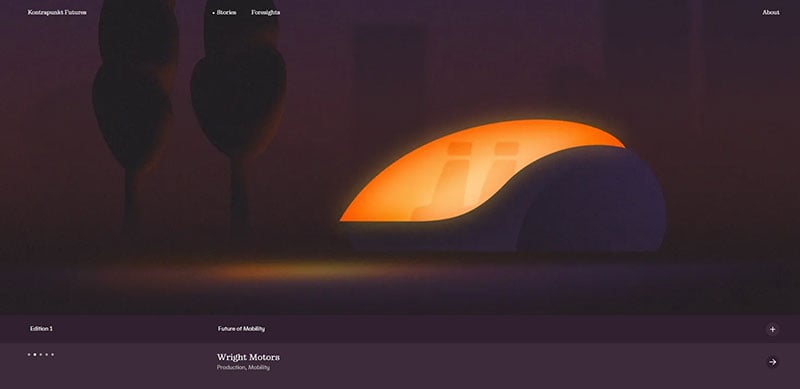 Planning for the future is a core element of successful brands. This storytelling website is an online universe of speculation and dreaming based on research into the future.
Unacademy Recap 2021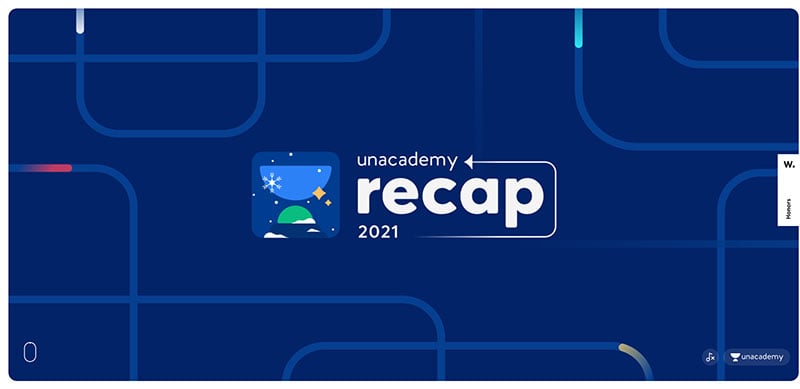 Time Wasted At Work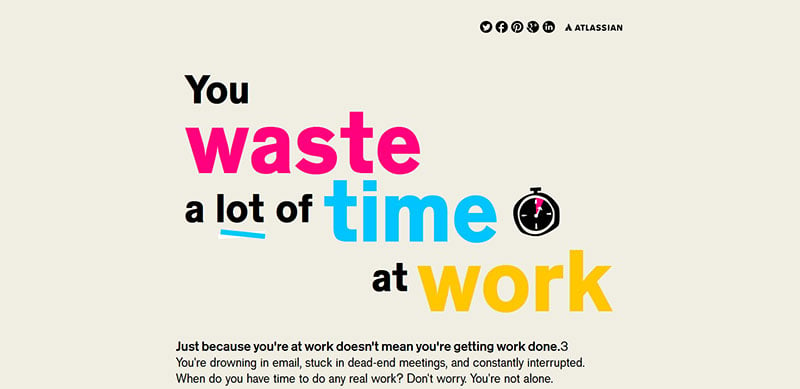 This storytelling website targets people employed in office settings. It's about time-wasting, so it is easy to access with no restrictive scrolling or annoying interactive elements.
Domaine Glinavos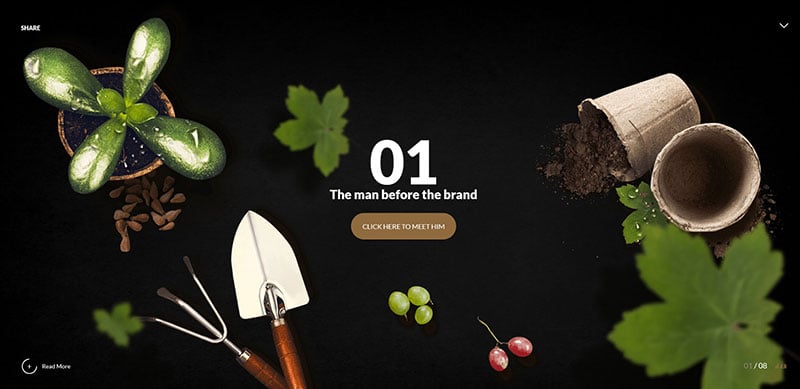 Digital Curator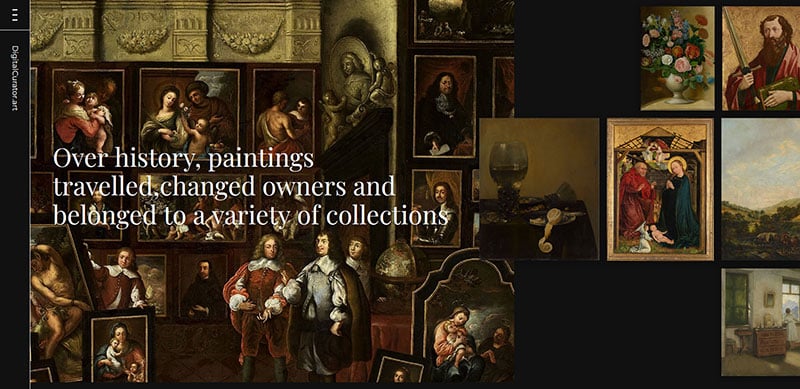 Here's a non-profit project for making art collections more inspiring for everyone. The app uses artificial intelligence to help you explore artworks from European museums.
A2A Luce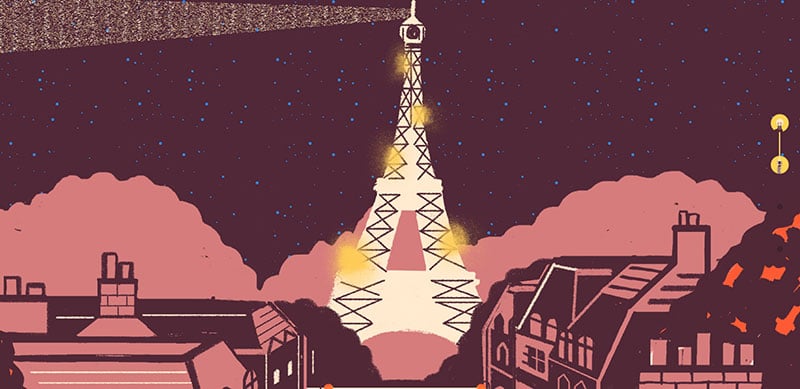 A2A Luce is a wonderful example of a storytelling website that interestingly uses a lot of text. The design keeps users engaged with graphics and smooth animations between sections.
Live To Change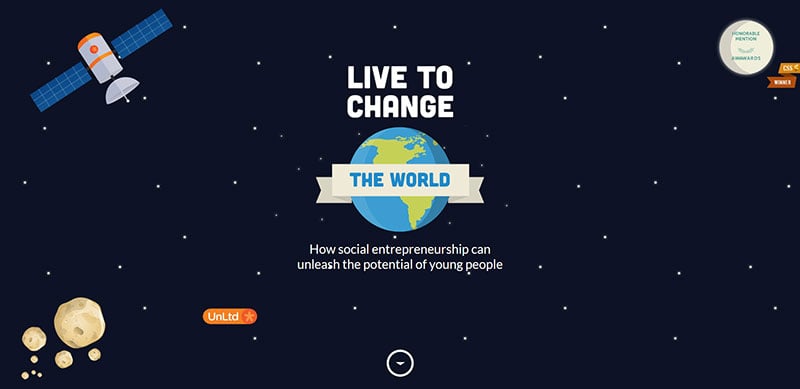 This storytelling website design includes a lot of facts, combined with cool graphics and effects, to keep things interesting.
Vectron Biosolution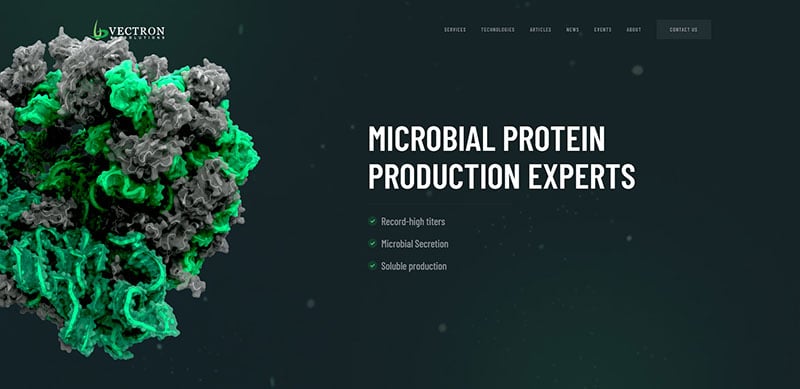 Vectron Biosolutions designs protein production processes for its customers. This is achieved by using proprietary expression technologies to engineer bespoke bacterial strains.
Popitas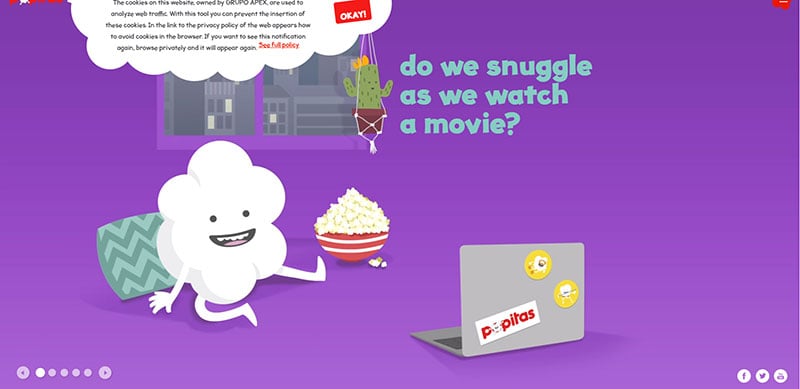 Almost everyone loves mascots. Mascots help a brand to:
● Impress its users
● Build its image
● Communicate with consumers
Using the power of mascots in web/app design is Popitas's main focus.
January Third | The 2021 Story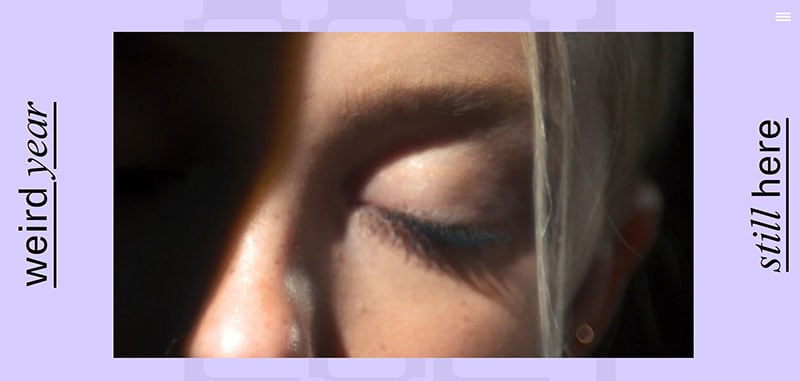 In celebration of their second year as a creative agency, 'January Third' built a weird, but fun, website.
This storytelling website design documents the people, projects, and milestones that made 2021 its best year yet.
Better Up Future-Minded Leader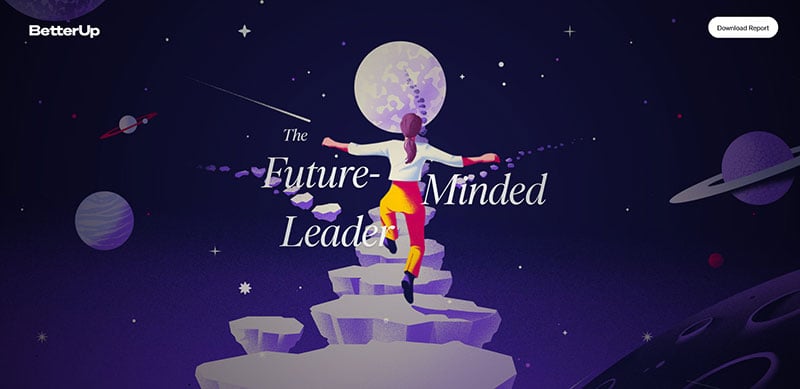 Research from BetterUp shows how organizations can prepare themselves for the uncertain future.
Happy Christmas from KDC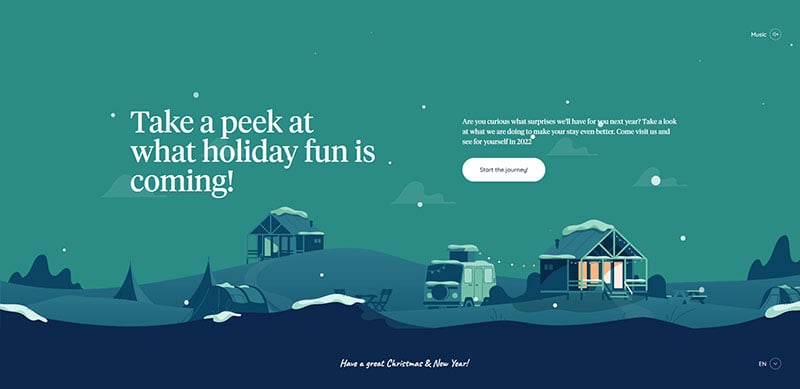 With this appealing visual storytelling website, KDC sent out a unique Christmas message to their customers.
Atterwasch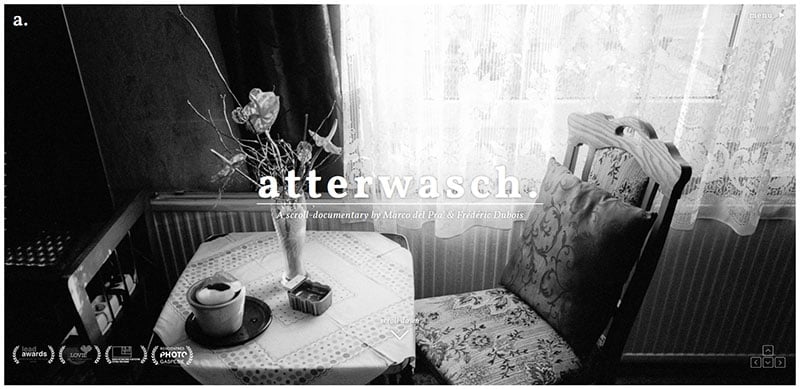 This is a fantastic and unique demonstration of how a website can be used to tell a story.
Nomadic Tribe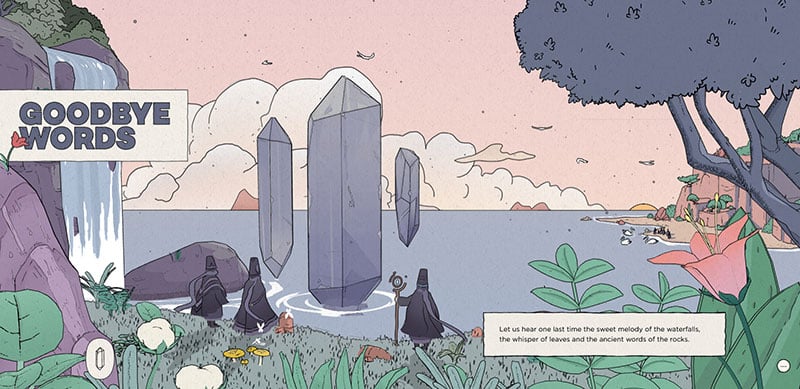 Do you want to create an exciting single-page website that raises the bar on interactivity? Draw inspiration from this unique, interactive theme.
De Bijenkorf magical forest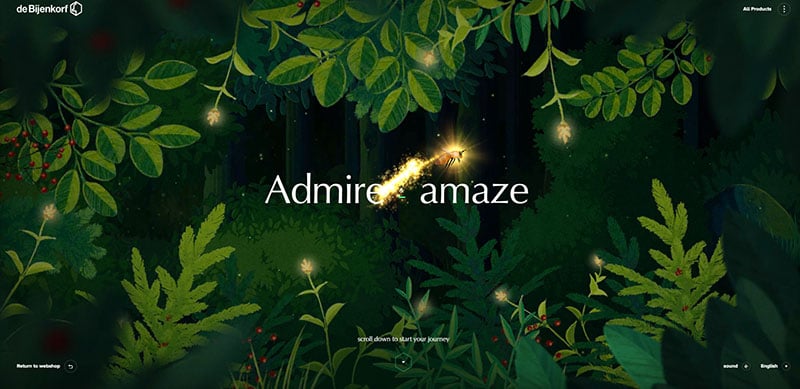 This branded commerce design for the Bijenkorf uses a bee to take you on an amazing adventure through a virtual forest.
Conclusion on Websites That Tell a Story
More content doesn't always mean more engagement, so building a beautiful website with lots of images and text is not enough. Attention must be given to how these elements are used.
Visual narrative improves the user's whole experience and the likelihood of them supporting the brand. This is why wise developers build websites that tell a story.
So, don't be shy! Use the visual storytelling ideas in this list as inspiration for your next web design project.
If you liked this article about websites that tell a story, you should check out this article about website ideas.
There are also similar articles discussing Lottie animation examples, hero image website, websites with video background, and pink websites.
And let's not forget about articles on black websites, animations on scroll, cursor animations, and cool JavaScript animations.
Impressive Websites That Tell A Story (51 Examples)