Websites have amazing potential to capture people's attention and imagination. It's time to move away from static web pages and stop treating our sites like books. The web's HTML5 allows creators to enrich user experiences with videos.
Why are background videos a better choice for your website? For starters, the technology powering sites has improved, making background videos easier to use. Also, our eyes and attention focus on motion. A moving image will capture interest faster than a static page.
Visual flourishes will create an interesting, immersive, and remarkable experience for your visitors. For the best effect, these videos need to be perfect. Some sites use large background videos that change your frame of mind without you noticing it. Others show their product in action, demonstrating dynamic and exciting possibilities.
This post will explore 67 fresh and stunning websites with video background examples. Take a look and see which ideas you can incorporate into your own web design.
Websites with Video background Examples
IVS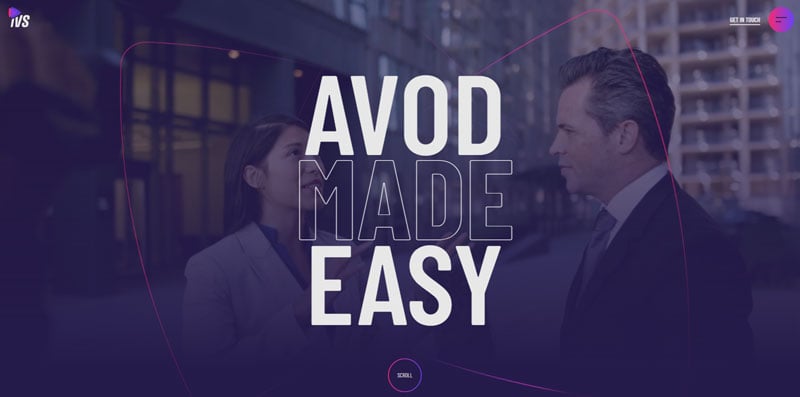 IVS is a cost-effective distributor of videos for publishers and broadcasters. It provides premium streaming video providers where advertisers can find clips that they need.
imotion factory films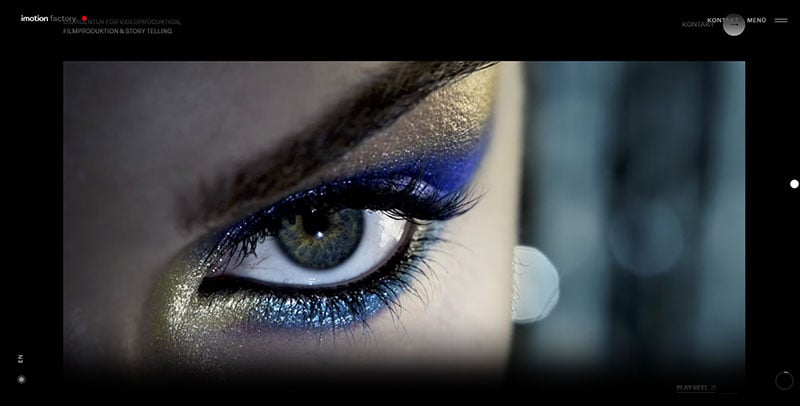 This website promotes the work of a movie and video production agency.
PINKANOVA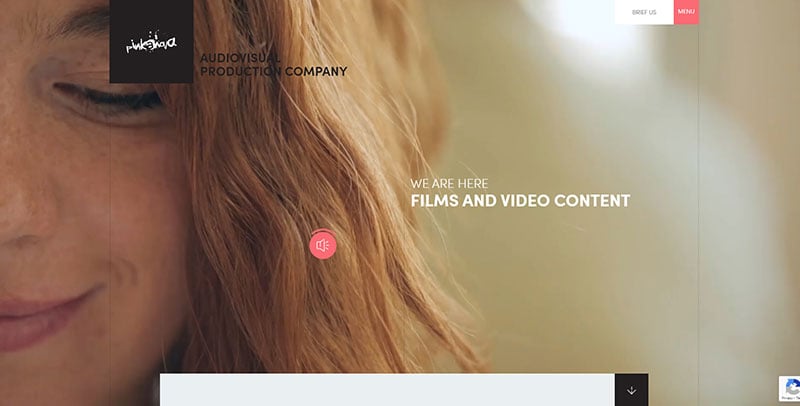 Pinknova is a production and consultancy company that can provetheir experience and expertise with video backgrounds.
KeepGrading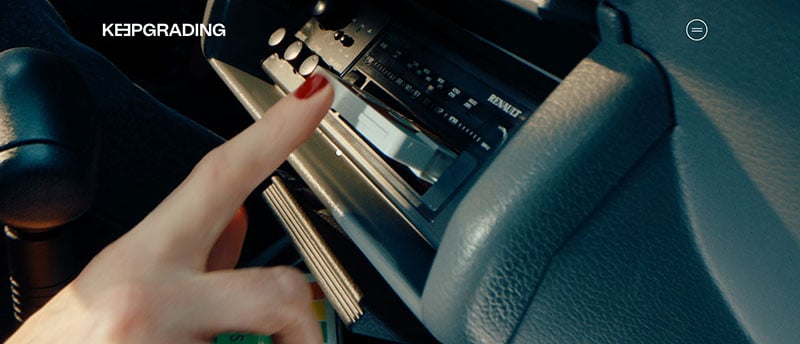 This post-production video studio's website especially emphasizes color. Based in Paris, they work in advertising and music video clips.
Pinpoint Media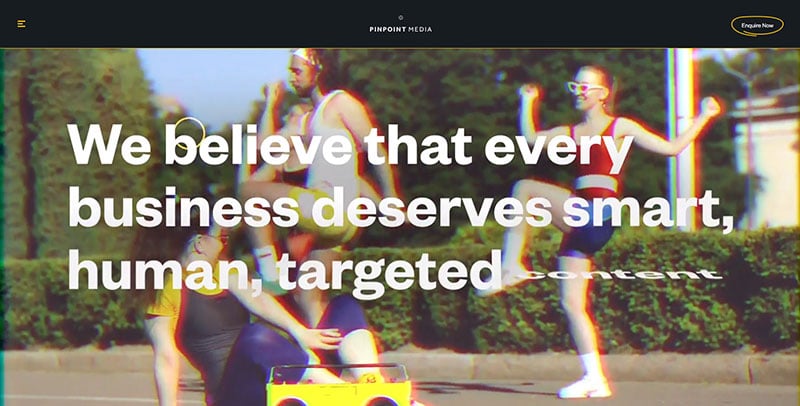 Pinpoint Media comes straight to the point. They specialize in animations, video, photography, and live streaming.
Big Productions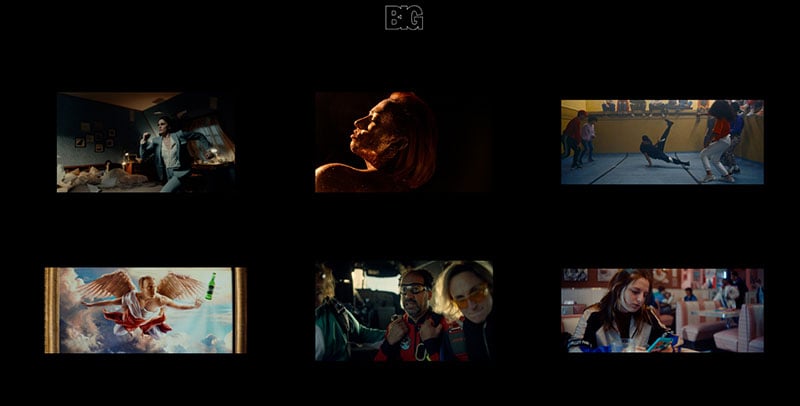 Also based in Paris, Big Production is a company that has expertise in making commercials, prints, and music videos.
Build Films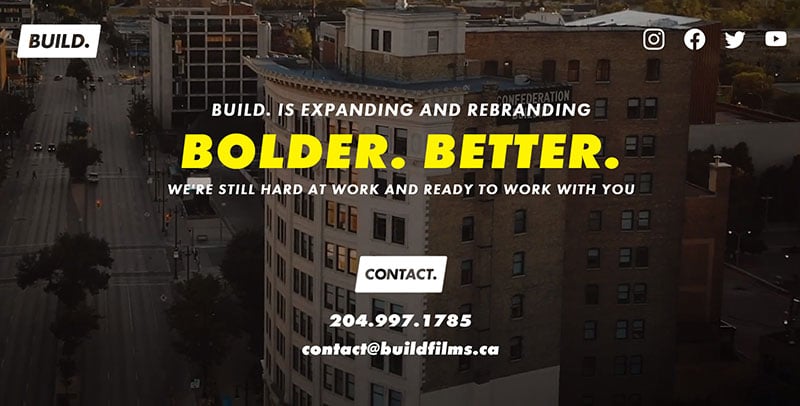 Build Films uses a simple but beautiful website background. These filmmakers want to show off their video projects on their homepage.
Strijp-S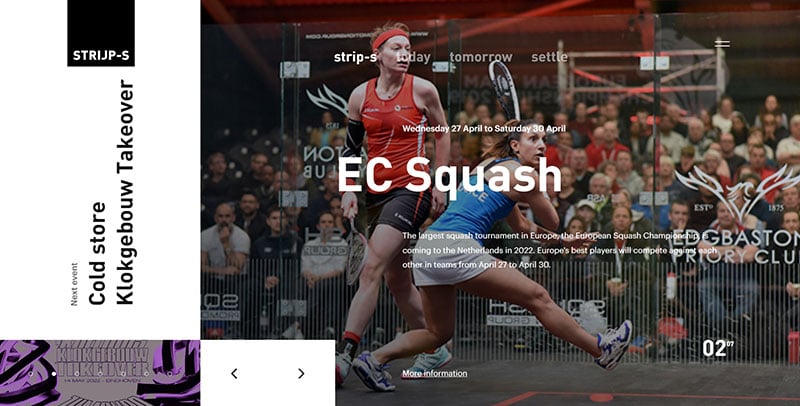 Strijp-S is from Eindhoven, the Netherlands. They have a front page with a background video overlaid with a minimal amount of text.
Final Elements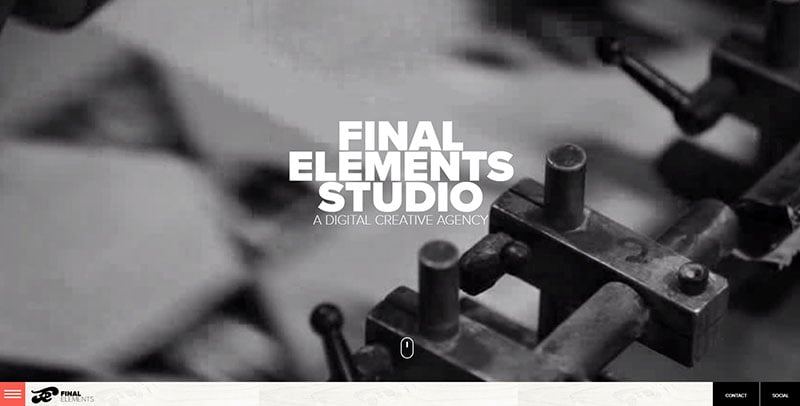 The designers of this website want to catch the attention of the website visitors with large background videos.
ClearMix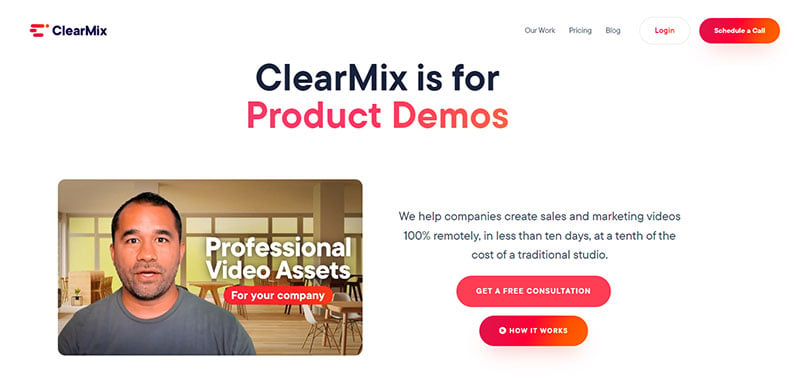 ClearMix makes virtual video production. They can make content off-site using professional producers and editors.
Studio 99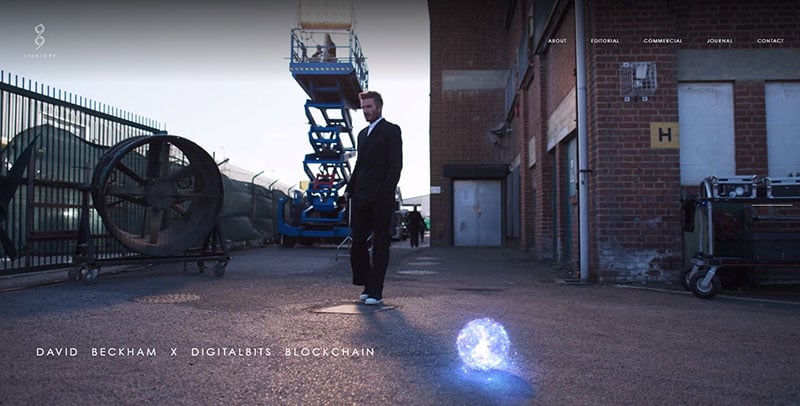 David Beckham is famous as a footballer, but he also has a video production studio.
More Media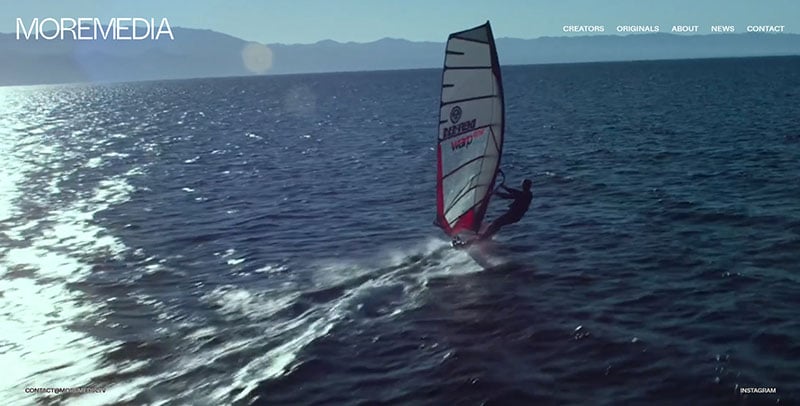 This website shows the web design for a multimedia production company. More Media creates content, music videos, and commercials for an international audience.
Elespacio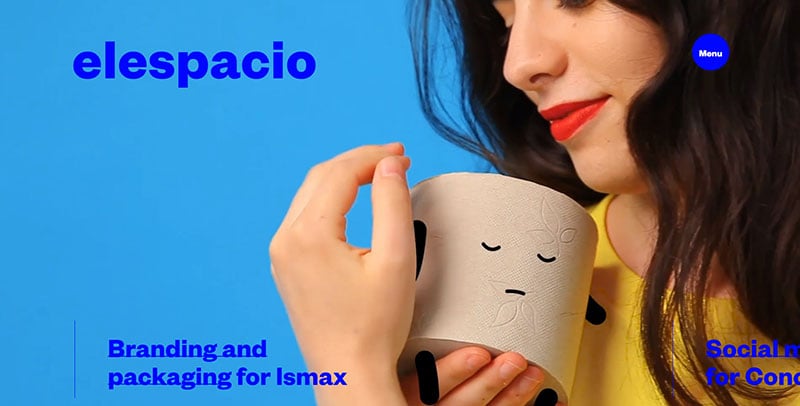 Elespacio is an integrated creative marketing agency. The work on the intersection of technology and media.
mediaBOOM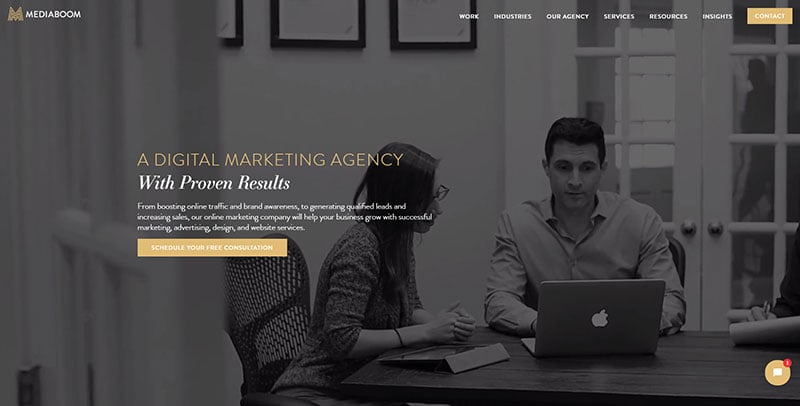 The unique approach to advertising is clear from the web design. They have a background video that shows a clip filmed in retro Americana style. The setting is 1950s Manhattan and shows an imaginary world in which the fictional history of the company is set.
Potion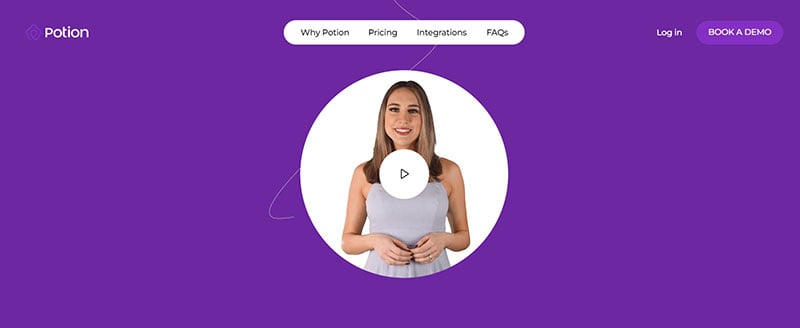 This website tells you more about a video prospecting tool for professionals.
Seen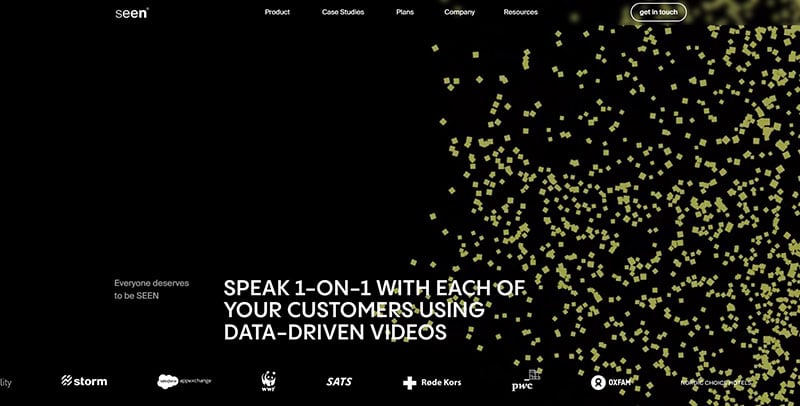 This Swedish-Norwegian company provides services for data-driven video communication.
Matter
Matter is a strategic design consultancy agency. They present random videos showing different people in the background. It provides web design inspiration for its visitors. It is unique, unexpected, and memorable.
Kalexiko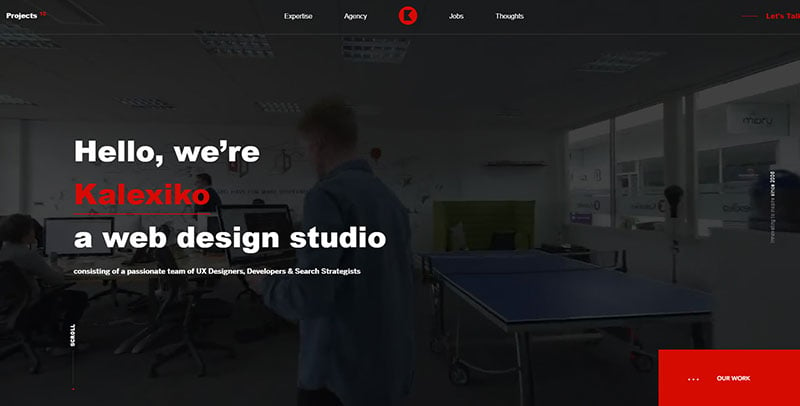 Kalexico is from Birmingham. This company makes professional web designs. They show a full-screen video in the background of the homepage.
Yune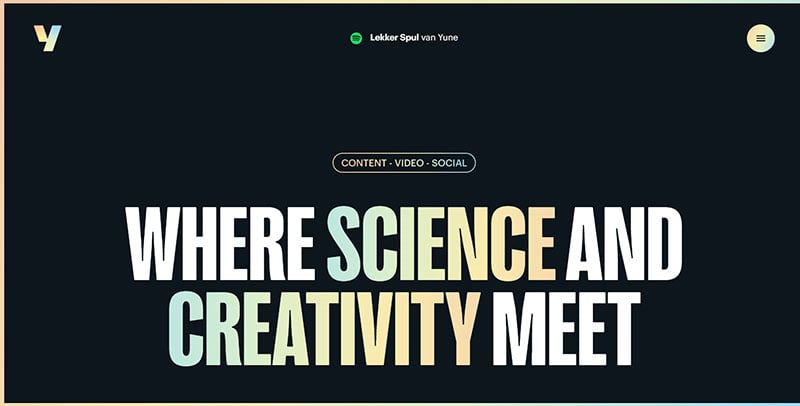 Yune is a Dutch content and video marketing company.
California Pizza Kitchen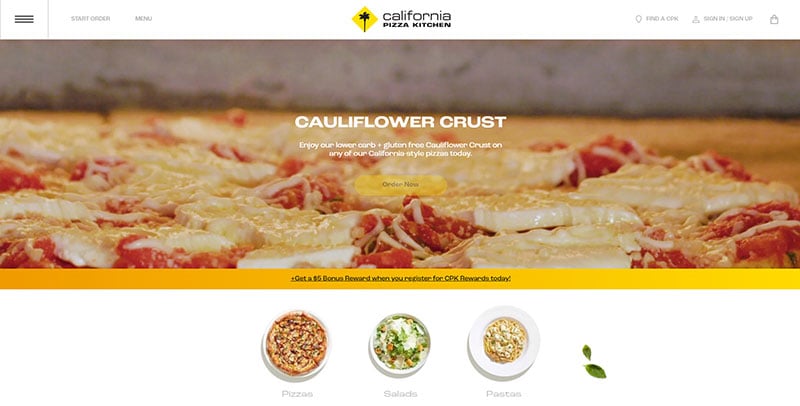 The new website of California Pizza Kitchen promotes client interaction. It has a clear hierarchy and a clear call to action in the form of an Order Online button. The website shows the restaurant's Twitter feed, which encourages communication about the brand. The new design is clean and fresh with hero figures promoting CPK's products.
wethepeople bmx bike co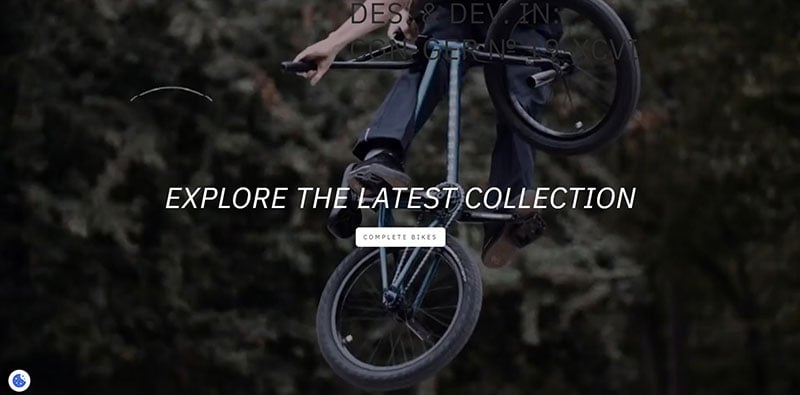 This website is for a BMX sports brand. It is not for selling products but rather it explores lifestyle. The design involves images and videos.
DJI Mavic 3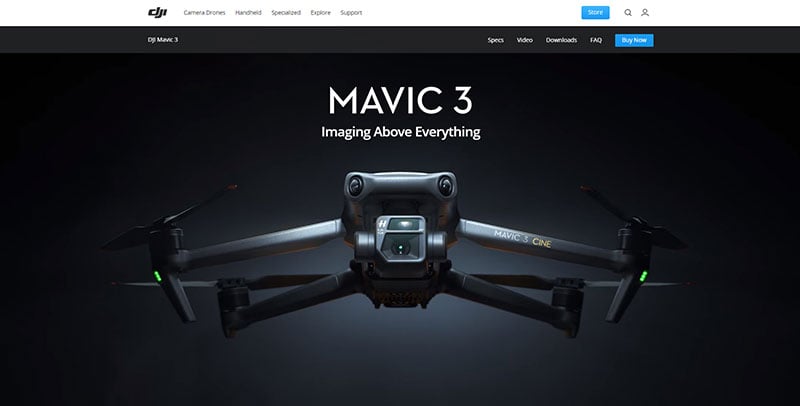 This example has a scrollable video background that advertises products. It gives a focused and immersive experience. You can learn more about DJI and Hasselblad Master products.
Project Skin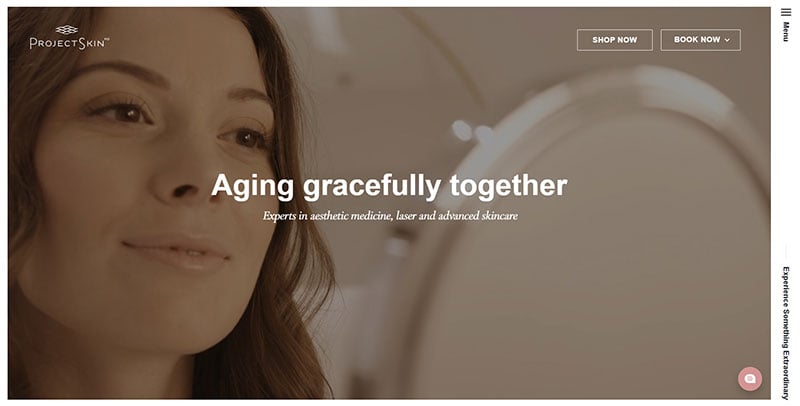 ProjectSkin MD is also a website featuring a video background. They offer advanced skin care, including laser treatments in their modern facilities. This presentation website has a full-screen video background.
Mitsui E&S Power Systems Inc.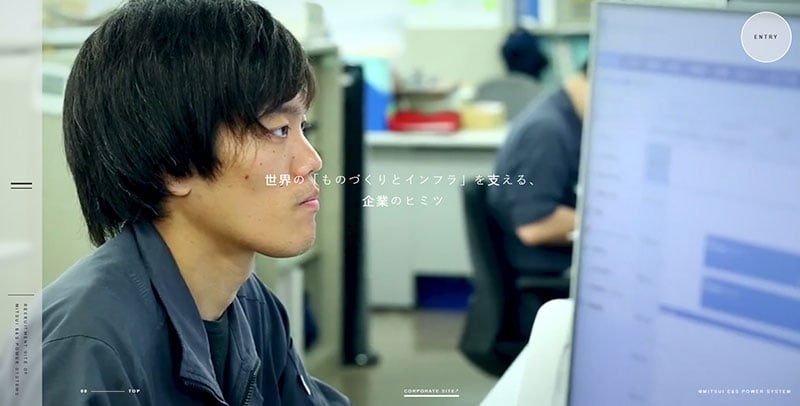 This link leads to the website of a recruitment company. They sell diesel engines and industrial equipment.
Dromoland Castle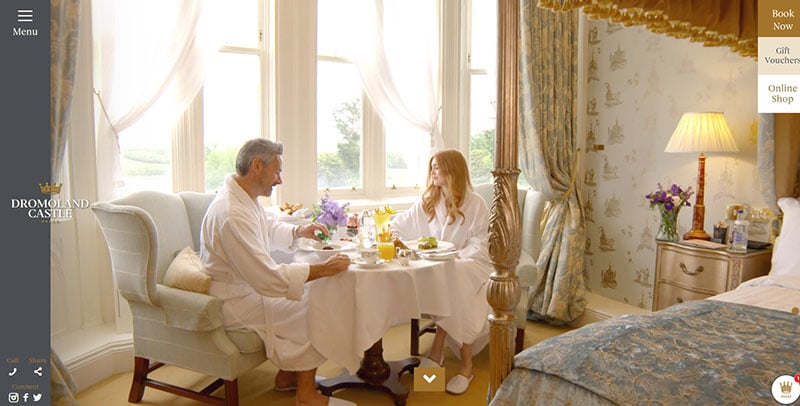 The Dromoland Castle's website uses browser-sized videos for background. This luxury hotel and country club has a golf course and boasts lots of wildlife.
Aris Art Hotel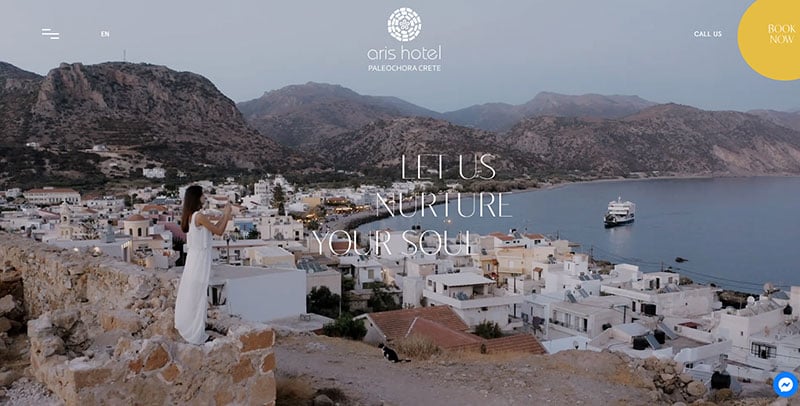 Aris Art is another hotel that uses a background video to show the hotel's integration with nature.
Castello di Monsanto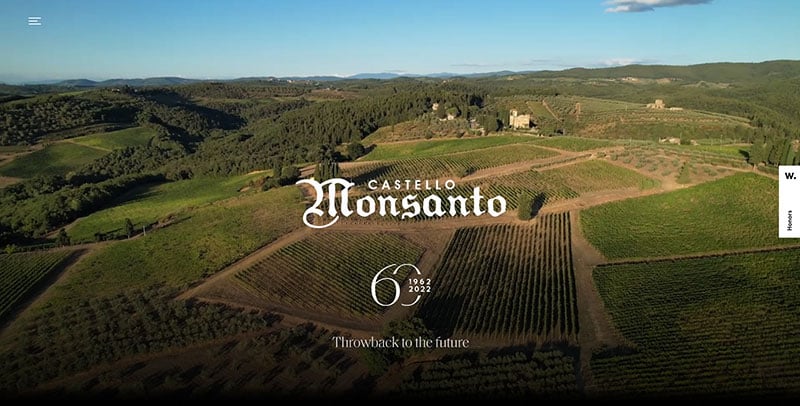 This vineyard from Tuscany, Italy, shows virtual tours and eye-catching video backgrounds. The result is a spectacular user experience.
Ron Podmores Northern Triangle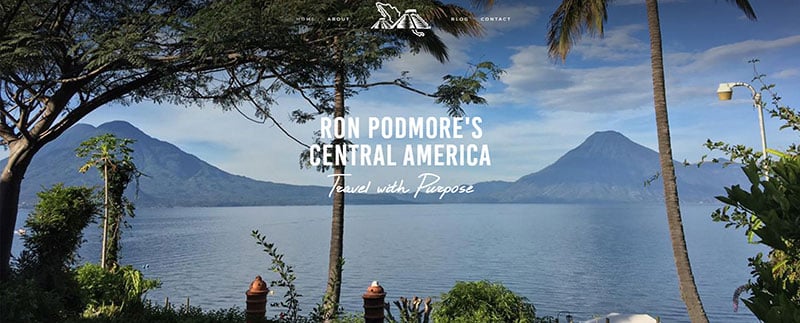 Ron Podmore Northern Triangle refers to an area covering parts of El Salvador, Guatemala, and Honduras. The company promotes tourism and American craftwork.
The Depths She'll Reach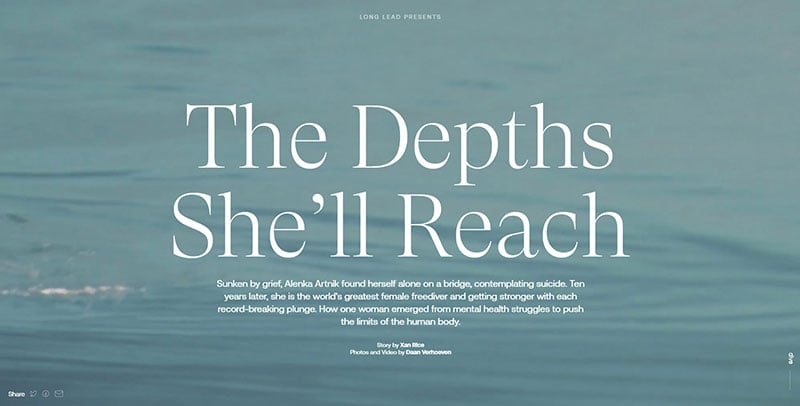 This amazing web page tells the story of Alenka Artnik, who overcame mental health problems to become a world-class athlete. The website is a complete multimedia experience.
Harmony of Humankind Project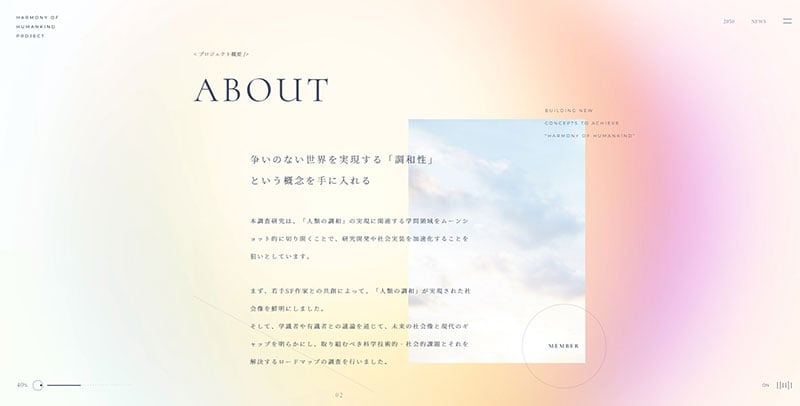 This project shows the harmony of colors. By scrolling down, the video background changes to white and the sounds harmonize with the experience.
Films by Brett Johnson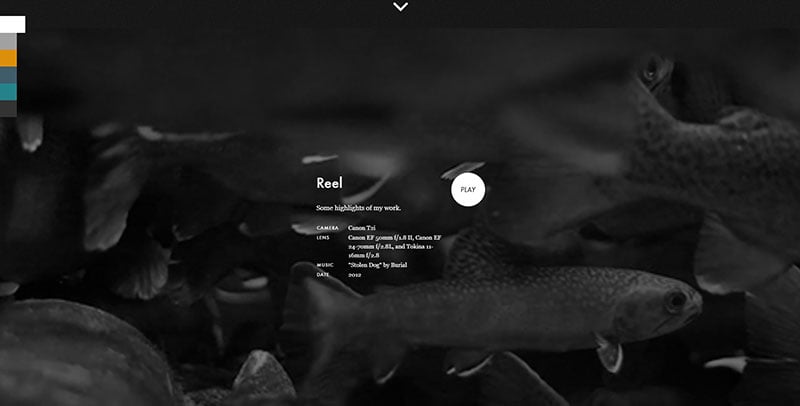 Here is another on our list of websites with video background examples. This background video, though, has a different goal than most. Its purpose is not to tell the story of something or someone, rather it is to show the creative abilities of the designers.
Rockyvision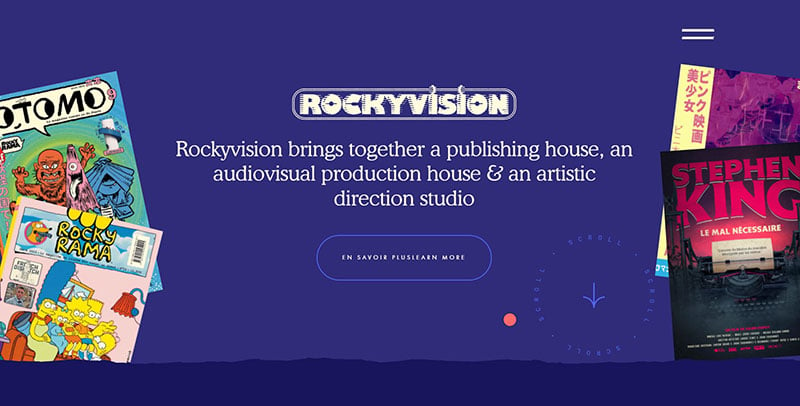 This is the portfolio web page of Rockyvison, a French magazine about creating audio and video content.
Fabio Formato – Video Designer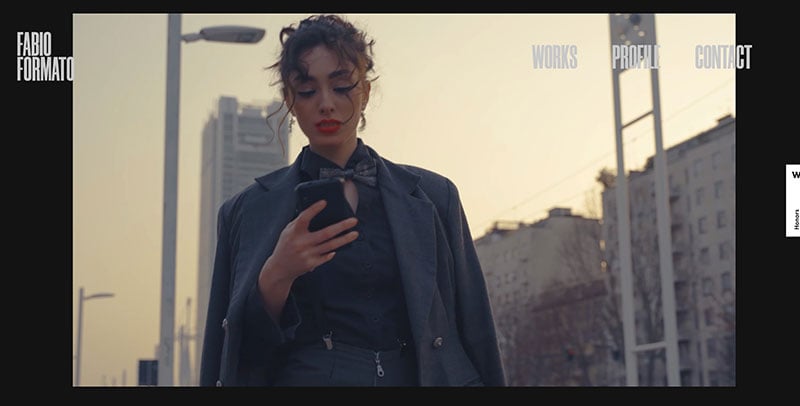 Fabio Formato is an Italian filmmaker and video designer. This is his personal website.
Olivier Guy – FPV Drone Pilot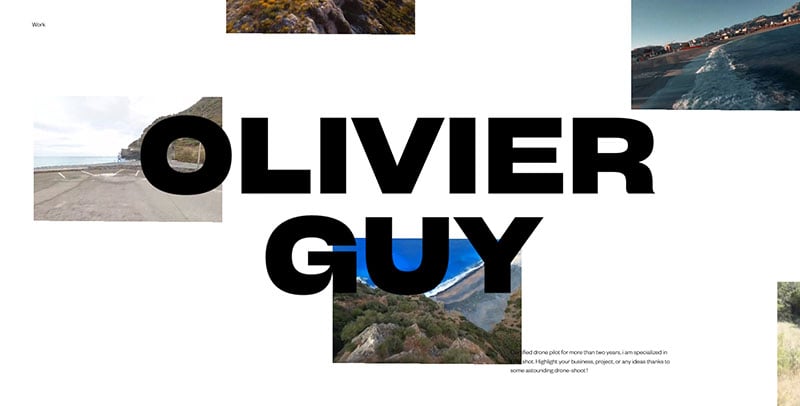 This portfolio website is about a French drone pilot. Its creative design includes photos and video backgrounds from the flights.
HollandGreen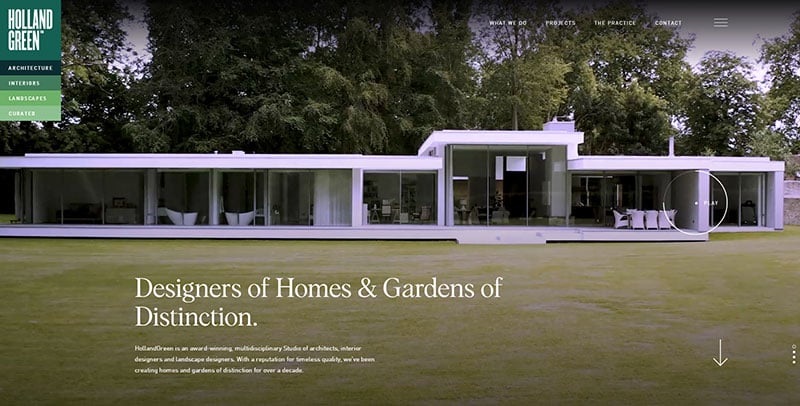 HollandGreen has a new web design. This architect bureau has a website that is easy to navigate.The layout for the project pages is especially spectacular.
DojaCode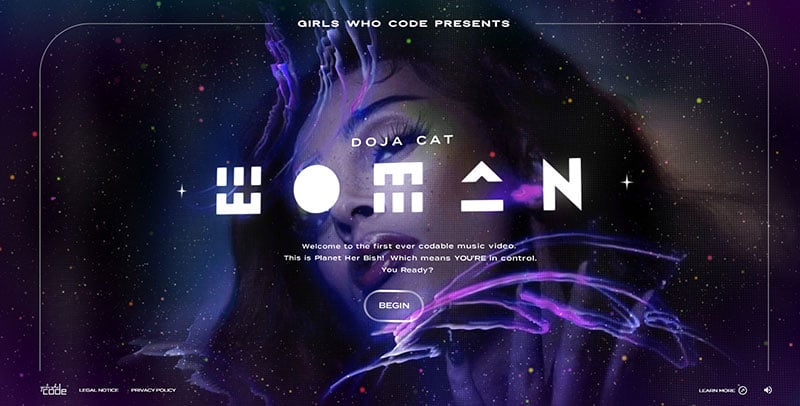 DojaCode is the website of Doja Cat and Girls Who Code. They work together to make interactive music videos. Interested coders can use their skills to modify DojaCode's videos.
EVERPURE | Brand Video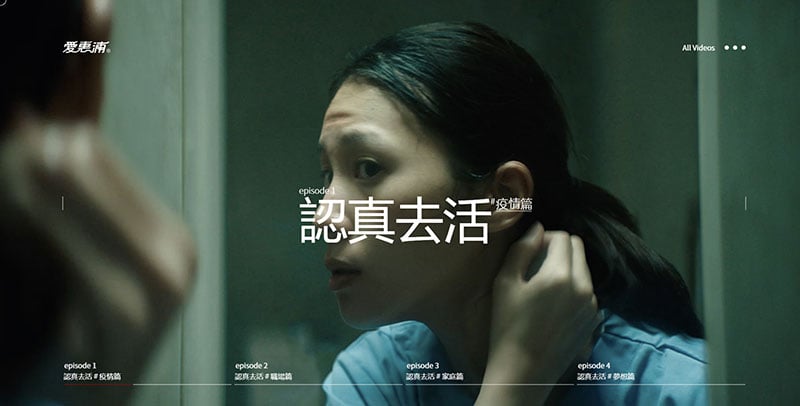 The designers behind the Everpure video background website are Tony SU and Mengwei Chen and the videos are by Bito Studio.
Cobble Hill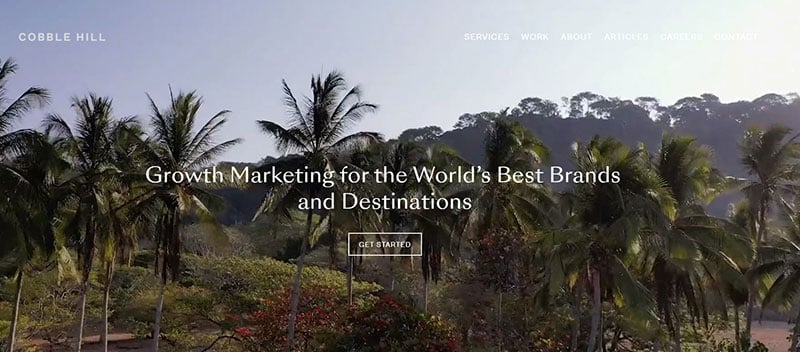 The theme of this website is all about holidays. You can enjoy the palm trees on the homepage.
Energie Service Biel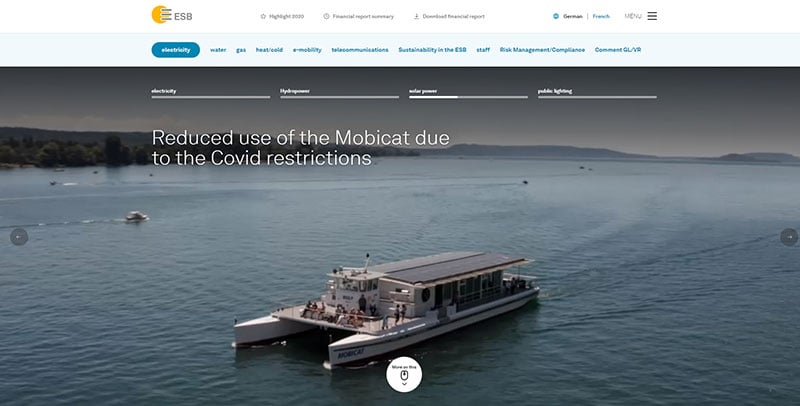 The Swiss energy service Biel and the ESB water provider present their annual report with a video on the website background.
Ag America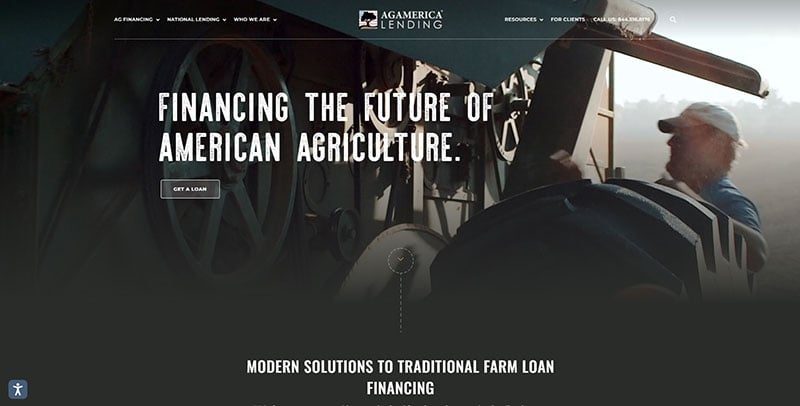 Ag American wants to provide financial advice for farmers and help them to thrive. Then the farmers can rest easy l when times are more challenging.
Y.CO Yachts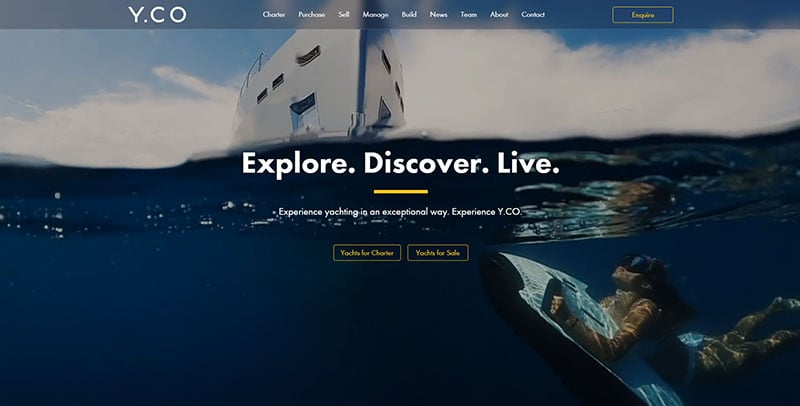 Few can afford to buy a luxury yacht. The best we can do is look at them. The Y.CO Yachts website is very absorbing. There are browser-sized videos that show families enjoying a ride on one of the yachts. The videos are inviting without overemphasizing the sales aspect.
GLOBALJET.AERO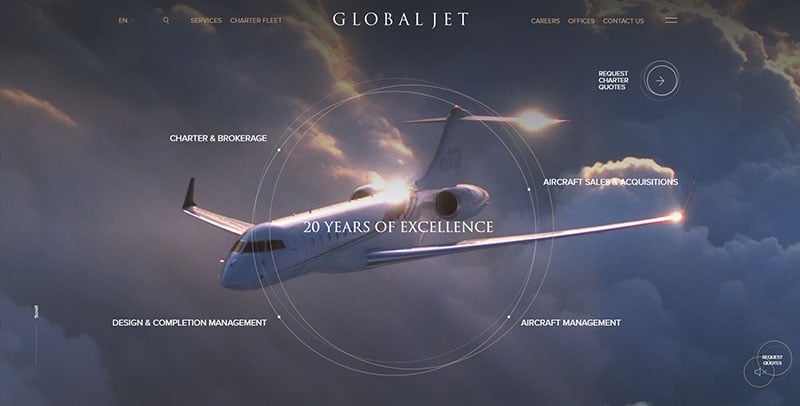 This world-leading private jet provider has a new website. Its designers work for the EWM digital agency from Switzerland.
Game Change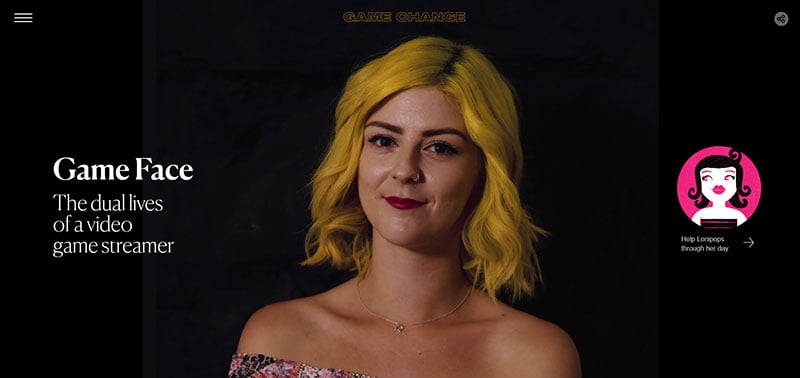 Game Change provides a documentary in the form of a game environment. The documentary is about New Zealand's game industry.
Creative Quarter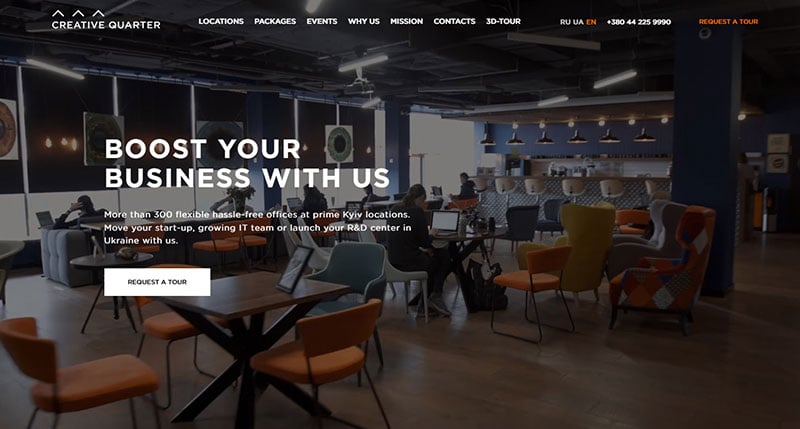 It is hard to describe the product Creative Quarter provides. It is like a shared workspace and associated services. Their website's homepage emphasizes the benefits of the service and the spaces that it shows are inviting.
Costaz Immobilier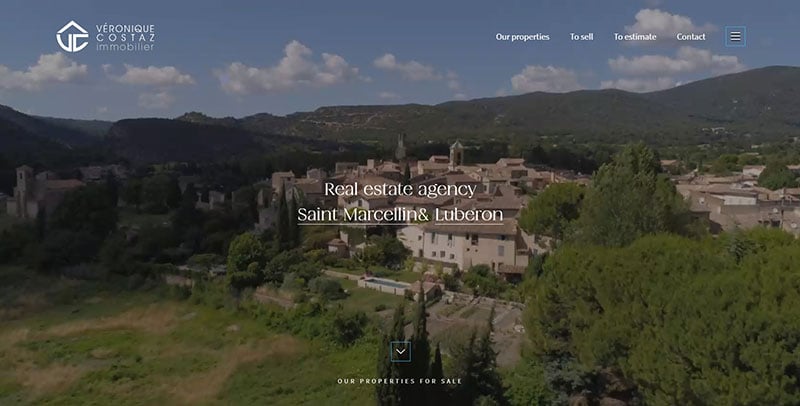 This link leads to the website of Véronique Costaz, a real estate agent from Saint-Marcellin and Luberon in southern France.
Alba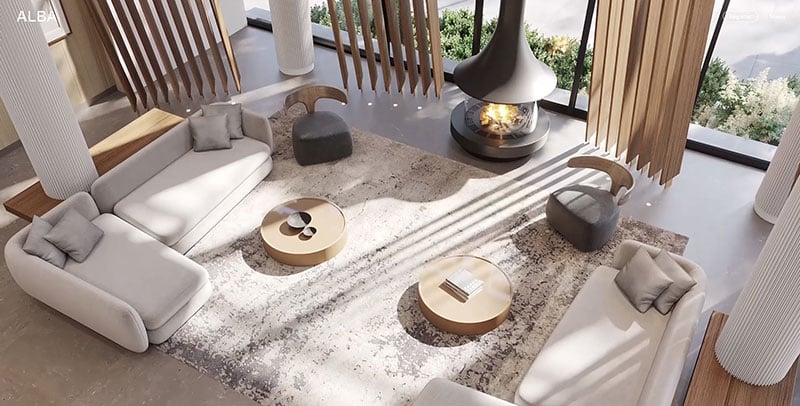 Alba is a residential area from Mississauga. It overviews a busy intersection in the city's downtown area.
Septime Création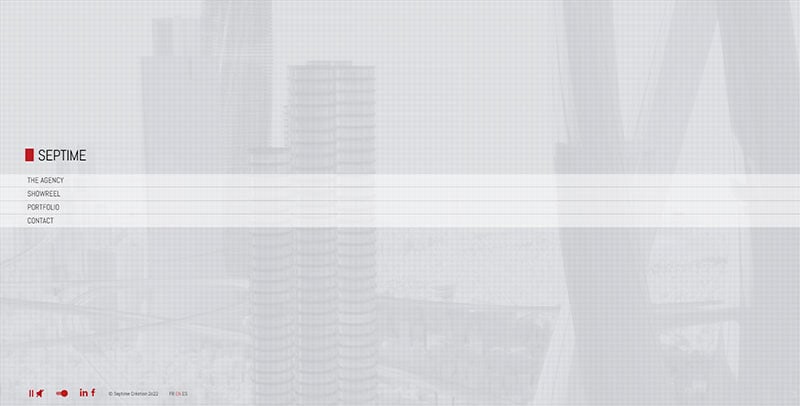 The website background combines visuals with inspiring music. Follow the link and enjoy the experience.
Phantom Hire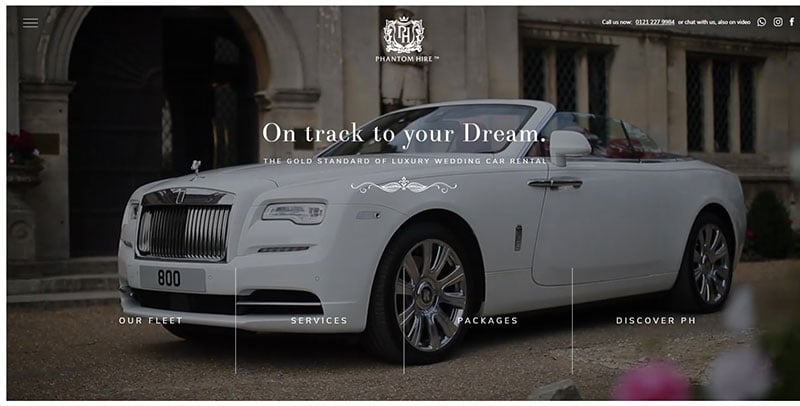 This website aims at users with mobile devices. It includes beautiful videos of vehicles, transitions, and hover effects. The layouts result in an amazing user experience.
U.S. Based Digital Agency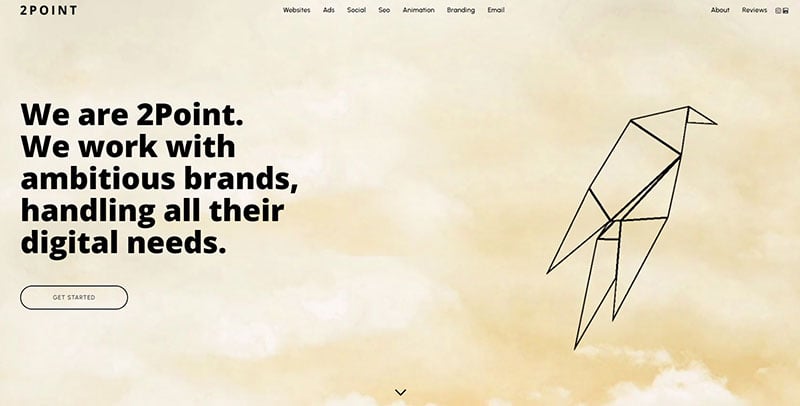 The 2Point team is behind this animated website with videos and different movements.
Saltbox website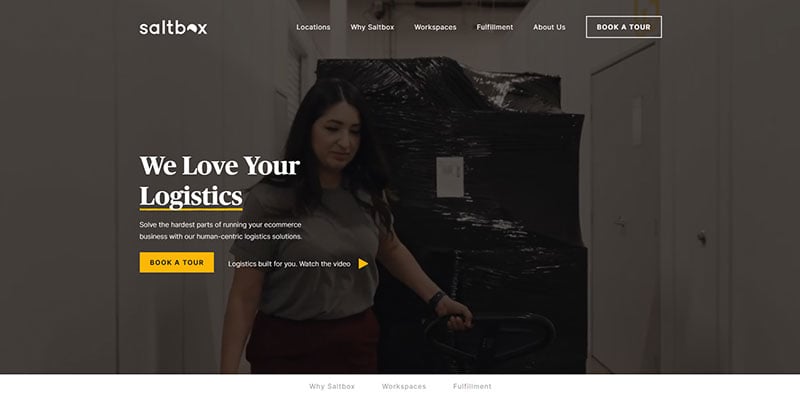 The Saltbox website shows off an interesting video background.
Talent10
The user experience of this Talent10 website centers on the video background.
Compose It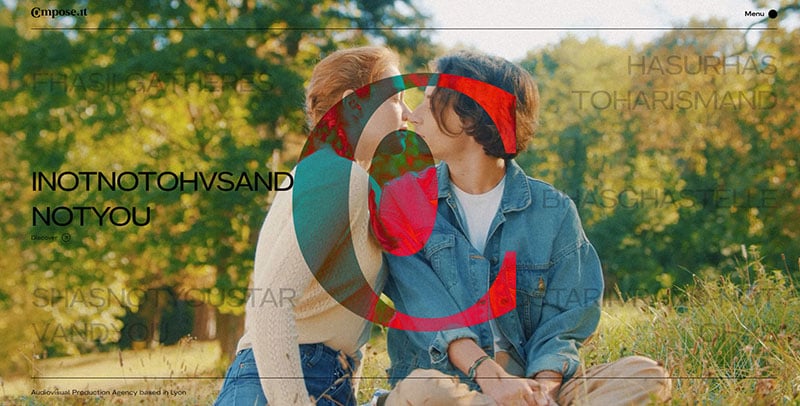 This video production company is from Lyon in France.
ThruDark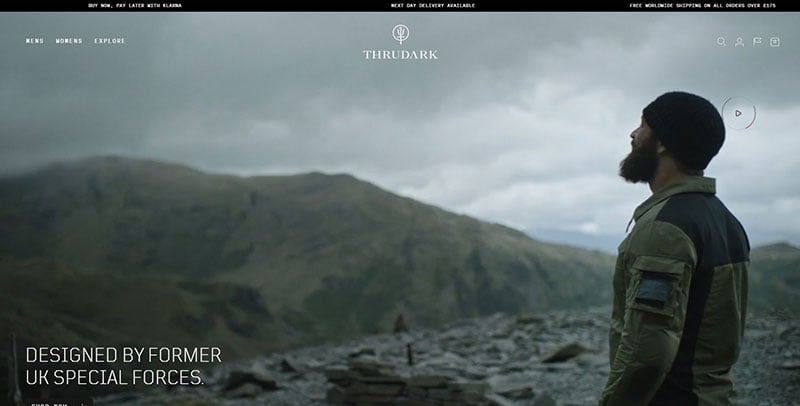 ThruDark aims to provide the best clothing and equipment. The name refers to the products' enduring quality under stress.
DRIU PRODUCTION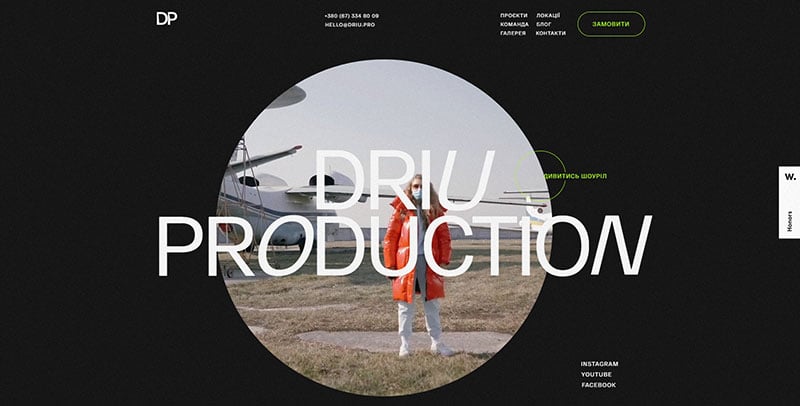 These Ukrainian video producers have provided videos for Amazon Prime and Netflix.
Lucibelle Paris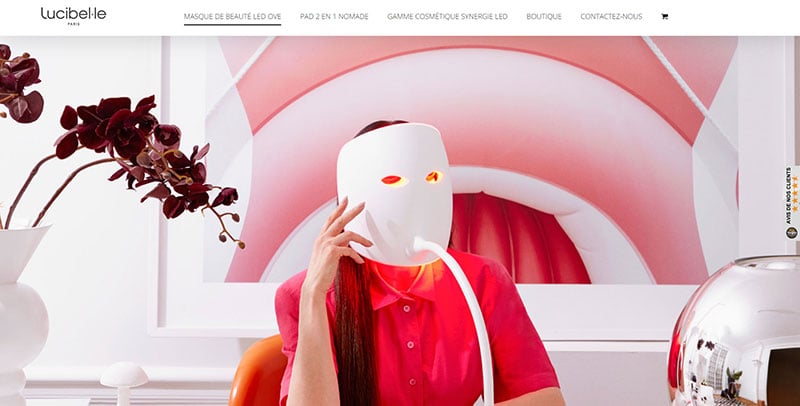 Lucibelle Paris uses this page to promote their skincare LED masks, the OVE. The designer of the video website is Olivier Lapidus.
Totem Moto Tours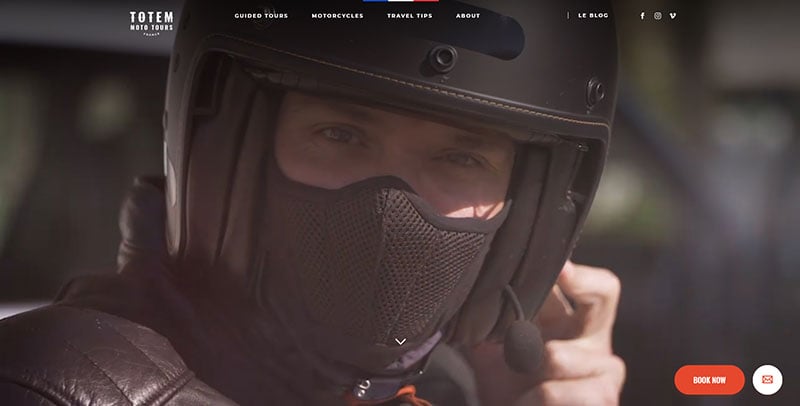 This tour operator offers exclusive guided motorcycle tours through the French countryside.
Imagine People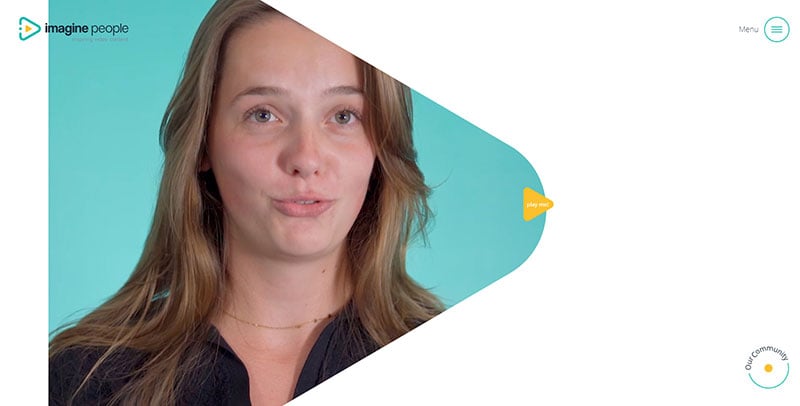 These professional video producers make content inspired by your ideas. They will make whatever you want to motivate your target audience.
CFL75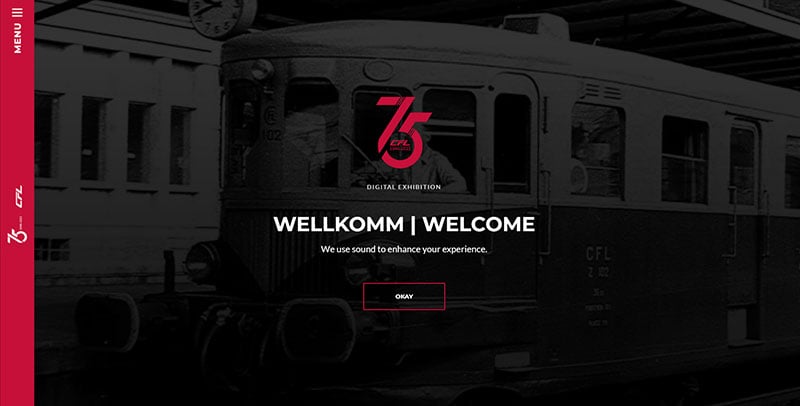 CFL75 is a digital exhibition from Luxembourg. The Société National des Chemins de Fer Luxembourgois produced it in 2021.
The Columbus Building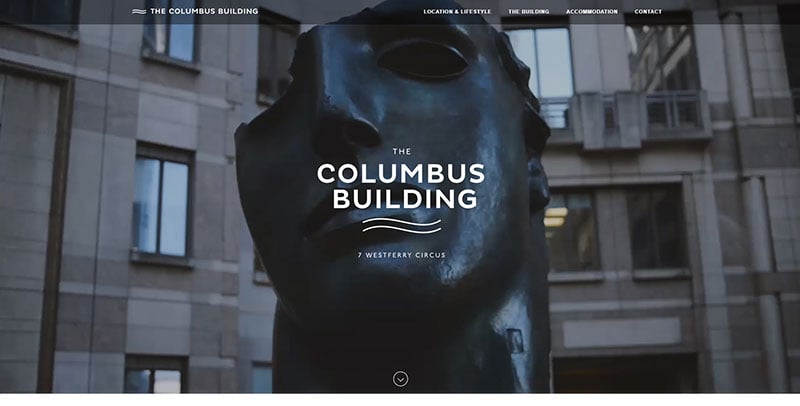 If you want a London apartment with a view of the Thames, you need to check out this website. The Columbus Building offers 160,000 square feet of living experience. The site uses a video background to transmit the culture and luxury of the building and surrounding area.
Ultimate World Cruise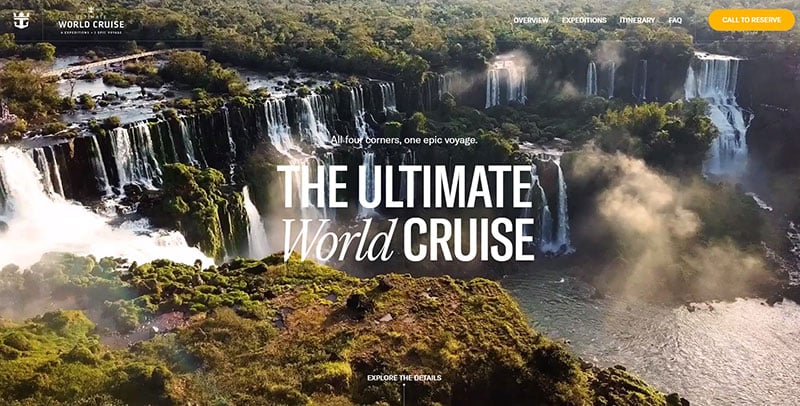 This website offers exclusive world cruises.
Jugaad prod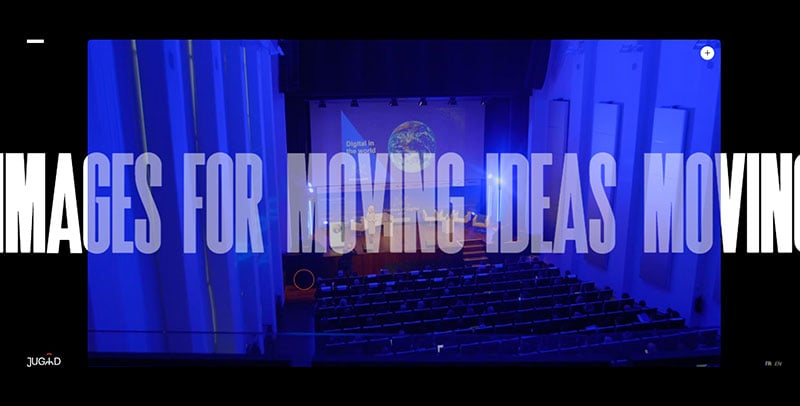 Jugaad is a dynamic video and communication agency. They are enthusiastic about people and culture.
Formula Automobile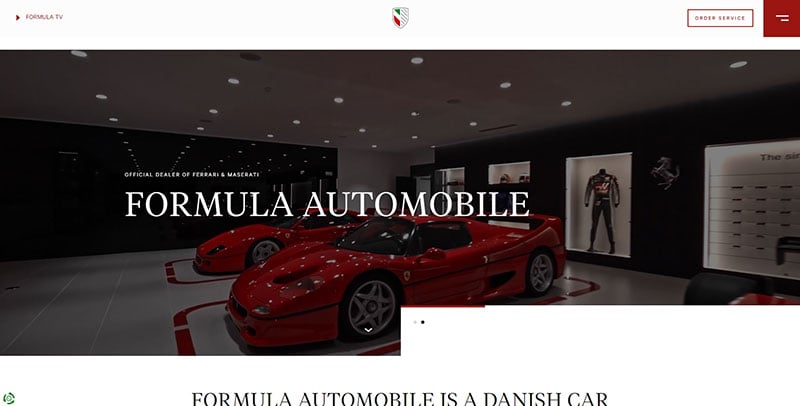 The videos and design of this website convey a love for Italian sports cars. Anyone with a passion for motorsports should appraise the Formula Automobile website.
The House of Rohl – KBIS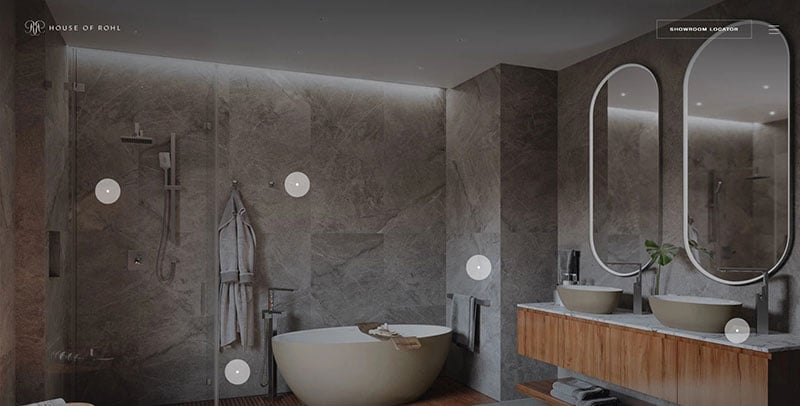 This presentation website presents the latest trends in kitchens and bathrooms. The collection shows imagination, beauty, and innovation. The design of the House of Rohl – KBIS website is beautiful.
Sea Mirror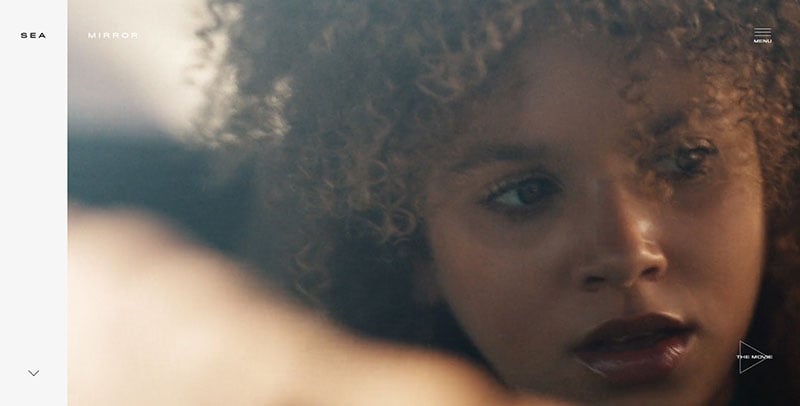 This website offers beautiful villas at the Dubai seashore. The houses have designs by international architects and designers.
Plimsoll Productions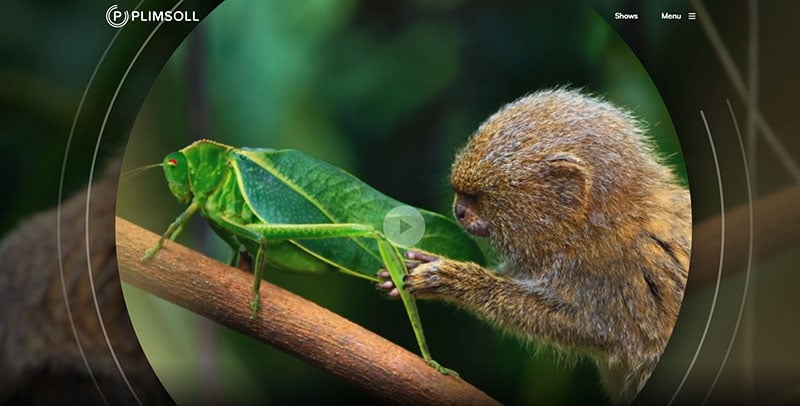 Plimsoll offers premium TV content for an international audience. This award-winning company produced documentaries about natural history from all over the world.
FAQ about websites with video backgrounds
How do I implement a video background on my website?
Well, buckle up, 'cause here we go! You can use HTML5 to embed a video background. Just use the <video> tag in your HTML, and add attributes like autoplay, loop, and muted to make it automatically play, repeat, and silence the audio. Remember, CSS will be your best friend here to ensure the video fits the screen and stays in the background. But hey, don't forget about mobile users – they might not appreciate a data-heavy video download!
Does having a video background slow down my website?
Ah, the million-dollar question! Video backgrounds can indeed slow down your website, especially if the video file is large. It's all about balance, you see. Aim for a high-quality video, but don't forget to compress it to a reasonable size. Also, consider serving a static image for mobile users or those with slow connections. Remember, nothing turns users away faster than a slow-loading site!
How can I optimize my video background for mobile devices?
So you're thinking about your mobile users. Good on ya! To optimize, you can consider serving a static image or a lower quality video to mobile users. Use CSS media queries to differentiate between device types. Another tip is to ensure the video is muted by default because, trust me, unexpected sound from a website is no one's idea of fun!
Can video backgrounds affect SEO?
Now, this is a tricky one. Video backgrounds themselves don't directly affect SEO. However, if your video slows down page load times, it can harm your search engine ranking. Also, search engines can't "see" video content, so make sure your page has other relevant content and metadata. If you do it right, a video background can actually enhance user experience, which indirectly can boost SEO.
Should the video background have sound?
Let me put it this way – do you like it when a website starts blaring sound unexpectedly? Most people don't. So, in most cases, it's best to keep video backgrounds muted. If you feel like your video needs sound to make sense, consider using a play button with a clear note that sound will be involved. User experience should always be your guiding star!
What kind of content is best for a video background?
The content in your video background should complement your website, not distract from it. Think subtle movements, abstract patterns, or slow-panning landscapes. You want it to be visually appealing but not too "busy". The video should enhance your site's overall aesthetic and message, not confuse or overwhelm your visitors. Remember, less is often more!
How long should my video background be?
Alright, let's dive in! Typically, a video background should be short, around 10-30 seconds. It should loop seamlessly to create a consistent and immersive experience. A longer video might be tempting, but remember, it can lead to slower load times. And nobody likes a slow website, right?
Are there any legal issues with using a video background?
You bet there can be! You must have the rights to use any video you put on your website. This means either creating the video yourself, purchasing stock footage, or obtaining explicit permission from the copyright holder. It might seem like a hassle, but trust me, it's better than facing a copyright infringement lawsuit!
What are the best practices for using a video background?
I like that you're asking this! Best practices include: Keep the video short and small in file size, mute the sound, and make sure it loops smoothly. Also, remember to provide a fallback static image for mobile users.
Is it possible to pause or mute video backgrounds?
Absolutely, it's not just possible, it's recommended! Offering controls for your video background is a great way to enhance user experience. You can use JavaScript to create a button that toggles play/pause or mutes the video. Remember, everyone likes to feel in control, and giving your users this option is a surefire way to keep them happy!
If you enjoyed reading this article about websites with video backgrounds, you should check out this one with the most impressive black websites.
We also wrote about a few related subjects like professional website templates, website templates with sliders, animated website templates, consulting website templates, website templates for artists, non-profit website templates, church website templates and creative website templates.
Websites with Video Background That Integrate It Properly