Congratulations on your engagement! As you plan for your big day, you may wonder, "Do I need a wedding website?" The short answer is yes! In today's digital age, creating a wedding website has become common among engaged couples. It's a great tool to inform your guests of all wedding-related details and include them in this joyous occasion.
One of the most appealing things about a wedding website is that you can create one for free with the use of wedding website templates! Anything to reduce the wedding expenses is useful. You can easily create a free wedding website, meaning you don't need to spend a lot of money to create a beautiful, functional website.
Wedding Website Templates That Are Perfect for You
There are so many wedding website templates to choose from. We have gathered some unique wedding website options to help you decide which suits your wedding planning.
Wedding Photo Slider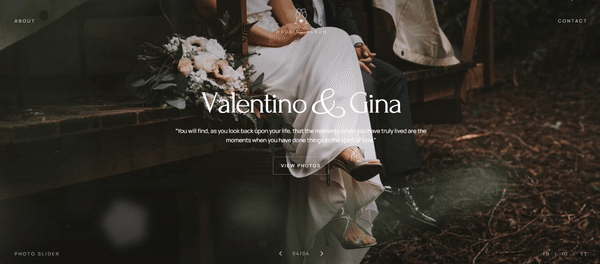 Why bother with an HTML photo slider when Slider Revolution takes care of everything for you? With its vast collection of ready-to-use templates and intuitive visual drag & drop editor, Slider Revolution handles all the heavy lifting, saving you time and effort.
Wedding Event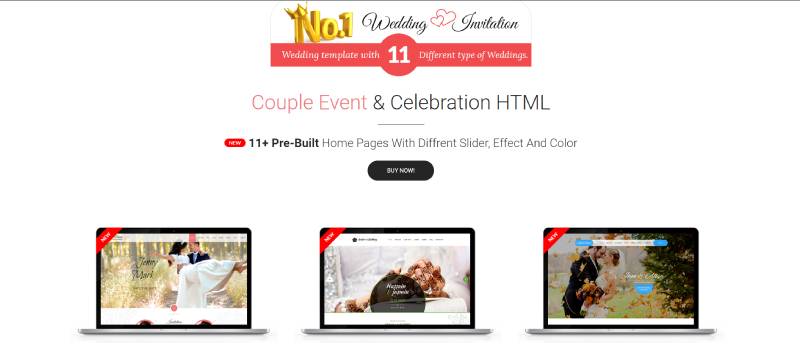 The Wedding Event HTML template is a modern and clean invitation with 12 native homepages for announcing couple events and wedding celebrations. You can choose from one-page and multi-page designs, layouts with video background, dark theme, image slider, or an animated snow background.
The template has wedding features such as Countdown, Couple Timeline, Location Map, RSVP, Grooms Family, Brides Family, Friends, Gift Registry, and others.
In addition to these features, you also get a diverse set of premade templates for Indian, Arabic, and seasonal-themed weddings.
FOREVER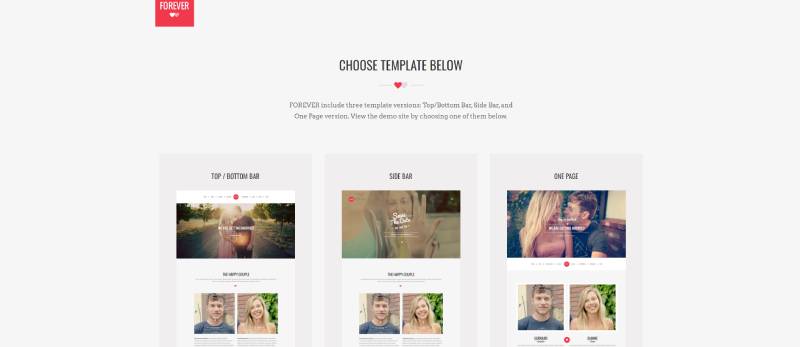 FOREVER wedding website templates are an excellent option for wedding invitations or engagements. The templates are HTML based and offer more than 10 unique pages and sections. You can choose from a variety of sliders, such as fade, slide, image animation, and video, to create a cool wedding invitation.
As part of your wedding planning process, this template has features to inform guests of wedding details, such as Accommodation, Bridesmaids, Groomsmen, About, and Blog.
Glanz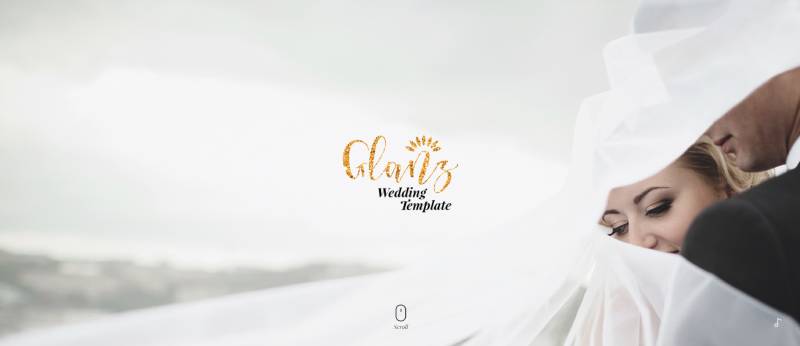 Glanz is a one-page responsive wedding website template perfect for wedding invitations or engagement announcements. The template includes a wedding date countdown timer. It has many different styles for the event invitation, including floral patterns and parallax backgrounds.
The template is fully responsive and retina-ready, which means it will look great on any device. It's also built with valid HTML5 and CSS3 and includes CSS3 animations that add a touch of elegance and sophistication to your website. The template is also suitable for businesses such as wedding planners, wedding cakes, and wedding flowers.
Loveme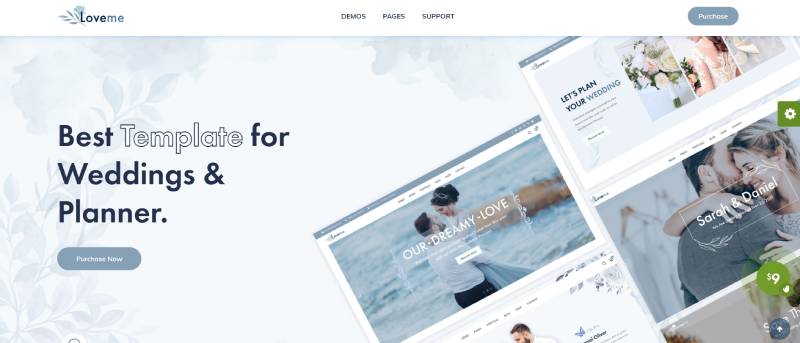 Loveme wedding website templates are perfect for anyone looking to create a website for their wedding planning business. It comes with various features designed to help you plan your wedding, including a countdown timer, a timeline of events, a location map, an RSVP form, and more.
The template is WC3 validated, CSS3 animations elevate the visual effect, and the parallax background effect adds depth to your website, making it more engaging. You won't have to worry about speed as your wedding website will be powered by Bootstrap 5, making it reliable and easy to use.
Feelings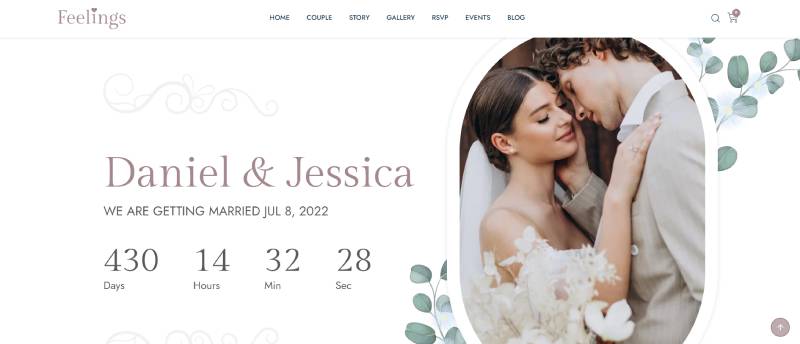 Feelings is a beautiful, modern wedding website template built using the latest web technologies. The template has a concise page layout that displays the full range of offers and thoroughly presents your services. The sections are neatly placed on the homepage to ensure it looks minimal and distraction-free.
The great thing about this template is that it's built using Bootstrap 5, which is fast, reliable, and easy to use. It's also fully responsive and includes 35+ pages, free icon fonts, a responsive navigation menu, form validation, login, sign-up, forgot password features, and more.
Wedding Vendor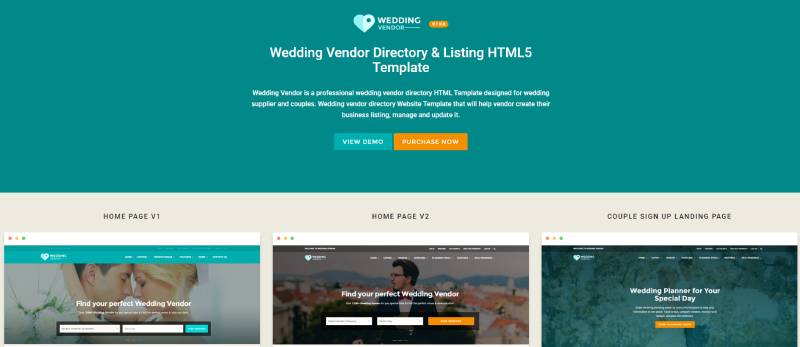 The Wedding Vendor Directory HTML Template is an excellent choice for creating a local or online business directory for wedding vendors. The template includes listings and details pages for vendors such as venues, cakes, catering, photography, ceremony, music/DJ, florists, and more. It also includes pages like Couple Login, Business Login, and Woo-Shop layout. The template is built with Bootstrap v.3+ and is W3C valid.
LoveLove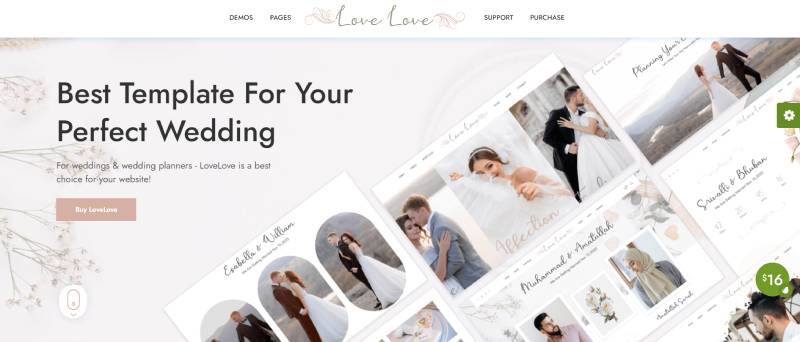 LoveLove is a versatile wedding planner with HTML5 as its base. You can see different options as you view its homepage demo. With its versatile features, it is designed to help wedding ceremony planners, wedding consultants, or other wedding planner services.
This wedding website builder's outstanding features include handcrafted design, lifetime licenses, fully responsive templates, support services, an RSVP form, and free updates.
Wedding Love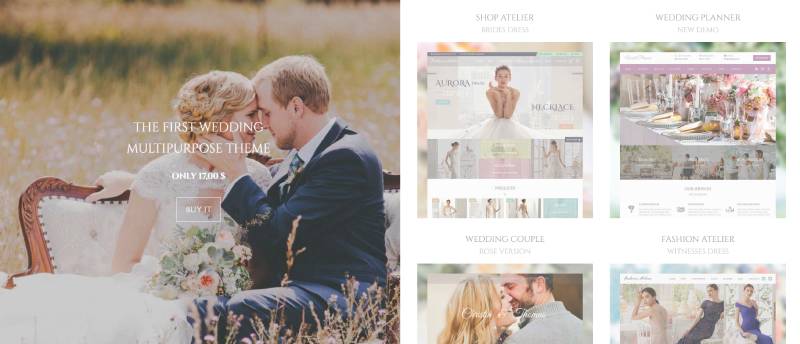 Wedding Love is a multi-purpose wedding website template that is easy to use, and it is perfect for wedding couples, bridal shops, ateliers, and wedding related business. The site has been designed with HTML files optimized to perform simple and fast customizations.
WoWedding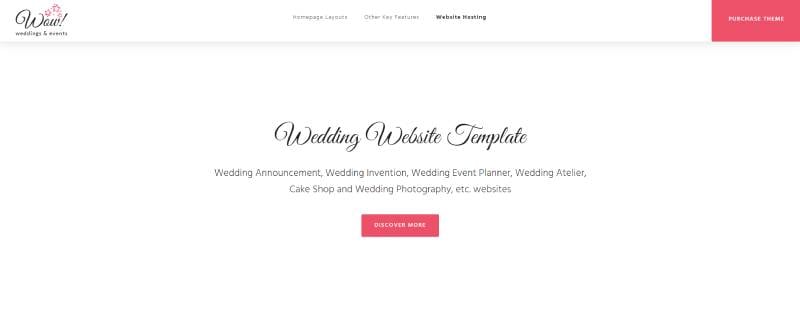 Another option for Bootstrap 4-based wedding site templates is WoWedding. It offers nine premade homepage layouts to help you choose what suits your wedding theme. Features like contacts, subscription, and RSVP menu will help you to manage your guest list.
It offers an attractive wedding website design as is evident by the four wedding announcement pages, including one with a split slider, footer, and header variations, and unique pages, like RSVP, galleries, and Pinterest portfolio. You can customize all pages.
Wedding Bells

Wedding Bells is an HTML/CSS template that is SEO-friendly and includes valid HTML code that works in all major browsers. It's also fully responsive and has various features that make creating a beautiful and functional wedding website easy.
For couples that want to build their wedding website, they can get inspiration from five predefined colors.
Perfect Wedding

Perfect Wedding is a unique HTML5/CSS3 template built on the Bootstrap 3.0 framework. For a unique wedding website design, the template offers more than 60 homepage layouts that are crisp and responsive across all devices.
You can easily use its clean, commented, and valid HTML, CSS, and PHP code. It also offers Photo Gallery and has comprehensive documentation and support.
Jolly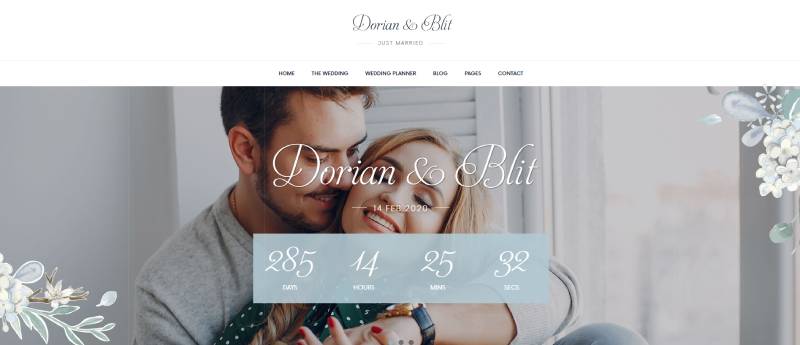 Jolly is a responsive HTML5 wedding and wedding planner template that is modern, beautiful, and elegant. It includes three types of portfolios for wedding planners and features like couple details, love story, countdown, groomsmen and bridesmaids, and events. RSVP and contact forms can send an email.
Union
If you are looking for a wedding template with handy features, Union has got your back. It's created to make designing your wedding website a breeze. Guests can send an RSVP to your email with a personalized option of choosing a meal, song, or other customization.
Don't forget to try out slick parallax effects and test different layouts and color schemes.
Wedding Day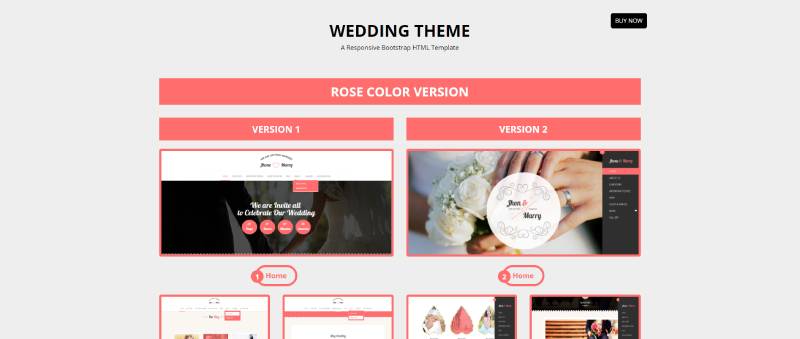 Wedding Day is a unique wedding template with two homepage styles, two blog styles, and four distinctive color combinations powered by the latest Bootstrap. It is super responsive as it uses the current HTML5 and CSS3.
With unique effects and functionality, cross-browser optimization, and parallax effects offered, you will have fun designing your website.
Liebe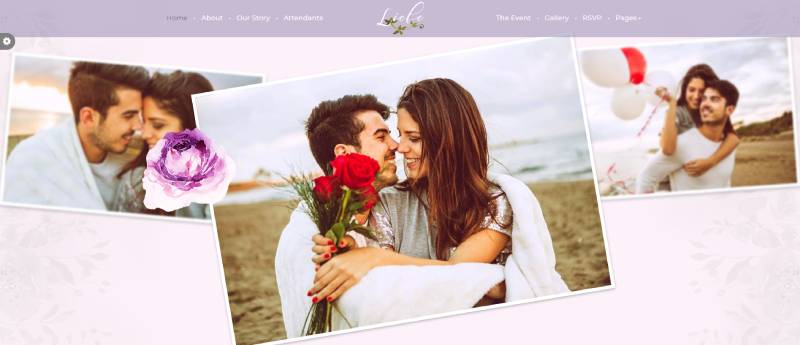 From delicate design to cutting-edge effects, Liebe's one-page HTML template will help you make your wedding day memorable. With a custom floral design included in the template, on-scroll animations, and a filterable isotope gallery, creating your wedding website will be a joy.
You can choose from three ready-made color skins and two header styles.
Neela
Your friends and family will be impressed when they see the invitation with all Neela's wedding details. It includes special predesigned sections and inner pages, such as relationship timeline, wedding countdown, wedding location and details, gift registry, image gallery, blog, RSVP form, and more!
Powered by HTML5 and CSS3, Neela can be customized in many ways, starting with one-page, multi-page, or landing page layouts. It's your decision!
Lilac
Do you want a wedding website that showcases an event timeline, wedding countdown, wedding location, gift section, and gallery section? Lilac provides all of that for you to share with your guests. The template is a unique way to invite your family and friends.
Built with HTML5 and CSS3, Lilac can be customized to make your dream wedding plan come true. With the Bootstrap framework, it will look fantastic on any device.
HappyWedding

Another versatile template to help you build your site is HappyWedding. With 60+ multiple, single, box, dark, vertical navigation, mobile navigation, LRT, and RTL layouts, you have plenty of web elements options. Bootstrap 3 and LESS enable faster and easier access across all browsers.
HappyWedding is a good option for you no matter what wedding event you have.
Sweetheart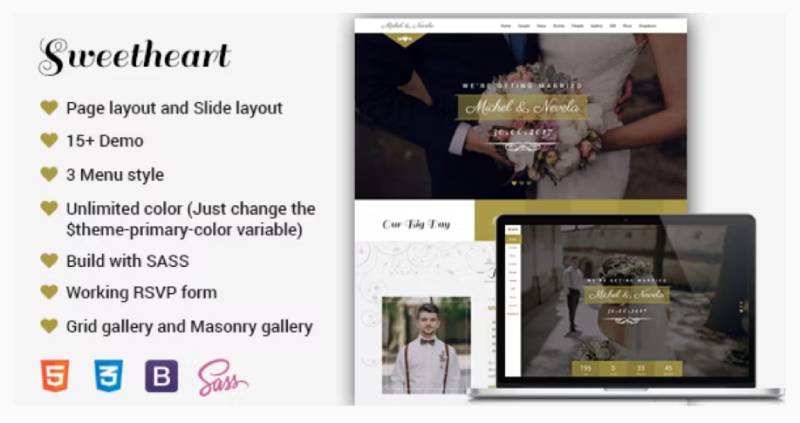 Having a beautiful wedding is the dream. A beautiful wedding website is the starting point, and Sweetheart can help you create it. It is based on an HTML5 template with a page layout and slide layout.
Sweetheart made the website's RSVP, gallery, love story, couple details, and many other unique features look amazing. It has all the tools that a template needs, such as SAAS, CSS3, and jQuerry, to make the design as simple as possible.
WedCo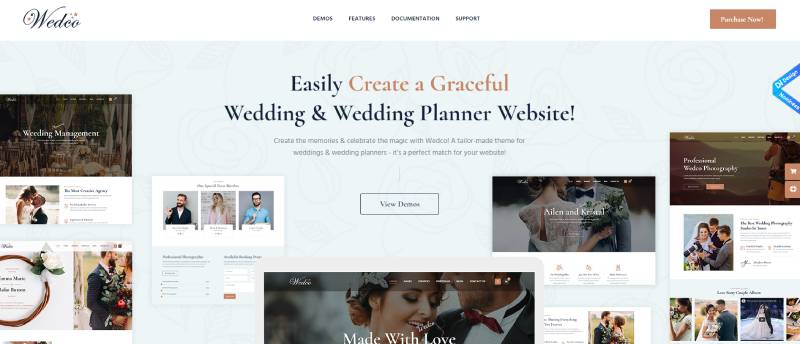 Building your website with WedCo is simple. It is a multipurpose HTML template that enables you or a business to create a wedding website or a website for any related events. You can make the website attractive by including site location, gift registry, and celebration info.
With many options for a premade homepage or inner page, you will have no problem elevating your wedding website.
Marry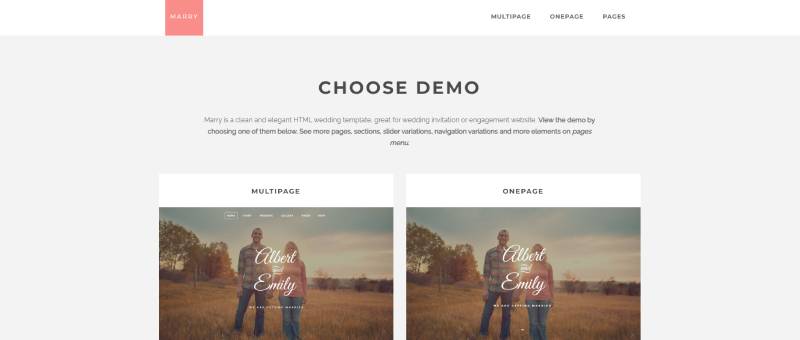 Marry is a friendly and sleek HTML wedding template that offers a multi-page or one-page site. You can add background music such as Soundcloud and HTML5 Audio to add a personal touch. That's a feature you'll enjoy.
If you are a romantic person, add a love timeline, showing your history as a couple. You can add a location page that uses Google Maps to ensure your guests arrive. The template contains other nice features, like RSVP, Groomsmen, Gift Registry, and Bridesmaids sections.
Eternity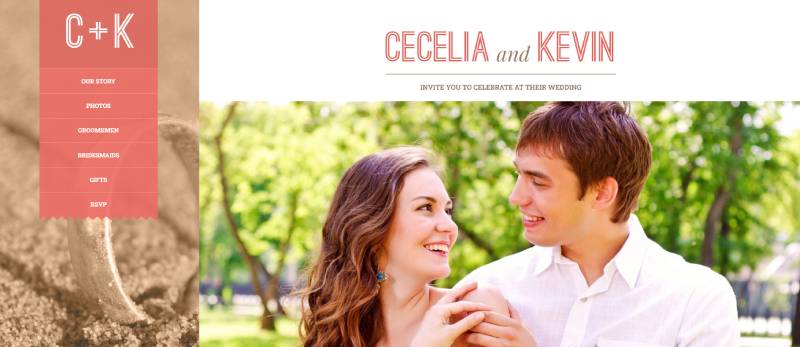 Eternity is a beautifully crafted wedding template for your special day. Powered by Foundation Framework, you can play around and design your website to have Our story, RSVP, Gifts, and Location and Map sections.
Lovebirds
Lovebirds is ready to help you make your matrimony journey a bit more exciting with the current HTML5, CSS3, and Bootstrap 3 technology in its arsenal.
With a fully responsive template and two styles of navigation menu, you will find opening any website an easy task. Equipped with features such as RSVP, gallery, and "Loveline", your guests will cherish your invites.
Belle
Belle can help you tell a story about your wedding. Using its blog pages, you can tell guests about your wedding. It is a modern, clean, and very responsive template because it is built on valid HTML5 and CSS3 code.
With SAAS included, 14 color schemes, animation enabled, a sticky roll menu, and video invites, you will have all you need to create a special and memorable moment.
Aimer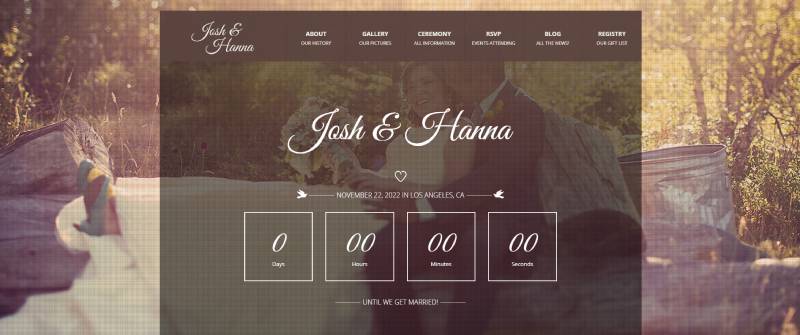 Aimer's clean and unique design template is what makes it a favorite. You won't be disappointed by its Bootstrap framework core, as it allows so many features to be used.
From blog pages to the smooth animation Aimer's template is unique, elegant, and easy to navigate. Additional features, like a gallery and RSVP form, make Aimer a good option.
Mylove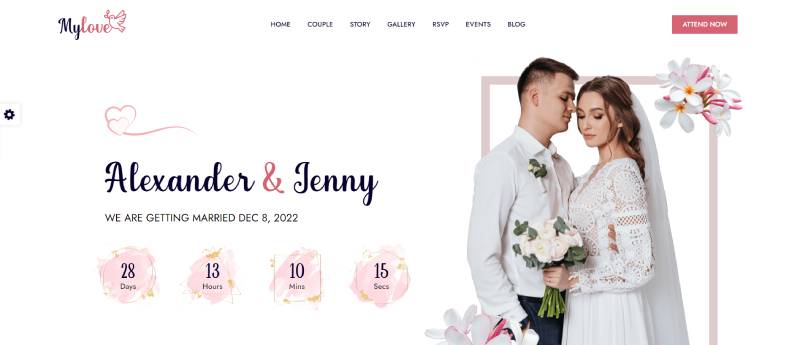 Do you want to count down to your big day, feature your groomsmen and bridesmaids, or create a love story? Mylove can help you build the wedding website you imagined. It's a great wedding template built on Bootstrap 5, making it a very responsive HTML 5 template.
Additional features include four home styles on your template, invitation, coming soon, animation, and many more, making Mylove another excellent choice for wedding website templates.
FAQ on Wedding Website Templates
What's the idea behind a wedding website template?
A wedding website template is a pre-designed layout you can use to create your own wedding website. Picture it like this: it's a beautifully decorated wedding venue, just waiting for your personal touches. These templates have all the sections you might need: RSVP, event details, your love story. You just fill in your info, and voila! Your own wedding website.
What should be included in a wedding website template?
Usually, wedding templates have spaces for all the need-to-know info. We're talking dates, venue details, maps, accommodation tips. Then, there's the personal stuff: your story, photos, even a section for your wedding party. Some templates even have a guest book or an RSVP feature. Of course, what you include is totally up to you.
Do all templates allow online RSVPs?
Most do, yes. The convenience of online RSVPs is a game-changer. No chasing mail or counting cards. You get a guest list right on your website. Most wedding templates today include an RSVP feature, but double-check before you commit.
How do I personalize a wedding website template?
Just like personalizing your wedding, you add the details that matter to you. Your photos, your colors, your words. Most templates let you tweak the design, too: change fonts, colors, even the layout sometimes. It's your day, your website should reflect that.
Are wedding website templates mobile-friendly?
They sure are! With most folks using their phones for everything these days, templates are designed to look great on any device. That way, Aunt Sue can check the details on her tablet, and your college friends can RSVP right from their phones. Handy, huh?
Can I include my wedding registry in the template?
You bet! Many templates have a dedicated section for your wedding registry. You can link directly to your online registries, making it super easy for your guests to find and buy you a gift. It's all about making it as easy as pie for your guests.
Can I protect my wedding website with a password?
For sure. If you want to keep your wedding details private, you can add a password to your site. Only guests with the password can see your site. It's a neat feature for keeping your big day just between you and your guests.
Can I change the template once I've started?
Yes, you can. But remember, it's a bit like repainting your house. It's totally doable, but it might take a bit of time to move everything around. It's usually easier to spend some time finding a template you love before you start.
How long should I keep my wedding website up?
It's your call! Some couples keep their site up for a year, others take it down right after the honeymoon. If you've got a lot of great photos or sweet messages in your guest book, you might want to keep it up longer. Totally your call.
Can I use a wedding website template if I'm not tech-savvy?
Absolutely! Wedding templates are designed for everyone, even if you're not a tech whiz. Most are drag-and-drop, meaning you just move things around until you love how it looks. Plus, there's usually great customer support if you get stuck. So don't stress, you've got this.
Conclusion on Wedding Website Templates
Wedding website templates are a great tool to help you organize and share your wedding-related details with guests. Wedding websites are beneficial for you and your guests, ensuring they have all the information they need to plan their trip and make the most of your special day.
Furthermore, creating a wedding website is easy, so there's no need to worry about spending a lot of money or time on it. So if you're planning for your big day, say, "I do" to a wedding website template and ensure your guests have all the information they need. Have a great wedding!
If you enjoyed reading this article about wedding website templates, you should read these as well:
Say "I Do" to These Eye-Catching Wedding Website Templates