Gone are the days when embedding Instagram posts into your WordPress website required coding skills. These days, this can be done easily with the help of a WordPress Instagram plugin.
How can embedding Instagram posts into your WordPress website benefit you? The answer is simple. Both WordPress and Instagram are two very powerful marketing tools.
So, combining both is a profitable marketing strategy for business owners.
Some Instagram WordPress plugins display your images directly on your site. Others source images from popular Instagram hashtags for your site visitors to see.
But, which plugin should you choose? Which is best suited to your needs and brand?
Use this list of the best WordPress Instagram plugins to help you find a plugin to blend your social media presence into your WordPress site.
The Power of an Instagram Account
Sensible business owners know better than to market using only their Facebook and Twitter social media accounts.
Instagram, with its over 1 billion users, is one of the most dominant social networks in the world. It reaches into almost every industry, including:
Fashion
Music
Cooking
Fitness, etc.
Almost any type of business can benefit from displaying vibrant photos of their offerings on Instagram.
The Best WordPress Instagram Feed Plugins
The best out there: Essential Grid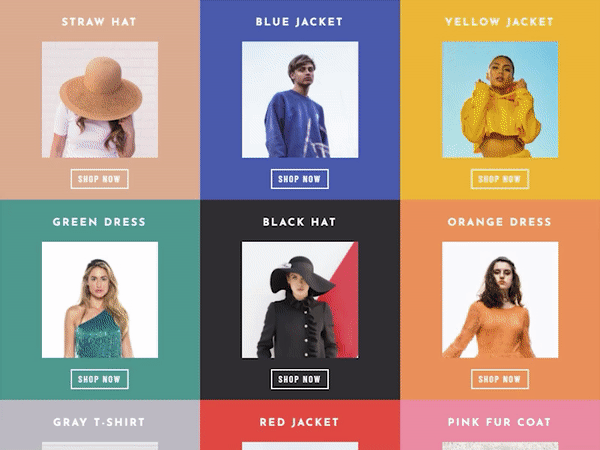 Essential Grid is hands down the best in the game. If there's one plugin that would make your website better more than others, it's this one.
Essential Grid lets you display your images in a gallery format, whether from the WordPress gallery, social media, or elsewhere.
The attractive, user-friendly interface makes customization and selecting your format tasks straightforward.
You can use images or add WordPress content, such as blog posts or other custom post types (including WooCommerce products). Also, you can connect to external services such as:
The visual skin editor creates gallery item layouts. For instance, when creating a gallery for WooCommerce, you can include:
Product price
Add-to-cart button, and more
And that's is not all. Once you get a license, you have access to quick FAQs and video tutorials that will walk you through the process of making your website look amazing with Essential Grid.
Key Features
Integration with other plugins such as WooCommerce
Multiple gallery layouts, including a template library with 50+ starter grids
Image, video, and audio galleries
Galleries from posts or custom post types
Create galleries from many different sources
Galleries from dynamic sources, including Instagram, YouTube, Vimeo, Twitter, Flickr, SoundCloud, and more
Here's a glimpse of what you can do with Essential Grid:
Present your blog posts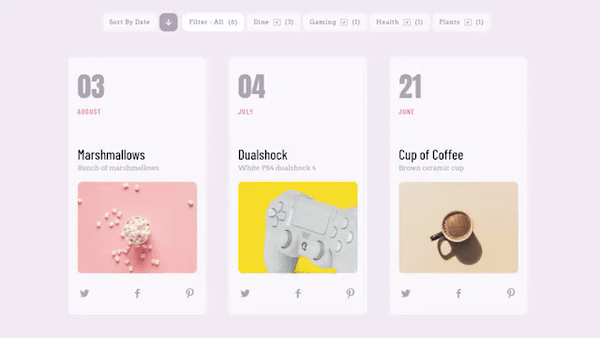 Showcase your portfolio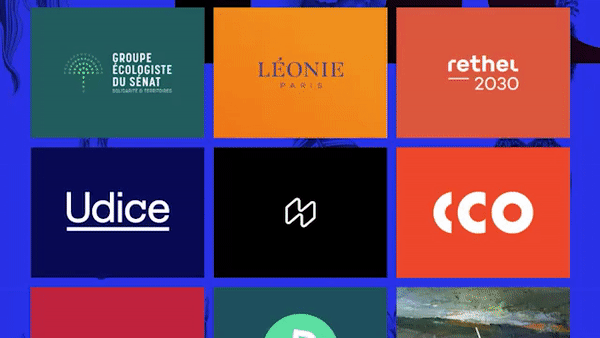 Display unique products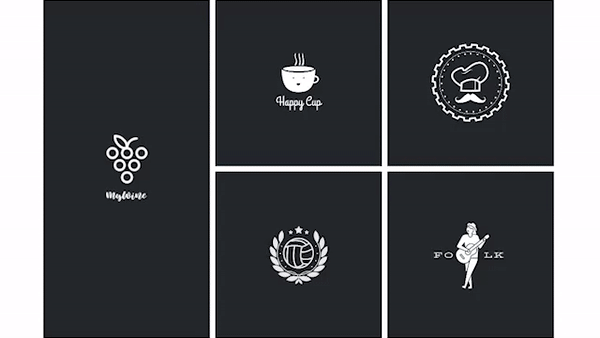 Share audio files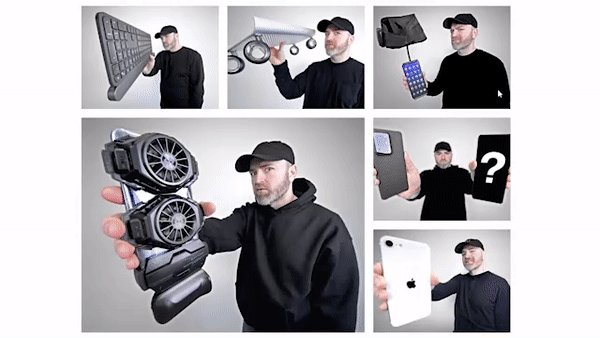 Display videos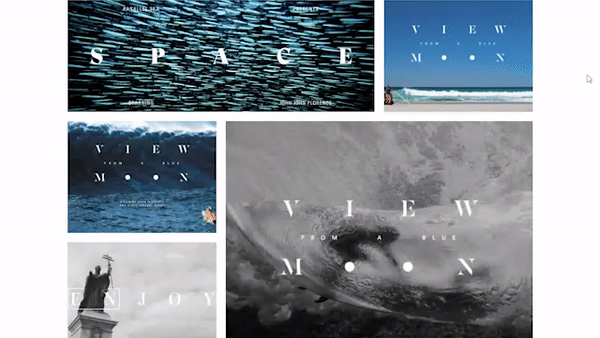 Show your Instagram stream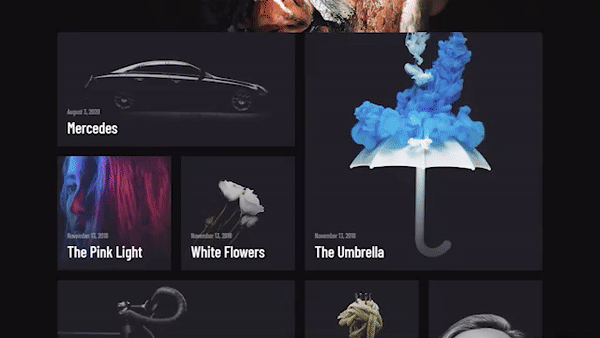 Instagram Journal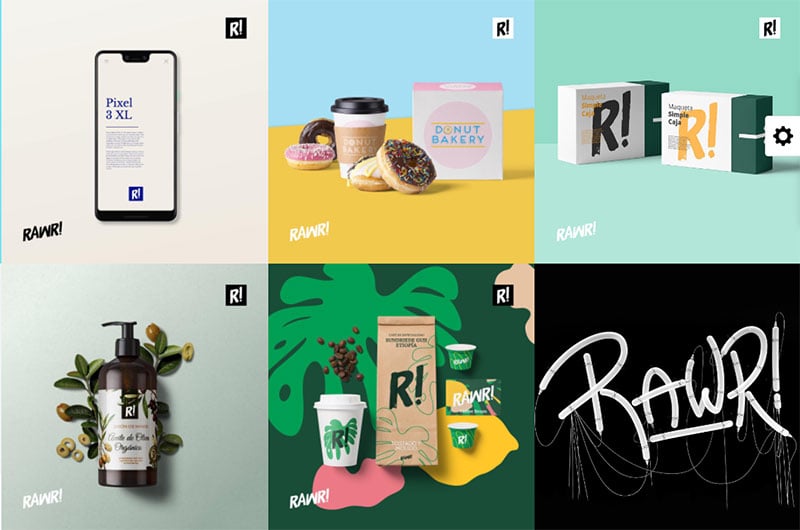 Purchasing a license for this plugin will get you a free Instagram Journal theme. How cool is that!
If you're searching for a versatile highly customizable Instagram plugin, your search is over. This option includes an abundance of awesome layouts and carousel options. Here are some of its best features:
Fancybox
The Fancybox tool uses a pop-up window that floats on top of the web page to display photos, HTML content, and multimedia on your WordPress website.
It has customization settings that include various display animations and title positions.
Photo Limit Control
This feature lets you limit the number of Instagram photos the API can load.
Customizable Carousels
You have total control over various aspects of your carousels, like the:
Speed
Animation
Transition
Multiple Layouts
This feature offers different view modes such as:
Collage Carousel
Classic
Large Carousel
Infinity
Section Carousel
Instagram Journal Theme
As mentioned above, choosing this Instagram feed plugin also means gaining access to the Instagram Journal theme for free.
Just think, you get this awesome benefit without needing to pay the extra $48 it costs. That's a sweet deal!
Spotlight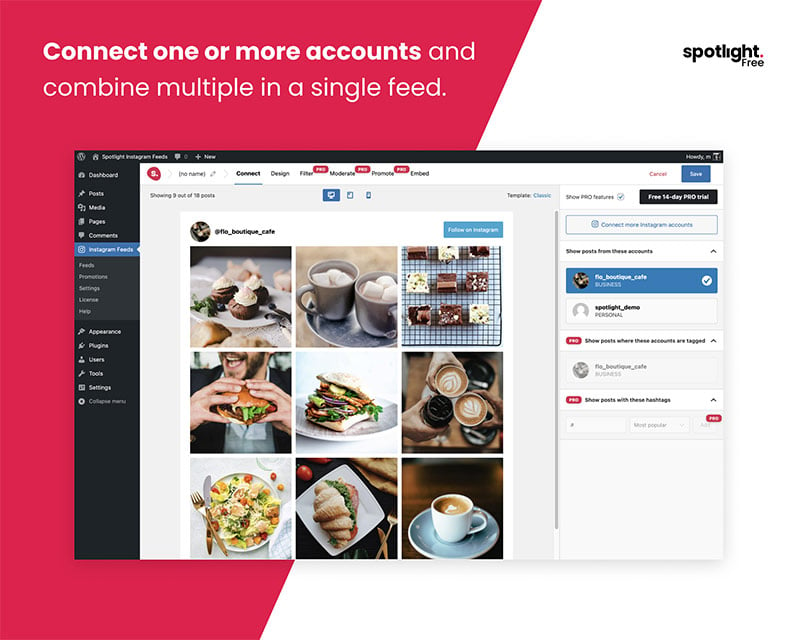 This WordPress Instagram plugin makes it easy to display an Instagram feed on your WordPress website.
With this plugin, setup is a breeze and you get to decide which design your visitors will see. You can choose your colors and styles to match your module with your brand.
Use the live preview customizer to see how your designs will look before you embed them into your site.
What if you want to customize the look and feel on a per-device basis? The good news is, you can! You can make responsive and beautiful designs for desktop, tablet, and phone.
Do you want to turn your site visitors into Instagram followers? Simply add a "Follow" button to your WordPress website and ta-da!
You can also add a "Load More" button to give your site visitors an entire gallery to browse through.
Other Notable Features of Spotlight
Connects multiple accounts
Creates unique feeds to use across different pages
Can open posts as a lightbox to keep visitors on your site for longer
Instagram Feed Pro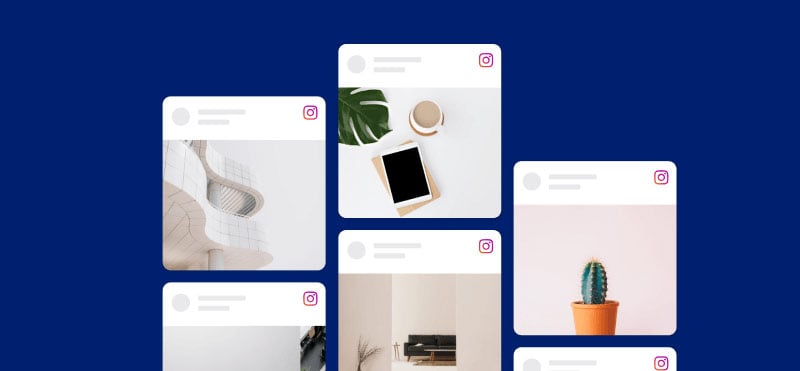 Here is Smash Balloon's Instagram Feed Pro. It offers reliable data caching from Instagram to minimize requests and loading time.
Its backup caching system keeps your Instagram feed visible if the Instagram API runs into problems. You can use API monitoring to check its functionality.
The free version of Instagram Feed Pro offers several basic features. However, upgrading to the Pro version unlocks some sweet advanced features. For example, multiple layout choices include:
Masonry grid
Horizontal layout
Carousel, etc.
The Pro version can also display a variety of Instagram feeds on your site from multiple sources including #hashtag feeds.
It features a lightbox popup option with built-in social sharing buttons and allows you to create shoppable feeds.
Using the block editor or a sidebar widget, you can quickly integrate your Instagram feed with any post or page. Instagram stories are also supported by the plugin, which delivers them to your WordPress site.
Smash Balloon Social Photo Feed

Is your social media marketing strategy mostly concentrated on Instagram? If yes, this plugin is for you. You'll be able to connect multiple Instagram accounts and display your images in more than one feed.
Thanks to this super-responsive plugin, your website will look stunning on any device, whether mobile, desktop, or tablet.
You can also adjust the way your Instagram feed looks to your viewers. For example, the 'Load More' button causes your website to load an infinite feed for your users.
This increases user retention by keeping them browsing for longer. Plus, you can easily generate and embed a custom shortcode anywhere on your website.
Feed Them Social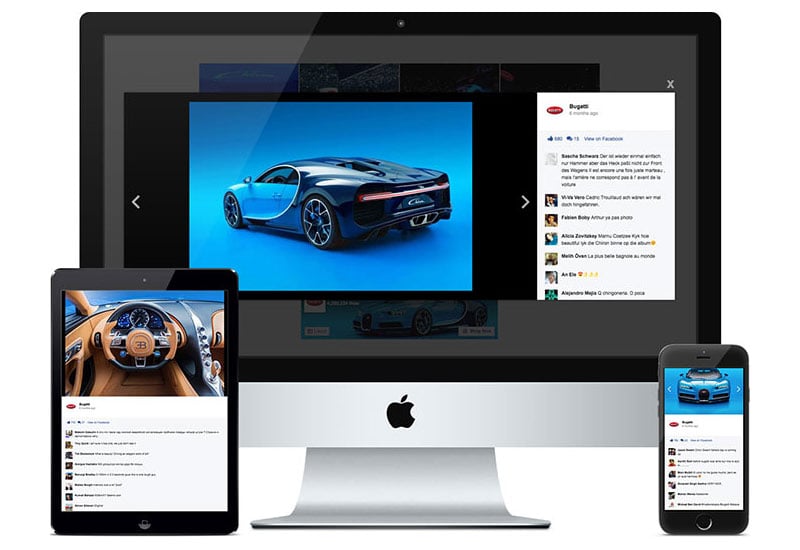 This WordPress Instagram plugin is from SlickRemix. It's great for displaying social feeds on your WordPress site, such as those from:
YouTube
Facebook
Twitter
Instagram
The free version of the plugin gives you a range of support options, like:
Instagram feeds
Facebook feeds
Albums
Groups
Events
Twitter feeds
Pinterest boards
Pins
Latest pins
You'll need the premium version to display content from YouTube and Facebook video feeds and carousels. There are also other extensions for Feed Them Social that you can check out for even more options.
Your feeds can be displayed in your posts, pages, and in the sidebar areas of your website. Your content will be mobile responsive and compatible with any device.
WD Instagram Feed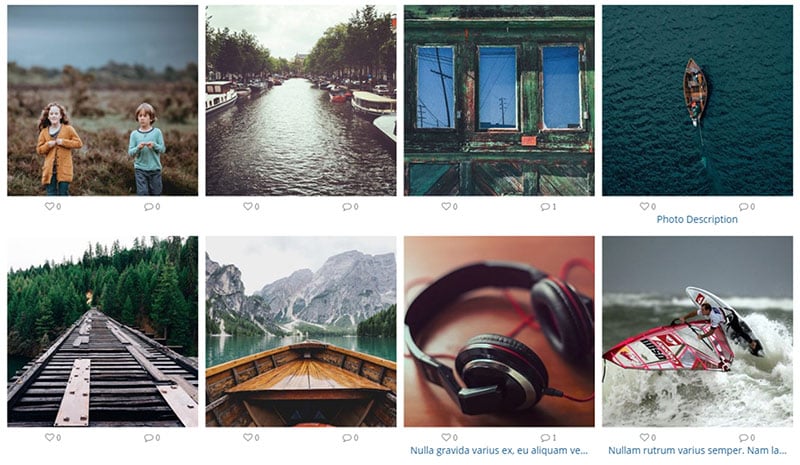 This plugin can help you create a beautiful Instagram gallery with effects like the lightbox with captions. A nice bonus is that these captions come with the free version.
This sets it apart from the other Instagram feed plugins mentioned above. While the pro version provides extra extensions and built-in tools, the free version gives you options for:
Image and thumbnail browser layouts
Username and hashtag feeds
Support for unlimited feeds
The free version of this WordPress Instagram feed plugin is a time-saver that lets you control how it looks on your site.
You can blend feeds from different sources or different posts from one account. The filtering is ideal for turning your Instagram feed into a portfolio. The widget, too, is an extra that makes your website more visually appealing.
WPZOOM Social Feed Widget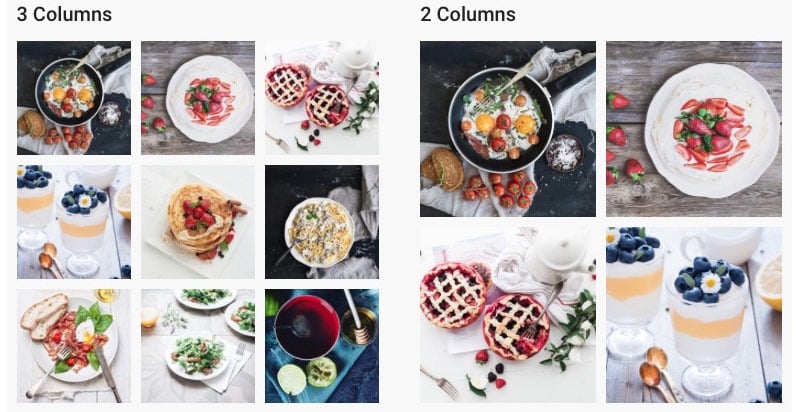 This plugin lets you control how your Instagram content displays on your WordPress website.
Through its default widget setting, you can choose a one-, two-, or three-column layout for presenting your Instagram images on your site.
If you'd like to display your Instagram content like a horizontal banner across your website, use the widget in full-width mode.
Here are a few more ways that you can adjust how the widget displays your images:
Set the number of images shown in the widget
Change the size of images shown in the widget
Adjust the image spacing by setting the number of pixels between each image
You can also choose whether or not to display a button. By default, the button text is 'View on Instagram.'
Instagram Slider Widget

Here is an Instagram WordPress plugin that fuses two popular Instagram feed designs. The first design is the 'Instagram widget slider', which shrinks the sidebar images but can be shown on all pages.
It also scrolls through your Instagram photos so that your users see scores of images while browsing your website.
The second design is the 'frontend widget thumbnail', which is a gallery of thumbnail-sized pictures.
While the slider displays 12 of the most recent posts on your Instagram page, you can also take advantage of the hashtag feature. This is great for showing only the pictures that highlight a specific topic/ theme.
This option is generally viewed as one of the more basic WordPress Instagram plugins on this list and there's no Instagram API needed.
Enjoy Social Feed

This plugin lets you add a photo grid or carousel from your Instagram feed, or other social media, to your WordPress site.
This Instagram WordPress plugin is easy to use and comes with a shortcode to add within the editor directly.
You can use hashtags to bring related pictures from your Instagram feed to your site. This means you'll need to regularly upload fresh content to your Instagram feed.
Here are some additional features of this plugin.
Lightbox
This is a pop-up that shows your Instagram images with a media caption and navigation arrow.
Customizable Layouts
Enjoy Social Media gives you two default layouts- 'Carousel' and 'Grid.' These can be customized to affect the number of pictures and columns or rows visible at one time.
Instagram Feed Widget
As the name suggests, this feature lets you display your Instagram feed in the widget area of your website.
Modula
Modula is an Instagram feed gallery plugin that displays your photos beautifully on your site. It integrates easily with several other social media platforms, too.
With Modula, you can display your Instagram content straight to your website. It also has awesome filter options for improving how your images look.
Modula's drag and drop builder lets you easily customize your galleries and resize your images or build your own custom layout.
This is a super responsive plugin that can be trusted to make your images look crisp and clear on all screen sizes.
Modula makes it easy for your site visitors to browse through your galleries by filtering them by dates, hashtags, etc.
Simple Social Icons

If you want to add social sharing buttons to your website, Simple Social Icons is the tool for you.
With 200,000+ users worldwide, this WordPress Instagram plugin is a trusted system. It links your Instagram and other social media accounts to your website through social icons.
This increases the audience reach of your business, which results in more Instagram followers and eventual buyers for you.
This free plugin offers basic customization options, like adjusting your social media icons':
You can also change the social profile you want to link to. So, if boosting your sales through Instagram posts is your goal, use this plugin to link your site to your Instagram accounts.
Instagram Gallery

If simplicity is what you're looking for, here's an option that sticks to the basics. This Instagram WordPress plugin won't wow you with modern layouts or creative styling.
So, if you need a simple option to insert an Instagram feed directly into your website, choose this plugin. And with no premium upgrades offered, this option is truly free.
Getting started is easy, requiring only a brief setup process. The plugin then connects to your Instagram account and lets you choose between gallery or carousel sliders.
When it comes to Instagram WordPress plugins, this option truly is one of the simplest on the market.
There's no need to connect to the API or log in with credentials. All you need is your Instagram username and a quick settings adjustment.
Instagram Gallery also lets you add widgets to your website sidebars. This allows you to use shortcodes to spread out the images on your site or put the plugin elsewhere.
Instagram Theatre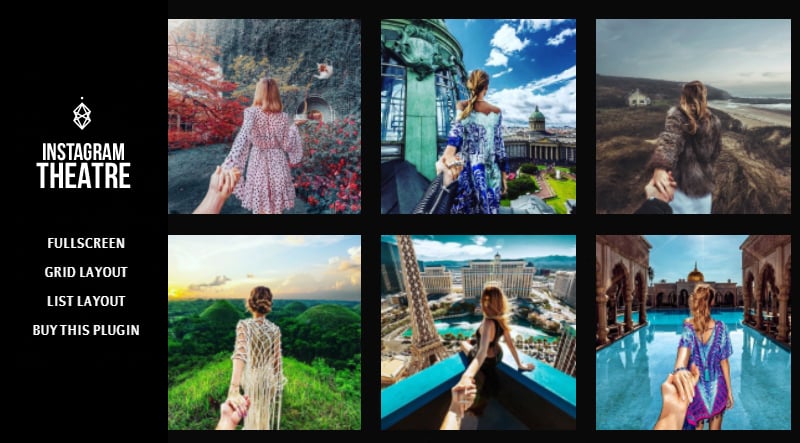 The Instagram Theatre plugin is last on the list, but certainly not least. It's a no-fuss tool that lets you easily display your Instagram photos on your website.
Instagram Theater supports iPhones, iPads, and Android devices. It doesn't come with the bells and whistles of other Instagram plugins, but it has a sleek layout and several other features.
For example, there's a grid view or list layout and you can use a full screen view to see larger versions of your photos.
It also has special effects and animations that are sure to grab the attention of your users. Other features of Instagram Theatre include:
Branding
Branding your Instagram feed is easy. For example, you can change your colors to match your company's colors or the theme of your website.
Fancybox Integration
It comes with a Fancybox integration that helps to improve the look and feel of your pictures.
Integration with the Instagram API
Instagram Theatre integrates directly with the Instagram API.
FAQ on WordPress Instagram Plugins
Can I display my Instagram feed on my WordPress site?
Absolutely, that's like the bread and butter of these plugins. You grab one of those Instagram feed plugins, install it, and you're golden. Most of them will have you connect your Instagram account, then you can just drag and drop a widget into your site or use a shortcode. You can show off your latest shots, create a gallery, or even showcase user-generated content if that's your jam.
How do I ensure my Instagram feed looks good on mobile devices?
The key here is to pick a responsive Instagram slider or widget. Most decent plugins are designed to be mobile-friendly right out of the gate. They'll adjust your feed to look just as slick on a phone screen as it does on a desktop. Always check the plugin's description or test it out to make sure it plays nice with different screen sizes.
Is it possible to customize the style of my Instagram feed?
Customization is where it's at. Most Instagram feed plugins come with a bunch of options to tweak. You can change the number of photos, the layout, maybe throw in a fancy hover effect, and match it to your site's vibe. Some plugins will let you get down and dirty with custom CSS if you really want to make it your own.
Can I show Instagram Stories on my WordPress site?
Yeah, you can. There are specific WordPress Instagram plugins that let you pull in your Stories and display them. It's a cool feature for keeping your site fresh and engaging. Just make sure the plugin you choose specifically lists Instagram Stories compatibility, and you'll be sharing those fleeting moments in no time.
Do I need an Instagram API key to use these plugins?
Most of the time, yeah, you do. It sounds techy, but it's just a way for the plugin to talk to Instagram properly and pull in your feed. The process can vary a bit, but generally, you'll need to register your WordPress site as an application on the Instagram developers platform and get your keys that way. Follow the plugin's setup guide, and you'll be sorted.
Will using an Instagram plugin slow down my WordPress site?
It can, but it doesn't have to. Like any plugin, if it's poorly coded or trying to load a ton of high-res images, it might drag your speed down. Look for plugins that are optimized for performance, maybe with lazy loading or caching. And keep an eye on those image sizes.
How can I display an Instagram hashtag feed on my site?
Hashtag feeds are great for community engagement. You'll find plugins that let you display feeds based on hashtags instead of just your own content. It's a breeze to set up; just punch in the hashtag you want to follow, and the plugin should do the rest. Just be aware of Instagram's API rules – they can be pretty strict about how and what you can display.
Ending Thoughts on the Best WordPress Instagram Plugins
Searching Google for WordPress Instagram plugins can yield a rather muddled search result. With this concise list of the best WordPress Instagram plugins, you should be able to pick the right plugin for your company.
So, get connected to your site with your Instagram accounts and start displaying your photos in your:
Blog posts
Web pages
Website sidebars
If you liked this article about WordPress Instagram plugins, you should check out this article about Vimeo WordPress plugins.
There are also similar articles discussing Facebook WordPress plugins, YouTube WordPress plugins, Twitter WordPress plugins, and WordPress Flickr plugins.
And let's not forget about articles on how to create a gallery in WordPress, WooCommerce product grid plugins, WordPress image plugins, and WordPress grid plugins.
Check Out the Best WordPress Instagram Plugin Examples