WordPress is a hub of creativity that can help small businesses develop their unique brand. Using themes in WordPress is a much cheaper way of creating a fantastic website, even without coding experience. It's an easy way to modernize your website and regardless of your type of site, adding one of the fabulous themes will be beneficial.
You can choose a WP theme as well as a slider plugin, however, they must work in harmony which doesn't always happen. Instead, it is much easier to find a theme that already has a built-in slider, and they will work perfectly together. Usually, the theme has been designed to showcase the slider.
This article created by our team behind Slider Revolution will help you choose a WordPress theme with a slider. This list details the absolute best slider themes available.
WordPress themes with slider
Jupiter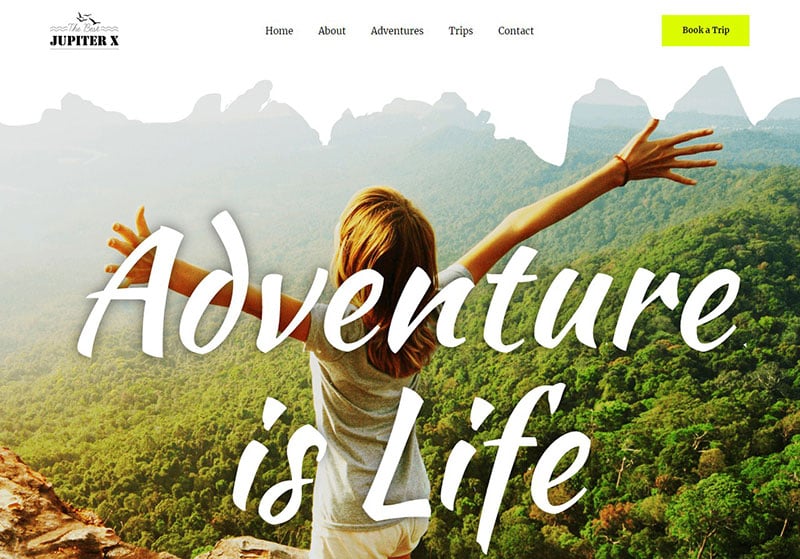 Jupiter is an enormously powerful theme favored by startups, small businesses, and companies. Regardless of your products or services, Jupiter is sure to suit your site.
This is a fantastic slider theme with all the features you need, including those more difficult to find.
Jupiter has features such as pricing tables, hero section, and newsletter form, and great options for contact, teams, testimonials, and clients.
Kvell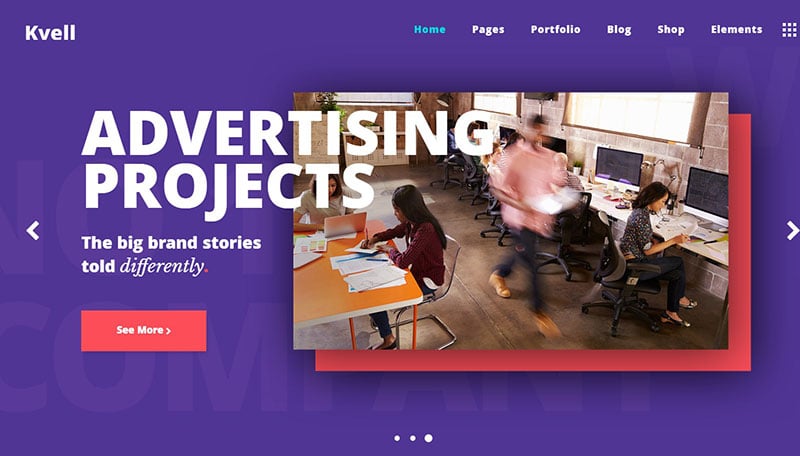 Kvell is often used by creatives and freelancers because of its beautiful design. It comes with 12 preset homepages, along with more than 25 styles of portfolio and 7 other predesigned pages, which allows you to add as much detail as you like.
It comes with so many portfolio layouts that choosing the right one to show off your projects and work can be challenging. It's one of the best WordPress carousel themes, so setting up a slider is easy. You can edit the animation and set the pagination type. It is accompanied by a free plugin, Slider Revolution that harmonizes with the theme. This lets you further enhance your site with full-width slide layouts and cool fonts, buttons, and navigation arrows.
Gillion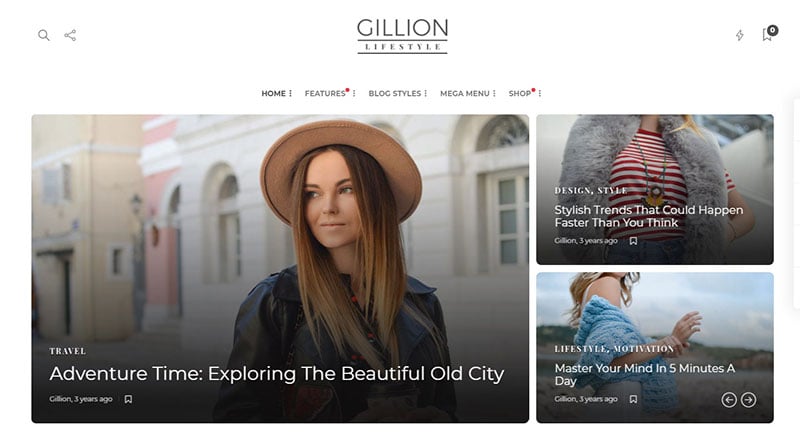 Gillion will make a great first impression on your site users. It's a WordPress theme with Slider Revolution included in it. As it's already integrated, you know that these will work perfectly together. Slider Revolution is a premium plugin, but it's available free when you use Gillion. You can also select from 15 demos to see whether it suits your purpose.
The admin panel is simple and intuitive to use. Gillion looks fantastic on mobile and is search engine optimized.
Engo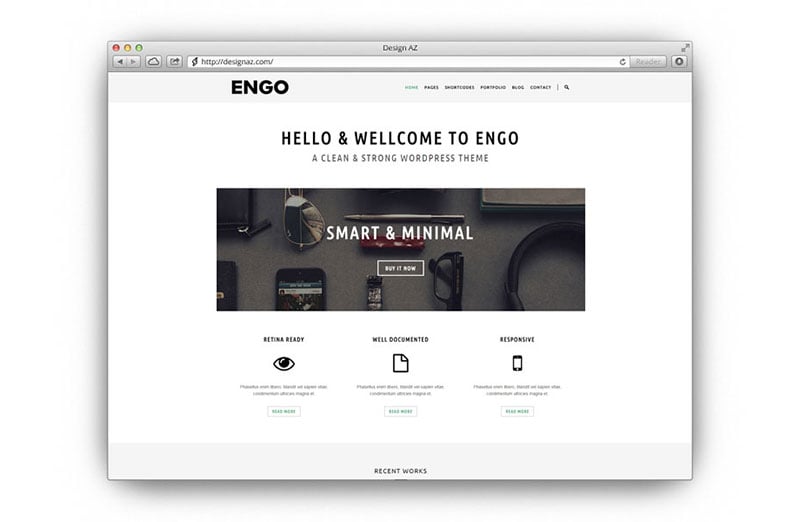 Engo is a minimalist WordPress theme with Slider Revolution integrated, favored by business websites. Its beautiful imagery can also function well for creative sites such as marketing or portfolios. It's fully responsive and always looks sleek and elegant as it is, however, you can also use the shortcodes and theme options to customize it.
X Theme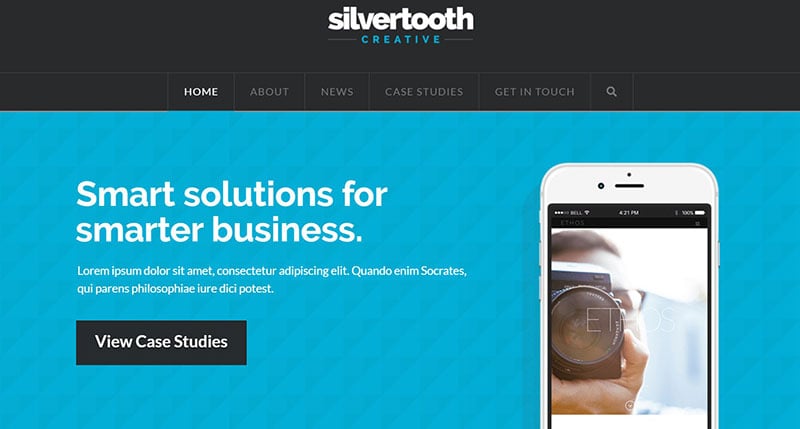 X Theme enables you to create any type of layout or look for your site using one of the stacks or starter themes. There are 4 choices already designed for you, so choose one, then customize it with Cornerstone. Cornerstone was developed by the same people as X Theme, so they are designed to use together.
X Theme can be used with Soliloquy, Slider Revolution, and LayerSlider.
Owly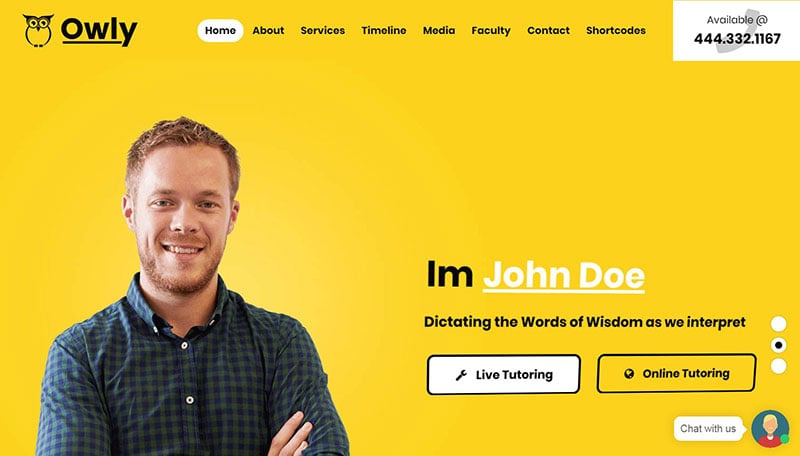 Owly is one of the highly creative WordPress themes with Slider Revolution integrated. It looks fresh and clean as soon as you open it. It was designed especially for teachers, schools, tutors, and other creators.
Owly has a section with an interactive header. It also has plenty of available page designs to highlight your programs, teachers, and courses.
Brünn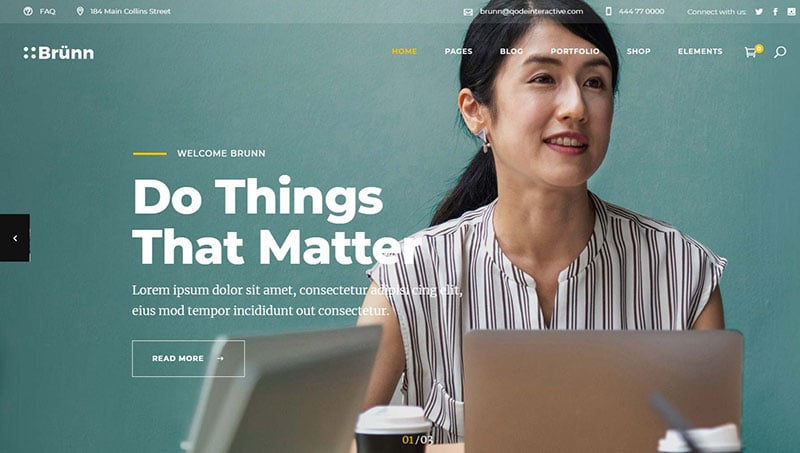 The focus of Brünn is to help users develop agency websites. However, it has other in-built content useful for personal sites, service pages, and online portfolios. Brünn is a fantastic choiceI for a creative looking website and it's incredibly easy to use.
Brünn also offers the option of using WPBakery Page Builder to edit the site, and you can add the Slider Revolution plugin. This premium tool comes free when you download Brünn and it enables you to be creative with your website presentations. This plugin will display your work or connect with visitors, and Brünn's preset options eliminate the need for much editing.
KALLYAS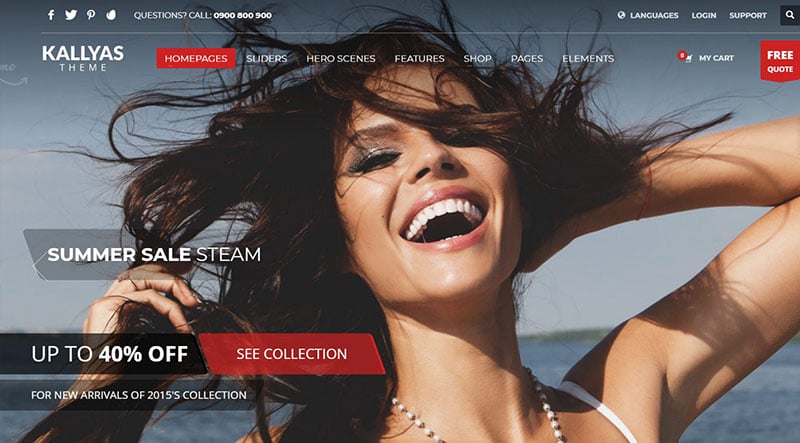 Kallyas has many incredible features, containing more than 60 pre-set sites, more than 100 building elements and it integrates with WooCommerce. Create your online store by using Kallyas and WooCommerce. It also integrates with fonts, is customizable and speed optimized.
Many professional businesses use Kallyas to create their sites. It is perfectly suited to hotels, spas, lawyers, and architecture, though it can be used by a variety of enterprises, including schools, universities, and construction.
Peggi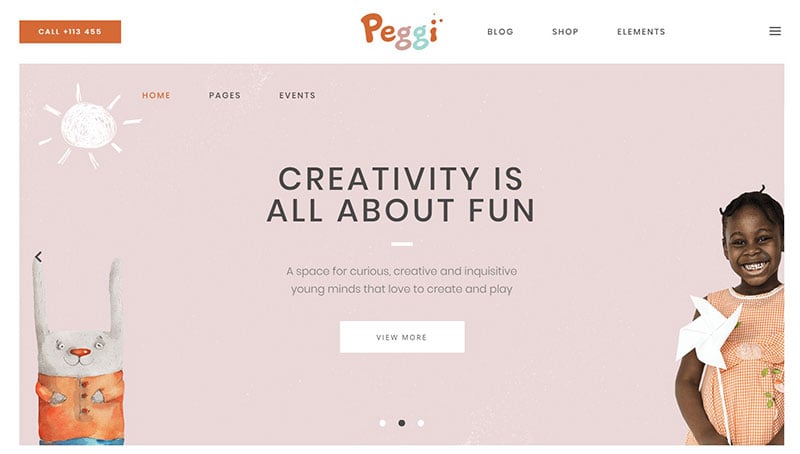 Peggi is one of the WordPress themes with Slider Revolution bundled in it. Peggi is designed for businesses that offer services and products for children, so it's bright, colorful, and fun. It offers everything a daycare, babysitter, or kindergarten could need in a site. It has great page templates as well as event listing options. You'll be spoilt for choice with the wide variety of layouts and features.
Display your events in a calendar format with Peggi so your visitors can see what's happening. Put up pricing options and let people find a childminder with the contact form. It is fantastic for displaying images to engage visitors and showing what child care services you offer.
Jevelin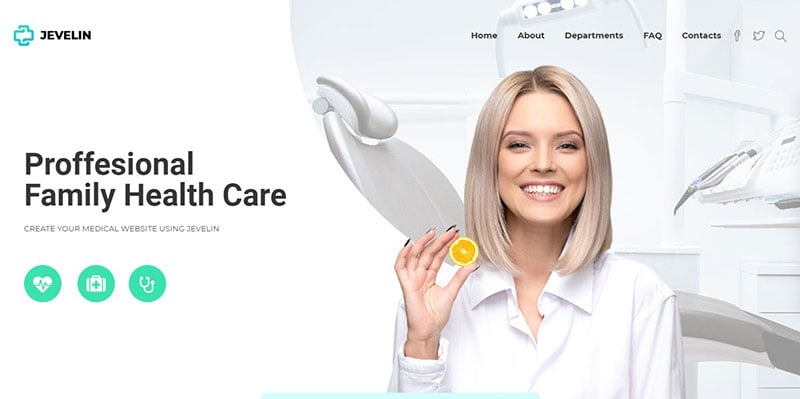 Jevelin is your ideal choice for WordPress themes with slider included. It has plenty of premium demos and features, including Unyson framework and a great drag and drop page builder. It is flexibly designed with many adaptable interchangeable parts, and lots of templates and layouts to help you begin.
Customize anything you wish without needing programming experience, as it has more than 10 layouts for portfolios and 6 for blogs. It's a great theme for when you want to build a website from scratch. It was made to look stylish to attract customers to your site. The Parallax effect is excellent for your videos and backgrounds, and the Slider Revolution integration lets you add incredible videos and images. You can also install custom widgets for anything you like, including social media.
Anariel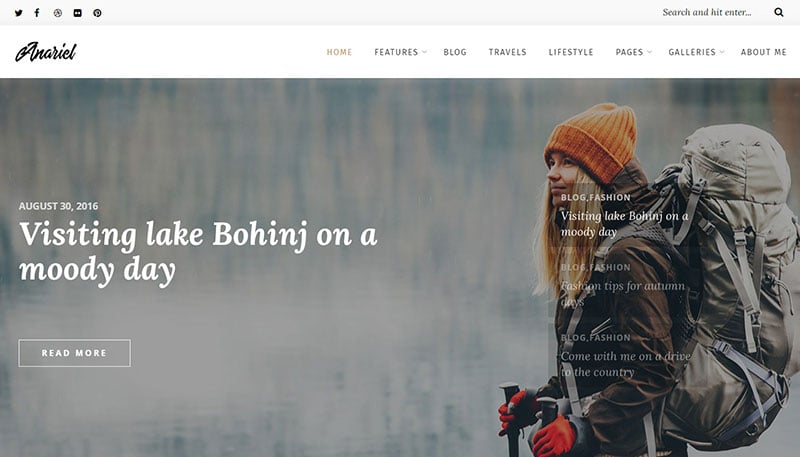 Anariel is a WordPress theme slider included, just perfect for a fashion blog as it lets you showcase your fashion display with gorgeous images. Draw attention to your photographs to create a truly compelling site for your fashion blog. Anariel opts for a minimalist look that is straightforward to navigate and highlights your content.
Anariel is completely responsive, so it looks amazing on mobile as well as tablets or laptops. It will adapt to any kind of device, and gets your site up and running quickly, with its 6 easy to install demos.
Brooklyn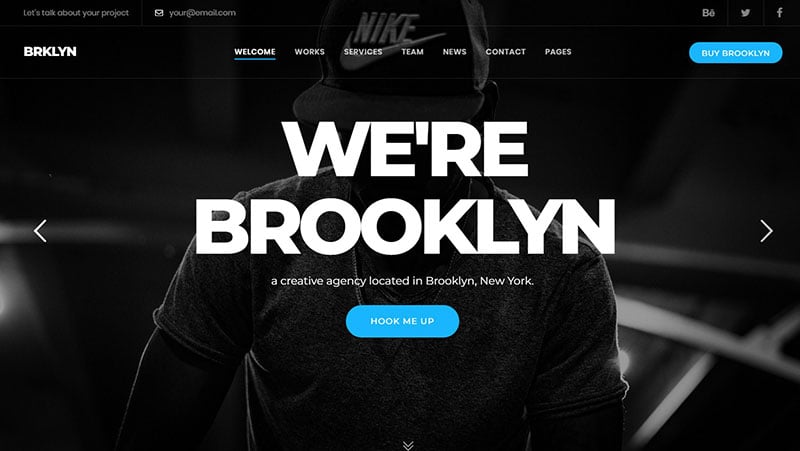 Brooklyn has been around for some years, with good reason. It used innovative hero pages to demonstrate what a website should look like and favored groundbreaking design over anything else. It is always pushing the limits to see what's possible with fantastic design in WordPress.
All Brooklyn's featured demos have been researched in-depth. They are targeted at specific demographics and will suit many types of industries.
Business Consultant Finder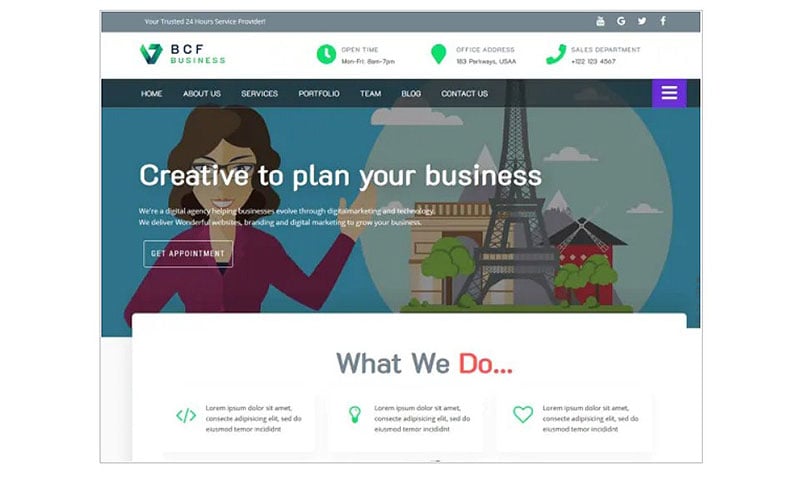 Business Consultant Finder helps people find business consultants. Thus is perfect if you are a business consultant looking to design a fantastic site. It has many templates that look premium without the price tag. The homepage is stylish, and you can easily add important information to your site.
It was designed specially to integrate well with the Slider Revolution plugin, allowing you to create fantastic slideshows and add them seamlessly onto your website. A slideshow can engage your audience and entice them to venture further into your site. Add any information you want whether it's audio, video, text or images.
Ztudio X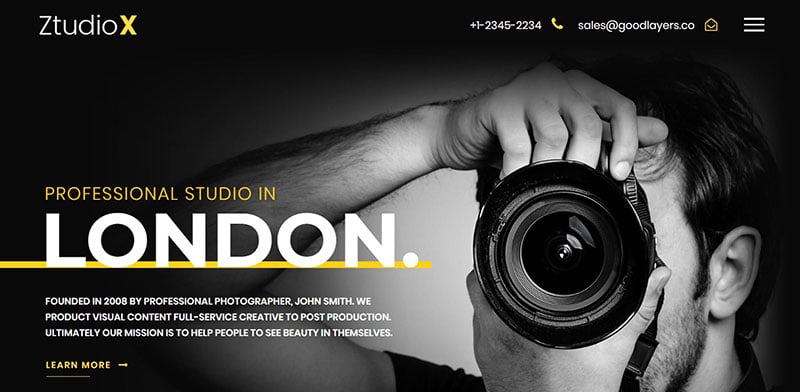 Ztudio X is fabulous for creative studios such as photographers, to create elegant portfolio websites. It has 3 variations for websites so simply choose one to launch your incredible new site.
Show off your fantastic artistic skills by using the attached Slider Revolution plugin a premium tool that makes lovely slideshows which rotate to show off as many photos as you wish.
Ottar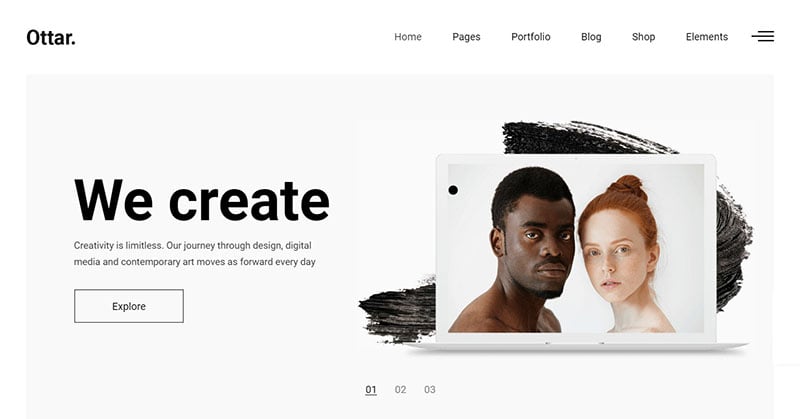 Ottar is one of these WordPress themes with slider included that features the plugin Slider Revolution. Use it to develop your portfolio to show off all of your creative skills. It includes carousel, metro, and masonry styles for displaying images. You can also add portfolio columns or templates for split sliders. It has incredible inner pages as well as shop templates and blog templates. Adding in slideshows to these already incredible layouts, will significantly enhance your new site.
Additionally, Ottar has some wonderful elements in their presentations, including tooltip text, testimonials, and others.
Bridge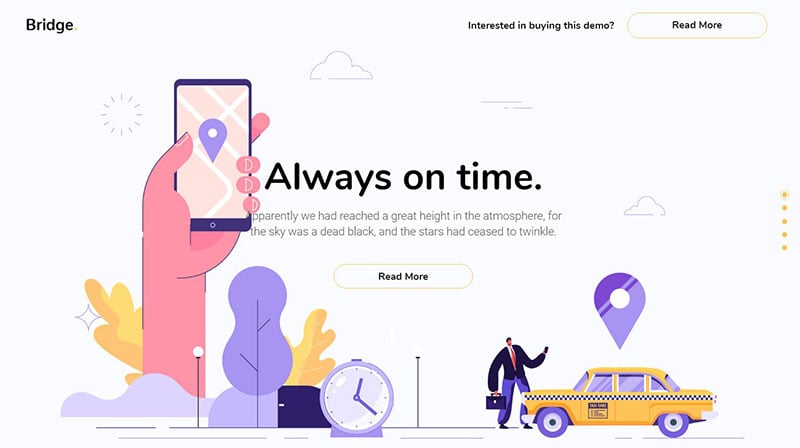 Bridge is a slider integrated WordPress theme offering many premium extensions for no extra cost. Slider Revolution enables you to create sliders which will attract the attention of your site visitors from their first impression.
Bridge is great for all types of industry, and the user experience is incredible, both for you and your site visitors.
Orion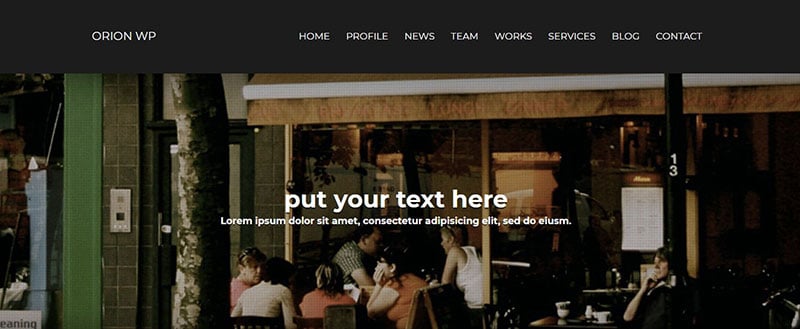 Orion is a multipurpose sliding WordPress theme, which includes completely customizable demos, footers, and homepages. There are countless colors and different skins to add to your site all without the hefty price tag.
Orion uniquely has 2 homepages, a minimal or a creative one. Choose what suits you and start customizing and designing the website. Orion is completely versatile, integrating with WooCommerce and Revolution Slider.
Curly
As the name suggests, Curly is an uncomplicated theme aimed at hair salons and hairdressers and includes service lists, calendars, and testimonials.
It has a modern homepage design and wonderful layouts for your inner pages, all easy to change and edit as you wish. It's used by more than 1000 people for good reason. You get portfolio templates and more that you can use to promote your small business.
Zugan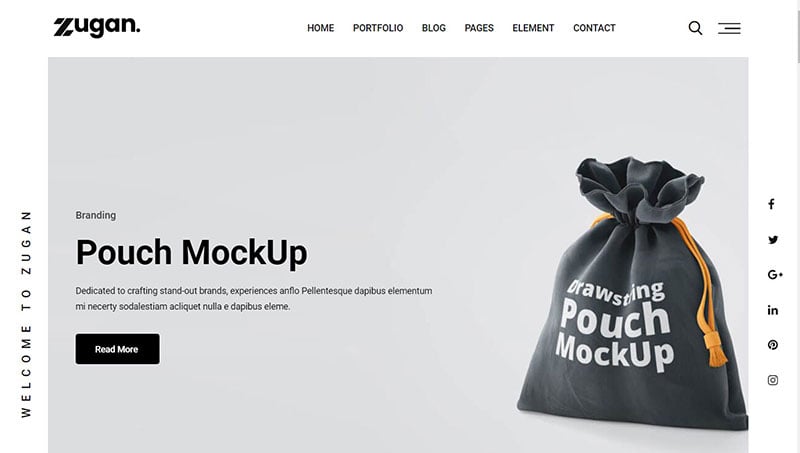 Zugan has minimalist design options. This WordPress theme with a slider has 10 layouts for your homepage so select the one appropriate for your industry. It creates wonderful portfolio sites for artists, illustrators, and more.
Use it with Elementor, an uncomplicated page builder to easily change the design elements to get 30 portfolio layouts.
Ronneby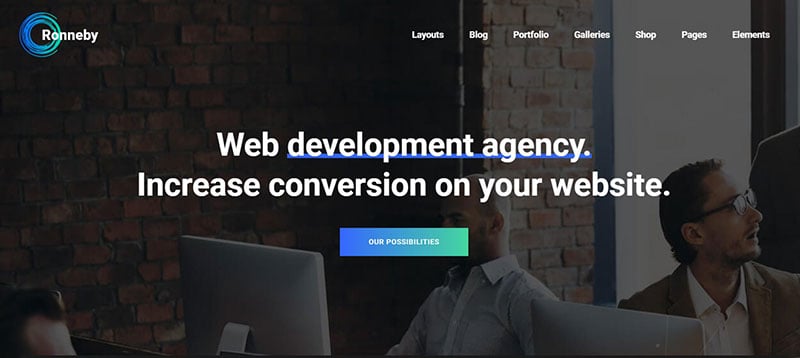 Ronneby offers its users pre-made demos requiring only one click to install. It comes bundled with WPBakery Page Builder and Slider Revolution. You can also acquire more premium plugins to simplify the creation of your website.
Crane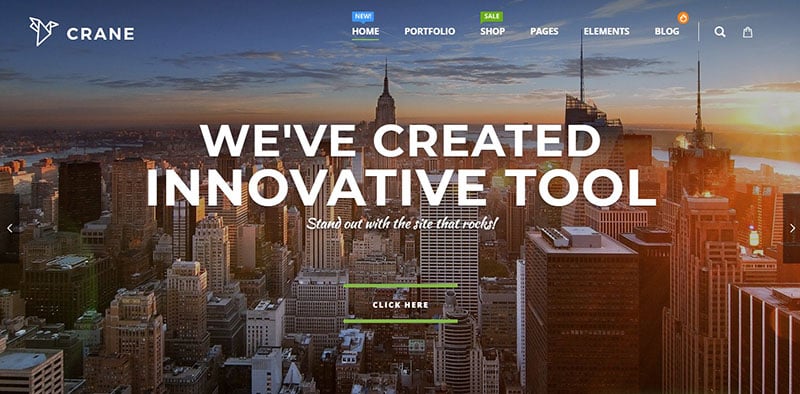 Crane is often used for building a portfolio for online companies. It offers many demos and customizations including drag and drop page builders that facilitate website design. Just one click will install a demo for you, and you can import in full or select sections. Crane is a visually stunning option for website design.
It comes with 2 wonderful website sliders, both Layer Slider and Slider Revolution and has over 2,000 widgets and icons to further enhance the accessibility of your pages.
Norebro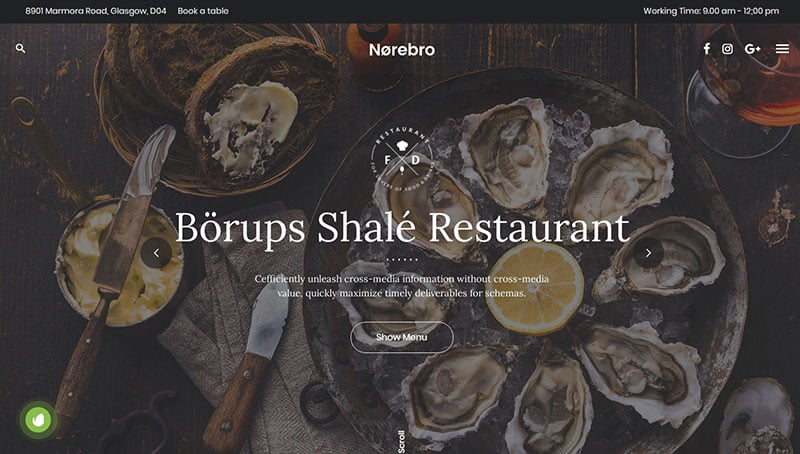 Norebro has over 30 layouts for your homepage. Install any of them in one click and then change according to your taste and vision for the site. Each one has its own layout for content, header, and animation.
This is a truly multipurpose theme for creating a wonderful portfolio site. Many professionals and businesses enjoy it, and it works well for all creative sites.
Use the WPBakery page builder and other options to edit your layouts and it comes with the Slider Revolution plugin for no extra charge.
TheGem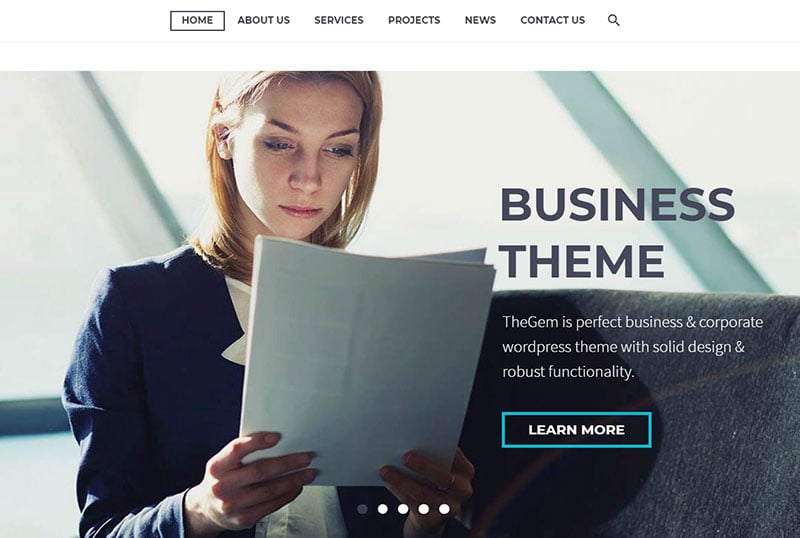 TheGem is a great theme with countless demos as well as content templates so you will no doubt find a design to suit your business.
TheGem comes with demos for E-commerce sites, so you can also an online shop to sell your products.
And the best slider you can use with a theme: Slider Revolution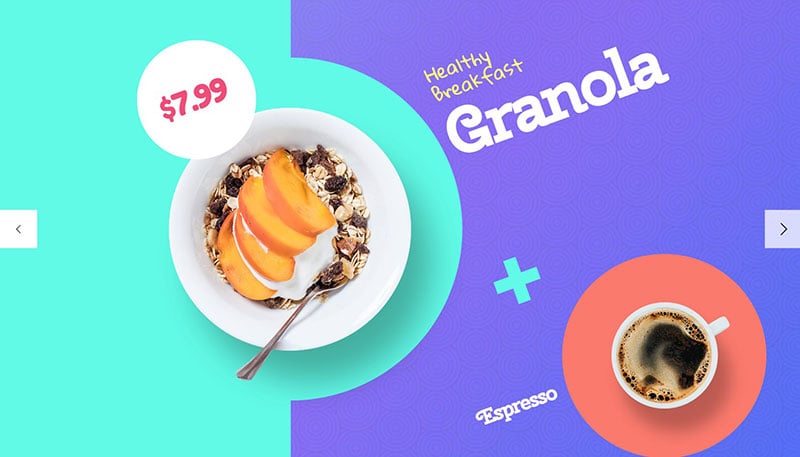 With a wonderfully intuitive design, Slider Revolution is one of the most popular WordPress plugins. It boasts more than 7 million users worldwide who enjoy engaging this tool to aid them in creating many styles of sliders. Slider Revolution is completely responsive to keep your website looking fabulous no matter where it is viewed.
It offers you a carousel slider, standard slider, or hero scene. Then you can adjust these to full-screen, full width, or set it to auto. It can support many sources of content including Instagram, Flickr, WooCommerce, Vimeo, and Facebook.
All of the listed themes are designed to go beautifully with Slider Revolution. Themes that include Slider Revolution usually provide a lite version, which does not give access to the complete list of features. If you try out the lite version and want the real deal, get the license. Its 200 templates, customer support, and instant updates make it a worthwhile and excellent value.
FAQs about WordPress themes with sliders
1. What are some of the best WordPress themes with built-in sliders?
The popular WordPress themes Divi, Avada, and Slider Revolution all feature built-in sliders. These themes have a responsive design, comprehensive customization features, and a selection of slider kinds, including text, picture, and video sliders.
2. How can I customize the slider in my WordPress theme?
The theme options or settings panel of the majority of WordPress themes with integrated sliders provides customization possibilities. Typically, you can change the slider's size, transitions, animation speed, and number of slides. For even more comprehensive customization, some themes additionally let you contribute unique CSS or HTML to the slider.
3. Are there any free WordPress themes with sliders available?
Yes, the official WordPress theme directory has a ton of free WordPress themes with sliders. Hestia, Neve, and Ashe are a few well-liked choices. Remember that compared to premium themes, free themes could only offer a small number of customization choices.
4. Can I add my own images to the slider in my WordPress theme?
Yes, you may add your own photographs to the slider with the majority of WordPress themes with built-in sliders. Typically, you may either select an image from your WordPress media library or upload it straight from your computer.
5. Is it possible to use a third-party plugin with a WordPress theme that has a built-in slider?
A WordPress theme with an integrated slider can, in fact, be used with a third-party slider plugin. However, keep in mind that this might necessitate custom coding or alterations to the code of your theme and could possibly result in conflicts or incompatibilities.
6. How do I optimize the images in my slider for faster loading times on my WordPress website?
Use compression tools like TinyPNG or Kraken.io to optimize photos in your WordPress slider and minimize file size without compromising image quality. To decrease loading speeds, you can also employ lazy loading approaches, which load images incrementally as the user scrolls down the page rather than all at once.
7. What are some of the most popular slider plugins to use with WordPress themes?
Soliloquy, MetaSlider, and Smart Slider 3 are a few well-liked slider plugins for WordPress. Advanced customization options, responsive design, and a selection of slider formats, including image, video, and text sliders, are all provided by these plugins.
8. How do I make my WordPress slider responsive to different screen sizes?
Use CSS media queries to change the slider's size and layout dependent on the user's screen size to make your WordPress slider responsive. To construct a mobile-friendly slider, you may also use responsive design frameworks like Bootstrap or Foundation.
9. Can I add video content to my slider in a WordPress theme?
Yes, you can include video content in your slider if you use one of the numerous WordPress themes with built-in sliders. Typically, you may embed movies from websites like YouTube or Vimeo or upload them straight from your PC.
10. How do I disable the slider on certain pages of my WordPress website?
You can use conditional statements in your theme's code or a plugin like Conditional Widgets to show or hide the slider based on particular page requirements to deactivate the slider on particular pages of your WordPress website.
Ending thoughts on these WordPress themes with a slider
Fantastic images are essential for selling any product or service, especially to sell items online. The best way to exhibit your talent, business, or products is to use one of these WordPress themes with Slider Revolution included.
A slider integrated with a WordPress theme will immediately attract customers' attention and the array of beautiful images featured on your homepage will keep them there.
Giving your site visitors an incredible experience does not require coding knowledge. Just grab a WordPress theme that has a slider attached, especially Slider Revolution. If you want to get more than the version you're seeing included with those themes, you should check out the premium version of Slider Revolution and the addons that it brings with it.
If you enjoyed reading this article about WordPress themes with sliders, you should check out this article on how to add a slider in WordPress.
We also wrote about similar topics like using a hero slider, a video slider, a homepage slider (see the pattern here?). But also about the Ken Burns effect that we use in some of our slider templates, as well as the particle effect, image sliders, CSS product carousels, WordPress video background, website sliders, and slider animation examples.
Looking for a WordPress theme with slider? Check out these great slider themes