Create simple and advanced content modules for your WordPress websites with our fully visual editor. No coding knowledge is required.
Get a WordPress Site Builder and Visual Editor That's

Easy to Use
Gain an edge over your competitors with a complete WordPress site, post or page design solution that is all at once powerful, flexible, and dramatically shortens the time and costs associated with building your WordPress website.
Visual Editing
Drag and drop elements using the canvas or timeline editors and take complete control over style and behavior.
Intuitive Building
Format your content more efficiently and effortlessly with logical formatting options and settings.
Super Fast Results
From the WordPress dashboard use Slider Revolution to install your preferred template in no time at all.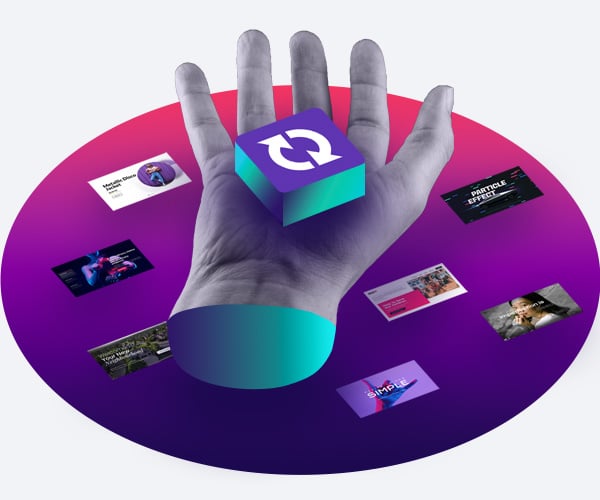 Use Slider Revolution to Customize

All Your Web Pages
You've installed a nice-looking theme on your WordPress site and customized it using the classic visual text editor. But something's missing. You feel as though the end results are okay, but maybe a little too bland or common for your taste.

The solution to this problem is to format your content with a professional WordPress post or page editor that takes visual editing and animation to the next level.

Meet Slider Revolution 👇
A Clean Content Building Experience
Our goal is to deliver the ultimate experience to our users.

Version 6.0 of Slider Revolution has an optimized visual editor with a variety of formatting options categorized intuitively, so you can work better and faster on your WordPress site.
Level Up Your Designs
All The Tools You Need
Add, move, copy, duplicate and delete elements intuitively and quickly in our WordPress visual editor.

Quickly format your WordPress site content using a right-click context menu that offers tons of fast-access editing and formatting options.

All easily accessible right from within the WordPress dashboard.
View our plans
Get Expertly Crafted Layouts Without Having to Code
With Slider Revolution's formatting options, the need to manually add HTML tags is a thing of the past.

Our professional designers have already created advanced, responsive layouts for you to format your content just how you want to.

Getting your WordPress site to look exactly how you want it to look has never been easier.
Preview the Templates
Do More, Faster
As you format your content, the visual editor from Slider Revolution 6 keeps all your options visible and accessible at any time.

The options structure starts with general formatting options, navigation, slides and layers, and branches off into in-depth settings from there.

There's simply no faster way to format your content than with Slider Revolution.
Browse examples
Go Back In Time With
Our Revision History
With our revision history you can undo / redo any changes you made while using our WordPress visual editor, allowing you to format your content without worry.
You can even save states so you never lose any previous iterations of the module, thanks to our included free backup addon.
Your WordPress site is always safe with Slider Revolution.
Get Started
Find Every Option With
Our Editor Live Help
At the same time as you format your content you can search and learn about formatting options and settings, all from within Slider Revolution.

If you need even more information, you'll also find direct links to the documentation and FAQs.
Visit The Help Center
The

Most Customizable


WordPress Visual Editor You've Encountered
Flexible Modules
Create sliders, carousels, hero blocks and even complete WordPress websites.
Responsive Layouts
Control up to 4 device sizes separately to get the look you want.
Striking Backgrounds
Images, videos, colors or gradients can be used as post or page backgrounds.
Layer Variety
Place texts, images, videos, shapes and icons anywhere you want.
Building Freedom
Set freely positioned layers or floated layers inside of column containers.
Quick Styling
Format your content with a wide range of text, button, and other layer styles.
Icon Library
Search our collection of customizable icon and SVG assets from inside the WordPress dashboard.
Special Effects
Create stunning background and content effects with our constantly updated addons.
Smart Loading
Use our image optimization and lazy loading formatting options to keep your site fast.
Frequently Asked Questions
Browse answers to some common questions about WordPress site formatting options using Slider Revolution's visual editor.
Yes! Slider Revolution is a powerful WordPress site builder that offers an intuitive drag-and-drop interface for creating pages, posts and custom layouts with ease. Design from scratch, or get a jump start by customizing one of our more than 250 templates catering to a diverse range of niches and industries. As an established WordPress plugin, Slider Revolution seamlessly integrates with the WordPress dashboard, making it a must-have for any WordPress user, regardless of experience.
Any WordPress site owner can take advantage of Slider Revolution to customize their website without needing to be a technical expert. The plugin effortlessly integrates with the WordPress dashboard and gives you a user-friendly interface to format your content with ease. Slider Revolution enables you to create visually appealing designs, add animations, and personalize your WordPress website, regardless of your technical abilities.
Slider Revolution is the ultimate solution to inspire ideas for your WordPress site design. With more than 250 customizable templates and more than 30 supportive addons, Slider Revolution offers an arsenal of tools that will help bring creative ideas to mind. If you aren't sure where to start with formatting your content to make your WordPress site stand out from the crowd, Slider Revolution's visual editor and library of resources are exactly what you need.
Slider Revolution enables seamless integration of visually striking website animations and effects into your WordPress website without the need for a complete overhaul. The plugin supports both simple and intricate animation effects such as parallax scrolling, slide fades, hover animations, and more. With Slider Revolution, you can quickly format your content with captivating and dynamic animations, enhancing the engagement level of your post or pages within minutes.
No coding skills are required to use Slider Revolution to customize your WordPress site. The plugin's user-friendly drag-and-drop interface and wide range of formatting options make it easy to create visually stunning designs or enhance existing WordPress websites with animation effects. Whether you want to personalize an existing post or page or create a completely unique design from scratch, Slider Revolution's visual editor makes it possible without any coding knowledge at all.
Yes, Slider Revolution is a fantastic tool for adding extra wow-factor to an existing WordPress post or page. The plugin offers a wide range of dynamic visuals with intuitive options to help you format your content, including animations and effects like parallax scrolling, fading sliders, hover animations, and more. Anything you create can quickly and easily be integrated into an existing WordPress site, and that includes any post or page.
No need to worry if you're new to using a WordPress visual editor. With Slider Revolution, you can access help directly from the user-friendly and intuitive editor, without leaving the dashboard. For further assistance there's a detailed help manual, tons of tutorials, video guides online, and a dedicated support team. Whatever your level of expertise in WordPress site design, we've got you covered with all the help resources you'll need!
Slider Revolution is a powerful plugin that enables you to create visually impressive effects and animations on your WordPress site. You can use it to showcase your products, services, or portfolio using slides, carousels, hero scenes, and more. Additionally, it offers a vast range of formatting options and animated effects that will enhance your content and engagement levels. The visual editor is intuitive, user-friendly, accessible from within the WordPress dashboard, and importantly, easy to use.
Professional Templates For Any Website
Our library contains 250+ cutting edge creations created by our expert designers. You'll find sliders, carousels, hero blocks, and single-page websites all waiting to be customized — with new designs being added all the time.
Agency
Portfolio
Photography
Real Estate
E-Commerce
Blog/News
Music
Landing Page
Special Effects
And many more…
Constantly updated. Ready to go. Easy to make your own.
With so many customizable WordPress website designs to choose from, getting the look you want has never been easier.