How does Slider Revolution fit into the WordPress website-building ecosystem? 🤔
Our pre built websites are built for a wide variety of websites. But that doesn't mean that Slider Revolution is the best website builder solution to create any kind of website or shop. Don't worry though! Even if it's not the perfect fit for your site, you can use Slider Revolution to create amazing content and pages for a site built with a WordPress theme.
🤩 The best websites to build from-scratch with Slider Revolution
Websites for small businesses
Websites for local vendors
Personal websites
Event and venue sites
Portfolio showcase websites
Church websites
Non-profit sites
Mobile app promotional pages
Digital product demo sites
Sales landing pages
Microsites
Coming Soon landing pages
😊 Other types of sites you can enhance with Slider Revolution
eCommerce shops
Blogs and magazines
Enterprise company sites
Websites with 10+ pages
Websites that need different lead generation components (like contact forms, online schedulers, etc.)
Websites that may be small today, but will scale rapidly in the near future
See the

prebuilt website


Templates In Action

Slider Revolution is not a WordPress theme nor is it a traditional builder plugin. However, it does come with 50+ professionally designed website templates (with more being added regularly).

These aren't your ordinary theme templates or demos. These web designs have stunning layouts and are feature-packed and highly engaging. See for yourself:
How To Create


A Beautiful Website With Slider Revolution

If you're looking for a simple way to get incredible results, take one of our responsive and attractive website templates and customize it. No coding or advanced web design skills are needed. Our powerful, intuitive editor gives you total control over how your site looks, what types of content you put in it, and how it responds to user interaction.
Step 1: Choose a pre-built website
Choose the New Module from Template option inside of Slider Revolution. Sort by category or search for the pre-made website you want to use. You can also sort by "Websites" to see all the available options. Then install the template or package.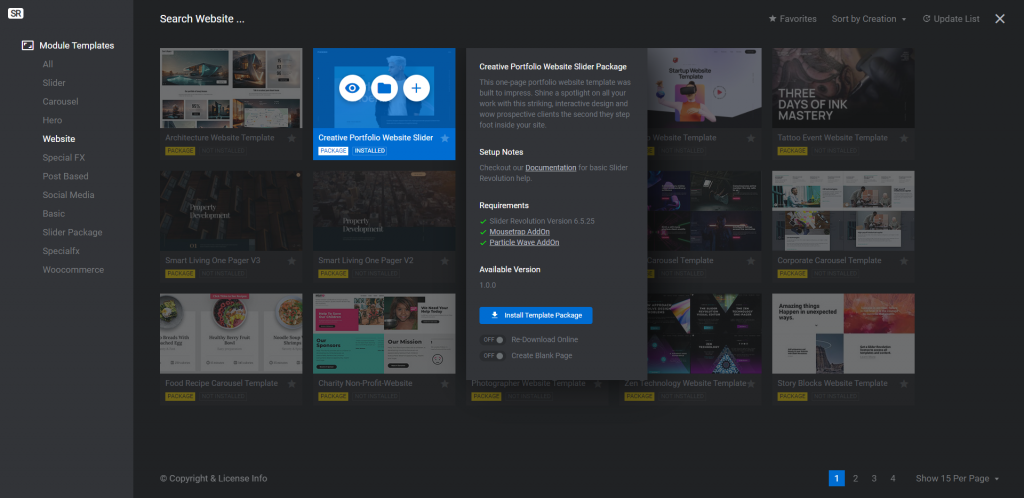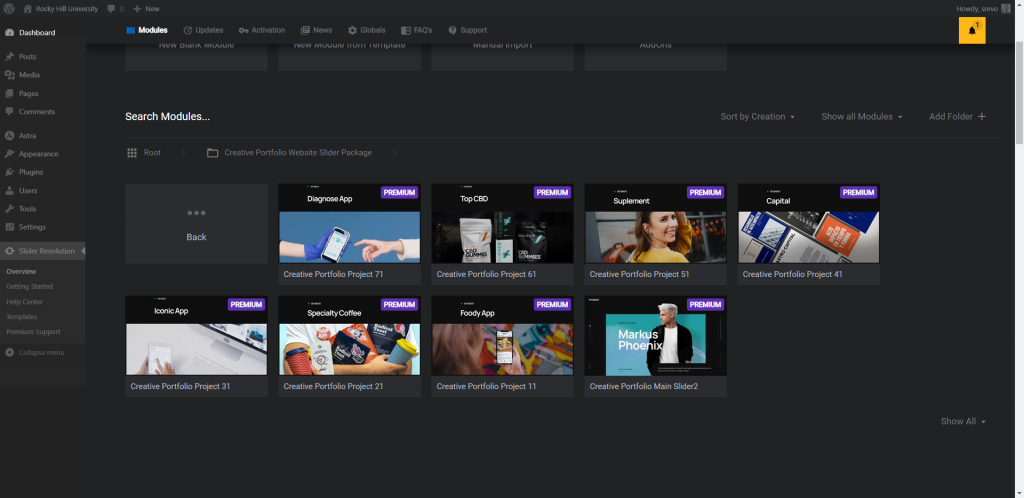 Step 2: Edit your modules
Some websites come with multiple modules. You'll find them in the template package. Carefully review this content. In some cases, modules may represent different pages or sections on your site. In other cases, the modules hold content that opens in an overlay (like a photo gallery). If the modules represent pages, go through them one at a time, tackling Steps 3 through 8 for each. If they represent overlay content, you can customize them at the end just before Step 9.
Step 3: Edit the slides
Slides are the main containers for the content we create in Slider Revolution. In the case of pre-built sites, they might represent content in a slider, sections on a page, or whole pages. Review the existing slides in your module. Remove any you don't need, duplicate existing ones if you need more, and move them around as needed. You can also make adjustments to the slide transitions in this step.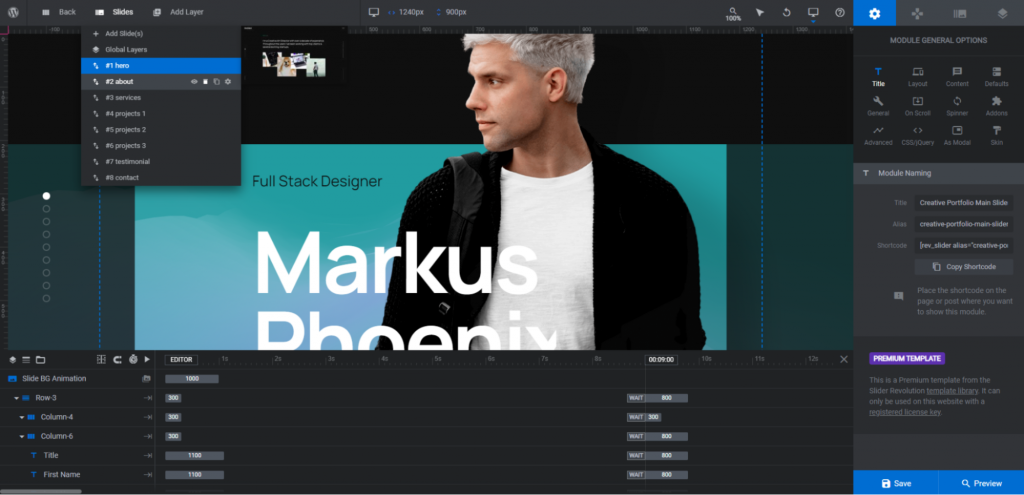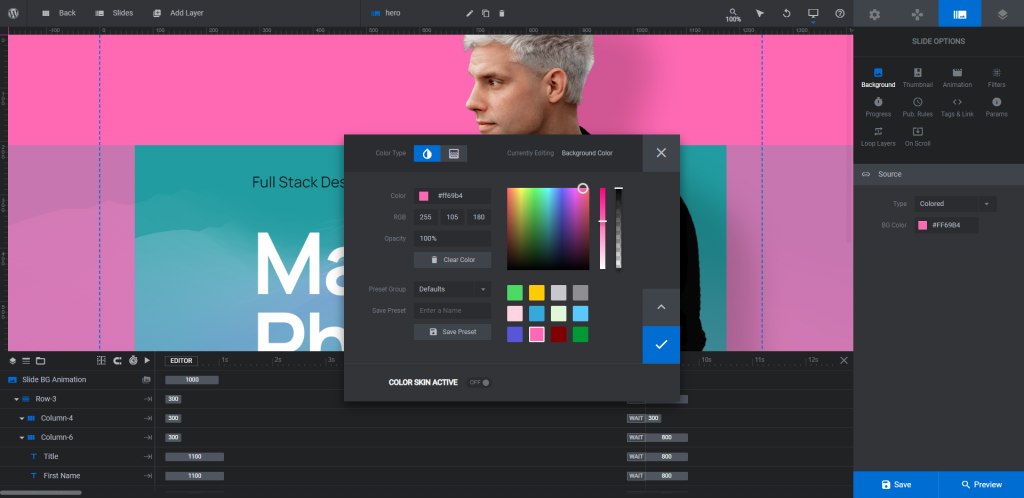 Step 4: Update the slide background
Go through each slide or module one at a time. Add a custom background to each. You can make the background a solid color or gradient, or you can add a photo or autoplaying video to it.
Step 5: Update the foreground imagery
Oftentimes, templates have layers upon layers of content in them. Go through each of the slides and style the foreground layers. They may be image layers, embedded video players, or advanced features like particle waves, bubble morphs, and data visualizations.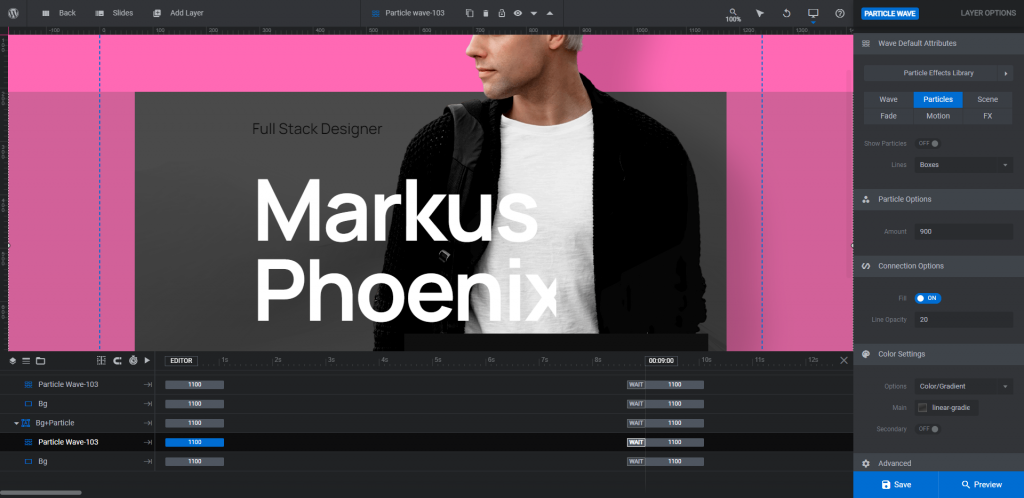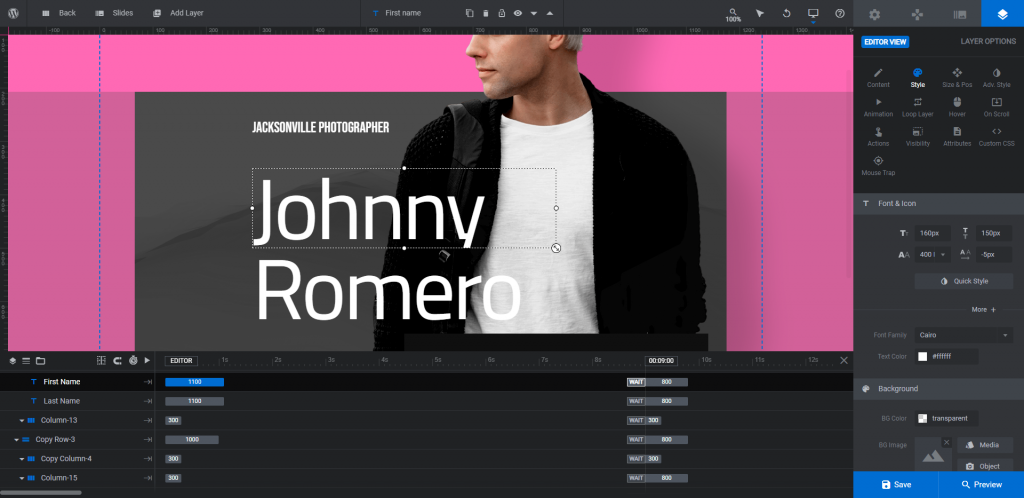 Step 6: Edit the copy
Every slide and module will have some text in it. Usually, there is a header and description. Some of the sections may have additional text layers. Use only the text layers you need and delete the rest. Conversely, add new text layers that are missing. Then go through each section, personalize the copy, and stylize it using the settings panel.
Step 7: Configure your calls-to-action
Some of the sections (slides) on your site may include buttons, links, location maps, etc. that will allow you to convert visitors into customers. Go through each of them and revise the CTA text as well as the design of the button, link, or element. Then program a custom action for each link.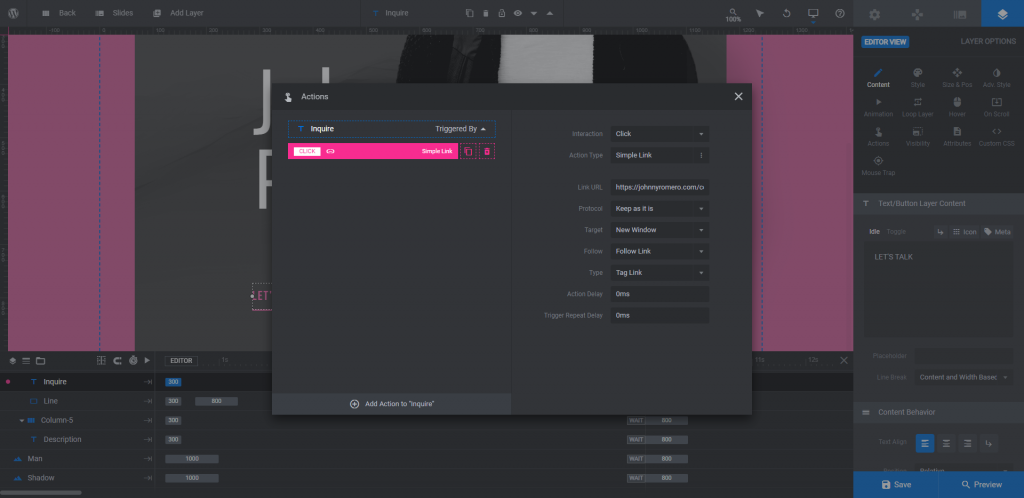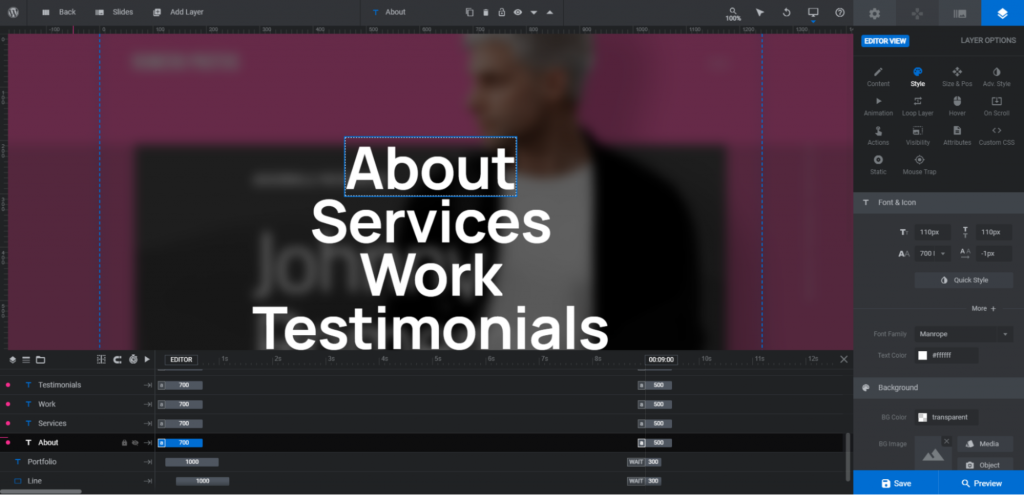 Step 8: Update the header
Your header lives under Global Layers. This is what enables the header to stick to the top of the site. Update the content there — the logo as well as the navigation text and links. If you're creating a one-page website, the links will point to the different slides/sections. If you're creating a multi-page site, they'll point to other pages.
Step 9: Launch your site
When you're done perfecting your web design, go back to the Slider Revolution dashboard. Use the Embed tool to grab the appropriate shortcode for the home page. Then go to the Home page in WordPress to insert it. Hit the Publish button and there you have it — a new website created with Slider Revolution!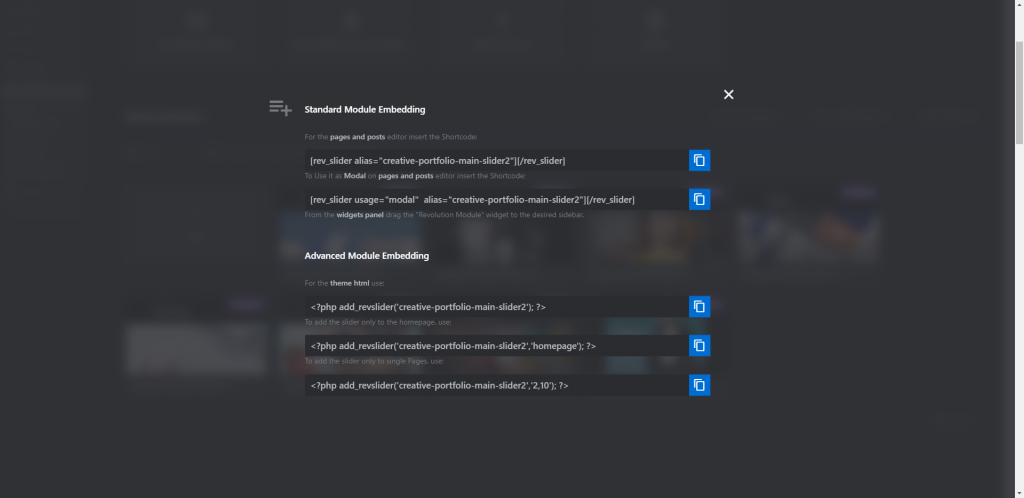 See how easy


it is to customize Slider Revolution prebuilt sites
Frequently Asked Questions
Here are some of the more common questions we get about our prebuild website templates:
Whether you're a professional web designer or completely new to WordPress, you don't need coding skills to design with Slider Revolution. Our visual editor comes with all the tools you need to create the coolest of website designs. All it takes is a few clicks to edit text, change colors, update settings, customize animations, and more.
It depends on what your end goal is. If you're building a massive ecommerce shop or magazine site, then a WordPress theme built for that specific purpose will be better.

You also have to ask yourself what you want your website to look like. There are some incredible WordPress themes and page builder plugins that will get you good results. However, if you're building a small business website and want to wow first-time and returning visitors with your attractive website design, Slider Revolution will deliver.

Another thing to keep in mind is that WordPress themes come with a lot of extras. You often have to sift through hundreds of theme settings before you start. And then you have to remove all the extra pages and content that get jammed into the theme. With Slider Revolution, you get only what you need.
Nothing. The only thing you have to pay for is the Slider Revolution plugin license. All templates are included in the cost of the license, which is significantly cheaper than the cost of most WordPress themes.