Table of Content
Simplify Transitions

The Simplify Transitions option is useful for ensuring that Slides transition between one another smoothly.
1. Simplify
Enable the typewrite effect for the currently selected Layer.

2. Easing
Enable a blinking cursor to enhance the effect.

3. Duration
Enable the multiple lines content feature to sequence between multiple texts.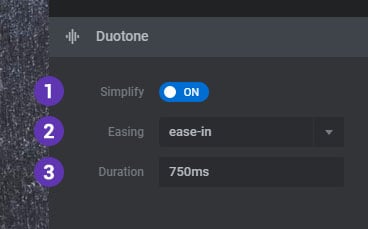 Duotone Filters
Hover your mouse over the the thumbnails to preview a filter and click one of the thumbnails to apply it to the Slide's main background.