Table of Content
List View
Click these icons on and off to show/hide all Layers or show/hide Rows based on their vertical alignment. For admin editing purposes only.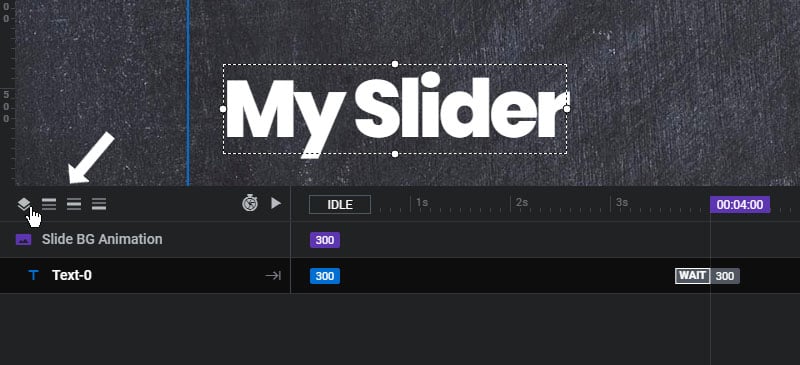 Timeline Duration
The total duration of a Timeline is initially defined initially in the Slider Settings -> Defaults and then set individually in Slide Settings -> Progress.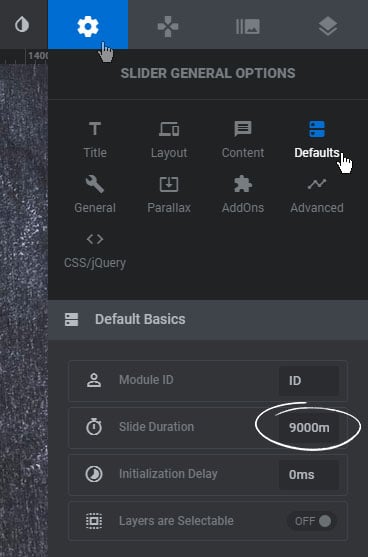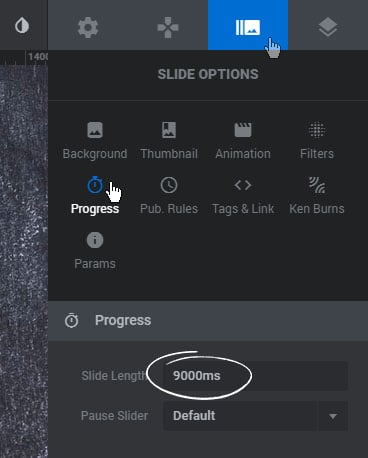 It can then be adjusted in the Timeline by dragging the block shown in the screenshot below with your mouse left and right.

The duration can also be adjusted by clicking the clock icon and then editing its percentage.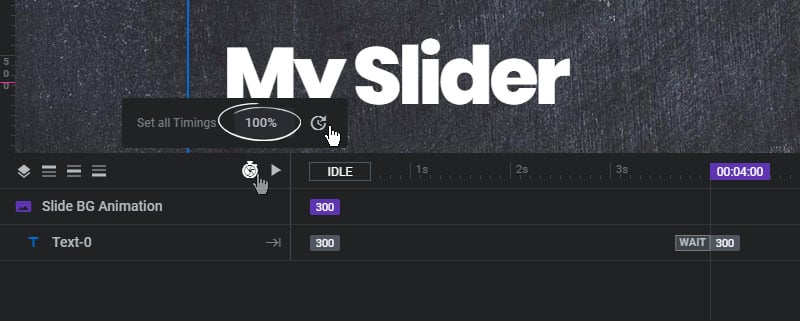 Preview Timeline
To preview the timeline, click the Play icon

Or drag the "Idle" block with your mouse


Rename Layers
Double-click the Layer's text in the Timeline to rename it

A Layer can also be renamed by editing its title at the top-center of the Editor

Layers z-index / Stacking Order
Drag Layers in the Timeline on top of one another to adjust their z-index/stacking order.


Animations
Every Layer has an "In" and "Out" animation, and can also have additional "Keyframe" animations.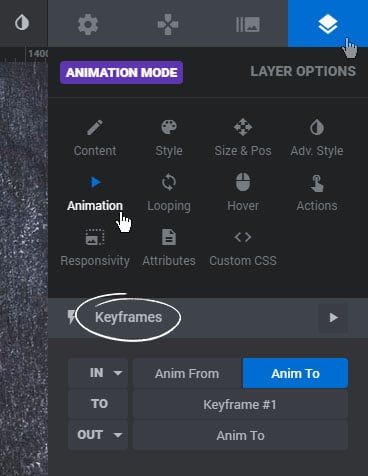 And these animations are then represented in the Timeline as shown in #1 (Animation In), #2 (Keyframe Animation) and #3 (Animation Out) below.

Drag an animation block with your mouse to adjust the starting-point of an animation in the Timeline, as shown in the screenshots below.


And edit the duration of the animation by dragging the end point of the block

And finally, click the arrow icon as shown in the screenshot below to toggle between whether the Layer should animate out of view before the Slide changes, or if the Layer should "Wait" until the Timeline has completed before officially disappearing.

Additional Controls
Drag the Timeline Window up and down or use the Timeline's vertical scrollbar to reveal more Layers


And use the Timeline's horizontal scrollbar to manage long timelines